Lenovo Smart Clock review
"Hey Google, I'm ignoring that alarm"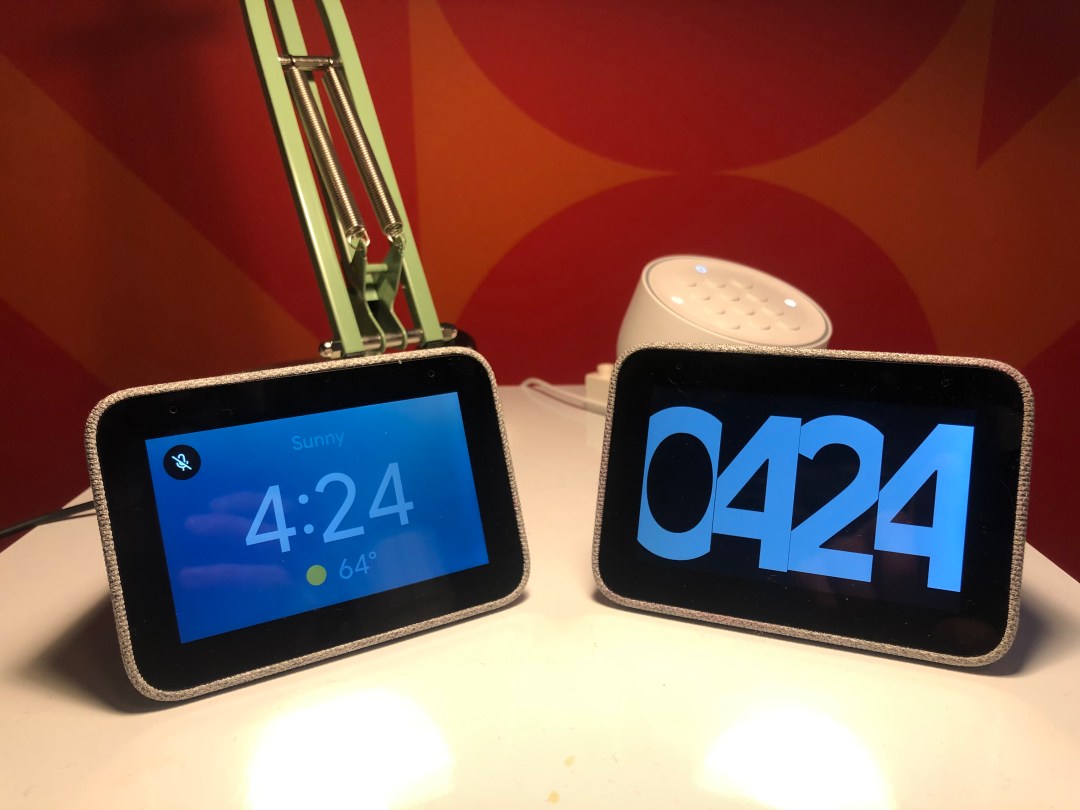 Alarm clocks are not, generally, your friends. Can you think of a material possession you've punched more?
But Lenovo's Smart Clock is far too adorable to punch. This dinky device will wake you up in the morning as inoffensively as it can, and with Google Assistant on board it can show you all the important information about the day head on its miniature screen, as well as talk to the rest of your smart home gadgets.
It's an instantly likeable little thing, if not quite as talented as the full-size and actually not a lot more expensive smart displays it's competing with.
For me, though, the absence of a camera is a positive, and the Smart Clock's minimal footprint means it's going to keep a highly coveted spot on my bedside table.
Design – Small-time
The Smart Clock really is small, especially when you sit it next to Lenovo's also great Smart Display, but its diminutive form factor means you won't have an issue finding somewhere for it to live. I think it's great.
The rectangular 4in touchscreen is surrounded by some pretty chunky bezels, but I think they actually add to its cheap and cheerful charm. The 480 x 800 resolution is fine for something that only displays alarms, reminders and funky digital clock faces. You won't be seeing Google Photos feeds or YouTube videos on the Smart Clock, but as you'd have to stand right in front of it to see them anyway, this isn't a big issue.
Viewing angles are fine. You'll ordinarily be looking straight at the clock when you roll over, but it's nice that you can easily see the time at a sidewards glance too.
There's no camera, which is a good thing. It would push the price up for one, but more importantly, I don't want pictures of my 8am Monday morning grimace sitting in a cloud.
Wrapped in a light grey fabric, the Smart Clock might be property of Lenovo, but it definitely looks like it belongs to the the ever-growing Google Home gang. Keeping it minimalist, volume up and down are the only buttons you'll find, and on the back there's a USB port for charging your phone. Handy. Next to that is a switch for disabling the mic.
Features – A-OK, Google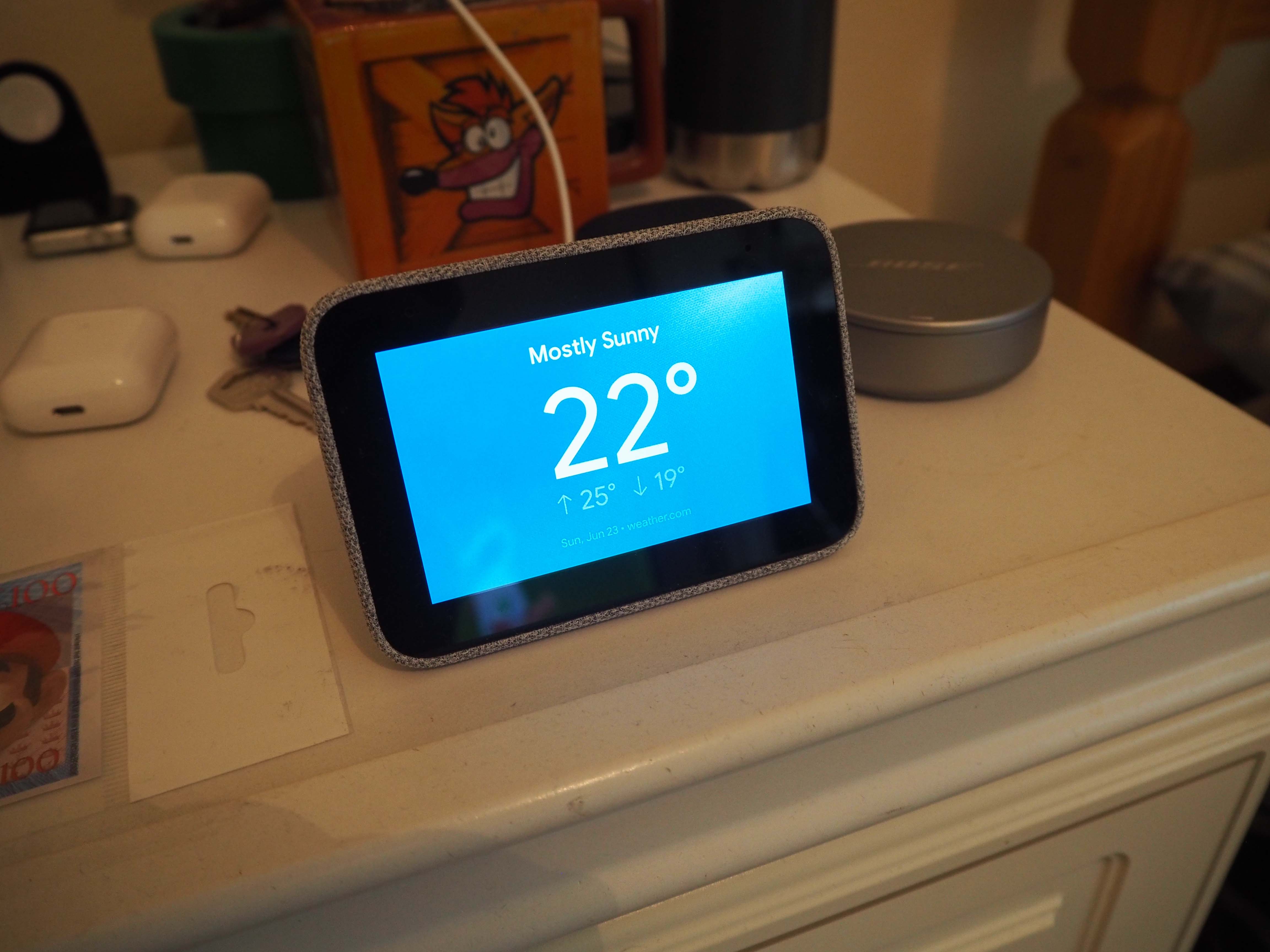 While the Smart Clock is definitely an alarm clock first and foremost, it might be the cleverest smart clock you've ever had (no, smartphones don't count). The UI is clean and uncluttered; you can manually swipe between clock faces, weather and alarms, or just use your voice. The Smart Clock is as good a listener as it is a time-teller.
Just like a Google Home product, you can ask Assistant questions, control your other smart home gadgets, stream to Chromecast devices and listen to podcasts. The Smart Clock can link up to a Spotify account, but if you're of the Apple Music persuasion, music defaults to YouTube Music.
Although you'd obviously be absolutely bonkers to use it as a stand-in for an actual speaker, I've been quite surprised by how loud the max volume is. It's more than adequate for a bit of soul-destroying Brexit-based morning radio.
But seemingly everything can do all the stuff mentioned above these days. The Smart Clock's primary function is to remove you from your sweet dreams with as little aggro as possible.
There's a built-in gentle wake-up routine, which when activated can tell your smart lights to begin gradually brightening 30 minutes before your alarm goes off. The Smart Clock's screen will also get progressively brighter before it pulls you from the land of nod. It works in reverse at night, and you can have the clock play sleepy ambient sounds as you slowly drift off.
I should say though that the auto-brightness feature isn't turned on by default. You'll need to give the brightness icon a second tap in the settings to enable it – probably the first thing you should do, or you'll find the clock's glow problematic when you're trying to sleep.
When it is time to get up, the Smart Clock will play your choice of six wake-up alarms, before launching into a customisable morning routine. You can have it cycle through the weather forecast, details of your Google Calendar schedule that day, and the headlines. Everything you want to know first thing, basically.
You can tap anywhere on the clock to snooze your alarm (no punching) or double tap to turn it off completely and commence your routine.
PERFORMANCE: LESS IS MORE…KIND OF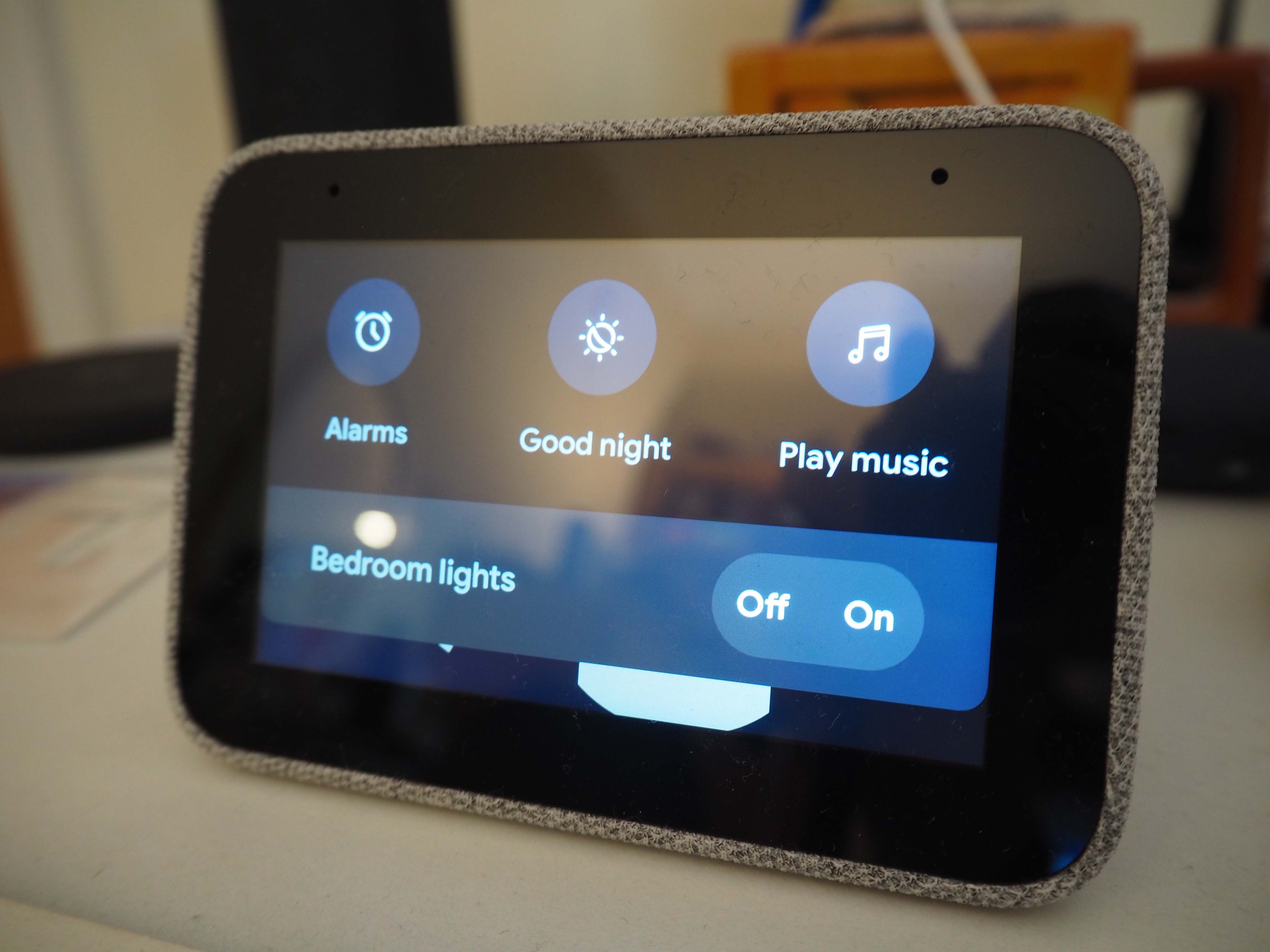 The Lenovo Smart Clock is very good at what it does do. The mics easily and accurately pick up your voice, the touchscreen is responsive, audio quality is fine for the limited jobs it's required for, and the combination of customisable morning/night routines and the ambient light sensor make it the most accomplished alarm clock I've used.
But it's hard not to think the display is wasted somewhat. While it's great that Nest Cam owners can use the Smart Clock to check their live feed, and the weather card is informative, some might be disappointed that the screen can display very little else.
I don't mind that I can't look at my photos on a 4in clock on my bedside table, but if you're asking Google Assistant a question you'll generally be looking at a black screen while it answers. I'd like to have, for example, some kind of visual representation of the football scores, or the option of a video news bulletin.
The rectangular screen arguably makes it more appealing than a Google Home Mini or Amazon's Echo Spot, but its limited functionality means comparisons with the Google Home Hub see the Smart Clock fall well short. That's fine given the difference in price, but you might want to check out Amazon's soon-to-be available Echo Show 5 (also an alarm clock with a screen) before you lay down your cash. That does have a blockable camera and the ability to play video, for the same price.
Think of this as an alarm clock with a few extra tricks and you won't be disappointed. But it possibly could have been a bit more.
LENOVO SMART CLOCK VERDICT
Taken in isolation, the Smart Clock is very easy to love. It looks great, works smoothly and is designed to make waking up less hellish. I'm all for that.
It's only when you start thinking about alternative devices in the category that its shortcomings become apparent. Still, I'm fine with the lack of a camera, and I like how Lenovo focused on making this device a great alarm clock and a reliable central hub for your smart home. On both counts, it succeeded.
Stuff Says…
Other devices do more, but this is the slickest alarm clock you can buy (for now)
Good Stuff
Charming design
Auto-brightness works well
Surprisingly loud
Morning Routines well implemented
Bad Stuff
Screen doesn't do much beyond core features
No video
Could do with more cards