LG G Pro 2 review
The march of the phablets shows no signs of abating, and being a super-sized version of the excellent G2 makes the G Pro 2 a mighty soldier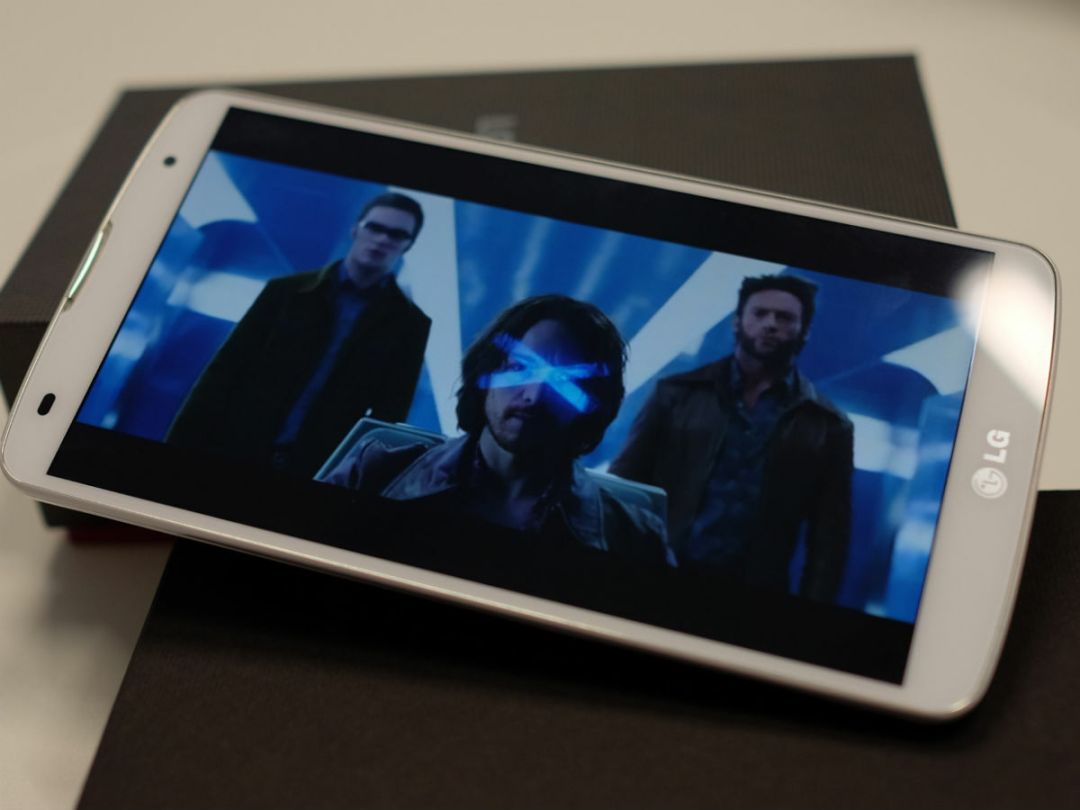 With the G2 LG proved it knows how to make a truly superb smartphone, so it's little surprise that its new phablet, tasked with taking down the Samsung Galaxy Note 3, has plenty of G2 DNA running through its veins.
The family resemblance is clear, right down to the power and volume buttons positioned on the back panel, but has enough of the magic rubbed off for the G Pro 2 to become a real star, or is this a William Badwin to the G2's Alec? There's only one way to find out.
Build: look Ma, one hand!
There have been some ridiculously huge phablets. Now those, you'll never, ever want to stuff into the pockets of those tight skinny jeans – even if you're able to. And you can forget one-handed texting unless you're an NBA baller.
The G Pro 2 is not in the same oversized league. This 5.9in device's slim bezel keeps the overall width to a manageable 81.9mm, allowing most people to handle it fairly effortlessly with one hand. Activate the Mini View by swiping left or right at the bottom of the screen and the downsized UI you get protects even the most phallangically challenged from thumb strain. Admittedly the off-skew 3.4in to 4.7in UI is a little off-putting at first, but it's darn useful, too.
Though its 5.9in display crosses into the phablet region, its 172g weight doesn't have the heft commonly associated with phablets such as the Sony Xperia Z Ultra or even the Samsung Galaxy Note 3. The slim 8.3mm profile is another design victory, and the ease with which it slips into your pocket makes it a real winner.
Unlike the earlier G Pro's slippery smooth rear, the G Pro 2's textured design provides a much firmer grip. Its physical volume and power buttons, as with the G2, are inconspicuously placed at the rear. In theory, your index finger will rest naturally on the back and instinctively reach for the buttons, but while this design worked well for the G2's shorter body and the G Flex's curved chassis, the flatter and lengthier G Pro 2 requires ET-like digits to be truly comfortable.
Screen: a movie marvel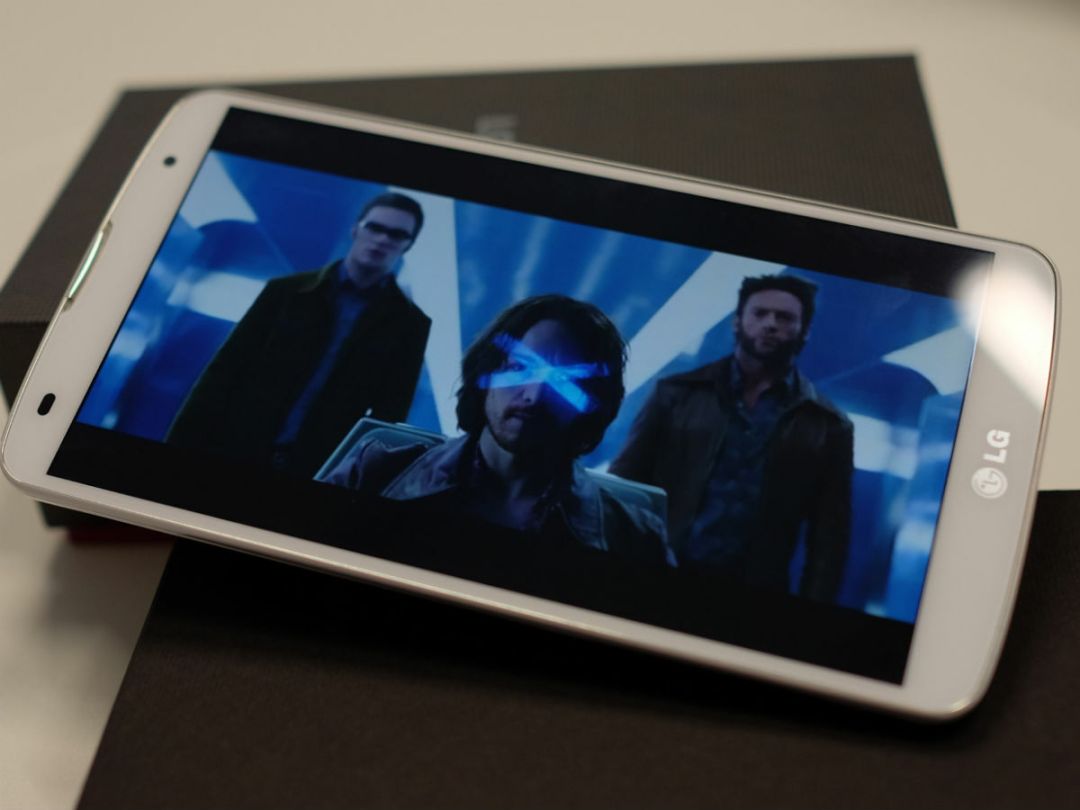 OLED might be the screen tech of the moment, but don't go dismissing the G Pro 2 simply because it's a standard LCD. The 5.9in display is rich but realistic in its colours, and just as sharp as an OLED-toting rival such as the Samsung Galaxy Note 3. Take our word for it – a drop from the Note's 386ppi to 373ppi for the LG is imperceptible to the naked eye.
From a comfortable viewing distance, full HD movies are amazingly clear and sharp, as are photos and fine text on websites.
The G Pro 2 also automatically adjusts screen brightness to the right level under bright daylight. No adjustments required – it won't blind you in the dark, and it won't vanish in the daylight.
Camera: G2-like quality
You'll find the usual hardware suspects on the G Pro 2 – a 13MP snapper, armed with an optical image stabiliser to combat those shaky hands and blurry shots.
The images do not disappoint. Clear, detailed shots taken under bright daylight are unsurprisingly easy on the eyes, but what makes the G Pro 2 a real belter is its night time shots – the G Pro 2 allows just the right number of photons to land on the sensor with the right shutter speed lighting dim scenes brilliantly. Admittedly, a certain degree of imaging noise is still visible, but far less than with competitors' snappers.
Shooting modes from its earlier siblings are retained. They include dual camera, which snaps from both lenses at the same time, superimposing your gurning mug onto the pic. Time catch shot is also available, and came in pretty useful when it snapped multiple shots and saved the best frame of Andrew Garfield, Emma Stone and Jamie Foxx at the Earth Hour that we got to go to in Singapore.
New to the G Pro 2 is the Magic Focus mode. Think Lytro, which lets you re-focus your images after you've taken them. Not exactly a unique feature, since everyone's doing it – HTC calls it uFocus on the HTC One (M8) while Samsung went with Selective Focus. But that doesn't make it any less fantastic, especially when you get to pass off as a competent photographer by creating selective bokeh effects to make photos more artsy.
Unlike the more sophisticated, hardware-based One M8 system, though, the G Pro 2 requires distinct contrast between the foreground and background, and that means there's a definite knack to creating a distinct focus between two objects. If you're taking notes, here's another – you'll need steady hands. Even a slight movement in Magic Focus mode can screw up the focusing dynamics.
That rear volume button also doubles as the shutter button, which seems weird until you take a selfie. Intuitively, your index finger reaches for and presses the volume up button when you hold the phone in one hand. And it works perfectly well with two hands, too.
Performance: faster than the specs suggest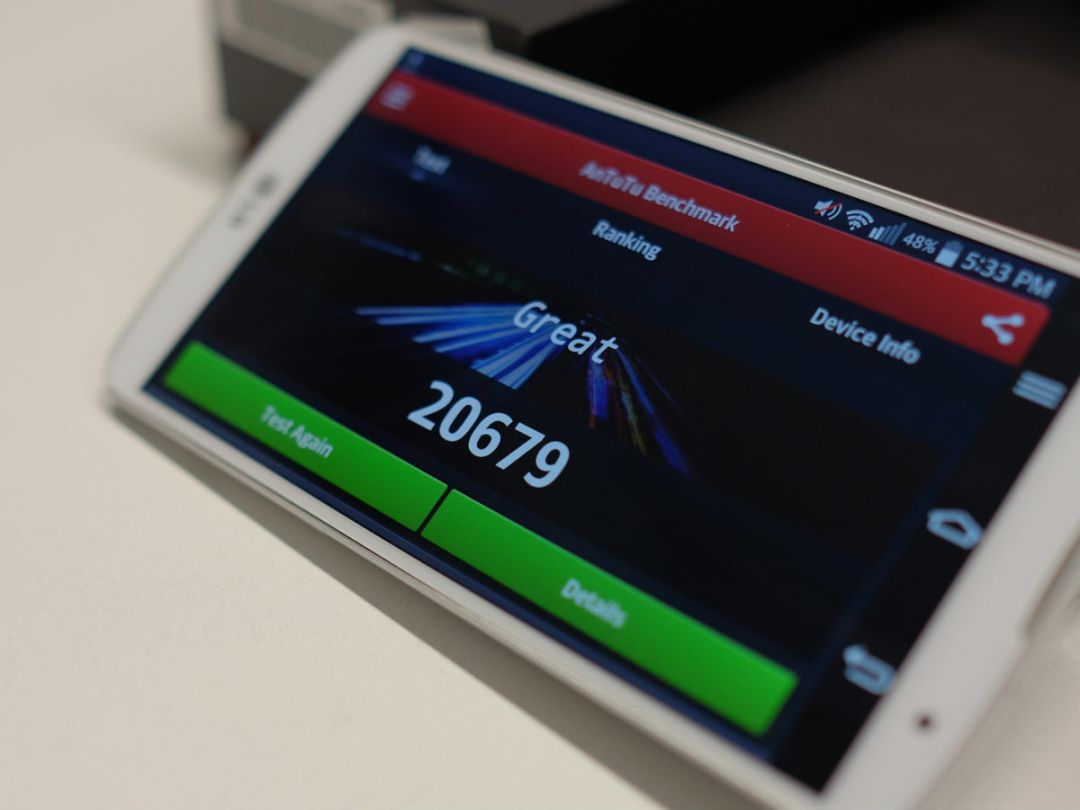 Although it's using the slightly older Qualcomm Snapdragon 800 processor (most 2014 flagship devices are using at least the 801 chipset), the G Pro 2 cruises through menu and screen transitions effortlessly. We've been simultaneously throwing everything we've got at the device – at least 10 apps, including resource intensive games such as Dead Trigger 2, Grand Theft Auto III and a few other basic apps such as WhatsApp, Facebook and the usual shebang – and nothing's troubled it. We'll thank the 3GB of RAM for helping make this something of a multi-tasking maestro.
Playing full HD movies is even more a piece of cake for this monster of a phone. We haven't spotted any frames being dropped even when apps are punching their way through the background. Web browsing is also just as speedy on LG's pre-loaded browser and Google Chrome and you'll probably get the Road Runner experience if you're on the 4G/LTE network, as we are. In short, your Instagram feed will be fully loaded before you can say supercalifragilisticexpialidocious.
After all of that super-slick speed it's a little surprising to see the G Pro 2 produce an AnTuTu score of just 20,679. We can't answer for that, but we can point out again that benchmarks are far from the be all and end all of power testing. What matters is the real-life performance, and the G Pro 2 performs like a peacock in mating season.
OS: heavily skinned, but with some occasionally useful features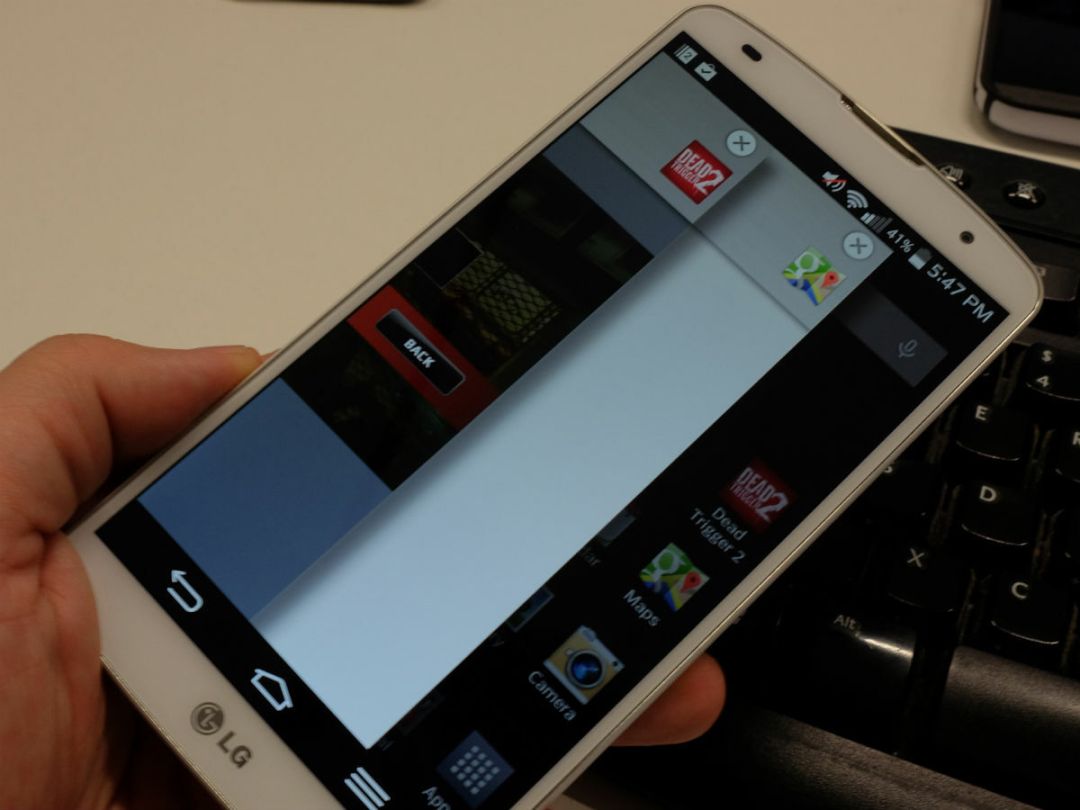 As with many competitors, LG has been particularly guilty of wrapping Android in an overly thick skin in the past, and the G Pro 2 doesn't change things.
Little touches such as Slide Aside (which lets you access up to three frequently used apps easily with a three-finger swipe) are useful, but it doesn't feel as intuitive or quick as Android's default multi-task menu.
To be fair, the South Korean chaebol has thrown in a few features that work really nicely. Customising up to five shortcuts for the front touch buttons might sound insignificant, but it makes a whole lot of difference considering the G 2 Pro's unusually long body. The notifications shortcut, for example, is a life-saver. Instead of stretching your thumbs to pull the notifications menu down, a simple tap on the button does the trick. The same applies for the recent apps function, which is usually activated by tapping and holding onto the home button.
We spent most of our time with KnockOn, tapping the display instead of hitting the rear power button to wake or sleep the device. For a while, it worked perfectly, until we noticed that the device came to life too easily whenever we grabbed the phone. At this point, we activated the new KnockCode which lets you determine where and how many knocks on the screen are required to unlock the phone. Caveman simple, but superbly, satisfyingly nerdy.
Then there's Content Lock. This second layer of protection, located in the Security settings, locks and hides specified photos and videos in the gallery, and any notes within the Memo app, with another password, therefore protecting them from the prying eyes of partners, offspring and thieves.
The likes of the QSlide video widget and Smart Stay (which keeps the screen alive while you stare at it) are still around and work well. Dual Browser, which splits the screen to house two apps for concurrent use, theoretically sound useful, but actually kind of defeats the purpose of viewing text and images on a generous 5.9in display.
READ MORE: Android 4.5 preview
Battery: not frugal enough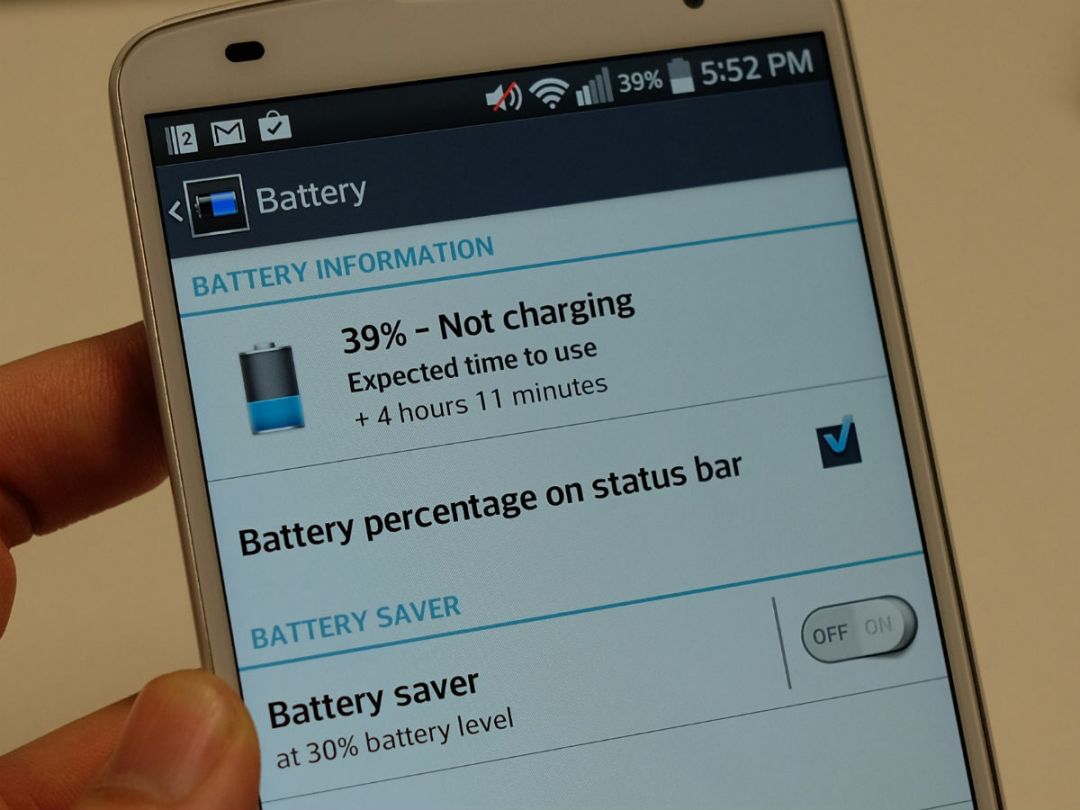 With the G2 proving LG can do frugal, we had high hopes for the G Pro 2's battery life. Disappointment follows.
During an hour of minimal usage, and by minimal, we mean not a single WhatsApp message or Facebook stalking involved, its juice dropped from 100% to 90%.
By the end of an average 12-hour work day, with ample amount of messages sent through WhatsApp, Gmail and Facebook, we were down to a mere 14%, which dropped below 10% after a 30-minute drive.
An hour of HD movies or games will cost you over 20% of your battery, too. Even sitting untouched and on standy for 10 hours saw it drop 40%.
To cut a long story short, getting a day out of the G Pro 2 is a tricky business, and that's not really good enough.
LG G Pro 2 verdict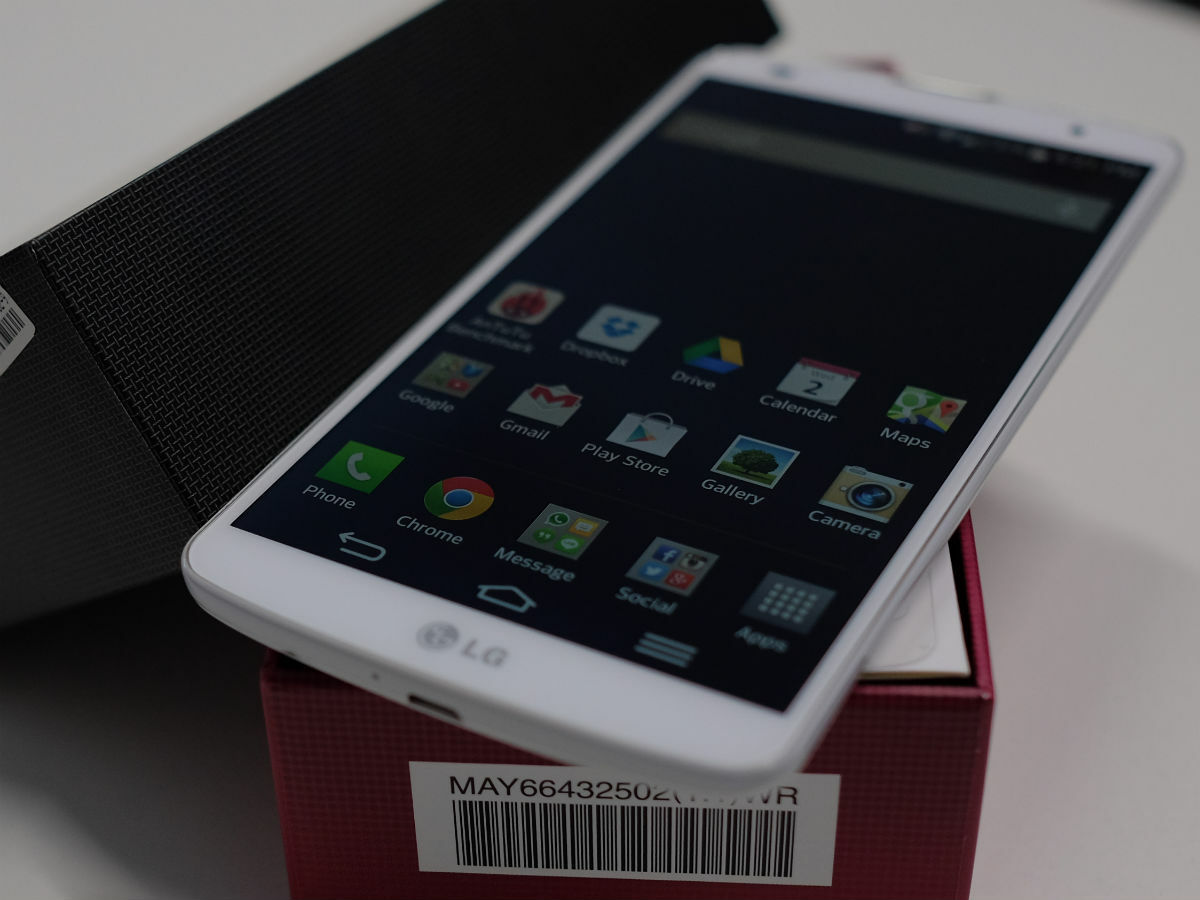 The brilliance of the LG G2 took everyone by surprise, but now the company's achieved it once, expectations for every one of the companies future phones have risen dramatically.
That the G Pro 2 takes so much of its design and features from the G2 is no surprise then, and there are lots of reasons to like this phablet take on the formula. It's light, easy to handle and fits snugly in a pocket – all rarities in the phablet world.
The G Pro 2 has plenty when it comes to features, too, with KnockCode proving a particularly useful and inventive example.
And on top of that it's plenty powerful, mocking its relatively small AnTuTu score by juggling mountains of apps without stutter or lag.
But the battery life is a problem. We weren't necessarily expecting the sort of power-sipping that the G2 demonstrated, but we were expecting (and always expect) a full day of moderate use. The G Pro 2 can't manage that, and that leaves the Galaxy Note 3 safe in its position as best phablet in the world – at least for now.
Stuff Says…
It's got value, performance and features on its side, but the G Pro 2 falls down on battery life
Good Stuff
Better grip than its predecessor
Improved KnockOn feature
Impressive spec and features for the expected price
Bad Stuff
Harder to reach rear buttons
Lower than expected battery mileage