LG G2 review
The LG G2 promised the moon on a stick when it was announced, and this fabulous smartphone does not disappoint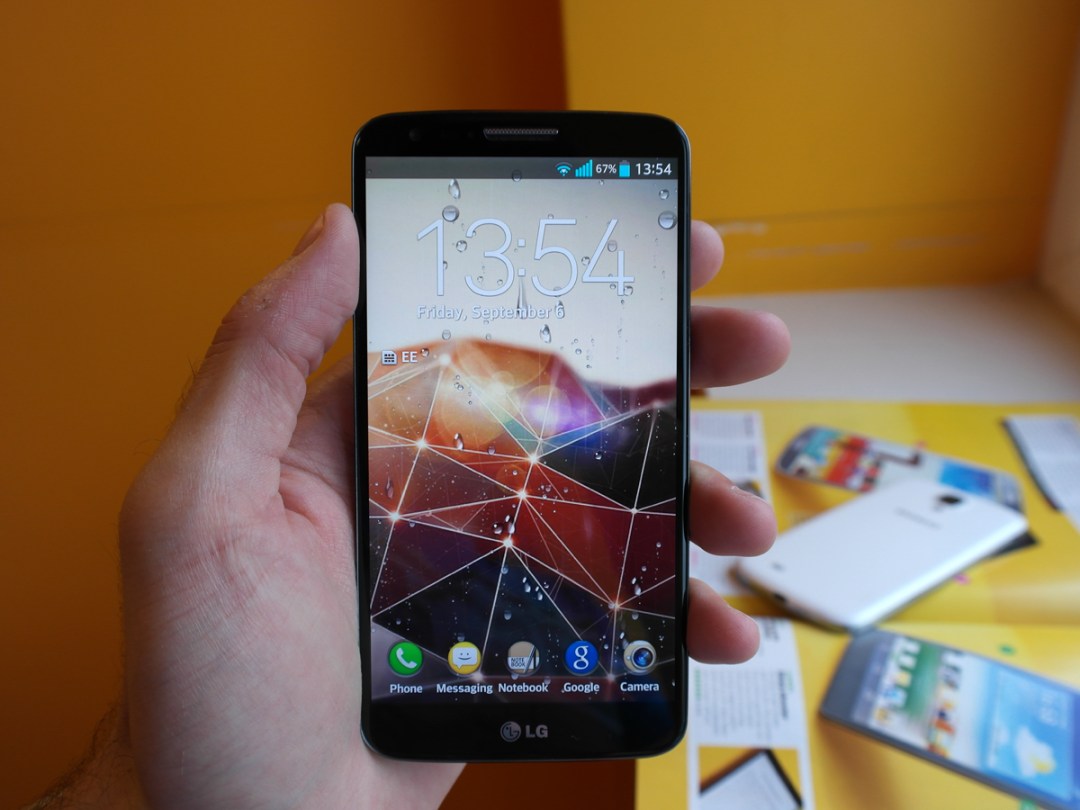 We met the arrival of the LG G2 at Stuff HQ with considerable excitement. The fleeting moments we spent with it during our hands-on review weren't enough to get to know it properly, so the prospect of taking it out for a few fancy dinners and really getting to know it had our stomachs fluttering with butterflies. Metaphorically speaking of course.
It's not every day you get to play around with one of the world's most powerful smartphones after all, and memories of its razor sharp display and intriguingly positioned power and volume buttons fanned the flames of our curiosity even further.
After spending a good few days joined to the hip, we've come to know the G2 inside and out. Have the initial sparks of attraction fizzled out, causing our eyes to wander back towards the Galaxy S4 and HTC One? Or is it everything we hoped it would be and more? It's time to find out.
Putting up a front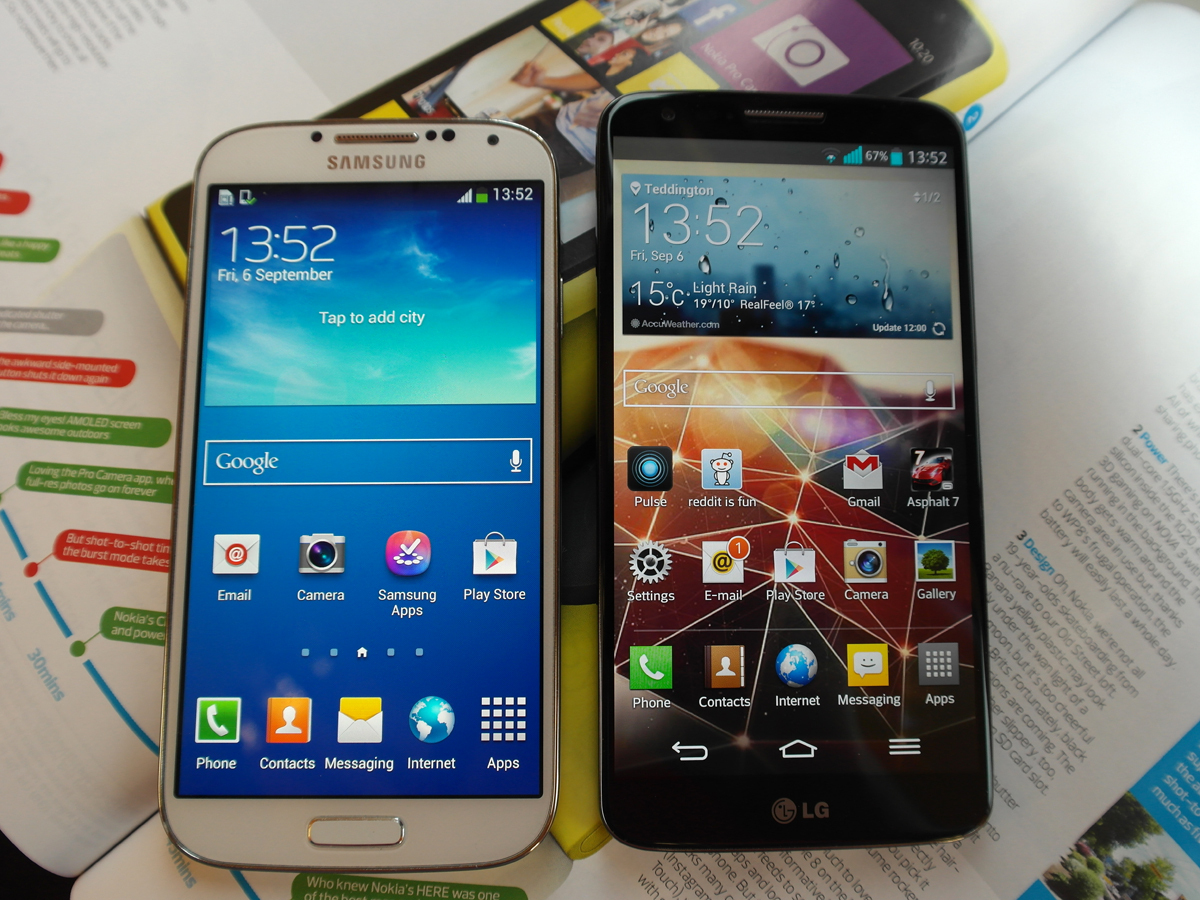 The LG G2 is a very attractive customer from the front. Resembling a slightly squarer Nexus 4, its gorgeously slick glossy black finish is accented by two complementary sprinkles of silver: the speaker at the top and the LG logo at the bottom. Simple, clean, and very pleasant on the eyeballs.
Turn the screen on and you'll praise whichever LG designer was responsible for slicing the bezels down to size. While it hasn't quite got an edge-to-edge display, there's very little space either side of the 5.2in screen. Haters of the Galaxy S4 and HTC One's capacitive buttons will be pleased to hear that the LG has opted for on-screen buttons, too.
While it's a little wider, taller (and ever so slightly thicker) than the Samsung Galaxy S4, we prefer the looks of the G2's squarer corners and it just feels a tad more comfortable in the hands, although it's sadly just as slippery.
Like the S4, the G2 is rocking a plastic suit, so it too gets outclassed by the outstanding all-metal HTC One. That's not to say that the G2 isn't solidly built. We couldn't get a creak or flex out of it despite twisting it as hard as we dared (don't worry, LG, it's absolutely fine), while the same can't be said for our Galaxy S4.
Granted, our S4 has been knocked and banged around the Stuff office since launch, but the G2's non-removable back cover does provide a little more rigidity, at the cost of battery promiscuity.
The buttoned-up back
You'll notice that we've yet to talk about the G2's rear end. That's because we wanted to ease you into it. It's a bit… different, you see.
Remember the compliments we lavished on the G2's wonderfully slim bezels? They were made possible because the G2 doesn't sport volume and power buttons on its side. They've been shifted around to the back, sitting beneath the camera lens, glaring at us and daring us to say anything about them being out of place.
Glaring or not, we're going to be honest: for the first day we hated the position of the power button. LG's logic was to place it on the rear, where your index finger naturally rests for quick and easy access, but we were still hitting the 'volume up' button eight times out of ten.
Our love affair with LG's designer was over, and we were cursing his nameless face when we accidentally deafened ourselves to the angry rants of Eminem, when all we wanted to do was turn on the display.
Then we remembered that the LG G2 has a very, very useful trick up its sleeve. Like the BlackBerry Z10, Q10 and Q5, the G2's screen can detect touch input even when it's off.
Simply tap twice on the screen and you'll be greeted with the lock screen. Once you've glanced at the time and seen your notifications, you can swipe to unlock as normal, or give it another double tap to turn the screen off.
LG calls this KnockOn. We call it the Tap of Life, which we think you'll agree has a much better ring to it.
It's a great idea and makes you feel like you're knocking on a door that opens into your smartphone. It also works from the Home screen, but make sure you don't completely fill that up with app icons because it needs an empty space to work.
After a while we also got used to the raised bump of the power button and were mishitting it less and less. It's still not as convenient as a side-mounted power button, especially when you have to lift it off the table to turn the screen off, but it's not as bad as you might at first assume.
Aside from that, the plastic rear panel of the G2 feels very sturdy and has a rather unassuming and faint diagonal pinstripe design that catches the light a little. It's nowhere near as glittery or as exciting as the disco ball booty of the Nexus 4, but it's nice nonetheless.
Given that you're probably doing something very, very wrong if you spend most of your time looking at the rear of your smartphone, you should be more than happy with the sleek and sexy front of the G2.
The power button lights up for notifications and there's also a notification LED on the front. Both are customisable with different colours for different apps, which is a useful touch.
Screen dreams
The LG G2 packs a 5.2in full HD IPD display, and it's absolutely glorious. It's cramming together 423 pixels per inch, which while just a touch short of the figures of the Sony Xperia Z (443ppi), Samsung Galaxy S4 (441ppi) and HTC One (469ppi), in reality looks razor sharp.
It's also bright enough to negate the need to up the brightness to 100 per cent, out-shining the HTC One, which we feel could do with cranking things up a touch more in the luminosity department.
1080p video looks breath-taking, with crystal clear detail and bright, vivid and natural colours making our eyeballs clap with appreciation.
Lined up next to the Galaxy S4 and HTC One, the LG G2's screen does very well indeed. We prefer both the HTC One and G2's display to the over-saturated colours of the Galaxy S4, and while the G2's colours are just a smidge warmer than the HTC One, it produces ever-so-slightly whiter whites, with noticeably truer blacks.
If you strap an electron microscope onto your face, you might say that the HTC One is ever so slightly sharper (which you'd probably expect as the smaller screen size equates to greater pixel density) but in real life you're unlikely to notice a difference in sharpness between the two.
Viewing angles are also excellent, especially compared to the Xperia Z, which suffers from very noticeable de-saturation when viewed off-centre.
Overall it's extremely close between the HTC One and the G2 screens, but we're giving this round to the G2 thanks to its bigger size and deeper blacks.
The most powerful phone we've tested
Like the Sony Xperia Z1, Z Ultra and Samsung Galaxy Note 3, the LG G2 harnesses the power of the earth-shattering Snapdragon 800 processor. Qualcomm's beastly sliver of silicon has been praised around the techosphere for its raw power, but does it actually deliver it from deep within the depths of the G2?
Oh yes.
First things first, let's get numbers out the way – we're not the types to get bogged down in benchmarks, but they often provide a useful point of comparison.
We ran the latest version of AnTuTu benchmark on the G2 and it walloped the competition with a score of 34,191.
If you're not impressed, let's add a dash of perspective to things. The G2 ranks first, with the HTC One coming in second place with 25,651. The only other products that rank higher than the G2 in AnTuTu's Top 20 list are Nvidia's Shield and the Sony Xperia Z Ultra, and they're not scoring much higher.
Right, that's the numbers done, we promise. Let's talk reality.
The G2 runs Android 4.2.2 about as smooth as we've seen it, with hardly any stuttering or hesitation in sight. We've thrown handfuls of simultaneously running apps at it, played the latest, most demanding 3D games, watched 1080p videos and browsed the web, and the G2 has lapped it all up, laughing as it mockingly asked if that's all we could throw at it.
Given all that, it's no surprise to hear that the G2 is a fine web browsing machine, loading up sites quickly and without any hint of complaint. Text re-flow and scrolling is nice and smooth and there's a handy feature called Capture Plus, which saves the entirety of a webpage as a picture for offline viewing.
Those of you sporting 4G contracts will also be able to surf the interwebs at high speeds while you're out and about, thanks to the G2's 4G smarts. It's even ready for LTE-Advanced when that eventually rolls out, and that's well worth getting excited about.
Oddly enough the tiny bit of lag we did notice was waiting a few extra milliseconds for text messages to load when viewing threads from different contacts. It won't be noticeable in everyday use, but while reviewing a smartphone and actively looking for any slowdown, it's an odd thing that we picked up.
A camera of serious quality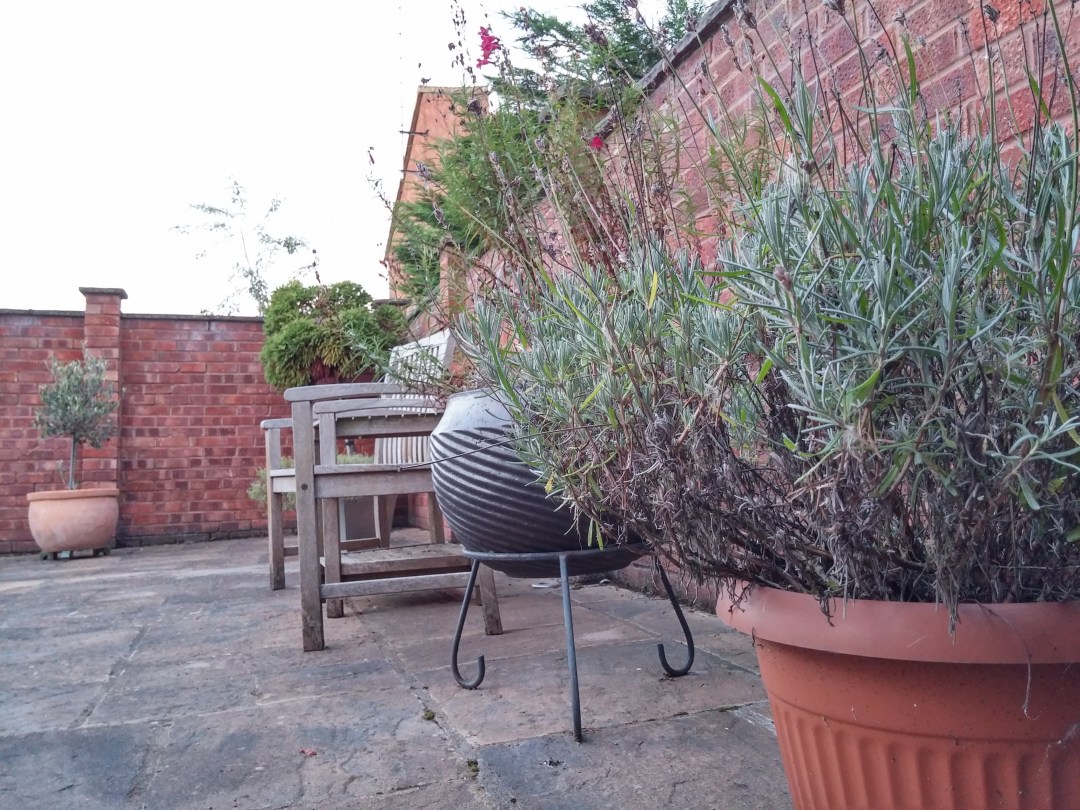 Like the Samsung Galaxy S4, the LG G2 boasts a 13MP camera – with the added bonus of Optical Image Stabilisation – and the G2 bests Samsung's snapper in both well-lit and low-light conditions.
The G2 serves up noticeably sharper shots in good light, with more detail on offer, while the Galaxy S4's shots are softer by comparison, with colours that appear a little washed-out.
The G2 offers particularly impressive shots in low light conditions even without its flash turned on, capturing much sharper images with noticeably more detail than its Samsung counterpart can manage. It's still got the typical grain and noise that plagues all camera phones, but it's definitely not bad and more than good enough for recording your antics on a dimly-lit night out in town.
Turn both flashes on in the dark, and it's much closer. The G2's whites are truer and its colours are slightly less washed-out, but there's not much in it. Both devices perform well with little to no noise or fuzziness present.
The LG G2 can record crisp, clear full HD 1080p video at an impressive 60 frames per second (a figure that its rivals can't match) and video is as clear and as crisp as you'd expect, with smooth playback.
We asked LG about 4K recording (which the Snapdragon 800 CPU supports) and were told that it could be possible with a future firmware upgrade like Android 4.4 KitKat. With so few 4K sets in living rooms though, not to mention the storage space issues such large files will cause, LG doesn't feel that lack of 4K recording at launch is a pressing issue.
It's also got an interesting Tracking Zoom function that lets you select a subject while recording, after which the viewfinder is automatically zoomed in on them while they're moving around. You can even do this post-shooting in the built-in video player.
Another feature worth mentioning is Audio Zoom, which lets you focus on recording sound from the point that you choose to zoom into. Again, this can also be done post-recording during playback. We haven't had time to go to any gigs or presentations to really test it out, but it's an interesting concept.
Disappointingly however, if you're recording yourself walking around or moving while holding the G2 there's a lot of motion blur that makes it difficult to watch back. The Optical Image Stabilisation clearly isn't as accomplished as it could be.
As with the S4, there are tonnes of camera extras, including a dual camera mode that lets you take a picture of you and your subject simultaneously. It's debatable whether or not you'll actually use it, but one that does impress is the Virtual Reality Panorama feature which stiches together impressive full 360 degree panoramas that you can then virtually pan around using the accelerometer. Sadly you can't turn these into Photosphere planets like you can on the Nexus 4, unless you side-load its gallery app, of course.
Thick-skinned with some useful apps
LG has taken the Samsung approach to Android by cramming an absolutely monstrous number of software extras and modifications into the G2, for better and for worse.
Aesthetically, we don't dislike LG's skin as much as Samsung's TouchWiz, but it's almost as cartoony. Resembling nothing like stock vanilla Android, the G2's been skinned with LG's own icons and menus, topped off with over-the-top transition animations that would probably bring lesser hardware to a grinding halt.
They're nice to have if you want to show off some funky unlock animations to your mates, but after swiping to unlock with a giant crystal appearing beneath your fingertip for the 50th time, you'll want to go for something a little more subtle. Or just load up an alternative launcher – hooray for Android.
In terms of software extras, we almost don't know where to begin. The G2 has the same eye-watching smarts as the Galaxy S4 (called Smart Screen as opposed to Samsung's Smart Stay), meaning it knows when you're looking at it so it can automatically pause videos and turn the screen off when you're not paying attention. It'll also automatically answer calls when you bring it to your ear.
The G2 also has an IR blaster and a useful Quick Remote app that you can access directly from the dropdown menu. Even if it won't operate your TV and home cinema kit first time, it can 'learn' from your existing remotes with a couple of button presses and it's a genuinely useful tool for channel hopping in style.
Other useful tweaks include Plug & Pop (all these features have cheesy names, just to warn you), which brings up a contextual menu each time you plug in your headphones or microUSB cable. Plug in your headphones and you can choose which music apps to launch, including YouTube.
The microUSB cable automatically pulls up a menu asking you if you want to simply charge your phone via USB or transfer files, saving you from having to select it manually from the dropdown menu.
QSlide lets you open up to two selected apps from the notification menu and you can drag them around like widgets, interacting with them and laying them over whatever you're currently doing for some quick-fire multitasking shenanigans.
Slide Aside acts like alt-tab in Windows, letting you quickly rotate through up to three apps of your choosing. To save an app to a Slide Aside you have to cumbersomely swipe three fingers across the screen. We found ourselves using the traditional Android open apps menu faster, but as long as Qualcomm's silicon can handle all these extras, we suppose there's no harm for LG to chuck it in.
Clip Tray is a far more agreeable feature. It lets you save and access everything you've cut or copied in the past, letting you pick and choose text and photos before pasting them into emails, messages and notes. It's a serial cut'n'paster's best friend.
As with Samsung's TouchWiz Android tweaks, we could do without some of the G2's software extras like Smart Screen. It's just another button to add to the clutter of options, and while it works well, the time it takes to press pause or turn the screen off when you're looking at it makes it seem like more of a me-too feature than a necessity, and the G2 can hold its own against the S4 without having to rely on software tricks.
Still, the programmable remote is very useful for reducing sofa clutter and QSlide, despite its awkward name, came in handy for browsing the web while simultaneously making notes on our morning commute. But we've saved the best feature till last, and it's special enough to warrant its own special section…
Guest Mode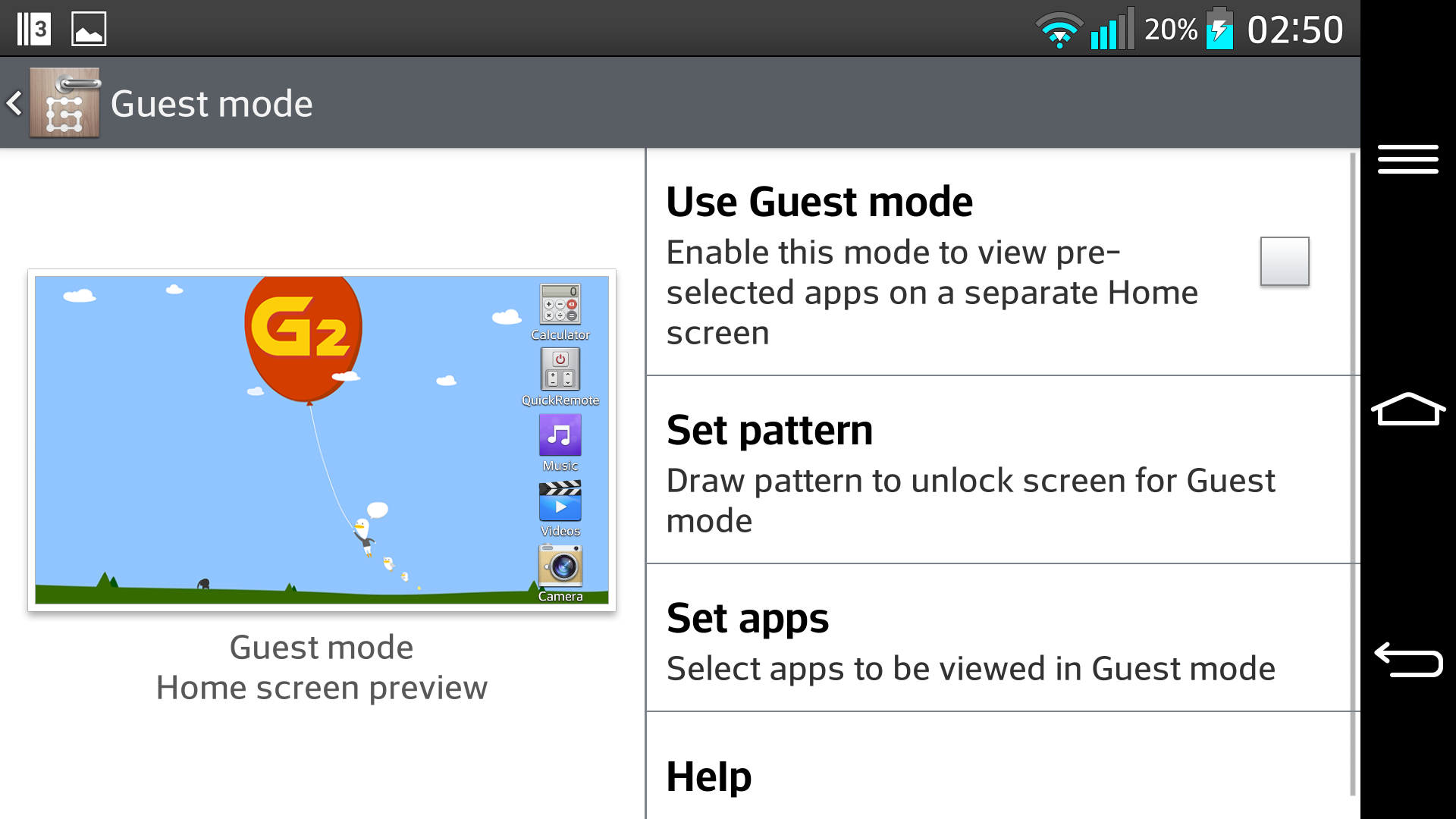 This, mums and dads, is the answer to your prayers. No longer will you have to worry about little Timmy stumbling over those photos you took on your weekend break. It's time to wave goodbye to frivolous spending sprees in which the little rascal spend £3,000 on virtual hats for his penguin zoo (or whatever it is the little tykes are playing these days).
Put simply, Guest Mode lets you partition your G2 and set it up for someone other than yourself to use. You can select which apps you want to be available, as well as which media you want to hide.
The best part, though, is the fact that you don't have to faff around with the settings each time. All you need to do is set it up once, then you'll have two lockscreen patterns/passwords – one to gain access to your own regular apps and content, and the other to enter Guest Mode.
Duracell Bunny DNA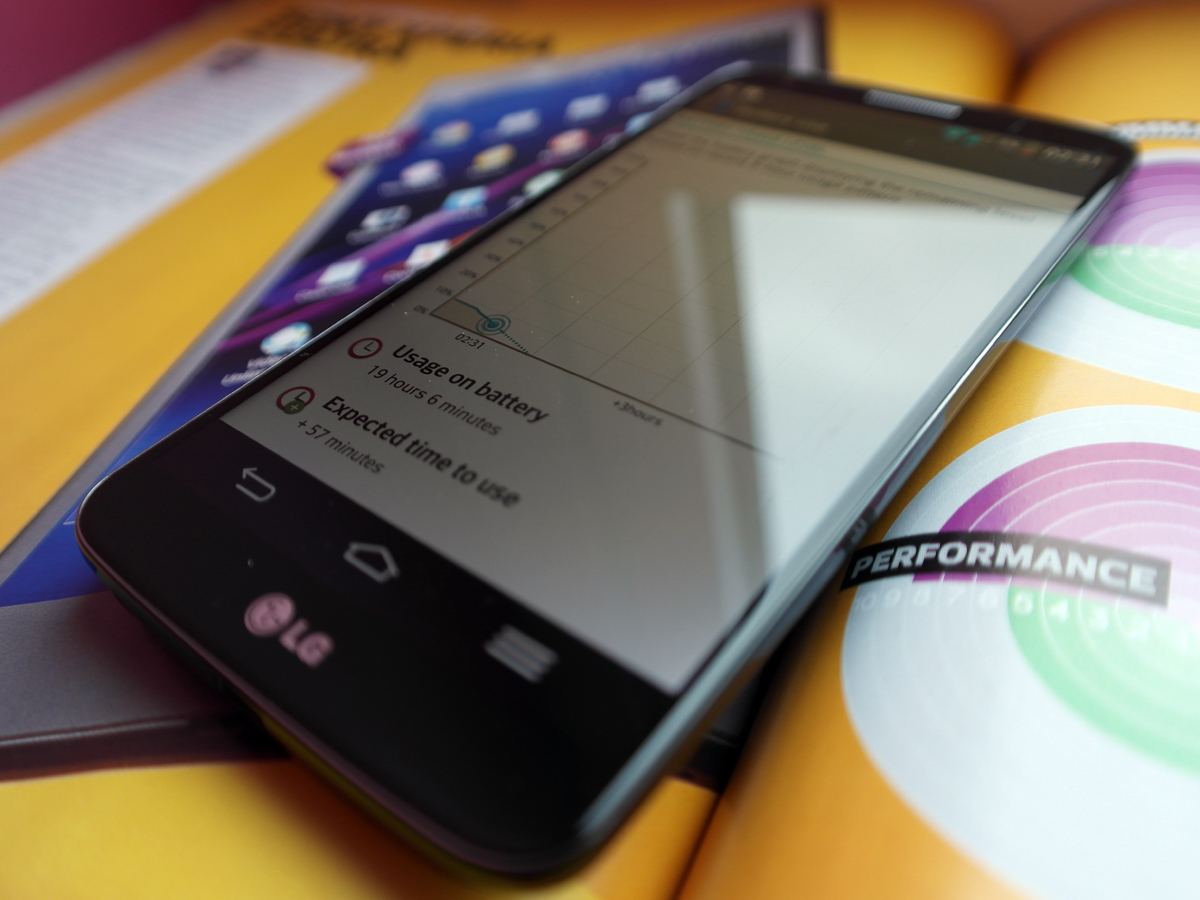 The G2 has a non-removeable battery. For many that's a deal-breaker, and it's one advantage that the Galaxy S4 has over many of its rivals, including the G2.
However, the G2 has a large 3,000mAh battery as well as something called GRAM. Graphic RAM, according to LG, can reduce power consumption of the G2 by up to 26 per cent, providing an extra 10 per cent of battery life.
It's all got to do with the GRAM memorising still frames and reducing the number of times the screen is refreshed when nothing on it is changing, such as when you're reading an article online for example.
In all honesty, how it does it doesn't really matter. What matters is that the LG G2 delivers battery life in spades.
In one day, it lasted a little over 19 hours before it hit five per cent and we jumped for the charger. During that time, Wi-Fi was on the entire time and we streamed two hours of music through Rdio to Bluetooth speakers.
Granted we only made one brief phone call in that time, but texts and emails were hammered out with regularity, and the G2 was also being put through its paces for this very review, with Benchmarks and 3D games being fed to it throughout the day.
Throw in some camera and video work and plenty of web browsing and that 19 hour battery life is very solid indeed.
Not only that, but it charges quickly, too, sucking up around 30 per cent of juice in a little under 20 minutes. Very impressive.
The phone for audiophiles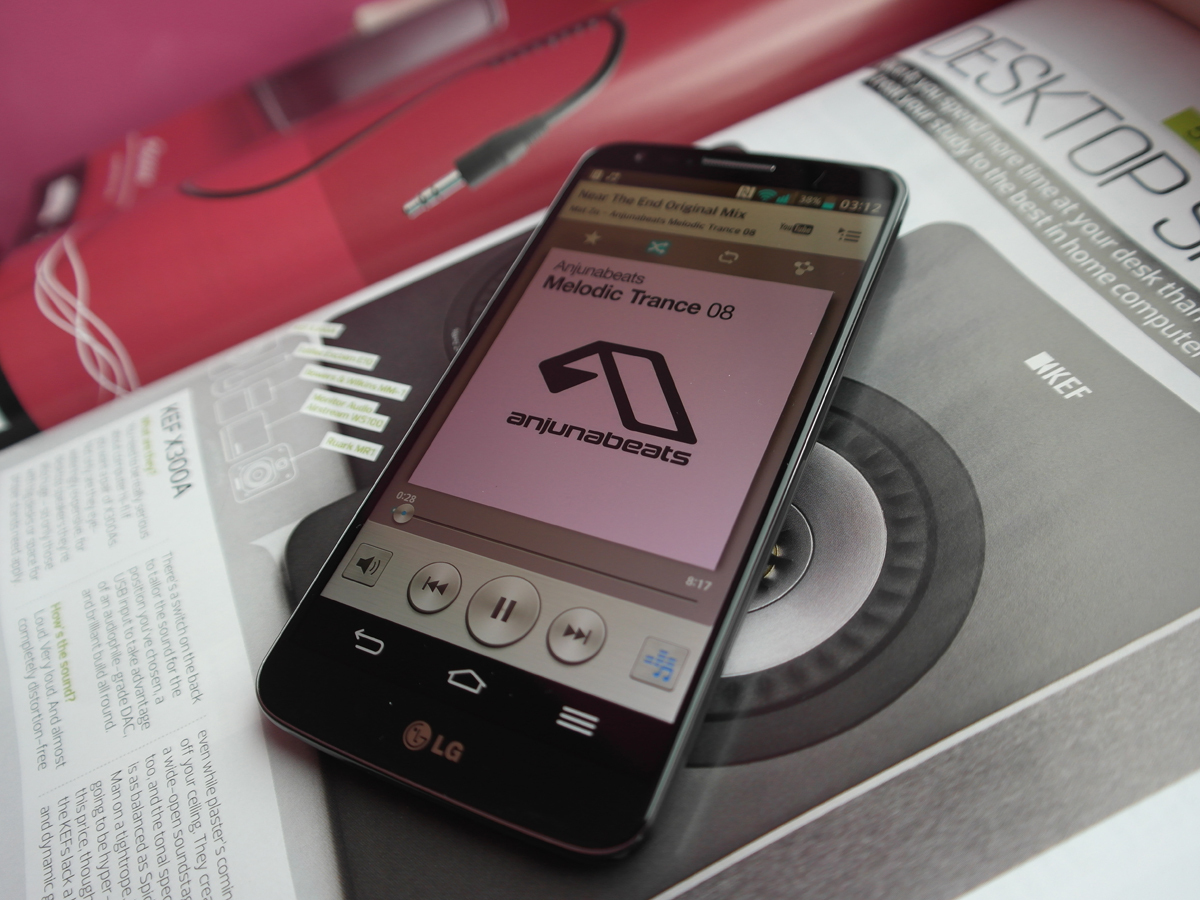 LG has kindly decided to tinker around with Android's audio software and the fruit of its labour is support for 24bit/192kHz studio master-quality music. It's a niche feature that only the most dedicated hi-fi aficionado is really going to make use of, but if you do make the effort you can hear a difference, with 24-bit files sounding subtler and more detailed – as long as you've got headphones of a suitably high quality.
Speaking of which, LG's also made some effort with the bundled earphones, which have the kind of build and sound quality that most freebies don't get close to. We'd still upgrade if possible (think SoundMagic E10C as a starting point), but if not, the bundled buds will more than suffice.
Verdict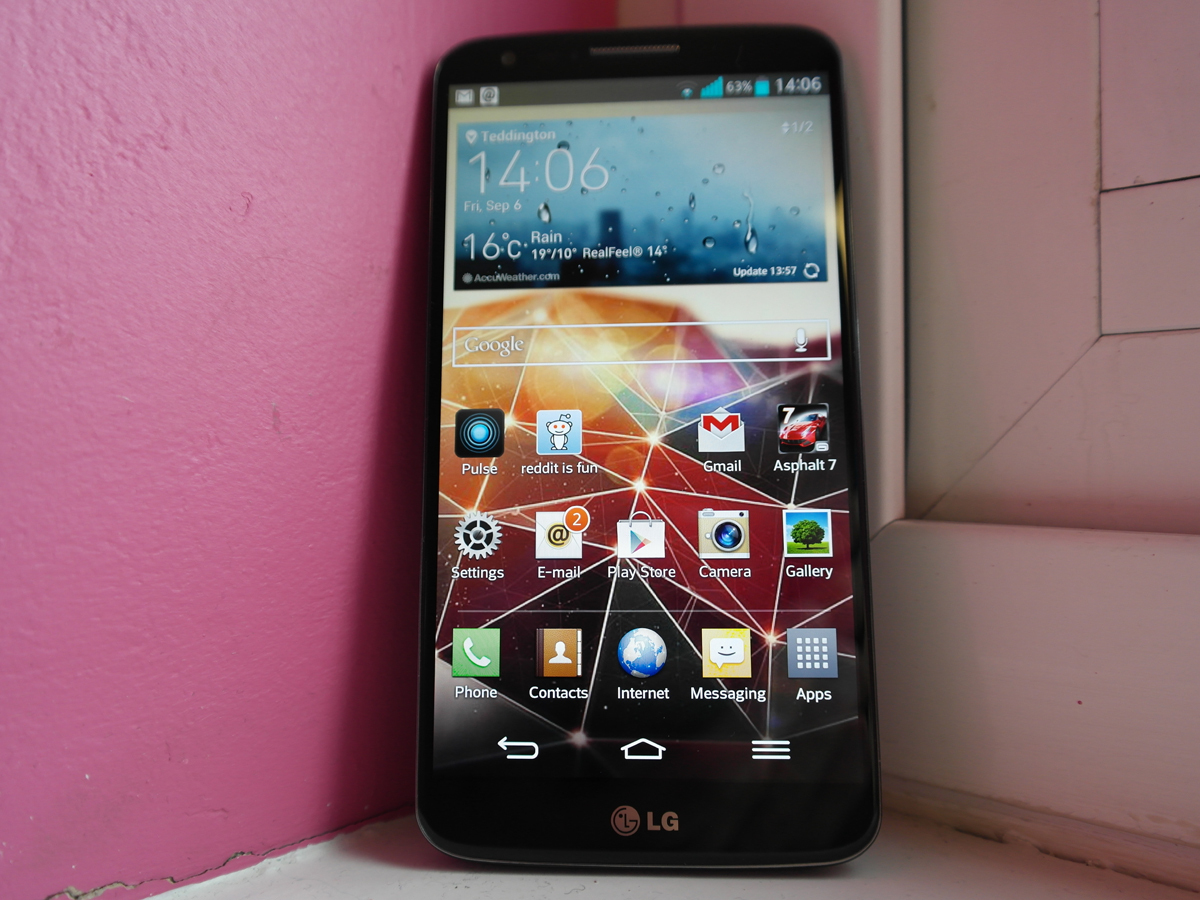 We can't remember ever being particularly excited about an LG phone, but the G2 changed that when its specs were released, and to our great amazement the G2 is just as brilliant in the flesh as it is on paper.
It dispatches its arch-rival's offering with relative ease. This is a faster, nicer-screened and crisper-cameraed device than the Samsung Galaxy S4, and while both have plastic shells, the LG's looks and feels more sexy and solid.
It can't match the HTC One for looks and build, and LG's skin isn't as slick or accomplished as HTC's Sense UI, but in just about every other way the LG is the better device.
Its quirky button arrangement takes some getting used to, but its gorgeous screen, excellent camera and electrifyingly fast performance matched to quite exceptional battery life are worth those first few days of fumbling around the back.
The only smidge of reservation we have is that we're expecting the Nexus 5 to bear more than a passing resemblance to the G2 and have stock Android on its side.
That's largely educated guesswork, though, and in the here and now there's one quite incredible thing that we know for sure – the LG G2 tops our list of the best smartphones in the world right now.
Stuff Says…
This is more than a phone with peculiar buttons, it's a hulking powerhouse of smartphone excellence
Good Stuff
Faster than Bolt on cheetah steroids
Superb screen and cracking camera
Battery has Duracell Bunny DNA
Bad Stuff
Quirky buttons take getting used to
Plastic back is a little bland