LG G4 review
The leather-clad challenger for phone of the year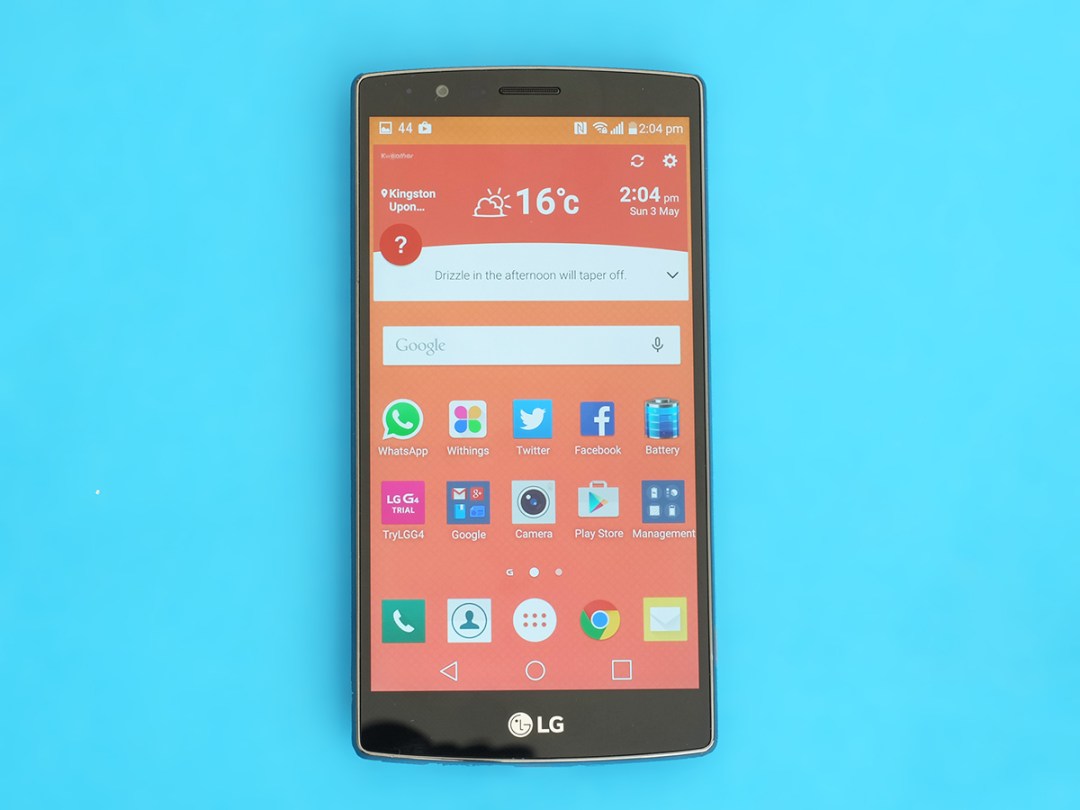 Remember the days when an LG phone was nothing to shout about?
You only have to cast your mind back a couple of years, but then the G2 came along, and since then each new LG flagship has been anticipated as a potential demolisher of the very best that Samsung, HTC and Apple have to offer.
So the new G4 arrives with much fanfare and expectation, and it's certainly dressed to impress in a shell of real, proper, made-from-the-skin-of-dead-animals leather. If that's not to your taste (or within your budget) there's a cheaper plastic/ceramic version. And no matter what it's wearing, the G4 really is the toughest Galaxy S6 challenger in town.
A friend who's dressed in leather
First off, let's take a look at the bit that has made many an eyebrow raise: that leather back. LG has really maxed-out that leather look by stamping a join and stitching down the middle, getting you legit-feeling contours. Does it feel better than glossy plastic? Absolutely. It's a bit like a more organic feeling soft-touch finish, and it makes the LG G4 seem a bit more expensive than its predecessor.
When LG's asking for extra cash for the privilege, you're entitled to look a little bit deeper, though. First, that seam down the middle is, predictably enough, fake. It's just stamped into the leather, although the stitching on either side is real enough.
Next, don't go expecting the LG G4 leather edition to age like a fine leather handbag or the dashboard of some CEO's luxury automobile. Its resilience is going be to be impaired by the fact that the leather layer has been thinned to within a micrometer of its life.
This is a pretty common process by which normal leather is whittled down to make it thinner for those purposes where chunky stuff just won't do. Ever tried on one of those ultra-thinline leather jackets? That would have almost certainly had the same treatment. The LG G4's backplate is actually plastic once again, with what's best described as an ultra-skinny leather veneer.
Yes, it's real stuff, but part of what makes leather so rugged, so able to age well, is its malleability and ability to soak up impacts. And LG has stripped a lot of this away by making it quite this thin. Is it worse than plastic or aluminium? Absolutely not, just don't go expecting miracles. This ain't the stuff of motorbike duds.
Colour coded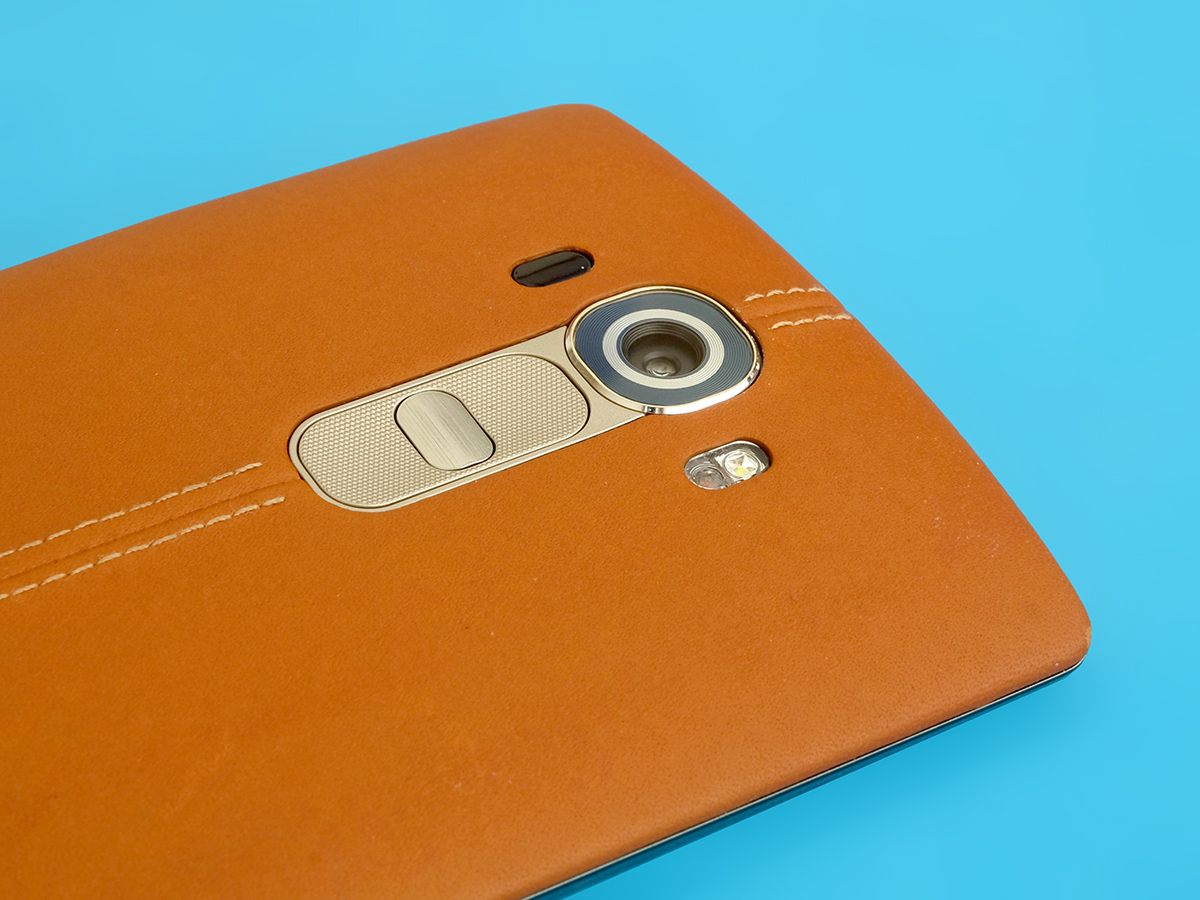 I do like how LG has gone about customising the leather backs, though. Here's the thing: it's a bold look, and lots of people will probably hate it, especially in the tan version of this review sample.
There are loads of other shades, though, which give it a slightly different vibe. The black leather version is kind of disconcertingly kinky, but the brighter shades are a lot more fun. They scream a lot less of S&M.
Just fancy plain old plastic? LG has applied some contouring to the plastic back of the LG G4 and has thrown a bit of ceramic into the mix of the back's make-up for a harder feel, but really the phone looks and feels a lot like the LG G3. In all the models the little side bits are still plastic, and the phone is roughly the same size.
It's no wonder LG brought out these leather backs to detract from the idea this is a pretty simple upgrade.
Once again, LG has plonked the phone's buttons onto the phone's back: that's the power key and the volume buttons. There's no smart fingerprint scanner, but after a few years of optimising this design the rear buttons feel great. They sit right under where your phone naturally lies and make a this larger handset easier to use.
Same old, same old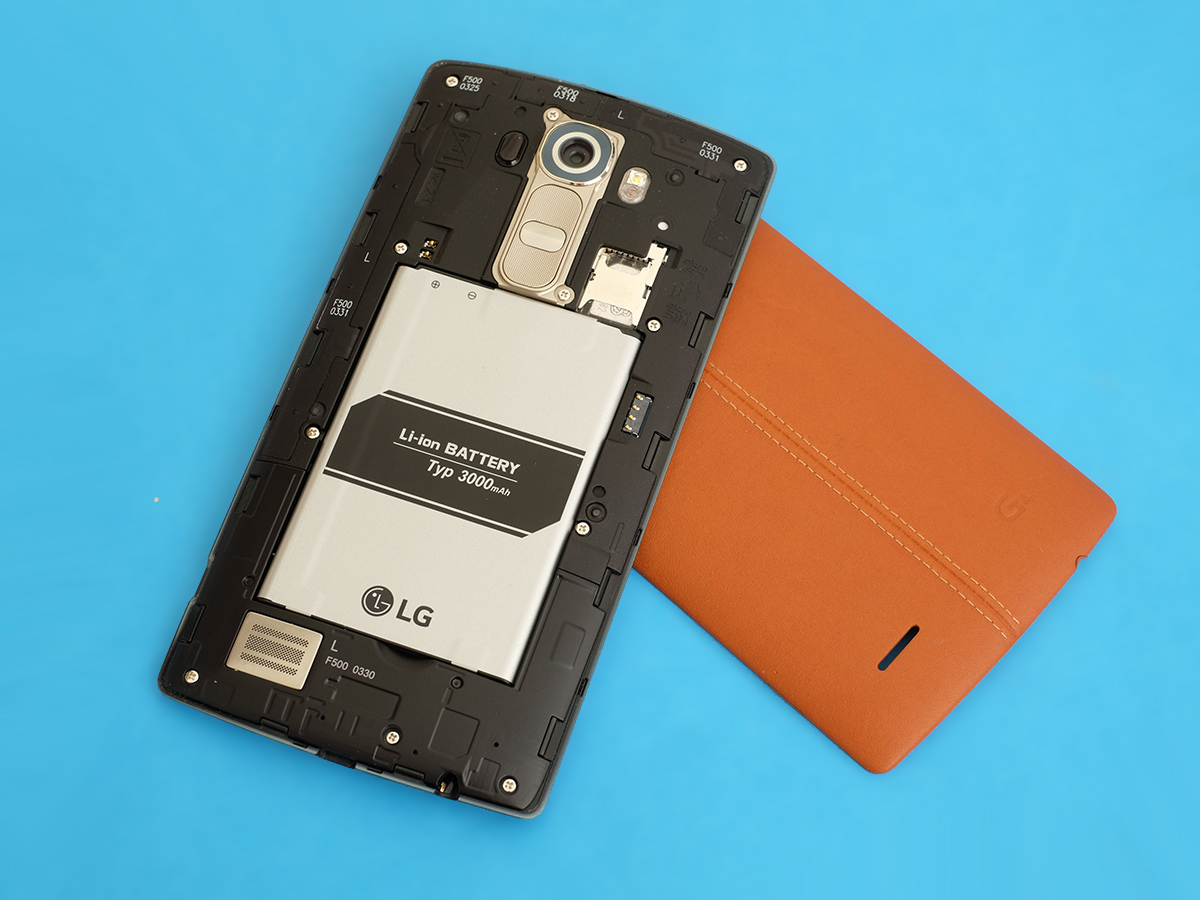 What many of you may really appreciate staying the same, though, is the freedom this plastic backplate gives you. You can simply rip the thing off, and underneath you can change the battery and pop in a microSD card. With an iPhone 6 or Galaxy S6, you can't do either.
If you like watching movies on your phone or want to keep the LG G4 for at least a couple of years, these are very good things to have. After a 12 months or so even modern phone batteries will have lost some of their mojo. With this phone you'll just be able to snag a new one off eBay, assuming UKIP doesn't get voted in and ban trade from all non-UK companies, that is.
It handles well too, for a 5.5-inch screen phone with unremarkable thickness of 9.8mm. How come? While it's a shade wider than the LG G3, the 'arc' of the back (as LG calls it) fits your hand pretty well. It is a fair bit bigger than the Galaxy S6, though. Bear this in mind if you're averse to big phones.
The solace of Quantum