LG G5 review
LG's made a new kind of smartphone. No big deal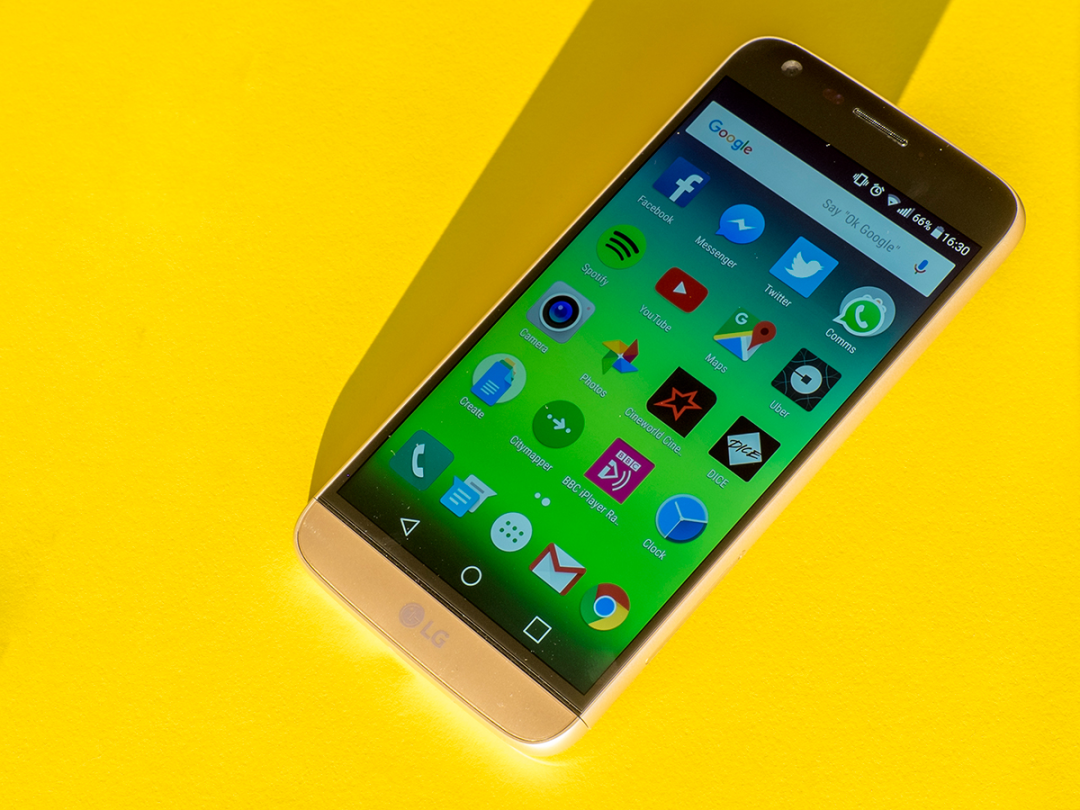 Smartphones are enjoying a mid-life crisis at the moment: the trouble is they're all too good.
If anyone can walk into a phone store and pick up a fantastic handset at random, then how is one device meant to stand out above the fray? Sure, you can make a better phone than last year's model with the best screen, the most powerful processor and the longest battery life, but that's all a bit boring. Isn't it? Splashing out on a second-hand Porsche never cured male-pattern baldness and jazzing up a camera sensor won't fundamentally change how a smartphone looks or works.
That's why LG's G5 has undergone a full-on metaphorical hair transplant. Compared to its chief rival – Samsung's Galaxy S7 – the G5 is pretty much identical on first impressions. Both devices can make calls, send texts and indulge your narcissism via the magic of social media.
Dig a little deeper, and you'll find the two devices are radically different. That's because LG's new flagship phone is modular, allowing you to swap out its parts for improved ones, such as a bigger battery, physical camera controls and Bang & Olufsen audio tech. Now that's what we call innovation.
So much so that it's easy to get carried away with what the G5 is capable of: the ability to customise a phone so that it's even more suited to you. Amazing stuff, but what about the here and now? All that tech wizardry counts for nothing if the G5 isn't much cop to start off with. No pressure then. We're only talking about reinventing the smartphone as we know it.
Pull up to the bumper
Considering its revolutionary potential, the LG G5 is a thoroughly unassuming phone. In a world stuffed full of aluminium unibody handsets, the LG G5 is simply another aluminium unibody handset. One that's lacking the 'wow factor' of Samsung's bourgeois glass and metal offerings.
If it weren't for its dual camera sensor, the G5 could easily pass for last year's Nexus 6P in an identity parade. Both phones have svelte backsides with a quick-sharp fingerprint scanner – even when you've got wet fingers – slapped in the middle of them. Sure, the LG's scanner also passes for a power button, but you get the drift.
There's really nothing wrong with it looks-wise, but it's also fair to say that aesthetics aren't the G5's biggest selling point. After all, its greatest design feature is a button that'll allow you to rip out its bottom.
Seriously: press down on its lower left-hand edge and you'll be able to detach the handset's rear end from its display. Why? So you can lock in LG's new modular widgets, of course. Until you own one of these gizmos, this mechanism mainly serves as both a crumb magnet and the thing that makes the G5 impossible to waterproof. You see, there's a very slight gap between the phone's posterior and the rest of its body that's prone to collecting any debris you happen to be carrying in your pockets.
Don't panic – there's little chance of actually damaging your G5 like this unless you use it in an apocalyptic downpour, and once you get the phone in your hand you'll be reassured of its quality. At 159g this handset is as light as you'd want it to be, while its curved back is a delight to clasp on to. The G5 sits impeccably well between your fingers and with a thickness of 7.7 mm, it's ever so slightly thinner than the Samsung Galaxy S7.
So, while the G5 may not exactly be a stunner, I'd happily sign up to live with it for two years. And compared to the LG G4's cheap leather look, it's pretty much the Mona Lisa.
Seen it all G4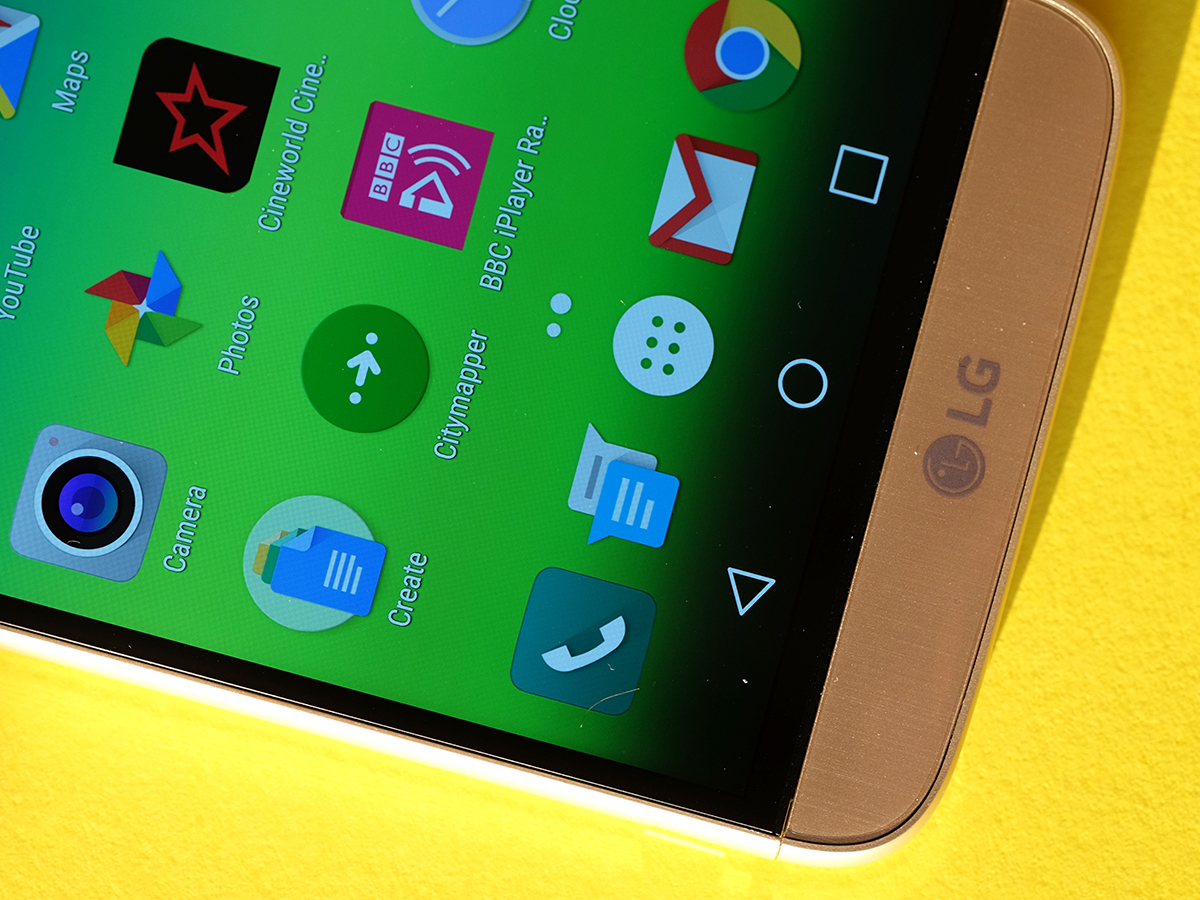 While you can quibble with the G5's design, its 5.3-inch screen is downright pristine. Not radically new, but still just as good as the Galaxy S7's. That's partly because the two phones share a 1440 x 2560 pixels resolution and feature almost the same panels as their predecessors. In the case of the G5, that means the IPS LCD screen from 2015's LG G4.
Wondering why both LG and Samsung are basically treading water with their smartphone screen tech? It's so you don't end up owning a phone that conks out at half past lunchtime. Bumping up the G5's screen to a 4K resolution would prove a huge drain on battery life for the sake of being able to stream a handful of Netflix shows in Ultra-high-definition. Plus, it's not as though you can spot any of the 554 pixels-per-inch the G5 gives you in the first place.
Marvel's Daredevil looks suitably vicious on this screen, with flecks of rain and fire leaping out at you from Hell's Kitchen, while footage from Barcelona's Champions League tonking of Arsenal was equally brutal. Elsewhere, text is crystal clear and easy to read. As is the case with pretty much every smartphone nowadays, the LG's colours are a little oversaturated so that app icons ping off the screen and even the most humdrum Instagram video takes on a blockbuster sheen.
That you can't tone down these colours to achieve some more natural shades and contrast is a little irritating, but no great dealbreaker. Most of the time, you'll appreciate the G5's bold and vibrant ethos.
An always-on turn off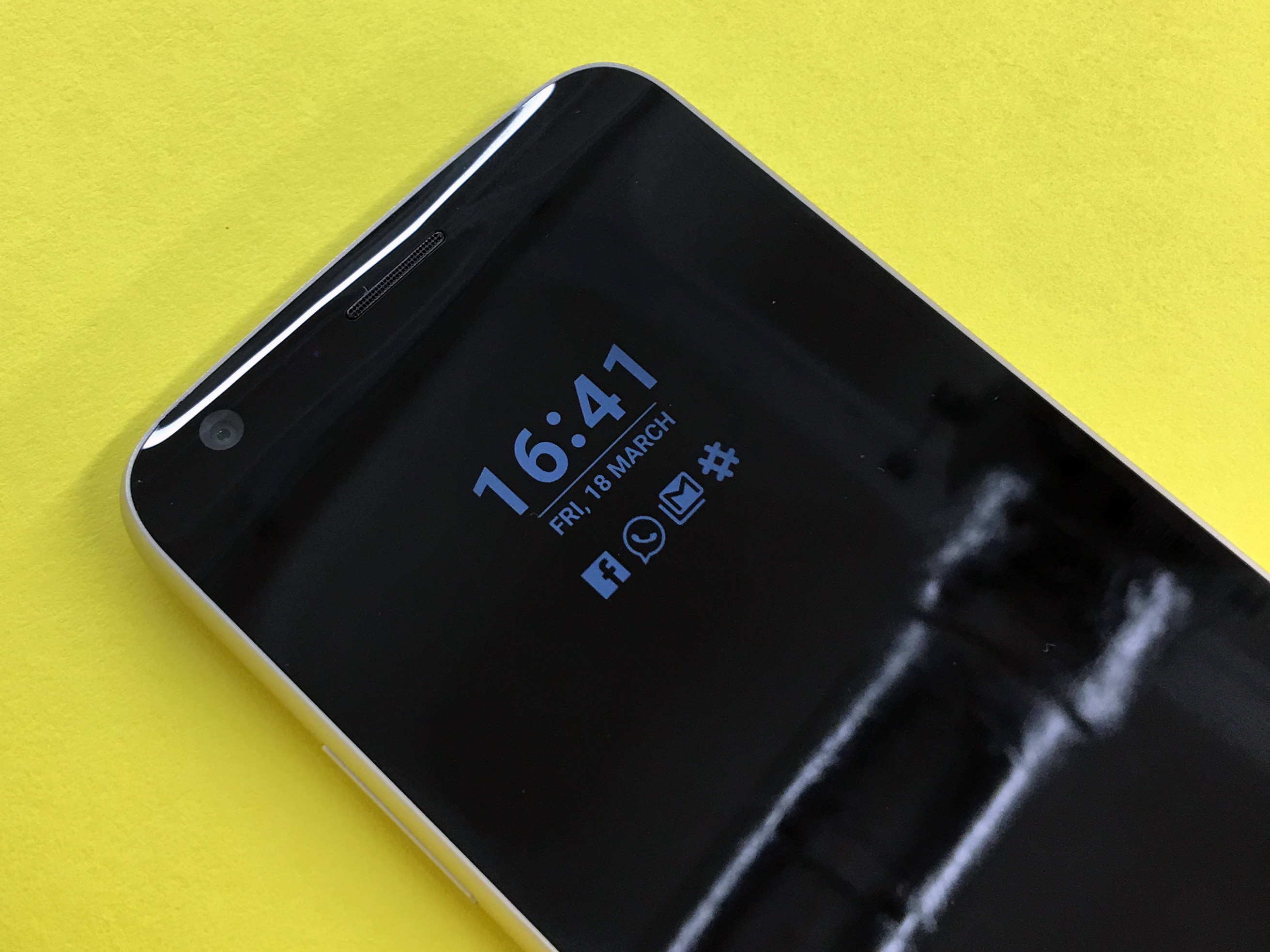 What's more frustrating about this phone is its always-on display, which snatches defeat from the jaws of victory in a thoroughly face-palming manner.
You see, the benefit of an always-on display is meant to be that you can always see the time and a series of notifications on your phone, even when it's locked. As someone who doesn't wear a watch and tends to leave their phone lying on an office desk for most of the day, this is a slight but genuinely helpful feature. It means I no longer need to squint at my laptop screen to find out if I'm late again for yet another meeting.
And unlike on the Galaxy S7, the G5's always-on tech shows notifications for loads of apps such as Facebook, Slack and WhatsApp, rather than just first-party offerings – meaning it's theoretically better than what Samsung has to offer. At least, it would be if its on-screen clock wasn't so infuriatingly dim and small.
How small? Imagine what would happen if Danny DeVito downed the Drink Me potion from Alice In Wonderland. That's how small.
The Galaxy S7's OLED display does a significantly better job than this LCD effort, and you have to assume that's because of its ability to light up individual pixels as it pleases. In contrast, the G5's panel has to use every pixel, even just to show a black and white clock.
Until LG issues a software update to enlarge the clock, there's a 50/50 chance I'll need to pick up the G5 every time I go to check it, which is no good at all. That's why I've just turned off the always-on mode to save on its (admittedly small) 0.8% battery drain per hour. Shame.
Seeing double
If it's cutting-edge tech you're looking for from the G5, then its dual-lens camera is by far the most original thing this device has to offer. Just as Trotsky would be nothing without Lenin, the idea behind this insurrectionary tech is that combining 16MP and 8MP cameras will offer you much better photos.
How? The 16MP sensor has a 75° field of view, while the 8MP sensor with a whopping 135° FOV lens – that's a wider cone of vision than your own eyes. Combined, the effect is supposed to be like having a digital SLR or CSC and a couple of lenses all the time, without any weight to lug around. So in the same way that Mario and Luigi are best utilised as a duo, the G5 gives you the choice of taking wide-angle shots to fit in an impressive amount of scenery, or opting for a more detailed close up.
Apple's iPhone 7 is heavily rumoured to feature the same concept, but LG has snuck in there with a first. And that counts for something.
Wide-angle wizardry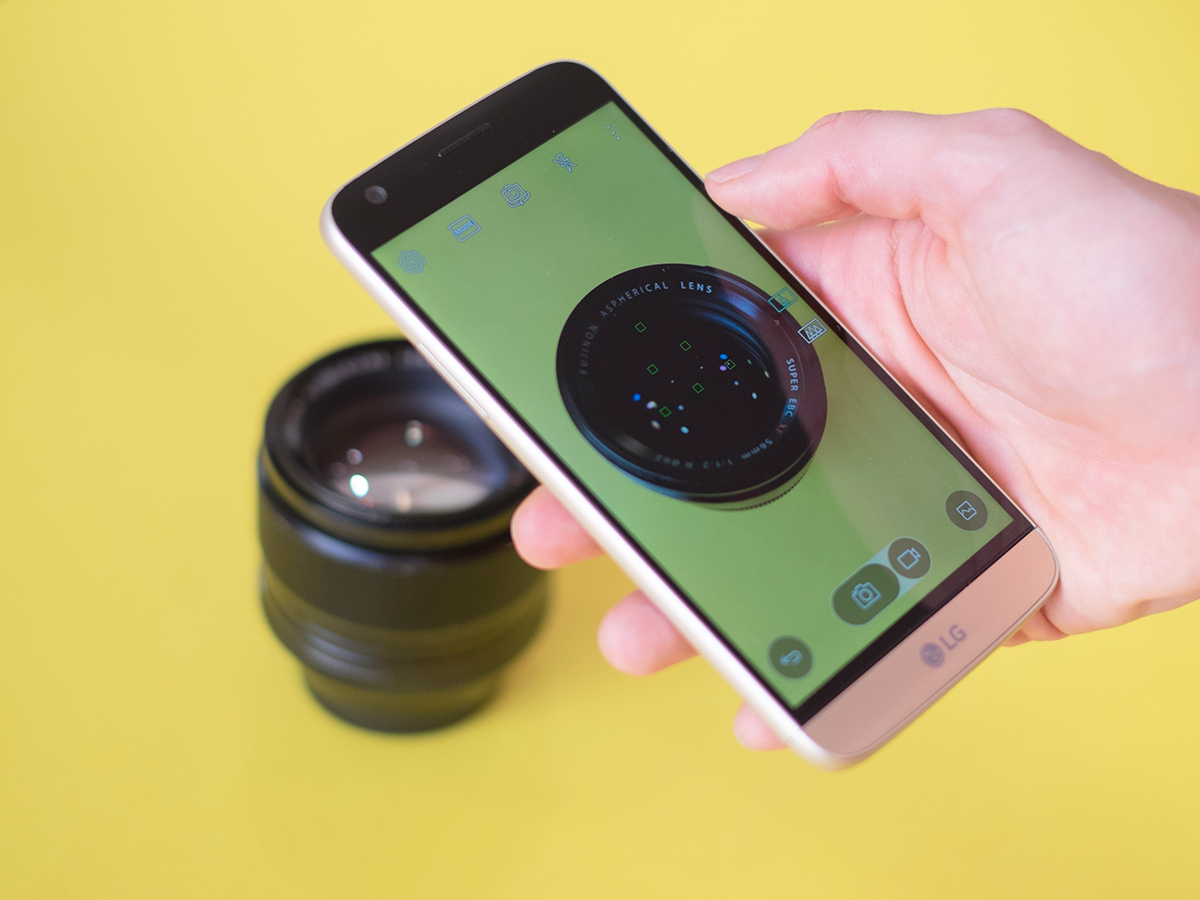 Whether you're trying to squeeze your jostling family into a group photo or just want to capture as much scenery as possible in a holiday snap, there are plenty of times when the G5's dual camera can come in handy. That makes a welcome change from the camera innovations we've seen in many smartphones over the year, where effort was expended on a gimmick you'd use once and never again. We're looking at you, HTC M8 Re-focus Feature.
If there's a trade-off to the G5's pictorial trickery, it's that sweeping daytime shots have been prioritised over low-light imagery. At night, especially when there are lots of bright street lights and signage about, photos tend to take on a washed-out hue, while there's noticeably more graininess in shots than those taken on the Galaxy S7 in similar conditions.
To be clear, the G5's low-light pictures are still A-OK. The combination of an f/1.8 lens that captures a good amount of light, quickfire laser autofocusing carried over from the LG G4, and optical image stabilisation for avoiding camera shake and longer exposures in dim conditions, means that most photos are more than good enough for Facebook. And when you do use the G5 in less testing conditions, there's a lot to like there too – both for standard shots and selfies.
Colours are bright and natural, without the artificial levels of contrast you'll find in the Galaxy S7's photos. Zoom into a close-up snap and you'll also find a pleasant amount of colour and detail. Leap into the G5's excellent 'Manual' mode and experienced camera sorts will be able to eke out even more subtleties via the ability to alter ISO, focusing, white balance and pretty much anything you fancy. As per the G4, there's even the ability to shoot in Raw and further amend your snaps in Photoshop.
So to boil that all down, the LG G5 aces both daytime and wide-angle shots, while the Galaxy S7 is similarly great when there's plenty of light to play with and a jot better when it's at a premium. I'd say low-light shots are slightly more important on the whole, but if you're heading to the Niagara Falls next month and want to capture its grandeur in full, it's the G5 you should be taking along with you for the trip.
Speed demon
There's no doubting this LG's processing prowess either. Powered by the latest Snapdragon 820 chip and 4GB of RAM, it rips through most tasks with the same efficiency that saw Oliver Cromwell overthrow the English aristocracy. You can expect to see this same configuration in many a flagship smartphone this year, and with good reason: it's very, very fast.
Zipping across the likes of Chrome, WhatsApp and Twitter won't cause the LG G5 to break a sweat. It's been built to scythe through such multi-tasking demands like a pitchfork through the night sky. Even when you really try and test it with a graphically intense game such as Asphalt 8, this phone won't relent with a drop in frame rate. Crucially, given the Snapdragon 810's notorious overheating issues, I didn't feel the G5 get at all toasty when given a thorough workout.
Whether you're a messaging obsessive or an avid mobile gamer, the G5 has you covered. Is it the most powerful phone you can buy? Not according to our Geekbench 3 benchmarks, at least.
With a score of 5331 for multi-core performance, this LG is technically slower than the Galaxy (6461), while still being speedier than any of last year's flagships. And I say 'technically', because we're pretty much at the point where speed has reached a virtual parity in processor chips. Buying a slow phone takes some effort these days and, given the majority of Android apps are built to work with as many devices as possible, even a middling handset can handle the best of what Google's Play Store has to offer.
Android as standard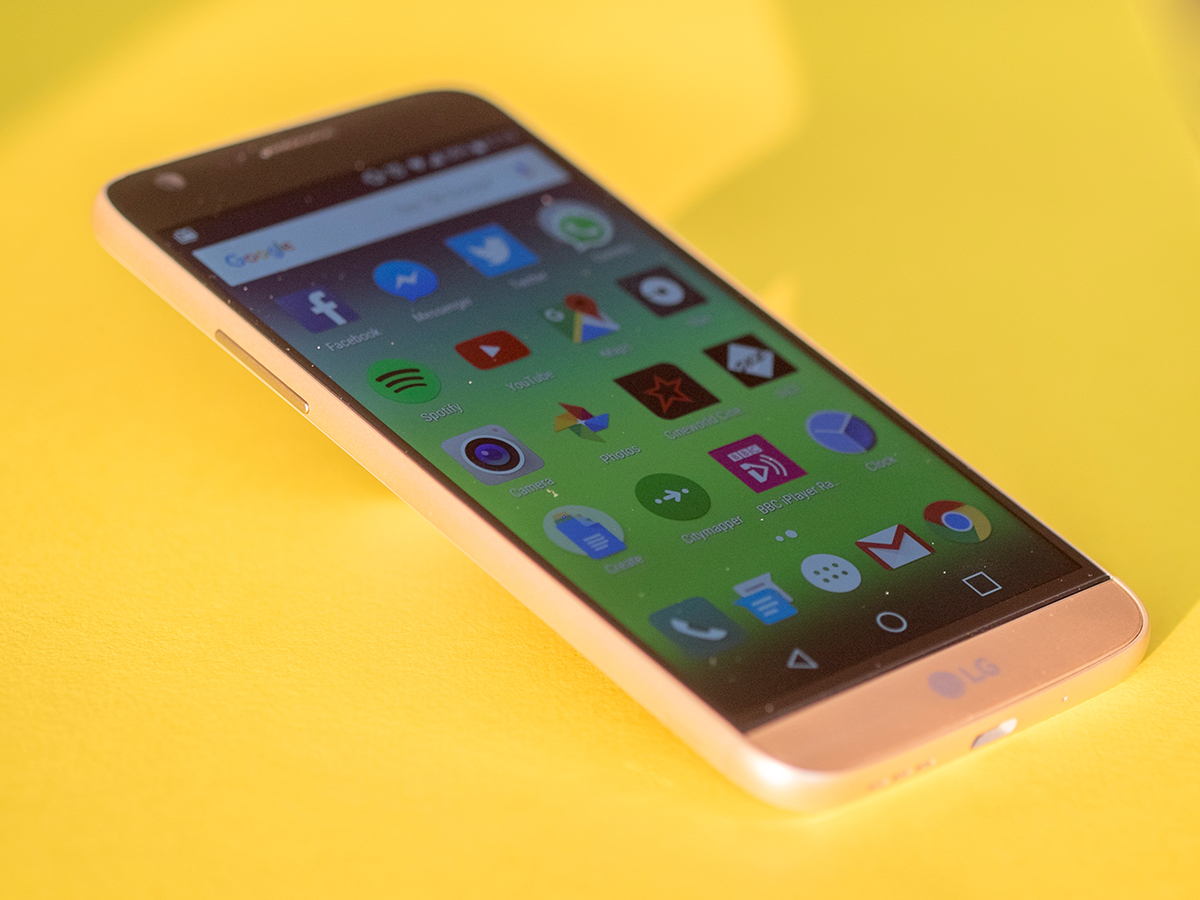 Still, with all that power to hand the last thing you want from the LG G5 is for its UX 5.0 user interface to prove a drag. Slapped on top of the superb Android 6.0 Marshmallow, it's slick and customisable enough in most cases, but we did experience a few clanging moments when it frustrated us.
Most prominently, UX 5.0 doesn't feature an app drawer as standard. Anyone who takes a Fagin-esque approach to the Google Play Store – nabbing anything that looks half-decent – will appreciate why this is a big deal. It means your hoard of tiny icons are scattered across a litany of homescreens, rather than being available through one big, scrollable list. You can restore the app drawer by default if you select the EasyHome screen layout in Settings, but the more advanced Home setup ignores it. So that's no good.
You're best off switching to the free Google Now Launcher instead, as that fixes the issue instantly. What's more, it will also (largely) do away with the LG's tabbed approach to the Settings menu. Here, options are grouped under General, Display, Networks and the like, which sounds like a useful idea. In practice, it can elongate the process of searching for a specific option when you don't know what tab it might fall under.
In the grand scheme of OS annoyances, I'm nitpicking here. LG's UX 5.0 is good enough that most folks can get on with it straight out of the box, while its dialler and texting apps are also pretty handy too – especially if you don't mind their widget-like tendency to hang around on your homescreen. Certainly, there's no great difference between them and Google's own efforts.
Storage king
Better still, UX 5.0 doesn't take up much of the G5's 32GB of internal storage. Even with my multitude of apps installed on it, I still had 18.5GB remaining after setting up the phone – that's 2.5GB more storage than you'll get from an entry-level 16GB iPhone 6s and a couple more GB than I got from the Galaxy S7. Impressive stuff, especially considering you can add an extra 2TB to this handset via microSD support.
Filling up your phone with such a huge quantity of apps, photos and (totally not torrented) video will mean it resembles less of a prize fighter and more of a washed up Rocky Balboa, but it's good to have the option. Certainly, storage is one kingdom where the LG G5 reigns supreme over its flagship competition.
All-day battery life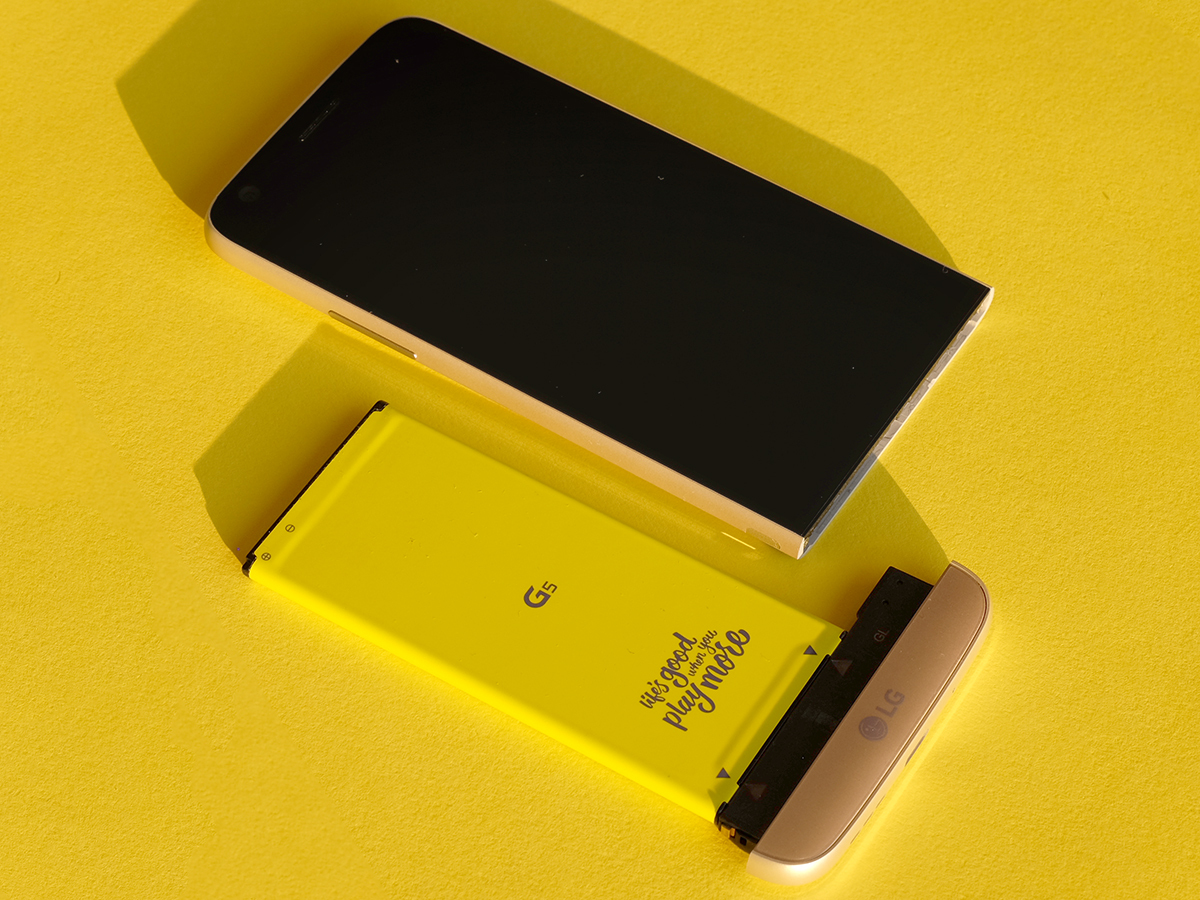 Battery life is one area where it does fall behind the astounding pace set by Samsung's Galaxy S7, if only by a smidgen.
With a 2800mAh capacity, the G5 actually has less charge to hand than last year's 3000mAh G4, and it lags behind the Galaxy S7 by the same amount. Not that it should prove much of a problem in reality: in our time with it so far we comfortably managed to get a long day's worth of usage from the phone before feeling compelled to recharge it. That meant grabbing it on our way to the office at 9am, testing its video, gaming and camera capabilities, and then heading on to a gig (Savages, since you ask) before getting home at midnight. Few phones can withstand that kind of duress, so credit to LG's handset for showing the necessary resolve.
If you do get caught short, then bear in mind that the G5 supports fast charging via its USB-C port and can fully restore itself in just over an hour, with 50% charge in half that time. Despite this, LG isn't offering a free charger with its new flagship, just a USB-C cable. So you'll have to cough up yourself to take advantage of this tech.
The modules: LG Cam Plus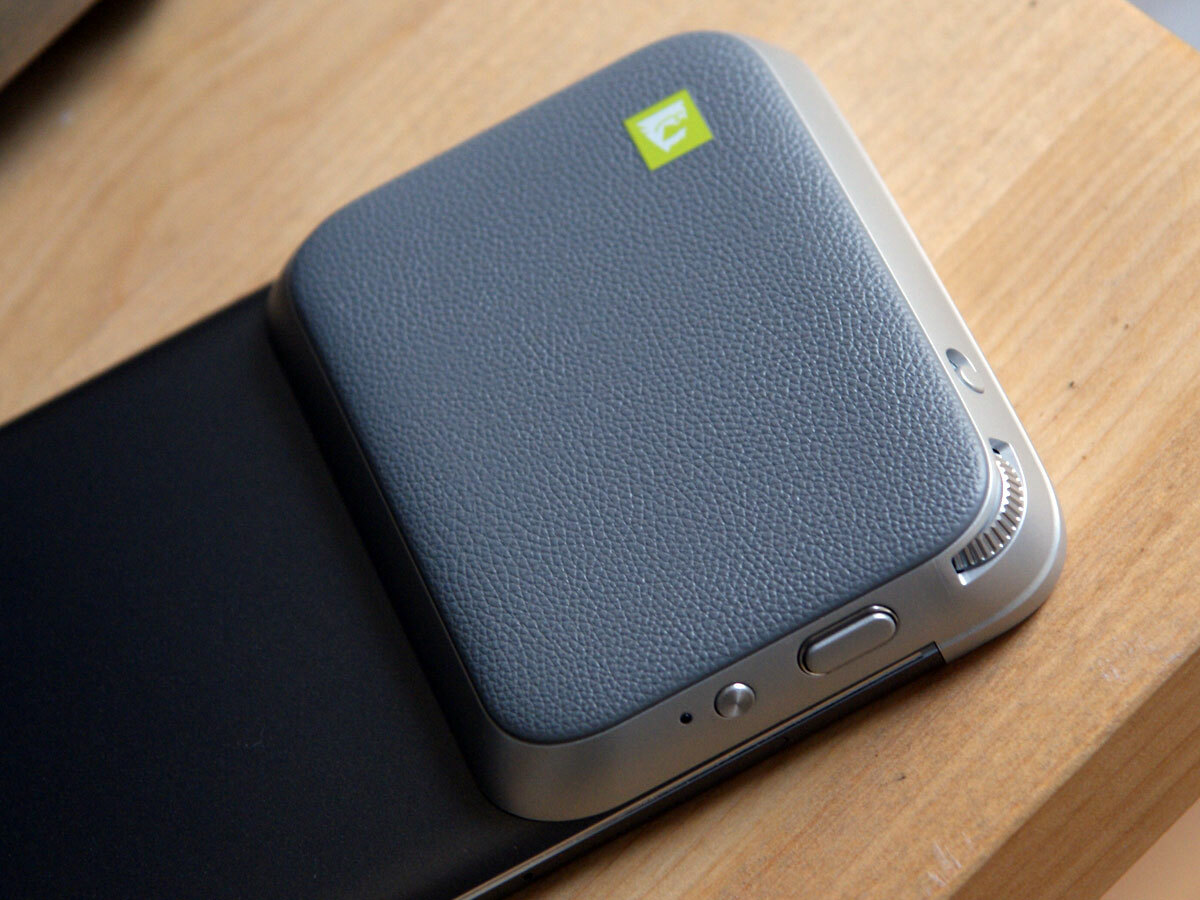 "But what about the G5's ingenious new camera 'Friend' with an added 1100mAh battery?" I hear you cry. Know-it-alls.
Well, we've now tried it – and we've given the sound-improving Hi-Fi Plus module a thorough testing too. And the results are mixed.
Let's start with the Cam Plus, because it's by far the most mainstream of the two.
It certainly promises a lot. If you asked people what are the two most important factors in choosing a new phone, many would reply 'camera' and 'battery life'. The Cam Plus promises to improve both, giving it an extra 1200mAh of battery, plus a proper grip and dedicated controls for the camera.
Unfortunately, it doesn't deliver on that promise. Yes, you get the battery life, but its camera-improving abilities are average at best: the grip isn't grippy – a bit of a problem, you feel – and the buttons are too small to be genuinely useful. We'd prefer a simple extra battery, frankly.
The modules: LG Hi-Fi Plus with B&O Play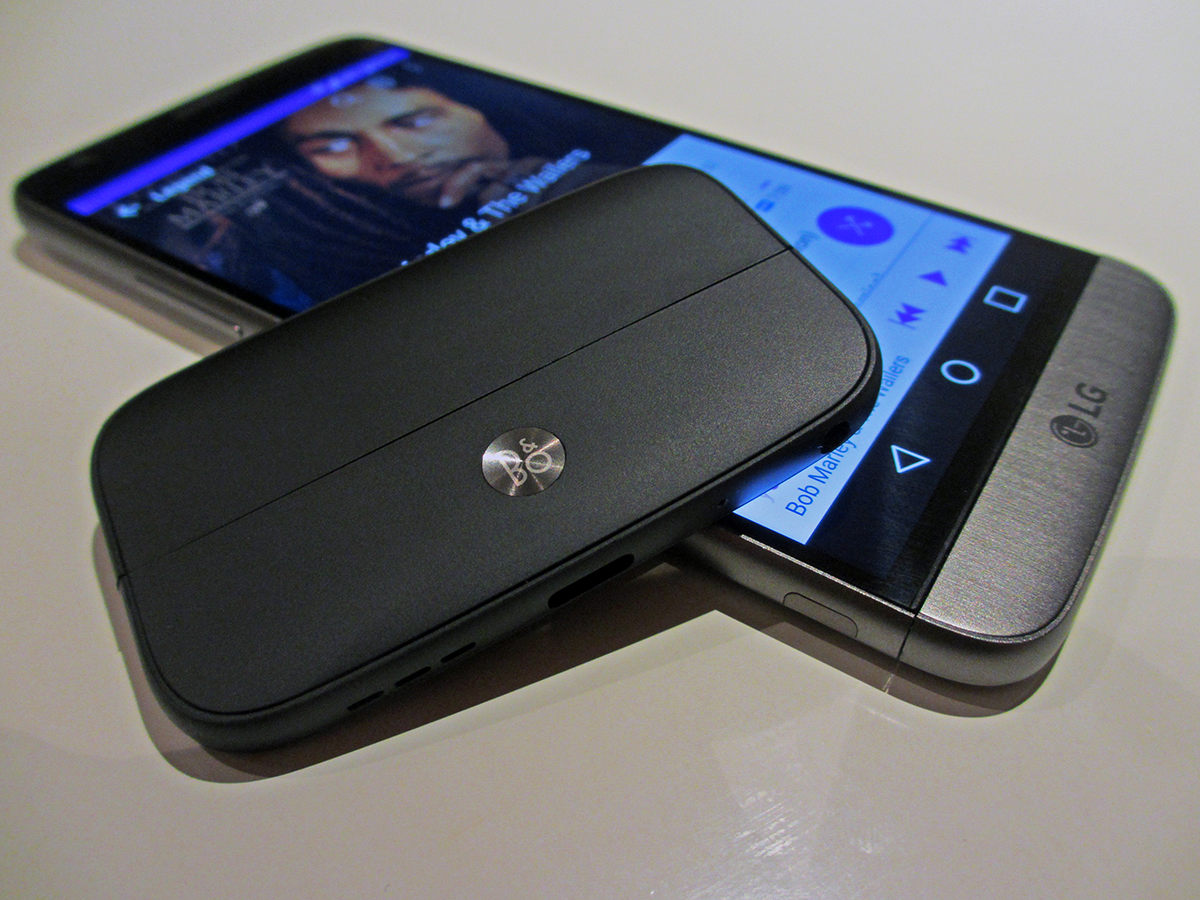 The Hi-Fi Plus fares rather better.
This is very much a one-trick-pony, existing solely to improve the sound of your G5 by giving it a top-spec (for a phone) DAC – that's digital-to-analogue-converter, for the non-hi-fi buffs among you. And for the most part, it works very well.
It's certainly easy to use: you just remove the G5's bottom and clip the Hi-Fi Plus on its place. You'll see a new option appear in Settings, allowing you to control the left/right balance, but otherwise there's nothing for you to do – except sit back and put some tunes on. Do so and you'll be treated to a major audio upgrade: cleaner, more detailed, more spacious.
The Hi-Fi Plus can also be used as a standalone DAC when hooked up to your laptop or another device, but it's here that we encountered our only real gripe with it – while it did have a minor positive effect on sound quality, a bug meant that we could only listen to music at high or low volumes.
Still, that's not the Hi-Fi Plus' primary reason to exist, so we'd still say that if you're a big music fan who owns the G5 and doesn't mind paying the rather steep price of £150, you won't regret it.
LG G5 verdict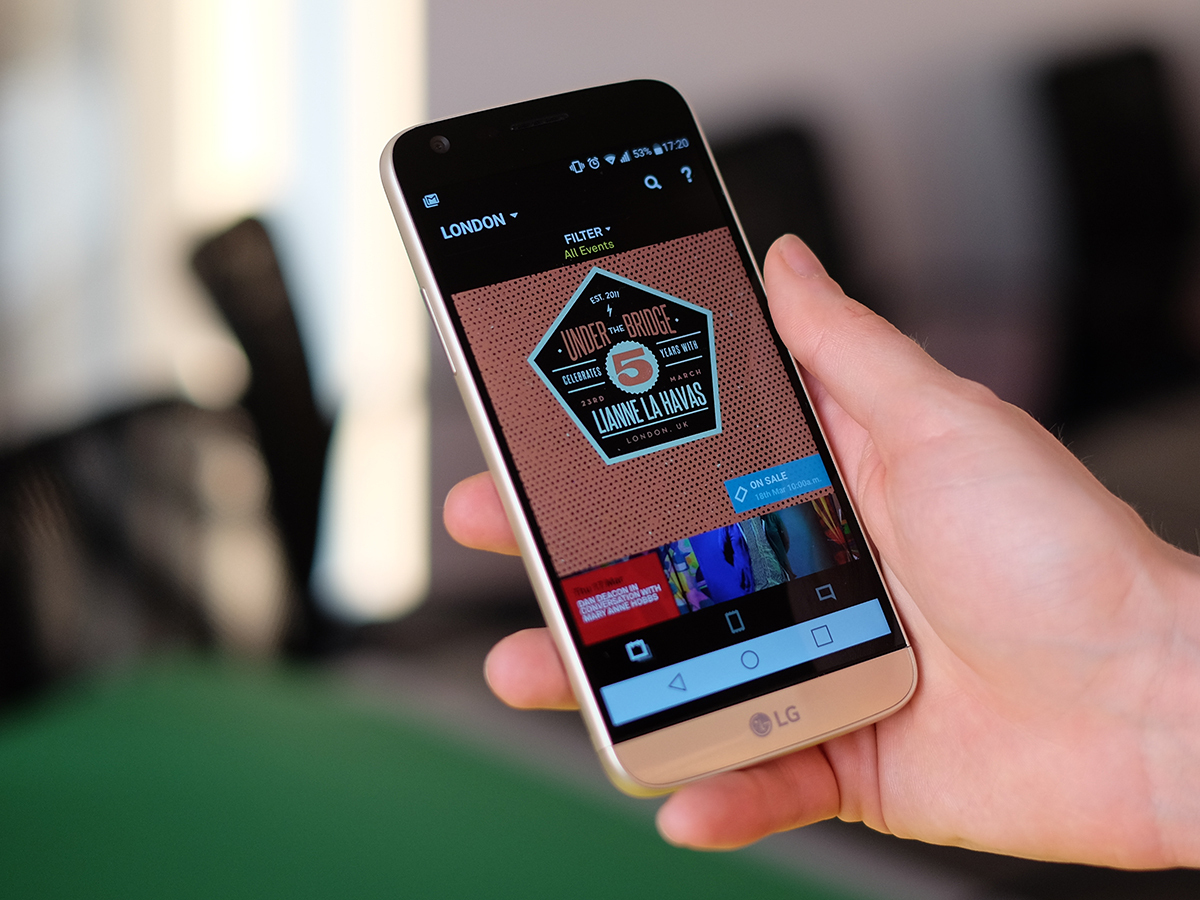 The scale of the LG G5's ambition is breathtaking. It's the first of a new kind of smartphone and – if the modular concept works – you can expect Apple, Samsung and the rest to spend the next couple of years scrambling to catch up with this handset.
Still, we're not in the business of giving points for potential, and of the two modules we've so far tested only one – the relatively niche Hi-Fi Plus – is worth investigating. We're hoping that more will follow, and that third-party manufacturers will get in on the act too, but until that happens the G5 needs to be able to stand on its own merits.
Fortunately, it does: if you walk into a phone shop and nab yourself a G5, then you'll have a fabulous handset that's better than most of what's available out there. It doesn't leave the competition eating its dust, but that says more about how great smartphones are right now than this LG. A supreme screen, lightning-fast processor and novel camera are no longer enough to make any mobile the best by far. To spearhead the mobile vanguard, you have to either be a near-on perfect product such as the Galaxy S7 or offer something new entirely.
So the LG G5 has gone for the latter option, while still being an awesome phone to begin with. It's a big, ballsy move, and one that we hope pays off in the long run. Technology is meant to inspire you and the G5 does that in spades.
Buy the LG G5 here SIM Free or on contract here
Tech specs
| | |
| --- | --- |
| Dimensions | 149.4 x 73.9 x 7.7 mm |
| Weight | 159g |
| Screen size & resolution | 5.3 inches, 1440 x 2560 pixels |
| Processor | Qualcomm Snapdragon 820 |
| GPU | Adreno 530 |
| RAM | 4GB |
| Storage | 32GB (w/ 2TB microSD support) |
| Primary camera | 16 MP (f/1.8) & 8 MP (f/2.4) |
| Selfie camera | 8 MP, f/2.0 |
| Extras | Fingerprint scanner |
Stuff Says…
The LG G5 is a fantastic and unique smartphone. And it's only going to be better once you stick a module in it
Good Stuff
Immense screen
Clever wide-angle camera
Durable battery life
Bad Stuff
No waterproofing
Always-on display is poor