LG Gram review
Is LG's ultra-light and stylish laptop worth the price tag?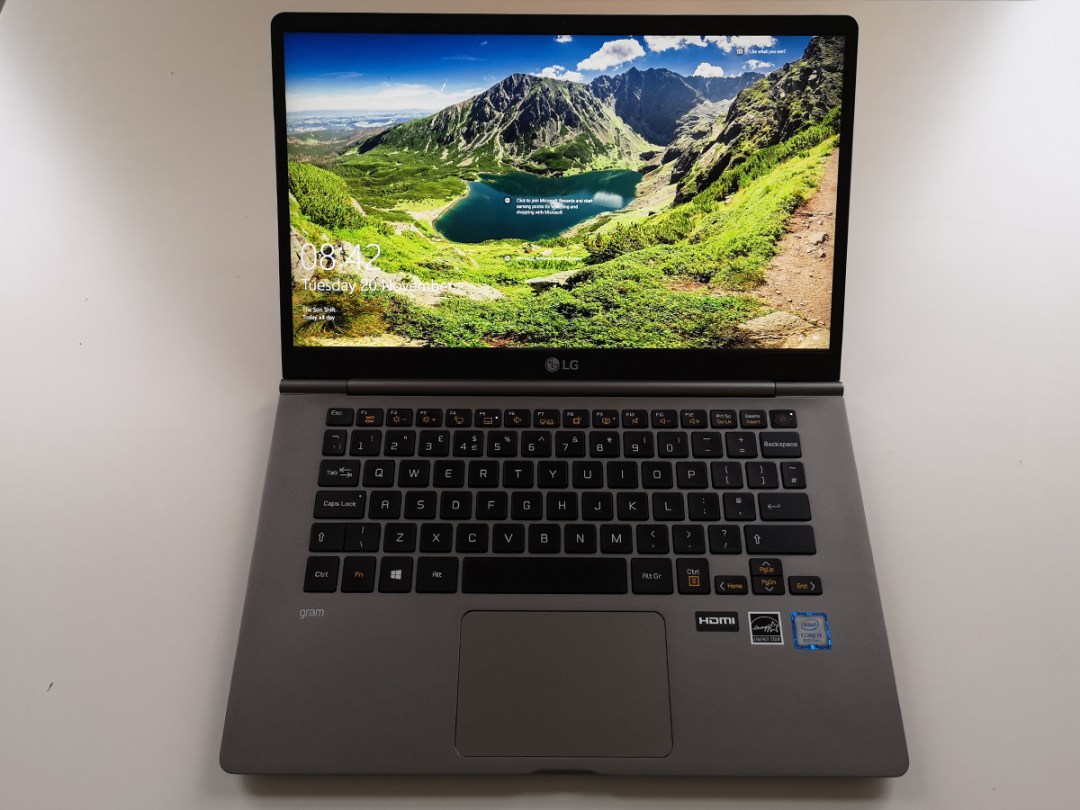 Despite being known for its humongous TVs and innovative smartphones, Korean tech company LG has in fact been making laptops outside of the UK for quite some time.
While that should blow your mind (or maybe not), you might be shaken to the core when we tell you how the firm decided to bring one of these to Blightly for the first time this summer in the form of "the world's lightest" laptop, named the LG Gram.
The Gram is exactly what it claims: super, super light. And is one of few laptops of its size to weigh under 1kg. But is it all talk and no action? We've been using the 14-in version of the laptop (14Z980) for a good few weeks, putting it to the tests of a busy, jet-setting journalist, to see exactly how well it performs on a daily basis.
Design: A traveller's dream
So let's kick off with the Gram's main talking point: it's weight. Weighing in at just 994g (hence the name, duh) LG's first UK laptop release is, as you'd expect, as light as a feather. Not literally, mind – but you get the gist.
It's also nice and thin, measuring 15mm at its thickest point. For anyone that works remotely and likes to travel between coffee shops during a day's work, this laptop will prove a blessing.
During our review, we carried the device to and from the office in a backpack, on foot and on a bicycle, and even took it abroad with us a couple of times. We forgot it was even there half the time. Laptops are designed to be portable, and the LG Gram is a testament to this. It's what all laptops should be like.
To make it so light, LG has crafted the device's chassis from a light metal alloy material (Nano Carbon with Magnesium, to be exact). But while this makes it rather robust, it somehow feels like plastic. It's therefore reminiscent of a budget Chromebook, which probably isn't the best of news if it's something premium and high quality that you're after.
Saying that, it isn't by any means ugly. Its minimally designed chassis ensures it's still a sexy device, just don't expect your Macbook-weidling friends to be envious.
As mentioned earlier, the Gram is quite rugged, meaning it can withstand a good knock or two and come out the other end unscaved. How do we know? Well that would be telling. But trust us when we say it is possible to drop it from chest height onto concrete and not find so much a scratch afterwards. This is because it's passed a "MIL-STD 810G durability test", which means it's has survived drop tests of over 8 feet onto a rough concrete surface with no damage.
However, unlike most laptops these days (especially pricey ones) don't expect the Gram to do anything fancy with its hinges. It's traditional in its design with the hinge only folding the screen back to a totally familiar laptop-like angle.
There's obviously no stylus either, and for this sort of money you can often get a machine with a bit of flexibility to it usage and form factor. For those who like things to match, you should be aware the Gram comes in a choice of either white and silver finishes.
Screen: 1080p? You're off your HD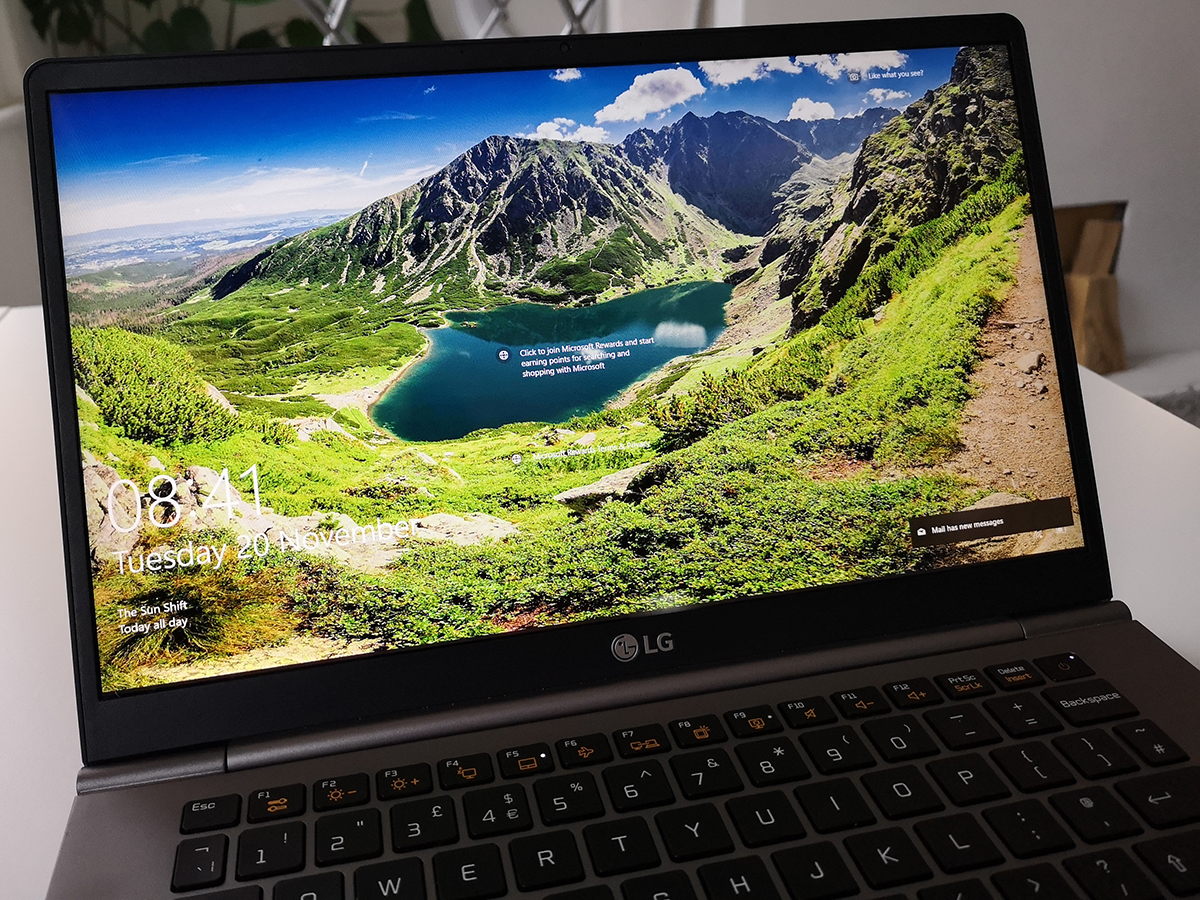 For a device that starts at £1,199, we were quite surprised to find that the LG Gram's display does not support touch commands. Even some of the most budget devices boast a touchscreen, so we were a little disappointed by the lack of support for it here in the 14Z980.
If the absence of a touch screen doesn't signal the end of the world for you, then maybe the lack of a really high resolution will? While the Korean display specialist has put it in a pretty high-end looking 14in IPS panel, another little surprise was that the screen is only of a Full HD resolution.
This might be nice enough for the everyday – keeping most things relatively sharp – but for the price point we were expecting something a little more premium.
Apart from those two disappointing features, you'll be pleased to know that everything else related to the Gram's display is still pretty top notch. High-definition movies look good, photos are packed with high levels of detail, and word docs are displayed nice and clean. Just don't expect to be blown away by it.
Brightness is very good, at least, with no cause for concern. Although reviewing the device during winter in England means we didn't get much of an opportunity to test it in direct sunlight, but in bright lit conditions of an office, visibility was always great, so we can imagine sunny environments wouldn't prove too troublesome, either. And while the screen is glossy, its panel isn't ultra-reflective, so won't bounce light right into your eyeballs.
Keyboard and Touchpad: Finger-clicking good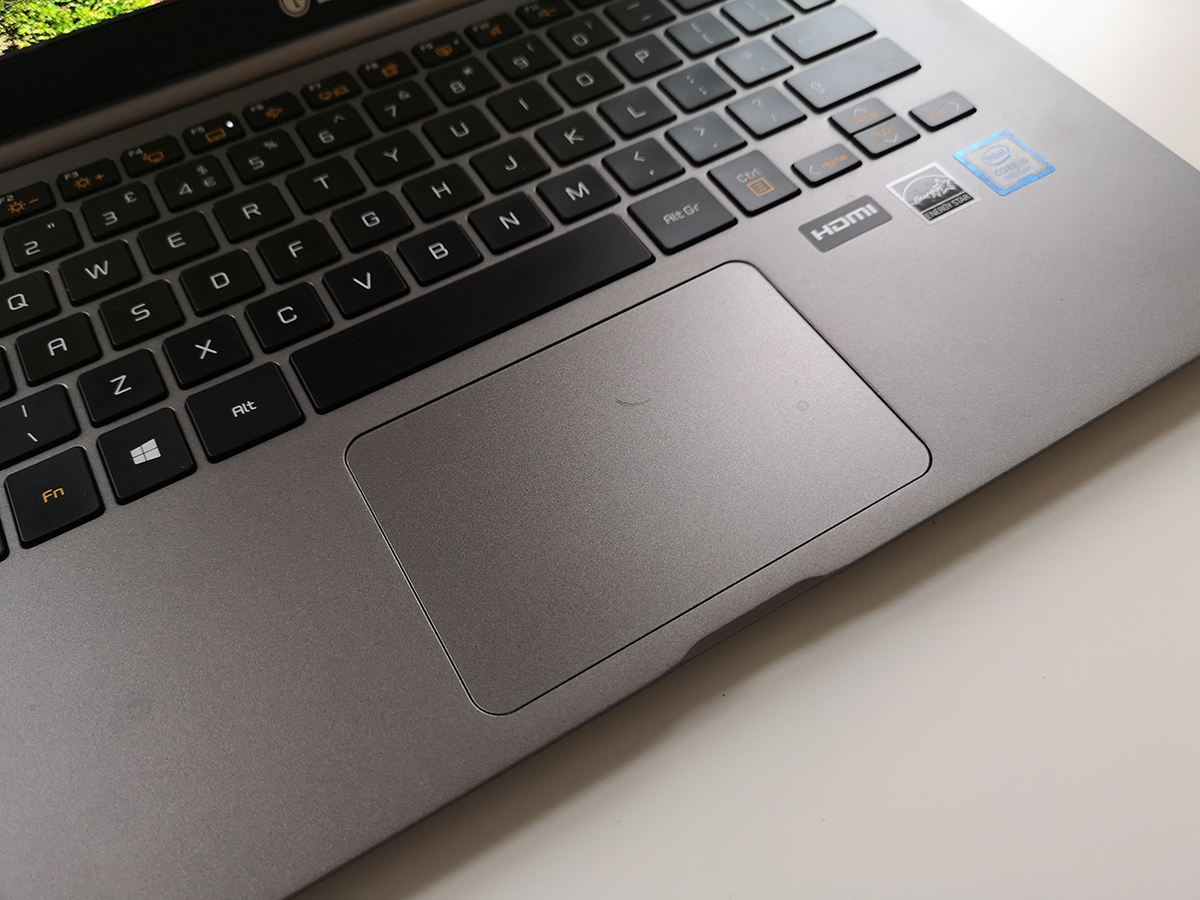 One of our favourite things about the LG Gram is its keyboard.
LG has decided not to make it wafer thin like Apple has on its MacBook, meaning there's some decent, springy travel, making typing a breeze.
And that's not the end of the positives here. Behind the keys, you get a two-level backlight for working in the dark, and a fingerprint scanner built into the power button, freeing some space and making it look even more minimal.
As for the touchpad, it's nice and smooth and responsive, making it easy control, so no complaints there.
Performance: Long live the screen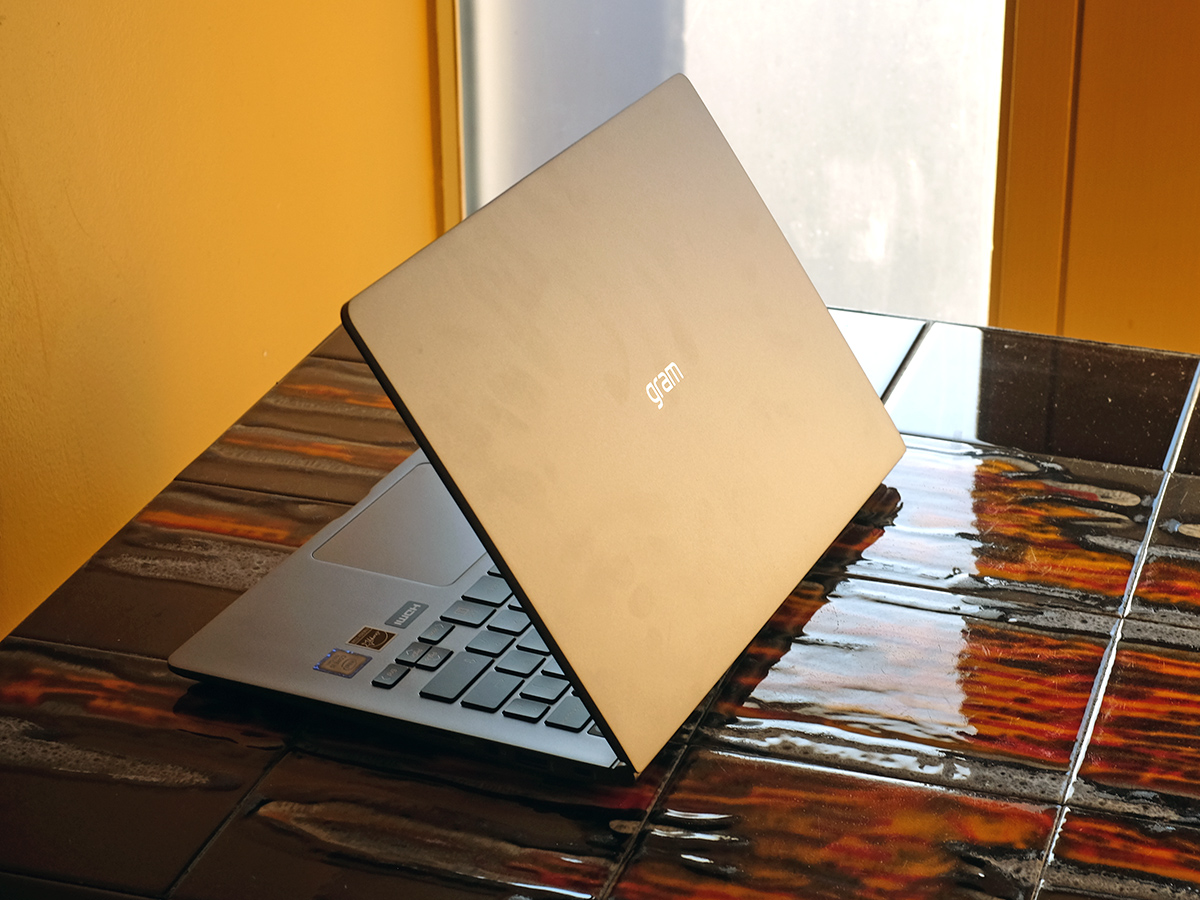 Our review unit was the 14in Core i5 version, sporting a powerful 8th Gen Intel Core i5 processor and 8GB of RAM. Again, for the price we were expecting double the amount of memory (as with the 15in model), but at least the CPU is high spec, with Intel's latest offering proving efficient enough to power the device for longer periods between recharges. It also means more demanding applications will run well, as they do.
There's no dedicated graphics, so this isn't a device for gaming. But there was no way LG could make it both mega powerful and light; it's a trade-off. That doesn't mean you won't be able to play older console-style games like Skyrim, but there are better options at the price if you want to run newer titles.
Now, for the moment of truth: the battery life.
The Gram boasts a 72Wh battery. LG says this will last for 21.5 hours at 50 per cent brightness doing light office tasks. We managed to use the Gram at 75 per cent brightness (which was the most comfortable for us) at a balanced power saving option while tapping away at the keyboard, doing some internet searching and word processing.
It drained by 15 per cent every hour and a half, dying after around 10 hours of use. Not quite the 21 hours promised but we were consuming more power than LG recommended.
At least it did see us through a full day of work, which is the main thing.
Storage and connectivity: More than enough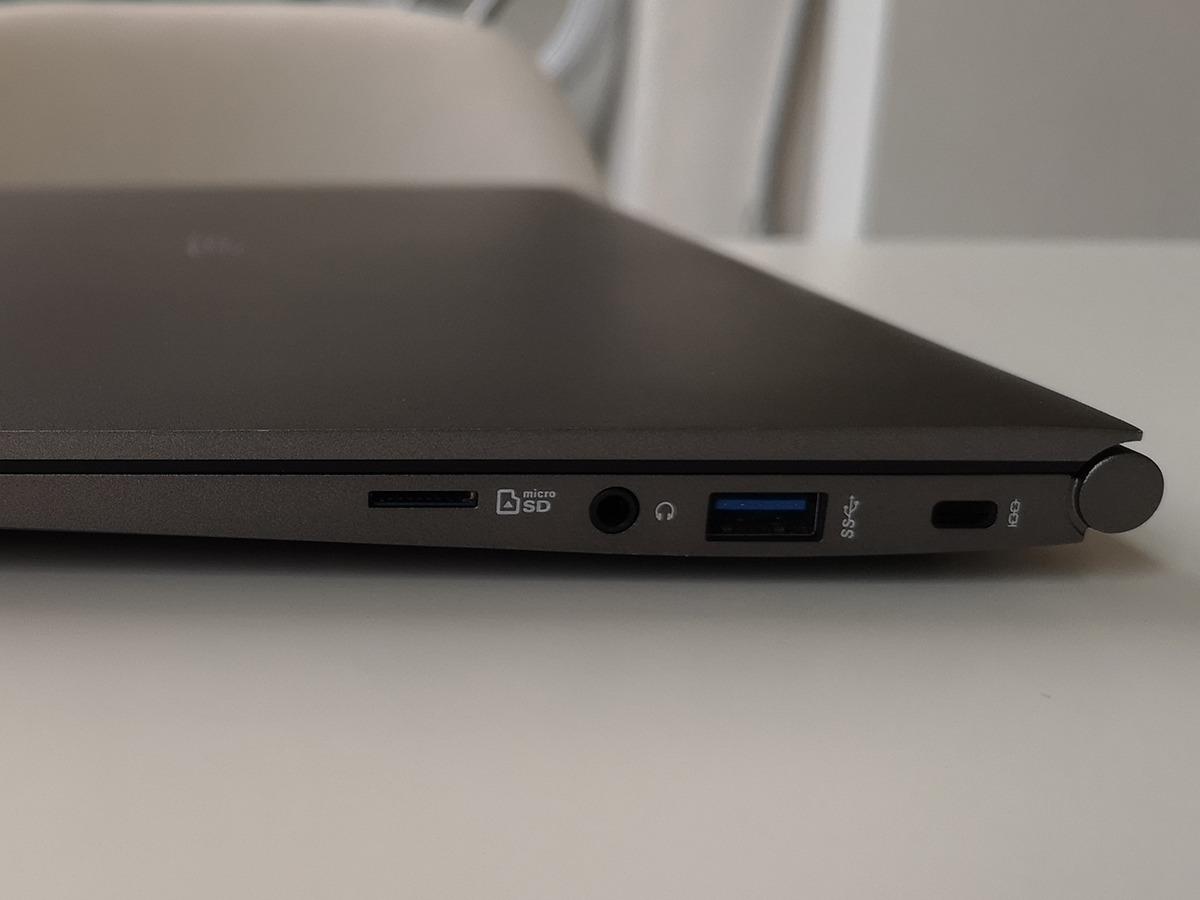 The LG Gram's connectivity options are above standard as far as we're concerned. For a device this thin and light, it's not often you get an HDMI-out port as you do here.
There's also two full-size USB ports, a USB Type-C port and an Micro SD slot.
On the inside, you've got your WiFi connectivity and Bluetooth 4.1 as standard. All of which functioned well during our time reviewing the device.
For storage, our 14in device touted a 256GB SSD hard drive. We would have preferred a 512GB for the price but if it's just work you're going to be using this laptop for and not downloading and installing any graphically-intensive videos games, you should be fine.
LG Gram 14Z980 Verdict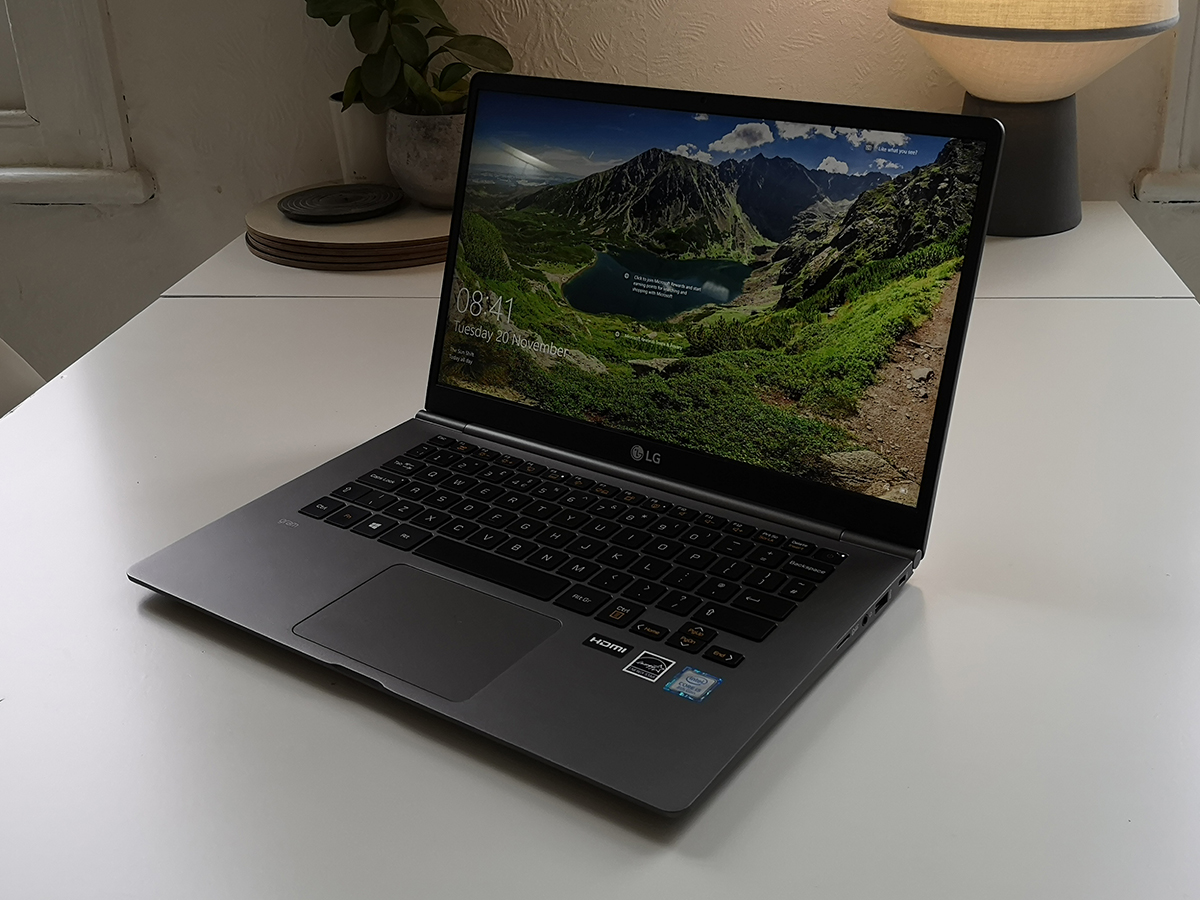 The LG Gram 14Z980 is exactly as the name implies: an ultra light weight device, making it ideal for those working on the road. But with a £1,200 starting price, that portability comes at a cost, and with it lacking a super high-res screen, touch support and hinge flexibility, you can definitely get a much more versatile (but probably much heavier) device for less.
Shelling out for the Gram will depend on how much portability means to you…
Tech specs
| | |
| --- | --- |
| weight | 1 Kg |
| CPU | 1.8GHz Intel Core i7-8550U (quad-core, 8MB cache, up to 4.0GHz with Turbo Boost) |
| RAM | 16GB DDR4 |
| Screen | 15.6-inch FHD (1,920 x 1,080) IPS multi-touch LCD |
| Ports | 1 x USB-C; 3 x USB 3.0; 1 x HDMI; RJ-45 Ethernet (via USB-C dongle); microSD slot; headphone jack |
| Connectivity | 802.11ac Wi-Fi (2 x 2); Bluetooth 4.1 |
Stuff Says…
The LG Gram 14Z980 is exactly as the name implies: super lightweight, making it ideal for those working on the go. But priced at £1,200, that portability suddenly hangs heavy
Good Stuff
Super lightweight
Fantastic keyboard
Great range of connectivity options
All day battery life
Bad Stuff
No touch screen
Disappointing Full HD resolution
Traditional hinge design lacks versatility
Very pricey