LG OLED TV R hands-on review
Keep rollin' rollin' rollin' rollin'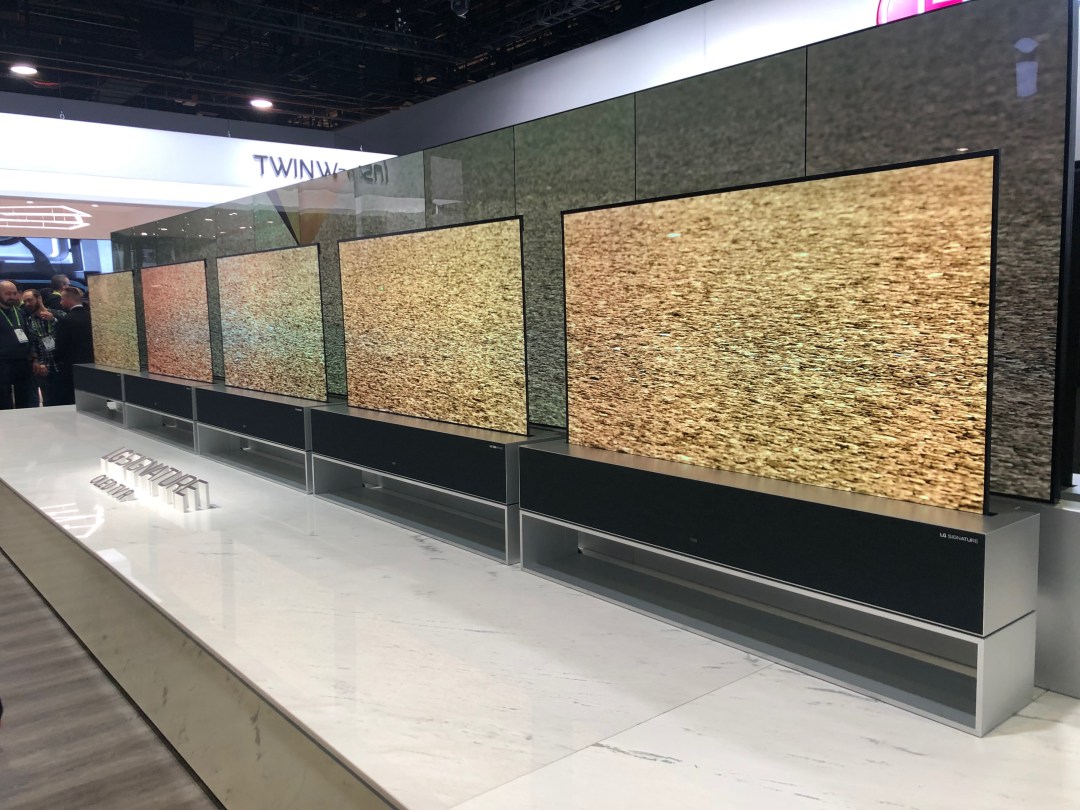 It must be tough choosing exactly which TVs to take to CES.
I mean, you can only fit so many screens on a tech brand stand, right? Not if you're LG, who decided to hell with it and just packed everything.
The list is mesmerising; World's largest 8K OLED, 88in Crystal Sound OLED, 65in Crystal Motion OLED, 75in 8K LCD, transparent commercial display OLEDs and The Rose, comprising four interwoven and synchronised curved OLEDs sprouting like flower petals. Show offs.
There's also the OLED TV R. A 65in rollable 4K OLED that retracts into a Dolby Atmos surround sound speaker cabinet like a blind when not in use. This isn't a wind up… well it is, but what I mean is the TV is real and due to go on sale in the second half of the year.
Away from the riff raff, LG granted Stuff special access to a hidden display lair tucked away in the far reaches of the Las Vegas Convention Center to take a much closer look. High rollers only.
Design: Now you see it, now you don't
At first glance the OLED TV R may as well be the NOLED TV R, because it's completely hidden.
Instead you're faced with a brushed aluminium rectangular cabinet covered in quality acoustic wool from Kvadrat of Denmark.
The cabinet houses a 4.2 channel 100W Dolby Atmos surround sound speaker system, but also conceals the rolled-up OLED panel. Not for long, because at the touch of a button a slit begins to reveal itself as the screen unravels bit by bit and rises majestically out of obscurity.
It's achingly cool and takes approximately 15 seconds for a full reveal making the whole process perfect for social media storytelling – nice one. As with all of LG's Signature OLEDs it's impossibly thin and the picture it produces is every bit as rich and detailed as you would expect.
When you don't want to watch TV anymore simply tap a button to see it slide smoothly back out of sight thanks to a silent and silky mechanism. The smart bit is the Dolby Atmos speaker can still be used as an independent sound system.
Features: Room with a view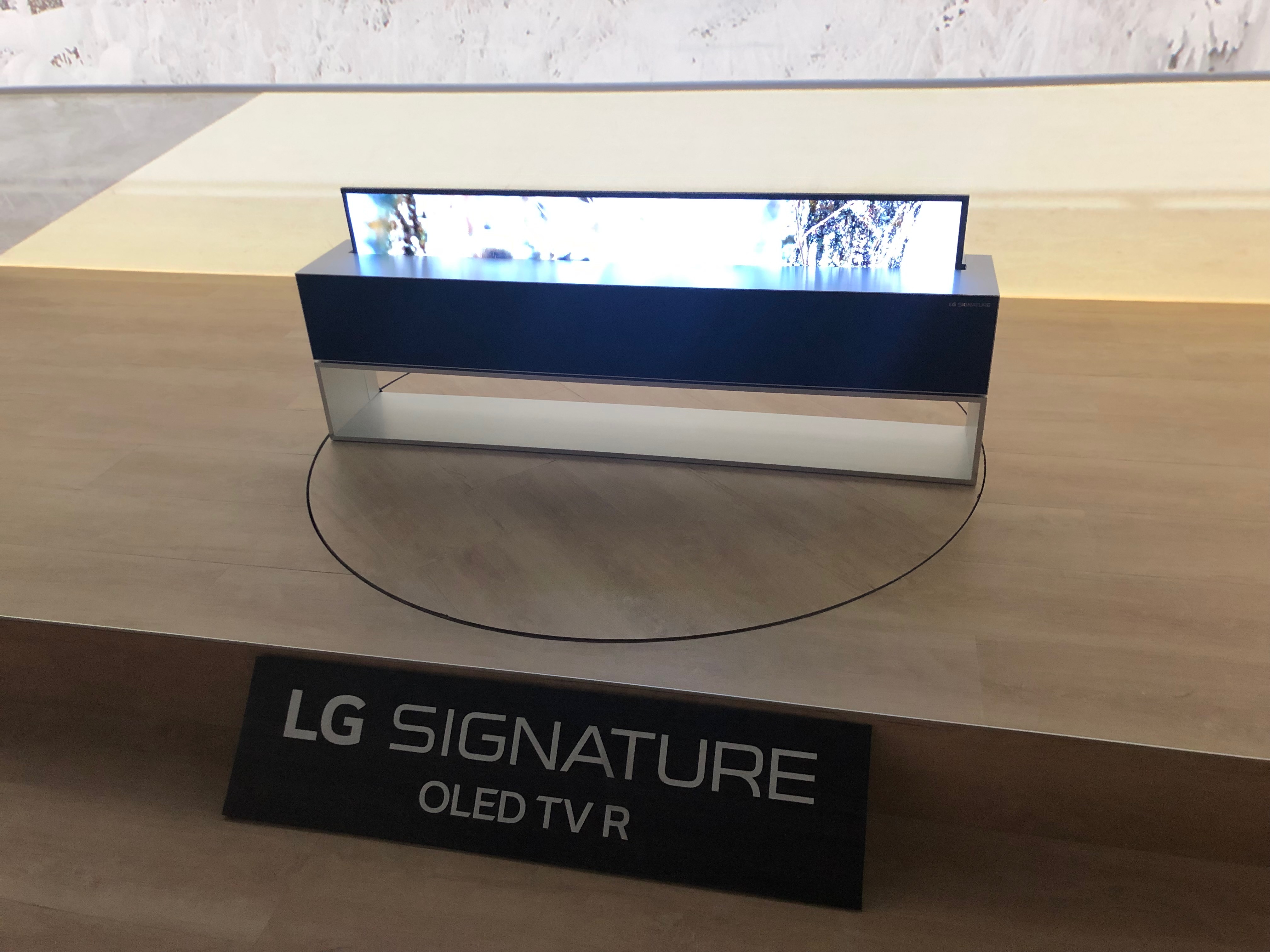 Given the hefty speaker cabinet, the rollable OLED can't be wall-mounted. You could pop it on a shelf of course, but the point of tucking away the display means it won't dominate the room or spoil window views.
Central to its operation are three height settings with specific uses. Full View delivers the total 65in viewing experience. Line View partially unrolls the TV 25% to reveal a taskbar for things like the clock, music, displaying photos or mood settings.
Zero View completely hides the display, although as mentioned this doesn't stop you from streaming songs through the front-firing speakers.
The OLED TV R uses WebOS for its smart TV platform and rather than pledging allegiance to one smart home system it supports all of them.
That's right, Google Assistant, Amazon Alexa, Siri via HomeKit and Apple AirPlay 2 are all good here, the R doesn't discriminate.
Machine learning: AI picture and sound quality
Clever things are afoot under the surface. A second generation α (Alpha) 9 processor and deep learning algorithm adds some extra wizardry to the picture and sound.
The R automatically recognises the content you're watching and adjusts the picture settings to suit, regardless of the source. So whether you're watching Sky, streaming from Netflix or playing a 4K Ultra Blu-ray it'll take care of business. Light sensors can also match panel brightness to the ambience of the room.
On the sound front, the Dolby Atmos speakers recognise the space it's been placed in and adapts to the environment, while AI Sound Mode switches things from two channels to 5.1 virtual surround sound. We're yet to hear this in action, but LG's engineers were at pains to say we wouldn't be disappointed when we finally do.
LG OLED TV R early verdict
Sometimes so many TVs unveiled at CES claim to be a 'world first' you give up caring whether it's legitimate, but LG really has come up with a potential game changer here.
What's more, rather than producing a press conference concept that then mysteriously disappears and isn't seen again, we spotted at least seven fully working examples most of which were in full view of the public and working flawlessly, giving us confidence LG will deliver.
The OLED TV R is due to go on sale in the second half of the year and given its for early adopters LG have pulled no punches in admitting it's going to be ludicrously expensive, but we're kind of okay with that – after all, Sony's first 4K TV initially cost $25,000 in 2012 and look where we are now.