LG OLED65C3 review: get your expression enhanced
Is a step up in HDR picture processing worth the upgrade?
You don't have to question LG too closely to find out the company has been the planet's leading OLED TV brand for a decade now. It's never been short of competition, of course – but the fact LG remains the only company actually producing raw OLED panels for TVs can't have done its prospects (or its sales) any harm.
For its 2023 midrange OLED series, LG has made some adjustments here, some tweaks there… and, on paper at least, the LG OLED65C3 seems nicely positioned to continue that remarkable run of form. But, as we all know, 'on paper' is not where the real battles are won…
Design and build: your flexible friend
First things first: there's an LG TV to suit everyone. We're testing the 65in LG OLED65C3 here ('C' sits between 'B' and 'G' in the brand's line-up), with the range starting at 42in, moving through 48in and 55in, and on to 77in and 83in models.
At its bulkiest point, the 65in C3 is just 45mm deep, with a fair bit less of that bulkiness than on some rival TVs. Quite a bit of that seductive OLED slimness is visible when the screen is seen in profile. With its central pedestal stand, nicely faced in aluminium and carrying the screen's only branding, it weighs in at a reasonably trim 16.6kg.
Some of that relatively light weight can be explained by the LG's composite fibre construction. Mind you, it also explains the amount of flex the panel exhibits too. Still, once the screen is installed on its stand or on the wall that'll cease to be a concern.
For all that there's a degree of movement in the panel, though, there's no taking issue with the way the 65C3 is put together. As is standard LG practice, build quality is very acceptable indeed.
Features: pure HDMI power
This, of course, is a 4K TV – and it features Dolby Vision IQ, HDR10 and HLG HDR standards. Its overall specification is aimed just as squarely at gamers as it is movie-lovers or telly addicts.
No matter the use you put it too, though, the entire picture quality show is run by the 6th generation of LG's Alpha9 picture processing engine. Unsurprisingly, LG is vocal about the potency of this latest version, particularly the Light Boosting Algorithm and Light Control Architecture that are designed to extract the maximum peak- and full-screen brightness possible from the panel. Dynamic Tone Mapping Pro and Expression Enhancer are other HDR-related features in the Alpha9 Gen 6's arsenal – although presumably not even a specific Expression Enhancer will be able to do anything about Ryan Gosling's expression.
Physical inputs include four HDMI 2.1a sockets: one is eARC-enabled, and all four cover 4K@120Hz, ALLM, VRR, HGiG, G-Sync, FreeSync Premium Pro and everything else that makes for a properly potent console gaming experience. For 2023 LG has also incorporated a new HDMI 2.1a feature: Quick Media Switching. Sources that support QMS (Apple TV 4K, most prominently) can have their frame-rate instantly matched when switching programmes, avoiding the dreaded HDMI 'bonk' (those disproportionately irritating, fleeting screen blackouts).  
There's also an Ethernet input, three USB-A slots and aerial posts for the C3's integrated TV tuners. A digital optical output allows the LG to work with soundbars of a certain vintage. Dual-band wi-fi is available for wireless connectivity, of course, along with Bluetooth 5.0. There's Apple AirPlay 2 compatibility, too.
For sound, the OLED65C3 has the ability to accept a Dolby Atmos soundtrack, and is fitted with a 2.2-channel down-firing speaker array, powered by a total of 40 watts, in order to deliver it.  LG rather optimistically claims its AI Sound Pro feature can replicate the effect of a 9.1.2-channel set-up – but its Wow Orchestra feature seems a better bet for those who fancy making the most of the C3's audio system. This lets the TV's sound system to join in with, rather than be overridden by, an appropriate LG Dolby Atmos soundbar – some of which are supplied with a bracket to allow the 'bar to be directly attached to the screen. 
Interface: make your point(er)
LG's webOS interface was already one of the calmer and more navigable examples of its type – but for its 2023 OLED TV's, the company has refined it even further.
The app line-up across the bottom of the home screen is easily customised. The introduction of Quick Cards means you can store relevant apps in groups (Home, Game, Sports etc). The broad controls covering picture, sound and what-have-you are also easily and quickly accessible without interrupting your viewing.
Naturally, there are advanced settings available too. Here's where you can ensure you never have to endure the farce that is Filmmaker Mode, for example. It's where you'll also discover Expression Enhancer simply gives a boost to lighting or detail, rather than trying to animate some of the more wooden performers you may be watching.
Navigating the menus and interface happens using LG's admirable Magic Remote, which combines the more usual remote control functionality with an on-screen cursor. It takes a little getting used to, but is an extremely effective and worthwhile feature. The handset has direct access buttons for Netflix, Disney+ and some other services, plus an integrated mic for use with voice assistants. It works with Google Assistant and Siri, and has Amazon Alexa built in.
Performance: compare and contrast
We're all familiar with the concept of marginal gains, right? Well, so is LG. While the OLED65C3 is no kind of radical upgrade on the C2 model it replaces, its improvements are sufficient enough to make this TV a pretty compelling proposition where picture quality and the gaming experience are concerned.
There are a number of picture processing options to be explored, of course. But for our money, at least, the best balance is to be found by deploying the Dolby Vision Cinema Home setting with OLED pixel brightness knocked down just a few points from its maximum setting. With the C3 set up this way, both a 4K UHD Blu-ray of Dune and a Netflix stream of The Power of the Dog look an absolute treat.
In every meaningful respect, the LG OLED65C3 is a convincing and engrossing watch. Its colour balance is naturalistic, nicely saturated but not too overdriven or vivid, and the breadth and nuance of tone it generates is remarkable. Black tones are predictably deep, but they're also varied and carry plenty of detail – even in scenes of almost uniform darkness. And because the C3 creates clean, bright and similarly detailed white tones, contrasts are strong and wide-ranging. This isn't the outright brightest OLED TV you ever saw, even when at its most vivid picture preset. But unless you like to watch TV with as many lights on as possible, it's more than adequate on this score.
Edge-definition is smooth when it needs to be and crisp when it needs to be. Picture noise is suppressed with complete authority, and even the tightest, most complex patterns are delivered with assurance. Motion control is similarly robust, so even when there's a lot of quick on-screen movement happening at the same time as a slow camera pan – even if the camera is moving in opposition to the on-screen action – the LG keeps it stable and smooth.
Detail levels are high in any and all circumstances, but are at their most impressive when it comes to skin-tones and textures. There's a stack of information made available, and as a result the variation in complexion is basically limitless.
The LG is a pretty capable upscaler of sub-4K content, too. It remains a punchy and vibrant watch, keeps detail levels high and picture noise low, and manages to stay on top of even the most testing on-screen motion too. Properly complicated patterns or textures will see it betray how hard it's working to fill all those pixels, but unless you're watching authentically low-resolution stuff, it's never less than watchable. If you are watching really lo-res images, it can get a bit soft and a bit edgy – but we're tempted to ask why you're spending this much money on a TV in order to watch old-school content.  
Switching inputs to a Playstation 5 with a copy of Gran Turismo 7 loaded allows the OLED65C3 to bolster LG's already excellent reputation for gaming-friendly screens. It covers every current-gen console base via any of its HDMI inputs, of course – and with a switch to Game Optimiser mode, a transparent Game Dashboard overlay gives you access to picture presets, VRR and black stabiliser as well as some fairly geeky info regarding FPS and what-have-you. An input lag time of less than 10ms tells its own story as regards the LG's effectiveness, and where colour fidelity, contrasts, motion and, especially, lighting effects are concerned, the OLED65C3 is an excellent gaming monitor. The C3 features some cloud gaming courtesy of Nvidia GeForce, too, if you become weary of your physical console's titles.
When it comes to sound, though, the OLED65C3 is a considerably less compelling proposition. 40 watts and a 2.2-channel arrangement isn't a catastrophe as a proposition, but in practice the LG sounds toppy, wheezy and boneless. The Wow Orchestra feature will no doubt help for those who fancy an LG Dolby Atmos soundbar, but as it stands the LG's audio quality relates to its picture quality in the same way a pedalo relates to a speedboat.
LG OLED65C3 verdict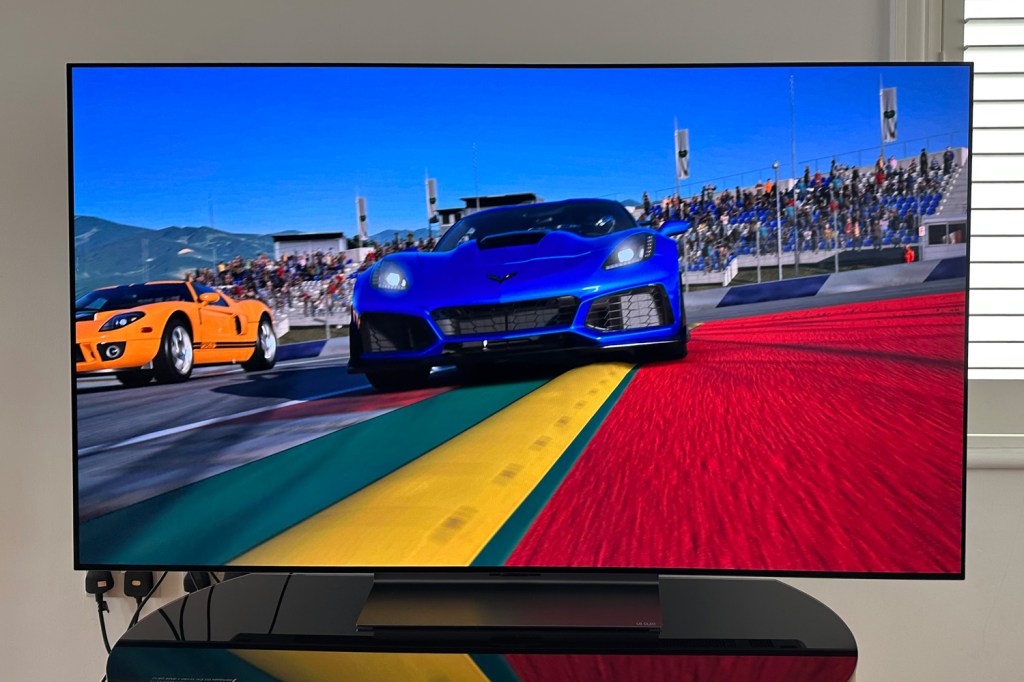 Like we said, marginal gains. The LG OLED65C3 has some definite advantages over the C2 it replaces, not least in its HDR picture processing enhancements and the revision to its webOS interface – but by themselves they won't seem quite enough to tempt C2 owners into a quick upgrade.
The rest of us, though, can just go ahead and be really impressed by what is simply the latest in a long line of high-achieving LG OLED TVs.
Stuff Says…
Add the C3 to the long list of brilliantly accomplished OLED TVs LG has delivered over the last decade
Good Stuff
Brilliant all-around picture quality
Great for gaming
Upgraded webOS interface
Bad Stuff
Sound is underwhelming
Not particularly affordable
Feels wobbly during installation
LG OLED65C3 technical specifications
Screen size
42, 48, 55, 65 (version tested), 77, 83in
Resolution
3840×2160
HDR
Dolby Vision, HDR10, HLG
Inputs
4x HDMI 2.1, 3x USB, 2x RF, Digital optical, Ethernet, Wi-Fi, Bluetooth
Smart TV OS
WebOS 2.3
Weight

16.6 (with stand)
14.1kg (panel only)
Dimensions
1222x757x230mm (with stand)
1222x703x45mm (panel only)