LG S95QR review: profound surround sound
This flagship soundbar system brings the audio here, there, and everywhere.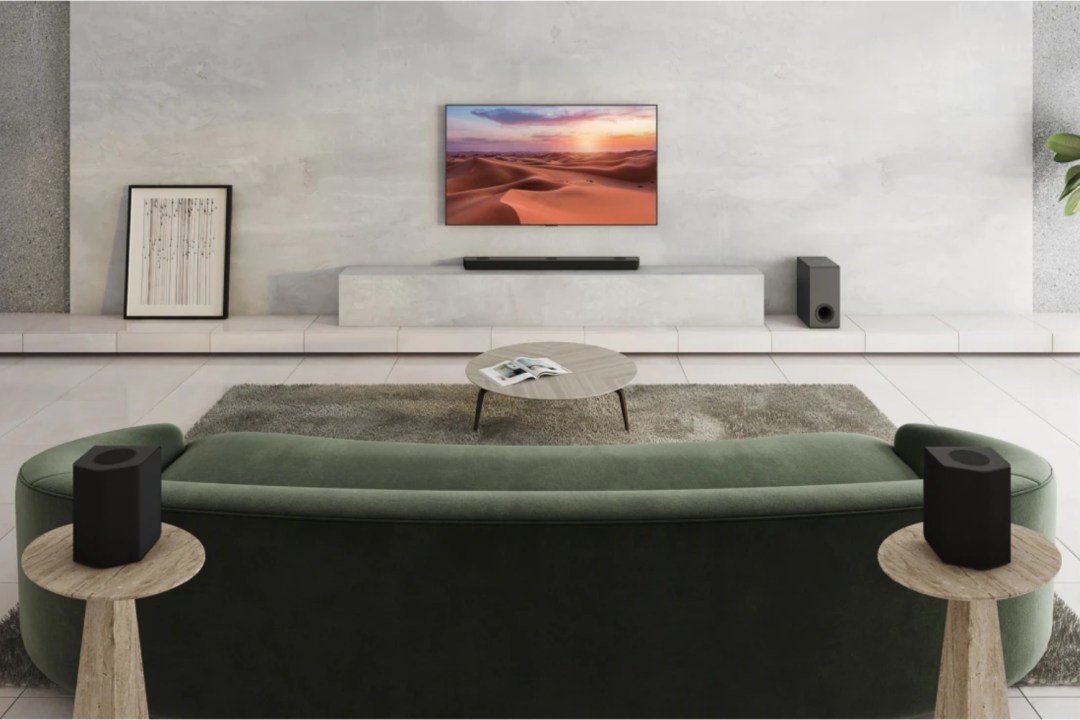 Surround sound kit has always been quite the pain in the aux. If you're after a true Dolby Atmos system, you'll need to get the ladder out for some in-ceiling speakers. That's not quite achievable for everyone, so it's a good thing that soundbar systems can replicate the effect. Some do so better than others – and the LG S95QR is up there with the best of 'em.
LG's latest swanky-looking bar of sound sets its sights on taking your home cinema to the next level. It packs some seriously snazzy smarts in as well, with the likes of AirPlay, wireless connectivity, and smart assistants built-in. At £1699 it sits firmly on the premium end of the market, at a cut above most alternatives. Does its sonic performance justify such a high price?
Design: looking sly and fly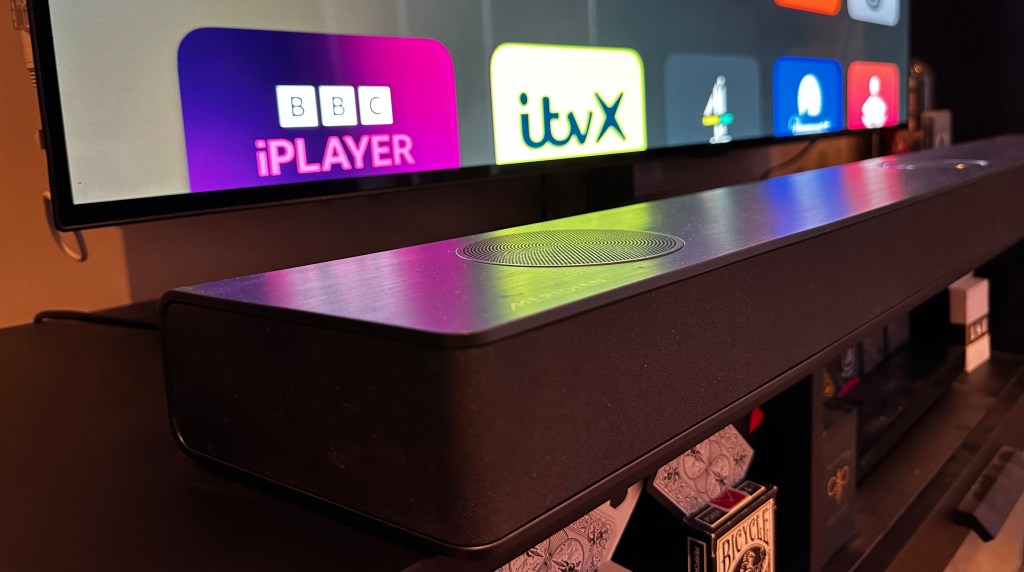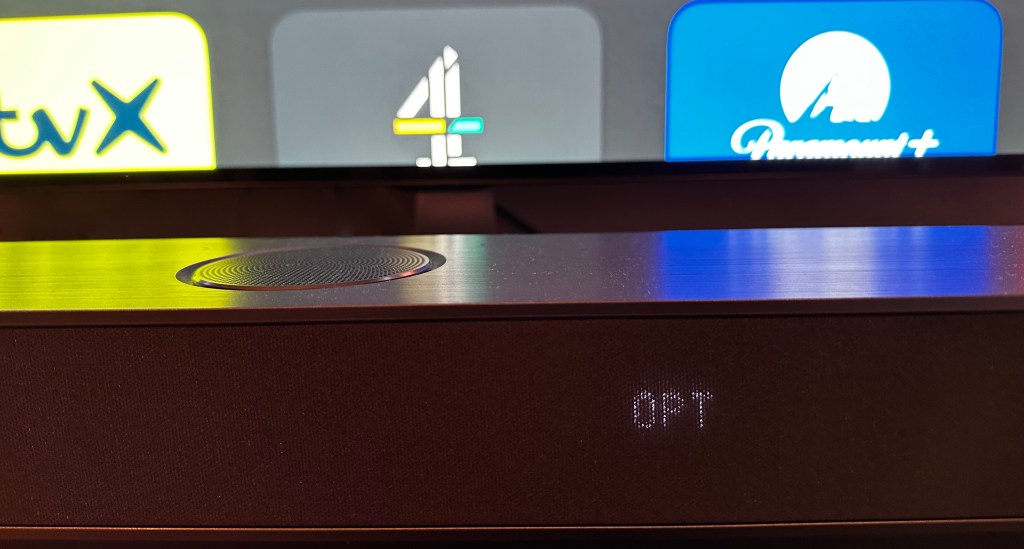 The S95QR goes for a sleek, minimal design in black. It'll blend nicely into the rest of your living room set-up, without demanding too much of your attention. Most importantly, it'll fit snugly underneath most TVs, whether they're stand- or wall-mounted. It's roughly as wide as a 55-inch telly, so will slot rather nicely under any gogglebox above that mark.
The front fabric stretches around the soundbar's curved sides, for a design that remains consistent – if a challenge to keep clean for any pet owners. A small LED display sits just off-centre, showing input info. You can't turn the LEDs off (though they do dim), so you'll always have to look at the input information displayed. The offset placement might also cause irrational anger for any neat freaks.
Flip it over, and you'll find a plain black plastic back, but no input selections; you'll instead find these on the bottom of the soundbar. Up top there's a black wood texture that's easy on the eye, along with three up-firing speakers that each have perforated grilles.
Look further back, and you'll find the very minimalistic set of controls. LG has opted for touch buttons, each with a little glyph on the top.
Features and set-up: singing with pride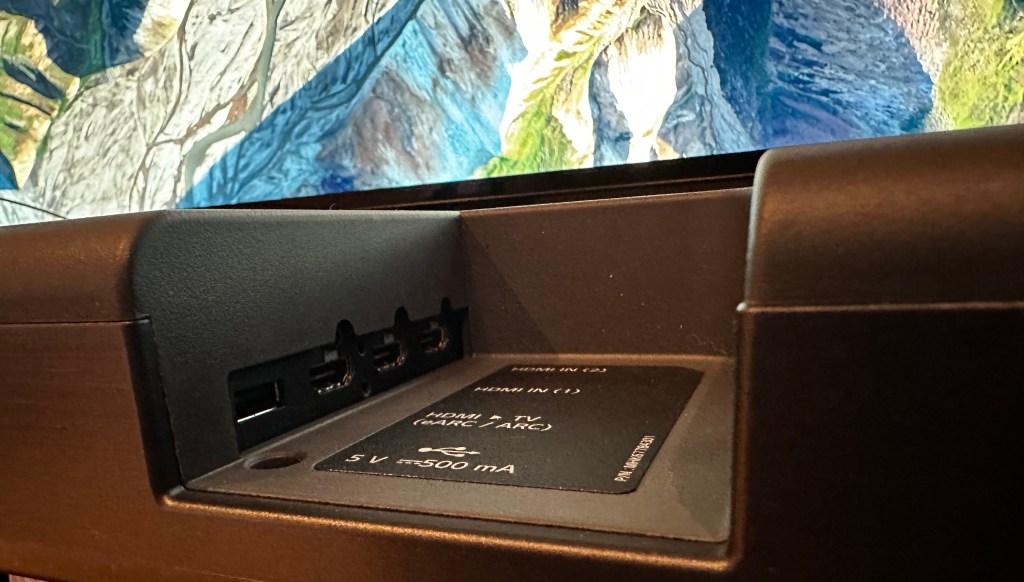 There's enough wired connectivity to suit all the boxes and consoles you might care to hook up, including an optical input for older tech, two HDMI inputs with lossless 4K pass-through, an HDMI eARC connection straight to your TV, and a single USB. The LG S95QR supports Dolby Atmos, DTS:X, IMAX Enhanced, and just about every other audio format under the sun. You won't get the Atmos benefits from the optical connection, though.
Dolby Atmos and DTS:X bring more directional audio to your surround sound experience. Often this is a virtual effect with clever techno-trickery, but the S95QR is all-natural. With three dedicated up-firing speakers (which is a world's first according to LG), as well as two rear units, the system achieves some very realistic surround sound. It broadens and elevates the soundscape, making content more immersive while you're watching it.
There's plenty of wireless connectivity as well. You can use AirPlay 2, Chromecast, or Spotify Connect to beam audio over Wi-Fi, or opt for bog-standard Bluetooth. All worked perfectly throughout our testing, with no wireless hiccups. You'll also find Alexa and Google Assistant eager to help with queries and controls. They're easily reachable through the mic button on the remote and worked well, though we didn't call them into action all that often.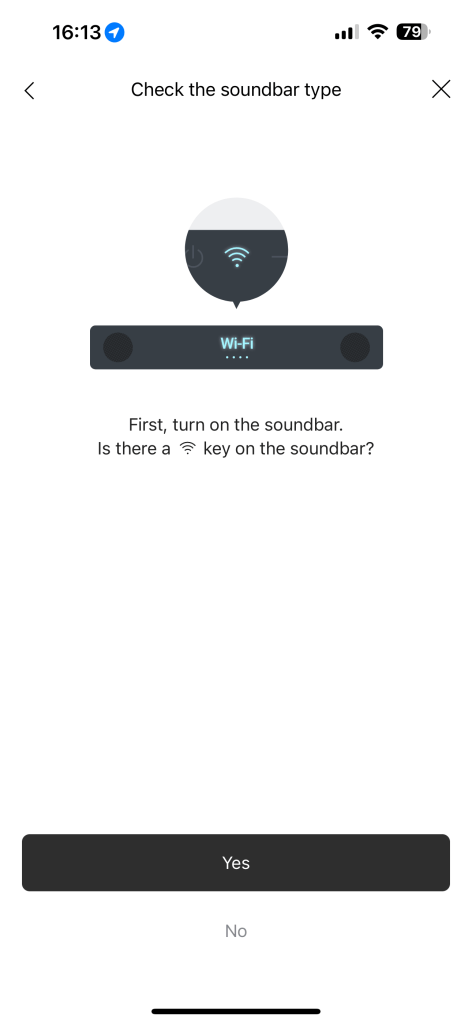 You can pick EQ presets, adjust sound levels, and play music from your smartphone using LG's companion app. It's a lot easier to change settings here than on the tiny built-in display with the remote, and as it's handled over Wi-Fi you don't have to be within Bluetooth range. It's worth downloading for LG's room-scanning feature, which plays small sounds and uses a built-in mic to capture them back and tailor sound to your room. That may seem a little gimmicky, but it makes noticeable improvements to audio clarity.
The app is essentially required to set up the soundbar, and contains the digital manual (there's no paper one in the box).
Performance: profound and surround
LG has partnered with Meridian on the S95QR, for both sound engineering and Hi-res audio support (up to 24-bit/96kHz). Spoiler alert: it sounds exceptional. Never again will you look to your telly's built-in speakers, or even smaller dedicated speakers. Every single detail is clear, no matter how loud you crank things. Even maxed out, the LG managed to avoid any distortion. Audio is full-bodied, deep, and rich – it completely immerses you in whatever content you're watching.
The surround experience it delivers is all-encompassing. While the centre channel keeps vocals centred and to the front, directional audio is also extremely present. The side/rear speakers do an exceptional job of giving the audio direction – in most Atmos-supported content, you'll easily pick up on sounds moving from one side of the room to the other. The three up-firing speakers do a tremendous job of sending sound above you, and surrounding your room. It can't match dedicated ceiling units because of physics, but is the closest we've ever heard singe unit surround sound get. And let's not forget about the standalone subwoofer, which produces deep, rich, punchy bass sounds that fill the room. Bass isn't too much, it hits the sweet spot. Neither is the directional audio, only improving the audio experience rather than distracting.
Atmos kicks in automatically for both wired and wireless content, so you'll always hear it when available. You can pick from the Standard, Cinema, Sports, Game, Music, Bass Blast, and Sound Pro modes for listening. We'd recommend sticking with either Sound Pro and its personalised audio, or Cinema for a more finely tuned experience.
The S95QR performs very well with music playback, but it really shines when playing visual content. In all the shows and movies we put this sound system through, it never failed to deliver. The tuning is geared towards watching content, and that's fine for a home cinema soundbar.
LG S95QR verdict: fall in love with audio all over again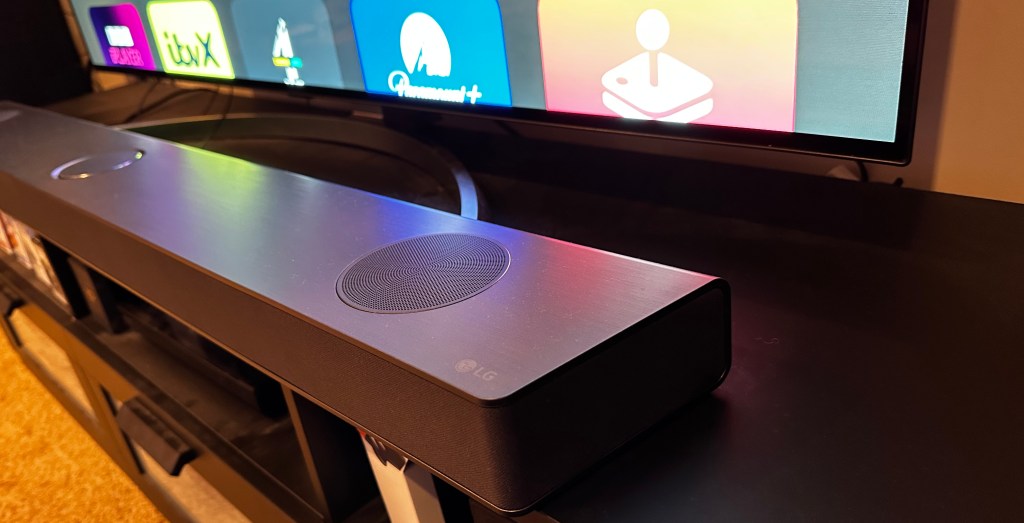 In case it wasn't clear enough already, we're massive fans of the S95QR. LG's flagship soundbar system delivers exceptional audio that's deep, rich, punchy, and clear. On top of this, it demonstrates some of the most realistic and effective surround sound we've heard from a single unit.
Mainstream alternatives like the Sony AH-7000 can't match it for multi-channel cleverness, and a fully specced Sonos bundle relies on extra speakers to get the job done. We think it rivals properly high-end kit like the Sennheiser Ambeo and Devialet Dione, which costs considerably more.
The S95QR won't disappoint – in fact, it's likely to surpass expectations. If you're looking for a fantastic all-round experience with exceptional audio, effective surround sound, and plenty of features, this is certainly the way to go. Now, if you don't mind, we're heading back to watch something else.
Stuff Says…
A near perfect surround sound option for your home cinema – packing tons of features, delivering on audio quality, and excelling in surround sound.
Good Stuff
Excellent soundscape with exceptional audio quality
Atmos, DTS:X, and IMAX Enhanced support
Easy wired and wireless connectivity
Sleek and stylish design
Bad Stuff
Expensive compared to alternatives
App required for some set-up
LG S95QR technical specifications
| | | | | | | |
| --- | --- | --- | --- | --- | --- | --- |
| Channels | 9.1.5 | | | | | |
| Speakers | 17 | | | | | |
| Formats | Dolby Atmos, DTS:X, IMAX Enhanced, AAC/AAC+, Dolby Digital, DTS Digital Surround | | | | | |
| Inputs | 1 x eARC, 2 x HDMI, 1 x Optical, 1 x USB | | | | | |
| Connectivity | Wi-Fi, Bluetooth, Alexa, AirPlay 2, Chromecast/Google Assistant, Spotify Connect | | | | | |
| HDMI Features | Pass-through, eARC/ARC, HDR10, CEC, Dolby Vision | | | | | |
| Dimensions | Soundbar: 1200x63x135mm, 5.03kg; Rear: 159x223x142mm, 4.08kg; Sub: 202x407x403mm, 10kg; Gross: 25.3kg | | | | | |