LG V50 ThinQ 5G review
Everything but the kitchen sinQ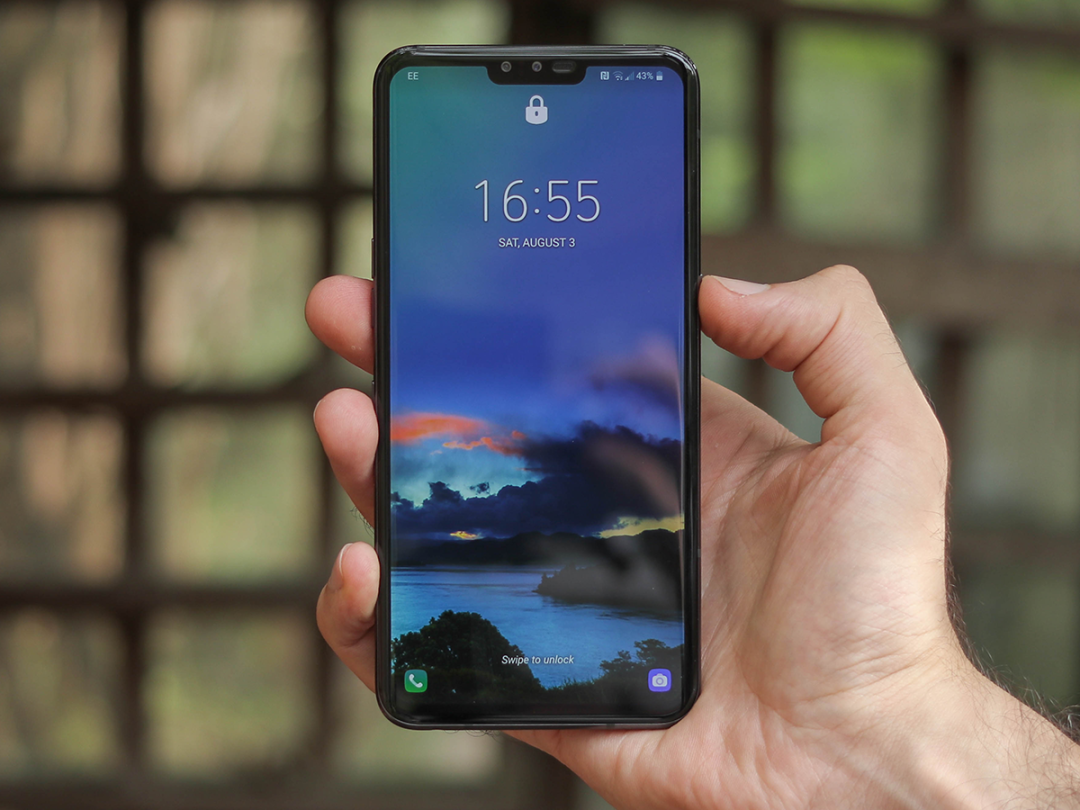 After the G8 ThinQ missed the mark when it came to being an outstanding flagship, LG has changed tack for the V50 ThinQ, ditching the G8's awkward gesture gimmicks in favour of 5G and 'foldable phone, but not really' credentials.
Shipping with a Dual Screen case, the inside of the folio cover is a second screen. While the rest of the phone is perfectly well-specced, does its beefy bundled folding case simply detract, or is it a much-needed point of differentiation in a sea of perfectly well-specced 5G phones?
When it comes to price, the LG G8 ThinQ 5G is available on-contract on EE in the UK from £69 per month with an up-front cost of £50. While that's cheaper than the priciest 5G phone, Samsung's Galaxy S10 5G, you're still paying a huge premium for the 5G-factor – and there's a good chance you don't need to rush into it.
If you're going for a 5G phone because you want speed, 5G coverage needs to reach you; otherwise, you might as well opt for a much cheaper 4G phone. At the time of writing this review, only EE and Vodafone have gone live with their 5G services in the UK, with Three and O2 hot on their tails.
Coverage is sparse right now, but the upshot is, it's only going to get better. If you have the cash and want to future proof your phone – by all means, get on the 5G train. If you're frugal and want to see how the roll-out pans out though, 4G is still plenty fast and unlike 5G, it's in a lot of places right now.
Still, 5G or no 5G, the LG V50 ThinQ is a unique phone thanks to its Dual Screen accessory, included as standard when bought on EE in the UK.
Design and screen: Have we met?
If you're getting deja vu, that's because the LG V50 ThinQ 5G is loaded up with identical screen size and resolution to that of the LG V40 – a 6.4in QHD+ display.
It's a gorgeous OLED panel with inky blacks, and punchy colours that look sharp and bright, with a pixel density of 538PPI. Couple all that with HDR 10 support, and games and movies look fantastic.
Our only issue with the V50's screen is its rather 2018 notch and the fact it's got a fair bit more bezel than most of today's flagships. It's not obscene – smaller than the iPhone Xs Max's notch, for example, but compared to the 5G competition, it just looks a bit dated.
LG has still managed to put together a rich feeling and looking phone despite this; the V50 combines a polished metal frame with a curved glass back. Its Gorilla Glass 5 credentials and IP67 water and dust resistance ensure it's about as hardy as it needs to be.
While it doesn't come with a screen protector pre-fitted, the dual-screen case will keep it scratch-free if you plan on wielding it.
Audiophiles rejoice, while Samsung has ditched the headphone jack in its new Note line, the beloved port is present and accounted for at the base of the V50 ThinQ 5G. Complete with LG's trademark quad DAC and table-vibrating, sound-amplifying stereo speaker set-up, the sound experience is a good one.
There's a USB-C port as well as volume and power buttons dotted around the device, not to mention a Google Assistant button too.
Around the back, you won't see any bumps, with all three cameras under the curved glass backing. The only physical interruption is a fingerprint scanner and three pogo pin connectors that connect it to the Dual Screen.
The V50 5G is, in turn, one of only two 5G phones to opt for an old school, around-the-back fingerprint scanner as opposed to one under the display, as found on the OnePlus 7 Pro 5G and the Oppo Reno 5G.
Ultimately, the LG V50 ThinQ 5G isn't the thinnest, most ergonomic or prettiest phone around, but its screen and design still come together perfectly well.
Dual Display: Foldable, but not really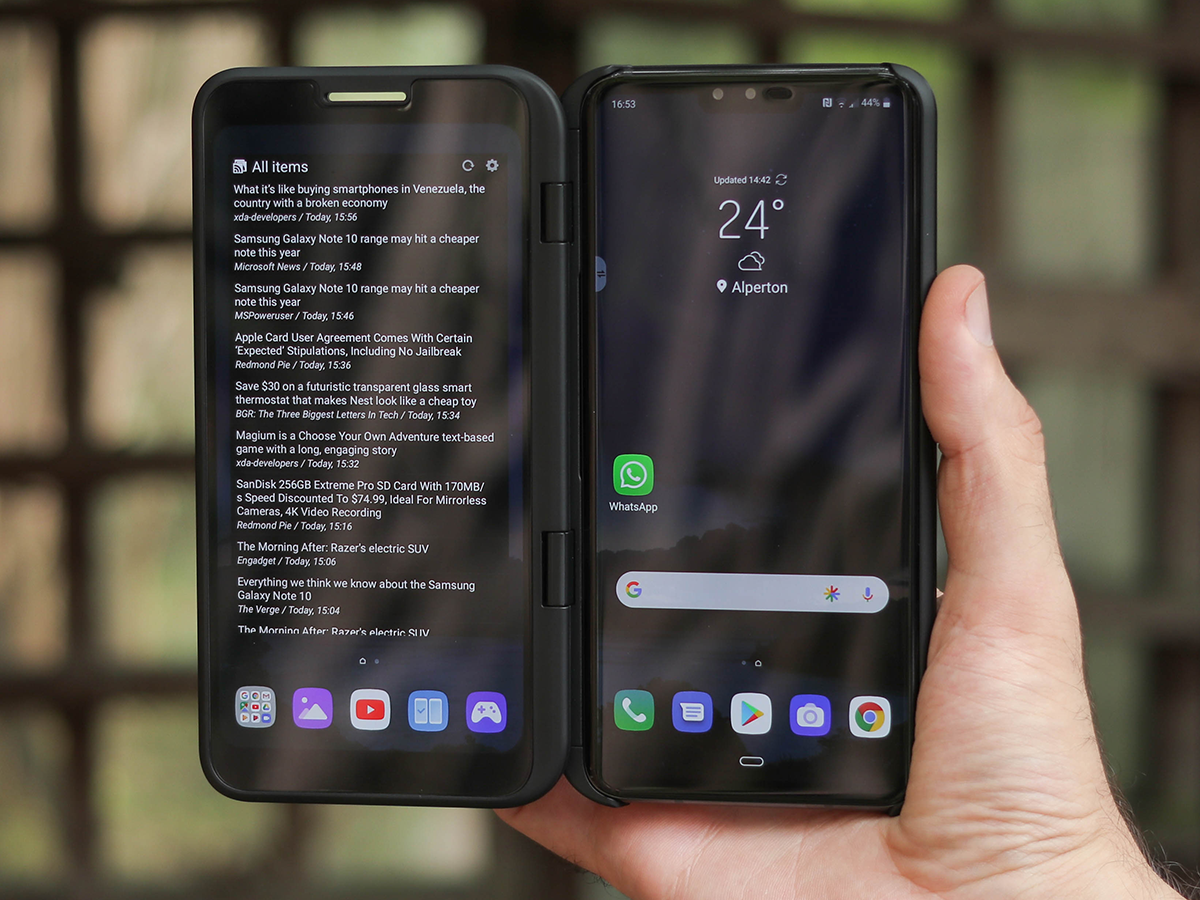 While the phone might not ship with the Dual Display in all regions, if you get it on EE in the UK, it does, which serves as a tasty point of differentiation.
The display is a folio case with a hinge on the left, unfurling and wrapping back on itself through 360 degrees. On the inside of the folio cover is a 6.2in second screen packing Full HD+ resolution and OLED technology.
It's a good screen, and while there are slight colour calibration differences between it and the main screen, it delivers a much better experience than we were expecting. The Dual Display is powered by the 4000mAh battery in the LG V50, so doesn't need charging.
Getting it fired up couldn't be easier – it's simply a case of plug the phone into the case and the second screen fires up. Having two screens is fantastic; playing YouTube videos on one while shopping on another, keeping a map in view while finding an address in a WhatsApp message, all a lot of fun.
These are all things that we could have done with split-screen multitasking but seldom did. You really do need to get to grips with the Dual Screen's nuances though. The continuous playback we experienced in YouTube while getting on with work on another screen was great, but it doesn't work for Amazon Prime Video or Netflix, for example.
As soon as you tap on a different display to the one playing back your video, it pauses. Using the Dual Screen as a gamepad was also fiddly at times, sometimes it would fire up on the main display, others on the second screen, and swapping them around didn't always work.
The undeniable geek-factor of the accessory is superb and will sell it for some. Practically speaking, though, if you don't anticipate making an effort to work it into your smartphone life, don't bank on it fitting in all by itself.
Software: Eighth time's a charm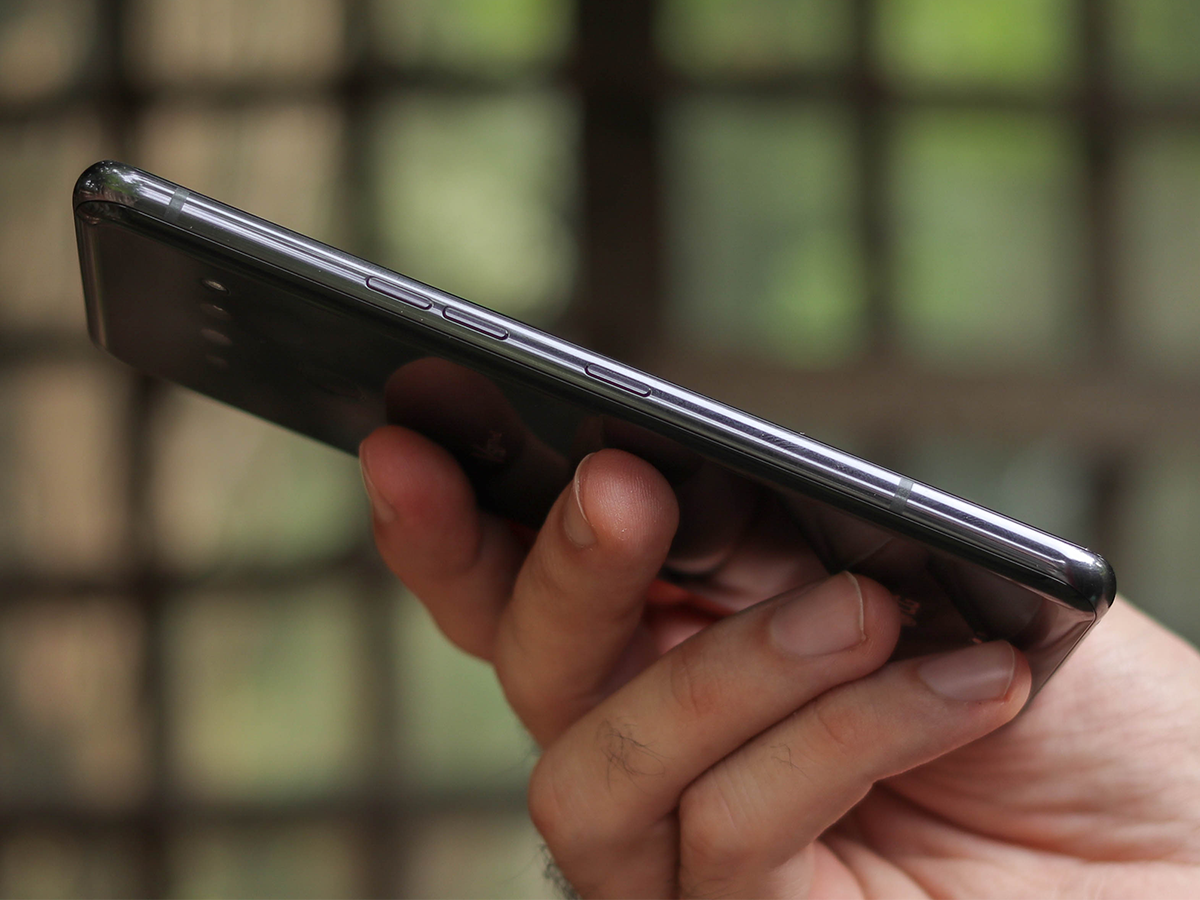 Historically, LG's UIs have been a bit fluffy and overbearing.
While the company has streamlined over the years, it finally feels like LG's 90% there on the G8 ThinQ.
Gone is the Bixby-esque feed on the left of the home screen. Instead, there's a Google Assistant screen, which is both more stock and useful. You won't find an overbearing LG app store pushing promotions in your face either, but there is still a fair bit of pre-installed software we could do without on the V50 ThinQ 5G neatly tucked away in a folder.
You can ignore these apps, and if you do, the experience is great. Choose between a traditional apps drawer home screen or go with something more iPhone-esque, splaying all your apps across your home screens.
There's excellent app support here thanks to the fact the V50 ThinQ runs with Android 9, the latest widely available version, and LG's also loaded up an always-on screen that's nicely customisable with various clock faces or a picture.
The main thing missing which we would have liked to see on LG's new UI are the gestures present in most modern smartphones, which make the need for a navigation bar redundant.
Camera: Three at the back, two at the front
Deja vu; the LG V50 ThinQ 5G's camera set-up is identical to that of the V40, with a traditional three-camera setup consisting of wide (12MP, f/1.5, OIS), ultrawide (16MP, f/1.9) and telephoto (2x zoom, 12MP, f/2.4, OIS) cameras.
There are plenty of shooting modes, which include auto, portrait, studio lighting, AI cam, manual camera, night mode and many, many more. You can even shoot manual video which is excellent, complete with focus peaking, and there's a cinevideo app, which you can use to enable instagram-esque filters over your 4K 18:9 footage.
The results are predictably good without being best-in-class, as we've come to expect from LG phones, with plenty of control over your shot, making it a decent camera for pros. The dual-screen case acts as a handy makeshift tripod/kickstand, so timelapses are significantly less challenging than if you were without it, for example.
In automatic mode, while images shot on the V50 ThinQ don't topple the best out there, the auto HDR fires up most of the time, and shots showcase rich tones. Detail impresses until you pinch right in and sharpening becomes more evident, and while LG's processing could be stripped back a touch, the manual overrides do a decent job if you want to flex your photography muscles.
When it comes to selfies, they look good in well lit conditions, mediocre in poor lighting with results producing a mottled effect.
The LG V50 ThinQ also features a wide-angle selfie camera and offers up a host of selfie effects too for good measure. Video is shot at up to 4K, and it's probably the area the phone's limitations are most evident, specifically, in poor lighting, with grain creeping in quickly and footage fast becoming unusable for anything but personal use. In good light, though, it's excellent.
Performance: Oh snap, dragon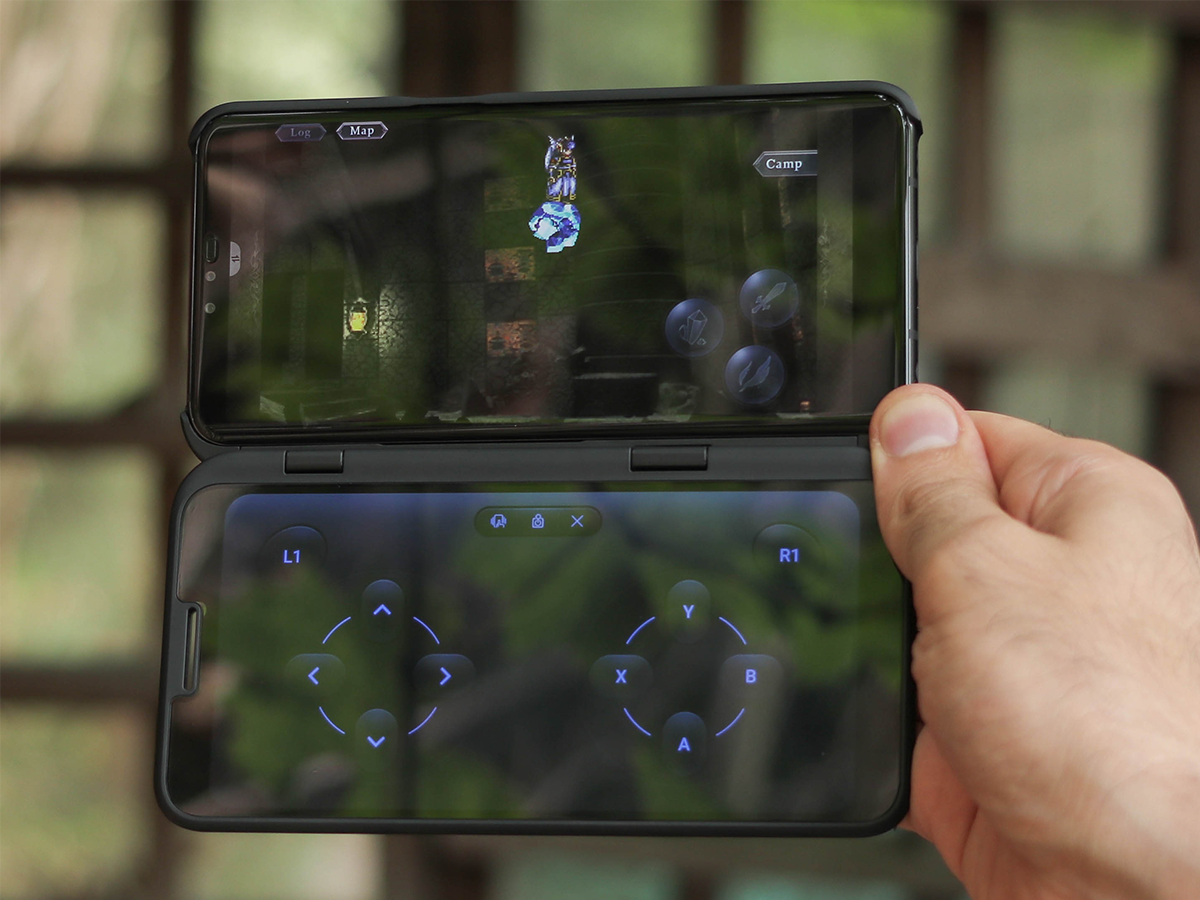 When you've got a Snapdragon 855 processor and 6GB Ram in your phone, you're not going to run into any performance issues, so it's little wonder the LG V50 ThinQ 5G flies.
It's loaded up with virtually the same configurations as the OnePlus 7 Pro 5G, and the Oppo Reno 5G, and whether you're picture taking or UI swiping, in out time with it, we didn't experience a stutter or a stall, even when working across the dual screens.
Loaded up with 128GB storage, there's plenty of space for your content on the V50 5G out of the box and micro SD card expansion too.
The stereo speaker is great when on a hollow surface, employing LG's BoomBox feature and resonating sound impressively. When handheld, it isn't as impressive but does the job. The bottom speaker generates most of the volume, so when gaming, it's easy to cover up and creates a noticeable muffle.
With a 4000mAh battery, the V50 ThinQ is the most capacious LG phone to date in that respect, and given the fact its battery powers the Dual Screen when connected, that capacity is more than just a nice to have.
When connected to the case, the phone lasts a day with regular use. When flying solo, the V50 will get you just over a day.
Of course, we can't talk about a 5G phone without talking about the 5G part in a bit more detail. Specifically, we reviewed the phone in London on EE's 5G network, and in the first few weeks of the service being live, no less. As a result, coverage was patchy, and we had to hunt for it.
When we found 5G signal, we were able to get speeds above 150-400Mbps, with the average 5G speeds looking more like 70–190Mbps. This wasn't much slower than our Huawei P30 Pro's data speeds on EE 4G, on which we recorded 50–80Mbps downloads in the same environments.
LG V50 ThinQ 5G verdict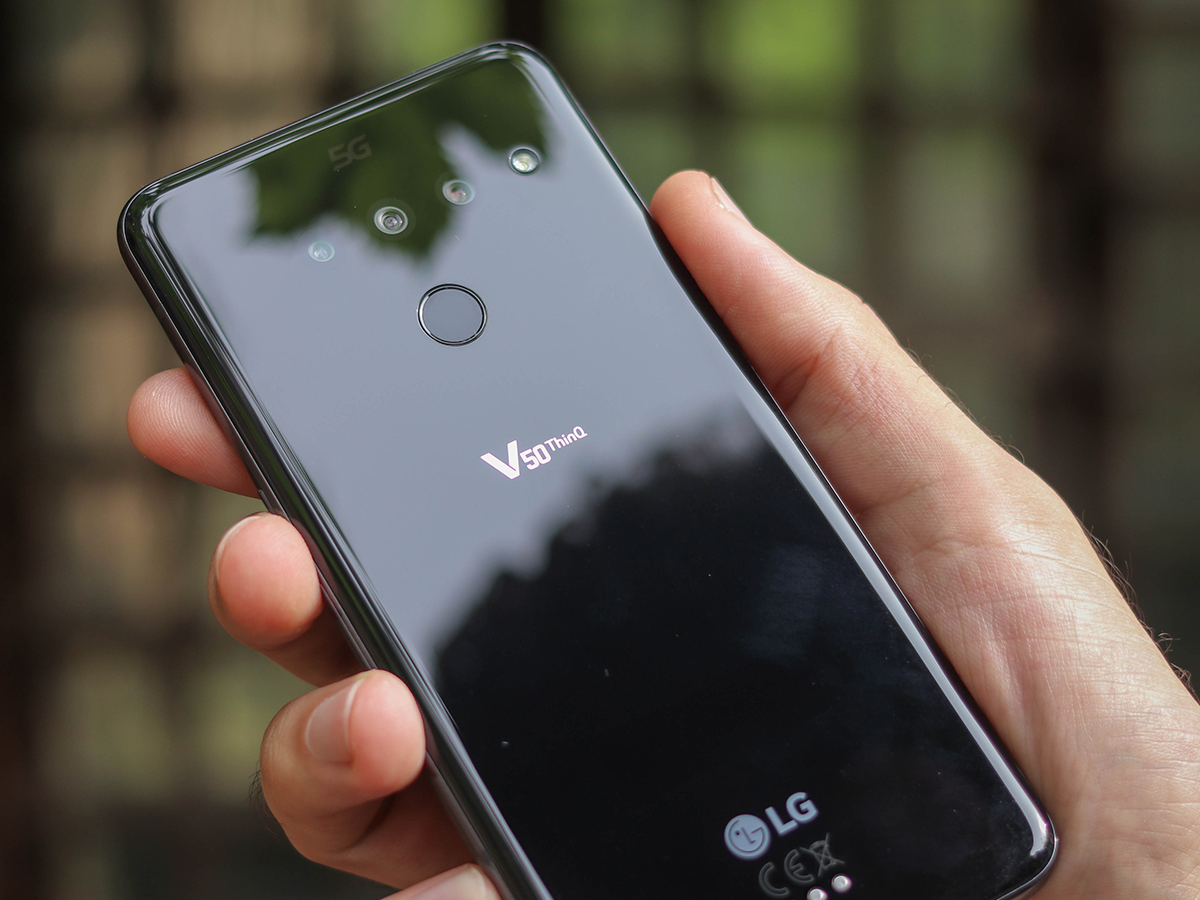 If we were dishing out awards for the 5G phones currently available, the LG V50 would win 'geeks choice'.
If you like to play with tech, it's fun to figure out ways to get the best from the Dual Screen. The camera is also best when you play about with the manual settings, and there's plenty of satisfaction to be had every time you put it on a surface play back music and showcase the BoomBox feature.
So while the S10 5G has a better screen and camera, the OnePlus 7 5G looks much more futuristic, Oppo's Reno 5G can zoom further and Xiaomi's Mi Mix 3 5G costs less and delivers an all-screen display, the V50 has a place in the line-up, and is easily LG's best phone to date.
As for whether it's still fresh when 5G is widely available, only time will tell.
Stuff Says…
A fun, gadget lover's 5G phone, the LG V50 ThinQ 5G won't be for everyone, but still checks a lot of boxes.
Good Stuff
Great screen quality
Dual Screen case included (EE)
Impressive audio experience
Bad Stuff
Dual screen experience is imperfect
Camera is good, not class-leading
5G coverage is sparse (Aug 2019)