Libratone Track Air+ review
Triple-cornered triumphs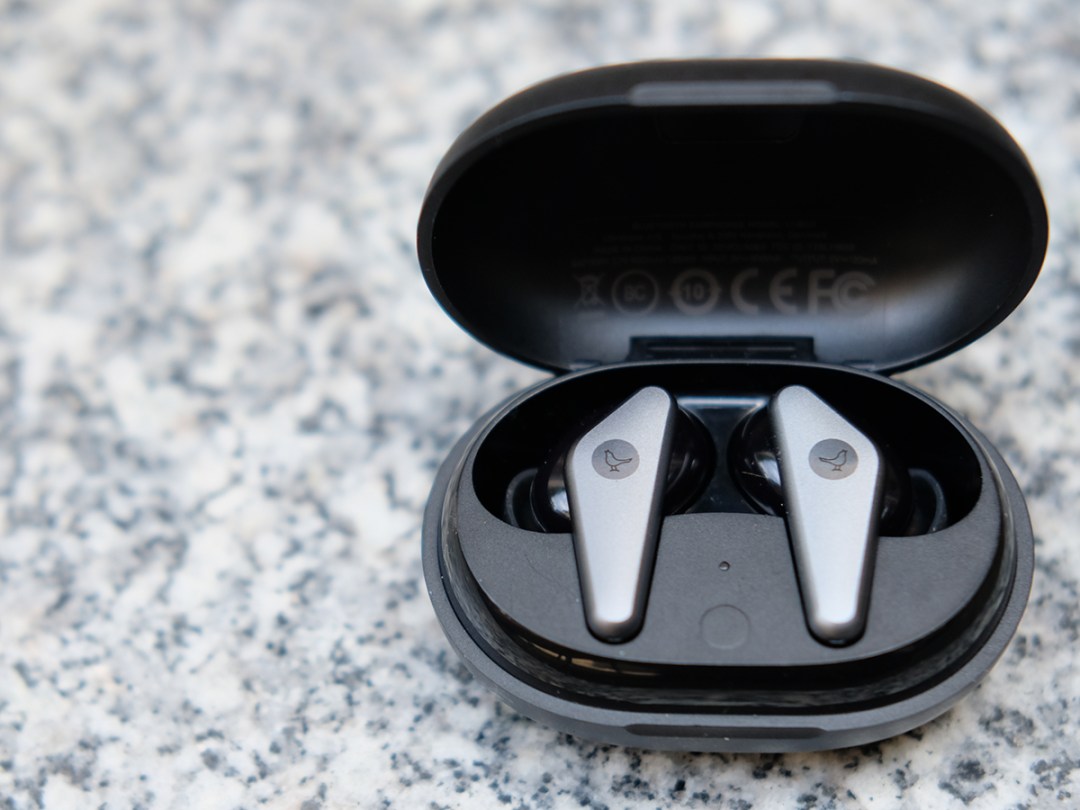 If Doritos, samosas and pizza slices are anything to go by, triangles are good news, yet most in-ear headphones resemble round blobs, or some variation on the Apple AirPods. Not these beauties.
Libratone, the Danish audio company and wire-free specialist, has never been one to follow the pack. You only need to cast your eyes over its range of wireless speakers which come dressed in an array of colourful zipped pullovers to know that.
The Track Air+ add a fresh, more triangular dimension to the in-ear aesthetic but manage to keep it classy. In fact, for design alone these are best of the bunch. And in a vastly growing area, that's not an accolade to be taken lightly.
It's not all about looks though. When they offer impressive active noise-cancelling, last six hours on a single charge and pack Qualcomm's aptX codec for some proper decent sound, it's hard not to find yourself caught up in some kind of love triangle.
Design and build: You really got me
At just 5.6g each, the Track Air+ are one of the lightest, most compact in-ears you can buy. Yet they feel robust and well-made rather than plasticky and throwaway.
With IPX4-certification, they're sweat and water-resistant, and were the perfect workout companions, staying firmly in my ears during a 5K park run.
Available in black or white they come with a charging case and three pairs of tips to find the best fit for your plug holes. The Libratone App will soon see an update to give you feedback to detect if you've managed to acquire the necessary airtight fit to get the most out of them.
The charging case is no double-decker bus like the Sony WF-1000XM3s. It's a very satisfying contraption with no protrusions, and sits in the palm of your hand like a perfectly smooth pebble.
The case also harnesses power, with up to three additional full charges packed in and it supports wireless charging via any Qi-certified pad. Plus, it charges via USB-C for convenience.
We were trusted with a black pair and love the understated design. Apart from the little, slightly twee Libratone bird logo, which no one should be close enough to see, they're hard to criticise. A simple, clean design, it's no surprise they've won awards in that department.
However, they are so subtle that many won't notice them at all, and that paired with noise-cancelling can make you look like one seriously rude commuter when you're accidentally standing on someone's bag and they're politely asking you to move, but you just can't hear them. That's when the Ambient setting should be selected…
Features: Let's stay together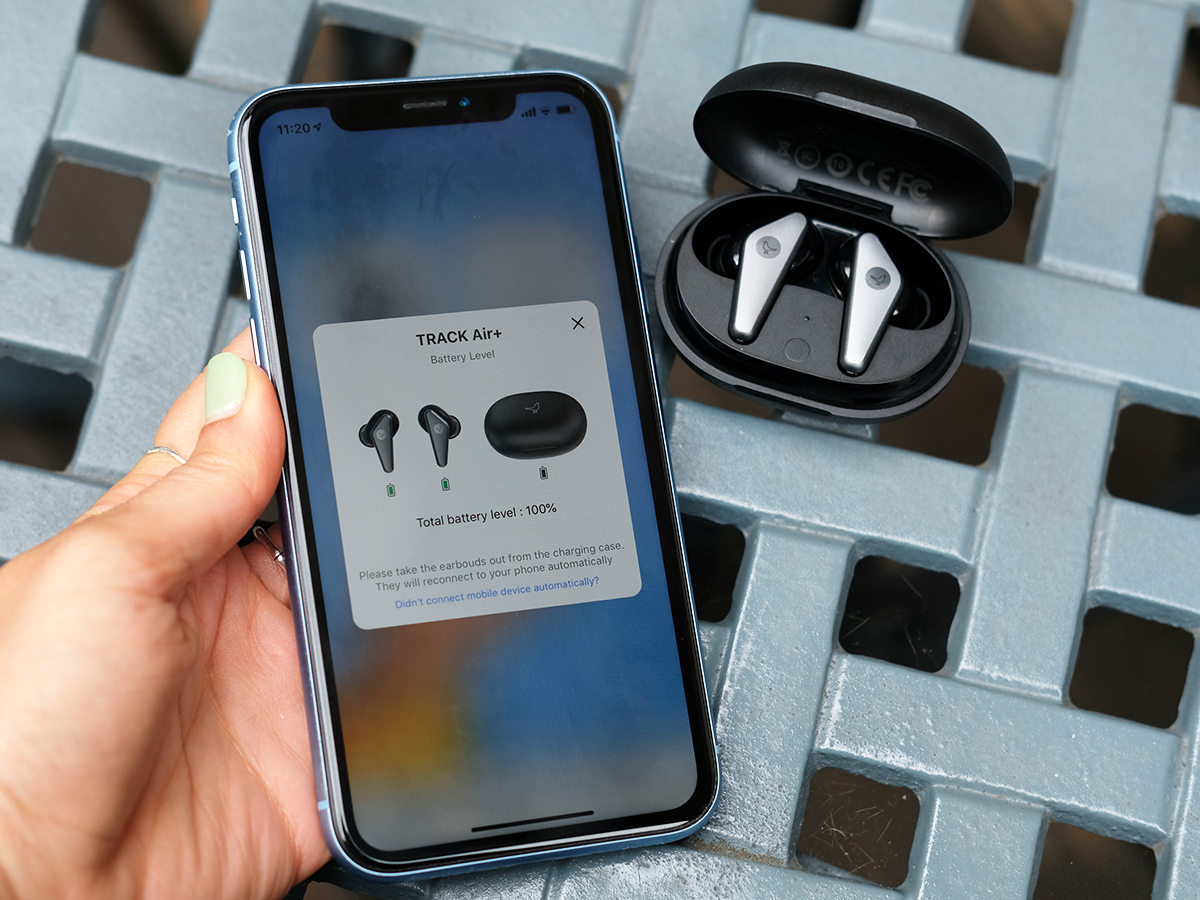 The Track Air+ offer customisable double-tap controls for play/pause, skip track, adjust ANC mode and launch Siri (other voice assistants are available). Through the dedicated Libratone app, you can assign different functions to the left and right bud. I found they were always quick to respond and encountered no glitches.
I much prefer this technique to physical buttons which require you to squish the bud further into your ear when operating them, which can be a touch unpleasant.
The Track Air+ maintained a solid connection between left and right and after that initial pairing with my phone (Via Bluetooth 5.0) the connection never failed me.
When walking to the kitchen from the Stuff office, which is a good 15 metres, signal remained strong and the same goes for running when phone was in my running belt.
On the topic of running – so many competitors, which are more expensive don't offer any sweat-proofing, including the ones to beat: the Sony WF-1000XM3s.
Sound and ANC: I just called to say I love you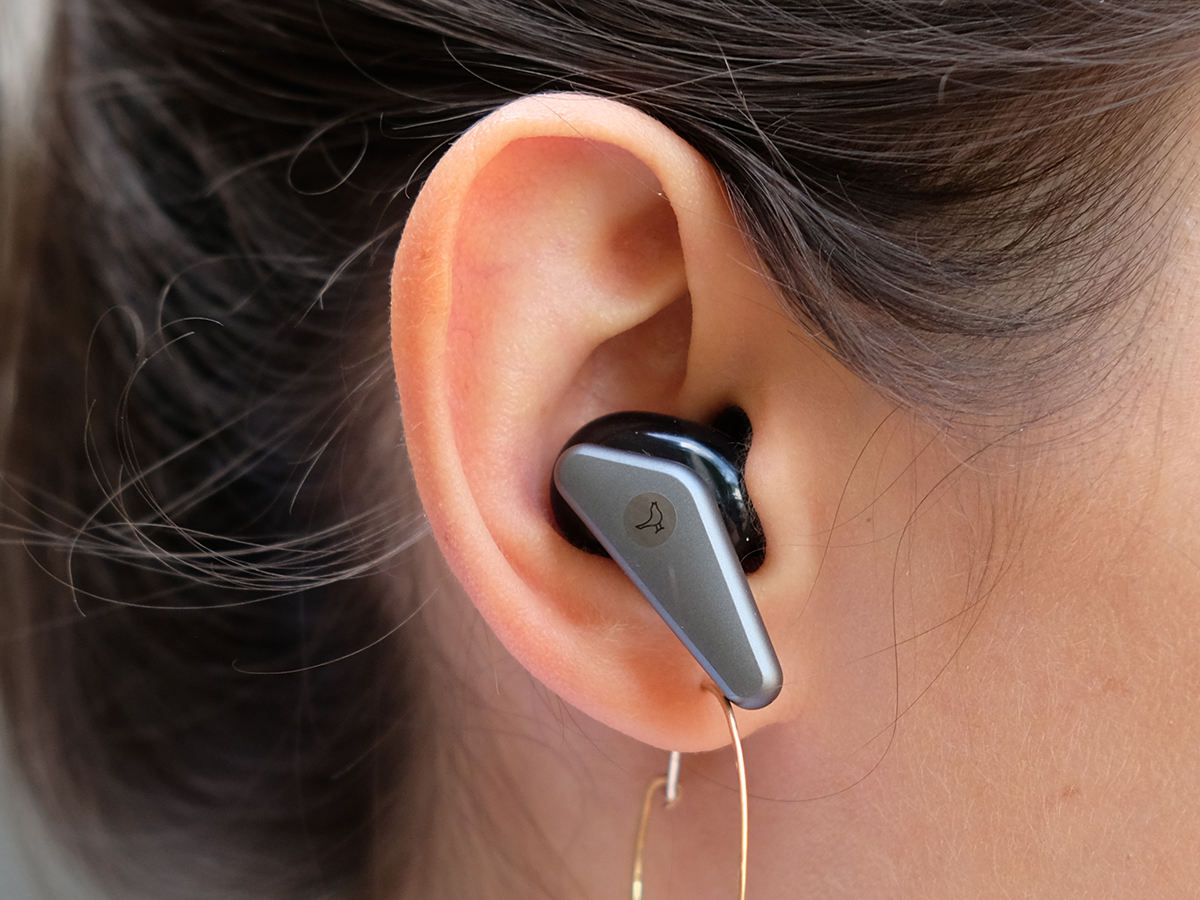 Noise-cancelling shouldn't be a case of all or nothing and that's why we love the manual mode offered here. There are 30 levels to choose from; 0 signifies noise-cancelling off and it goes all the way to 30 decibels of optimum block-out-the-world-with-my-tiny-triangular-ear-samosas mode.
Don't fancy fiddling with that? Then there are two ANC settings: 'Smart' sets the level in real-time which is deduced from monitoring surround sound via the microphones. 'Ambient' amplifies surroundings, so you can hear exactly what's happening around you, more so than if they're in your ears and switched off, which is particularly useful when commuting.
They sound phenomenal across the frequency range and costing sub £200, that gives the Track Air+ serious bragging rights. Provided the fit is snug, bass is powerful, which we weren't expecting from such timid-looking buds and the higher pitches ring out clear with vocals well-articulated.
If you'd like to tweak bass or trebles, Libratone has you covered via the sound profiles through the app.
Phone calls work a treat too, with the receiver exclaiming I sound "as clear as day".
Libratone Track Air+ verdict
From a relatively lesser-known Danish company, these might be the new wireless earbuds to beat. They're truly a marvel.
Let's get real. AirPods just don't sound all that good for the price, the Sony's are in-ear stalwarts sure, but they're expensive and not much use in the gym.
The Libratone Track Air+ are excellently designed, sweat-proof, provide over 18 hours of battery life, active noise cancelling, and they're physically not taking up much space. They're neat in all interpretations of the word.
It's the whole package which offer the versatility we've been after from wireless in-ears making them one of the rare products we were at great pains to return after testing.
Stuff Says…
For great design, sound and unmatched versatility the Track Air+ are unbeatable
Good Stuff
Great battery life
Comfortable fit
Excellent sound
Neat design
Bad Stuff
AAC would be nice (for iPhone users)