Light L16 hands-on review
Jeepers Creepers, where'd ya get those peepers?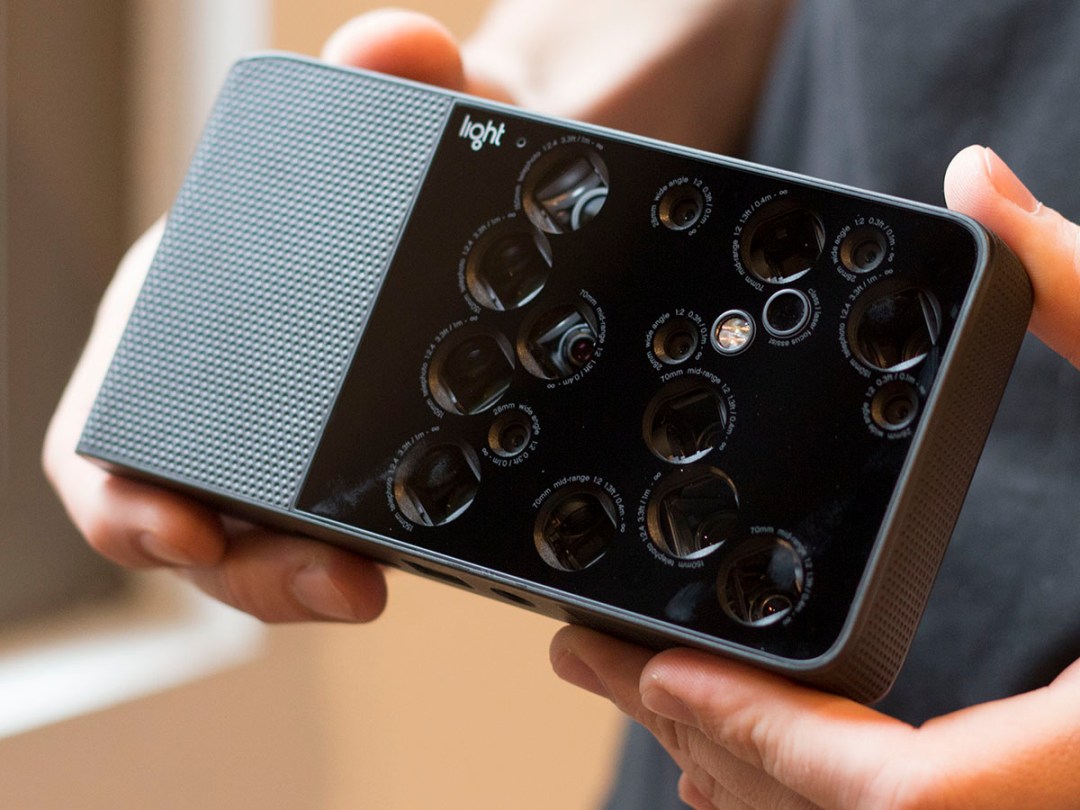 Like a Lovecraftian horror that's crawled from the depths, the Light L16 has a ludicrous 16 eyes – and they're all sizing up a big chunky bit of prey: your DSLR.
This pocket-friendly, android-powered camera uses some incredibly clever software to take at least 10 shots with every shutter release, then smartly pieces the images together to create the most optimised one.
It's should be perfect for travel, and capable of taking massive 52 megapixel images – allowing you to print those magnificent snaps of Death Valley large enough to cover the entire wall of your office lobby. It's a professional level mobile camera for a mobile-first world. Or at least, that's the idea.
Demand for the L16 has been high, but after a two year wait since it was launched, it is finally available to buy (and with a 30% discount until 31st March). We were lucky enough to gaze our inferior two eyes on this 16 lens minibeast ahead of launch to see if it's worth the hype.
Design: Big Brother is watching you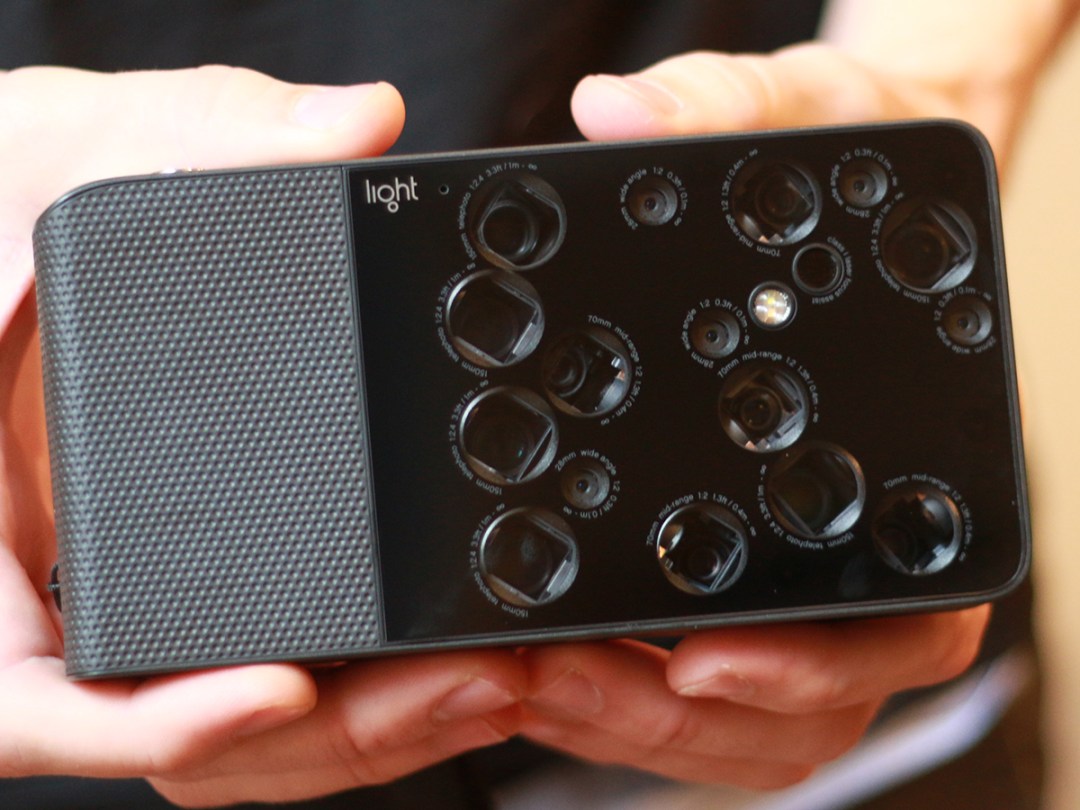 Traditional cameras use one lens at a time. We've seen smartphones double up with dual lenses, and even triple-lens setups seem to be on the horizon – but ramping up to 16 lenses on one small device? Whip one out in public and it's almost guaranteed to attract attention.
The L16 is far from friendly-looking, y'see. It resembles a manically blinking insect, or an intricate bit of spyware which you might hide in federal offices to keep track of any nefarious activities. The lenses all sit flush on a flat pane of glass. Suspicious.
It's not as small or slim as a smartphone: we bought along an iPhone X for size comparison and the L16 is far chunkier. It's still more petite than all DSLRs and most compact cameras, though. That makes it just about small enough to slide into a generous back pocket – although not that we ever would, considering the cost of the thing.
A dimpled rubber grip around one side gives you a decent purchase whilst snapping. There's a shutter button at the top, which you can half press to focus, like most DSLRs. At the bottom there's a tripod mount as well as the charging port (USB-C, which is very 2018 and much appreciated). Finally, a very simple-looking 5in FHD touchscreen covers the back of the camera.
My immediate thoughts? It looks like a very slim basic DAB radio – and not something that costs well over £1,000.
Features: Simple is as simple does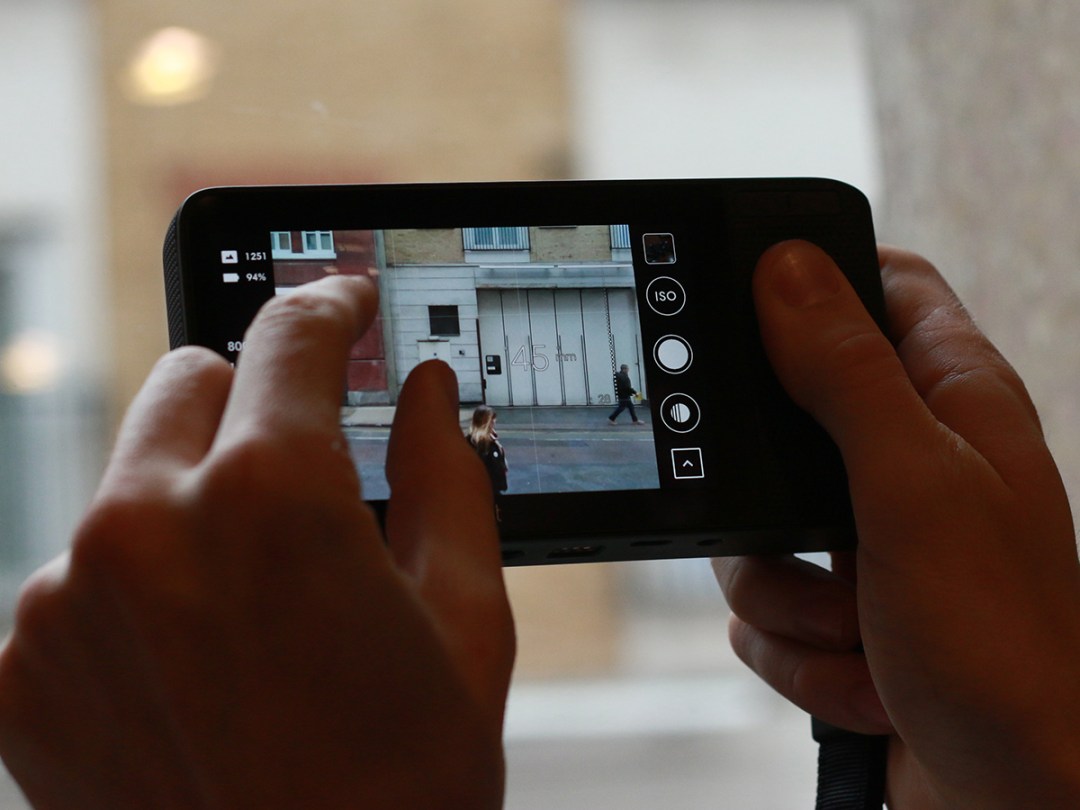 It's absolutely overwhelming design-wise, so it's good to break it down in what we're actually dealing with.
The L16 has 5 x 28mm ƒ/2.0 lenses, 5 x 70mm ƒ/2.0 lenses, and 6 x 150mm ƒ/2.4 lenses. Focal lengths are all full frame equivalent, and there are sixteen 13MP sensors behind all that glass. This sort of stuff is going to leave your average Canon or Nikon shooter scratching their heads.
On top of all that there's 5X 'optical' zoom. If lenses are candy, then the makers of Light L16 are children dosed up on blue food colouring and they've been let loose in M&M's World.
Actually using the camera itself is very simple. In fact, it's best not to think about the lens frenzy, and instead focus on composition. There's the option to shoot in manual allowing you to alter aperture, shutter speed and ISO, but it feels more as if it's designed to be left on auto so the algorithms do all the brainy stuff.
The touchscreen is incredibly easy to use, and can be treated in exactly the same way you'd approach the screen on your phone: pinch and expand to zoom in and out, then tap to focus. There's also the option to track your subject, which I can see being handy when video becomes available on later models, which Light have said is in the pipeline.
The amount of image data is far greater than what you phone would be capable of, but unlike your trusty phone, the L16 only shoots in RAW. To generate a jpeg, you've got to use Lumen, Light's dedicated bit of image processing software.
By only shooting in raw, the Lumen software which comes as standard with camera allows you greater control when editing photos. You even have the ability to alter the focal point on an image in post, which was genuinely quite impressive when we saw it in action.
Performance and software: It's a kind of magic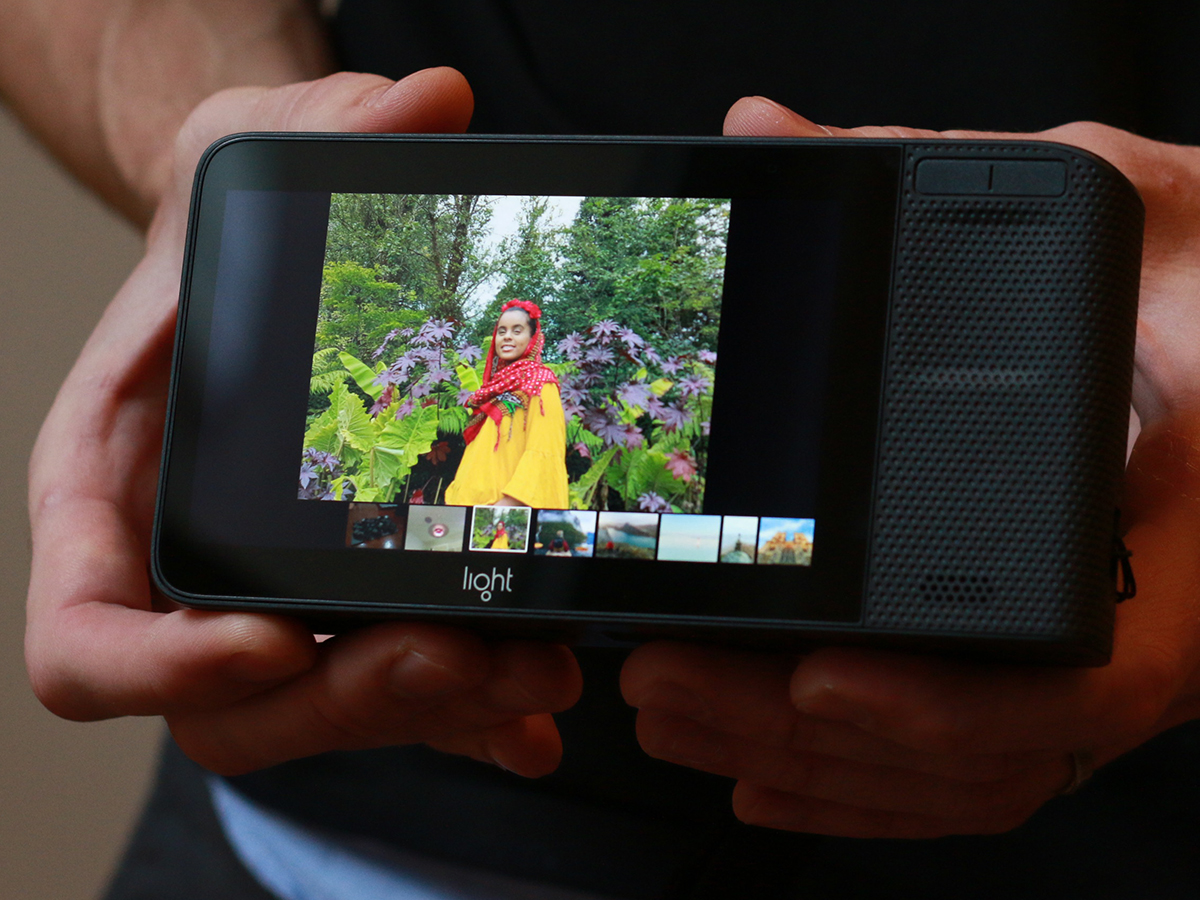 Once you take a photo, you see a preview image on screen, but if you want to see more detailed, larger pictures, you have to process them – at the cost of taking up some of the 256GB of on-board storage. You'll comfortably be able to take over 1,500 photos with the internal storage, but there's no expandable option.
The level of detail on display sounds too good to be true: a jaw-dropping 52 megapixels, which is an enormous amount of image data. We were worried the stitching might not always match up perfectly – think of the the dodgy patchwork footage you tend to see with cheapo 360-degree cameras.
We zoomed right into some of our test images and there weren't any noticeable mishaps. Colours look a tad saturated, something very common with smartphones, but this can be altered later down the line.
If polaroid photography is all about the moment, this is the antithesis. This gangster has no respect for the moment. The moment is editable (to an extent).
The software was very intuitive, and included everything you'd expect for photo editing: levels, tone curves, colour sliders and contrast controls, plus the added bonus of being able to change the focus point.
Here are some sample shots taken on the L16.
Light L16 Sample shots
Light L16 initial Verdict: Back to the future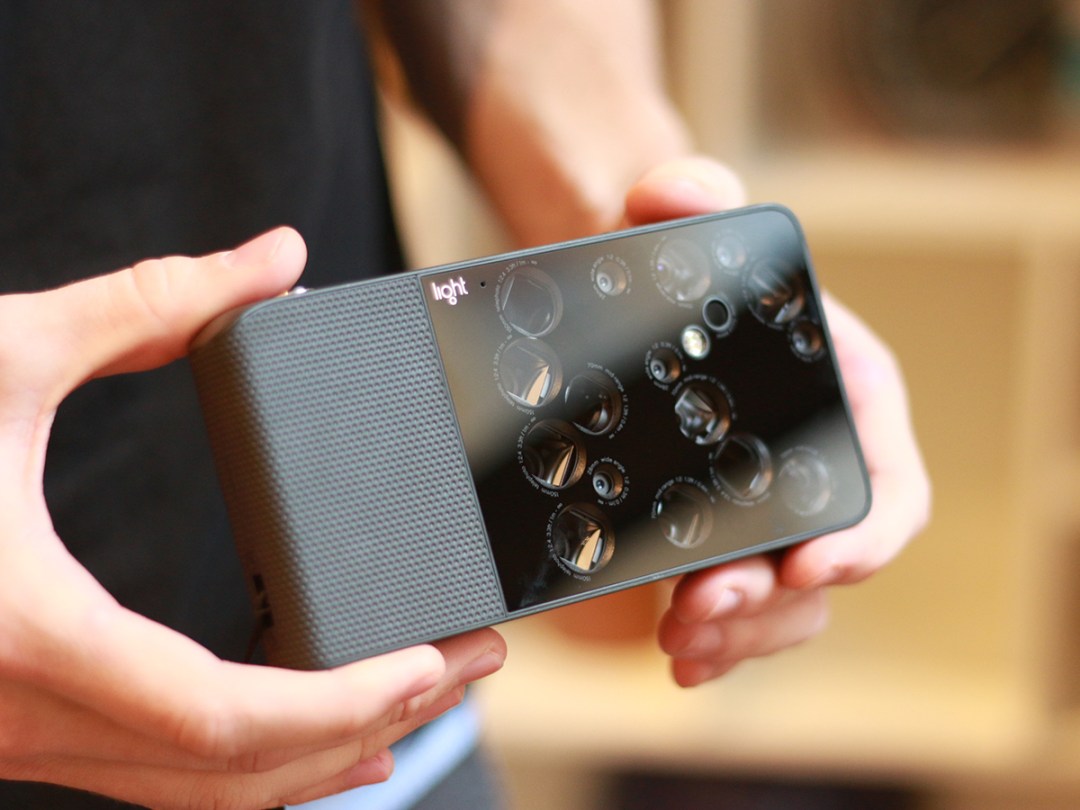 It's quite refreshing to see something which totally diverges from the usual crop of cameras we come across. The level of detail the L16 captures is remarkable, but leaving a big chunk of photo-taking creativity to software algorithms feels a bit risky.
You're not going to be able to directly upload your snaps to Instagram, and dealing with image sizes that huge on your laptop might not always be so breezy. However, if you're a gadget-hoarder with a love of photography, a dislike of faffing with lenses, and want to print big – oh, and also have a load of spare cash – the L16 could work out for you.
The L16 is so easy to use and accessible to all, but comes with the ability to generate seriously high-res images. This is sure to instil fear in professional photographers and more importantly – it's a sign that by using machine learning and software, there's the possibility for amazing advancement in photography by embracing mobile technology.
We can't wait to give one a full review.