MacBook Air 11in (2015) review
Is this Air still fresh?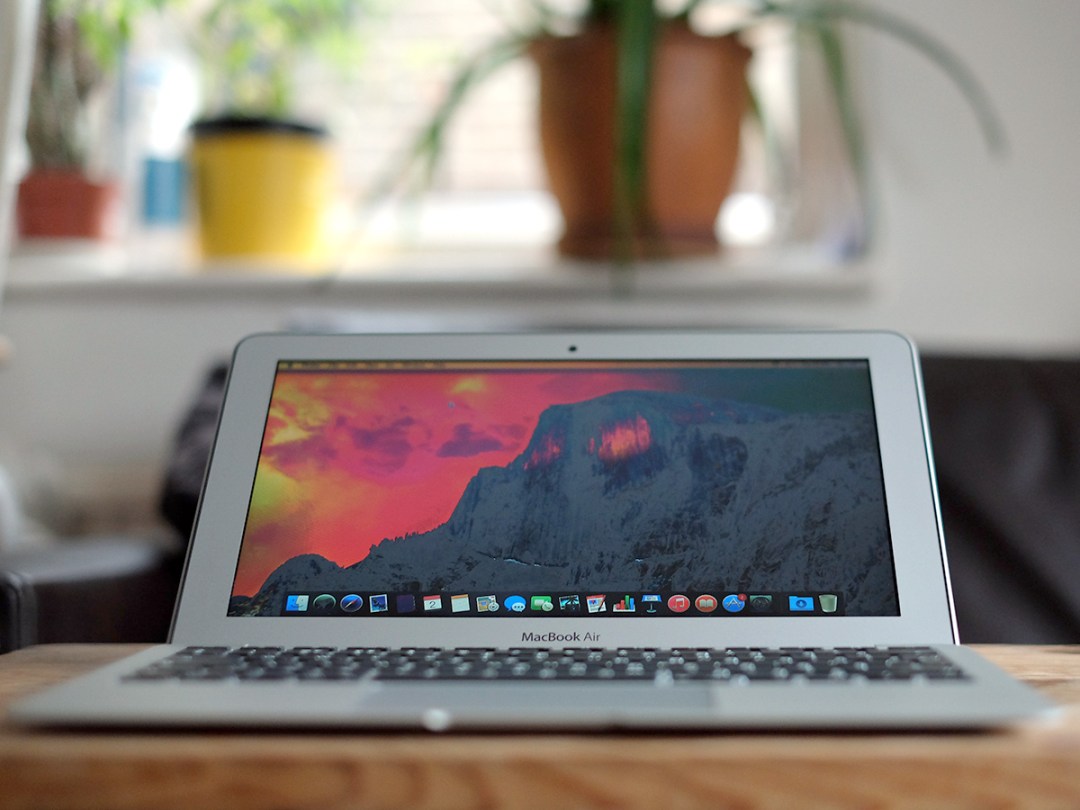 It certainly looks as though the end is nigh for the MacBook Air.
The startling new 12in MacBook is everything the Air was initially intended to be – ultra-portable, super-sexy, long-lasting – and it'll be a big surprise if one day its successors don't kill the Air outright.
But that day isn't today. The new MacBook starts at £1050, while the most affordable variant of the 2015 edition of this 11in Air is a tasty £300 cheaper. And it's more powerful.
That means there's still an important place for the ageing Air in the Apple laptop lineup, even if it is looking a little last-gen in the spec race.
Silver on black don't crack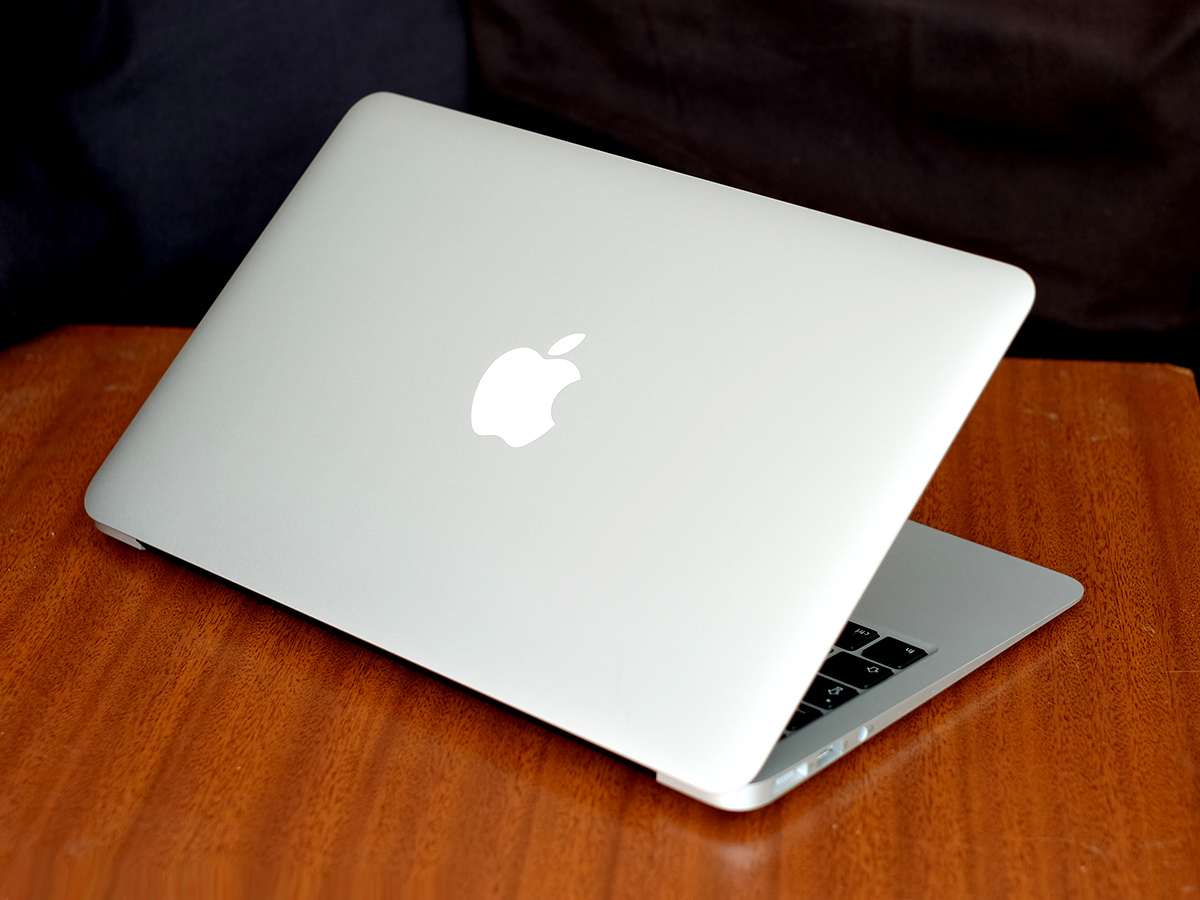 It's been half a decade since the MacBook Airs first arrived. We're all older, fewer of us wiser. And while the MacBook Air series has aged beautifully, there are some signs we're dealing with a laptop shuffling its way slowly towards a free bus pass.
Don't get me wrong, the MacBook Air 11 2015 absolutely feels like a top-quality device, with that usual Apple-grade precision in its build. It's aluminium, it's light, it's shaped a bit like a terribly thin wedge cut out of a terribly big wheel of cheese.
However, put it next to the brand new 12in MacBook, perhaps this laptop's closest rival, and there are a few design crow's feet appearing. The space around the screen is pretty chunky – it's not a fully-flat surface and the black rubber screen protector ring you see at the very edge of the screen area just isn't very 2015.
It's a bit 2011. Maybe you don't care, and that's fine. But MacBook Airs were once bold design statements, before everyone and their nan owned one.
Still trim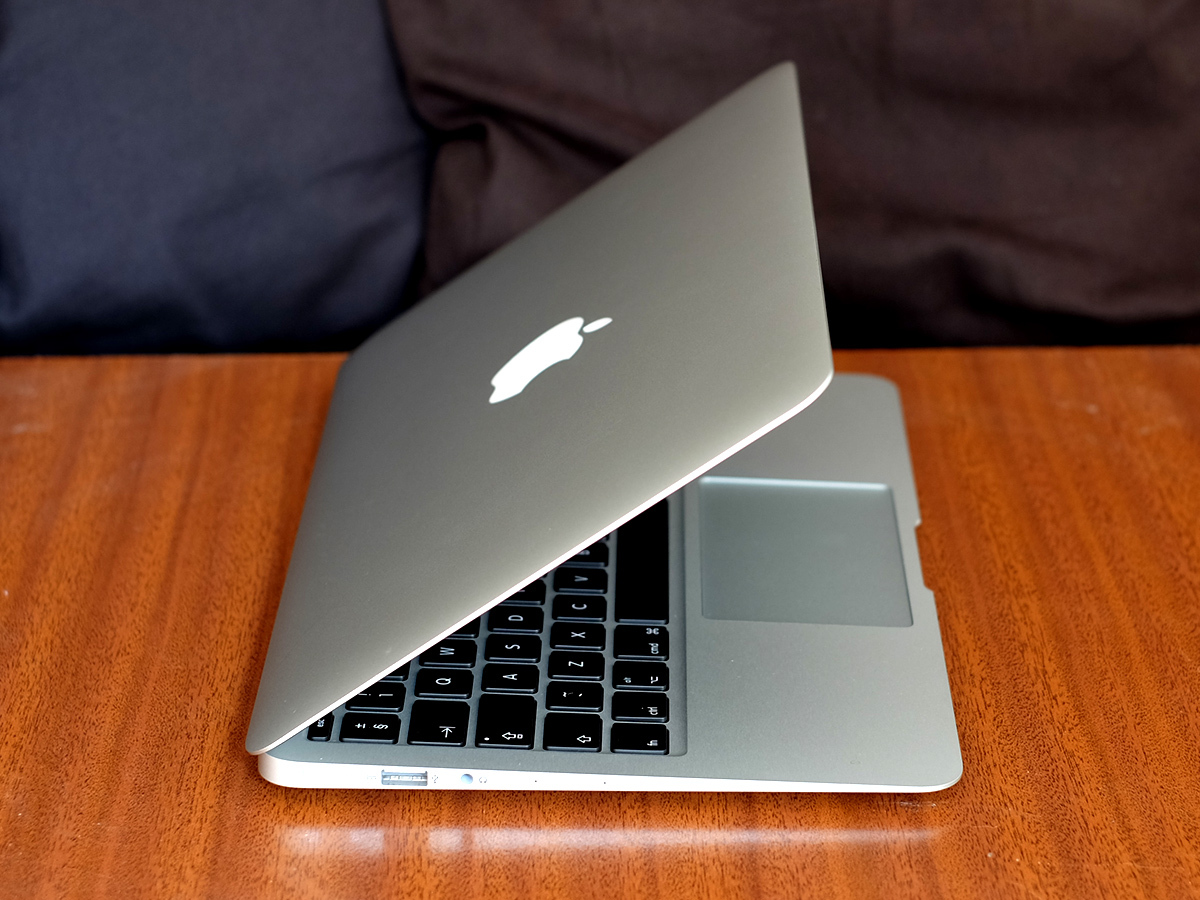 The practical benefits of the MacBook Air 11 remain, though. Moving from using a MacBook Pro 13 to this, it seems alarmingly light. The Air 11 is 1.06kg, the sort of weight you could carry around in a rucksack and not even notice.
Apple has shaved another 90-odd grammes for the 12-inch Macbook design, but we're not convinced that alone is worth paying £300 extra for.
Need more IPS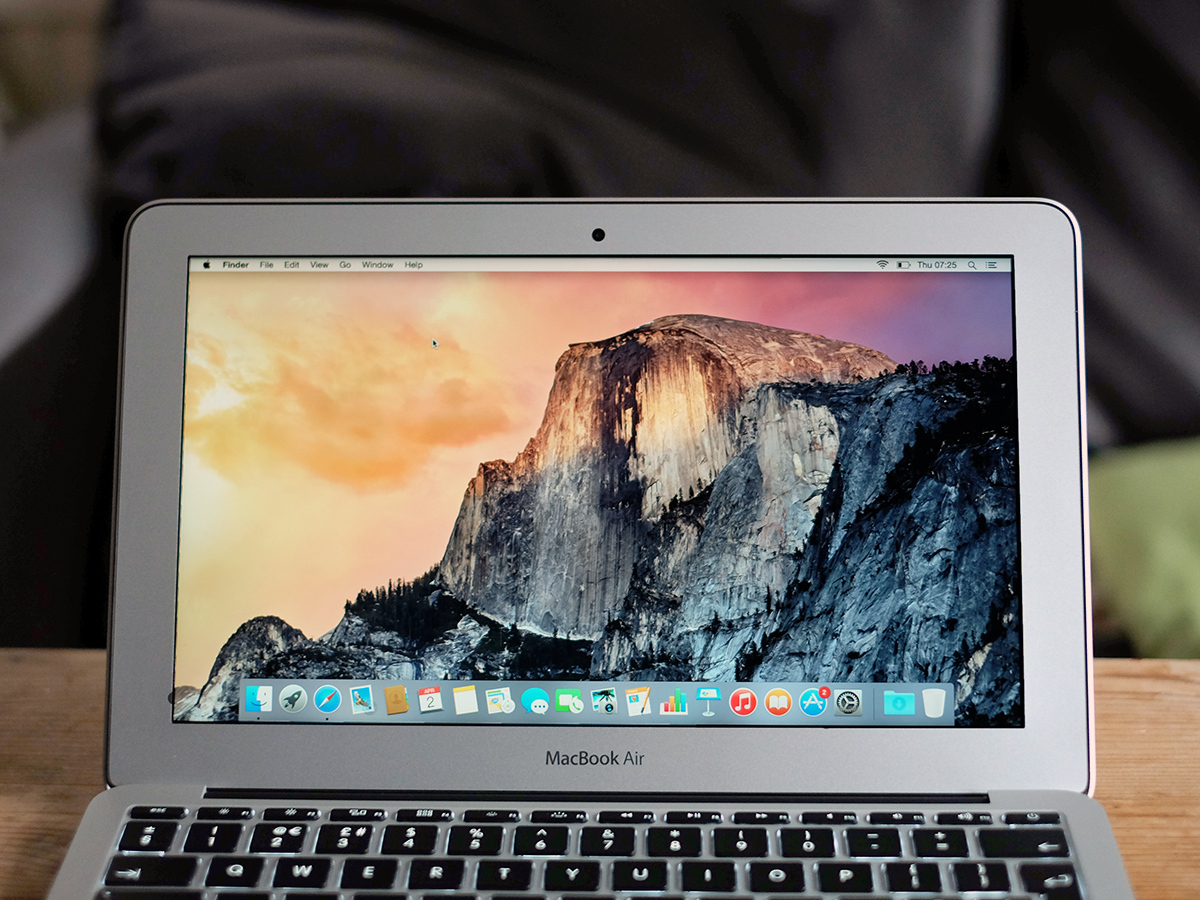 Where the upgrade does start to become a bit more convincing is screen quality. Just like the 13in MacBook Air, the MacBook Air 11 falls well behind the standards of current top laptops. First, it's not Retina. Pretty much everyone seems to know this term by now, but it means Apple reckons you can't see pixellation when viewing the screen from a 'normal' distance.
Here it's pretty obvious from three feet away. Resolution is just 1366 x 768 pixels, which is a lot lower than many of the 5-inch phones we review these days. For years now we've made do with laptops with worse screens than our phones and tablets, but most 'premium' laptops have now caught up, at least a bit.
The MacBook Airs have not. The core screen tech is dated too. If you have a few recent devices with screens, most probably use IPS LCD panels, or something like it. They let you turn the screen any which way without it looking as though the image is about to curl up and die. The MacBook Air 11, though, still uses TN LCD.
As a result, the display's character changes with every extra degree it's tilted back or forwards. Tilt it forward, it goes more 'washed out'. Tilt it back and everything gets shadowy. It's not a great look. There are far worse TN screens out there – the Air benefits from Apple's usual natural handling of colours and is all-round a very fine example of the tech – but for £750 in a laptop this size you're now entitled to expect more.
Apple was one of the companies to really big-up IPS as a screen tech so it's disappointing to see the Airs hold off using it for so many years. If you want a small laptop to work on while you're in Starbucks or wherever, perhaps screen quality doesn't matter so much.
However, the DPI difference is obvious, no matter what you're doing. Buy a MacBook Air 11 then try out a friend's 2015 MacBook Pro and you will be jealous, make no mistake.
Cautious upgrades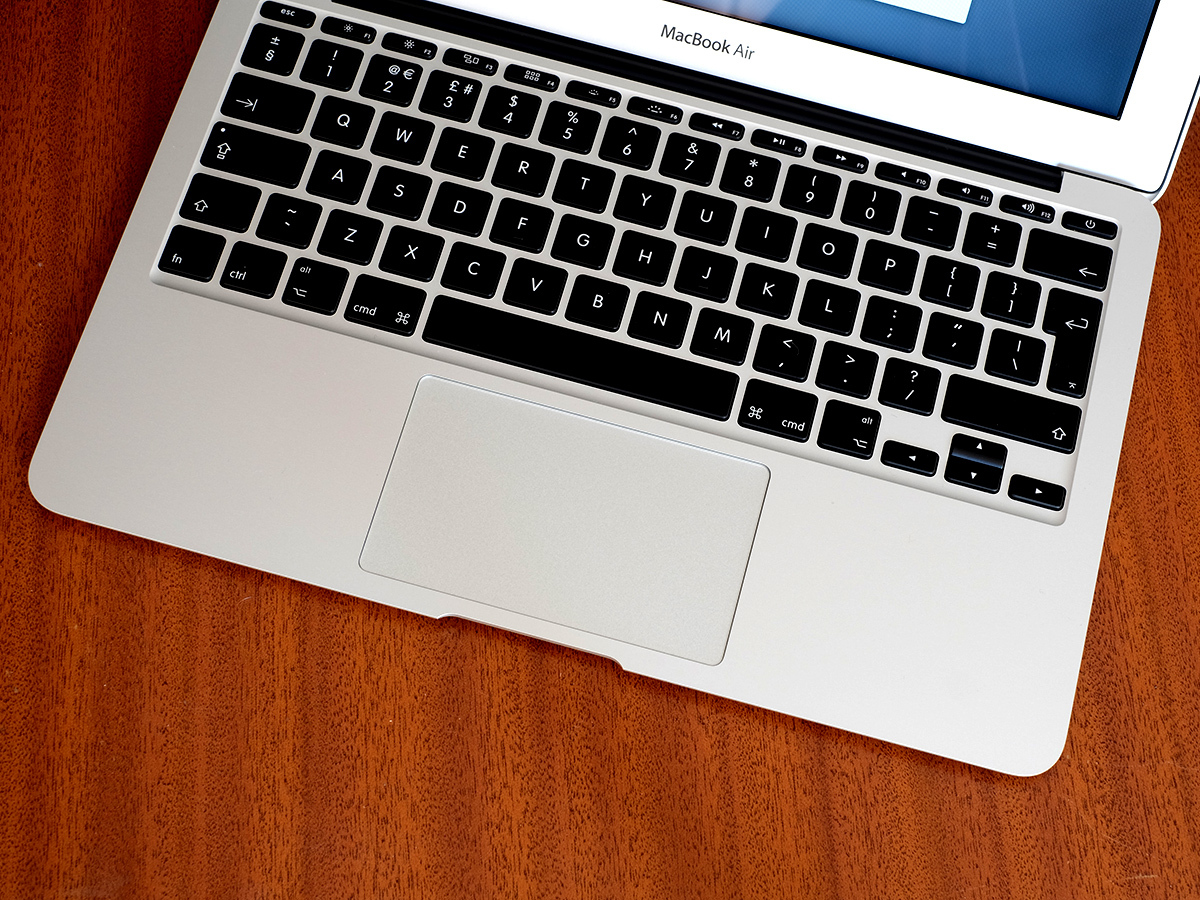 Given the general treading-water vibe of the Air, it's little surprise that it misses out on the MacBook Pro's new pressure sensitive trackpad, and the snazzy Butterfly keyboard of the 12-inch MacBook. Instead, the Air uses the traditional keyboard and pad. As both still feel pretty great, that's not a huge complaint, but the sense that this is a slightly neglected model is growing.
Mention of the keyboard brings up an important question: is the 11in MacBook Air too small to type on? The keyboard itself is pretty much the same size as you'll find on the larger models, so key size is no issue. However, actually using the laptop, it does feel quite different. The squashed trackpad and all-round smaller keyboard surround do make the MacBook Air 11 feel that little bit cramped.
It's not about key spacing, but that your palms don't really feel as though they have quite enough space to rest. This, and the small, relatively low-quality screen, make us think of the MacBook Air 11 2015 as more of a dedicated roving laptop, rather than one to keep on your desk at home and use 24/7. Slim and light is great, but sometimes you just want something bigger.
Well broad shoulders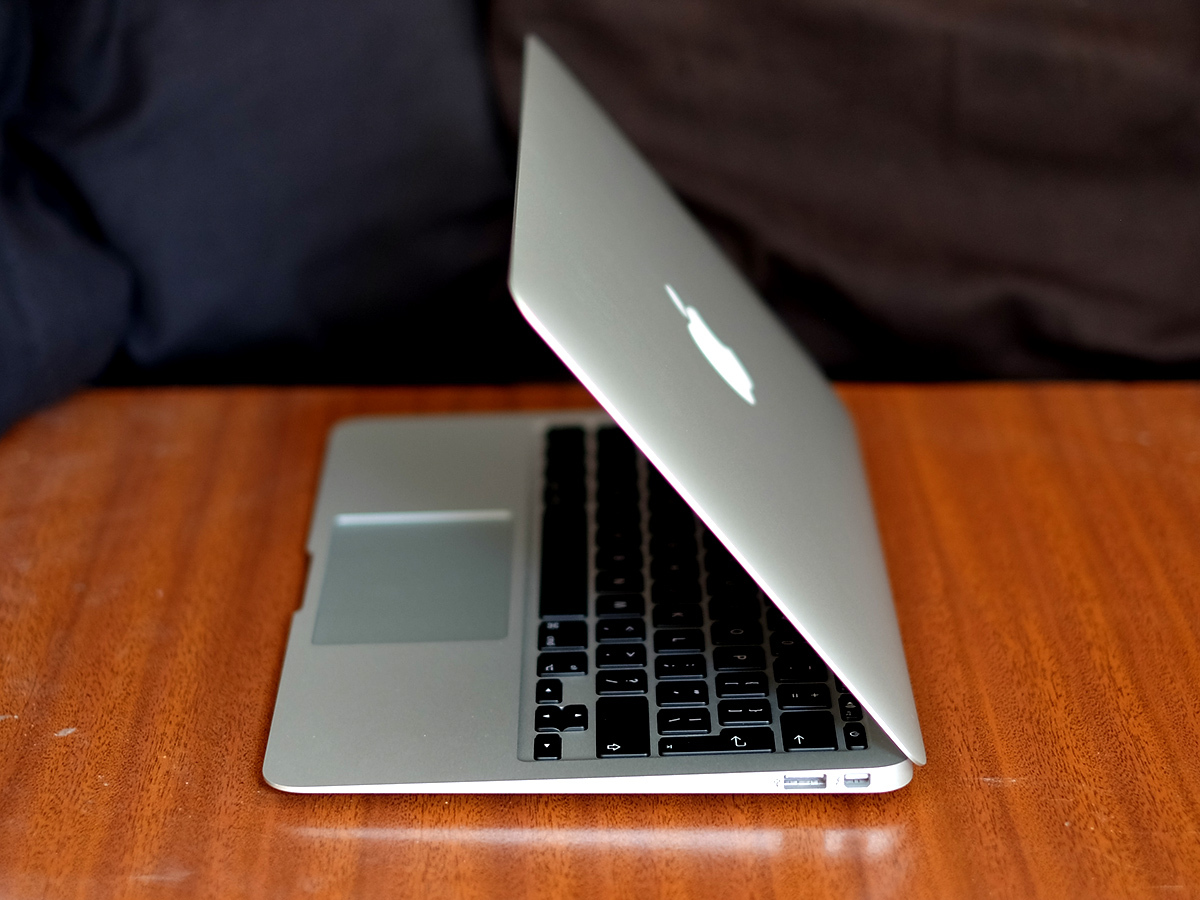 But the 2015 Macbook Air 11in isn't entirely unchanged from last year. Firstly, there's been a generational shift in processor tech. You now get an Intel Core i5 1.6GHz dual-core CPU that's part of the Broadwell generation, the latest Intel 'family' of chips. While not a radical power shift, you get a bit more power than last year's Haswell models, in both the GPU and CPU side. For basic tasks such as video, web browsing and a few casual games, the MacBook Air 11 runs like a dream.
However, for anything much more serious you'll want to consider upgrading either the Air's hardware, or to another MacBook model. While the CPU has a mite more power than the £1000-plus 12-inch MacBook's Intel M chip, the Air 11 only has 4GB RAM as standard, and doesn't seem to benefit from the SSD upgrades of the bigger models.
I'd highly recommend more RAM if you keep reams of tabs open in your browser, want to do any video editing work or are going to be juggling a lot of big images. 4GB really isn't a lot for a laptop these days.
Storage hunters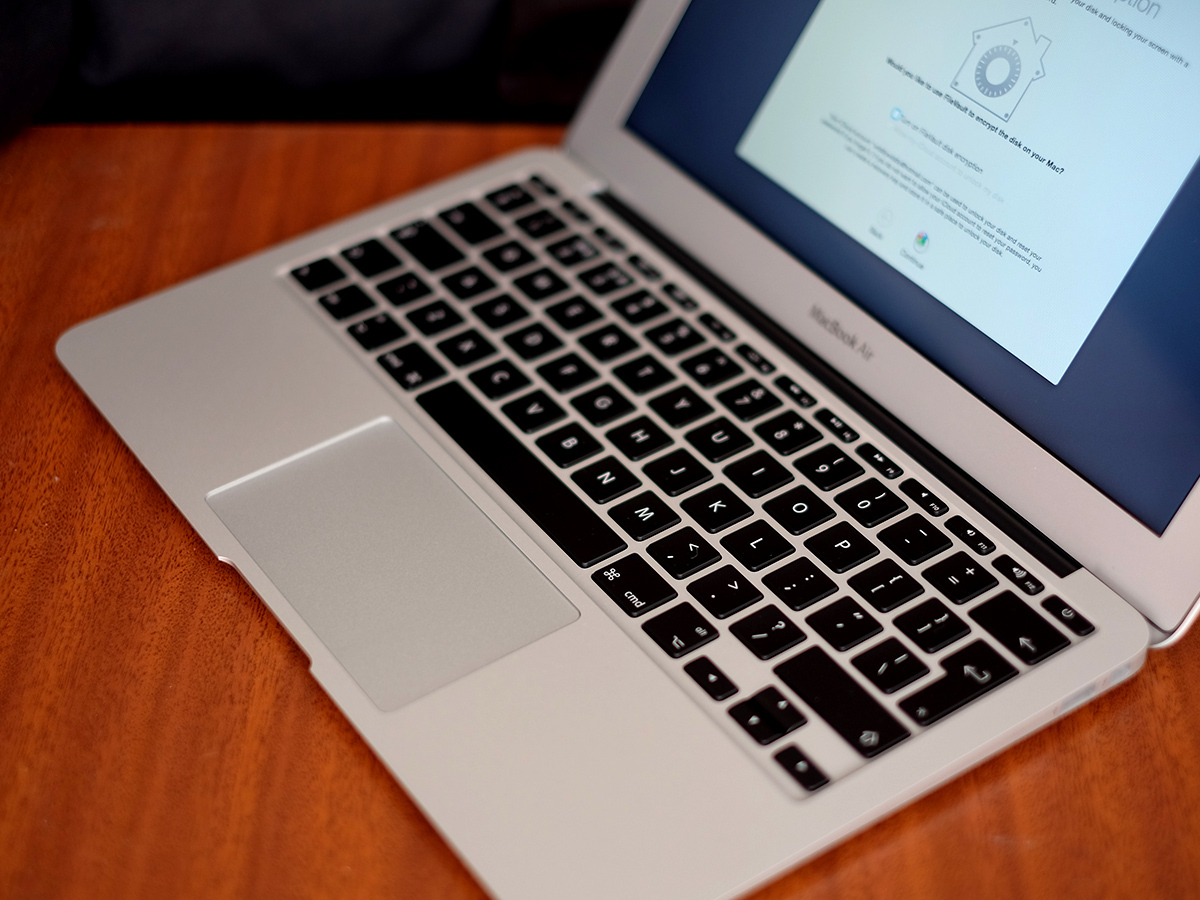 The SSD performance is also a bit disappointing. My review sample came with the baseline 128GB drive, and its performance was nothing like the laptops higher up Apple's range. I've been getting 300MB a second write speed and 650MB a second read speeds. That sounds pretty good, until you hear than the new MacBook Pro 13 handles around 650MB write and 1300MB/sec read.
The MacBook Air 11 is living in the past in more than one sense. This probably all sounds quite bad, but is just a sign that if you want a performance laptop, this isn't really it. But that's never been what the MacBook Air 11 is about. Instead, it's easy to carry about and lasts for a good old while off a charge.
It's not at the level of the 13-inch Air, but with nine hours of stamina claimed by Apple, it's a great workhorse. I've been getting a full day's work off a charge, jumping between coffee shops as so many MacBook-toting people seem to like doing.
For those also looking to turn the MacBook Air 11 into the brain of a larger home setup, Apple has upgraded the Thunderbolt port to the v2 standard. This gets you double the effective bandwidth, 20Gb/s, which is enough to output to a 4K monitor at native resolution.
Previous Airs didn't have this. So after all our advice about not making this your main PC, plug in a keyboard, mouse and monitor and it's more than up to the task if you just want the basics.
Apple MacBook Air 11in (2015) Verdict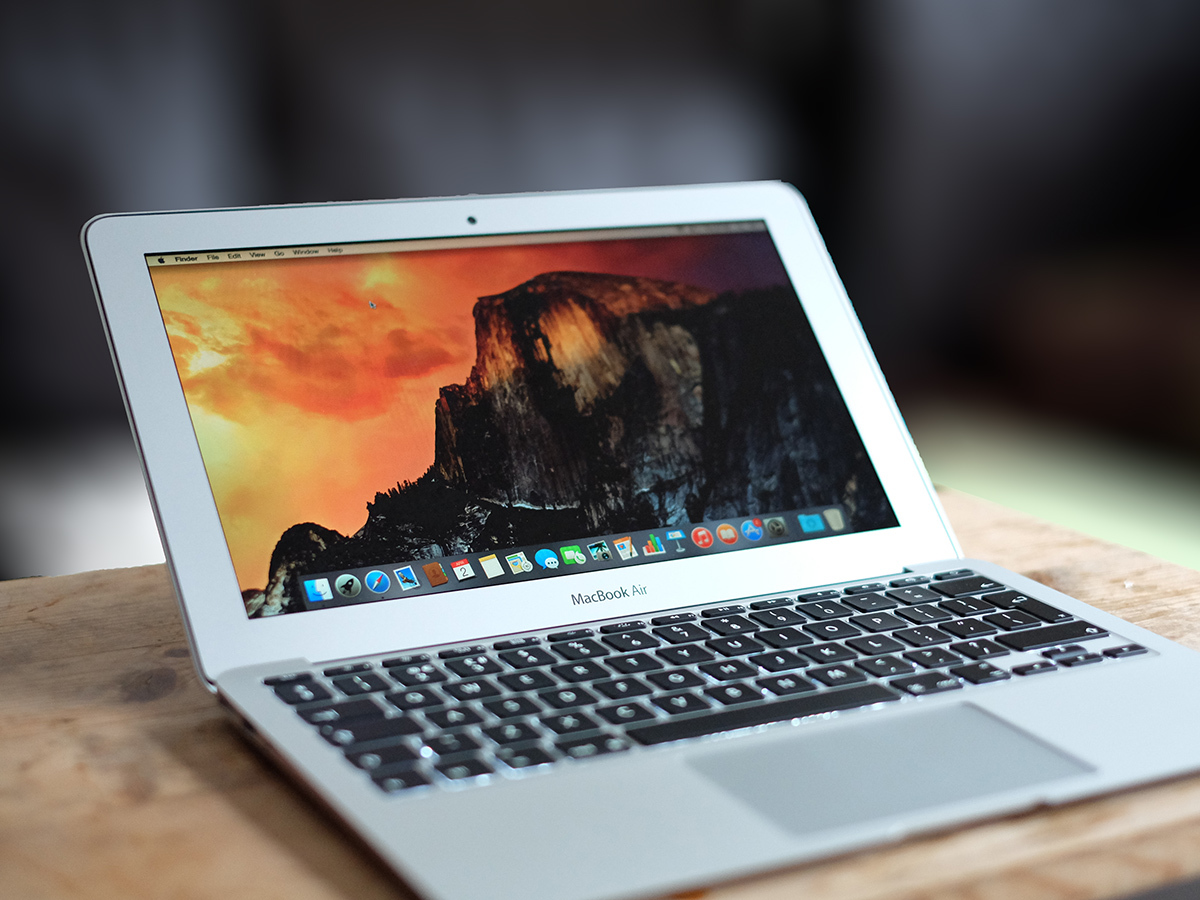 As with the MacBook Air 13in, the 11-inch 2015 MacBook Air is getting on a bit. Despite some important, useful updates, certain elements of the design and the screen hardware just aren't up there with the best anymore. The Air 11 is cast in a particularly poor light arriving just before the 12in MacBook. For the tech nut, it may not be enough anymore.
But the Air is still quite terrific in its own right. It starts at £750 rather than £1050, still feels great and lasts for a good long while off a charge. The MacBook Air 11 isn't what it once was, but it'll still be the best solution out there for some folk.
Stuff Says…
The design is ageing and the screen is past-it, but it's still portable royalty.
Good Stuff
Still supremely portable
Typical Mac useability
Enough power for practically any everyday computing
Bad Stuff
Screen resolution now looks very low