MacBook Air (2020) review
Hello, old friend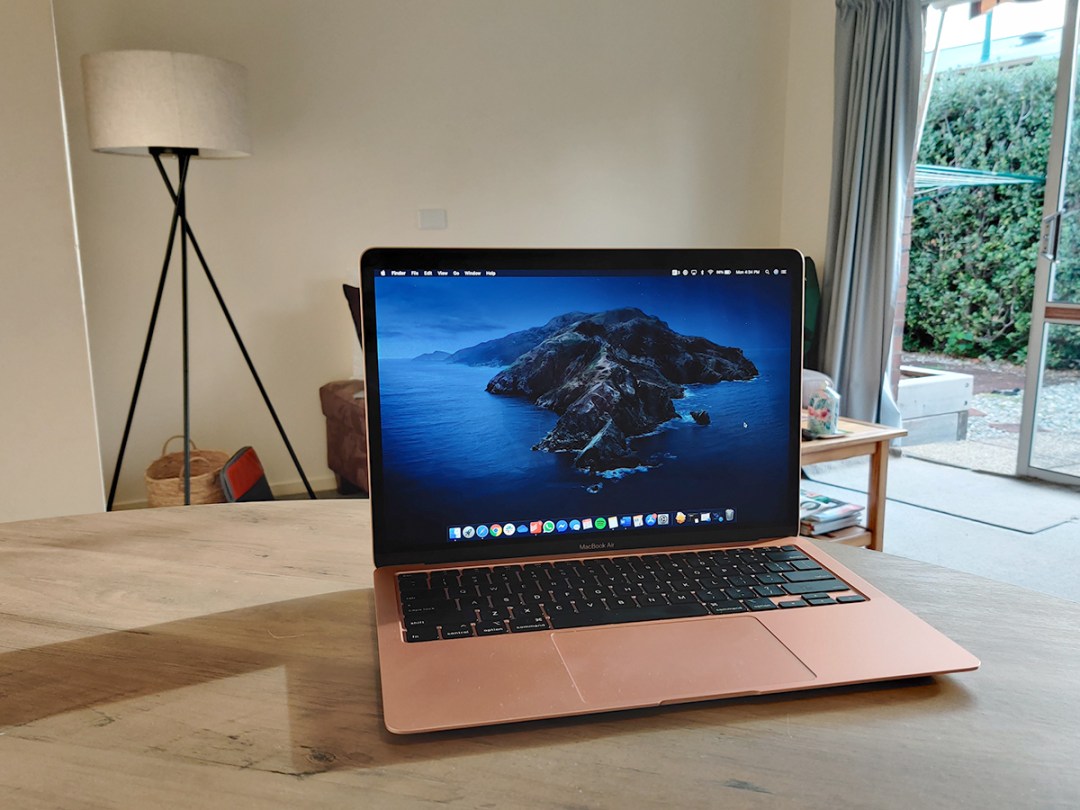 If you pay any attention to Apple and MacBooks then you'll know about the controversy surrounding the keyboards on its laptops from the last five years. Ever since the company decided to use a 'butterfly' mechanism to keep travel low and laptops even thinner, reports of sore fingers and broken, stuck keys mounted.
Apple caved, putting improved butterfly keyboards in a couple of MacBooks before fully returning to a scissor switch mechanism in the 2019 16in MacBook Pro.
That same excellent keyboard debuts here on the new 2020 MacBook Air, and combined with its new cheaper starting price, top software and excellent design makes it the best laptop for most people once again. It's good to finally have the MacBook Air back, and it's cheaper than before from £999.
Design & build: Even more of a good thing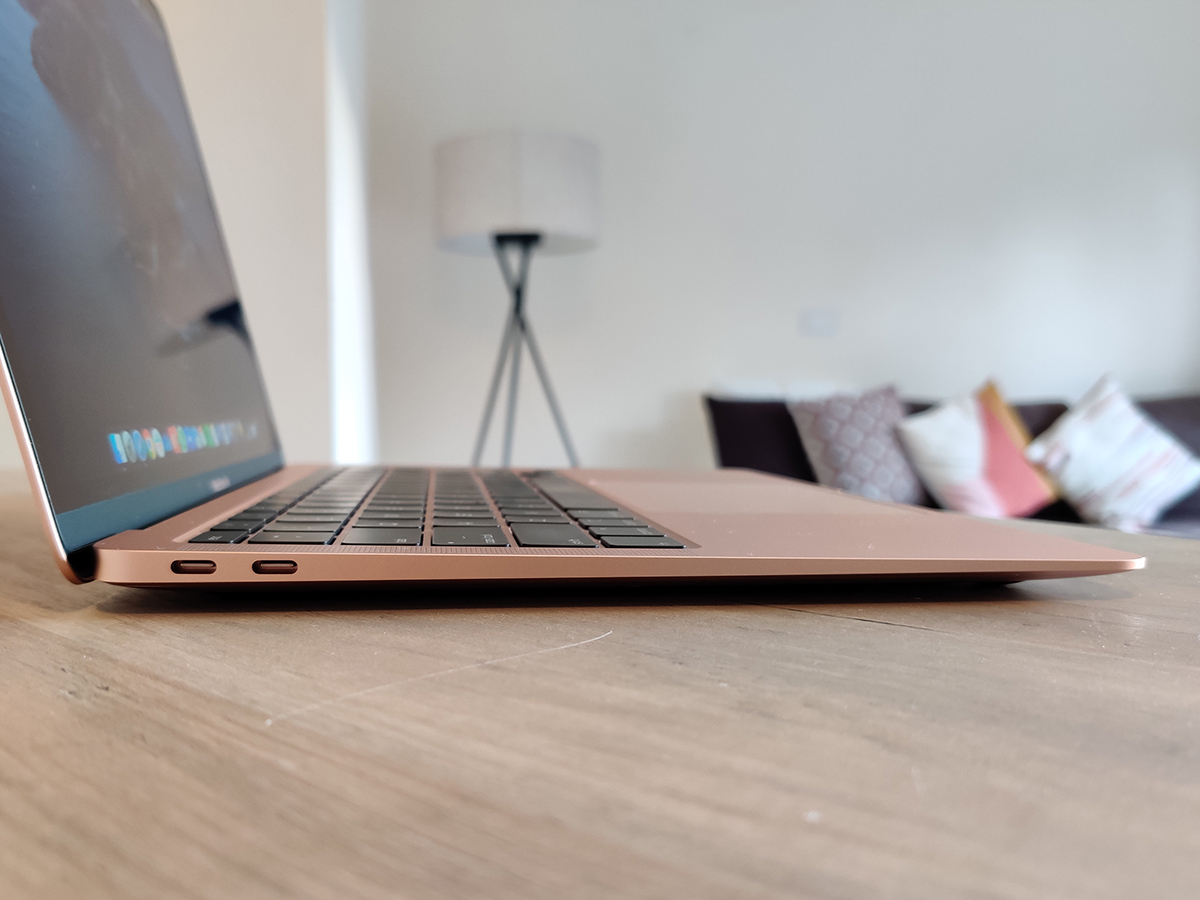 The MacBook Air got the redesign it deserved in 2018 when it finally got a new chassis, Retina display and beefed up internals, and that design is reused on the new model to great effect.
It's a looker, there's no doubt. The usual premium Apple build quality goes without saying – the 2020 Air is a supremely lovely piece of personal tech. From the sleek wedge of the brushed aluminium casing to the brilliant stability of the key caps, it's a near-perfect amalgamation of what a MacBook can be.
We prefer the design over the MacBook Pro for its sheer portability. The classic Apple unibody construction still impresses despite being a staple of the MacBook Air's look for over a decade and looks rather alluring in our gold colour review unit (silver and space grey also available).
Now that Apple has discontinued the 12in MacBook, the Air is the smallest and lightest MacBook on the market weighing in at 1.29kg. That's about as light as you'll get on a 13in laptop today, and it is still able to disappear in most half-stuffed bags.
Inside is the lush 13.3in Retina display and that impressive new keyboard flanked by stereo speakers. We're delighted that the Air has a full function row of keys – and it's now the only MacBook without the divisive Touch Bar.
We'd much rather have the traditional buttons, along with the excellent Touch ID sensor in the top right corner that allows for logins, biometrics and Apple Pay.
The glass trackpad is suitably huge, but there's only three ports with two USB-C Thunderbolt 3 ports for charging and data transfer, alongside a lesser spotted headphone jack on the right edge.
It's now expected in 2020 to omit an SD card reader or USB-A port on a sleek ultrabook, but we still miss them. Sniff.
Display & sound: If it ain't broke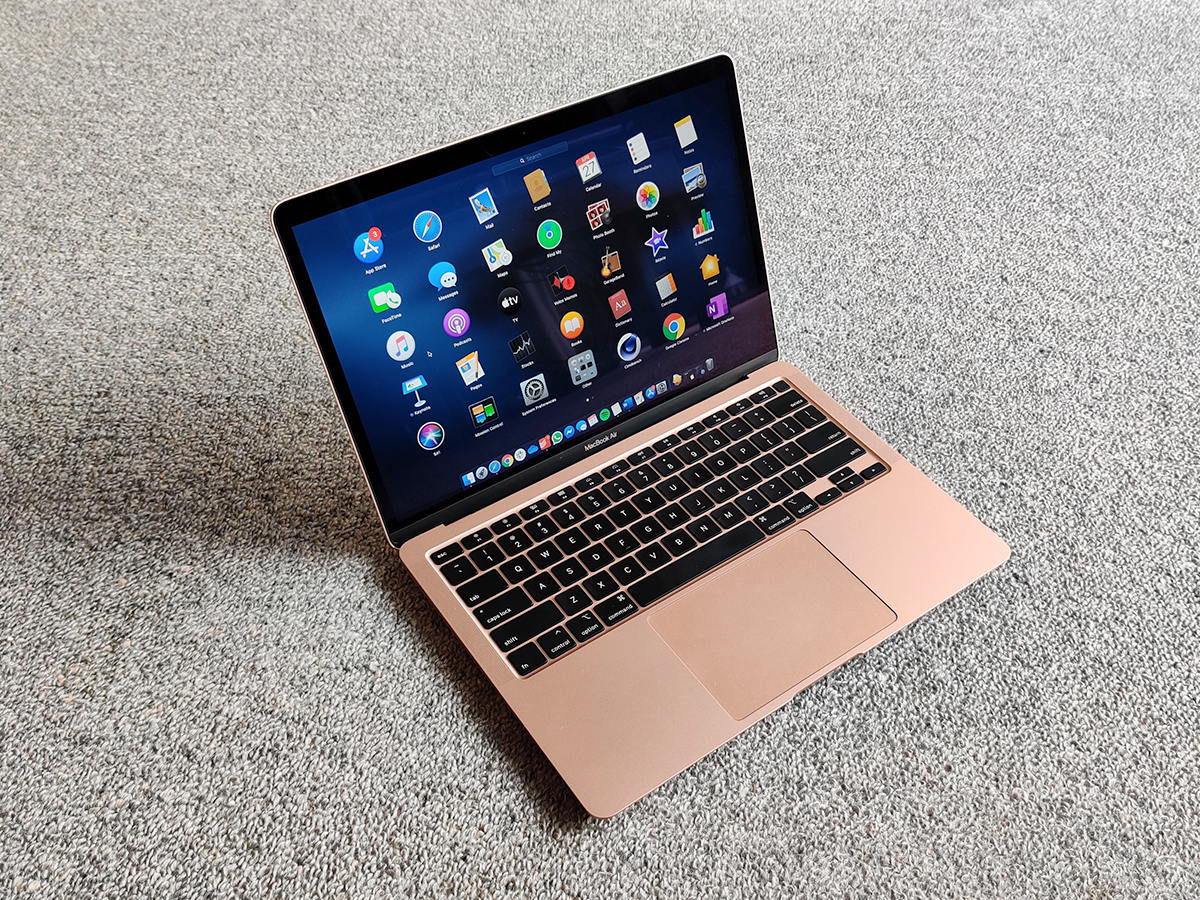 Apple uses the 'Retina' branding for the displays on all its products, but the MacBook Air was the last one to get it. Retina is marketing speak for 'very good', and the screen on the 2020 Air is pin sharp, plenty bright and well balanced.
It's a 2560×1600 resolution LCD with up to 400-nit brightness, but doesn't have the P3 wide colour gamut you'll find on the MacBook Pro. That doesn't affect most people but if you need that spec for your work, you won't find it here.
Aside from that, add True Tone tech for colour balance depending on the light and night shift to cool down blue light around bedtime and you have yourself a great laptop display, albeit one that is hard to read in direct sunlight.
It's worth noting that you'll find much slimmer bezels and better use of space on the Dell XPS 13 if you're open to using Windows, but we know what devotion the Mac platform can conjure so this might not be an option for you.
The stereo speakers are very good, with surprisingly decent range and bass, and with no hint of rattling or distortion even at full volume. If you want to curl up in bed and ignore the world outside (and who doesn't right now?) then the MacBook Air is the perfect Netflix companion.
A mark against the Air is its unforgivably bad webcam. Apple continues to ship a 720p sensor, meaning video calls – of which we are all on a lot more now – are grainy and washed out at best. With industry leading cameras in its iPhones and pretty good ones in its iPads, it makes the Air's webcam a joke. It's the worst thing about the laptop.
Keyboard & trackpad: Return of the Mac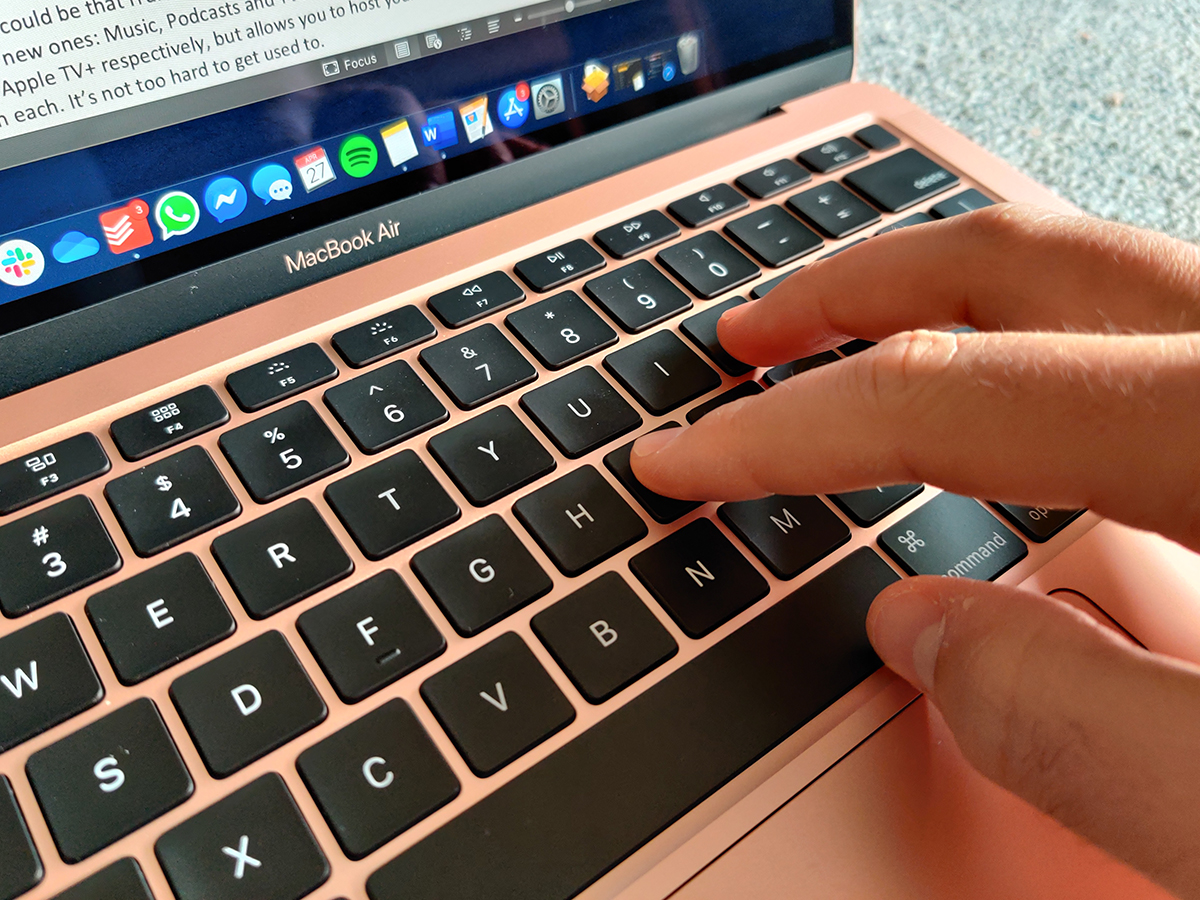 And so, to the main event: that sumptuous keyboard. Using it has made us realise that even the original pre-2018 MacBook Air's keyboard wasn't as good as this one. With its return to scissor switch mechanism under the keys, Apple hasn't just put the old keyboard back on the Air, it has made it significantly better.
You don't get the click-clack of the pre-2018 Air's keys, but on reflection there were quite wobbly. The 2020 Air's keys are very well balanced in their travel and register your taps and presses no matter where your fingers land.
On the 2018 and 2019 MacBook Air with the same chassis but worse butterfly switch keys you really had to hammer on the clicky keys to get them to play ball, and then a few biscuit crumbs could render certain keys useless as they trapped the travel.
We can't quite put across how much better the keyboard is on the Air, and we love that there's no Touch Bar to distract us. This is a machine for getting writing done compared to the MacBook Pro which tends to be geared, in the marketing at least, towards video and music producers.
The trackpad is generously huge and like all other MacBooks has Force Touch haptics and doesn't physically move. Apple's trackpads are still the best in the laptop world for responsiveness and flying around macOS with its finger gestures is very satisfying.
Performance: Enough is enough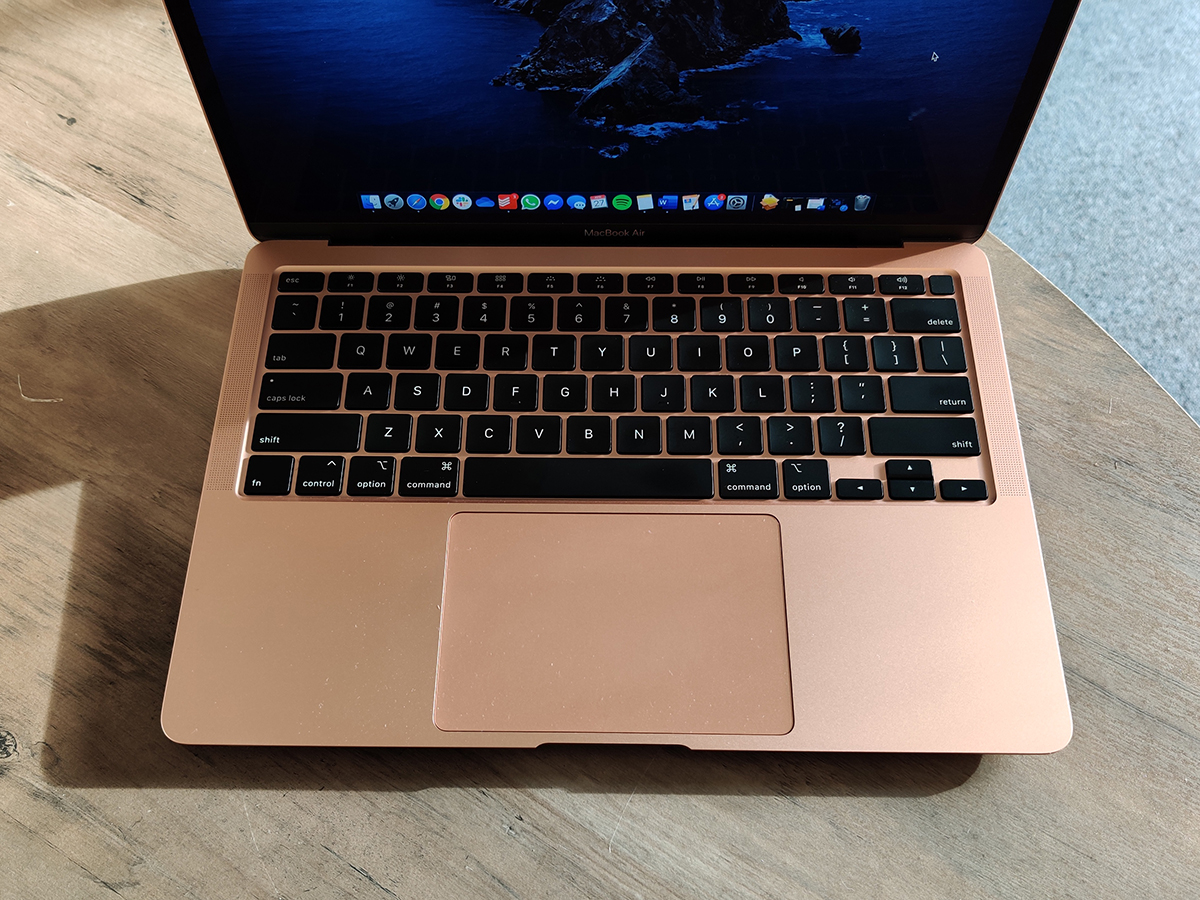 Our review unit was the new low-end 1.1GHz 10th-generation Intel Core i3 model, the first time an Air has shipped with an i3. The use of a lower-powered i3 rather than i5 means Apple could get the price back down to £999, but for most casual laptop use it really is enough and fills the gap in the market where the 12in MacBook used to sit – at a better price.
The 1.1GHz Core i3 processor can Turbo Boost to 3.2GHz if needed, and there's a £1,299 Core i5 version that maxes out at 3.5GHz and doubles the standard 256GB SSD to 512GB. If you'd rather, you can bump the base £999 model to a Core i5 for just £100 at point of purchase, making it a more powerful package at £1,099.
Both models come with 8GB RAM, but you can add more at point of purchase if you want. Only those wanting to dabble in some light Photoshop or similar will need to consider this.
You can also configure the SSD up to 2TB for an insane £800, but most buyers should be happy with either of the two standard configurations Apple pushes.
Just remember that the MacBook Air is not a renowned gaming platform and as such shouldn't be considered for hardcore gaming. Casual play is fine, but you really should be looking at a PC laptop for anything approaching high level.
Battery: Boasting not coasting
One area where the MacBook Air doesn't fulfil its promise is with the battery life. It's good, but it's not as world-beating as advertised. Apple claims you can eke 11 hours of web use out of the machine, but we found we could only get a full eight-hour work day away from the plug if we stuck to Apple's own apps.
That meant working with Safari and Pages. When we did a day's work with our normal combo of Google Chrome and Microsoft Word, thrown in with Slack, Zoom and all the apps millions of people will want to use, we were watching that battery gauge tick down a lot faster and were plugging in after about five hours.
That's a lot less than advertised and shows that Apple's estimates are probably built around only using optimised Apple software. For most people, the MacBook Air will not have all day battery life.
OS & Software: Like a glove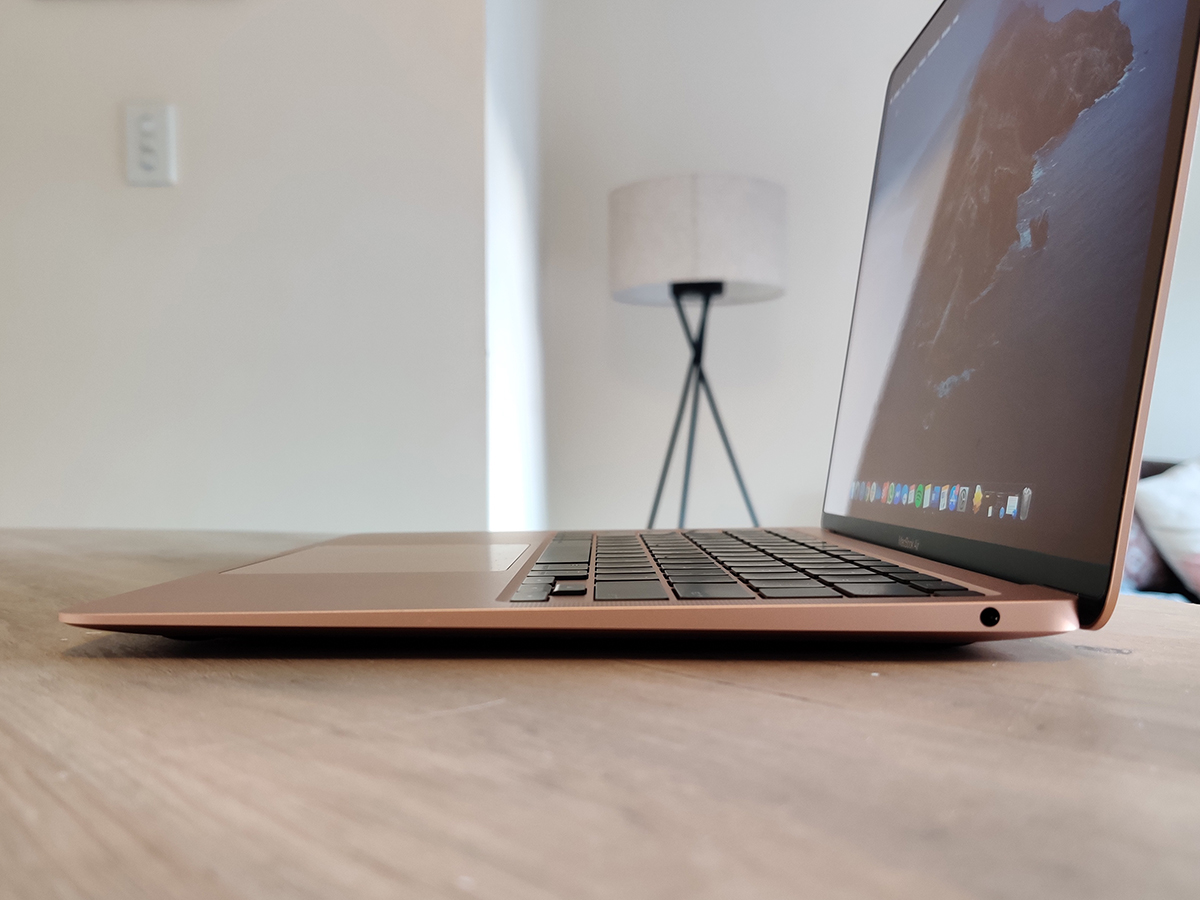 If you have owned a Mac before then you'll be right at home with macOS Catalina. We reviewed the Air on version 10.15.4 and found it to be bug-free and as smooth as we've come to expect from an Apple laptop. It looks particularly great in dark mode, which is now systemwide.
We particularly enjoy using Siri on the Mac compared to the iPhone or iPad, where it's much more seamless and useful to get it to open folders, check emails and do short tasks within the operating system.
The biggest change for some could be that iTunes no longer exists. Apple has split the legendary app up into three new ones: Music, Podcasts and TV. Each is a pipe to use Apple Music, Apple Podcasts and Apple TV+ respectively, but allows you to host your own collections of media within each. It's not too hard to get used to.
A great new feature in Catalina is Sidecar, a software trick that lets you wireless use an iPad as a second display. This has proved incredibly useful as we continue to work from home during the Covid-19 pandemic, but only works with the most modern iPads.
And if you live in Apple's world with an iPhone then you get your iMessages synced perfectly, and the Handoff feature that lets you continue something in an app from device to device is unparalleled in the Windows world.
The clipboard feature that lets you copy on one Apple device and then immediately paste on another is the life hack you didn't know you needed until you got it, and Apple Watch verification lets you bypass login entry when you open the lid. Apple really does reward you for your product loyalty.
The Notes, Reminders and Photos apps have also been updated with intelligent aesthetic redesigns, and Safari is whip-fast as ever and has thoughtful new features like a picture in picture mode and weak password warnings.
It's not a revolutionary overhaul (macOS annual updates rarely are) but it's a polished and capable OS with the benefit of all the great free Apple software that comes with your purchase. Pages, Keynote, Numbers, Garageband, iMovie and Mail are all included and represents excellent value for money considering no Windows laptop comes with free Microsoft Office apps.
MacBook Air 2020 verdict
The 2020 MacBook Air is, once again, the best MacBook for most people. Its return to a scissor switch keyboard is the star of the show here and an update that makes it so much more comfortable to use for hours a day for days in a row.
Battery life is very good but not as good as Apple claims, and the cheapest Core i3 model won't be enough power in the long run if you want to edit photos or videos. The webcam is also naff.
But for most undemanding folks out there who need a new laptop for work and media streaming that should last for several years and has an outstanding keyboard, display and software support, then this is the laptop to buy.
Tech specs
| | |
| --- | --- |
| CPU | 1.1GHz Intel Core i3-1000NG4 (dual-core, 4 threads, 4MB cache, up to 3.2GHz) |
| RAM | 8GB (3,733MHz LPDDR4X) |
| Screen | 13.3-inch, 2,560 x 1,600 Retina True Tone display |
| Storage | 256GB PCIe SSD Ports: 2x Thunderbolt 3 (USB-C), 3.5mm headphone jack |
| Connectivity | 802.11ac Wi-F, Bluetooth 5 |
| Camera | 720p FaceTime HD webcam |
| Weight | 1.29kg |
| Size | 11.97 x 8.36 x 0.63in (30.41 x 21.24 x 1.61cm; W x D x H) |
Stuff Says…
With a cheaper entry price and an improved keyboard, the only thing against the excellence of the 2020 MacBook Air is its less-than-full-day battery life. Otherwise it's the go-to laptop we'd recommend to most people
Good Stuff
Superb keyboard
Cheaper than before
Great speakers
Bad Stuff
Battery life is not all-day
Core i3 model a little underpowered
Webcam is only 720p