Marantz Melody Media M-CR610 review
Marantz crams a lot of tech into its internet-connected micro system, but is this musical Tardis as capable as it is feature-packed?
There's a lot to be said about streaming these days, and it's easy to forget about physical media. Thankfully, Marantz doesn't make you choose.
The M-CR610 is the latest in the company's line of Melody Media systems, and lets you play music from just about any source. The convenience of computer audio, combined with the quality of traditional hi-fi: now that's a tune we can dance to.
Plastic fantastic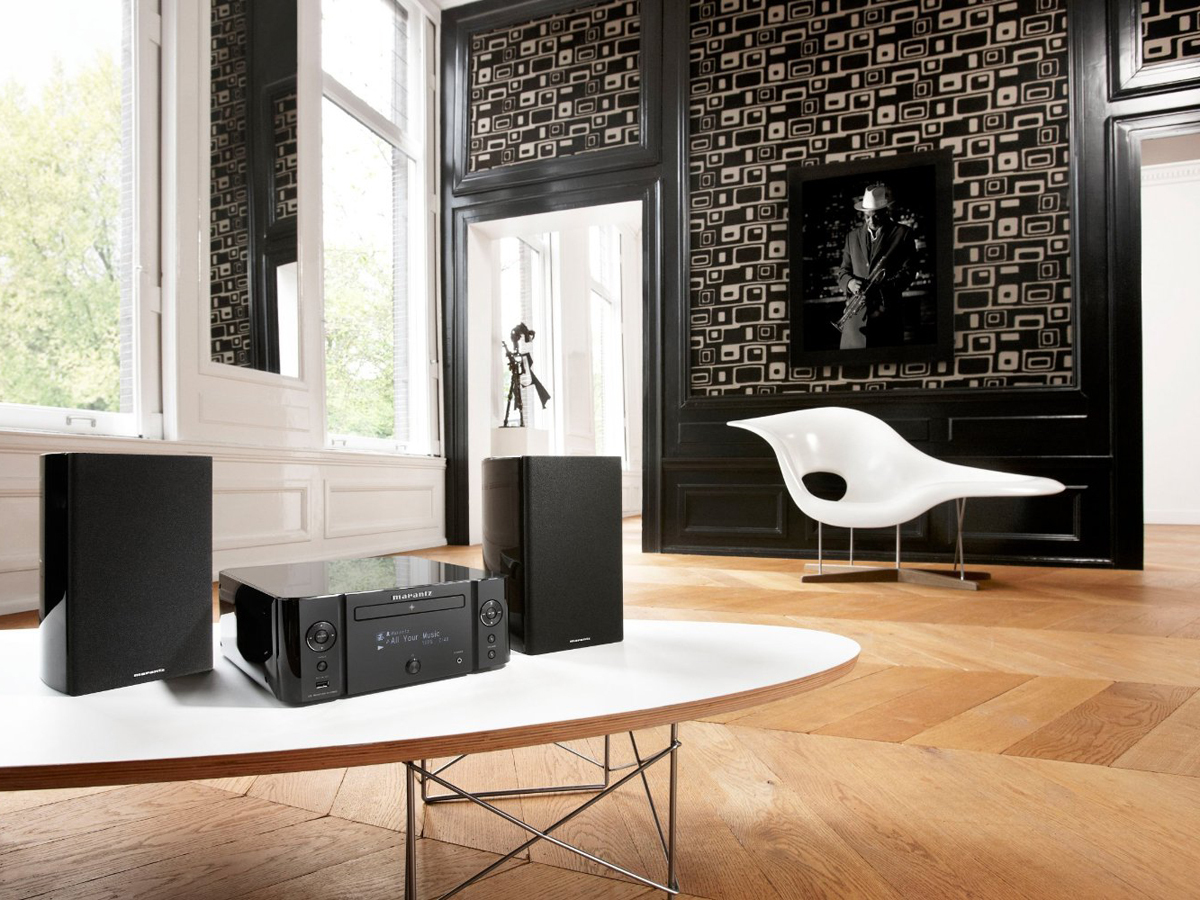 This very shiny box is made with glossy plastic, which is a little bit of a shame, given its predecessor had a metal body. It's well made nonetheless, and surprisingly weighty. And the buttons are nice to press.
Yes, Mr Wayne, it does come in black, but we rather like the Art Deco vibe of the black and silver combo. Marantz's penchant for symmetry appeals to our logic chips, too.
More connections than Heathrow
The M-CR610 really wants you to shake up your choice of music sources.
Radio comes in FM, DAB and internet flavours, and you can connect to Spotify and Last.fm. Got your own content? Stream it over a networked computer, or plug a hard drive into one of the two USB ports, which support formats right up to 24-bit/192kHz FLAC files, which is sure to please the sound quality obsessives out there.
Those USB ports also read iPods, but Apple users can also stream using AirPlay. Sadly there's no Bluetooth, but there are wired options: one optical and two analogue inputs. Remember CDs? It plays those, too. If there are too many options for you, check out the Denon CEOL Piccolo, an even more diminutive system that ditches CD altogether.
Unchained melody
Setting up is beautifully simple. The M-CR610 automatically prompts you to connect to Wi-Fi. Identifying your network on the fairly spacious display and punching in the password with the remote takes about a minute. Alternatively you can connect an Ethernet cable, which only takes about ten seconds to register. It helps to plug that in with the machine off, otherwise it can get a little confused.
Choose control
All set up? Now choose your weapon. You can flick between inputs by jabbing the machine in the face until the right mode shows up, but an easier way is to use the remote control, which is nicely laid out, with dedicated buttons for each input.
Better still, use the free Marantz Remote App (Android and iOS). It does everything the regular remote can, with the benefit of a QWERTY keyboard. It beats using 0-9 keypad to type 'I Believe In A Thing Called Love' into Spotify.
Sound performance
Add a decent pair of speakers (we'd recommend the Wharfedale Diamond 121s, reviewed by our colleagues at whathifi.com right here), and this thing sounds great. The M-CR610 has a very smooth, likeable demeanour. If you have a harsh recording, the Marantz will do its best to gloss over the flaws.
The sound is very clean and clear, which helps to make vocals a little more direct. There's a nice amount of detail at the top end, balanced by good bass extension.
Assuming you've not gone for tiny speakers the sense of scale the Marantz delivers is very impressive: we didn't expect such a big sound from a small box. It could do with just a little more kick, though. The buttery smoothness is lovely, but sometimes you long for a little bit of bite, and the Marantz is a touch too polite to sink its teeth all the way in. But that's a very minor criticism of what is otherwise a lovely, engaging, easy-going listen.
Verdict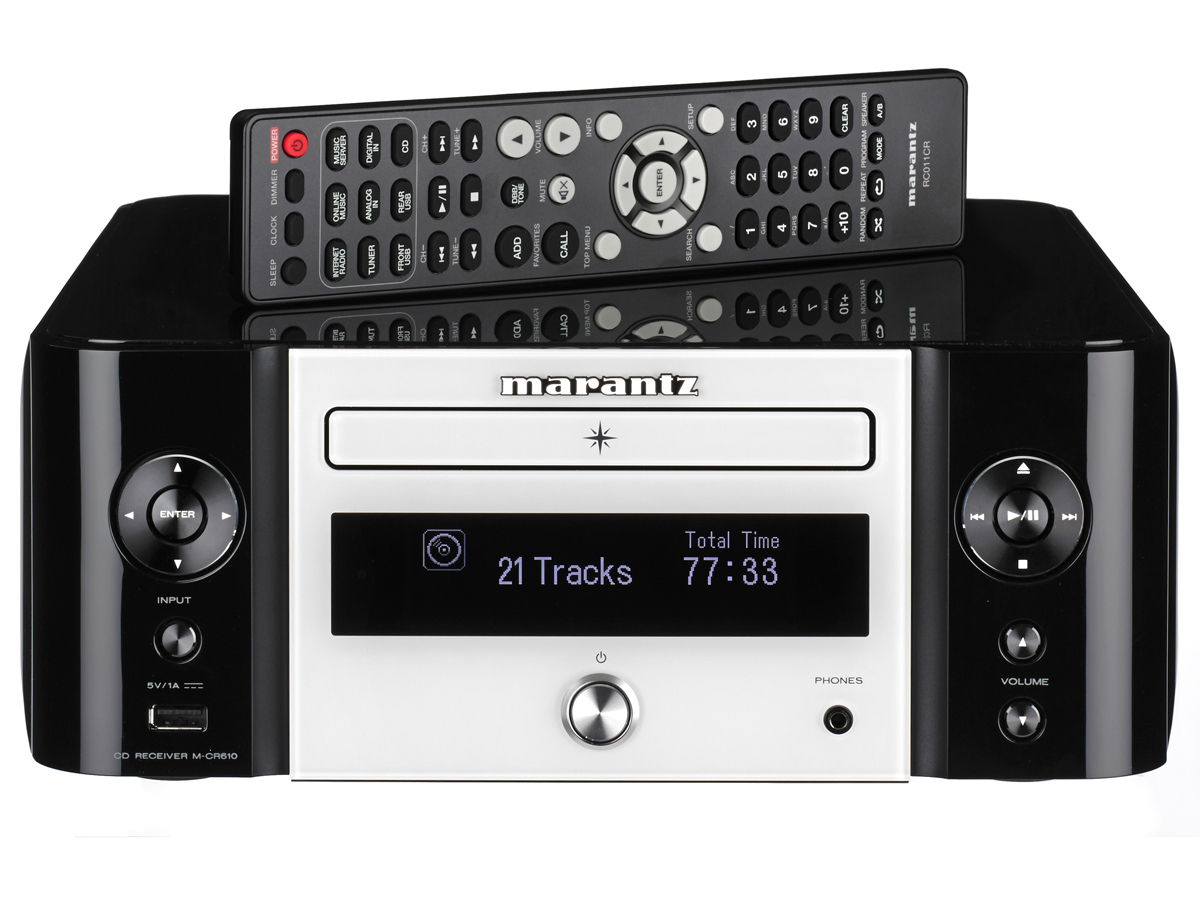 For once, "all in one" isn't a massive exaggeration. This little box has a ridiculous number of sources to choose from, and the sound is smoother than a waxed toffee. Add decent speakers and you've got a very capable, very clever little hi-fi that's only just held back from a spot in our Top 10 list of the best hi-fi and streamers in the world by Denon's cuter, cheaper, CD-less CEOL Piccolo.
But if you're not quite ready to entirely ditch the discs, the Marantz allows you to dip your toe in the hi-fi streaming waters while providing an umbilical cord to the good old days of physical media. And there isn't anything wrong with that.
Stuff Says…
An excellent music box of tricks that does nearly everything – and does it really rather well
Good Stuff
Smooth sound
Crazy number of source options
Dinky and stylish
Bad Stuff
The sound could kick harder
No Bluetooth