Mario Kart Live: Home Circuit review
Modern kart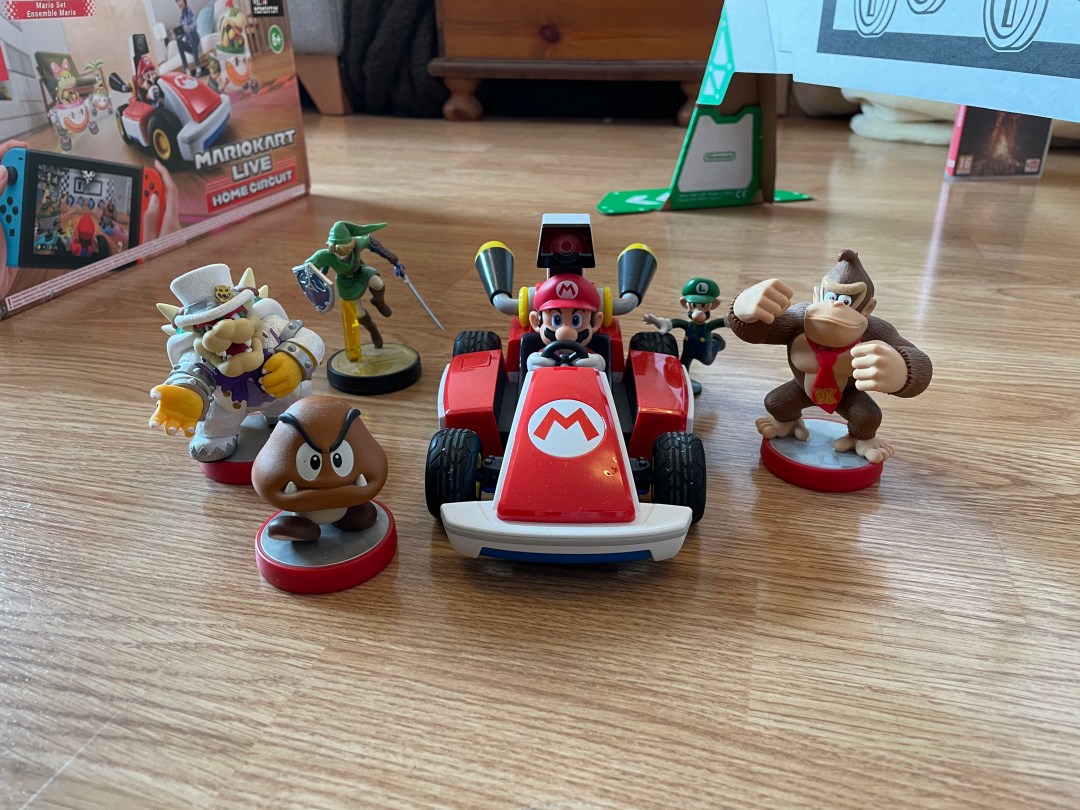 2020 has been a mostly awful year for obvious reasons, but for Mario fans it has at least in part also been a celebratory one. 
To mark 35 years since Super Mario Bros. first landed on the Nintendo Entertainment System, the company has been working away on all manner of plumber-related goodness. From re-packaged classics and a bonkers battle royale-inspired take on the 1985 2D platforming classic, to Mario Lego and a comeback for the Game & Watch, it's been quite the all-year party for Ninty's proudly moustachioed mascot.
But for our money, the most eye-catching announcement of all has been Mario Kart Live: Home Circuit, a combination of AR software and real-life toys and rearrangeable course markers that turn your living room into a Mario Kart course. Great news for the kids come Christmas Day – less so for the cat.
At times, Home Circuit is Nintendo at its playful best, but you're going to need a fair bit of room and rather a lot of money if you want the ultimate Mario Kart IRL experience.
If you build it, they will come
Before you can take on Rainbow Road in the front room, you're going to need to assemble it. Luckily, Nintendo has made doing so a breeze. Before setting up, you'll need to download the free Mario Kart Live: Home Circuit game from the eShop on your Switch, and after booting it a typically cheerful Toad will instruct you to use the small camera in the included remote-controlled kart (you either get Mario or Luigi) to scan a QR code on the tablet's display.
This pairing process only needs to be done once, and the kart should automatically connect when turned on. Once you've done all that, you're told to put the toy vehicle on the floor and look at the display, where you'll see your driver behind the wheel, staring out across the floor in front of them and probably wondering what happened to the Mushroom Kingdom. The video feed being transmitted to your Switch isn't exactly high-res, but it's good enough for the job.
At this point it's tempting to just hit the accelerator – the game controls near enough like any Mario Kart game you've played before – and see how far you can drive before the signal drops out (we certainly did), but pretty quickly Nintendo will be encouraging you to build your first course. Each Home Circuit kit contains four cardboard gates and a few arrow markers to keep you on the right course. You'll need to do a bit of light folding, Labo style, to get them to stand up, but it only takes a few minutes.
How you arrange the course markers is largely up to you. The only rules are that you need to travel through each one in order and end up back at the starting line. You can make a simple, fairly tight circuit on most floors, but a more ambitious course proved tricky to assemble in the slightly narrow space we were playing in. Nintendo recommends a flat space of around 3m x 3.5m for the best experience, which seems reasonable, and part of the fun is using real-life furniture and household items as obstacles to ramp up the challenge. We naturally recruited some Amiibo to be cheerleaders too.
When your course setup has been finalised, the ever-present Lakitu will plonk some purple paint on your tyres in-game and tell you to drive around it so the game can map the layout.
Give 'em shell
The meat of the single-player offering (more on multiplayer shortly), as in any Mario Kart game, is the Grand Prix mode. Sticking with tradition, there are four engine classes, starting with 50cc and topping out at 200cc. The expert modes can only be unlocked when you win a certain amount of trophies, and while the karts themselves aren't very fast in real life, they certainly look zippy on-screen. We reckon there's more than enough challenge to keep younger gamers hooked, and with eight cups to compete in (plus one that randomises the track selection), you're not short of content.
Once you've sorted the physical components of your course and initiated a race, the game merges your camera feed with virtual items, scenery, and of course, racers. It's Mario Kart as you know it, but simplified – drifting is understandably pared back and you can't drag bananas or mushrooms behind you for strategic purpose – to ensure anyone can pick up and play.
Because each race in the various GPs has a theme, a fairly basic real-world course can be transformed in the game. In the Special Cup's World 1-1, for example, you have to weave your way around 16-bit Goombas that stroll around the course with reckless abandon, while Lightning Lagoon in the Mushroom Cup submerges the room in water, threatening to electrocute you at each gate. Chain Chomp Stadium, meanwhile, is exactly what it sounds like.
Mario Kart Live is one of the best examples of AR we've seen, making your open-plan kitchen floor more exciting than it has any right to be. Of course, there are occasional dropouts and glitches that might send you bumper-first into a metal chair leg, but what's Mario Kart without a bit of mayhem? Just be warned that you're the only racer on the track that has to worry about smashing into real-world hazards. The others have it pretty easy.
Of course, because Home Circuit by its nature lacks the intricate course design that makes the best console entries so memorable, the action does get repetitive quite quickly, even with the frequent thematic shifts. For this reason, the game often encourages you to change up your course design mid-GP. At one point it actually insisted we did. You can also customise the gates so that one might drop items, and another gives you a speed boost, while you earn coins each time you place in a race, which unlock new outfits, karts and environments to be used in custom races.
Obviously you're not getting anything close to the longevity or depth of a full-fat Mario Kart game, but Nintendo has squeezed as much as it could into the experience given the limitations, and you'll struggle to find a children's toy with more wow factor in the run-up to Christmas.
Owner of a lonely kart
While single-player has always been a totally acceptable way of playing the series' many entries, multiplayer is no doubt where you'll have made your best Mario Kart memories. It's a big shame, then, that Nintendo has made multiplayer so difficult in Home Circuit.
Each kit contains just one kart, and to play against someone you'll need two Switches running the game. There's no split-screen option. Even if you have two consoles, you'll need to buy two sets for multiplayer, and given that each costs £100, that's a prohibitively expensive requirement for most people.
Sure the tech is pretty impressive when it's working as advertised, but we're not at all convinced that it's £200 just so the kids can race each other impressive. Admittedly, a race of more than one player sounds like a potentially unsalvageable recipe for carnage, but we unfortunately weren't able to test this theory. What the one-kart-per-set limit almost certainly will lead to, though, is arguments on December 25.
Mario Kart Live: Home Circuit verdict
Home Circuit is not without its downsides. The most imaginative courses demand a fair bit of space, it's anything but multiplayer-friendly, and for all the AR wizardry on show, it plays a stripped back game of the famous kart racer that might not stand the test of time.
But it's also lots of fun in short bursts, hugely inventive and yet another example of the Switch's versatile brilliance. And the more you're willing to use your imagination, the better the game will be.
If you can swallow the cost and space isn't an issue, you might be looking at the upcoming festive season's most desirable toy/game combo.
Stuff Says…
If you want to play with others it's going to cost you, but Mario Kart Live: Home Circuit is another ingenious invention from a company on a roll
Good Stuff
The mixed reality elements will raise a smile on anyone's face
Surprising amount of content
Just a great toy
Bad Stuff
Best suited to big living rooms
Gets repetitive if you're not creative
£100 kit only gets you one kart, making multiplayer extremely expensive