Marshall Kilburn II review
A rocking little speaker that can be surprisingly polite too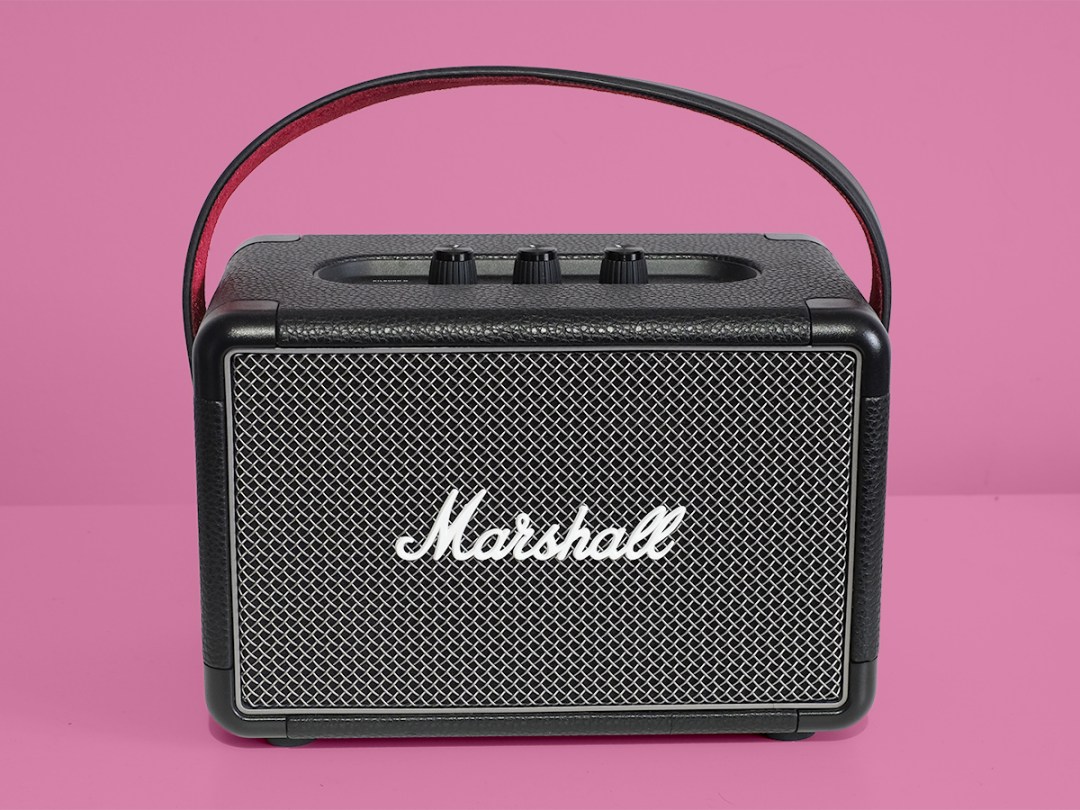 Not met a Marshall wireless speaker or pair of its headphones before? You might come expecting a gonzo brick with a volume knob that goes up to 11, Spinal Tap style.  
These days, Marshall's portable audio gear is made for trendy millennials and Gen Z-ers as much as middle-aged blokes in Iron Maiden T-shirts. Everyone can get involved, more or less. 
If you can afford it anyway. The £269 Marshall Kilburn II is one of the nicest little (ish) portable speakers around. It sounds, feels and looks great.  
The cheaper Sonos One has more robust mids and deeper bass, though: one to bear in mind if you mostly just need a speaker for home use.
Design: Guitar Hero
Just look at this cute little thing. "Cute" may not be the first thing you think when you look at a giant 4×12 Marshall guitar amp stack, but the Kilburn II combines the rocky Marshall vibe with something way more lounge-ready.
It's more-or-less the rocker's alternative to a grown-up Ruark speaker.
Hardcore Marshall fans will notice the Kilburn II isn't exactly a shrunk-down speaker cabinet. They use fabric grilles. This speaker has a tough aluminium criss-cross instead. Marshall says it's inspired by the mics you'll see in front of a giant amp, or a screeching singer.
Sure enough, it looks a lot like the business end of a Shure SM58. If you've ever seen a band play live, there's a good chance you have heard one of these mics in action.
The rest is pretty much pure Marshall, though. The Kilburn II has volume and EQ knobs up top, and a wrap around its frame that looks like the vinyl of a Marshall cab. It's a lot softer, though. Amp cabs can be rough as sandpaper.
There's a velour-lined handle to let you carry the Marshall Kilburn II about wherever you like. But this 3kg box is not the kind of small speaker you'd probably want to take on an Easyjet flight for a long weekend away in the sun. It's a bit too big, unless you're very liberal with your luggage upgrades. And those things don't come cheap these days.
Don't take the Kilburn II out in a torrential rainstorm either. Marshall says it's rated to IPX2, meaning it can handle 10 minutes of dripping water. But we wouldn't risk a £270 gadget out in the rain with anything less than IPX5.
The Marshall Kilburn II is made to survive the odd hard bash, though. It has plastic-capped sides and the finish will take scrapes better than anodised aluminium. Well, unless it's a really bad scrape.
Features: points for portability
It's far more portable than a Sonos One, not least because there's no battery in the Sonos. The Marshall has one built-in. It lasts up to 20 hours (at mid-level volume). It doesn't last that long if you really let it rip, but a neat red LED gauge lets you see how much juice is left at all times.
The Kilburn II's battery only takes 2.5 hours to recharge, not too long for a unit like this, and the charging electronics are inside. All you need is a "figure of eight" charge lead. And in our experience you'll find one of these in most homes if you dig around hard enough.
That earns the Kilburn a few bonus portability points.
It oddly lacks a few of the parts found in a lot of other Bluetooth speakers. There are controls for volume, bass and treble, but not "play/pause" or "next track". You need to control the Kilburn II with your phone, once you've dialled in the sound you want.
There's also no Wi-Fi, so no multi-room either. This is a simple wireless speaker. You can plug in a non-wireless source using a 3.5mm cable. But that's the extent of the extra tech features on offer.
Sound: Knobs galore
The Marshall Kilburn II does have some smart stuff going on in its sound, though. Unlike Marshall's older box speakers, this one has an extra driver on the back, pushing out bonus treble.
Obviously, this isn't going to do too much if you push the speaker up against a wall. However, it really does help when there's a little space behind the Kilburn.
Despite looking like a speaker with only front-facing drivers, the sound dispersal is actually quite wide. It's not a 360-degree speaker like the Apple HomePod, but the sound field is far less narrow than some of Marshall's earlier noise boxes.
The Kilburn II's EQ dials are also surprisingly useful. You might expect it to sound anaemic with the bass all the way down, ridiculously bloated with it maxed. Same with the treble right? Muffled at one end, ear-slicing at the other?
Not at all. The Kilburn II actually sounds more-or-less "right" no matter the EQ setting. Turning the bass down makes it more polite, which might be handy if you want music while you work. Or for one of those social gatherings where you actually want to hear what your friends are saying.
Upping the treble is like adding lime to a drink, or a pickled chilli slice to a burger. There's added zing, but it doesn't take over.
Keep the treble and bass at or below the "3" mark and you get a pretty balanced, neutral tone. Push the tone knobs up and you'll start to hear the bass expand, the treble become more energetic.
Crank up the volume, and max out both dials, and the Marshall Kilburn II becomes a bit of a party monster. And it has much greater treble energy than a Sonos One, if you like your songs delivered with a bit of that refreshing citrus sharpness.
A large soundstage, plenty of energy and sound that can transform to suit chilled, and much less chilled, situations are welcome. However, this is a fairly traditional speaker, and you do miss out on some of the sonic marvels of speakers with a massive R&D budget. Like those of Apple and Sonos.
Bass depth is good, but not as deep as the Sonos One, even though that speaker is significantly smaller. The Sonos also has more solid-sounding, realistic mids. Compare the two directly and, to start, the Marshall may sound prettier. However, the Sonos and some other rivals like the Harman Kardon Go+Play 2 make vocals seem weightier and more convincingly rendered.
This is not easy to do when you only have fairly small drivers to play with.
But which speaker is going to be more useful when you want to play some tunes in the garden for a BBQ? It's definitely not a Sonos.
Marshall Kilburn II verdict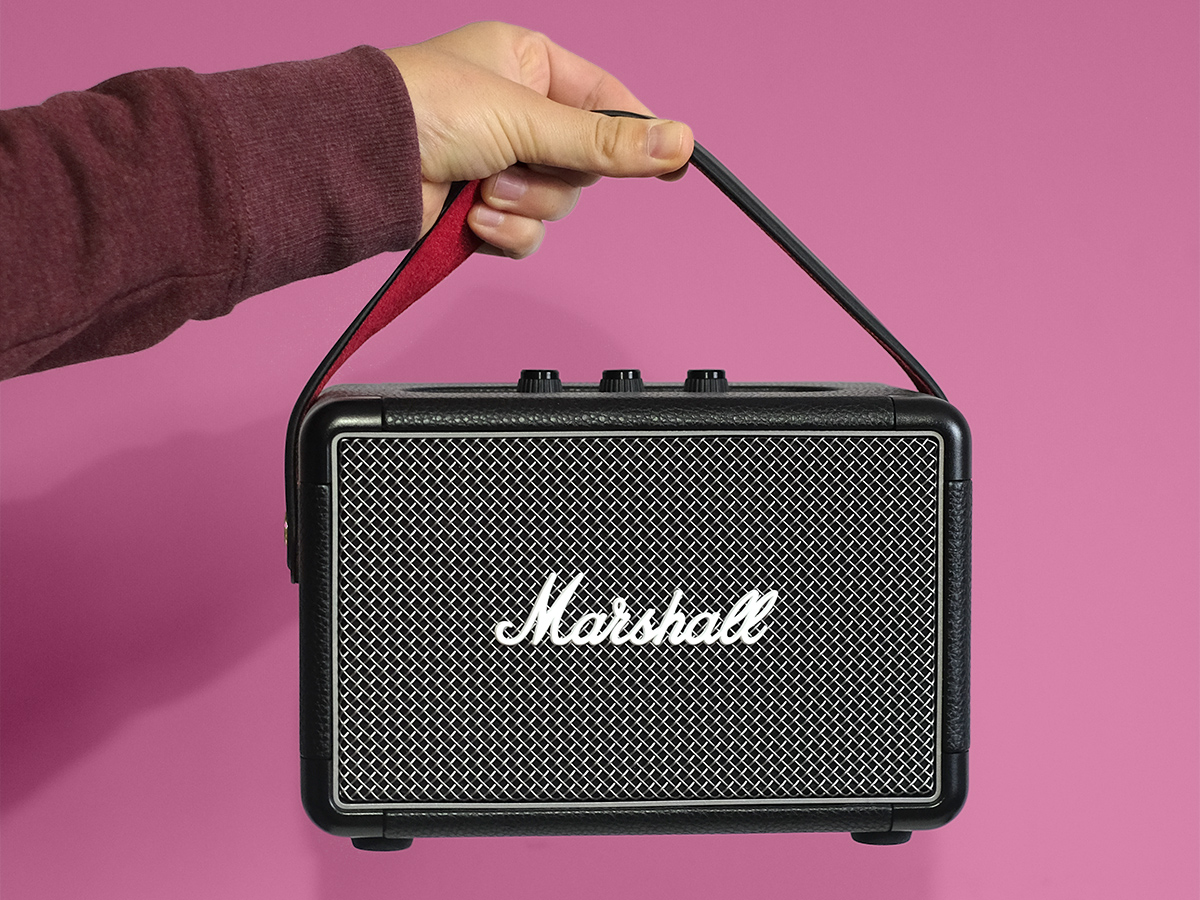 The idea of a Marshall speaker sounds like it could be a bit of a gimmick, an amp-stack-shaped thing for a teenager's bedroom. Its Marshall Kilburn II shows this really isn't the case, though. This is a serious wireless speaker with big, energetic sound and an attractive, practical design, with plenty of that classic Marshall whiff.
It doesn't have the deepest bass or the most convincing mids in this class. But it is a lot of fun, and those amp-ode control knobs are far more useful than you might imagine.
Stuff Says…
A rocker-favourite speaker that can go from polite to a party monster with the twist of a dial 
Good Stuff
Good sound 
Sharp Marshall look 
Bad Stuff
Could be more water resistant 
Limited controls 
The very best have deeper bass, firmer mids