Matrix PowerWatch 2 hands-on review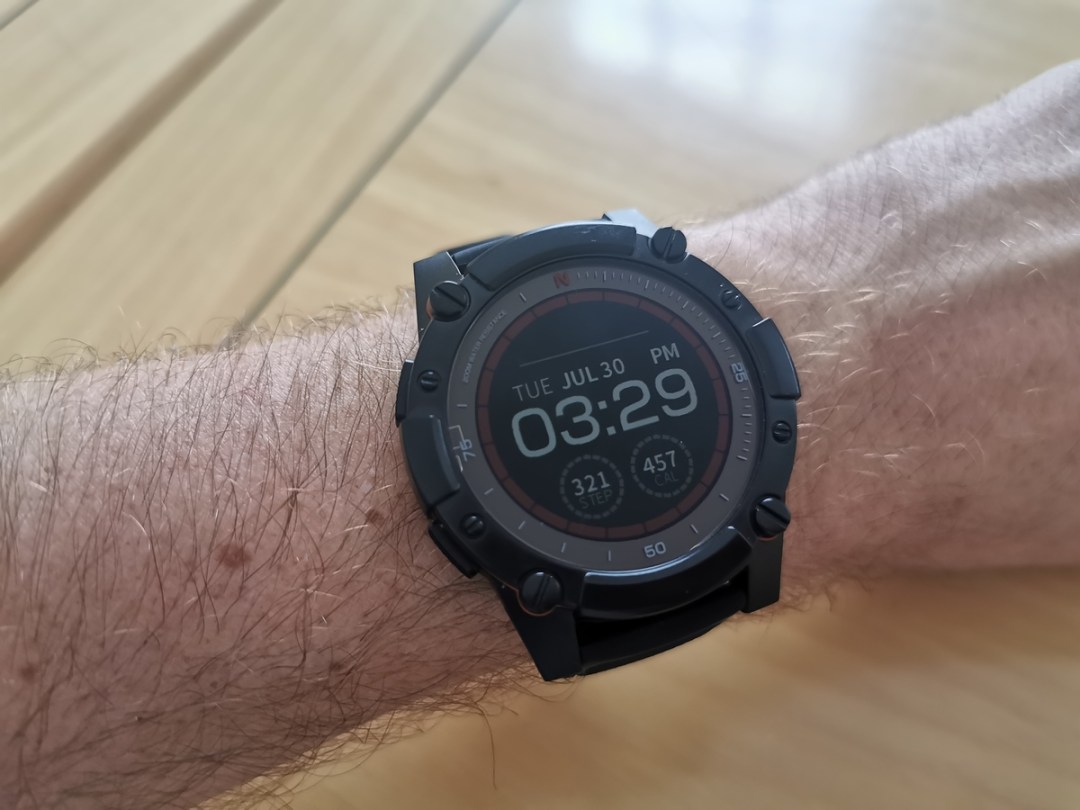 In the original PowerWatch by Matrix unique selling point was its ability to thrive solely on your body heat a thermodynamic generator, a tech that kept the wearable powered as long as you wearing it (and still alive).
But while it was refreshing to not have to worry about a draining battery, there was a lot wrong with the PowerWatch. Not only was the lacklustre design hard to love, but the only two fitness features worthy of using were step-counting and sleep tracking – both of which you could get with much cheaper, basic activity trackers.
Fast forward 18 months and we have the PowerWatch 2. So what's different? Well, firstly, it's no longer the Matrix PowerWatch, it's now the PowerWatch in its own right, powered by Matrix technology. This is, we are told, so the nifty body heat-charging tech can be used in a multitude of other use cases eventually.
Anything else new? Thankfully, quite a lot. Matrix realised that was a lot wrong with the first generation device, particularly its limited feature set. It lacked GPS and heart-rate tracking for one, so this has been sorted in series 2, making it a much better contender in the smartwatch space. We've had some hands-on time with the PowerWatch 2 to get an idea of how well the chip affects real-life performance and if the watch lives up to its promises. Here are our initial thoughts.
DESIGN: PRETTY…STANDARD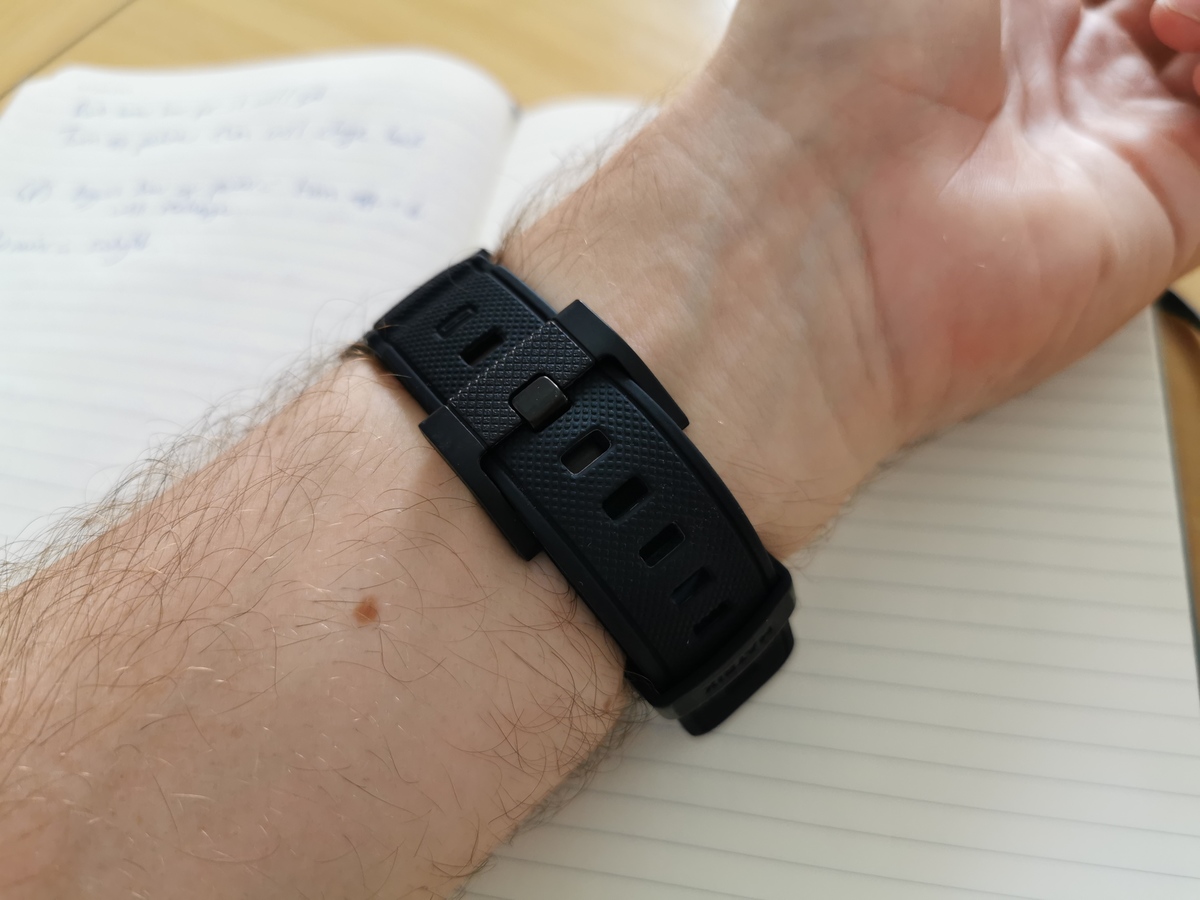 If you were unlucky enough to own the original PowerWatch, you'll notice right away that the second iteration has been slimmed down considerably. It now measures 42mm wide, down from 50mm, with a similar rugged look.
This time, however, it's of an entirely black metal casing alongside texture-patterned buttons and a red trim.
The PowerWatch 2 does appear a little bulky and cumbersome at first, but once you place it on your wrist it doesn't look that bad at all.
Its rubber strap feels comfortable and while we're not sure of its exact weight, it feels very light considering its chunky build.
Overall, it looks a bit on the cheap side for a watch that costs £500, but we were testing the cheapest edition. For £100 extra you can opt for the Premium edition, which touts a sapphire display, while an extra £200 gets you the Luxe version, which has the sapphire display and a "shark fin" Milanese strap, basically meaning it's made of a smooth stainless steel mesh.
While these extras don't come cheap, we can imagine they add some serious quality to the overall feel of the watch.
SCREEN: 100M SQUINT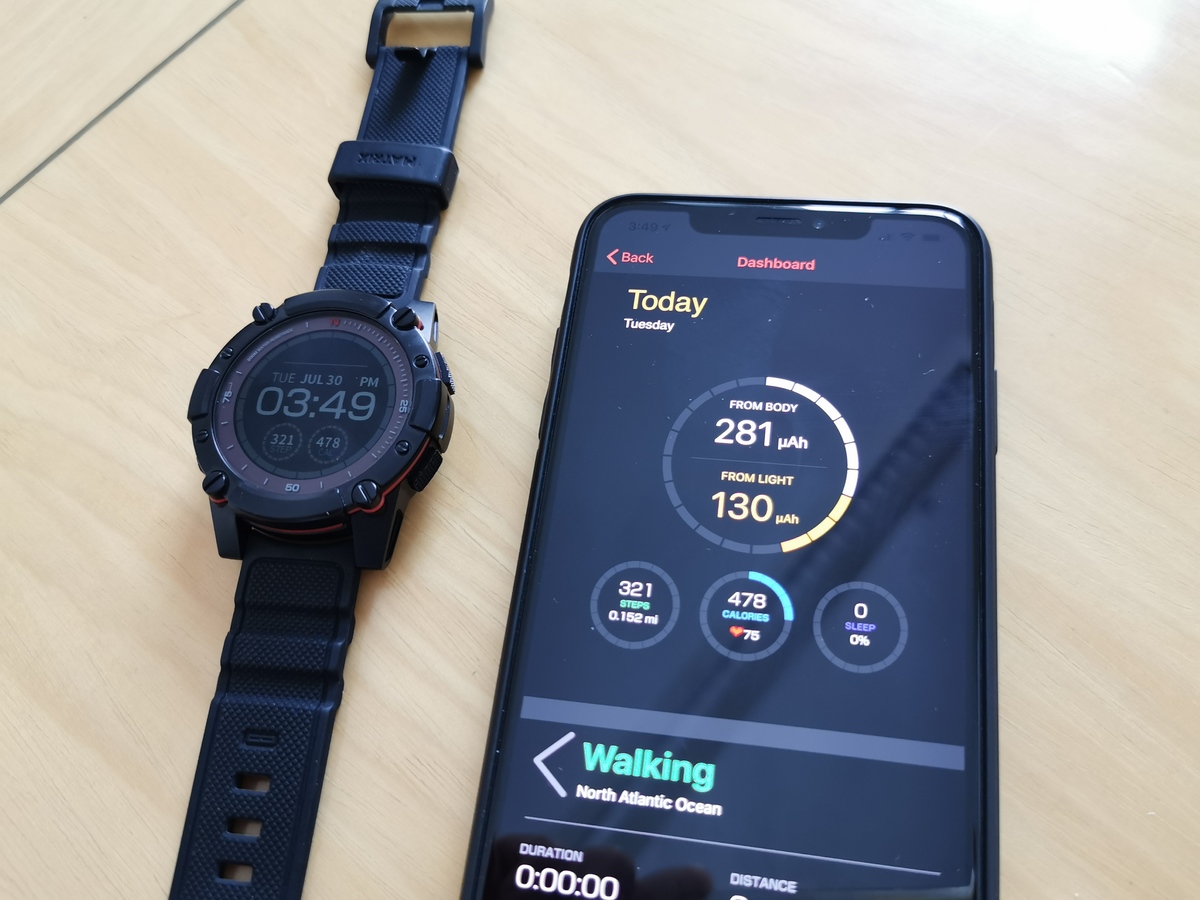 For its display, the PowerWatch 2 has a full-colour 1.2in LCD screen with an unknown pixel resolution. Bad news if you like to tip-tap your way through your smartwatch options, as the PowerWatch 2 is not touchscreen enabled.
Instead, the watch is controlled via physical buttons, which is probably better for the device's target audience of adventurers and outdoorsy/sporty types. The good news though is that the display is notably sharper than on the first edition PowerWatch, making it appeal much more high-end.
However, to reduce the need for lots of battery power, the PowerWatch 2 relies on reflected sunlight instead of a super-bright backlit screen. All-in-all it does the job, with data displayed clearly and neatly, but there is a lot going at once and because it's a little dark (there was no backlight on our review device) you do find yourself squinting at it to find the details you want, so it doesn't seem easy for users to understand at a glance.
Although maybe we just need to get used to it. Nevertheless, we're promised there will be a backlight on the final device that will fire up on the flick of the wrist, it just wasn't present on our early hands-on model.
PERFORMANCE: IT'S GETTING HOT IN HERE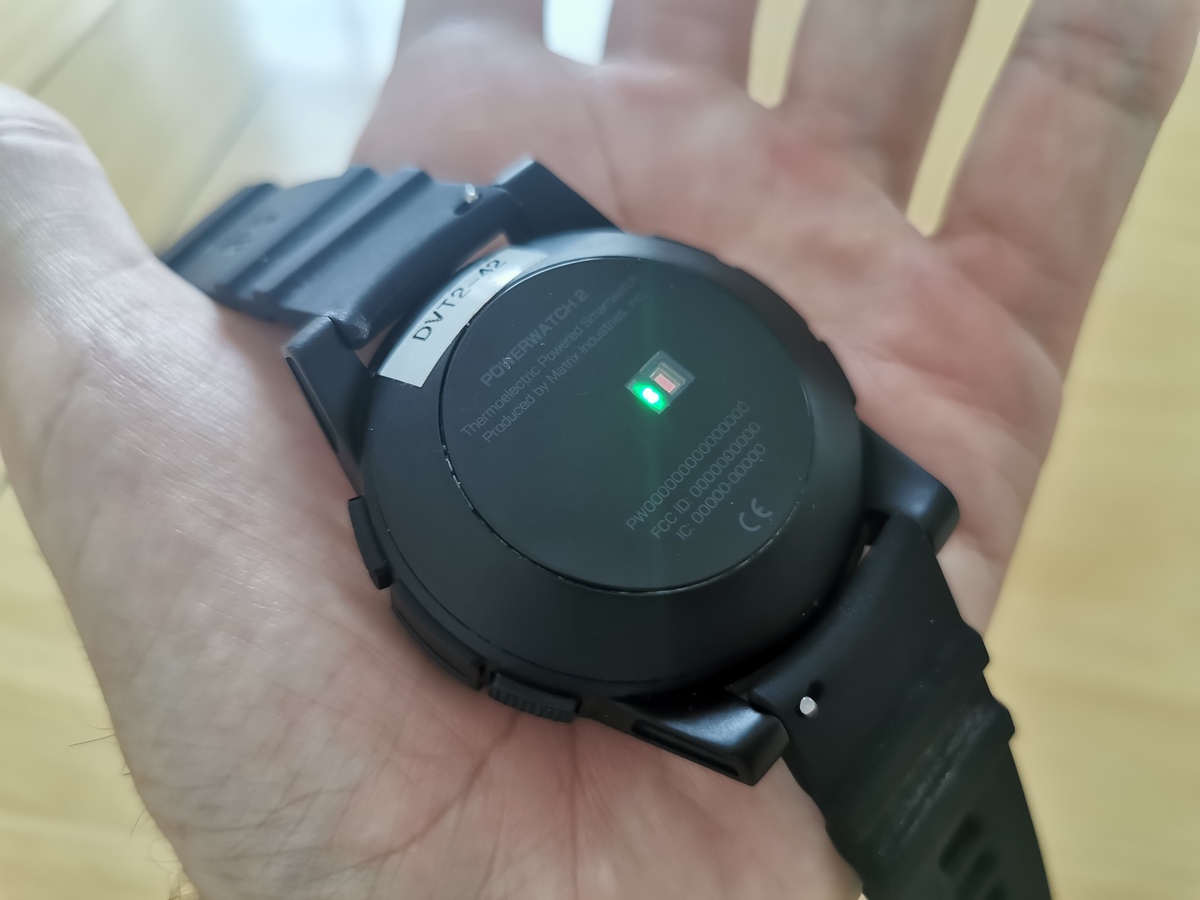 The main draw of the PowerWatch 2 is that it never needs charging because it somehow utilises the heat from your body and turns it into power.
This works via the Matrix chip in the underneath of the watch, which sits against your skin. The Matrix representative told us that it's able to generate more power in cold environments, as the power is created from a temperature difference between your body and the outside air, as opposed to just literal body heat.
There only needs to be one degree separating external body temperature from the outdoors for the watch to keep going, but the greater the difference in temperatures, the more energy is created and the longer the battery will last (with all the power-hungry settings like GPS switched on it will only last so long before you need to turn them off and it can charge from your body heat again).
We tried on the watch, and while there's nothing on the screen to tell you that it's charging, disappointingly. However, it can track the energy you produce and show this with a power meter in the app. Take the watch off and it'll save your data in memory as it sleeps. Feature wise, the PowerWatch 2 has all the standard settigns you'd find in a Polar or Garmin, for instance, apart from a major lack in the types of workouts you can track.
So far it has Running, cycling and swimming (it's water-resistant for up to 200m), although Matrix said more will be added at a later date. We were unable to test how the Power Watch 2 performs in a workout, which isn't great as it's what it's all about. But be sure to check back soon for a full review of how it fares during exercise. We'll be keen to see how the self-charge works underwater, too.
POWERWATCH 2 INITIAL VERDICT
Whether the Powerwatch will live up to its competitors remains to be seen, but one thing is for sure, this is some really exciting tech and could honestly be the future of wearables.
The PowerWatch 2 isn't even out yet and can't wait to see what they come out with next. Let's just hope the software side of things is better this time around, otherwise, the cool tech will be severely wasted.
It'll be available towards the end of the year so watch out for our final verdict then.