Mercedes-Benz A45 AMG review
The 355bhp Mercedes A45 AMG is one of the most ferocious hot hatches in the world - but bonkers performance comes at a price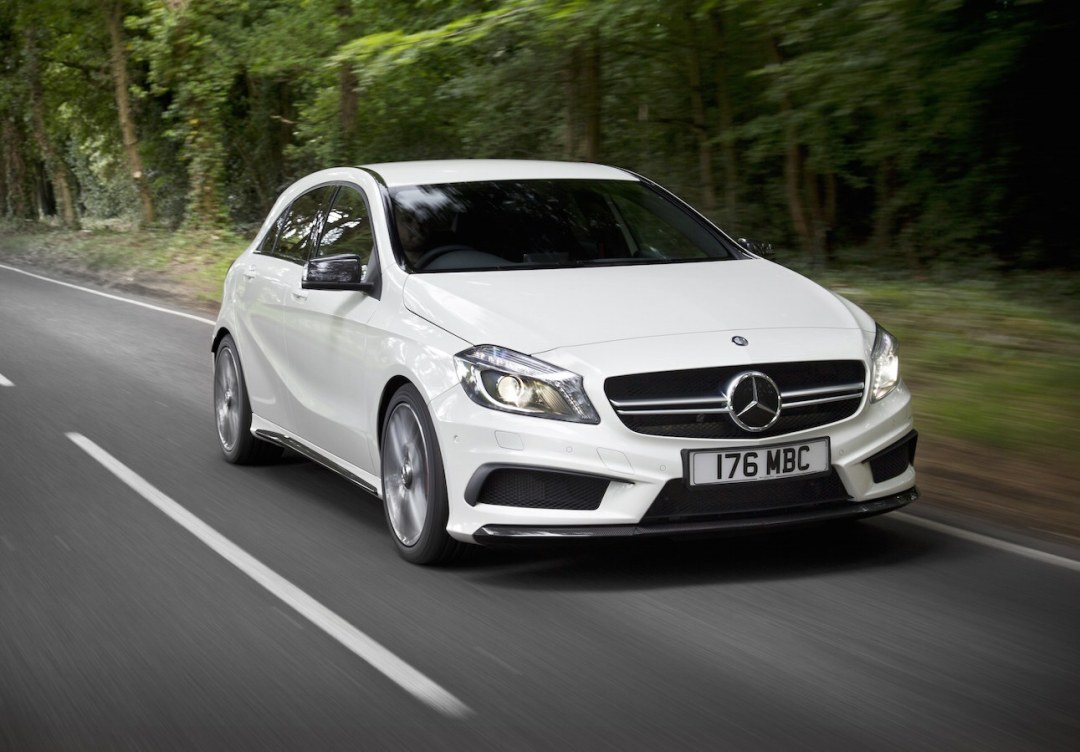 Forgive the terrible pun but the hot hatch market is currently at boiling point.
Volkswagen has its Golf R, which packs just shy of 300bhp, and there are rumours of an even more powerful version on the horizon, Renault has its stripped-out Megane RS 275 Trophy R and Seat now offers a Sub8 performance pack for its already blisteringly quick Leon Cupra 280.
Those wanting sports car-baiting performance in a tidy, practical package are spoilt for choice but nothing quite matches the savagery of Mercedes's AMG offering, which currently features the most powerful four-cylinder engine – *adopts Jeremy Clarkson voice* – in the world.
Face-melting figures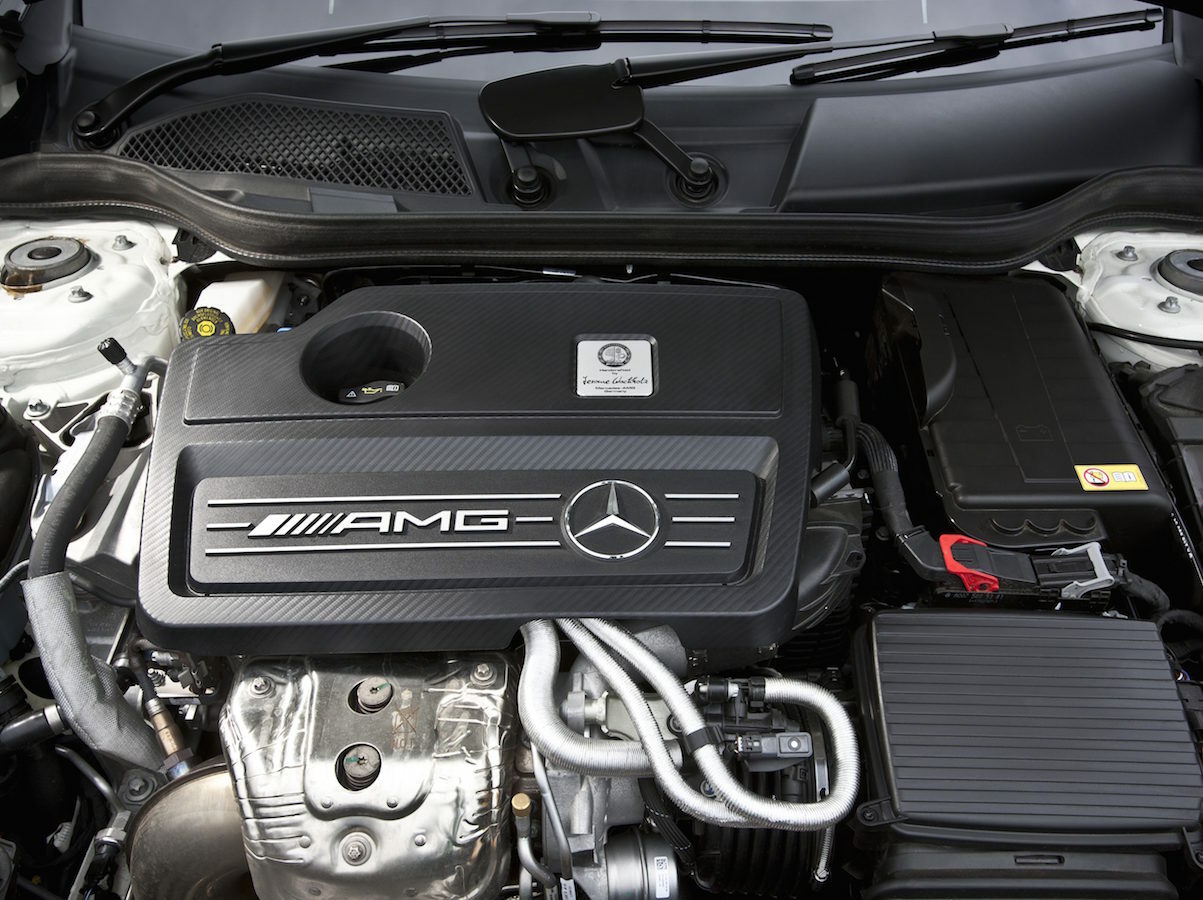 First of all, let's get a little bit nerdy and talk figures. The Mercedes A45 AMG's turbocharged 2.0-litre, four-cylinder engine kicks out an almighty 355bhp and 450Nm of torque. It's all channelled through a seven-speed dual-clutch transmission to the marque's brilliant 4MATIC all-wheel-drive system.
The result is a car that can rocket from 0-60mph in just 4.3 seconds and go on to an electronically limited top speed of 155mph. Those acceleration figures are made to feel even more gut-bustingly brilliant thanks to an epic launch control system. Be in no doubt that this is one very rapid machine.
Serious styling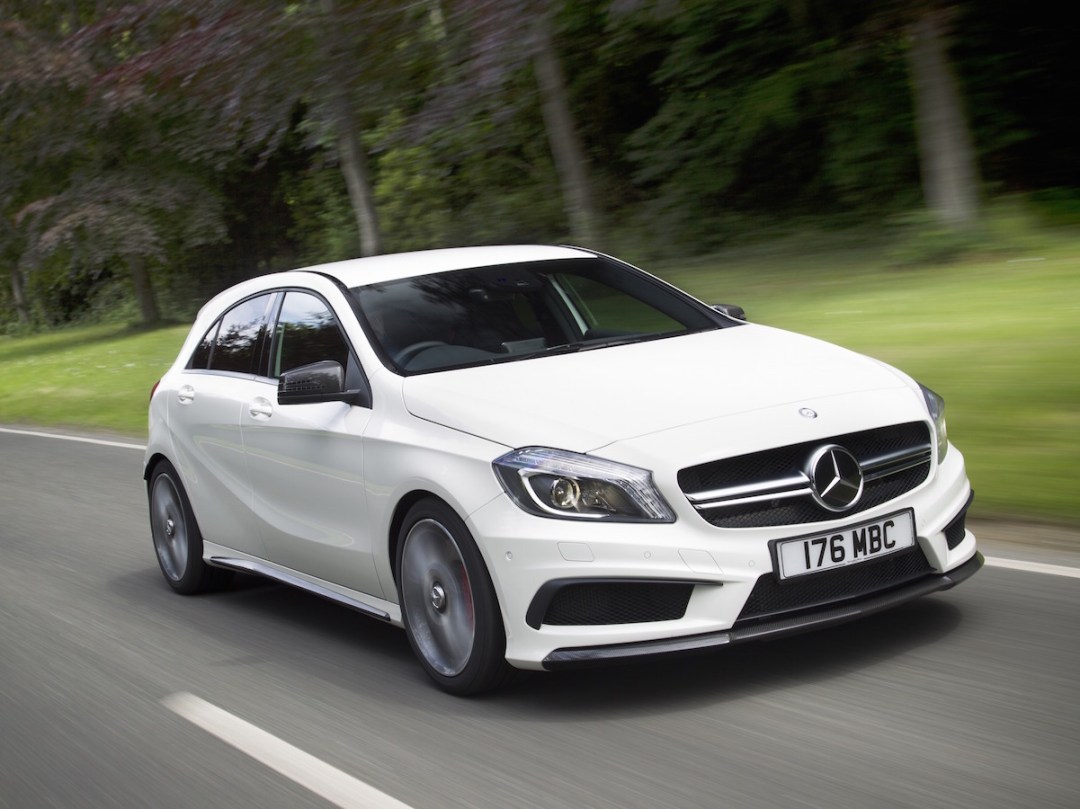 Mercedes' A-Class was met with mixed reviews when it was first introduced in 2013. Some berated the rather vague and woolly steering, others said the chassis was too firm and there's no denying that it looks pretty average when specified in its most basic trim levels.
You can forget all that when contemplating the A45 AMG. It wears massive 18-inch alloys for a start; it features a body kit that looks as if it was developed in Gold's Gym and twin-exit exhausts that look as loud as they sound.
Our test model also came complete with a £1,530 AMG aerodynamic package, which includes a gigantic rear spoiler and Tarmac-grazing front splitter – a must for that ultimate bad boy look.
Forget the tech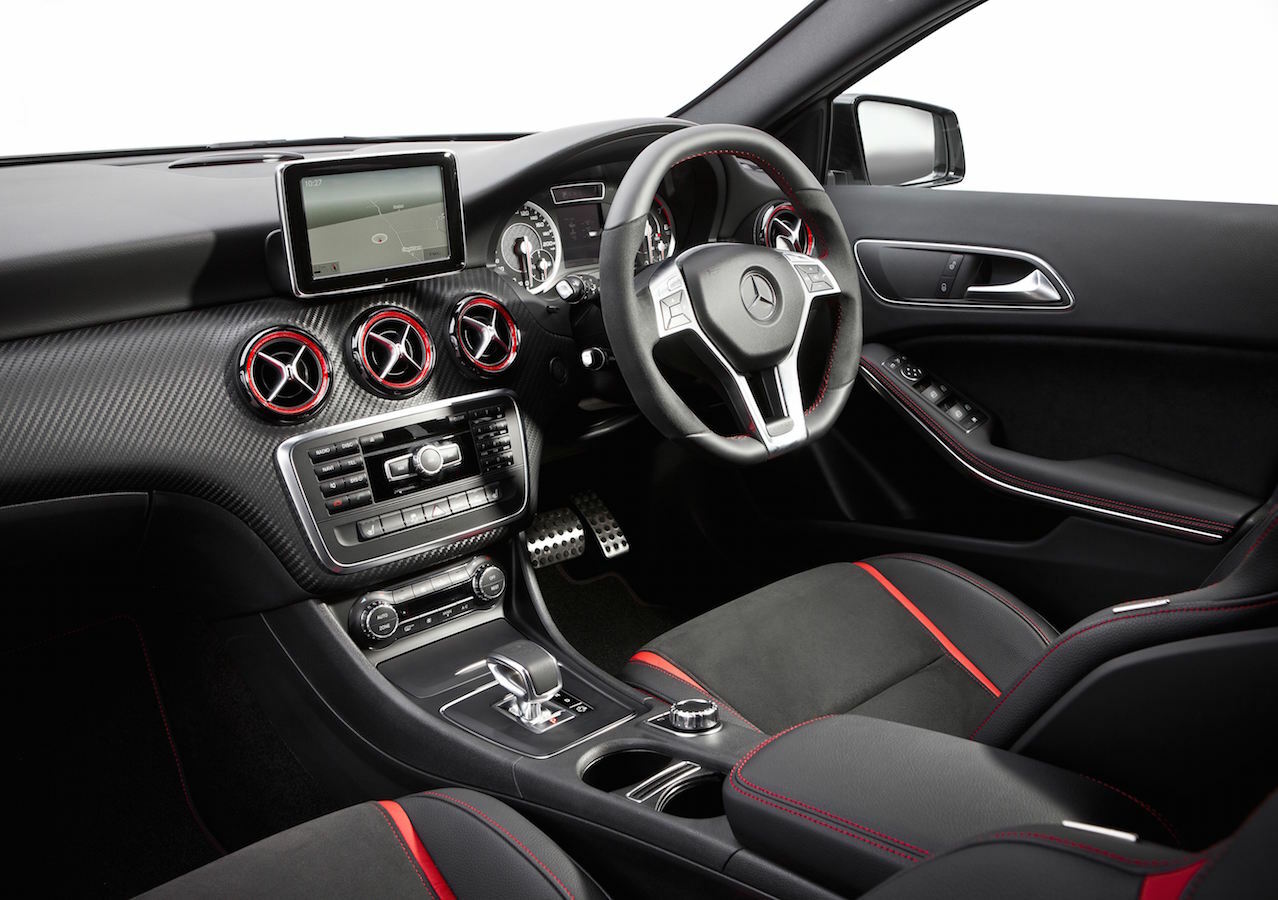 Unfortunately, the weight of interior gadgets and gizmos doesn't quite live up to the rest of the beefy package. Inside, there's a 5.8-inch tablet-style colour display if you opt for the most 'basic' models, which looks a little bit like it has been glued on to the dash.
My test car came fitted with Mercedes' brilliant COMAND online system, which upgrades the screen to a seven-inch version, chucks in a hard disk drive 3D navigation system with live traffic information, a bunch of Mercedes Apps, iPod connectivity and online features.
It all works brilliantly but the interface isn't quite as snazzy as that found in models further up the German marque's range. A shame considering the in-car entertainment upgrade is a hefty £2,100 option.
Drives like the devil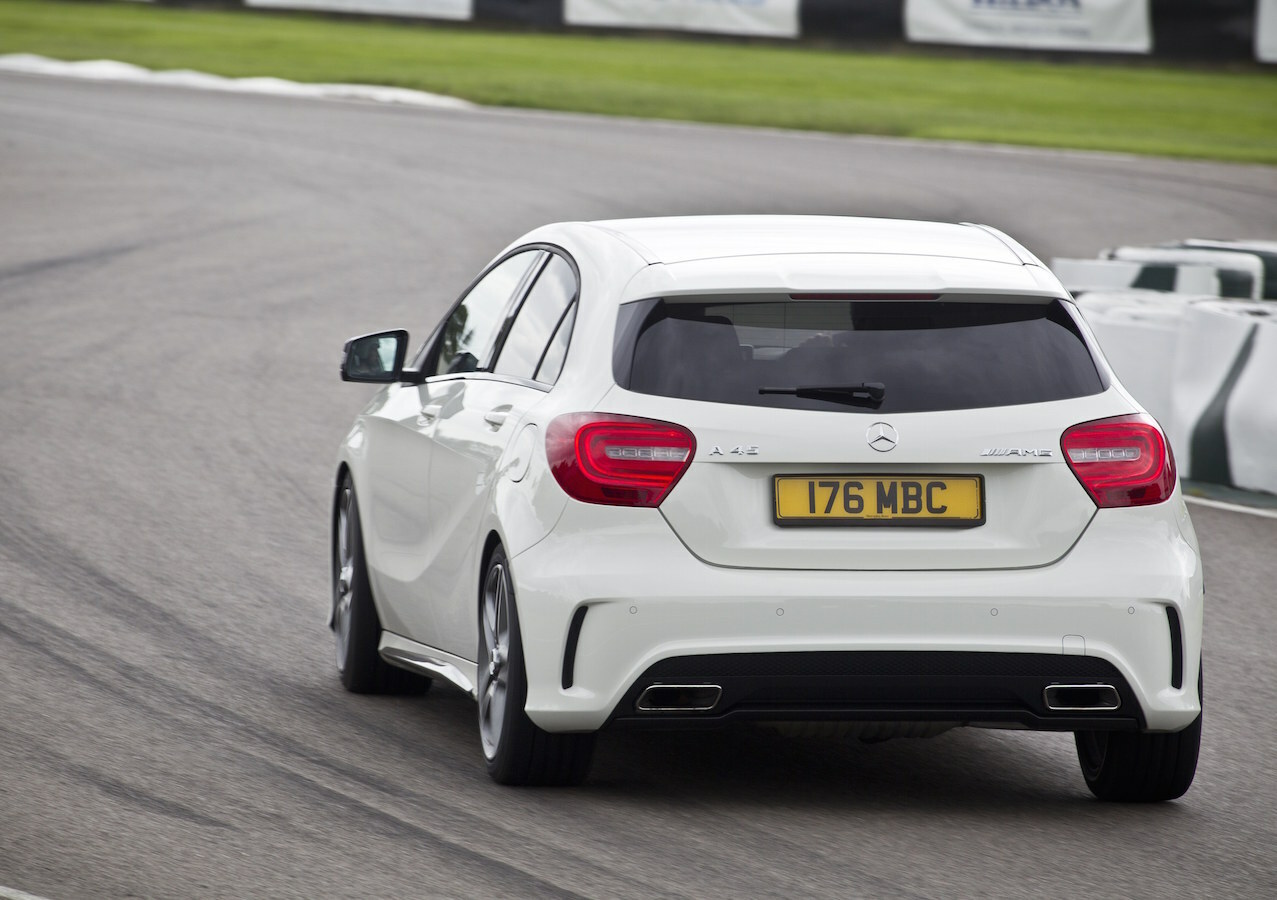 It's all well and good lambasting a lack of standard gadgetry and a slightly dreary interior but drivers of this car will be too busy grinning at the insane performance figures to notice. The ace 4MATIC all-wheel-drive system offers so much grip it actually hurts your kidneys when corners are rounded at speed.
The seven-speed gearbox shifts beautifully, especially when knocked into 'Manual' mode and controlled by the steering wheel-mounted paddles, while the exhausts let out impossibly addictive crackles, pops and bangs on the overrun. Although this is probably helped by the £510 optional AMG performance exhaust system upgrade fitted to the test car.
Yes, the suspension set-up errs on the firm side and the seats aren't the most comfortable, but that can be forgiven when you consider this is one of the fastest and most agile hatchbacks in which to muller your favourite road.
Pace at a price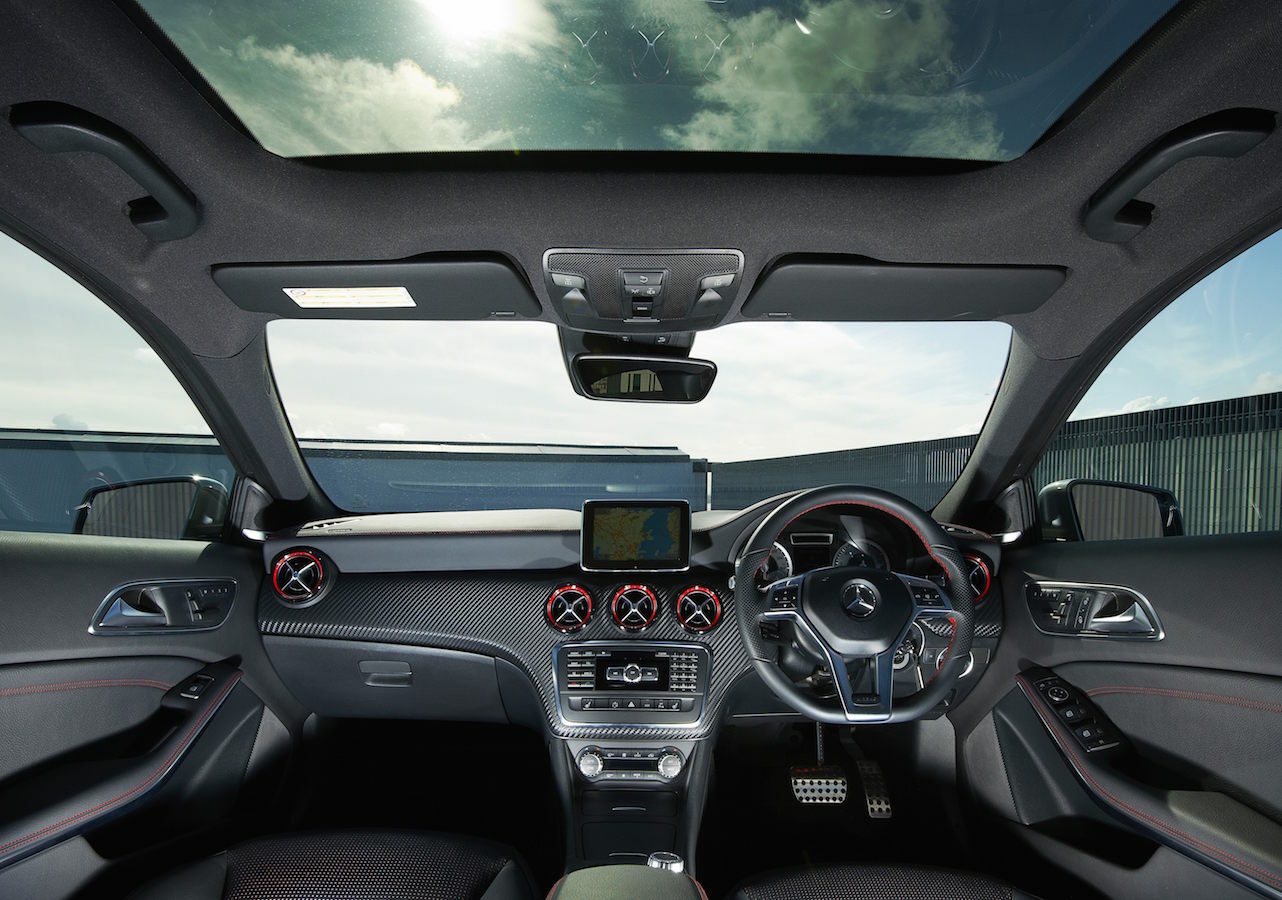 Isn't it annoying that all utterly brilliant things have to have a 'but' attached to them? The big 'but' with the Mercedes A45 AMG is the price – the review car came to a wallet-stinging £45,745 with all the brilliant bells and whistles attached. You may decide you can do without some of those, but the £38,195 starting price is not to be sniffed at either.
But that's the price you have to pay for a car that will happily scare a Porsche in a drag race, yet features comfortable rear seats, 341 litres of boot space and an engine that produces 161g/km of CO2.
Just be careful with the options list, as it's extremely easy to add almost £10,000 to the bill.
Mercedes A45 AMG Verdict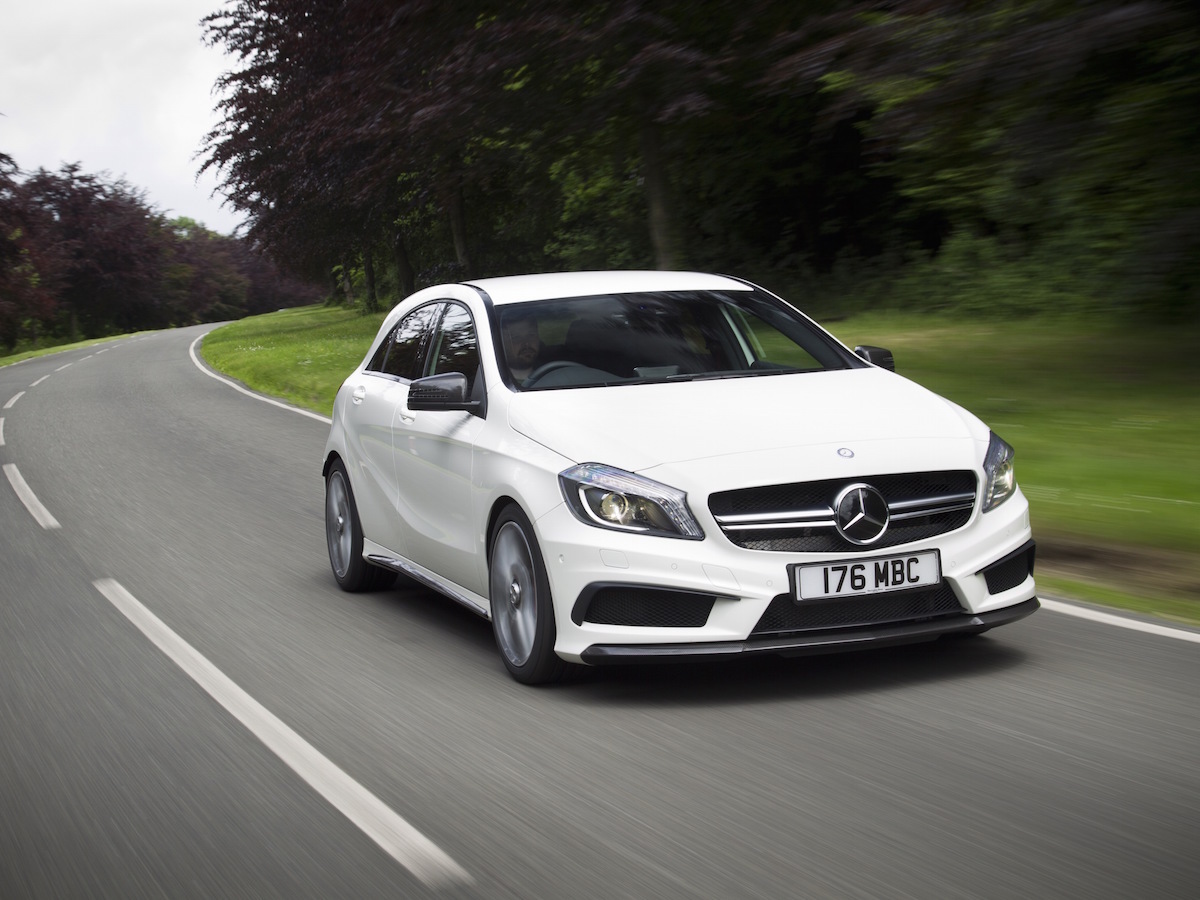 Some will argue that the Volkswagen Golf R does a similar job to this Mad Merc yet costs over £10,000 less. That might be true but Mercedes can still claim it has the most powerful production hot hatch available to man right now.
That is, at least, until Audi spoils the party later this year with its ferocious new RS 3 Sportback, which is said to pack 367 raging horses underneath its bonnet.
But for now, the A45 AMG blends premium badge luxury with mind-melting speed and the practicality of an everyday run-around.
There really is nothing else quite like it on the roads.
Tech specs
| | |
| --- | --- |
| Engine | 2.0-litre four-cylinder turbo |
| Transmission | Seven-speed auto |
| Power | 355bhp |
| Torque | 450Nm |
| 0-62mph | 4.6 secs |
| Top speed | 155mph |
| Economy | 40.9mpg |
| CO2 | 161g/km |
| Weight | 1,555kg |
Stuff Says…
It's not the gadgetiest motor around, but this practical hatchback is a fearsome, grin-inducing performer
Good Stuff
It turns heads wherever it goes
Hair-raising pace and tons of grip
What a brilliant noise
Bad Stuff
It's pricey at the outset and the options list could bankrupt Dubai
The interior's not as nice as other Merc models
Hard ride, harder seats