Mercedes-Benz EQB review: luxury 'leccy family hauler
A perfect carry-all for sizeable families with a penchant for premium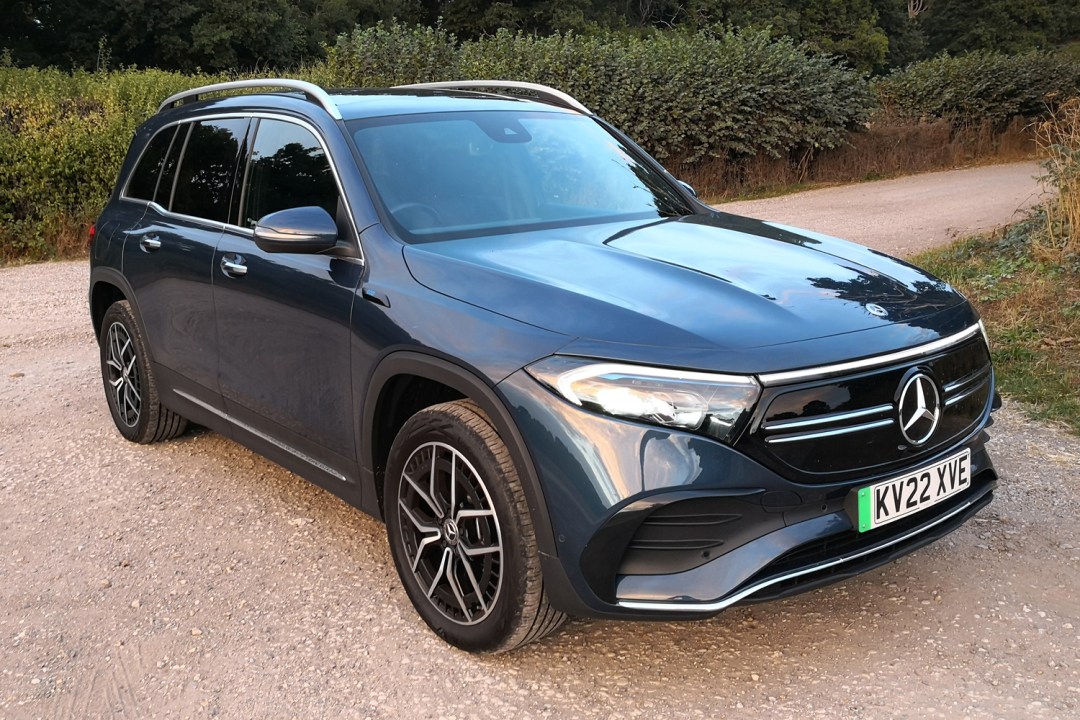 Whether you've got a large family (and plan to extend it even more) or have simply had enough of squabbling siblings in the back of the car, consider this. The Mercedes-Benz EQB is based on the similarly bulky and bulbous GLB model, but swaps petrol power for whisper-quiet electric motors that make it a dream to drive. That it arrives with no fewer than seven seats makes it way more appealing than an MPV or people carrier, and it's also solid value for money.
In 300 4MATIC AMG Line Premium specification, the EQB comes in at £56,040, although prices start from slightly less. What you get for the extra cash is plenty of quality in the fixtures and fittings department, with more than enough to keep all of your occupants happy. This being an EV, you also get real world range of around 200 miles and, yes, the snob value of having a Merc on your drive.
The styling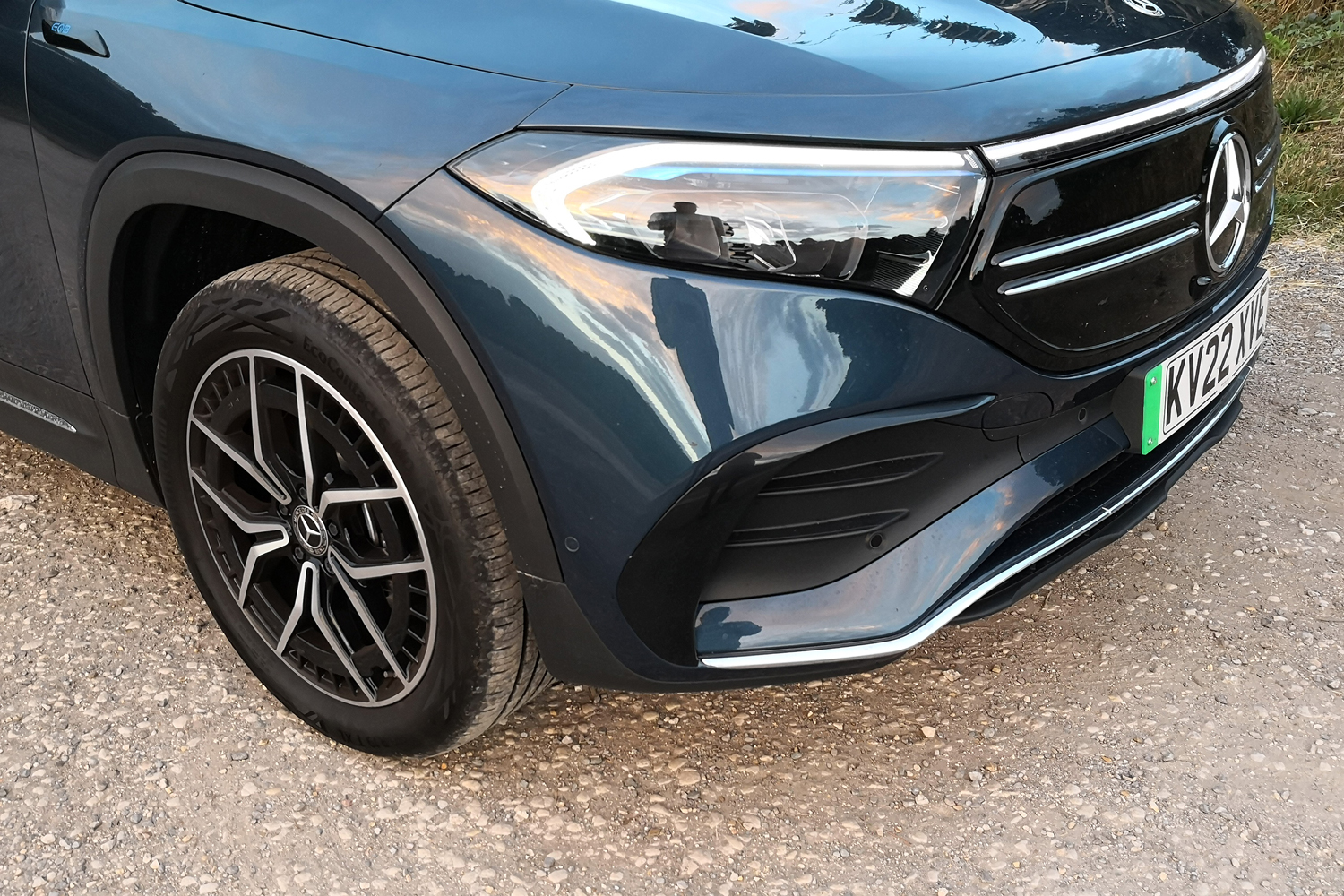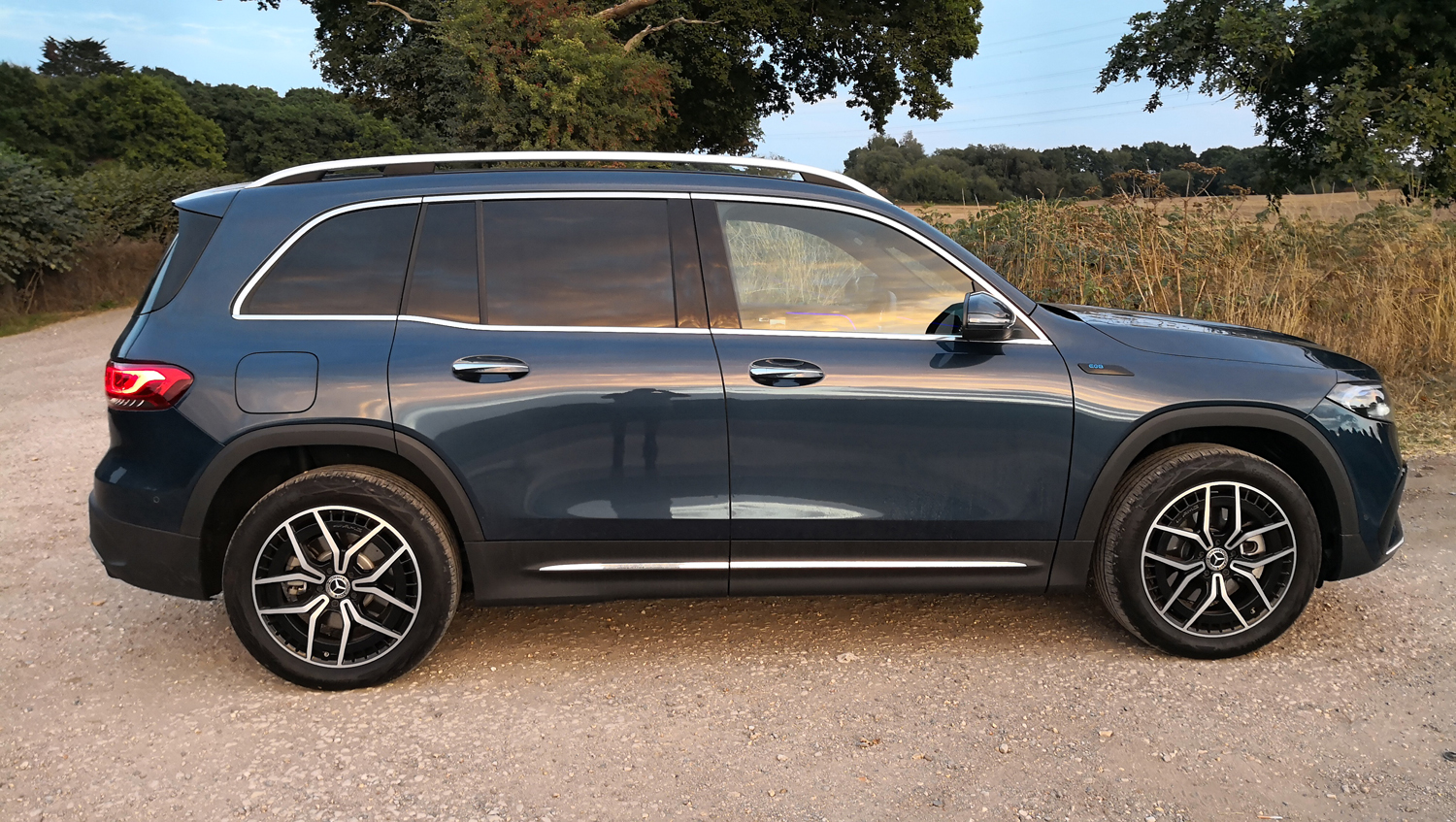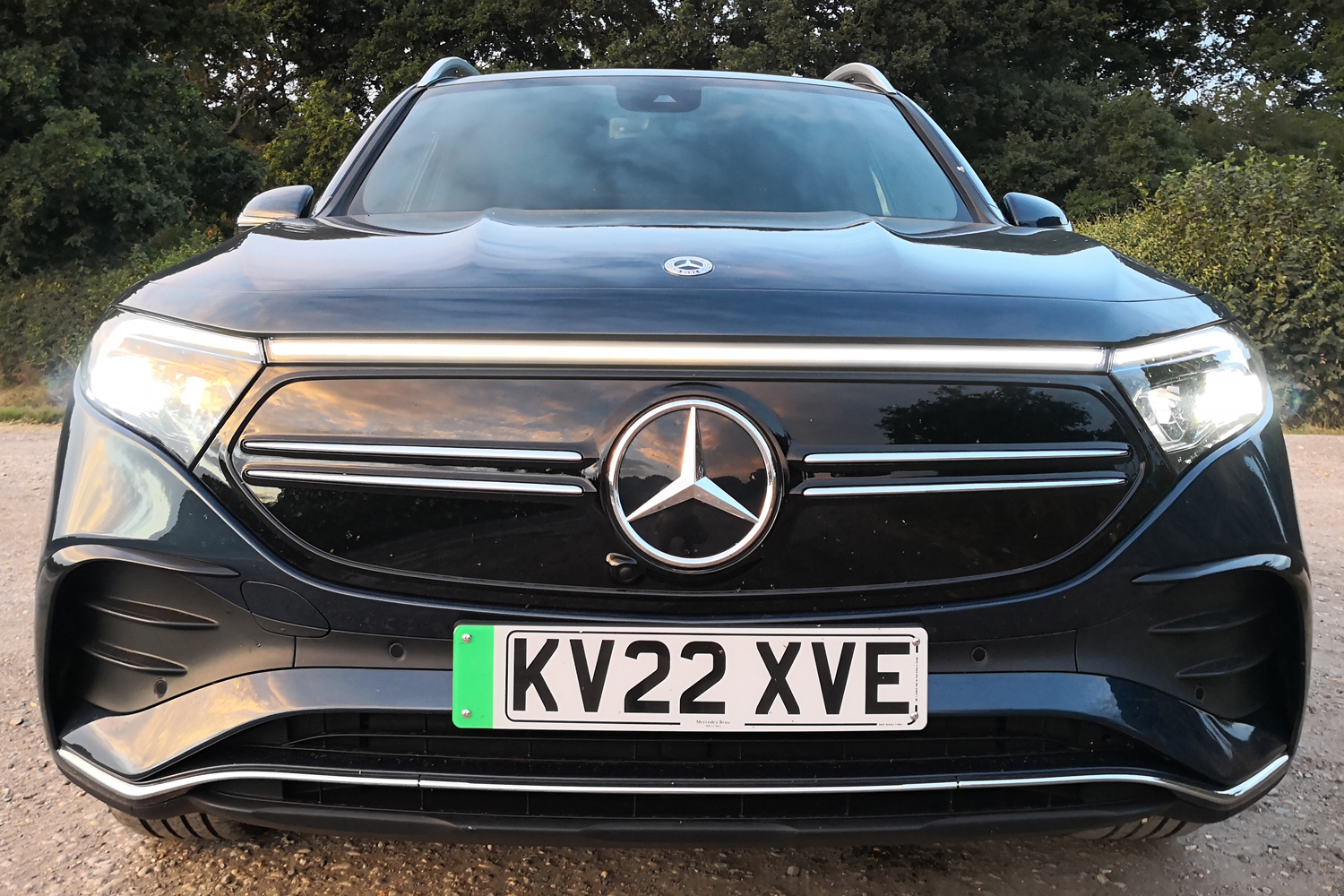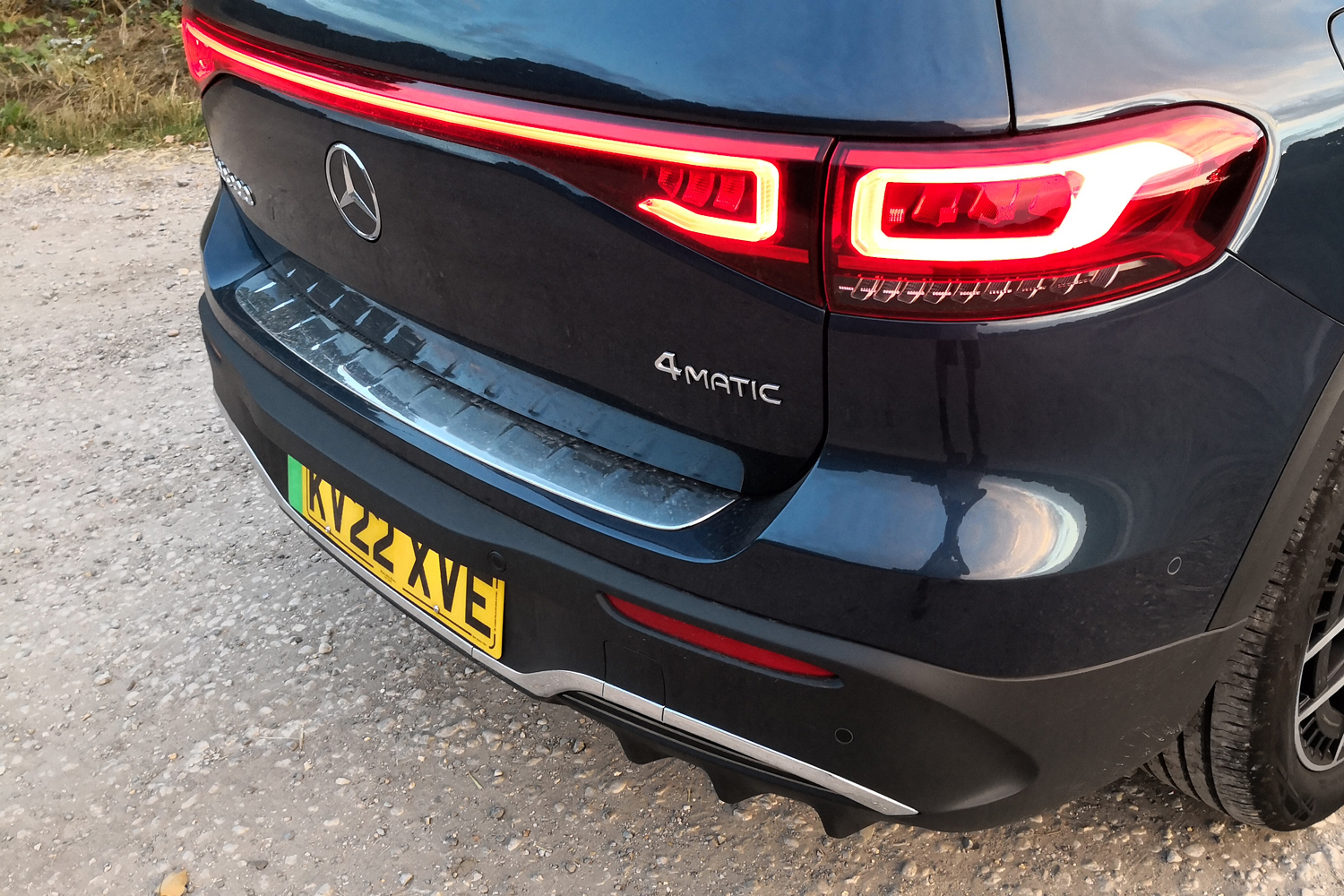 If you'd rather swerve something like the high-pricing of a Tesla Model Y and don't fancy the likes of the Audi Q4 e-tron, BMW iX3 or Volvo C40 Recharge, this could be the car for you. To be honest, the outside styling is more practical than exciting, with fairly conventional lines that don't really make it stand out from the crowd. But, if you're lugging kids around you might not be quite so worried about the un-showy stance and more about how much solace it can offer on the inside.
Loading kids and their kit aboard is where the EQB 300 really starts to shine. Opening those big doors allows for quick and easy access, even though it's high up. The same goes around the back, where an all-electric tailgate eases the burden when heading towards your car with armfuls of kids and their associated accessories.
Mercedes has done a great job engineering the seating plan too, with the third row seats being invisible until they're deployed. Prior to that, this is a spacious five-seater, with really comfy coverings that were suede-like on our trim level. While that's good news for comfort, there's a fear of how well they'll respond to drips from a melting ice-cream or slatherings of runny chocolate. Or worse. With that third row of seats in place you'll need a team effort to get a wet wipe right to the back too.
The drive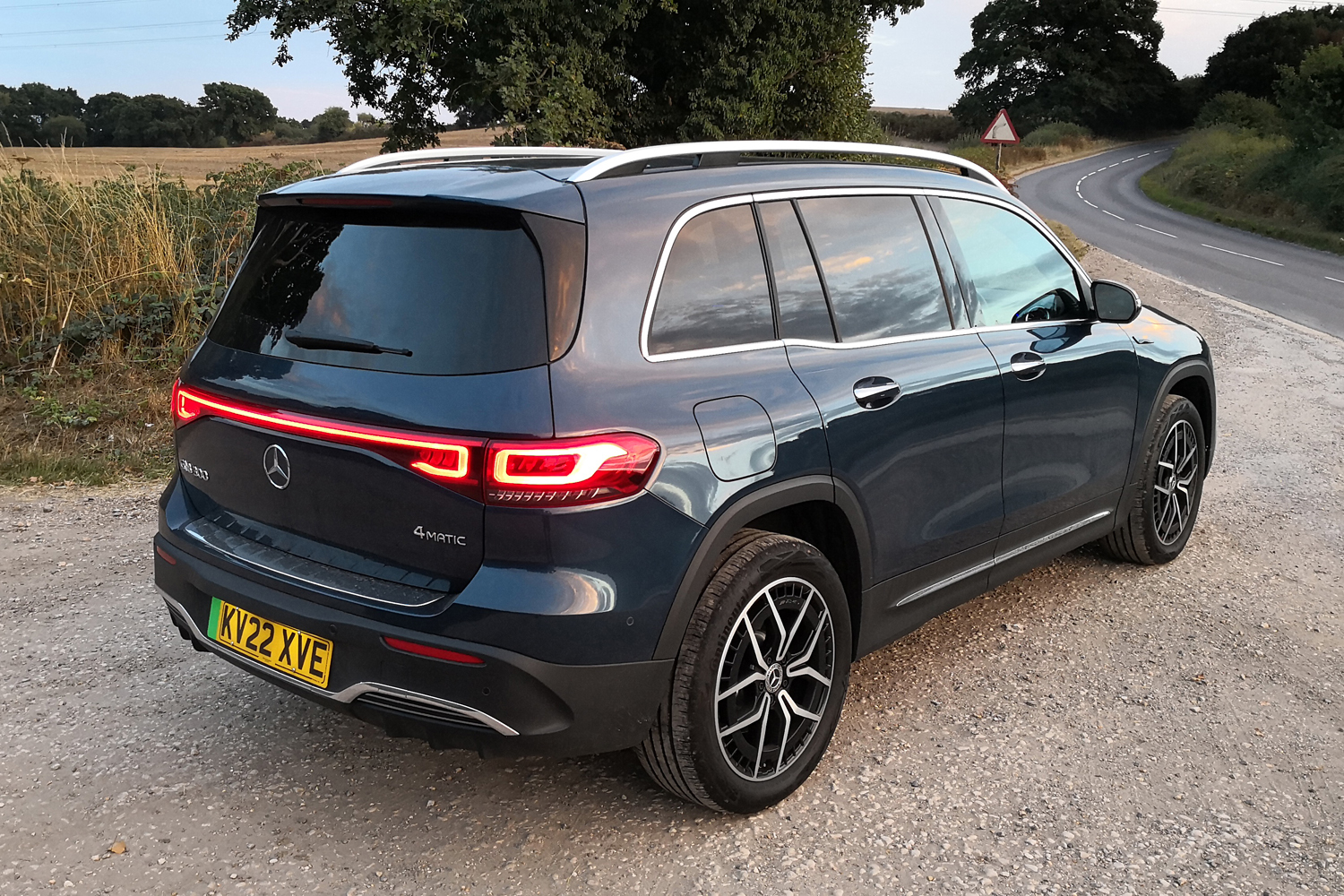 Considering its size (1,667mm high, 4,687mm long and 2,020mm wide) and weight (2,105kg), the EQB is an SUV that proves pretty interesting to drive. You select drive with a steering column-mounted shifter, which is familiar Mercedes fare but takes a little bit of getting used to if you're coming from virtually any other brand. This is exacerbated by a clump of shifter-like material on what would have been the GLB's transmission tunnel; it tempts you to touch it, but does nothing.
Comfort is the everyday drive mode of choice, but you'll have more fun if you plump for Sport instead. This delivers a punchy experience that gets you away from the lights in hasty fashion. The downside is you'll notice how much more rapidly the battery depletes, so it might be wise to keep this option for occasional use. Mercedes suggests about 250 miles per charge, we found it was more like 200 even when driving sensibly.
19in AMG alloys look the part on this car, but you tend to get a bit of tramping around on unpredictable surfaces. 18in wheels are an option. Still, head down a motorway and the EQB 300 offers a smooth, steady experience. Perfect if you've got a couple of rows of tired kids in the back who may have already eaten their body weight in Haribo. With a car full and less of a view out the back you'll be glad of the chunky door mirrors and reversing camera combo.
The technology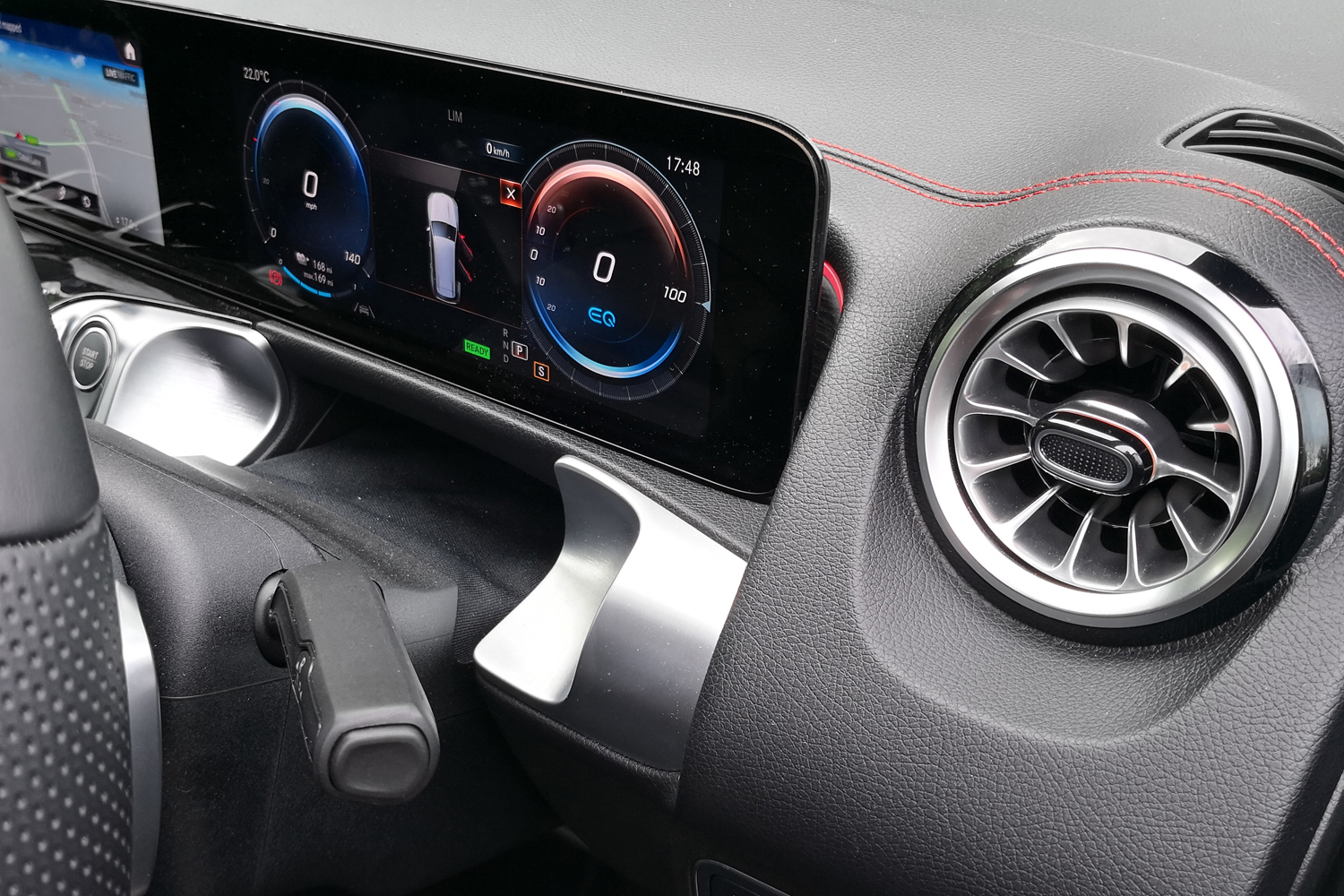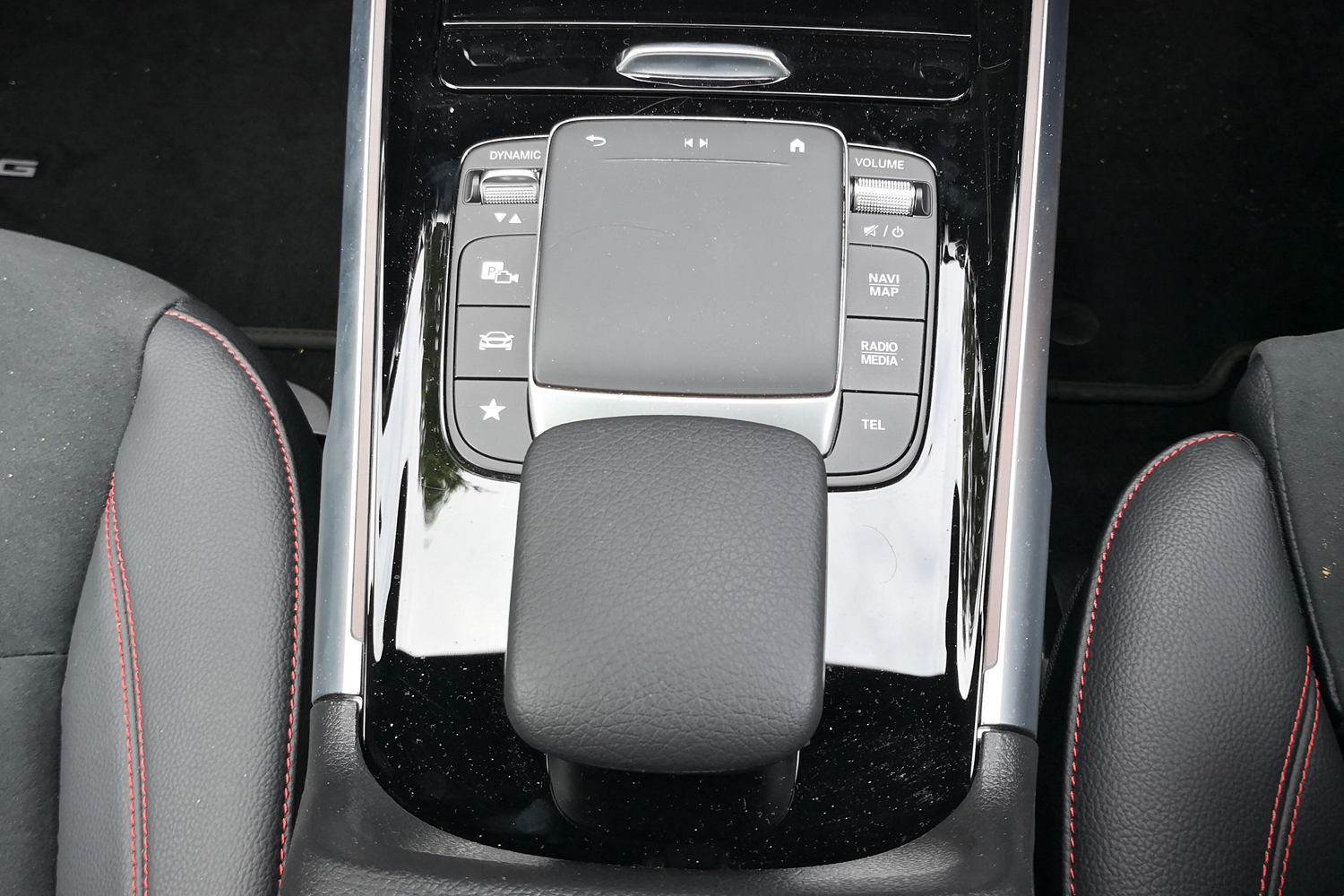 Alongside interior trim flourishes like industrial-strength aluminium door handles and a quirky collection of round air vents, the on-board tech is pretty pleasing. Most is delivered via the dual 10in displays, with the one in front of the steering wheel being very customisable. Cosmetic tweaks are largely down to which drive mode you're in, but you can pick and choose what info shows up.
The central screen, meanwhile, contains all of your everyday tech requirements. The sat-nav (with live traffic) works well, as does the voice recognition when you want to bypass any touchscreen antics. There's a trackpad on the transmission tunnel, which works well enough if you're anti-touchscreen, but it can still be a bit of a distraction. Thankfully the climate controls are on real, tangible buttons.
One of the neatest tricks for keeping occupants amused and, perhaps, soothed is the interior ambient lighting. The touchscreen lets you change it to one of many different shades, although the default blue is great on the eyes and set at just the right level to add a touch of magic to the interior vibe. Our car also had a ten-speaker, 225 Watt audio system, which was awesome, so you could pound annoying passengers into submission with your Apple CarPlay or Android Audio collection if preferred.
Mercedes-Benz EQB verdict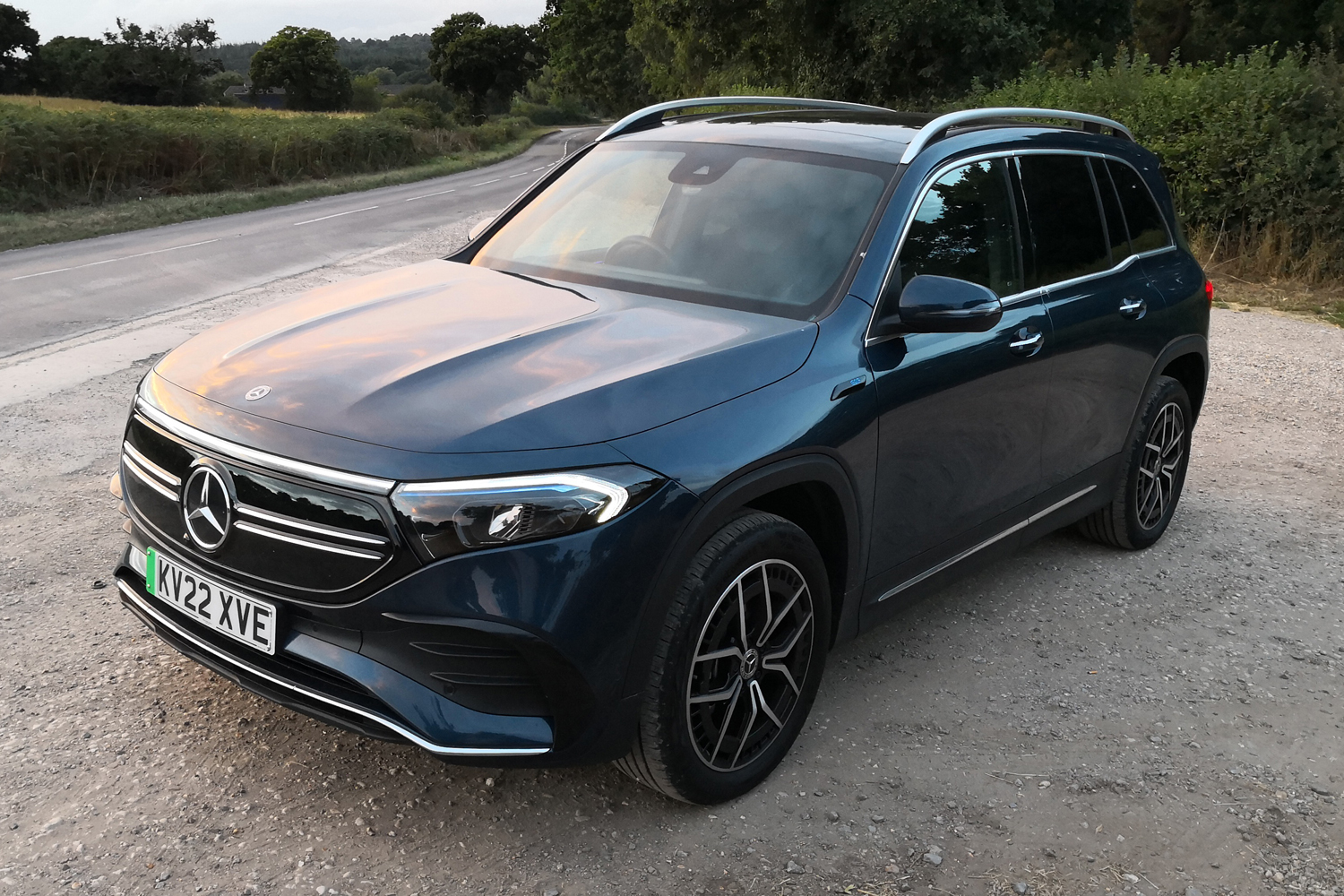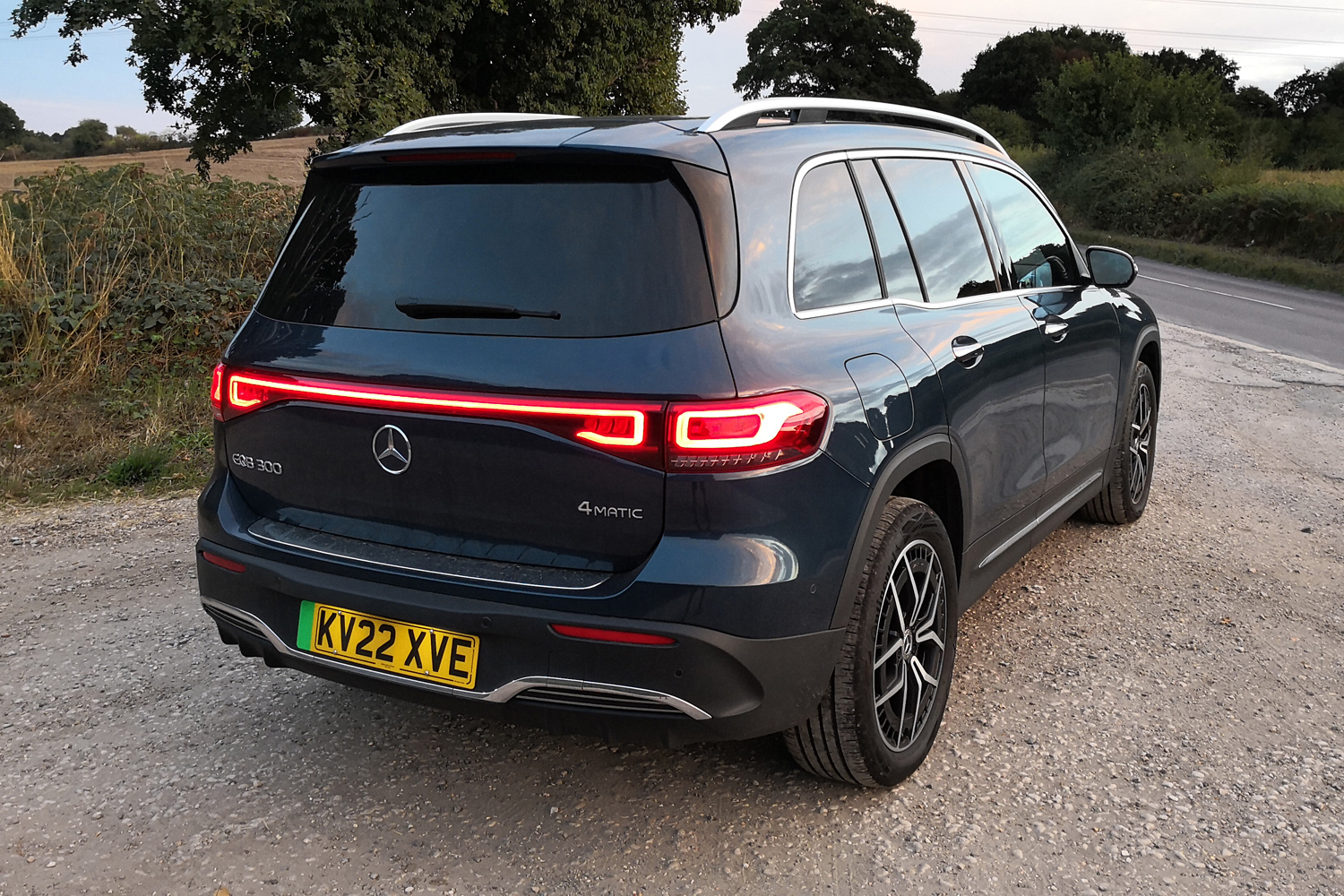 This chunky SUV is ideal if you have lots of family, or even just a few kids that need keeping apart on long-distance outings. There's plenty of space and lots of comfort. Although the EQB 300 looks a little pedestrian from a distance, it gets better when you're soaking up those vibes on the inside. It's a solid enough drive, too, with Sport mode lifting the excitement level a bit – even if this isn't a car for adrenalin junkies.
The boot space is compromised when you've got seven seats in use, but this is still a practical choice for anyone not taken with the thought of a van-type people carrier. Overall, you're getting a nicely loaded SUV that ticks all of the family-friendly boxes.
Stuff Says…
A whopping great slab of all-electric SUV goodness that really delivers the goods on the seating front.
Mercedes-Benz EQB 300 4MATIC AMG Line Premium technical details
| | |
| --- | --- |
| Motor | 2x Electric |
| Battery | 66.5kWh |
| Power | 225bhp |
| Torque | 272lb ft |
| 0-62mph | 7.7sec |
| Top speed | 99mph |
| Range | 250 miles |
| Charge rate | 100kW |
| Kerb weight | 2105kg |
| Cargo volume | 495 litres |