Volvo C40 Recharge review: Scandi-cool EV
Chunky electric coupe SUV has bruising performance alongside the usual Volvo refinements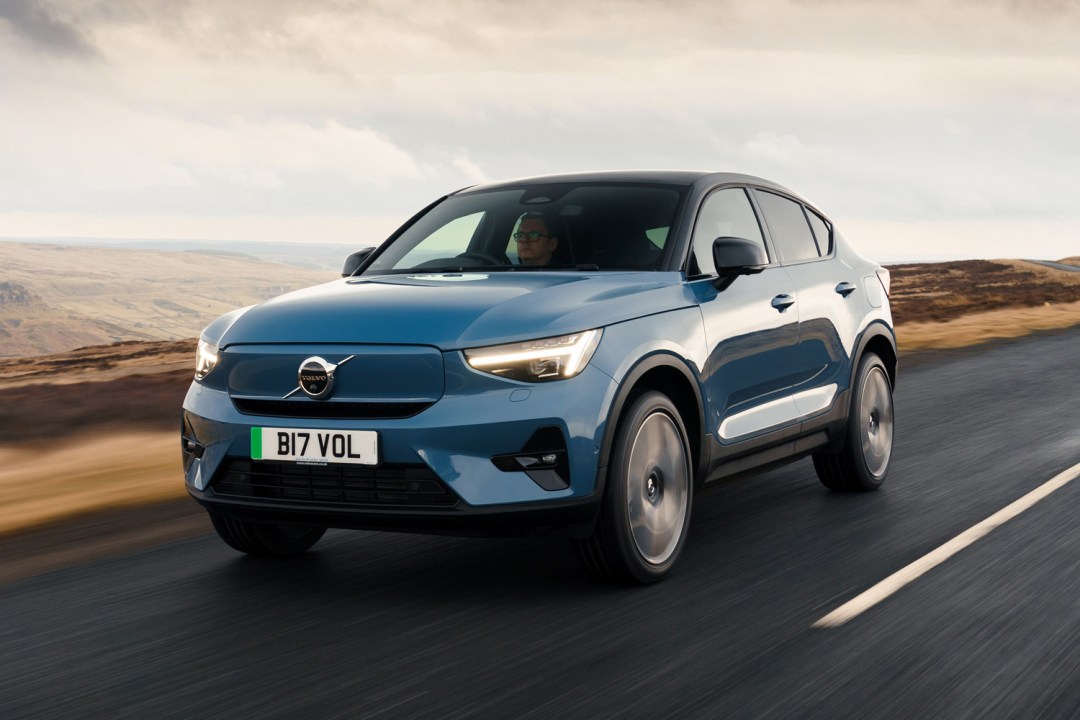 Volvo is really on point with its current crop of cars. There's some cracking design going on, combined with excellent build quality and plenty of innovation thrown in for good measure. The Volvo C40 Recharge is a prime example of just how right the Swedish car maker is getting it, with plenty to keep families who want an all-electric SUV happy – including the usual plethora of safety features that are synonymous with the brand.
The C40 Recharge might be doing its best to be green, with Vegan-friendly seating and an all-electric powertrain, but it's a very capable performer too. There's a front-wheel drive version with a single motor or, if you want a real bit of oomph, a four-wheel drive version with twin motors. Be warned; this is a quick car.
The styling
The coupe SUV styling makes the C40 look great from all angles, with chunky angular lines and a lower rear roofline compared to the otherwise very similar XC40. The C40 certainly isn't small, at 4440mm long, 1873mm wide and with a 2702mm wheelbase, but it feels agile once you're driving, helped by steering that's a lot lighter than you might be expecting.
That slanted roof creates a slightly odd outlook out of the rear window, and thick rear pillars don't help matters either. The overall effect is a slightly closed-in cabin that starts to seep in from behind the front seats. If you like to be able to see farther back down the road you'll either need to drop the seat down, or make more use of the very decent door mirrors. That said, some drivers may not even notice. There is plenty of room in the rear seats, and the back shares similar comfort levels to the front.
Volvo is also making the C40 available with a leather-free interior. The look and feel of the seats is impressive, and there are generous levels of automated adjustment to get the front ones into your preferred driving position. Back outside, you can choose from 19 or 20in wheels, while Volvo's current colour palette is tasteful and reasonably subdued as you'd expect. Cars finished in either Fjord Blue or Fusion Red look the best of the bunch in our opinion.
The drive
It's very easy to underestimate this car in the power department. In fact, if you're not ready for what it's got on tap, pulling away from the lights can be an experience. The C40 Recharge Twin's dual electric motors and bigger battery give very tasty levels of torque.
Volvo is seen as such a sensible brand, but it is possible to go like the wind in the C40 if the road and conditions support it. Expect a 0-62 mph time of just 4.7 seconds . For quite a large car that's quite some feat, and fine in a straight line, but you'll get some waywardness if you barrel into a corner in over zealous fashion. The C40 stops well enough though, and we're big fans of the one-pedal driving in this model; it seems very nicely balanced. It's largely fuss-free to drive, but it also lull you into a false sense of security until you tweak the throttle more aggressively.
The larger 78kWh battery gives the reassurance of range; lots of it. The twin motor model is officially good for 273 miles, and even the single motor variant can apparently nudge 269 from a single charge. Think 200 miles or so in real world use. That makes a big difference on a longer run, which this kind of SUV is tailor-made to do with ease. There's a towing capacity of 1800kg too, making the C40 ideal for outdoorsy types with stuff to haul around.
The technology
One of the main attractions of the 9in touchscreen infotainment system is the way it revolves around Google. If this is your smartphone OS of choice it'll be just as enjoyable on the screen in front of you. Navigation works just as it does on your phone: Google Maps is frequently a go-to option when in-car sat-navs aren't up to snuff, so this is a welcome part of the fixtures and fittings.
A quick nod to the 12in driver display too, which is a very decent supplement to the main infotainment screen.
The touchscreen tech does have a slightly frustrating side, with some processes taking more effort than they really should. Anything that distracts your eyes from the road is never a good thing, and while Volvo's system works well enough, it suffers the same issues as nearly every other system that relies on virtual buttons. Thank heavens for a few chunky buttons and knobs. There's also voice control, which is okay-ish.
Elsewhere, the wireless phone charging and Bluetooth connectivity are welcome. Volvo will add Apple CarPlay in due course, which will be updated with an over-the-air update. For now though, the C40 technology arsenal is solid, especially if you're a Google-holic.
Our car also featured an excellent Harman Kardon 600-watt audio system, air purifier and a much-needed 360-degree camera, which came into its own during reversing duties.
Volvo C40 Recharge verdict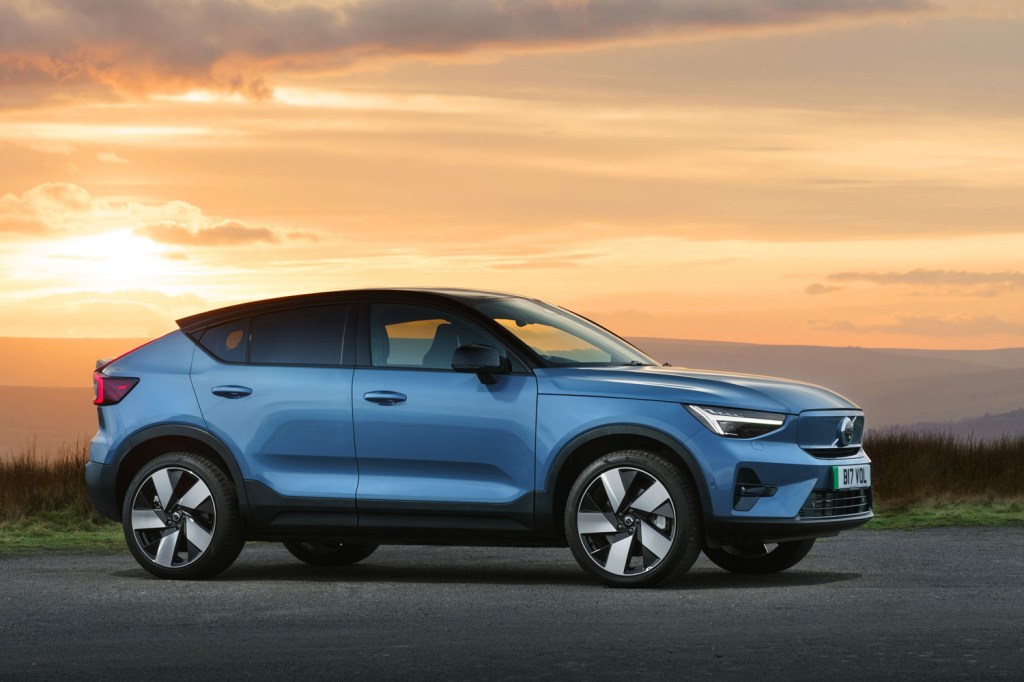 It might have the balls to be driven like a mad thing, but the feeling you get behind the wheel of the C40 Recharge is precisely the opposite. Perhaps there's something about the Volvo logo staring back at your from the steering wheel, but there was no urge for us to go crazy with the accelerator pedal. The interior is calming and comfy, with a lofty driving position that immediately puts you at ease. It leaves you thinking you could put the pedal to the metal, but really, what's the point?
Nope, it's more fun to just sit back, relax and enjoy the journey, especially on a long run. It's great to know you've got all that power at your disposal, but it's actually less appealing to tap into it and spoil the C40's laid-back Scandinavian charm. We did give it the beans on occasions and, if you do, the Volvo C40 Recharge becomes a riot, despite its size and weight.
Make no mistake, the Volvo C40 Recharge is pricey. You can have the Volvo XC40 Recharge for less, even though both cars share many similarities. The coupe SUV vibes emanating from the C40's design makes it slightly less spacious in feel, and boot space is also compromised a touch at 413 litres. Still, it's not enough to detract from making it family-friendly and the rest of it is, overall, pretty good. If you can stretch to it, the C40 is well worth having on your drive.
Stuff Says…
Delivers bruising electric performance, all wrapped up in a high-quality SUV package.
Volvo C40 Recharge technical specifications
| | |
| --- | --- |
| Motor | Twin electric motors |
| Battery | 78kWh |
| Power | 402bhp |
| Torque | 486lb ft |
| 0-62mph | 4.7sec |
| Top speed | 111mph |
| Range | 273 miles |
| Charge speed | 150kW |
| Cargo volume | 413 litres |