Microsoft Surface Go review
Pick me up before you Go-Go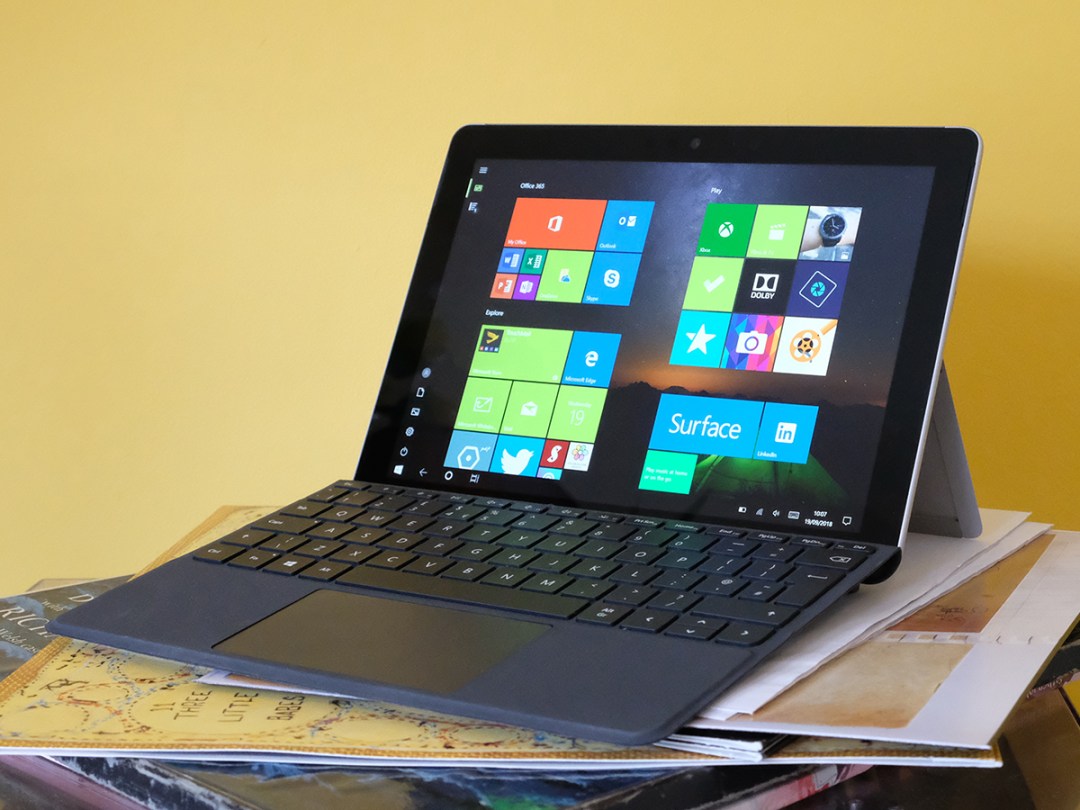 Like the last pup left in the pet store, tablets are a cross-breed of smartphone (but less useful) and part laptop (but less powerful or functional) and most don't consider them to be either endearing or essential.
However, Microsoft think it's worth having a bash at creating an affordable stylish tablet which has all the functionality of a PC, throw in some of the creative muscle you expect from an iPad and what you get is the Surface Go – a tablet which hits a bold chord with all the right notes.
The Surface Go might be the most useful tablet we've come across with ample laptop imitation skills, decent enough media prowess, excellent sound, Windows Hello (Facial recognition), a front facing camera that puts the latest iPad's to shame, and the necessary Type Pad accessory which is going to transform this tablet into the PC you didn't know you needed.
DESIGN AND BUILD: GO WITH THE FLOW
First impressions? It's neat, stylish and professional. The sort of thing you'd feel content, maybe even smug whipping out at the start of your meeting.
Weighing just over 500g, with a 10in screen it's almost like a shrunken Surface Pro with kickstand and all.
The kickstand flexes almost a whole 180 degrees and when it's down flat, it's completely flush and you wouldn't know it was there. You can stand it up at varying angles depending on whether you're using it to draw with the Surface Pen, stream Netflix or even finish that PowerPoint document before getting into work.
The Pro looks like a 'friendlier' Surface Pro, with more rounded edges, yet still simple and smart.
The bezels are huge! But you'll only be grabbing the edges with your fingers anyway, so it didn't really bother me, plus the 10in screen is big enough for a tablet.
Underneath the kickstand is hiding a microSD card reader, this can be used to expand storage and also to read media. I personally used it for scrolling through pictures taken on a DSLR and showing my friends a load of holiday pics. That's where a tablet really shines, when it's used as a show and tell slab.
As well as a main charging port, there's also a USB-C port which is always a bonus. The iPad has neither of these features. The 5MP front-facing camera is surprisingly brilliant – you'll be the brightest member on the webchat. And the 8MP rear camera focuses well and is decent enough.
The Type Cover and Surface Pen don't come in the box, but we'd say the keyboard is a must-have to make the Surface Go all the way. It can also be used as a screen cover when not in use.
PERFORMANCE: A LONG WAY TO GO
Let's be honest here, for £379 you can't expect to have some tiny power python that'll munch through all your gaming needs and video editing. It's just not for that.
It's housing an Intel Pentium Gold Processor so will cope with basic tasks such as web-browsing, managing your influx of emails on the Outlook app or whatever email client you use (in browser), as well as the Office suite apps which come as default. You can do all this while blasting out a bit of Abba Gold on Spotify.
On the higher end model, there's 8GM of RAM which'll let you take it that extra mile should you be a multi-tasking maverick.
Where does it fall short? Firstly video editing is not really possible. It's a low-performance machine and in no way contends with any of the more capable configurations of the Surface Pro or even the iPad for that matter. But despite this, I was pleasantly surprised with how well it coped with a days work of CMS editing, frenzied web browsing (I'm the worst for this), note-taking, Netflix binging and WhatsApping.
Trying to edit huge photos with Affinity Photo, whilst it did work, it wasn't fun or fast, don't do that. Microsoft's paint 3D tools are cool to play with if you're looking to be creative with your Go. That's because the CPU inside uses Intel's HD Graphics 615 which is similar to the innards some gaming laptops.
It's worth mentioning that the Surface Go runs Windows 10s which is identical to Windows 10, yet it runs through apps from the Microsoft Store, this keeps things speedy and smooth.
DISPLAY AND AUDIO: GO FIGURE
The touchscreen display isn't even full HD. At 1,800 x 1,200 pixels it's a long shot from the latest iPad.
In reality though, text and video is sharp. Colours are accurate, scrolling through holiday pictures is a dream and for working and a bit of play, it's more than adequate.
The 3:2 aspect ratio is ideal for work tasks and browsing, however the black bars you get top and tailing video content seems a bit of shame and wasted space, but soon you forget it's there. Like the Prime Minister.
The Surface Pen isn't included in the box, and unless you're especially crafty, I wouldn't say it's a must. Nonetheless, doodling is a hoot and the screen is responsive with barely any lag.
There are a few basic drawing apps preloaded which are fun to mess around with, especially 3D draw. The pen attaches magnetically to the side of the Go, because at £89, you won't want to go misplacing that pointer.
As no one with a brain is using a tablet as a stereo system, it's not necessary to dwell on the sound. But it is awesome for something so diddy, well balanced with okay bass. You can ramp up the sound with plugging your 'phones into the headphone jack.
FEATURES AND IN USE: GO YOUR OWN WAY
The balance between media machine and productivity monster is a hard one to strike and not one tablets have managed to achieve, really.
There's no doubting this little slab can deal with a decent amount of office grunt, allowing you to get that extra mile out of whatever it is you're working on.
It's not all work and no play though, but it is a lot of work and only a little bit of play. The biggest drawback being the lack of apps. Yes, most services work through the web browser, but the whole experience is just a bit clunky.
The important apps are covered: Netflix, Spotify, Twitter, Whatsapp and full Office suite. But there's no Amazon Video, Now TV or Sky Q. You can install iPlayer, but not in S Mode.
Back to work, because someone's gotta do it. The Type Cover is a must-have accessory for the Go if you want to use it as a serious office assistant. The keys are a little more compact than a standard keyboard, however, they don't feel crowded and typing is a joy.
What's more, the Type Cover adds hardly any bulk and protects the screen when not being employed. A welcome bedfellow to the Surface Go and my first pick for team Go.
Then I'll take the pen to join the squad, and then the mouse, because it looks really nice. I know, very superficial but you rarely see a mouse you're attracted to.
BATTERY LIFE: THE SHOW MUST GO ON
Battery life straddles somewhere between mediocre to quite good.
Microsoft promises 9 hours of playback, but in our testing, surprising no one, it was just shy of that. But when you're juggling microsoft word documents with a youtube video tutorial, plus some heavy email usage, it's more like 5 hours usage. Which is plenty for morning meetings and short flights.
Also – there's always USB-C charging to give it a wee boost.
This isn't going to be your main machine, what you use in-between work, and after work… when you've still got work to do. So the battery life for something so petite is impressive.
There's just about enough juice to watch all of season 1 of The Good Place. Had to be done. All in the name of testing. If you really need to preserve energies, there's battery saving mode too.
MICROSOFT SURFACE GO VERDICT
It's an ultra portable tiny tablet task king that's both stylish and useful.
Like having a mini computer on you at all times, it's reassuring to know you can fix that last bit of work on the way to or from work. Or take it with you to meetings and not have to lug your laptop around.
Despite the specs not sounding so promising, the processor is completely adequate for everyday tasks for most people and the screen is lovely.
Kudos to Microsoft who've jumped ahead of the competitors having MicroSD card and Windows Hello, which allows you to log in using your face, which we have seen on the Galaxy tab S4, but not on iPad.
After using the Go for two weeks, and as someone who's never felt the need for a tablet, I've totally changed my mind.
Tech specs
| | |
| --- | --- |
| Dimensions | 245 mm x 175 mm x 8.3 mm |
| Screen | 1800 x 1200 (217 PPI) resolution, aspect ratio 3:2 |
| Memory | 4GB or 8GB RAM |
| Processor | Intel Pentium Gold Processor 4415Y |
| Software | Windows 10 in S mode, Microsoft Office 365 Home 30-day trial |
| Graphics | Intel HD Graphics 615 |
| Connections | USB-C 3.5 mm headphone jack, Surface Connect port Surface Type Cover, MicroSDXC Card Reader |
| Cameras, video and audio | Windows Hello face authentication camera (front-facing), 5.0MP front-facing camera with 1080p Skype HD video, 8.0MP rear-facing autofocus camera with 1080p HD video, Single microphone 2W stereo speakers with Dolby Audio Premium |
Stuff Says…
It's your go-to for tying up loose ends at work and then kicking back and streaming box sets until the sun comes up
Good Stuff
Like a mini PC
Facial recognition
Great at multi-tasking
Stylish and sleek
Bad Stuff
No accessories included
Screen could be better