Microsoft Surface Headphones review
Wireless noise-cancelling headphones from...Microsoft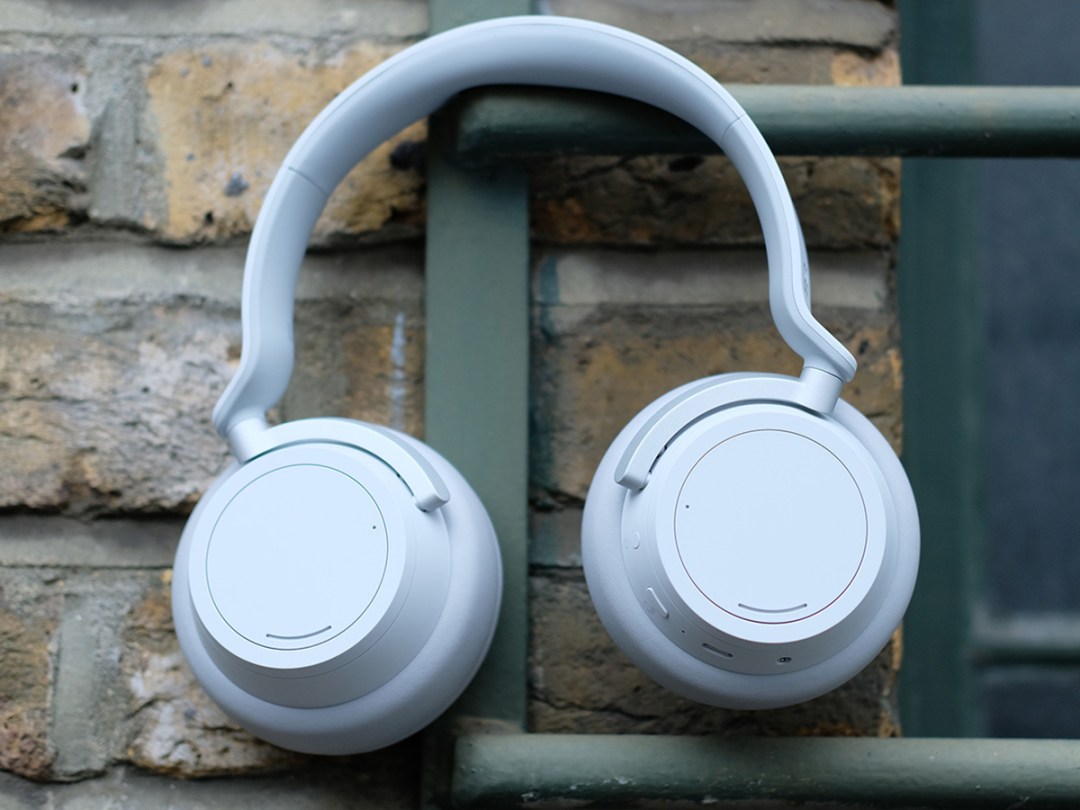 Even if you've no strong feelings about the brand either way, there's no denying it's been fascinating to observe Microsoft's recent and ongoing reinvention.
Going from 'terminally uncool Dad-dancer' to 'hip and sexy dancefloor dominator' in just a few moves is no mean feat – and it's nearly all down to Microsoft's current range of Surface PCs, laptops and tablets. They're the most effective and straightforwardly desirable products the company has knocked out in years.
Now Microsoft is looking to crash an entirely new party: premium, wireless, noise-cancelling headphones. And this is despite a) having precisely no heritage in this area, and b) existing competition being about as fierce as it gets.
And these, the Surface Headphones, are the product Microsoft thinks can break the Bose/Sony premium, wireless, noise-cancelling hegemony. Are they the result of overconfidence and over-reach, or do the Surface Headphones have real depth?
Design and build: Microsoft soft soft
In most ways, the Surface Headphones stick closely to the design language the market is already used to. At 204 x 195 x 48mm, they're very similarly proportioned to both the Bose QC35II and Sony WH-1000MX3 (the two de facto market-leaders, and the headphones Surface must topple if they're to claim top spot).
And in terms of the quality of the plastics they use, the comfort of the headband and earcup padding they're fitted with, and the integrity of their construction, the Surface Headphones are entirely competitive.
What's most notable about the way the Surface Headphones look, though, is Microsoft's bold/reckless choice of pale grey as a finish. In a market that uses black as a default finish, breaking away from its tyranny may seem a wise choice – but there's something relentless about the greyness of the Surfaces. It's as if the entire month of February has been made manifest as a pair of headphones. They're grey in the manner of drizzle, or porridge.
Microsoft may have been shooting for 'sophisticated and understated' but it's ended up with 'dreary'. Relief, such as it is, comes from the corporate logo on each arm (rendered in shinily reflective plastic) and the aluminium hinges (which are a kind of muted silver). The padded areas (and they are comfy areas, with well-judged levels of 'give') are a slightly darker grey – February at twilight, maybe.
Features: Good listeners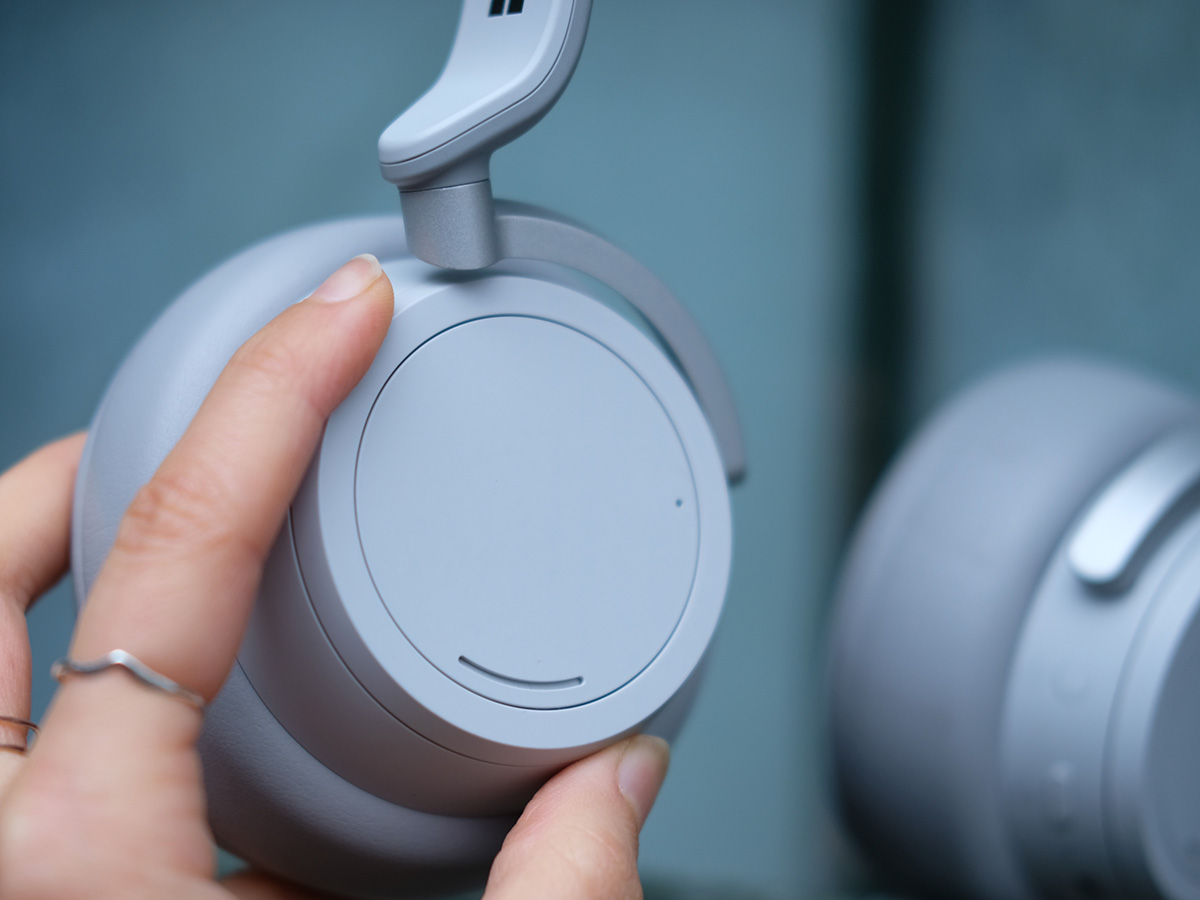 First off, here's what the Surface Headphones definitely have.
A total of eight mics (four in each earcup), half of them dealing with noise-cancellation and half listening out for your voice-issued commands). A USB C input for very rapid battery charging (less than three hours from empty) and a 3.5mm analogue socket for use when the battery expires.
A 40mm 'free edge' driver in each earcup, hidden behind acoustic cloth (which is grey in colour, inevitably). The minimal surround-roll on a 'free edge' driver should, in theory at least, allow wider dynamic range and lower distortion than less esoteric alternatives.
Capacitive sensors in the earcups which can detect when the headphones are removed, or put back on, and can automatically play or pause music accordingly. The earcups also serve as touch-panels, from which music can be controlled, calls can be administered or voice-assistants alerted.
The earcups also feature two sweetly integrated dials to physically control noise-cancelling (left earcup) and volume (right earcup).
Next, something the Surface Headphones sort-of have.
Microsoft claims these headphones have its Cortana voice assistant built-in – but they don't, not really. Cortana must be installed on your source device if you're going to enjoy truly hands-free control of your listening – and there's quite a difference between having Cortana built in and having some mics listening out for you requesting Cortana's assistance.
Finally, the stuff the Surface Headphones don't have. They don't have all that impressive a battery life. Microsoft is claiming 15 hours from a full charge, which stacks up badly against the 20 hours or so the likes of Sony and Bose are capable of. But, in fact, 15 hours is optimistic-going-on-misleading – if you manage more than 12 on a single charge you're doing better than us.
And, perhaps most pertinently, the Surface Headphones don't feature aptX, or even Bluetooth 5.0. Bluetooth 4.2 is what the Microsofts serve your music via – which puts them off the pace compared to their main rivals. On paper, at least.
Interface: Dial it up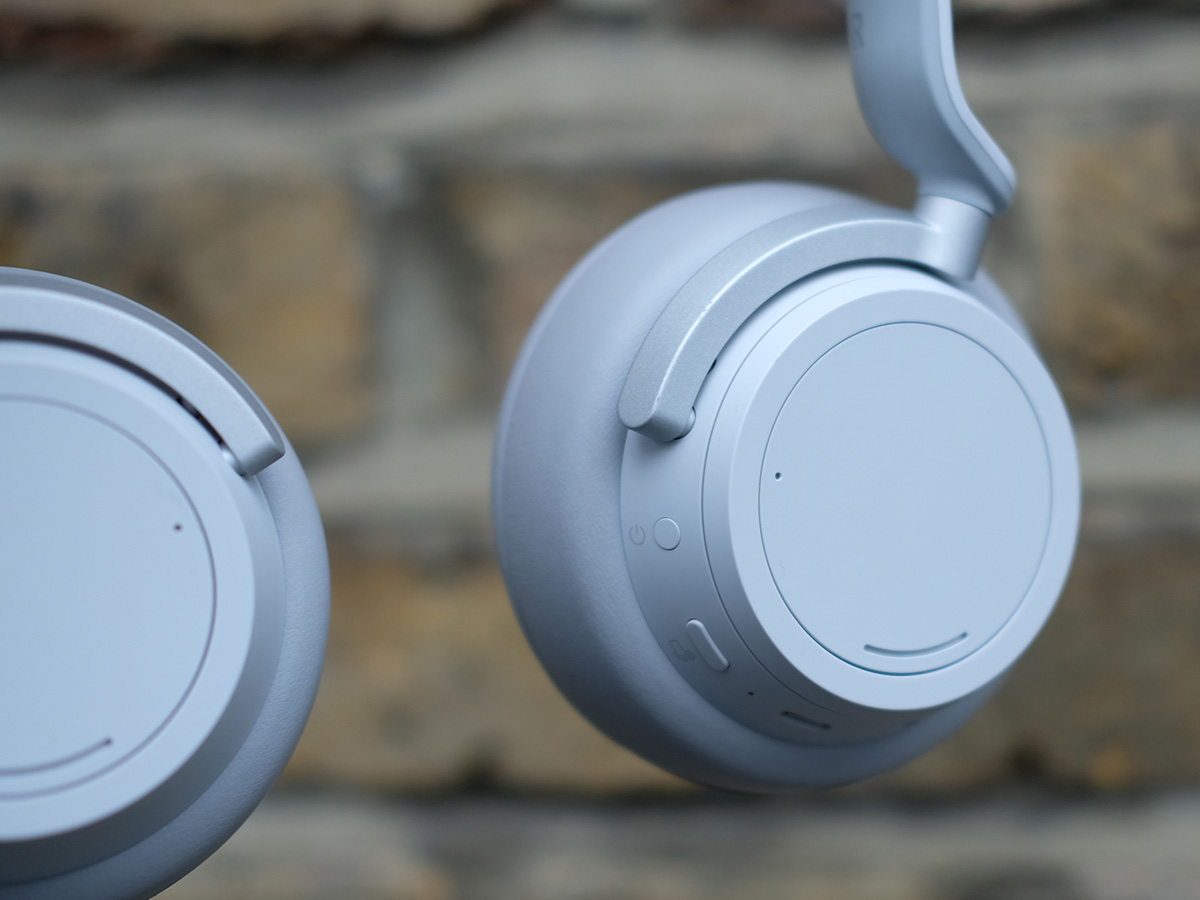 Once you've installed Cortana on your source device, it's simplicity itself to get up and running using no more than a few well-phrased commands. Other voice assistants are, naturally enough, available too – but to summon them means a couple of touch-panel taps. Whether or not you think it's worth the effort is very much a personal choice.
The touch-panels themselves are pretty successful, though – too successful, in some ways. When the 'phones are positioned on your head, it's very straightforward to adjust your music, make or receive calls, or demand answers from your voice assistant. But, as is the way with these things, the panels are quite susceptible to 'false positives' – unless you're very deliberate about the way you take them off, it's possible to issue quite a volley of unintended commands.
The dials on each earcup function flawlessly, though, and feel really good while they're doing it. They feel smooth, well-damped and beautifully integrated into the structure as a whole – it's a control method we'd expect any number of rivals to adopt/rip off before long.
Performance: Sonic youth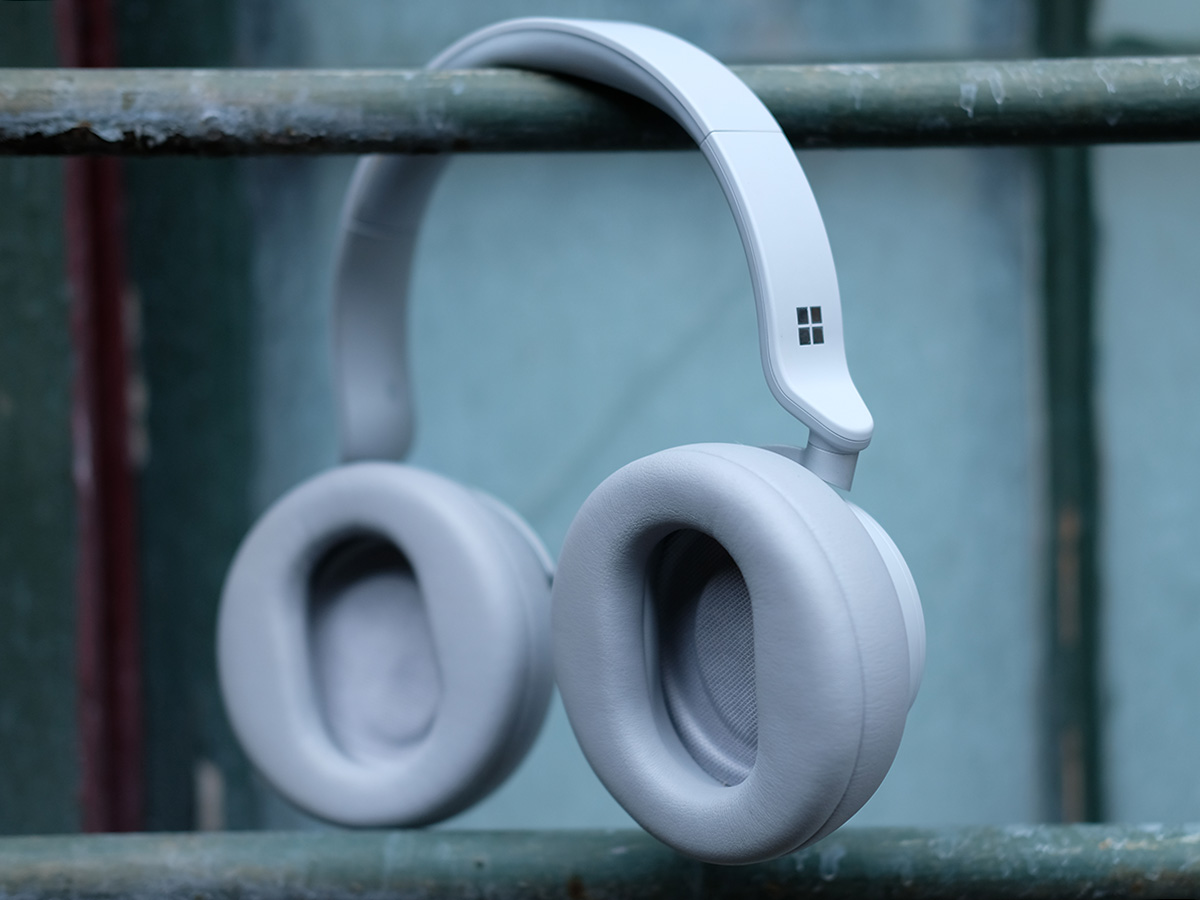 Getting the Surface Headphones ready to go is a rapid and painless process. They pair very quickly indeed and, once paired, demonstrate amazing tenacity in maintaining a wireless link to your source. It's by no means a given that wireless headphones, even at this sort of money, can keep their grip between rooms – but the Microsofts have no problem clinging on to a signal. They're also very effective cancellers of noise.
The left dial has 13 steps of noise-cancelling adjustment – the first actually boosts exterior sound, just in case you don't want to be absolutely dumb to what's going on around you. Dial up the effect and your increasingly isolated from the world outside until, at position 13, it's difficult to hear yourself clapping. And Microsoft manages to achieve this level of cancellation without the sensation of your eardrums being pressurised that some rival designs impose.
It's a pity, then, in light of all of the reasonably free thinking Microsoft has done to get to this point, that the sound of the Surface Headphones is simultaneously a little safe and a little wonky.
Playing the politely livid indie-pop of McCarthy's 'We are All Bourgeois' Now demonstrates how relatively tentative the Microsofts are at the top of the frequency range. Spindly indie like this thrives on its splashy, crashy high end – but the Surface Headphones roll off the high frequency shrillness. There's little substance or attack to treble sounds, and consequently the tune struggles for its usual impetus.
The midrange, though, is the Surface Headphones' real forte. The voice during Swept Away by Half Japanese is detailed and communicative despite the recording's significant vocal treatment – it's immediate and utterly believable. Switch to a vocalist worthy of the description (Nina Simone's hair-raising pass through Wild is the Wind) and the Microsofts deliver in spades. Her mannerisms, the sheer emotion she freights her deliver with, is all served up intact and in full.
The journey to the bottom of the frequency range doesn't end spectacularly, though. Play something big and beaty, like Daniel Avery's Diminuendo, and the Surface Headphones are somewhat full of themselves. The lowest frequencies lack solidity, but have too much in the way of presence – so what should be fiercely punchy ends up being more of a languid shove.
Tempos suffer as a result, and that spoils an otherwise-decent performance where timing and integration are concerned – which is a pity. It even has a little knock-on effect on dynamic range, preventing the 'phones from getting from 'very loud' to 'very quiet' as promptly as they sometimes should.
There's nothing terminally flawed in the way the Surface Headphones go about delivering sound. But, as we observed at the outset, the competition around here is considerable – and the best of Microsoft's rivals don't have these sonic shortcomings. Or, at least, not as noticeably.
Microsoft Surface Headphones Verdict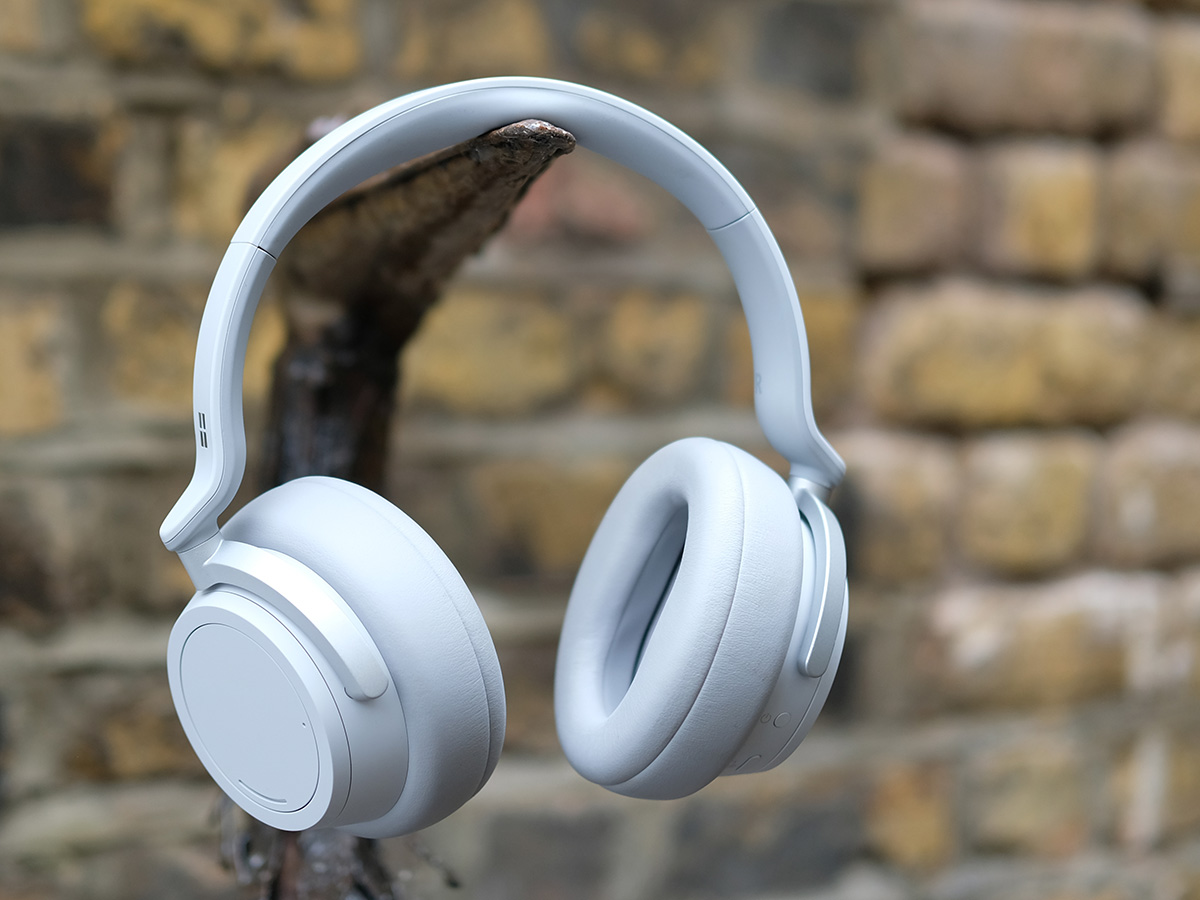 From a standing start, Microsoft has produced a very effective pair of wireless, noise-cancelling headphones at its first attempt.
They're not without their problems but, equally, they have some really impressive highlights. Iron out the rough spots, perhaps offer an alternative colour, and Microsoft could have a real contender on its hands. Or head.
Stuff Says…
Surface Headphones demonstrate some impressive thinking, and sound a lot more colourful than they look
Good Stuff
Excellent wireless connection
Brilliant noise cancelling
Deals well with mid-range
Bad Stuff
Limited colour options
Battery life could be better