Mighty review
This next-gen, offline Spotify player has some old-school issues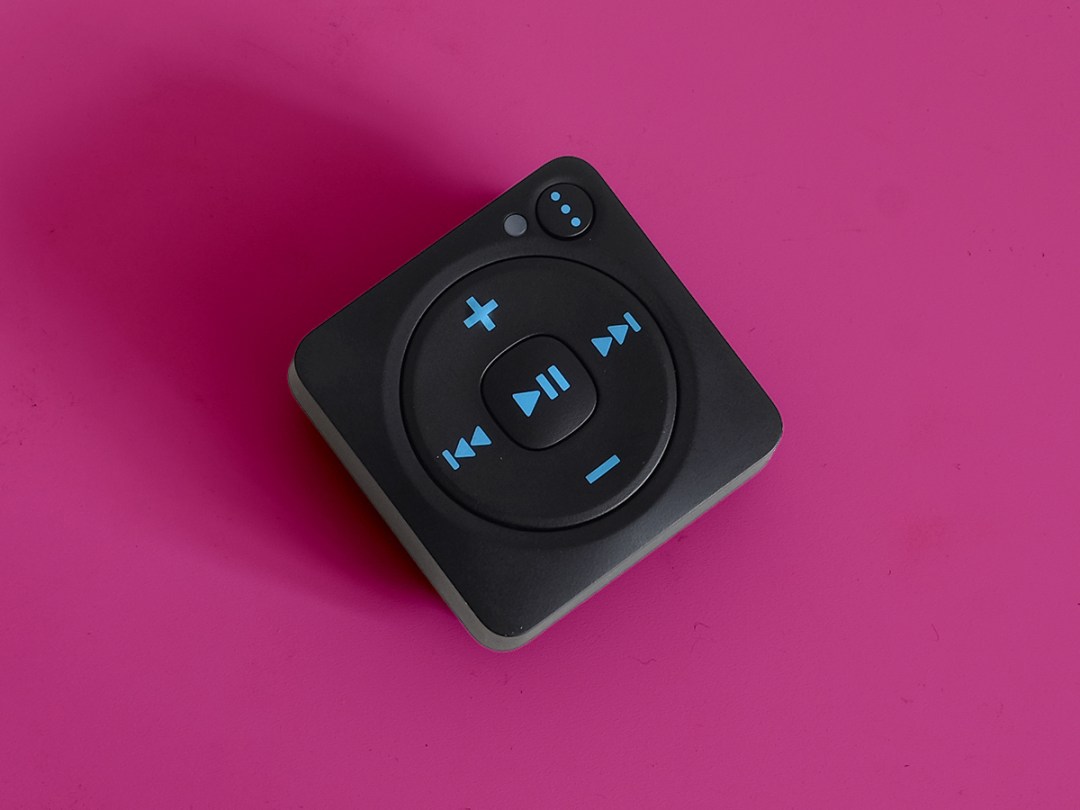 The iPod Shuffle was pretty much the perfect runner's music player.
The trouble is, it's no longer 2006 and most of us don't download music. We use iTunes-trouncing streaming services like Spotify.
So what if the Shuffle was reinvented to play offline tunes from your Spotify Premium account? That's kinda what Mighty is. It's an MP3 player, which most people ditched years ago, but one that can play Spotify tracks without needing a phone.
Melon suitably twisted? The Mighty is an interesting project, and a solution to a problem for people who don't even keep MP3s anymore, let alone CDs, and don't want to carry their huge phone while exercising.
But there's a way to go before it reaches full speed. At this early stage a bunch of obvious features are missing – and you'll probably want them…
Design: Peak Plastic
Mighty is an iPod Shuffle for the streaming generation. Millenials, Gen Z'ers, Bieberinos: those kind of folk.
To look at it, though, it's a bit more Sandisk thank Apple, a chunky square of plastic with a belt clip on the back. The later generations of iPod Shuffle are really rather lovely little rectangles of aluminium, an iconic design. This isn't one. I say that as a die-hard iPod Classic fan who derided the Shuffle for years too.
The Mighty isn't hugely graceful or stylish, but its blue font buttons give it at least a deliberate look, and it's radically smaller than a phone. And that's kinda the point.
It feels most at home attached to a pocket or waistband, but the clip on the back can hang onto a shirt sleeve or even collar. Although that might look a bit weird.
Features: Spotify, sans smartphone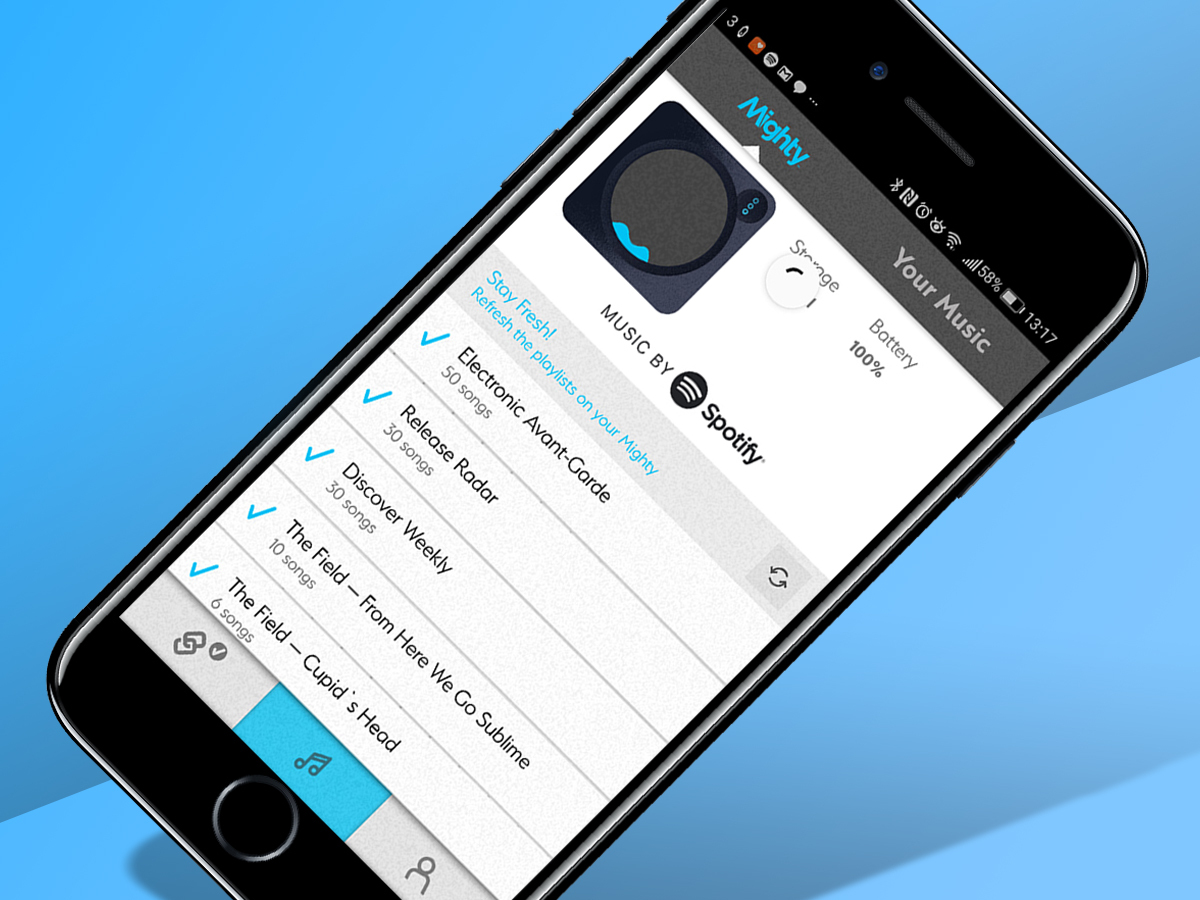 Now we've established that Mighty is a square of plastic, it's time to deal with how it works. Because how can this thing play Spotify?
Mighty effectively becomes one of your offline streaming devices. You can sync songs to it and play them without internet access. To do this you need a phone, and you need Wi-Fi.
Install the Mighty app on your mobile and it teaches the player your home Wi-Fi network login and gives it access to your Spotify account. You then, once again in the app, choose the Spotify playlists you want to have beamed over to the player.
The little guy then uses its very own Wi-Fi connection to download the tracks. That's right, it has both Wi-Fi and Bluetooth inside its little shell.
Controls: Using the Pocket Rocket
Plug in your headphones, press the little three-pip button by the playback controls and a slightly slow-speaking robot lady reads out the names of your playlists before starting the tunes, letting you know what Mighty's playing. Press this button again and it cycles to the next playlist.
The effect is very much like one of the old, no-screen MP3 players with one big exception: Mighty can't actually shuffle yet. As an old-school fan of albums played in the right order, this hasn't bothered me too much, but it's a pretty glaring hole in the line-up.
Mighty Audio says this is actually Spotify's fault, though, and the feature is coming. I've used Mighty while out walking and a couple of times at the gym, and it's perfectly suited for stuff like this. It's also handy if you find that playing too much music on your phone kills its battery.
Missing Features: Taste the Beta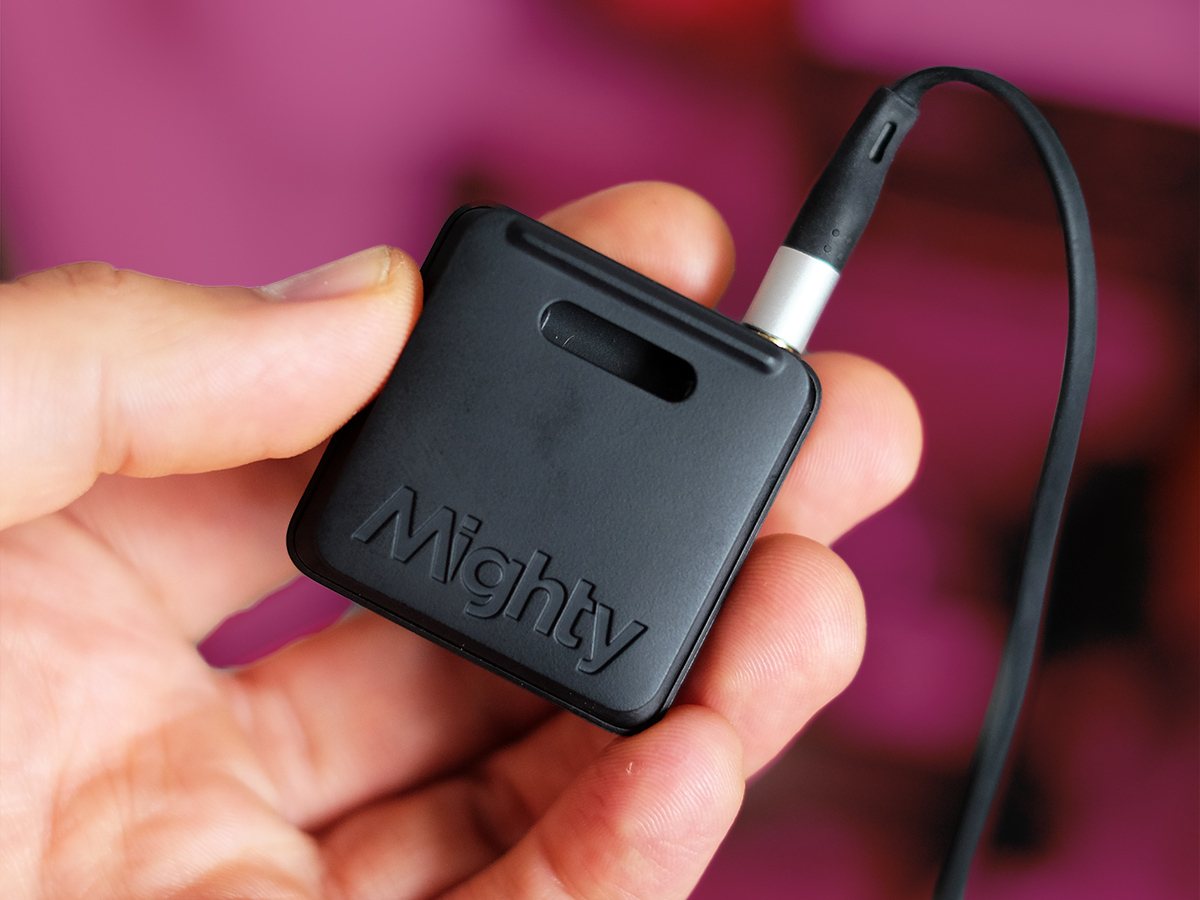 There are more missing features like than just shuffle right now, though. For example, you can't fast forward or rewind tunes. Any press of the 'FF' button skips to the next track, any press of 'RW' flips to the last.
You can't even restart a track without jumping between them, like a kid on some tiny stepping stones in a river. It's also a shame there's no way to get the robot playlist prompter to read out the artist and track name you're listening to.
Like many, I'm a fan of Spotify's Discover playlist, but to find out what you're listening to with Mighty you'll have to head back to the phone and dig through the list.
Mighty currently works with playlists, and only Spotify playlists, which means no other streaming services will work with it.
That also means you can't add podcasts, which can't yet be bunged onto playlists, and that adding an album involves creating a new playlist. This takes about 1.5 seconds, though, so it's no biggie.
Storage: Enough for a road trip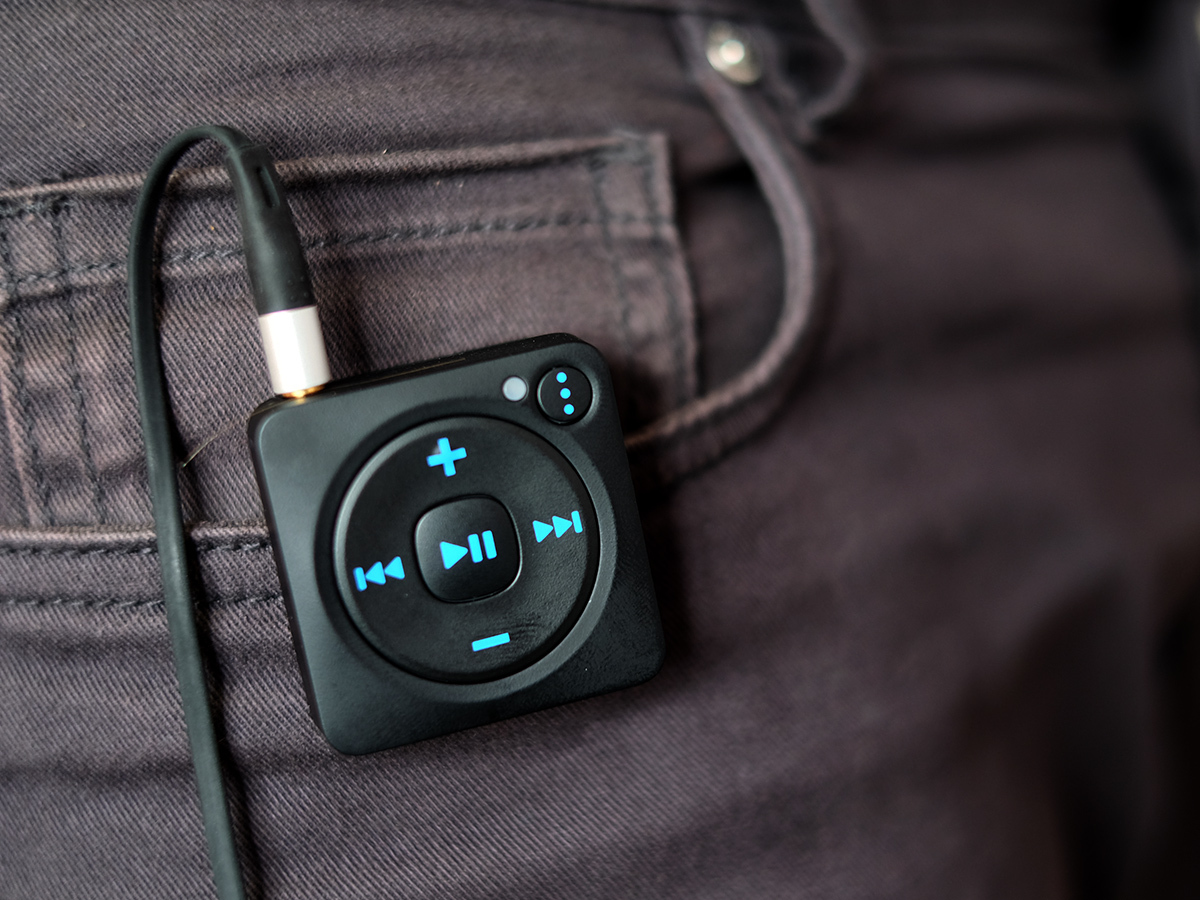 You get 8GB of storage to play with, which Mighty Audio says should let you bung in 1,000 songs, but this depends on the quality setting you use.
One of the surprise early features is the ability to choose the audio quality, in the usual Spotify normal, high and extreme standards. Obviously, choosing Extreme will reduce the number of tracks you can fit in, as it eats up 2.4MB a minute. Those wishing the Mighty had 64GB storage or microSD support need to remember Spotify only lets a device store 3,333 tracks anyway.
Tapping through hundreds of playlists on this little guy would be a nightmare too. The screen-less way it operates makes sticking to 10-20 playlists the best option. I'm happy with the size, the weight, the storage, the voice prompts and even the quality of Mighty's buttons, despite those moans that it's not as nice-looking as an iPod Shuffle. But there are some more niggly software compromises to consider too…
Performance: Niggles aplenty
Right now, Mighty's wireless connection to its app is flakier than a quality croissant.
The first time I used it to transfer some tunes, it worked perfectly. Since then I've spent hours trying to get the little thing to connect. You'll see the wheels spinning, and nothing happens. Then, with no apparent change, it'll suddenly work.
This is pretty annoying, but it is at least a fixable bug that Mighty has already acknowledged on its Kickstarter page. What's more of a long-term concern is battery life.
Mighty Audio says you should get five hours of playback, which already isn't great when the iPod Shuffle lasts 15 hours and the £25 SanDisk Clip Jam 18 hours. But in my experience it's currently worse than that.
For example, after not more than 90 minutes of music to take the edge off a trip around IKEA, I checked the battery to find that the Mighty only had 57% charge left. It's likely that the Mighty continues using a bit of charge even when it's not playing, because the wording of the battery claims is five hours of "continuous" playback.
Naff battery life also spoils one of the Mighty's best features. It doesn't just connect to wired headphones but wireless pairs too, and even Bluetooth speakers and car stereos.
After the nightmare I've had with the app, I'm glad to say this connection works just fine. You pair the player and headphones up in the app, but Mighty then attempts to reconnect to the headphones on its own when you stop and start listening. The problem? Mighty's battery only lasts 90 minutes max when using wireless headphones. That's rubbish.
The official word: "the good news is that we can improve battery life through software updates that are transferred through the mobile app, no new hardware required." How much better it will get is unknown, and I very much doubt it'll reach the original goal of ten hours.
Thankfully, the Mighty only takes about 40 minutes to charge, using a little cable that plugs into the 3.5mm headphone jack and any USB port or charger you have to hand.
Adding to the growing niggle list, Apple AirPod owners need to note the remote controls won't work. Mighty Audio says Apple has these on lock down. The Plantronics BackBeat Pro 2's buttons work fine, though, as should those of the vast majority of wireless headphones and speakers. There's one more practical annoyance.
Lastly, if you let the Mighty go to sleep completely by leaving it for a few hours it takes about 20 seconds to boot up, something you'd never have to put up with in a basic MP3 player.
Sound quality: No Audiophile
How does it sound? At first, I thought the Mighty was perfectly good. There's a bit of a noise bed when you whack up the volume, but it sounded fine.
Compared directly to a couple of recent Android phones and my day-to-day MacBook Pro (2013), though, the Mighty doesn't come off well.
There's a drop in dynamic range, the bass loses power and mid-range sounds less smooth and full, bringing out the sibilance of "ess" sounds in vocals a lot more.
Add in a shrinking of soundstage and we have all the signs of a low-end DAC, the component that turns digital audio into the signal piped through the headphone cable. Or perhaps it's just another thing we need a software update to fix: who knows? But right now the Mighty's sound quality isn't particularly mighty.
Mighty verdict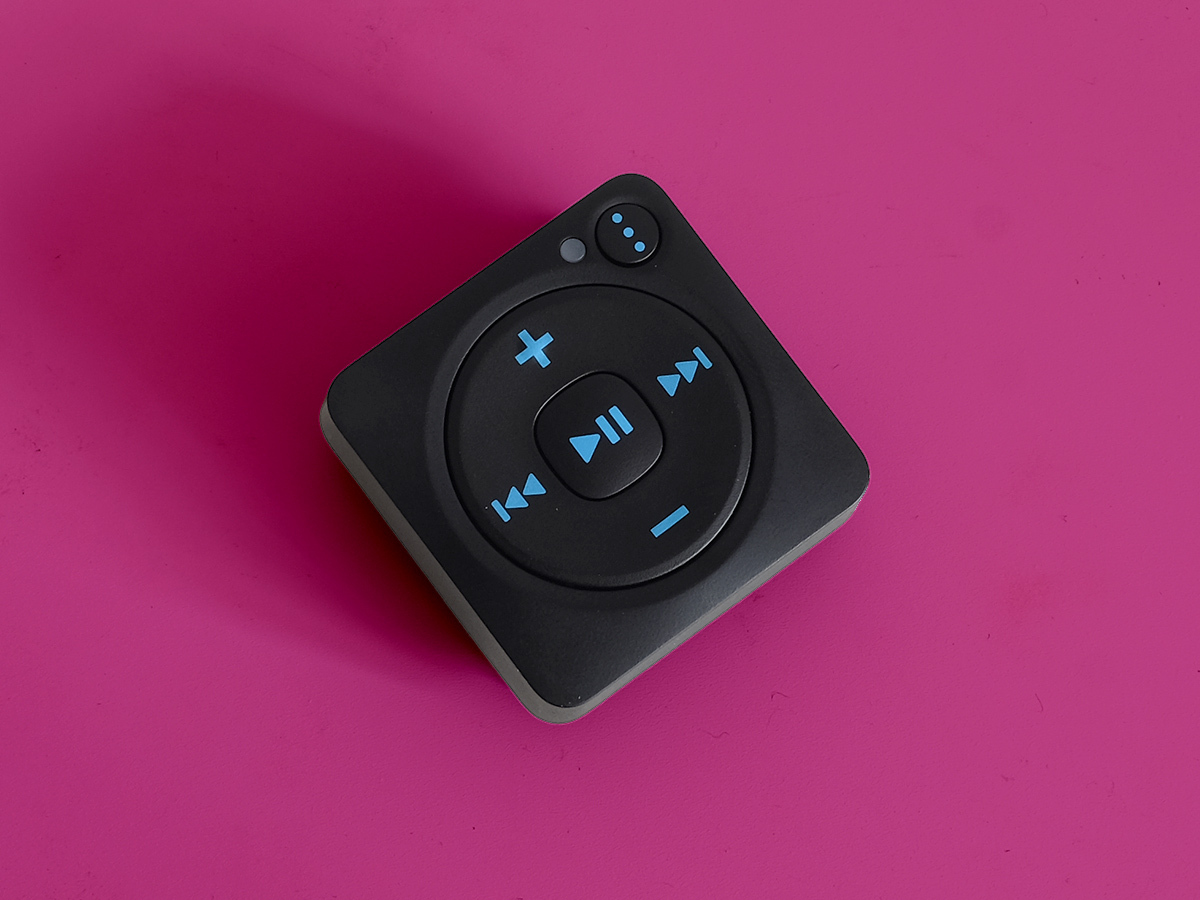 The Mighty offline Spotify player is a neat idea and a solution to a problem that at least some people have.
You can listen to your Spotify faves without a phone, and that's dead handy if you're tired of jogging around with an iPhone in your hand.
But right now it feels like a beta product. It's buggy, restrictive, low on features and both the battery life and sound quality need some work.
Mighty Audio earns a lot of the benefit of the doubt as a plucky company doing something clever. We really like the idea. It's just not quite ready for the stage just yet, particularly with the risk of an extra £20 customs charge when shipping it to the UK.
If that's a worry, Mighty says it will be coming to Amazon's EU stores in winter 2017.
Stuff Says…
A next-gen portable music player with some old-school issues
Good Stuff
It's the MP3 player, brought back to life
Customisable bit-rate
Ultra portable
Bad Stuff
Bad battery life
Mediocre sound quality
Buggy
Feature-light