Moto G6 Plus review
An A+ budget phone catching up fast with the mid-range giants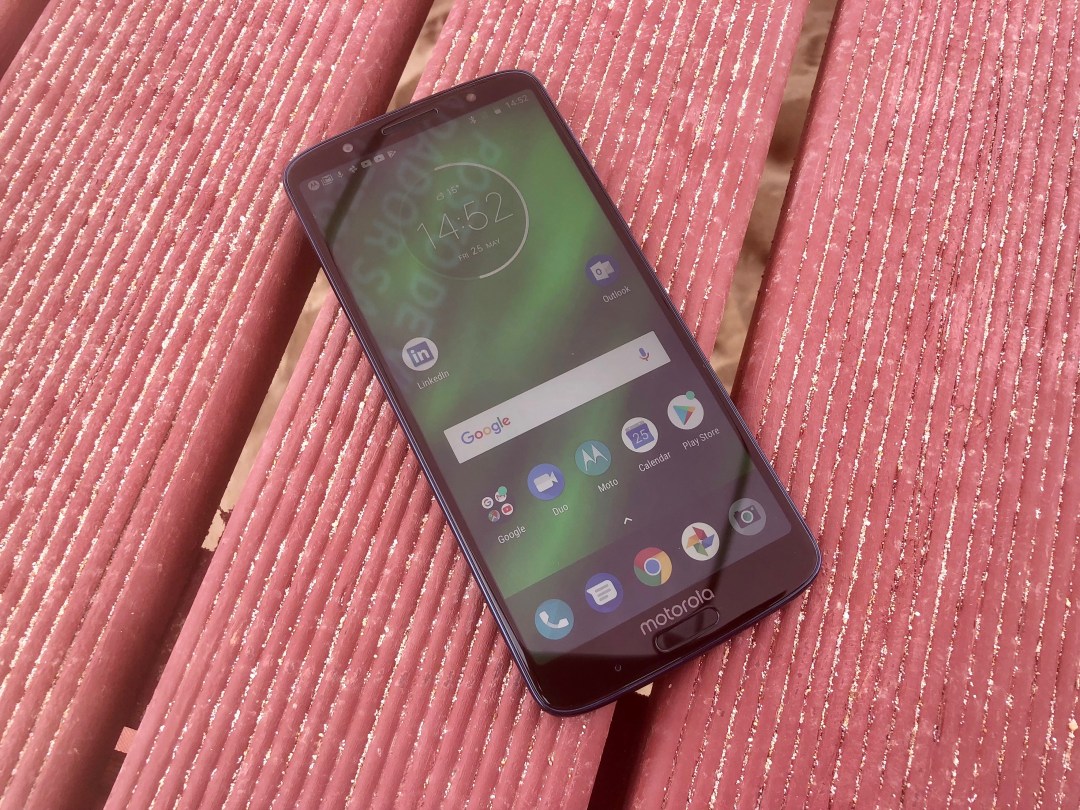 Budget phones as we once knew them, are not the budget phones of today.
Gone are the shoddy designs, clunky processors and terrible cameras. Instead, you're regularly dealing with a spec sheet that wouldn't look out of place on a phone you might expect to pay a couple of hundred pounds more for.
Moto's G range has long been one of the go-to choices at this end of the market, impressing with its price to performance ratio. And the Moto G6 Plus isn't about to break with the family tradition.
The Moto G6 Plus is the flagship phone of the company's new trio – also including the G6 and the G6 Play – and while you might want to come with at least some of your expectations managed appropriately, the pleasant surprises on this handset come by the bucketload.
Design: built to glass-t
If you were expecting creaky plastic to form a large part of the Moto G6 Plus' design, you'd be very much mistaken. This phone's metal and glass finish wouldn't look out of place alongside phones that cost three times the price, give or take a few of the more really premium bits and bobs.
It really doesn't feel like a sub-£300 phone. The subtly curved glass back panel that you'll also find on much of its pricier competition, such as the HTC U11+ or the HTC U12+ and as it's made from Gorilla Glass 3, it should prove almost as sturdy too.
There's a slight ridge where its metal frame wraps around to meet the screen on the front, which pricier phones would polish down to pebble-like smoothness, but that's really getting into nit-picking territory.
More noticeable, perhaps, is the camera bump, which juts out and prevents the phone from lying flat. While it might affect the lines of the design, it doesn't affect the phone in use, and sits high enough so you'll barely notice it when holding it. By the time you've added a case anyway (like most glass-backed phones, this is a slippery, fingerprint haven – you have been warned), it's relatively subtle.
Looking around the rest of the phone, most what you'd expect from a pricier phone is present and correct. There's a fast, front-mounted fingerprint scanner, which also doubles as a swipe pad for control should you wish (more on that later), there's a microSD card slot to support the 64GB on-board storage and a USB-C port for Motorola's fast charging. There's even some basic face unlocking capabilities, though it can be a little hit and miss.
Things that are missing – there's no wireless charging and no proper waterproofing. The G6 Plus has a p2i water-resistant coating to make it splashproof, but probably wouldn't survive a dunk in a pool. There is a headphone jack though, so if the high-end flagship tendency to drop it has annoyed you, the Moto G6 Plus has your back here.
Screen: standing tall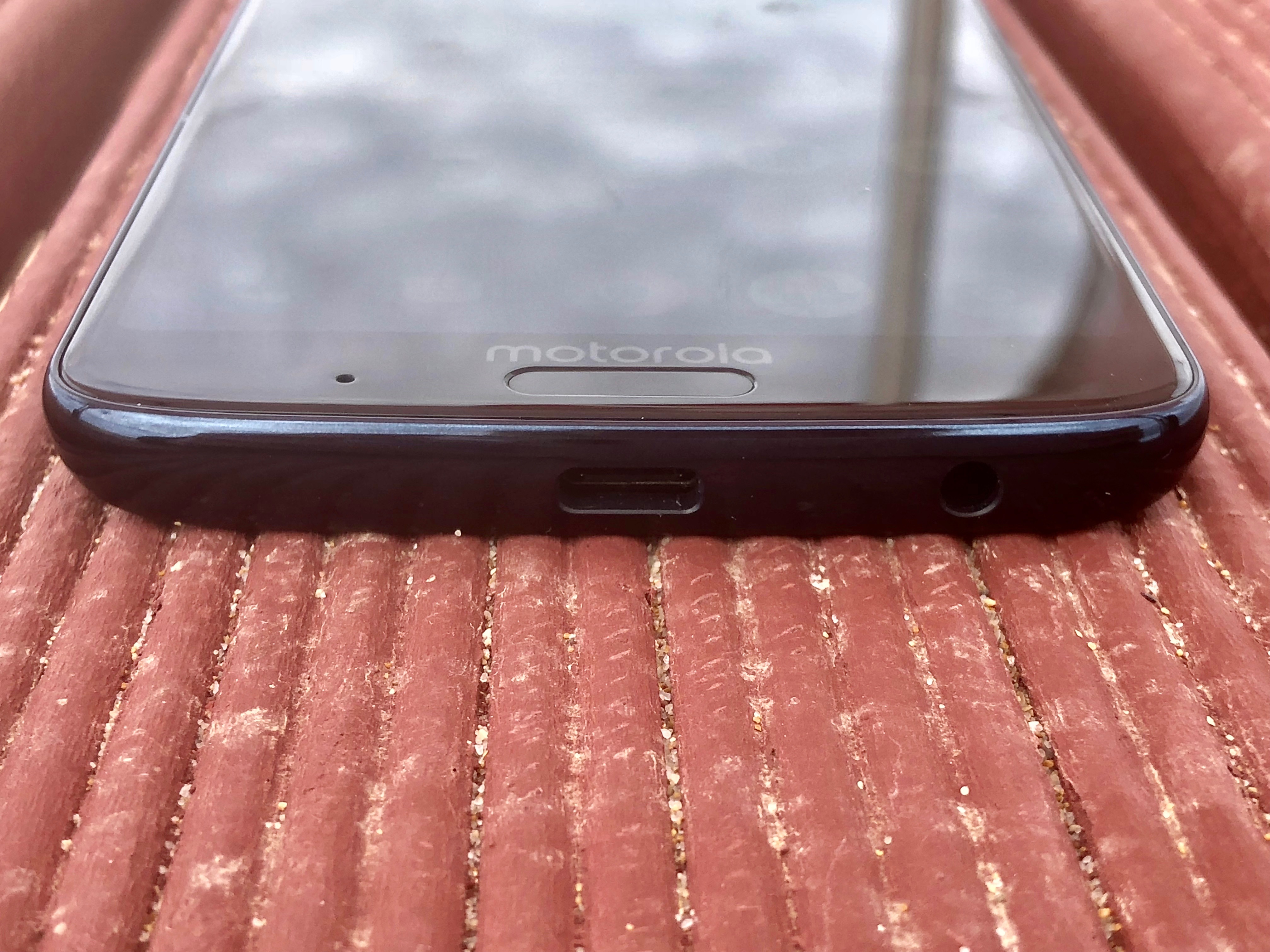 Motorola has been keeping an eye on the big money flagships and knows that 18:9 is the screen ratio to be seen with these days. So that's what it's done here (and indeed, with the rest of the G6 family), meaning it can squeeze a 5.9in screen into a body that sits slimmer in the hand than the 16:9 5.5in iPhone 8 Plus.
Unlike some pricier handsets that push the boundaries into 2K displays and beyond, the G6 Plus sticks with a full HD+ display. That means the resolution comes in just a bit over regular HD due to the taller screen (2160 x 1080), and squeezes in 409ppi.
It's an incredibly sharp screen with very little to grumble about. Colours are vibrant and outlines are incredibly sharp. Against my usual tendency to go for more basic (and usually more accurate) screen settings, I play around and set the screen to vibrant and colour temperature to warm, and find that gives things just enough punch without being overdone.
As this is an LCD screen, blacks won't go as deep as they would on an OLED display but they actually don't do a bad job at all.
In fact, the G6 Plus display does the majority of what a higher-end screen would do give or take a smidge of fine detail. There also doesn't seem to be an anti-reflective coating on the screen, meaning you can end up seeing more of your reflection than the screen in very bright sunlight, although the screen's decent brightness levels do help with that.
Our only niggle? Put the G6 Plus next to the regular 5.7in G6 and there's very little difference between them at all. So much so it's a wonder why Motorola didn't think to push the Plus' screen size by a little more, to give it extra edge for big-screen fans.
Software: Vanilla Android with a twist of Moto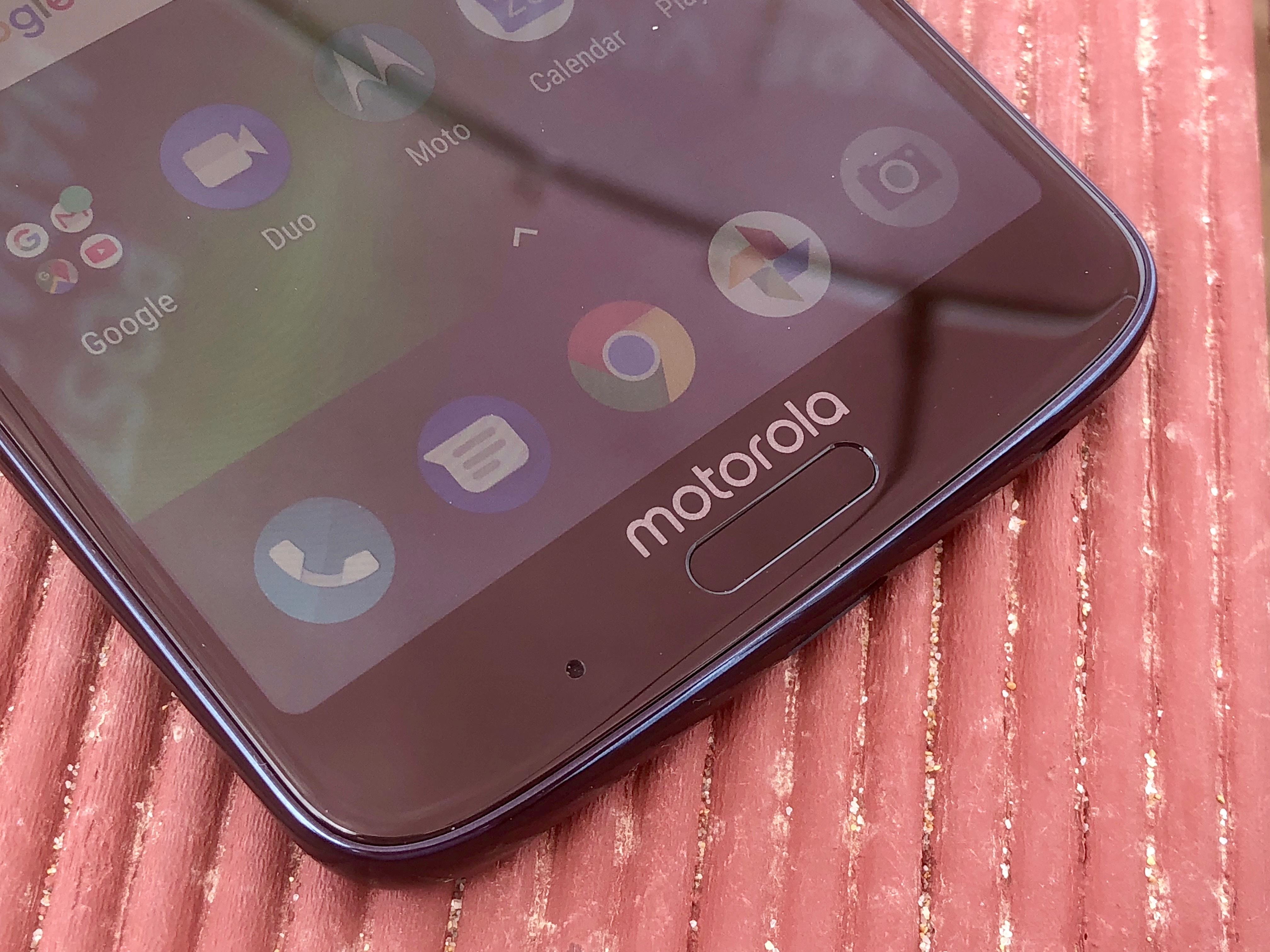 For the most part, the software that runs over Android 8.0 Oreo on the Moto G6 Plus feels very similar to what you would get from vanilla Android device – give or take a few small, and largely useful, Moto flourishes.
That means you won't get too much by way of fancy transitions slowing down your phone, or a whole load of pre-installed apps cluttering up your app tray.
You will get Outlook and LinkedIn plonked on your homescreen though, which annoyingly can't be uninstalled but can be moved, plus a Dolby Audio app, which can actually be helpful in beefing up the phone's rather thin sounding mono speaker.
Motorola does offer a number of Moto-specific features – namely Moto Key, for storing passwords, Moto Actions for gesture control, Moto Display for more intelligent notifications, and Moto Voice, for basic voice assistance.
Moto Actions is where you'll find the one-button navigation switch, which allows you to turn the fingerprint scanner into a touchpad for moving around the phone, instead of using the on-screen icons. It's worth it – it doesn't take long to get used to and gives you more screen to work with, without the icons in the way.
There are plenty more options besides – some more useful than others – but they can all be turned on or off as you wish, so it's definitely worth a look to see what might work for you.
Performance: long-lasting and pretty speedy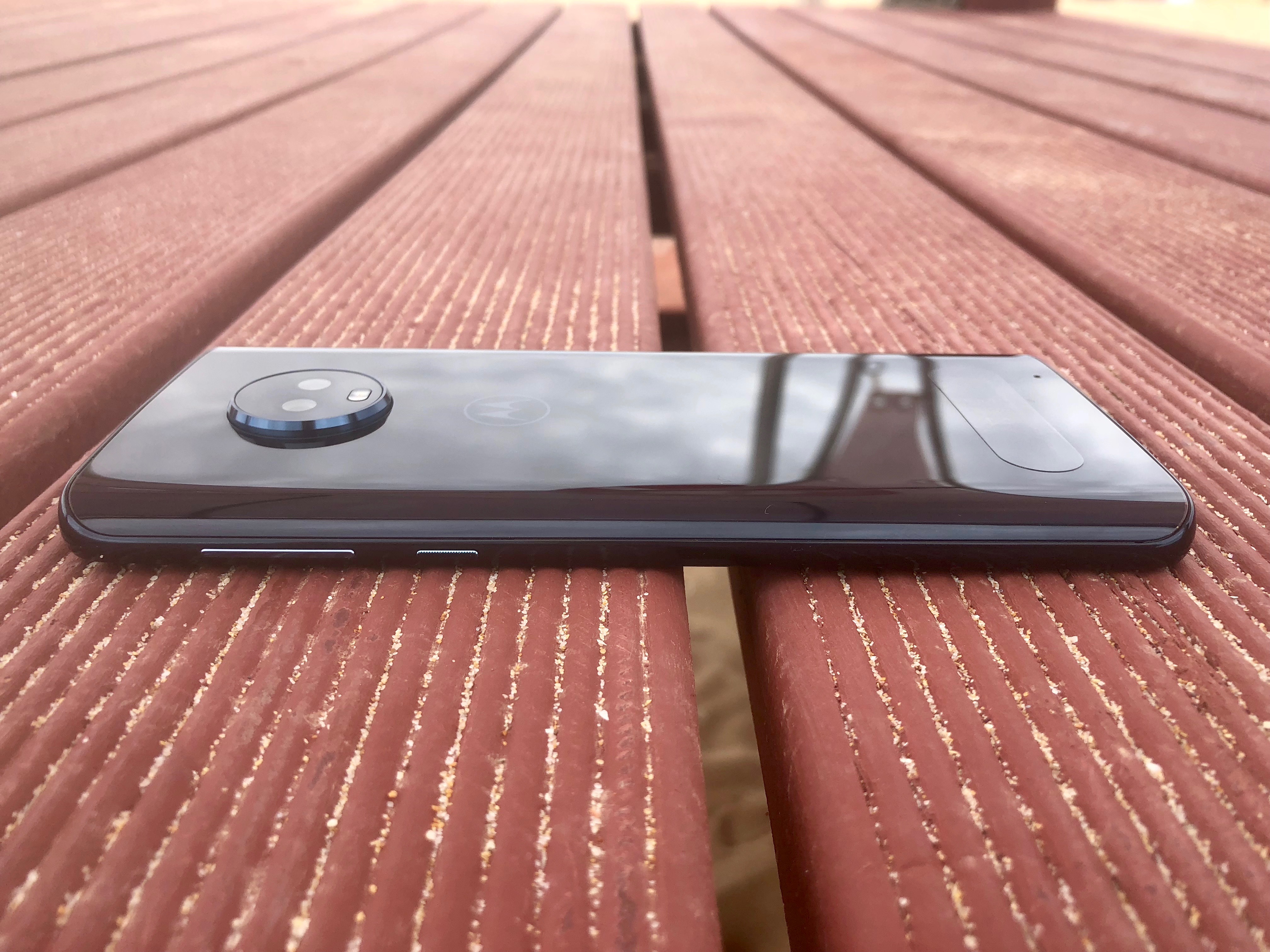 Aside from its physical size, performance is another area the G6 Plus sees a bump up in capabilities on its smaller sibling, as it runs the 2.2Ghz octa-core Snapdragon 630 with 4GB of RAM instead of the slower Snapdragon 450 processor and 3GB RAM.
It means that the few frame rate hitches we spotted when gaming with the regular G6 are all but gone on the G6 Plus, and for the most part, the phone runs super smooth and stutter free. PUBG fans might still be better sticking with the low graphics setting for best results, though.
That said, beefy games will still require a touch more patience to load than you'll see on high-end handsets, and some menus might take a millisecond longer to appear following a tap, but really, you'll find yourself moving around this phone with very little problem at all.
Battery life is improved here too – not only is the 630 more energy efficient than the 450, but Motorola has also managed to squeeze in a larger 3200mAh battery (up from 3000mAh on the G6). It managed a pretty full-on day of sightseeing around Lisbon, using Google Maps, taking photos, using social media, and everything in-between, and still had a good 30% of its battery left by the time I was ready for bed.
Even better, its fast charging means you can get to around 50% from empty in 30 minutes, though its recharging does slow down considerably after that.
Camera: the best at its price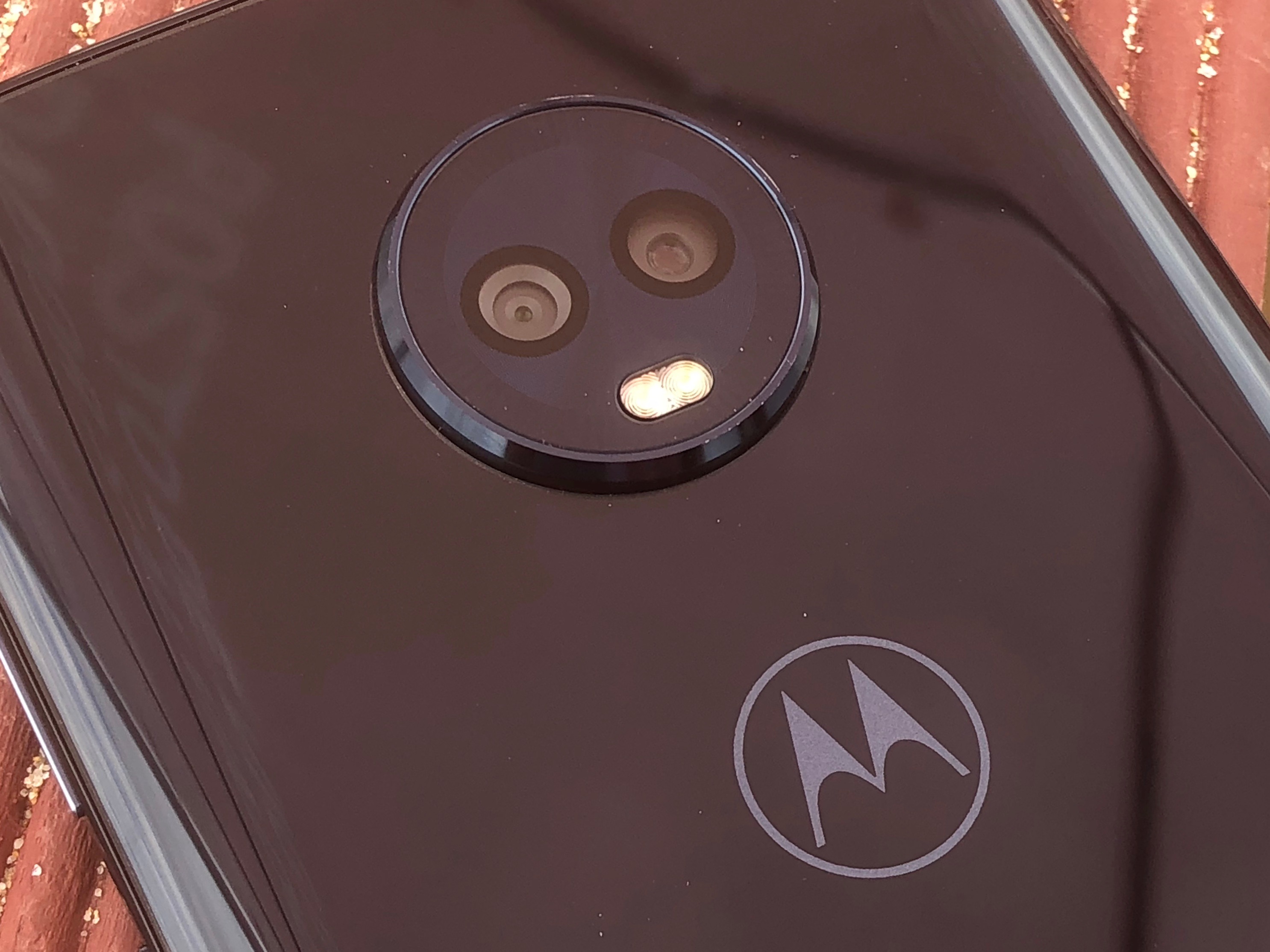 As with the regular G6, the Moto G6 Plus takes things up a notch on its predecessors by opting for a dual-lens camera made up of a 12MP standard lens alongside a smaller 5MP one.
That secondary lens isn't there to act as a zoom lens, as you get on the iPhone 8 Plus, though. It's there to add depth information to your shots for creating arty bokeh-style snaps.
While the camera will actually give this a good go without prompting, there is also a specific portrait mode, which once activated, will open up your shots to a number of special editing options.
This includes the ability to choose your focus after you've taken the shot, edit the amount blur, cut out your object and place it on a different background, and a selective black and white mode, where you can keep your subject's colour and send the rest to monochrome.
The effectiveness of all of these depends very much on how well the camera can distinguish your subject from the background, and it isn't always as accurate as a similar mode on pricier handset. As ever, you'll get best results in good light, where the outline of your subject can be easily defined from their background.
Otherwise, the camera works very well indeed, and in good light, the G6 Plus is capable of capturing bright, sharp, well-balanced pictures that your social media feed would be proud of. Noise is kept to a minimum, outlines are clean and colours aren't overdone. It's a great point and click camera, that requires very little fuss to get a good snap.
Of course, if you compare it to the camera on a pricier phone, you will start to see where it falls down. For example, colours aren't quite as well replicated, and fine detail isn't as apparent as you'll find on the iPhone 8 Plus. The shutter can also be a little slow to fire, and a number of times I got a blurry shot because I'd moved the camera before it had taken.
The auto HDR mode isn't as talented as we've seen elsewhere either, and some pictures taken directly into sunlight can still struggle to retain detail in the brightest and darkest areas of the shot.
Speaking of darker areas, low light performance is just ok here. With a f/1.7 aperture, it manages to do a fairly good job of brightening up a murkier shot but it will drop some detail and introduce a fair amount of noise too.
No OIS means you'll also want to be a bit careful to keep steady when taking the shot, in order to keep things looking sharp. The good news is the flash actually does a good job at brightening things up without bleaching out detail.
Overall, at this price, it's really hard to grumble at the results you can get from the G6 Plus, and we're not sure you can find any better, certainly at this price. Even the 8MP selfie camera takes a decent shot given enough light – just be sure to turn the beauty mode off if you don't want to look like an artist's impression of yourself.
Moto G6 Plus verdict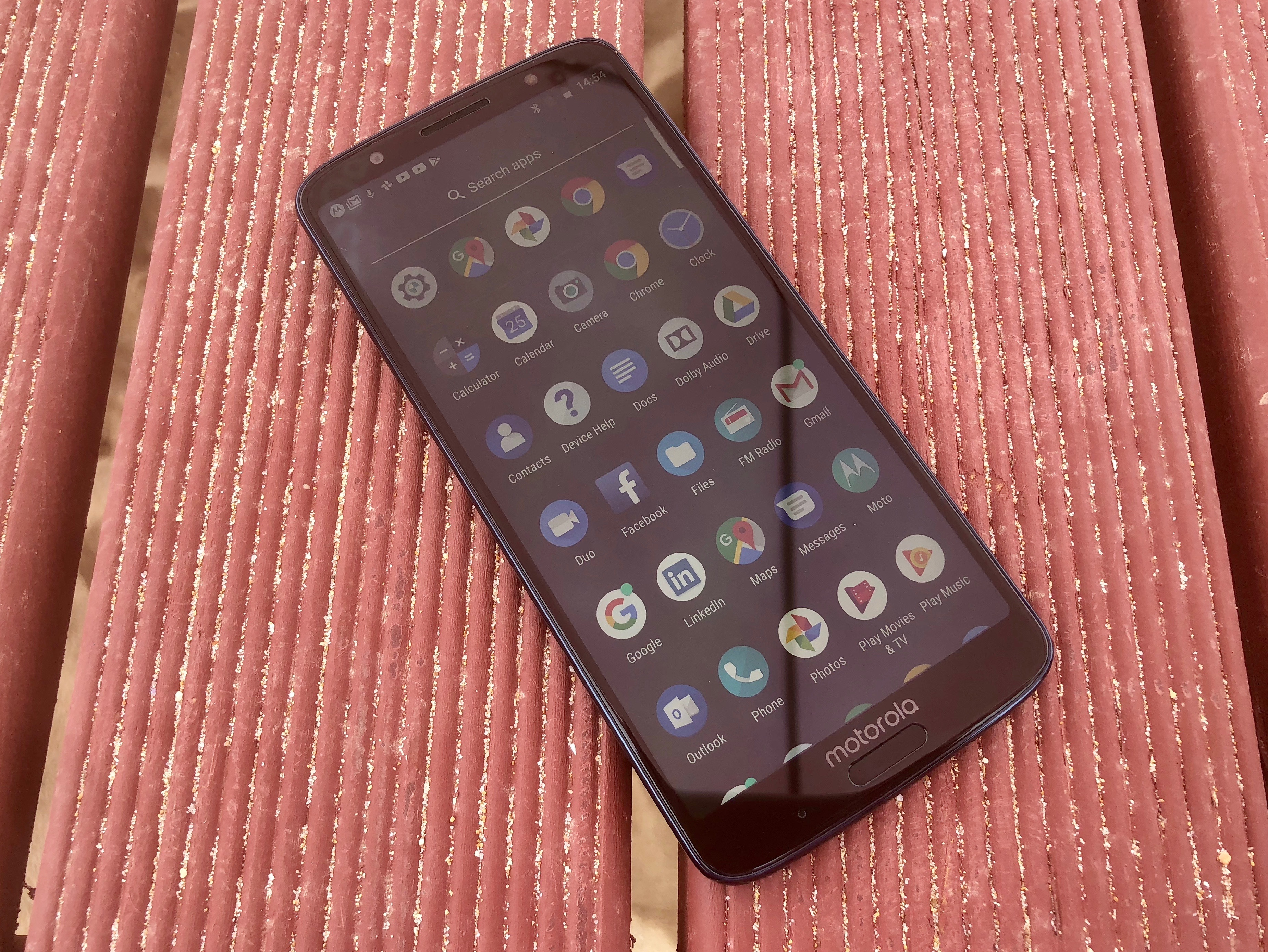 For just £50 more than the regular G6, the G6 Plus offers a bigger screen (in a similarly sized body), a better processor and an improved battery life. It also comes with 64GB as standard, compared to 32GB in the G6. That seems well worth the extra outlay, assuming your budget can stretch to it.
Add to that the same excellent build quality and fantastic camera that far exceed what we'd expect at this level, and the Moto G family has a fitting flagship that could well hold its own in the mid-range market, against the likes of the OnePlus 6 and Honor 10.
Stuff Says…
Superb both on paper and in use, the Moto G6 Plus really raises the bar when it comes to what we think of as a budget phone.
Good Stuff
Great design
Fast, smooth performance
Good battery life
Excellent value
Bad Stuff
Camera a touch slow
Screen could be bigger