Motorola Moto G6 review
The G6 family's middle child might just be the smartest phone choice out there...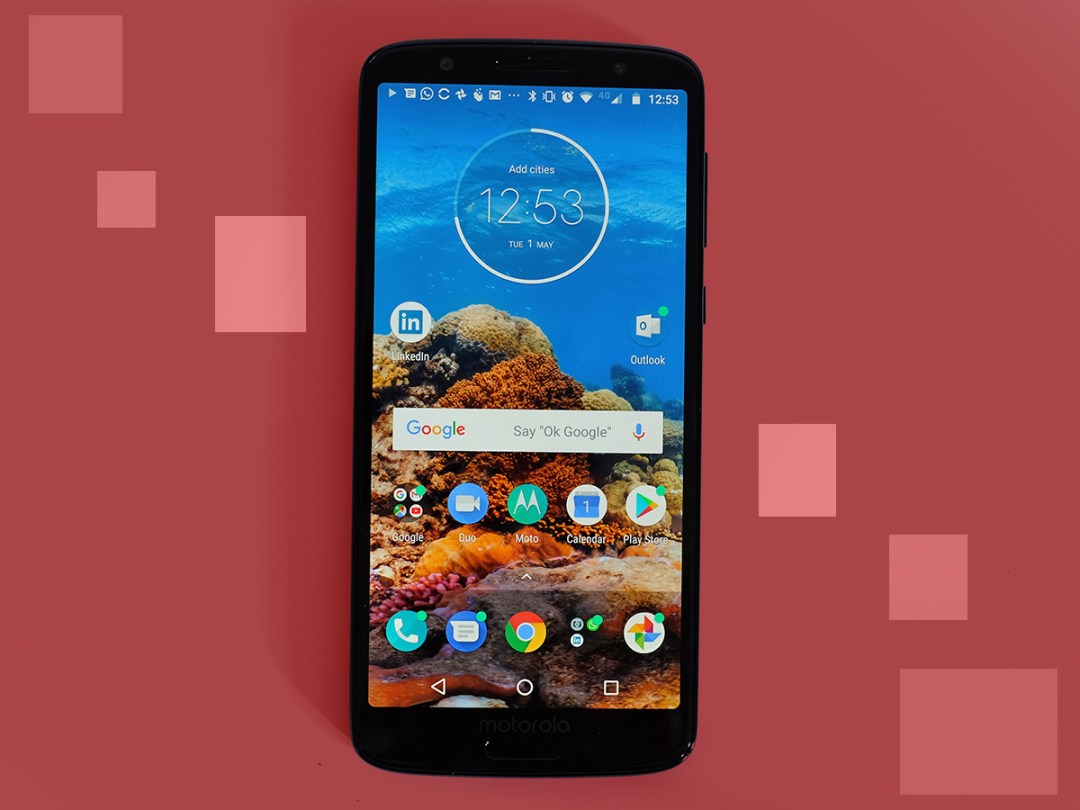 The Moto G6 is a world champion boxer returning to the ring to keep its title.
Ever since 2013, the Moto G range has delivered just about the best budget phone of the year. Managing this for a sixth year running sounds downright improbable. But, you know what? Motorola appears to have done it again. 
The Moto G6 gets you high-class build, more-than good enough specs and a camera that, finally, isn't an entirely embarrassing mess in low light.
Looking for something cheaper still? The Moto G6 Play is almost as good, and costs £50 less. But the G6 brings some little extras that might well be worth that extra outlay…
Design: a touch of glass
Motorola has zero'd-in on what rivals are doing with their fancy-pants phones, and tried to embarrass them a bit with the Moto G6.
It has an 18:9 screen, a curved Gorilla Glass rear and metal sides, but costs just a third of some phones that don't feel or look all that much more expensive.
There's even a light-reactive layer under the glass, which creates smooth S-shaped patterns across the rear. You don't normally get that in a cheap phone, right?
It's not the first time we've seen a great glass back in a more affordable phone, of course. The Honor 9 nailed that too. But the Moto G6 is quite a bit cheaper than its £379 rival.
In fact, it has 90 per cent of the glossy extras you get in a more expensive phone. There's a front fingerprint scanner, at least 32GB of storage and a water repellent coating that will keep it safe in the rain. Don't drop it in a pint, though, as it isn't IP-rated. And, let's be honest, showing off like that was never big or clever anyway.
There are a few other extras that have nothing to do with showing off too. You get a headphone jack on the bottom and the SIM tray has room for not just a microSD but two SIMs. Don't run a business on the side or a moped crime gang? Maybe you'll just want the microSD.
It makes you wonder: what's missing? Well, there's no notch, and the screen border isn't as aggressively slim as those of some more expensive phones. And while there's face unlocking, it's just the basic kind. It uses the front camera and software smarts rather than advanced hardware like the iPhone X's. There's not much missing, on the outside at least.
Display: looking sharp
The Moto G6's 2160×1080 display is great too. The numbers may seem unfamiliar, but it's really just 1080p screen elongated with a stack of extra pixels in order to stretch out to a 18:9 shape.
To get as close as possible to the display style of your average £600 phone, just flick over the Moto G6 to its vibrant colour mode, and set the colour temperature to warm. You still won't get the contrast of an OLED but it looks good.
Colours are rich and natural, trying to see pixels will only give you a headache and the Moto G6 goes bright enough to deal with sunny days. The Moto G6 screen actually appears slightly sharper than a Huawei P20 Pro, which is kinda hilarious.
Software: tastes like vanilla Android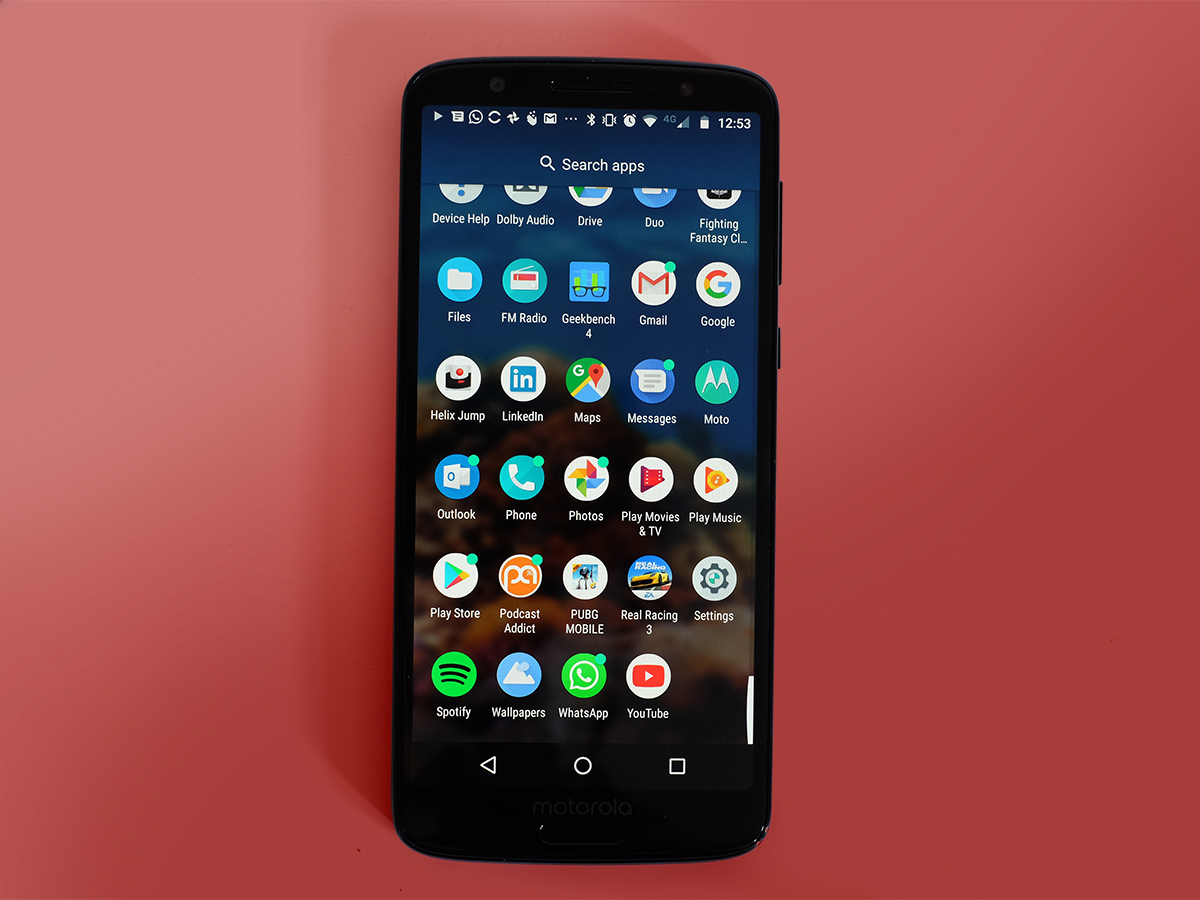 Motorola has not changed its Moto G software strategy. The Moto G6 runs Android 8.0 and has a light custom interface intended to look and feel very close to vanilla Android.
Lots of people say the Moto phones run an untouched version of Android, but that's not quite true. Check out a pure Android One phone like the Nokia 6 and the differences become clear.
True, stripped-back Android uses a worksheet-like apps menu, a bunch of icons on a white background. The Moto G6 dims and blurs your wallpaper instead. If anything, the Moto style looks better. Trust your eyeballs on this one, but I find the Google approach tends to look a bit stiff at times.
You'll also notice when you setup the Moto G6 that it pushes you towards using Microsoft Outlook rather than the Google email client. But you don't have to use it when the setup is done. Outlook is one of three preinstalled third-party apps. LinkedIn and Dolby Audio are the other two.
The first goes straight into the "ignore forever" pile, but Dolby Audio is kinda neat. It customises the sound of the speaker with EQ to make it beefier or clearer. As this is a phone speaker, fattening it up works best.
The Moto G6 has a pretty loud speaker, significantly better than the Moto G6 Play's. It passes the tests of making a podcast audible as you have a shower or boil the kettle: good stuff.
Still, there's only one driver and it sits up by the call earpiece. Play a game of watch a YouTube video and you don't get stereo sound. The audio points at your left ear, which isn't ideal. This phone may be louder than older Moto Gs, but some did have dual drivers.
Performance and gaming: game for pretty much anything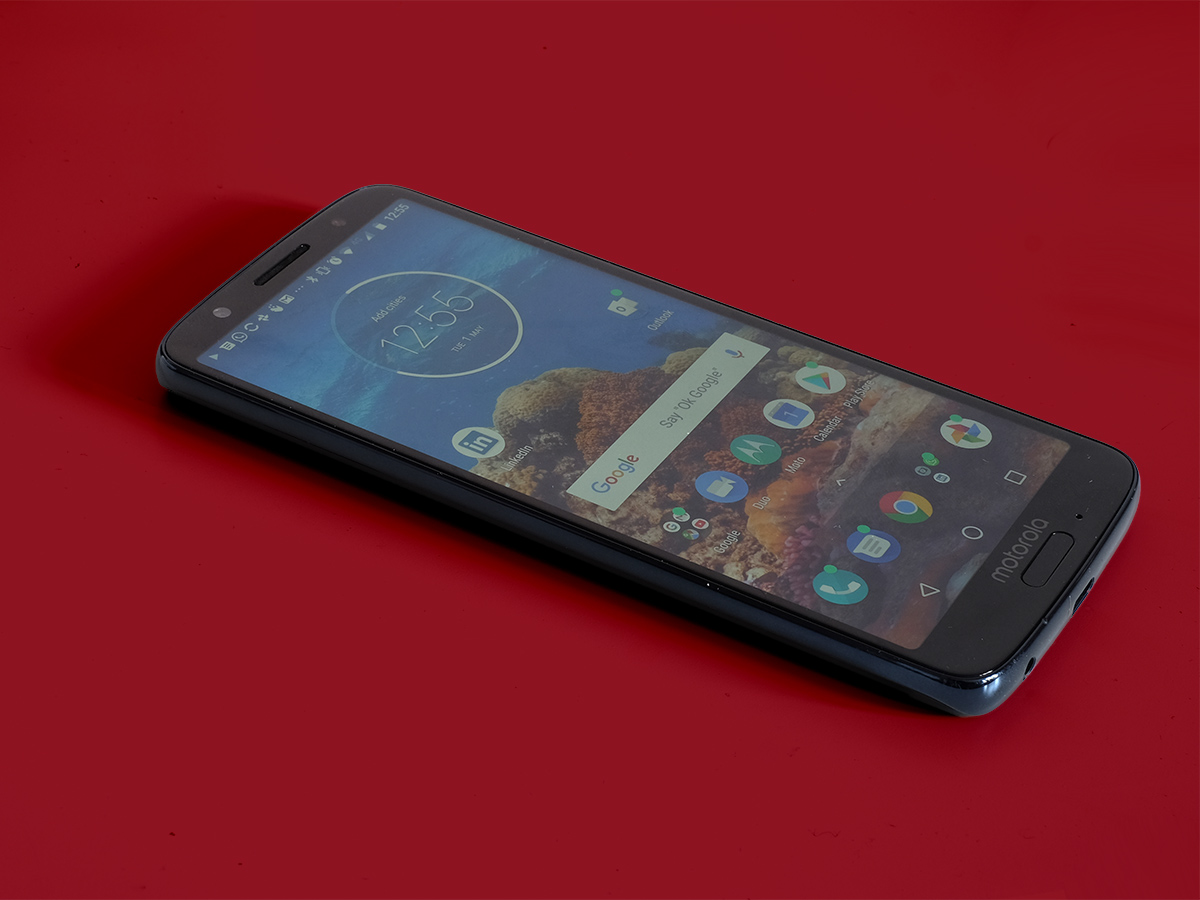 The Moto G6 is still a great gaming phone, though. Titles like Asphalt 8 run very well, with no obvious difference in frame rate between this and a more expensive phone. Most console-style games are designed to work well with masses of phones, and just about all run very well.
For the PUBG obsessives out there, yes, the mobile version plays nice on the Moto G6, although it auto-switches to the Low graphics setting. And there were a couple of frame rate hitches in a five-minute session. For better results, check out the faster Moto G6 Plus, which is more powerful.
Game load speeds are significantly faster than those of the Moto G6 Play, which seems odd when both phones use entry-level Qualcomm Snapdragon CPUs. You get a Snapdragon 450 here. It scores 3542 in Geekbench 4, a massive 60 per cent more than the Moto G6 Play.
The Snapdragon 450 sounds very close to the Snapdragon 430 of the Play, but there's a chunky performance gulf. Sure, loads speeds aren't quite those of a £700 phone, and the fingerprint scanner gets you to the home screen in just under a second rather than a billionth of one like the Huawei P20 Pro.
But the Motorola Moto G6 still feels smooth and fast.
Camera: a solid snapping companion
This is also the first Moto G to use a 12MP camera and a secondary rear sensor. The idea: you get the low-light chops of a phone with better sensitivity and the background blur effects of a double lens array.
The main hit here is low-light performance. It's much better than the Moto G6 Play. With a stronger sensor and f/1.7 lens, this is no great surprise.
It's not even close to the best out there, but can make dark scenes look reasonably bright, and ekes out more detail at night than the Nokia 6.
Shoot in the day and the Moto G6's Auto HDR mode does a good job of balancing highlights and shadow detail. For an affordable phone it can take pretty good shots of sunsets and those dramatic scenes shooting right into the sun.
The Moto G6 does tend to oversaturate greens when using its HDR special powers, though, making grass look as though it has been put through an unfortunate Instagram filter.
This isn't a super-fast camera either. There's a little shutter and processing lag. It's not enough to ruin the camera, but makes sure it doesn't feel instant. As in previous Motos, the dual lens blurring feature is a way off the best too.
The secondary camera is a basic 5MP one that only harvests depth info, and doesn't carve out object outlines as well as Huawei's best.
Any more complaints? The Moto G6 is not a master at close-up focusing. Its autofocus often refuses to lock onto objects that you can get in focus using the Manual mode. But, hey, there is a manual mode that lets you control things like shutter speed and focusing. Just use that if you get frustrated.
Quibbles aside, you won't find a much better camera for the money. Motorola has also added a couple of extra features. Cutout blacks-out the background behind an object for an auto-Photoshopped look, and Spot Colour desaturates the entire image bar whatever shade you tap on in the camera view.
Around the front you get an 8MP camera. Selfies look fine, but are nothing too special.
Battery life: not quite the best in the family
Next up is the one area where the Moto G6 loses out to its cheaper brother the G6 Play: battery life.
This phone has a 3000mAh battery, the Play a much larger 4000mAh one. The real-world difference isn't quite as vast as those number suggest as the G6 has a more efficient processor.
However, you can hammer the Play a little more and still be sure it'll last through the night. The Moto G6 will still handle a quick stint of gaming, a few hours of audio streaming and the usual messaging.
Still, one day I did find myself giving it a quick top up before heading out for the evening, always a sign you're dealing with something less than a true workhorse. The Play's 4000mAh battery would have been nice addition here, sure, but then the phone would be thicker.
And with fast charging on-board even a ten-minute injection will get you a decent boost. There's no wireless charging, which is no surprise at the price, but you do get a USB-C port rather than the oldie microUSB kind.
Motorola Moto G6 verdict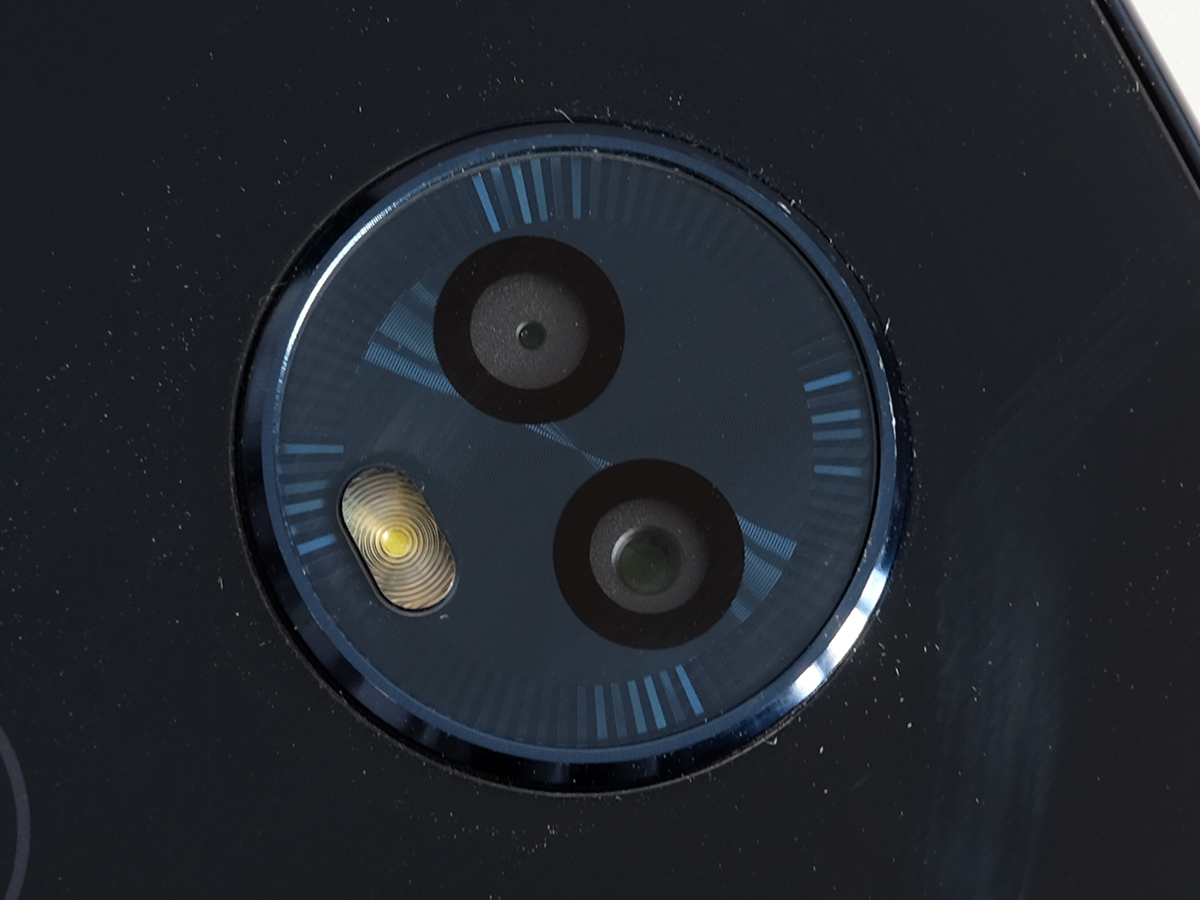 The Motorola Moto G6 is more of the same for the series. But when that means a great value phone that makes almost all the right design choices, that's only a good thing.
A glass back and 18:9 screen make the G6 seem not just "current" but unusually high-end given the price. And if you miss the days when Moto G phones cost well under £169, the Moto G6 Play is right there waiting.
The Moto G6 doesn't just step on the toes of more expensive phones, it stamps on them.
Stuff Says…
Who needs a £700 phone when you can get a Moto G6 for a third of the price?
Good Stuff
High-end design at a low price
Good performance
Fantastic value
Solid camera
Phew, it has a headphone jack
Bad Stuff
Camera needs to be a mite faster