Motorola Moto G7 Plus review
The head of the Moto G7 family proves its worth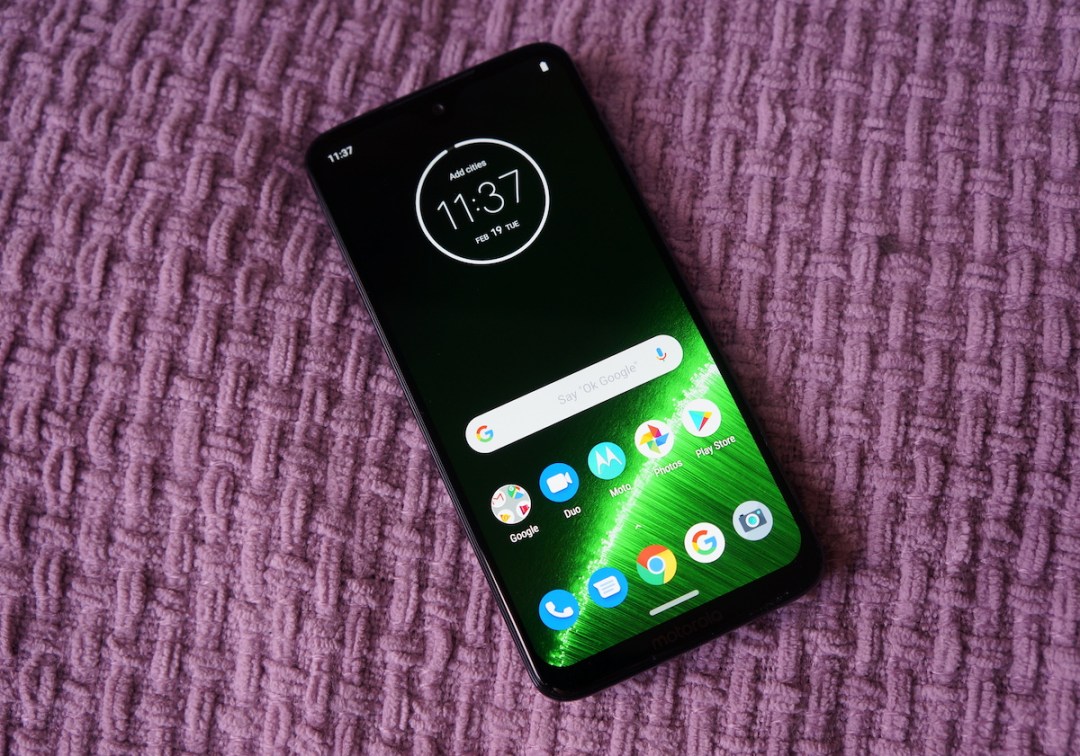 Has it really been a whole year since the budget-conscious Moto G6 range snatched a trio of five-star reviews here on Stuff.tv?
Well no, actually. The impatient G7 family has landed just nine months after its predecessors launched, and with an extra sibling in tow too, growing the pack to four.
Just the same as last year's G6 Plus, the G7 Plus is the cleverest of the bunch, with better specs across the board, from its camera to its processor. If you want an affordable phone but don't want to make too many compromises, this is the one you'll want to consider.
Of course, it's also the highest priced, but it lands at the same price (£269) as last year's G6 Plus, with a handful of tasty upgrades aimed at making your finger hover over that upgrade button.
But can it keep competition from the likes of the Honor Play, not to mention the other phones in the G7 family, at bay?
Design: Budget beauty
The G7 Plus does a very good job of hiding its more budget roots. Covered front and back in hardy Gorilla Glass 3, and sandwiching a metal chassis in the middle, it has a cool, premium feel in the hand.
It's perfectly weighted too – not too heavy that it feels cumbersome, and not too light that it feels cheap. There's a subtle curve to its edges, helping it to snuggle happily into your palm, with a new rear-mounted fingerprint sensor (moved from the bottom bezel of the G6 Plus) that sits at the perfect height to tap your index finger on when holding it. It's lightning fast too – I unlocked the phone a few times by brushing my finger across it by mistake.
With a 6.2in screen, the G7 Plus is certainly on the larger side, but when compared with its 5.9in predecessor, it actually manages to be smaller, overall. "Witchcraft!" I hear you cry. Actually, Moto has just shrunk the bezels of its predecessor, with the inevitable introduction of a (slightly chunky) teardrop-shaped notch to push that screen as close to the edge as possible.
With no buttons blemishing the front, there is just a low-profile volume rocker and textured power button tucked elegantly on the handset's right-hand edge.
Not quite so elegant is the circular camera bump on the back of the phone, but it is at least holding an better-specced dual-lens camera, which we'll talk more about later.
TLDR? The G7 Plus both looks and feels as good as the majority of its pricier competition, but is only splashproof rather than waterproof. It comes in a couple of finishes – the slightly more understated blue that I tested and a flashier red option. Both come with a plastic cover to protect them from knocks and drops, which also helps to keep pesky fingerprint smudges at bay.
Display & audio: punching above its weight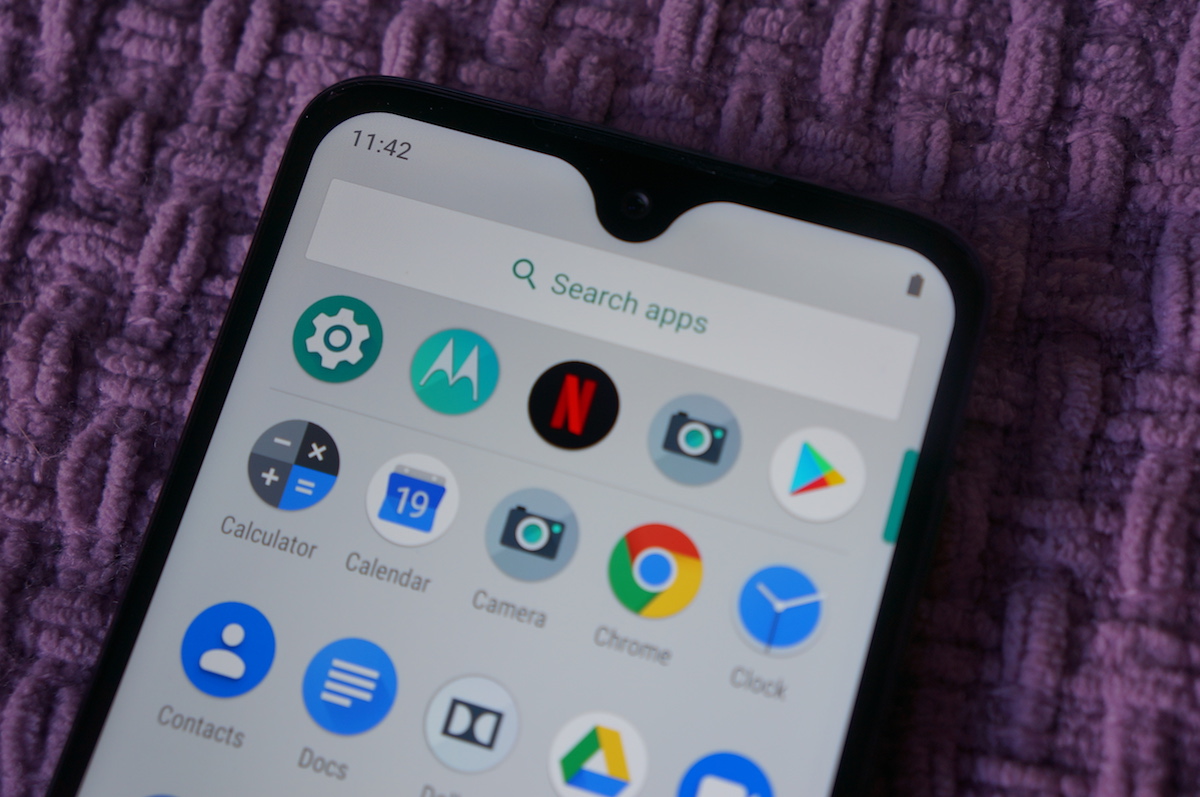 The 6.2in LCD display on the Moto G7 Plus is a Full HD+ resolution, meaning it's got a few extra pixels (2270 x 1080) to account for the taller 19:9 aspect ratio.
It's an impressive screen for the cash. Netflix streams look crisp and detailed, and colours are punchy but well-judged. Blacks go decently deep for an LCD screen too, and you are even able to tweak the colour palette to your taste, which is a nice touch at this level.
You could do this on the G6 Plus but you get an extra option here. It comes with Saturated selected as standard, but I prefer it on Boosted, which adds a touch more richness to colours than the more straitlaced Natural, and a hint more warmth.
The display won't manage the retina-searing brightness of something like a Samsung Galaxy S9, but it'll go plenty bright enough for you to be able to use it in outdoors on a sunny day, though the screen is a little more reflective than we'd like.
All good stuff, then, but in reality, there's not been any huge strides forward from the G6 Plus, which had an equally lovely screen.
That's not the case for the sound though, which has seen some improvements. The G7 Plus introduces stereo speakers here – up from the single mono speaker on its predecessor.
This helps sound to go louder and sound fuller-bodied if you're listening to stuff without headphones. Obviously, like any good citizen, you'll plug a pair in (via the 3.5mm jack, no less) for any listening in public, which is where you'll get the best sound quality.
Once again, Dolby Audio is baked in here and can't be turned off for the loudspeaker, but can be tweaked for headphone listening. The Smart Audio option selects Music or Video presets based on what you are doing (Music boosts the bass and Video boosts the treble), or you can set custom levels. Call me a party pooper, but I personally preferred the sound with it switched off entirely.
Software & OS: Anyone for Pie?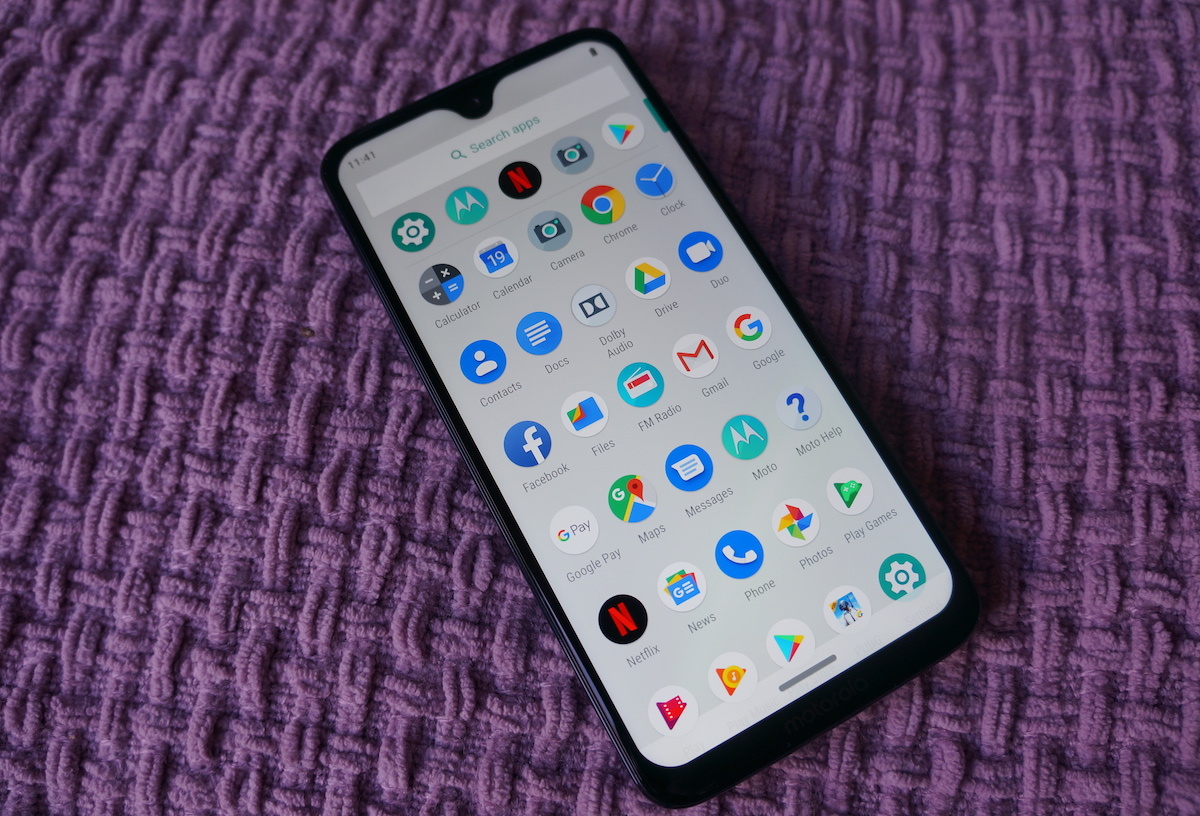 One of the best bits of Moto's G handsets has been just how little they mess around with stock Android, and the G7 Plus plays that card expertly once again.
Those who tinker with Android on an expert level will notice subtle differences, but Moto's version of Android 9.0 Pie looks resplendent on the G7 Plus. There are very few extra apps pre-installed, and only a few optional extras, such as Moto's suite of gesture and navigation controls.
Thankfully, these are generally pretty useful. They include One Button Nav for swiping your way around the operating system, the new Peek Display for a quick look at any notifications when the screen is off and the now-out-of-beta Moto Voice for announcing calls and texts when driving is detected.
Most importantly, the unbloated software is a major boon in ensuring a slick performance on a more humble processor. Bravo Moto.
Performance: Some limitations
Powering the Moto G7 Plus is the Snapdragon 636 processor – up from the 632 in the rest of the family – supported by 4GB RAM.
In day-to-day use, this mid-range processor does a grand job at seeing you through the majority of tasks, and is quick to respond to your various pokes and prods.
You can swipe your way through the OS without issue, multi-task to your hearts content and the G7 Plus will still come up with some power to spare.
Push it to its limits, though – with a game of PUBG, for example – and you will see a few stutters. Even on the preset low graphics setting, we noticed a few longer-than-ideal screen hangs and some dropped frames too. The Honor Play does better here.
You'll also notice slightly longer load times when trying to scroll through a Netflix film or YouTube video. It just doesn't render quite as quickly as you'd find on a more powerful handset – but remember its price tag and you'll no doubt find some patience for those extra few seconds. It's certainly not a deal breaker.
Battery life is pretty good, despite a drop in the battery capacity to 3000mAh (from 3200mAh). Steaming a 60-minute full HD video at half brightness saw it lose 13%, but I'd expect in real-world use, that most people would get at least a full day out of this without much issue. I'd consider myself a fairly heavy user and I usually make it to bed time with 20-30% left in the bank.
Helping to keep you in juice is the TurboCharge functionality, with the charger included in the box. This is the more powerful 27w variety, up from 18w on the regular G7, which means getting 60% extra charge in 30 minutes. Very handy indeed when you're in a rush, and a real bonus at this price.
As for storage, the G7 Plus comes with 64GB built in, and a microSD card for adding up to 512GB should you need it – that's up from 256GB on the G6 Plus.
Cameras: A Plus Point
The cameras on the Moto G7 Plus see some of the biggest on-paper improvements, and the best in the G7 family. The dual-lens set up sees a boost on the main camera from 12MP to 16MP (f/1.7) with the same 5MP depth lens for those arty portrait shots, while the selfie camera gets bumped from 8MP to 12MP. Optical image stabilisation is on board too, aimed at making those night shots a little more reliable.
As you'd expect, in well-lit environments, the G7 Plus performs admirably, with good detail levels, natural colour handling and a decent dynamic range. Outlines are sharp and it manages to balance out trickier lighting conditions most of the time, with an effective auto HDR mode that lifts shadow detail without affecting highlights. Even in more ambient light, detail levels are pretty good, with very little noise creeping in to ruin the party.
It's also quicker to focus and capture photos than I found on the G6 Plus, so there are less blurry snaps filling up my camera roll. It's still not completely foolproof, particularly in lower light, but it's much improved.
Low light performance definitely benefits from the added OIS though, and results are generally good, with a decent grasp on detail and colour. Sure, there's some added noise, but it's not overwhelming – in fact, helps keep darker images looking natural rather than over processed.
Even pictures of high contrast are generally handled well, with highlights largely well controlled and not overblown.
That said, the tap-to-expose metering can be a little jumpy, and you might find exposure goes through the roof if you try to make a small adjustment in your focus. Thankfully you can dial it up or down manually to help (as well as a whole manual mode if you prefer to get down to the ISO nitty gritty yourself).
The portrait mode does a good job at this level, picking out the subject of the shot and offering an adjustable amount of blur to the background of the image. Look closely and you will see it is caught out by less definite outlines, and the main subject is a little softer too, but it's largely effective, especially at this price.
As for other shooting modes, there are a couple of arty features that you can play around with – such as spot colour, which lets you keep one colour in a shot while making the rest of the picture black and white – plus you can record video at 1080p (30fps and 60fps) and 4K (30fps).
It isn't going to bother the very best with its camera capabilities, but for the money, there's only nitpicking to be had here.
Moto G7 Plus Verdict
Once again, the Moto G7 Plus proves its point loud and clear that you don't have to spend £1000 to get a great smartphone.
As expected, there are some corners that have been rounded off to get to that price, but when considered at this sub-£300+ price point, it performs admirably across the board.
Moto has listened to some of last year's snagging points and improved on them. That doesn't mean there's probably enough here to tempt G6 Plus owners to upgrade, but for anyone else looking for an affordable handset that shrugs off the majority of budget expectations, the Moto G7 Plus is a very safe bet indeed.
Stuff Says…
The head of the Moto G7 family proves its worth as a budget handset with very little compromise
Good Stuff
Great design
Crisp, bright screen
Solid performance
Uncluttered software
Value for money
Bad Stuff
Some stutters with high-level gaming