Motorola Moto G8 Power review
Another bargain battery behemoth?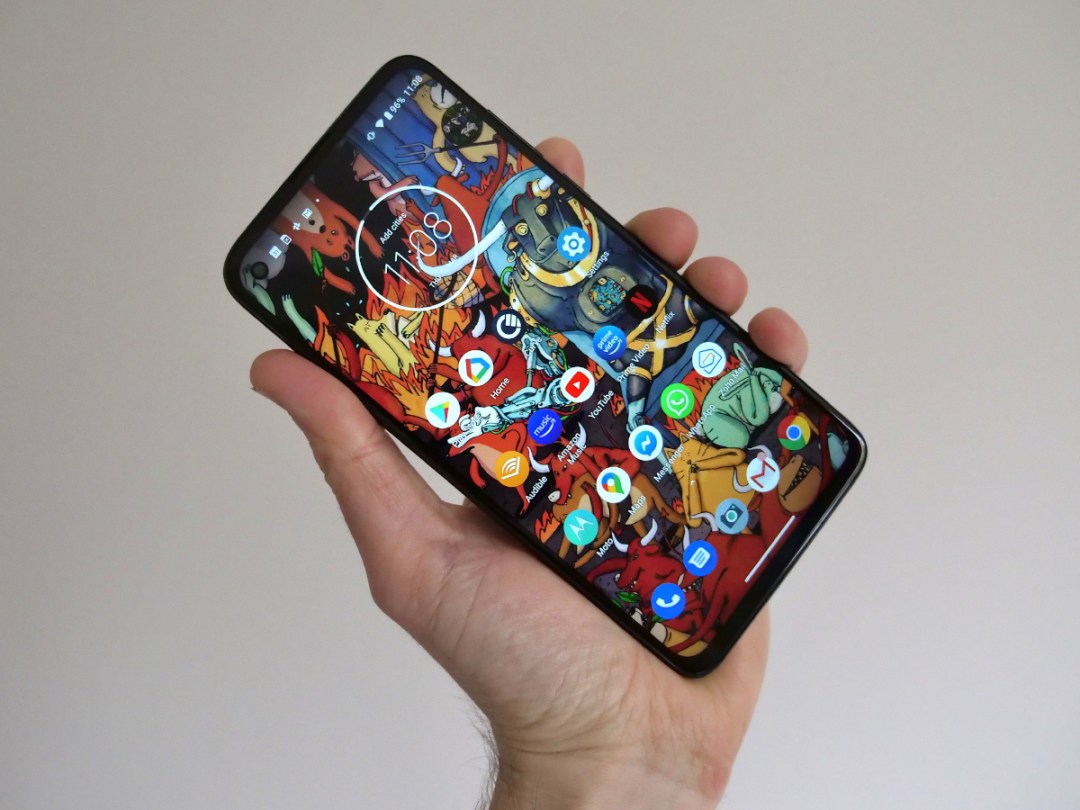 Motorola has certainly had a prolific few months, churning out what feels like dozens of fresh smartphones covering a wide range of budgets. The biggest headline grabber of the bunch was undoubtedly the rebooted Razr, a seriously cool bendy phone with a seriously terrifying price tag. However, the best Moto handsets are those at the opposite end of the scale, like the ever-impressive G-Series mobiles.
The first of the new Moto G8 family to arrive in the UK was the excellent Moto G8 Plus, which appeared at the death of 2019. A couple of months later, it's finally joined by the Moto G8 Power. This sibling rival offers a significantly bigger battery, as well as a fresh quad lens camera, for a similar cost. In other words, if your budget's tighter than a starfish's sphincter, this is a phone to get excited over.
Design & features: Keep it covered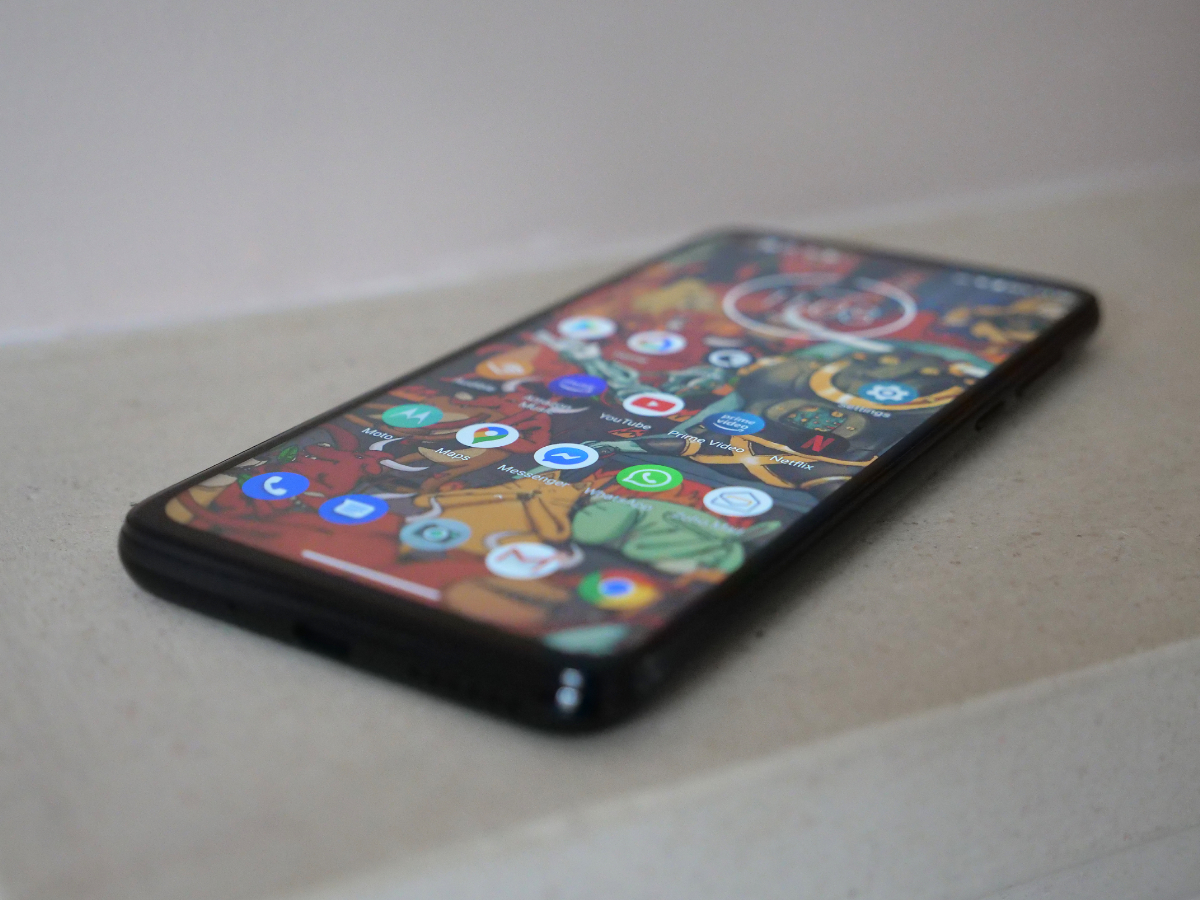 Most budget smartphones sport a basic plastic frame to keep costs low, and Motorola doesn't buck that trend with the G8 Power. That shiny finish will scratch up a storm over time, but at least you get a simple transparent cover shoved in the box to help keep it looking good. That'll also prevent your greasy prints from covering the handset, although the dark finish helps out there too. You can grab the Moto G8 Power in either black or dark blue, so maybe look elsewhere if you're into bright rainbow colours.
Perhaps unsurprisingly, this blower is also a proper handful at 6.4-inches and almost 200g. Even with fairly skinny bezels surrounding that screen, the Power would be a struggle to use one-handed without a bit of help. Thankfully Motorola has thrown in a desktop-shrinking one handed mode, while you can also drag down the notifications bar by swiping that rear mounted fingerprint sensor.
Good news if you live here in Blighty, too. The Moto G8 Power is IP52 splash resistant, so you can happily use it out in the middle of a rainstorm. As I have, several times.
Display & sound: Stereo superstar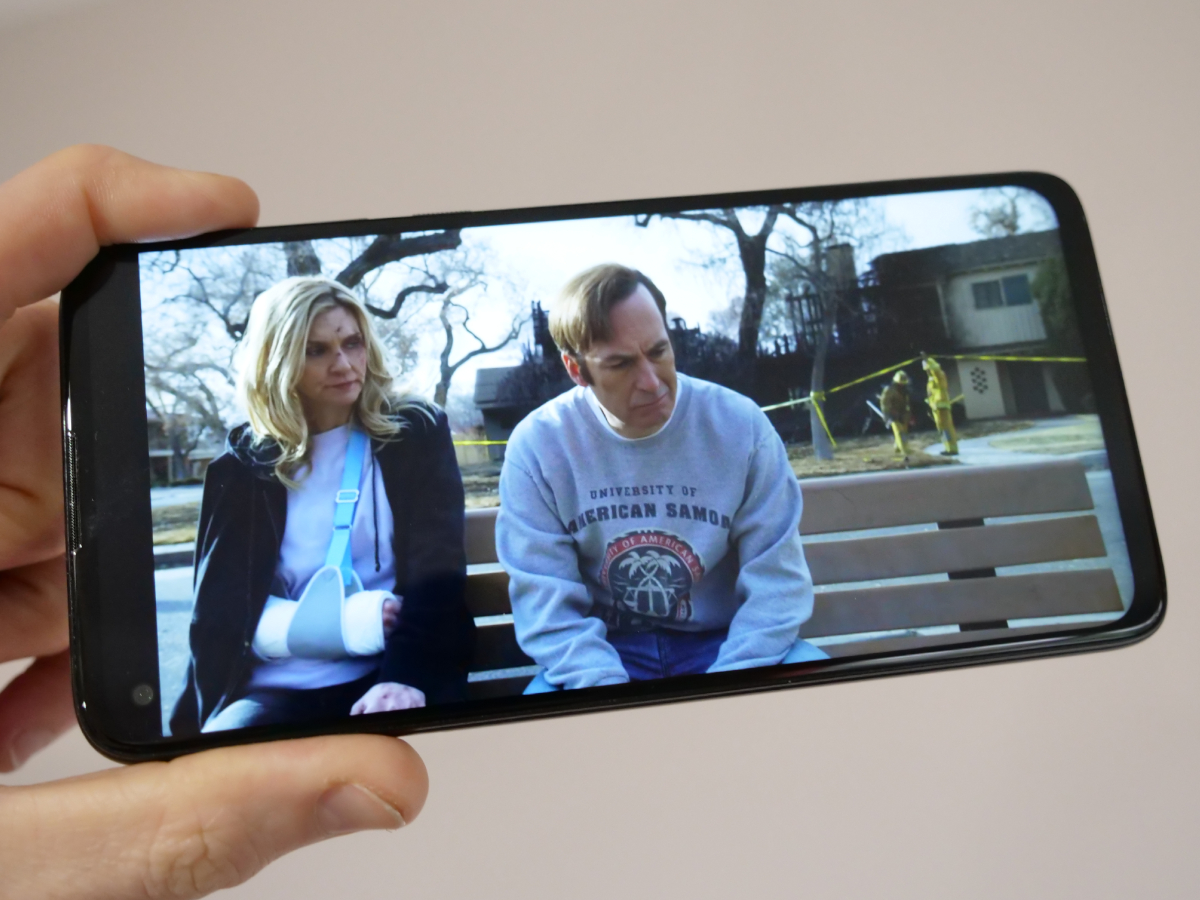 If you have to battle your way through an overly long commute every day, the G8 Power is a dependable little device for keeping you amused. That 6.4-inch IPS display is typically bright, with poppy colours and a crisp Full HD+ resolution. Don't worry about the pinhole selfie camera either. This dinky dot has been pushed away in a corner, so it barely intrudes even when you're enjoying some fullscreen Netflix action.
You have a choice of headphone jack or Bluetooth for enjoying your audio in private, complete with Dolby tuning which adjusts the output to suit your media. The Moto G8 Power also boasts a stereo speaker setup, a rare find indeed at this sort of asking price. Blast a bit of Better Call Saul through those and you'll cut through almost any kind of ferocious background noise. Just don't do it on your commute, or things may turn a bit savage.
Performance: Smooth-ish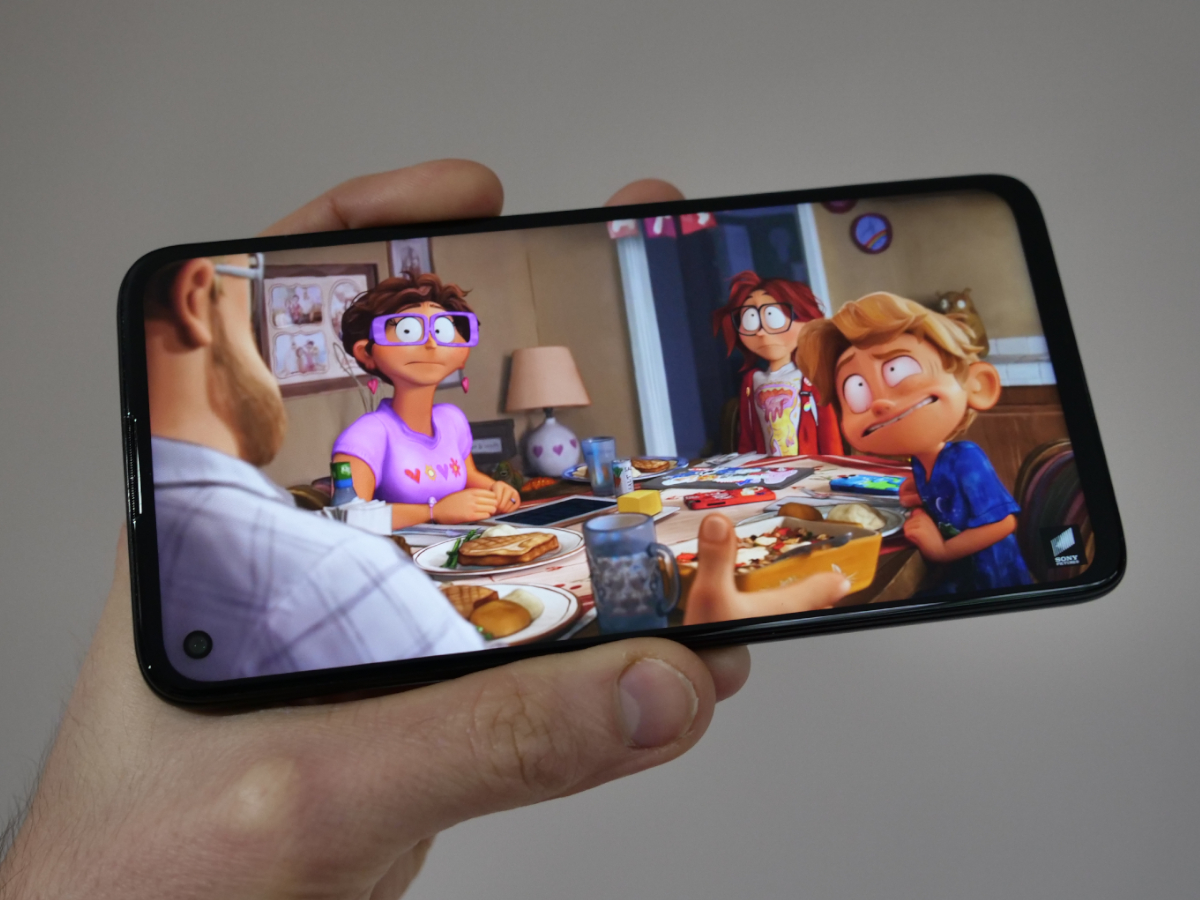 Like many affordable mobiles around the £200 mark, the Moto G8 Power has a Snapdragon 665 platform stuffed inside. Performance is pretty smooth on the whole, helped along by the 4GB of memory, although the occasional awkward pause does crop up, usually when least desired.
That said, I found I could waste an hour or two on games like PubG Mobile without any issues. Keep those detail settings locked on the rock bottom offering and the frame rate remains at an acceptable level, so you at least stand a fighting chance. Plus Motorola now offers a Gametime tool, which can block notifications and calls for maximum focus.
Battery life: I've got the Power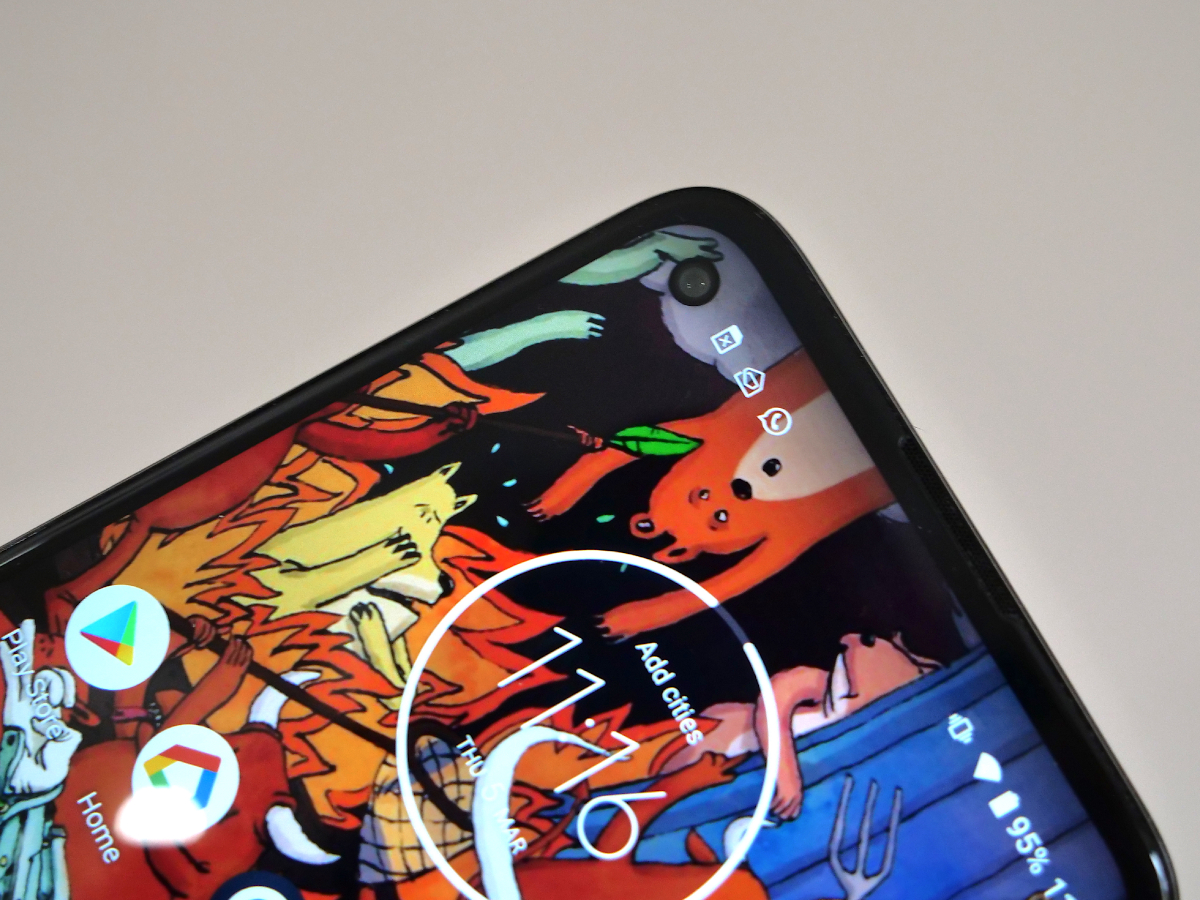 The biggest draw of Motorola's Power handsets is of course the enormous battery stuffed inside, which is great news for anyone who struggles to survive for more than 20 seconds without checking Instagram or streaming another Epic Fails video. You're once again gifted a mighty 5000mAh capacity cell, just like last year's G7 Power, although don't expect to get the same two to three days of life between charges.
Specs upgrades like the Full HD screen mean power is sapped a lot faster. I still managed to scrape two days of use if I was reasonably restrained, but if you stream a lot of music or movies, play with the camera a fair bit and use apps like Skype or Maps, you can expect to end the day with at most 30% to 40% battery power remaining. A good result for sure, but no better than many budget rivals like the Oppo A9 2020.
OS & software: So fresh and so clean
Motorola can always be depended on to serve up a deliciously clean version of Android OS, so what we have here is a near stock version of Android 10. This includes all of the best bits, such as the dark mode support and gesture navigation.
The software experience has been enhanced by one of Motorola's few additions, the Moto Experiences app, which adds a bunch of bonus gestures and helpful tools. I've already mentioned the one handed mode, which shrinks your desktops and apps towards the bottom edge of the display for easier use. And I love how you can activate the camera flash at any time, by clutching the phone and performing a double karate chop. Very handy when you drop your keys in the road as you stumble home shortly after midnight, after one too many shandies. Or so I've heard.
However, if you're a fan of Google Pay you'll have to look elsewhere. The Moto G8 Power doesn't have NFC support, so no contactless payments. That's a real shame, considering several cheaper devices still manage to pack in NFC.
Camera: Many lenses, limited skills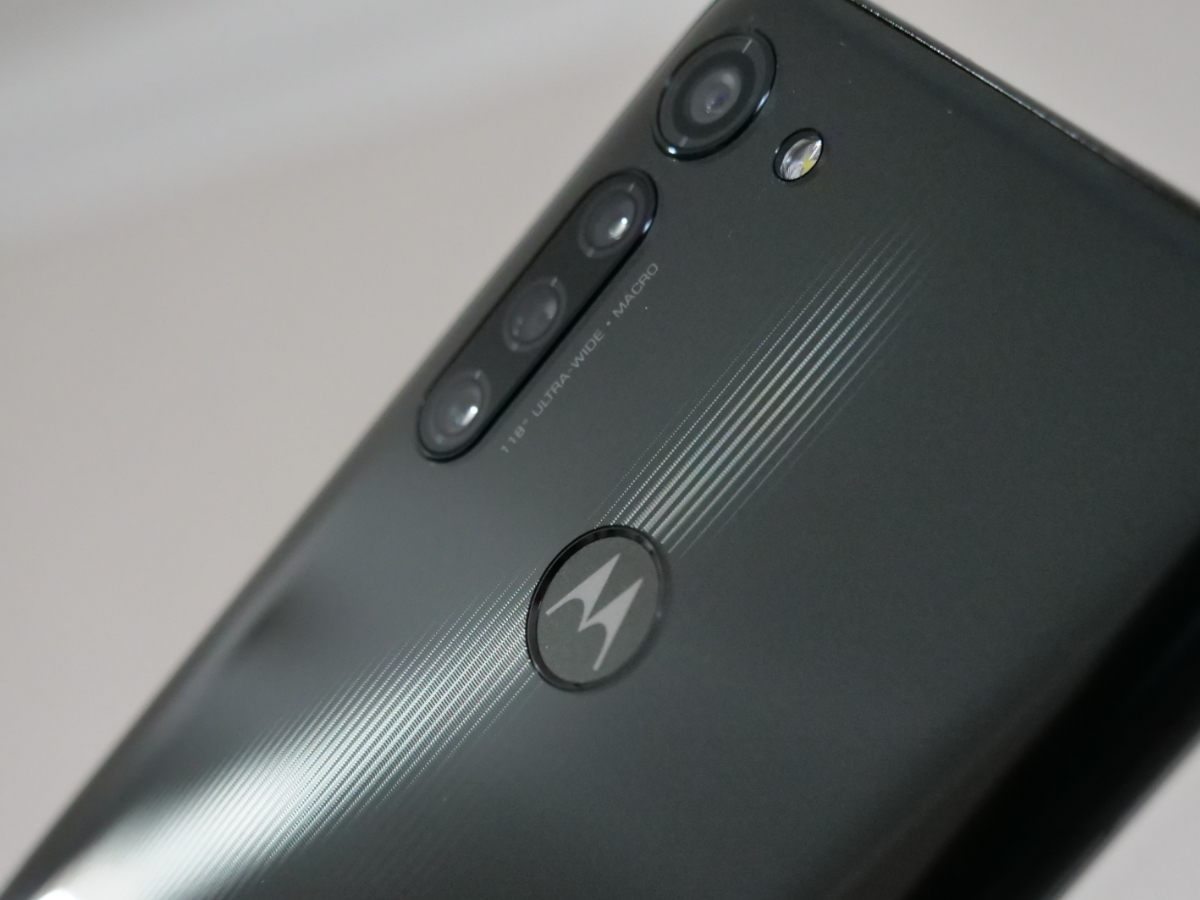 These days, even budget blowers come packing a ridiculous number of camera lenses – and the Moto G8 Power is no slacker in that respect. On the back of the phone you'll find a fresh quad lens camera setup, comprising a 16MP primary shooter, 8MP ultra-wide lens, 8MP telephoto lens and finally a 2MP macro lens.
More lenses definitely doesn't translate to a better experience, however. While the Moto G8 Plus offered pixel binning tech to brighten up darker pics and help deal with HDR, the G8 Power struggles with tricky lighting. The Plus' dedicated night mode has also been slashed, and it's a real miss. However I did enjoy using the ultra-wide and telephoto modes, with the latter offering a closer view of your subject thanks to the 2x optical zoom.
Like the stereo speakers, that's something you don't get on cheaper handsets too often. And as long as light is on your side, you'll get a respectable pic with decent detail and quite natural colour reproduction.
The G8 Power can even straighten up a wonky shot on your behalf, thanks to the Smart Composition feature. You can record up to 4K resolution video, with good audio pickup. Just don't move around much as the image stabilisation is next to non-existent at that Ultra HD level.
Motorola has crammed in plenty of bonus modes too, with the portrait feature in particular doing a great job of helping your subject to stand out. And the 16MP selfie camera is fine for a bit of Insta action, as long as you once again avoid strong backlighting or murky environments.
Motorola Moto G8 Power verdict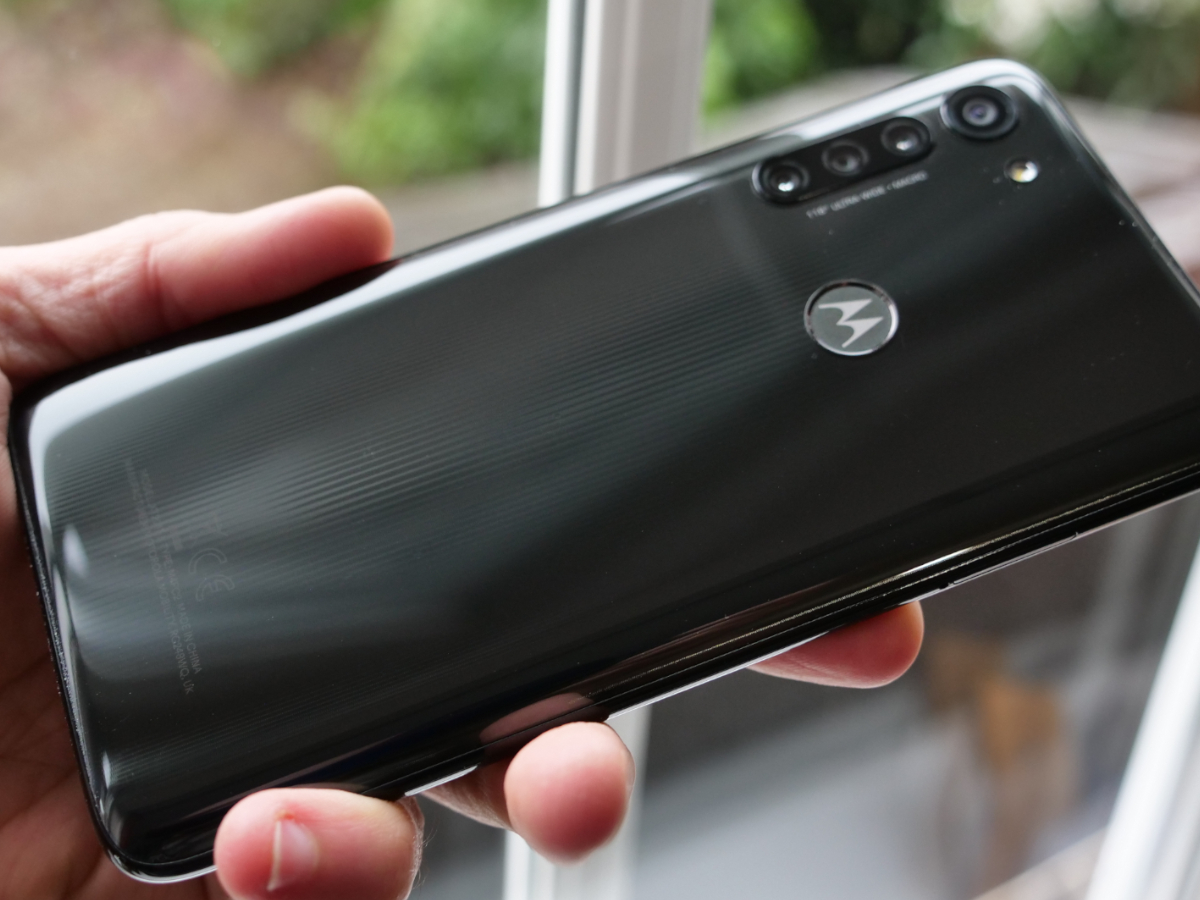 The Moto G8 Power offers a decent return for a wallet-friendly cost, although there's some very stiff competition around this price point in 2020.
Rivals like the Realme 5 Pro, Oppo A9 2020 and Redmi Note 8T are just as enjoyable, while Motorola's own G8 Plus boasts better camera tech for a similar price tag. It's a shame that the G8 Power can't breeze through two full days of use without needing a recharge, either. That was the major selling point of the old G7 Power, which also cost well under £200. That said, the battery life is still very good here, while only a handful of faults like the lack of NFC detract from the overall package.
Stuff Says…
While the Moto G8 Power isn't quite as impressive or affordable as its predecessor, and somewhat eclipsed by the G8 Plus, it's still well worth considering if battery life is a priority.
Good Stuff
Stereo speakers
Good battery life
Stock Android 10
Bad Stuff
No NFC
Camera struggles in low lighting
G8 Plus a better overall package