Motorola Moto G8 review
No bank-breaking here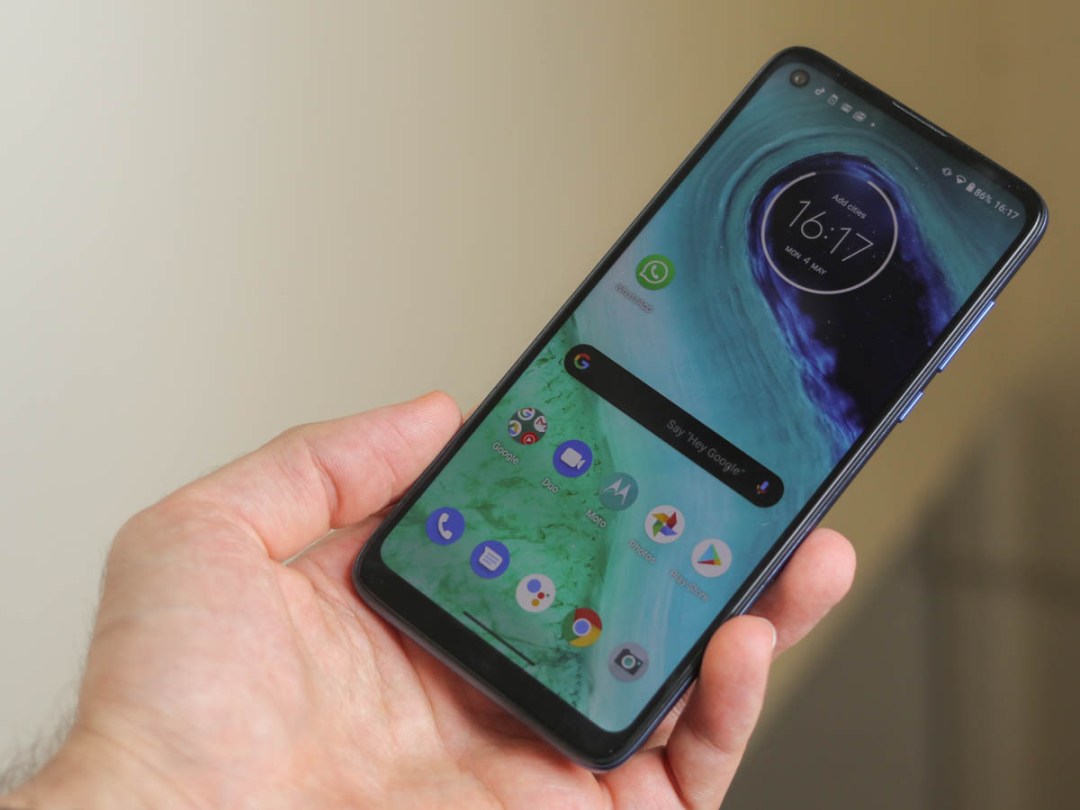 Motorola's G-series has always knocked it out of the park when it comes to value for money, and the world has never needed a stonking value phone more than it does now.
With everyone shacking up at home saving their pennies, even Apple's launching a price-conscious contender in 2020. That said, if you're looking for something even cheaper than the £419 iPhone SE, could the £180 Moto G8 be a choice buy?
What does £180 get you? A decent amount of power, no less than three cameras around the back of the Moto G8, biometric security, and a hefty 4,000mAh battery.
The G8 even undercuts the G7's price before it, which launched at £239. Open up the box of the G8 and there's a case included, and screen sports one of those hole-punch selfie cameras you see on flagship phones. Surely there's a catch? Of course there is.
By comparison to last year's Moto G7, the design has been pared back, swapping out glass for plastic, and NFC is also missing this time around. On paper, though, if you can handle that compromise, the G8 looks like a seriously good buy. Is it?
Design and screen: Protected plastic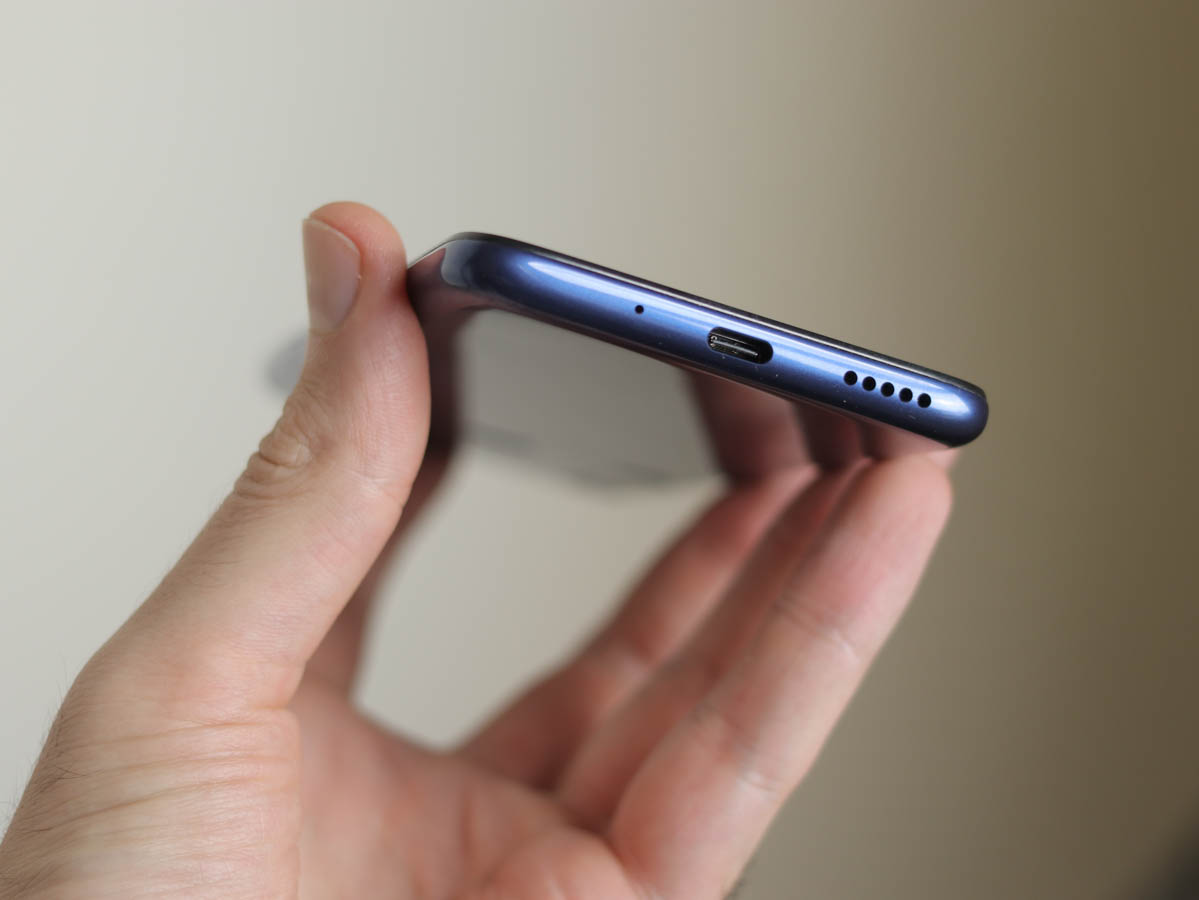 There's nothing dainty about the Moto G8. It's a big-screened phone with a plastic fantastic wraparound bod that clocks in at a chunky 9mm, and that only gets thicker when you whack a case on. That said, it definitely isn't a bad looking, or feeling phone from the front or back. Starting with the front, and the G8 has a 6.4-inch 720p LCD screen. It's a hole-punch panel, with a small-ish dot in the top-left, behind which sits the phone's 8MP selfie camera. The G8's 720p screen resolution is a step down from last year's 1080p Moto G7 and the identically priced Nokia 6.2 – so off the bat, the G8 isn't class-leading here. Additionally, the Samsung Galaxy A40 even delivers AMOLED screen tech at the same price – though it packs inferior specs in other areas. While the lack of AMOLED is noticeable, in real-world use, the lower resolution is less so, and doesn't work against the Moto G8 unless you've got the 20/20 vision of a visually blessed teenager. The display's colours pop about as much as they need to. Brightness is also fair, as is viewability indoors and out. While the G8 doesn't sport the best display on the scene, therefore, it will probably be at least good enough. What's more, the hole-punch panel makes for a more immersive experience than a notch, so the G8 isn't without its highlights. As for the rest of the design, it's all relatively smartphone by numbers. At the base is a USB-C port and a loudspeaker; up at the top, a headphone jack; all the buttons are on the right side of the phone and around the back, you'll find the fingerprint scanner and three rear cameras. Ultimately, in a bubble, the G8 is a decent looking £179 phone with a respectable screen. Fancier phones for the price do exist, but as we'll come onto, they'll likely come with performance and camera compromises.
Camera: Three's company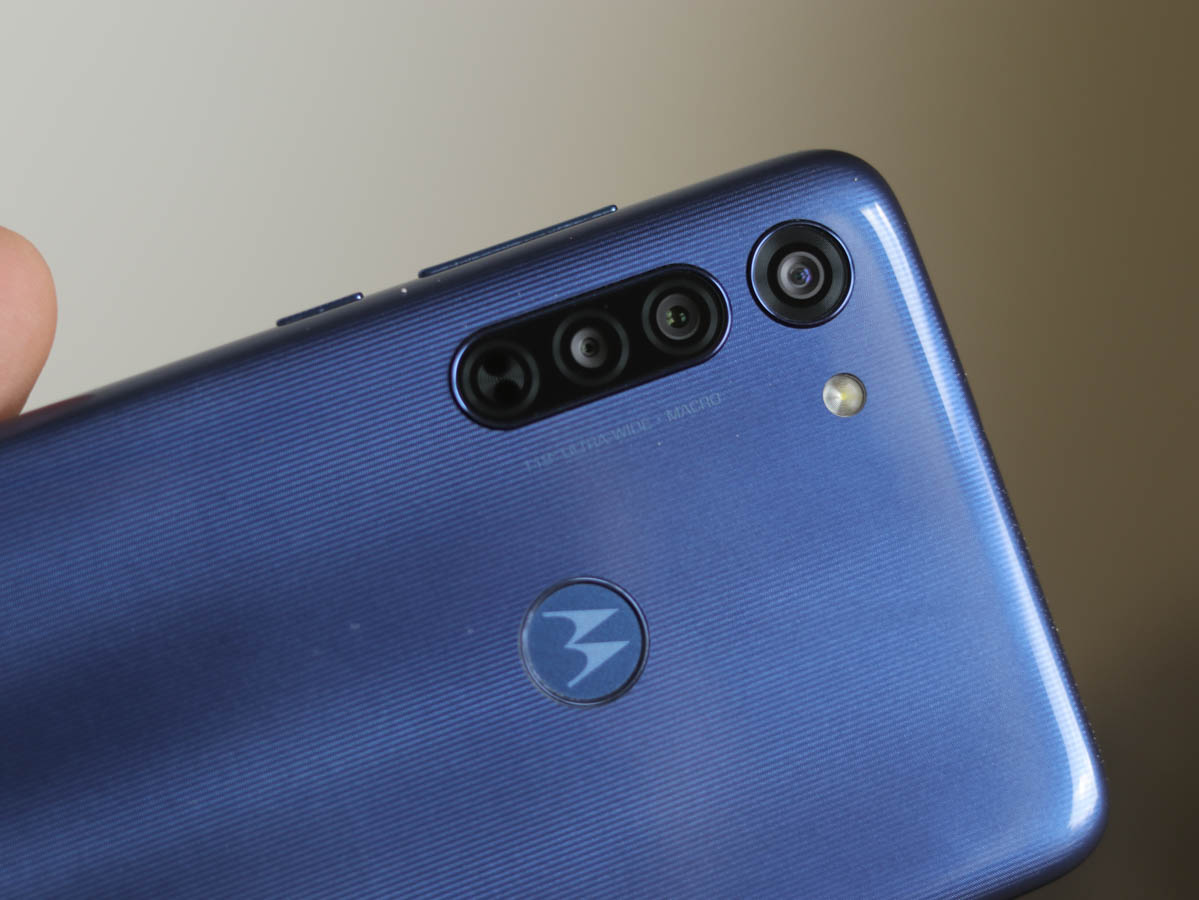 Spearheaded by a 16MP primary snapper, the Moto G8 packs three cameras around the back, and one selfie camera on the front. The main camera has a nice wide aperture – f/1.7, as well as both laser and phase detection autofocus for some snappy sharp shots. It's accompanied by an 8MP ultrawide camera and a 2MP macro camera.
Impressively, the G8 can shoot 4K video, and it's also loaded up with plenty of shooting modes too. These include Portrait mode for some blurry background realness, Cutout mode, which separates the foreground from background, creating some fun effects. There's also Macro Mode which fires up the 2MP close-up cam, Spot Colour and more.
Fundamental photo quality is decent for the price. The G8 struggles in high-contrast environments, with less competent HDR chops than higher-end phones, but feed it good lighting and it can bash out a great shot across Automatic and Portrait modes – the two modes you'll likely be using the most.
With no night mode, low light photography is going to be a no go zone unless you're happy firing up the flash, with results looking graining and lackluster. It's worth noting, at the price, unless you go with Huawei or Honor, that's a pretty standard result.
On the plus, video shot in good lighting looks really respectable. Additionally, there's a Video Stabiliser feature that holds the scene together nicely and compensates for a lack of OIS too. Ultimately, as a package the G8 is definitely one of the better £180 camera phones on the scene.
UI, specs and battery: Smooth sailing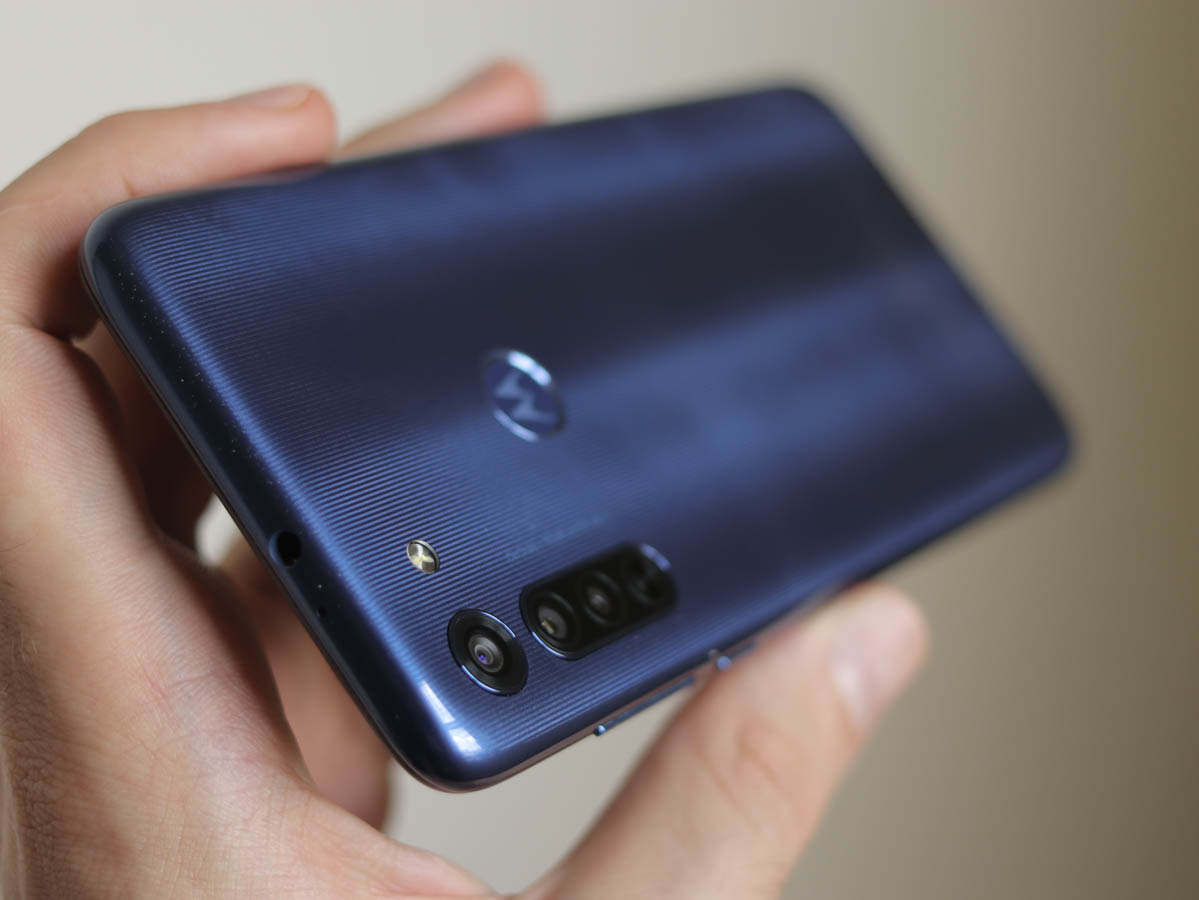 The reason to buy the Moto G8 is its day-in-day-out performance. Fire up the phone and it's a familiar, stock version of Android – no bloat, just simple, clean iconography and a few handy Moto features sprinkled atop for good measure.
Running Android 10 with full access to the Google Play Store, the G8 delivers excellent app support, and runs smoothly with Qualcomm Snapdragon 665 power. This makes it the best phone you can get for the price from a power point of view.
While it won't playback taxing games at high refresh-rates, it handles basic 3D titles well enough, not to mention 2D games without breaking a sweat. Combined with 4GB RAM and 64GB storage, swipes and taps are smoothly registered, and there's room for plenty of photos and videos. There's also a microSD card slot inside too, so you can bump up the internal space with ease.
The G8 has a massive battery – 4000mAh, which is pretty close to class-leading for the price, and easily got us through one day of heavy use, or two days of light use.
It takes a while to power up, with 10W charging speeds, but the fact you won't need to charge it too often is a boon.
The only feature of note that's missing from the Moto G8 is NFC. The omission means one-touch mobile payments and pairing won't be an option; but if you can get past that, the phone's internals stack up very well for the price.
Motorola Moto G8 verdict
There's a lot to be said for a phone that does the job.
The G8 looks decent, has enough power to get you through a full day without stutters, and packs a seriously respectable camera for the price.
Is the G8 perfect? No. At night, its camera crumbles, like most phones in its price range, and it also misses out on NFC. What's more, for £10 more, you could pick up the battery-tastic Realme 6i.
That said, if you want a reliable experience, a stock interface, and a great value for money smartphone, you won't be disappointed by Motorola's latest G.
Tech specs
| | |
| --- | --- |
| Screen | 6.4in 720 x 1560 LCD |
| RAM | 4GB |
| Storage | 64GB |
| Processor | Snapdragon 665 |
| Camera | 16MP + 2MP (Macro) + 8MP (Ultra-wide) rear camera + 8MP front camera |
| Dimensions | 161.3 x 75.8 x 9 mm |
| Weight | 188.3g |
Stuff Says…
The G8 is a workhorse with a decent camera and stonking battery life for the price, despite its compromises.
Good Stuff
Great bang for buck
Decent value camera
Clean interface
Bad Stuff
No NFC
Plastic build
720p display