Motorola Moto G9 Plus review
Gamers and video streamers, right this way
Words like "Pro" and "Plus" tend to get thrown around a lot in the smartphone world, but they don't always boil down to much in terms of the tech.
But what about the Moto G9 Plus? This is about as "Plus" a phone as you could ask for at under £200. It has a gigantic screen, 128GB storage, the battery lasts ages and it even has one of Qualcomm's gamer series processors.
So is the Moto G9 Plus the perfect budget phone? Let's not go crazy. For around £50 more you can get the Moto G 5G, which has — you guessed it — 5G mobile internet. It has half the storage and a lower-res camera, but is worth keeping in mind.
The Moto G9 Plus is also a whopper, particularly if you use a case. Not put off yet? This is one of the best sub-£200 phones around, particularly for gaming and video streaming on a tight budget.
Design: Shiny plastic shell suit
The Moto G9 Plus is an affordable mobile made for the phone enthusiast, the kind of person who wants to do more than just sending GIFs on WhatsApp. And that comes with one of the few problems you need to tackle: it's a big'n. A 6.81-inch screen, standard-size screen borders and thickness of ~10mm makes the
Moto G9 Plus a real test for your finger dexterity, particularly if you also use the included case. And if you want to keep the phone looking nice, you should. This isn't something that pops up daily, but you know those apps that put buttons right on the other side of the screen? We've dropped the Moto G9 Plus a few times trying to reach them. This phone is 78.1mm wide, the same as the iPhone 12 Pro Max, and feels bigger than that phone thanks to its thickness.
We're not really complaining, mind. It's a plus-size Plus phone. Makes sense, right? However, unlike one of the Moto G-series Plus phones of old, there are few fancy materials involved. Wind your mind back to 2019, when the pubs were open and booking a holiday didn't seem as dicey as betting your rent money on the roulette.
That year we got the Moto G7 Plus, a rather fetching budget phone with a Gorilla Glass back and aluminium sides. The Moto G9 Plus has a plastic back, and the rear is a single piece of plastic that swoops around to cover the sides. Those days of cheap glass phones are long gone. And we miss them. Still, the Moto G9 Plus doesn't look bad.
The finish is an almost chrome-like mirror in fetching blue or gold. The camera housing has the techy appearance of a more expensive phone too because, as seen in so many cheap mobiles, there are four cameras on the back.
An unnecessarily long LED flash completes the "fake it 'til you make it" picture. There are positive attributes to being a cheaper phone too. The Moto G9 Plus has a 3.5mm headphone jack — love it — and a microSD card slot despite the pretty high 128GB storage. It ticks plenty of thrifty nerd boxes.
There's a fairly nippy side-loaded fingerprint scanner too. And, like most of the Moto phones, the Motorola Moto G9 Plus's speaker is good. It's loud and there's a hint of bass, for sound not too far off some phones 3-4 times the cost. This isn't a stereo array, which some other Moto phones do have. There's just one speaker down at the bottom. But the main takeaway is it's not quiet, weak or harsh.
Screen: No fancy stuff, but it's massive
There's a good chance you've come to the Moto G9 Plus for its screen. At 6.81 inches it's around the same size as the display of the Samsung Galaxy S21 Ultra. In terms of screen inches and fundamental display quality per quid, this phone is hard to beat.
Its colour is solid, contrast is decent and maximum brightness of 476cd/m is pretty similar to what you'll see in some phones well over twice the price. Add the sharp 2400 x 1080 resolution and you have a pretty much perfect budget screen for gaming and video streaming. Of course, it doesn't have any of the fancy stuff gradually dripping through the floorboards to the bargain basement.
The Moto G9 Plus has a 60Hz screen, not a 90Hz or 120Hz one, so Android doesn't scroll with the unnerving smoothness of some slightly pricer rivals. This is an IPS screen, so there is some brightness loss at an angle. It does support HDR, but you'll need to use the slightly cool-looking Boosted or Saturated colour profiles, as YouTube HDR content tends to look undersaturated on Natural, which we think looks best day-to-day.
You can poke holes if that makes you happy, but we think video looks fan-bloomin-tastic on the Moto G9 Plus. But how about games?
Performance: Perfect for gaming on a budget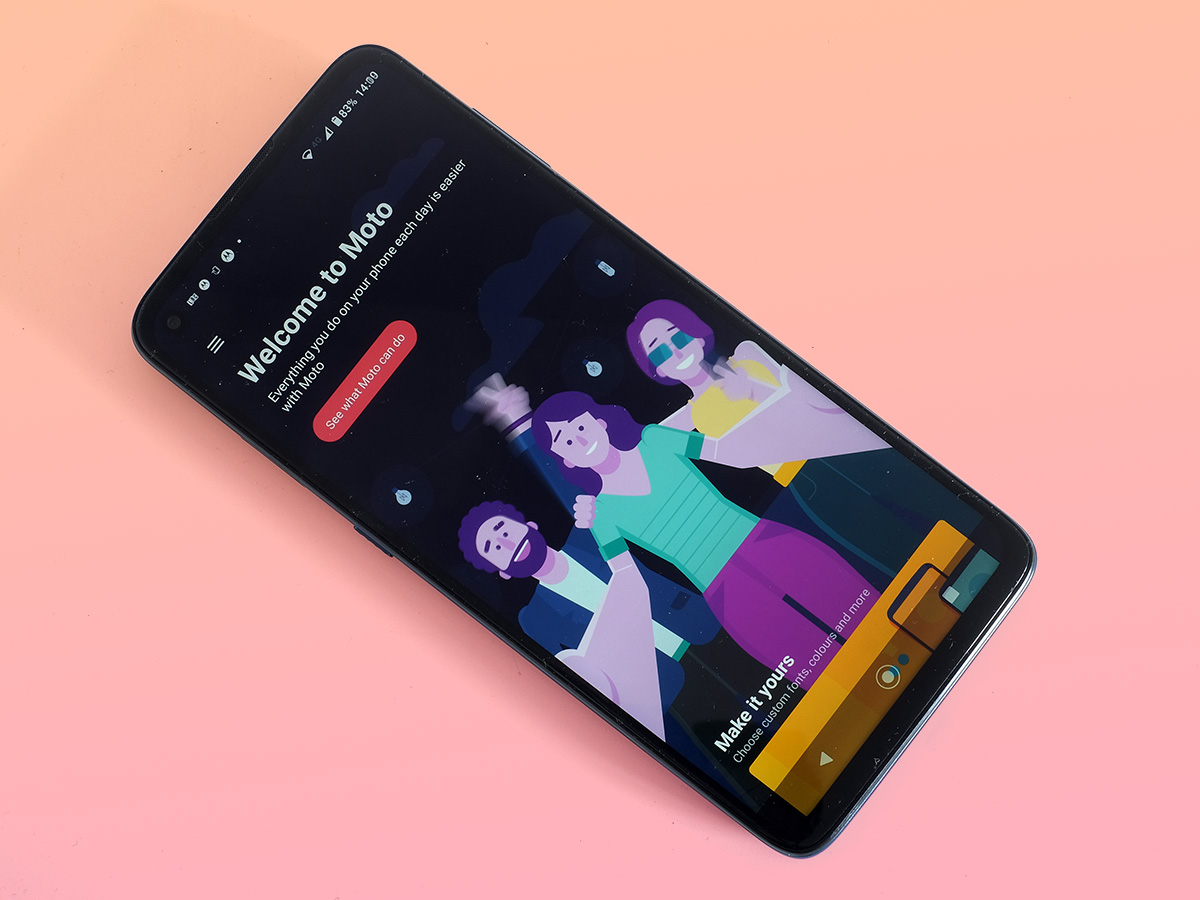 A giant screen makes the Moto G9 Plus an obvious choice for gamers, but it also needs a good graphics chipset. We get the Adreno 618, which is part of the Snapdragon 730G processor. That "G" on the end tells us this is a gaming chipset, with a slightly higher-clocked graphics section.
But can it 'Fortnite'? Sure. You get ~30fps rather than the 60fps mode available on high-end phones. And "medium" is the max graphics setting available, but it still looks fairly good. Gameloft's action heavy racer 'Asphalt 9' looks gorgeous on the Moto G9 Plus's massive screen, and only suffers from minor frame rate hitches when the on-screen action is at its most busy. The phone glides through less demanding titles like 'Asphalt 8', 'PUBG' and 'Call of Duty Mobile'. This is one of the best gaming phones you can get for under £200.
General performance is great too. The Moto G9 Plus doesn't suffer from any significant lag, any irritating pauses when you call up the keyboard. Google's more expensive Pixel 4a uses the same CPU. Pay a little more for a Snapdragon 765G phone like the OnePlus Nord or RealMe X50 Pro 5G and there's a noticeable bump in pep, but these cost more and the gap is not huge.
Want the raw stats? The Moto G9 Plus scores 1671 in Geekbench 5, to the 1900 of the OnePlus Nord. The Moto G9 Plus's software is also pleasantly neutral. Its round icons and no-nonsense system layout are similar to what you'd see in a Pixel 4a. As usual, the Peek display is Motorola's main addition. This is a screen that pops up in standby when you move the phone, pick it up or receive a notification. It's a way to see whether something needs you attention without fully unlocking the phone.
Camera: Four rear lenses, only one good
The Moto G9 Plus has four cameras on its back. We've reached an odd place where cheap phones often have more cameras than expensive ones, and it's because manufacturers tend to put one decent camera in, and sprinkle in some trash sensors around the sides like decorative confetti.
Our main sensor is a 64MP chip. Motorola doesn't say what it is, but we'd bet a four pack of Pot Noodles it's the Samsung GW1. It is used in phones around this price like the Samsung M31 and much pricier ones, such as the Realme X50 Pro. And this is one of the better uses of it we've seen.
Sharpness is good apart from in the extreme corners, colour has a rather lovely relaxed and natural tone, with none of the over-saturation so many phones lean on. The Moto G9 Plus even holds up reasonably well in the shadowy bits. This is where you often see the difference between a good budget sensor like this and a high-end one: the dark areas in a photo can end up looking low on contrast, stodgy or smudged elsewhere. And while the Pixel 4a's images will hold up better, we're pretty impressed by what Motorola has teased out of this sensor.
It's all tied together with auto HDR, which Moto phones now have nailed down after years of gradual improvements. This makes sure exposure looks pretty even if you shoot right into the sun. All this applies when you take daytime photos with the Moto G9 Plus. Indoor photos aren't quite as hot but they don't have the weak, undersaturated appearance that is still quite common among lower-cost phones. Night shots are, no surprise, the weak spot.
Shoot without using the built-in Night mode and your images will just look dark. Turn it on and both brightness and dynamic range improve hugely, but detail is still limited, just as it is in most phones in this class. A few sightly more expensive phones, like the Realme X50 5G, have broken out of this mould to produce shots that can compete with true mid-range mobiles. The Moto G9 Plus doesn't, but at least we get a Night mode.
We're otherwise entirely happy with the Moto G9 Plus's main camera.
And the rest? These include an 8MP ultra-wide, whose images just don't compare with those of the main sensor. They are far softer, and don't have the same natural colour presentation. Almost all the ultra-wide shots we took deserve the "meh" response. We're glad we get the second field of view, but we also wish it were a bit better.
The Moto G9 Plus's other two cameras have low-quality 2MP sensors. We get a macro, which has autofocus — which is nice — but the photos it takes are poor.
The final camera is a depth aid, and doesn't actually produce images by itself. Instead it's used in the Portrait mode, which throws the background out of focus. It's not a wholesale success, as the background blur shots it helps make still have plenty go object recognition problems. But it means we can take Portrait images of anything rather than just people, which can be done fairly easily sans depth sensor, so again we're glad it exists.
How about video? There's nothing unexpected here. Shooting taps out at 4K resolution, 30 frames per second and there's no optical stabilisation. But, again, we're largely happy with what we get. Moto G9 Plus allows software stabilisation at 4K, image quality is good in daylight and there's even a 120fps Full HD slo-mo mode.
The Moto G9 Plus's front camera is a solid performer too. It has a 16MP sensor, and uses 4-in-1 pixel binning to improve consistency as the light level drops. The resulting 4MP resolution may not sound like much, but it's enough to render those lockdown facial hairs and worry lines in style. For a cheaper phone, selfies look great.
Battery life: Ready for a thrashing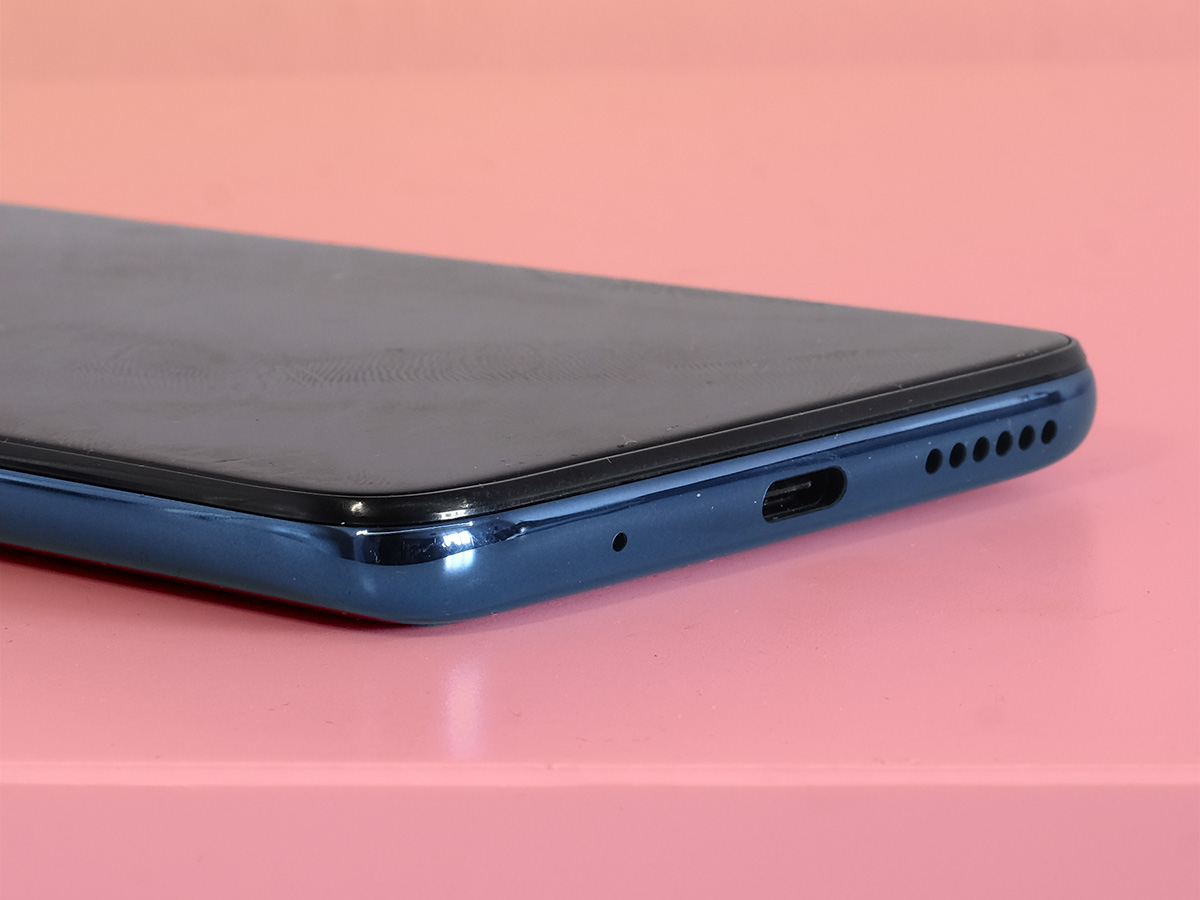 Battery testing brings more good news. The Moto G9 Plus has a 5000mAh battery, which has become the norm for large phones, but this one outperforms many with the same capacity stats.
We didn't expect this given its huge screen, but the Moto G9 Plus will be a two-day stamina phone for plenty of lighter users. We routinely end up with 40% charge left by the late evening.
And one Saturday, on which we hadn't spent too much time glued to the screen, we finished the day with 67%. On paper the Moto G9 Plus sounds like it has a pretty standard battery for its size, but it's better than that.
It easily outlasts the Samsung Galaxy S21 Ultra in our experience. Charging speed is great for a lower-cost phone too. You get a 30W charger in the box, and it gets you from flat to 65% charge in 30 minutes. You can't ask for much better for £200.
Motorola Moto G9 Plus verdict
The Moto G9 Plus is a cracking buy if you like playing games or streaming video. Its screen is massive, it has enough power to handle games well and the battery can keep up with a solid day of hammering.
You get the right specs, at the right price, and the primary camera on the back and selfie camera on the front are respectable too. There are only two reasons to pause.
For a little more cash you can get the Moto G 5G, which supports 5G. The Moto G9 Plus is a 4G phone. It's also a very large 4G phone. We bedded into the bulk after a few days, but have a think to make sure you won't wish you bought something smaller.
Stuff Says…
Not fussed about 5G? Don't care about 120Hz screens? The Moto G9 Plus is one of the best affordable phones around, tailor made for those who want to stream video and play games, not just faff about on WhatsApp
Good Stuff
Giant, high quality screen
Plenty of storage
Great battery life
Good gaming and general performance
Bad Stuff
5G alternative available for a little more
It's pretty large
Lacks the stereo speakers of some Motos