Motorola Moto X Force review
The only top-end phone guaranteed not to shatter
As first-world problems go, dropping your phone on to the pavement is a doozy. Shattered iPhones shatter lives. For at least a day.
The Motorola Moto X Force's whole deal is that it wants to avoid its screen shattering, ever. It's pretty much the one way you're never going to destroy the phone.
Have olive oil-greased butter fingers? In a world where we're seeing more aluminium and glass phones than ever, the Moto X Force is a very good idea. However, with Samsung Galaxy S6 and LG G4 prices tumbling as if their successors are already here, the rest of you don't need to get quite as excited about this £500 phone.
The Unsmashable force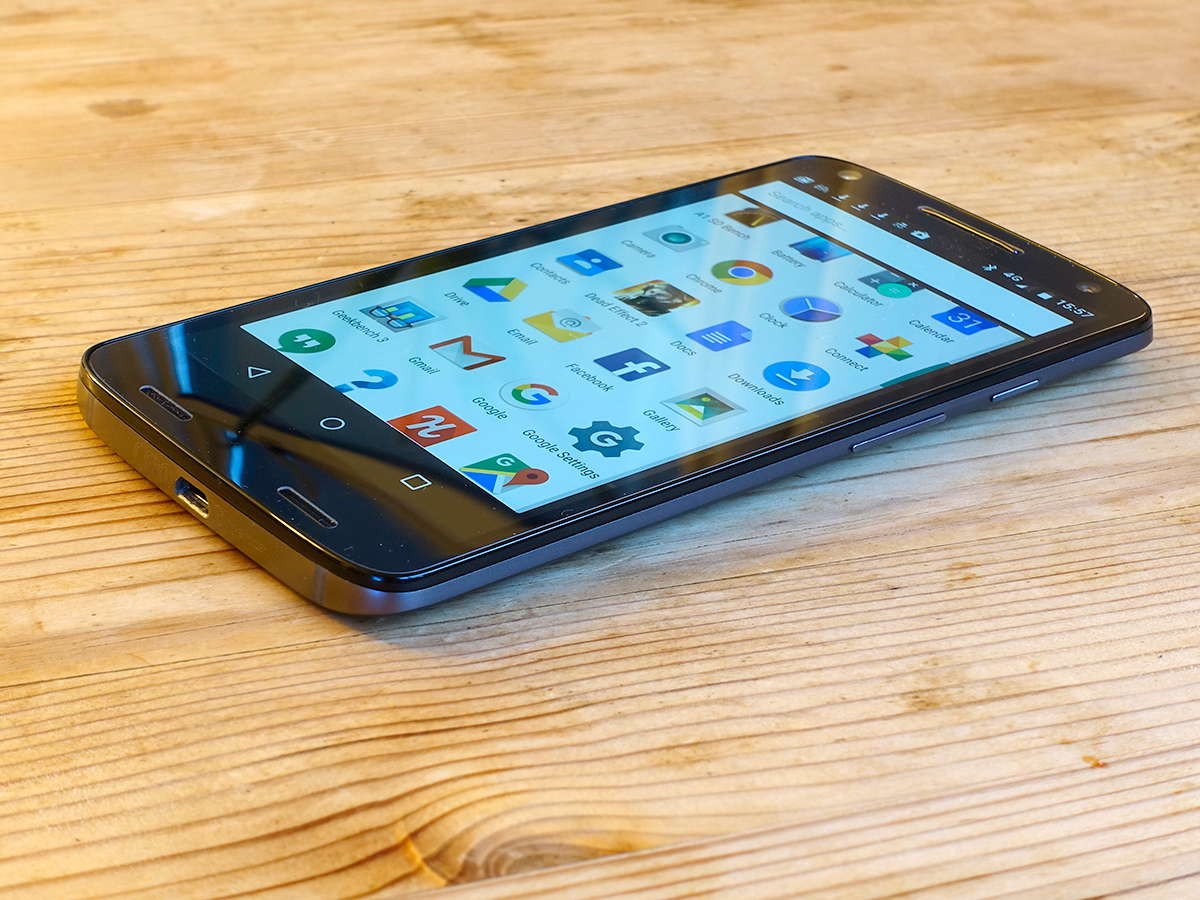 Primed for abuse: that's how the Motorola Moto X Force rolls. You're probably thinking: hard as nails, Gorilla Glass 4 up to the eyeballs, right? Well that's not really the idea.
Glass screens shatter because they're very hard. The Force tones down the pure hardness factor to make shattering a non-issue. First, the screen panel is a P-OLED, a plastic-backed OLED display. It's the same type used in bendy phones like the LG Flex 2.
Judging by the harsh treatment people have submitted the X Force and its identikit cousin the Droid 2 Turbo 2 to, the main 'lens' protector isn't glass either. It would shatter. While I couldn't get Motorola to reveal exactly what the main screen protector part is made of, a rep told me it's likely "a kind of plastic".
And on top of the display is a hardened screen protector. Again, this appears to use some form of plastic, but it has been hardened so that a) it doesn't scratch easily and b) the top layer feels like glass. It doesn't flex under finger pressure as you might expect.
You may succumb to a little tinkle of excitement on hearing the Moto X Force is the "world's first smartphone display guaranteed not to crack or shatter," but it's always worth stopping to think why. This time the answer is 'plastic'. It's just dressed up very nicely.
Flak jacket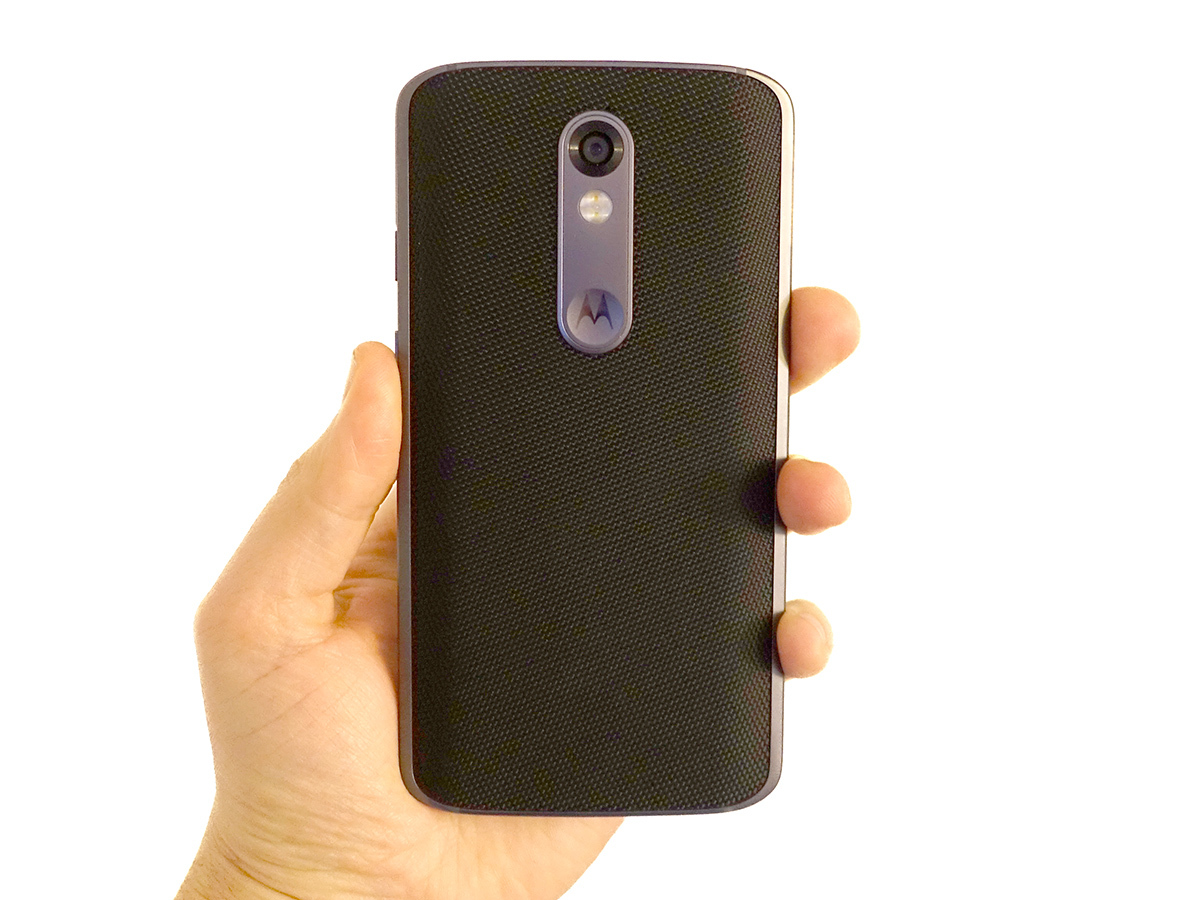 The same is actually also true of the back. The Motorola Moto X Force comes with a leather or ballistic nylon backside, but in the UK at least the vast majority of shops seem to sell the nylon version.
Board the hype train and you can dig into how ballistic nylon goes into making protective flak jackets worn by soldiers. However, let's put the kettle on and sit down for a minute. The Moto X Force has an ultra-thin ballistic nylon veneer, a bit like the LG G4's leathery back. It's there for the look and feel more than anything else. Oh and ballistic nylon is a synthetic polymer. That's right, it's good old plastic once again.
I'm not out to burst any bubbles, we just need to get real and see the Moto X Force for what it is. It doesn't really use super-advanced techniques NASA would envy, just different ones from those we normally see. Less glass, more plastic. It's not fully waterproof either, just splashproof, which is disappointing for such a 'rugged' phone.
The one kinda neat thing is that it uses two touchscreen layers, one acting as a spare just in case the other one conks out.
Wide load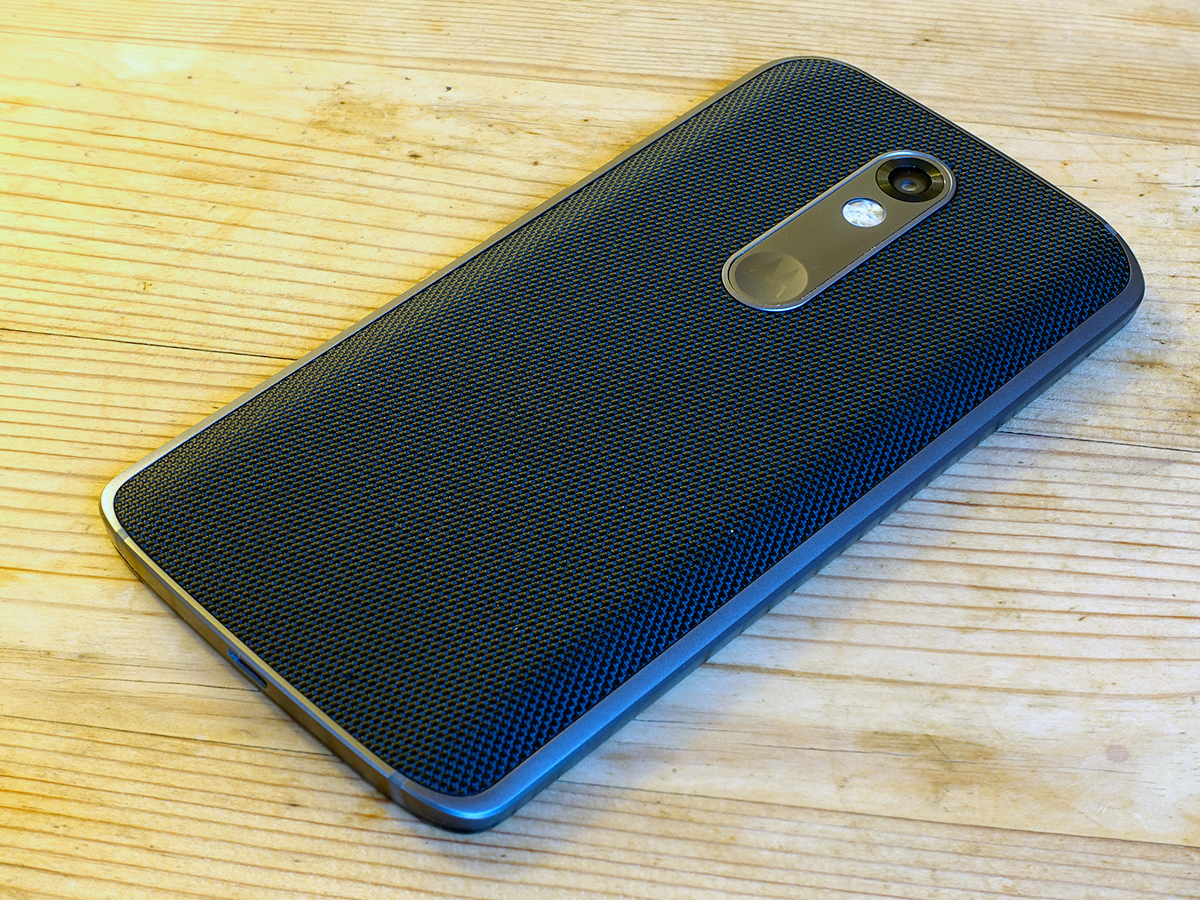 I also quite like the feel of the phone. The ballistic nylon gives the Motorola Moto X Force a sort of rough, scratchy woven feel. Some of you will hate it, but it doesn't feel cheap, just a bit "stubble-jawed" rough.
As with the Moto X Style, the edges are metal too. The Motorola Moto X Force is not a beauty, the white version being ugly and the black just fine-looking. But at least it feels reasonably expensive.
It is a wide load, though. Despite having a 5.4in screen it's wider than most 5.5in phones. Heck it's even wider than the S6 Edge+ and Nexus 6P, which have 5.7in displays. I bet a few of you will feel like you're handling a heifer for a few days. However, the Moto X Force gets away with it. As with its siblings, a nicely contoured back that helps soften the impact of the sheer chunk factor.
It does mean that, for £500, there are loads of more elegant options, though. And techier ones, too. The Motorola Moto X Force doesn't have a finger scanner, for example, even though it's flavour of the month.
As someone who generally only uses phone security to test out finger scanners right now, I'm not too bothered. But if your friends like to hijack your Facebook at every possible opportunity, bear this in mind.
Despite all its big claims, the Motorola Moto X Force feels like a bit of a warm and fuzzy throwback to me. It goes against the grain.
Layer cake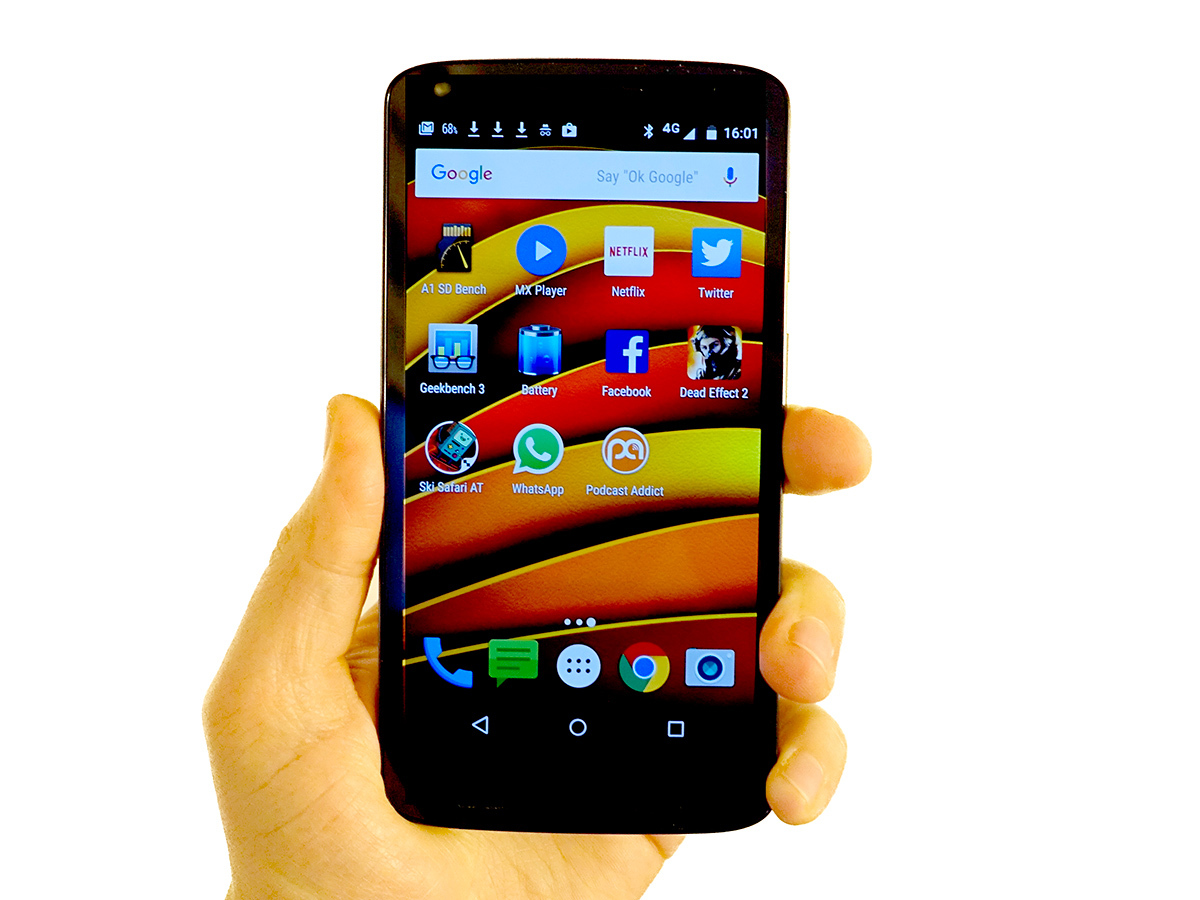 Nowhere is this truer than the screen. For years companies have been boasting about their advanced layer-merging screen lamination techniques, but Motorola is banging on about its also-advanced '5-layer' display. Word the blurb right and you can turn a negative into a positive.
The worry is that all those layers are going to make the screen image look recessed, like some kind of government issue Soviet phone. However, the image still looks like it's almost at the surface, and viewing angles are great.
This is largely because it uses an OLED screen, whose pictures look the most vital. The Motorola Moto X Force doesn't get away scot-free, though.
Compared to the OnePlus X, one of the last OLED phones I had a look at, the display area of the Force looks slightly greyer. This is the effect of those extra layers reflecting a tiny bit of ambient light, meaning you don't get the full effect of all that high-contrast OLED loveliness when, say, you're watching Netflix in daylight.
As with other OLED Motorola phones like the original Moto X and the Nexus 6, the colours aren't perfect either. They're oversaturated, making them appear to pop like crazy if you're used to a more natural-looking phone.
Plenty of people like over-egged colour just as they like extra bass in their headphones, but phones like the Galaxy S6 and Nexus 6P at least let you pick between natural and turbo-charged colour profiles. My Motorola Moto X Force also has a slightly greeny white balance skew. Most phones have a slight blue or orange tinge, but I don't often see a green one. Still, it's pretty minor.
The last little knock against the Force is that reflections show that, unlike a glass screen, the front of the phone isn't totally flat. Turn the screen off and everything gets a bit "hall of mirrors". There are reasons why every other top-end phone uses a glass screen covering.
Does all of this add up to disaster? Not really. It just means you can't look at the specs and assume the Motorola Moto X Force matches the Samsung Galaxy S6. It doesn't.
Still, it has a high-end 5.4in 2560 x 1440 pixel panel, so has plenty of pixels to go around. Some people have said the plastic screen style makes images look fuzzy, but the Motorola Moto X Force screen looks pretty sharp to me.
Moto moves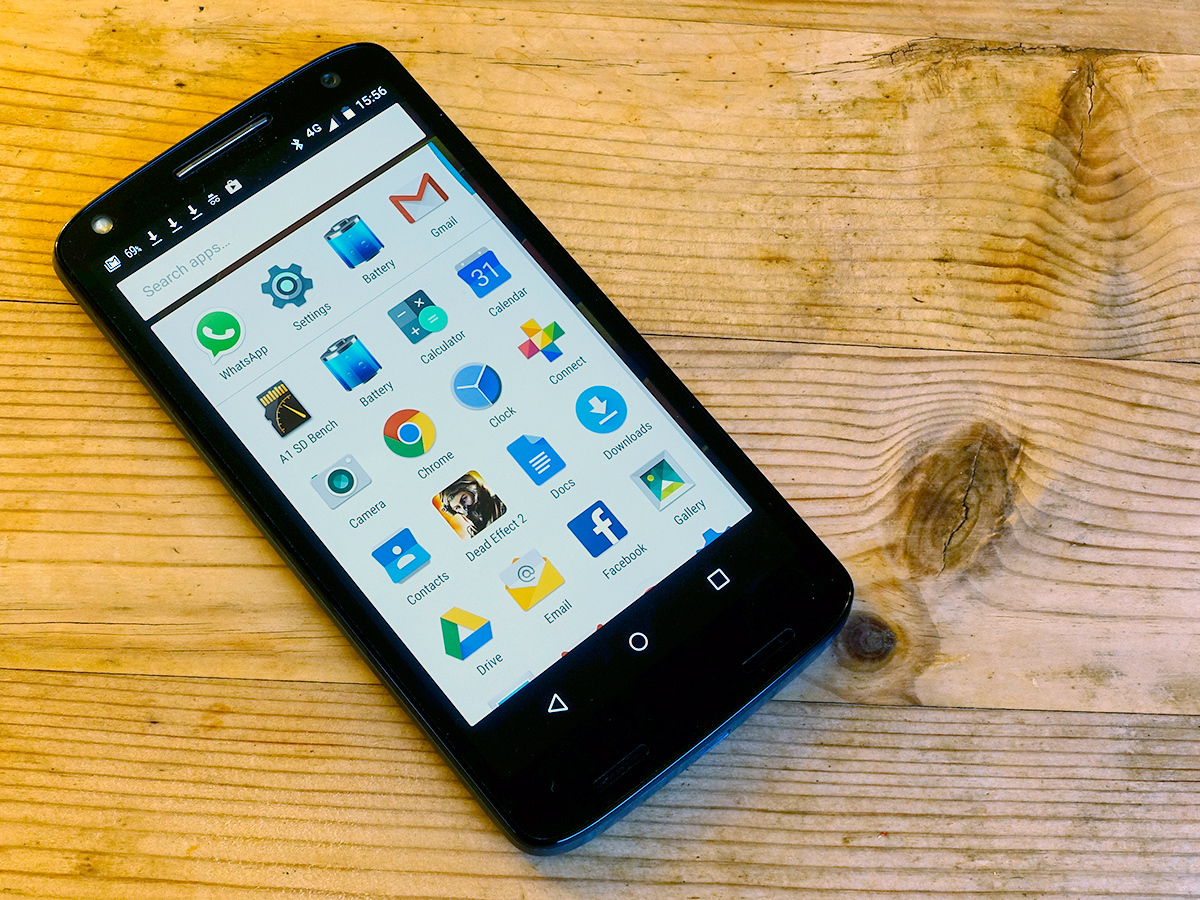 Past the display is the Motorola software style we know and love: there's barely any of it. The Motorola Moto X Force runs Android 5.1, but as it runs the UI introduced with Marshmallow, it feels more-or-less like it has version 6.0 anyway.
All you really miss out on is the flashy new butler-like approach to the Google Now Siri-a-like. In the Nexus 6P you can hold down the Home soft key down to make the digital assistant scan the screen for topics you might want to know more about. You don't get that here.
However, the Motorola Active Display extra is really even more worthwhile. It's a simple time and notifications screen that fades in and out when the Motorola Moto X Force isn't being used. It also perks up whenever you pick the phone up, and senses when its in a pocket, switching itself off.
Other than this and a custom camera app, you could think the Motorola Moto X Force was a Nexus-style phone.
Its performance is excellent too. Sure, the Nexus 6P may have a little bit more zip, but any gap should be welded shut once the Motorola Moto X Force gets a bump up to Android 6.0. As with so many other top phones of the year, it uses a Snapdragon 810 CPU with 3GB RAM. Just around what I'd expect it scores 4561 in Geekbench 3.
The good news is that, unlike the Sony Xperia Z5, the Motorola Moto X Force seems to have a lasso around the Snapdragon 810, which is infamous for overheating. This truck of a phone hasn't become truly hot once. It's totally normal: play games it gets warm. Do a bit of WhatsApp, it's cool as you like.
Battery bruiser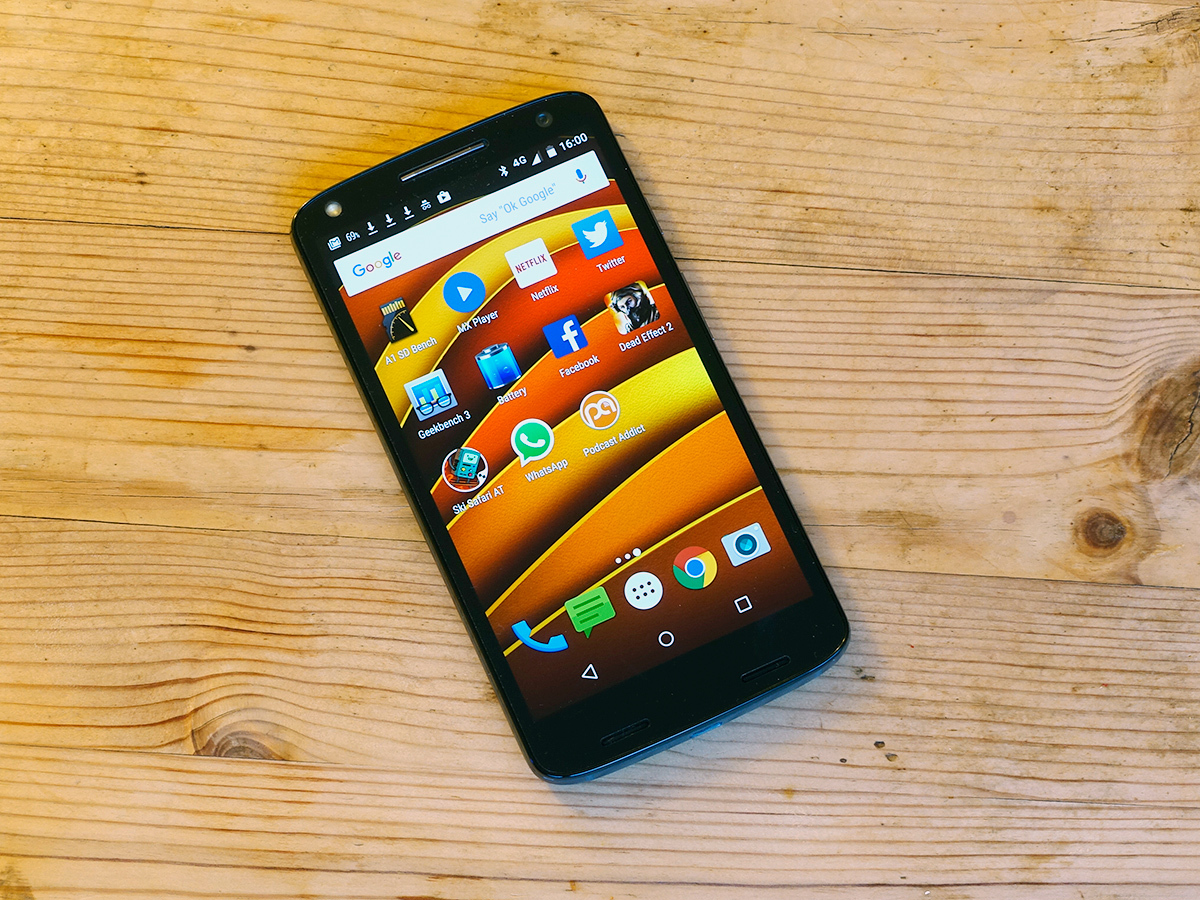 Elements like this make me totally happy to live with the Force. Battery life is also a big factor. After the very poor stamina of the Moto X Style, Motorola is back on form.
With general use, a couple of hours streaming podcasts, about 40 mins of solid browsing and around 10,000 quick visits to WhatsApp, the phone still had 35 per cent left at 10:30pm. You'll only get Motorola's claimed "two day" stamina if you don't use your phone for anything taxing. But that's always the case with these bold claims.
Playing back a 720p movie on loop and doing nothing else, the Motorola Moto X Force hit the bullseye too, lasting for around 15 hours 30 minutes. It's up there with the Note 5 and Galaxy S6 Edge+ as an Android stamina trooper.
This is down to the epic 3760mAh battery, which is even larger than the Moto X Play's.
Charging speed is incredibly quick too. The Motorola Moto X Force uses one of the latest variable voltage chargers, able to get you from zero percent to 80-90 per cent in around an hour. That's dead quick for such a massive unit.
The speaker isn't too bad either. Motorola is pulling a trick on us here, though. See those two grilles down the bottom? You'd assume those are two speakers, right? Wrong. Sound only comes out of one of them. I imagine the speaker has to sit to one side for internal design reasons, and the second imposter 'speaker' is there to even up the look.
The actual sound is a bit beefier, more middy than the Sony Xperia Z5, although not quite as composed as the iPhone 6S Plus or bigger Galaxy S6 contenders at really high volumes. Still: good enough for a listen while you cook up some spaghetti.
Steady hands?
Camera quality is similar: very good, not standard-setting. The Motorola Moto X Force has a similar setup to its 2015 Moto X relatives. You get a a 21-megapixel Sony sensor, a two-tone rear flash.
In daylight you get loads of detail, natural-looking colour and generally nice-looking shots. The Motorola Moto X Force has a good f/2 lens, matched with a good sensor.
However, it falls short in terms of low-light photo quality. It doesn't have OIS like the Galaxy S6, the iPhone 6S Plus and Lumia 520, or giganto sensor pixels like the Nexus 6P/5X.
Without OIS, you lose out on an awful lot of low-light detail and I found it a bit tricky at times to actually keep still enough to get sharp shots when just walking around town shooting at night. You really need to snap a whole bunch just to make sure you get a good shot.
It's just what I saw in the Moto X Style, basically, although its noise reduction/processing style seems to have been improved. The app is the same too, Motorola's own one.
It took me a while to bed into the Moto camera app style when it arrived a couple of years ago, because at first it put zero controls, bar an aim reticule, at your fingertips. You need to drag from the side of the screen to open the menu. It didn't feel 'instant'.
However, the Motorola Moto X Force now also offers really top-notch exposure compensation, using a dial right by this camera target. The phone also has a good Auto HDR mode too, meaning you don't really need to touch the pull-out menu once you've chosen how you want to shoot.
There's up-to 4K video capture and a slo-mo mode too.
Up against its £500 enemies, the front camera does a little better, but mostly because it has a flash. It's just a single LED jobbie, but will help you out when you're deep in the bowels of "da club". Image quality isn't a patch on the Nexus 6P's front camera, but then few things are. It's at a similar level to the Nexus 5X camera, getting you pretty decent selfies even indoors.
Motorola Moto X Force verdict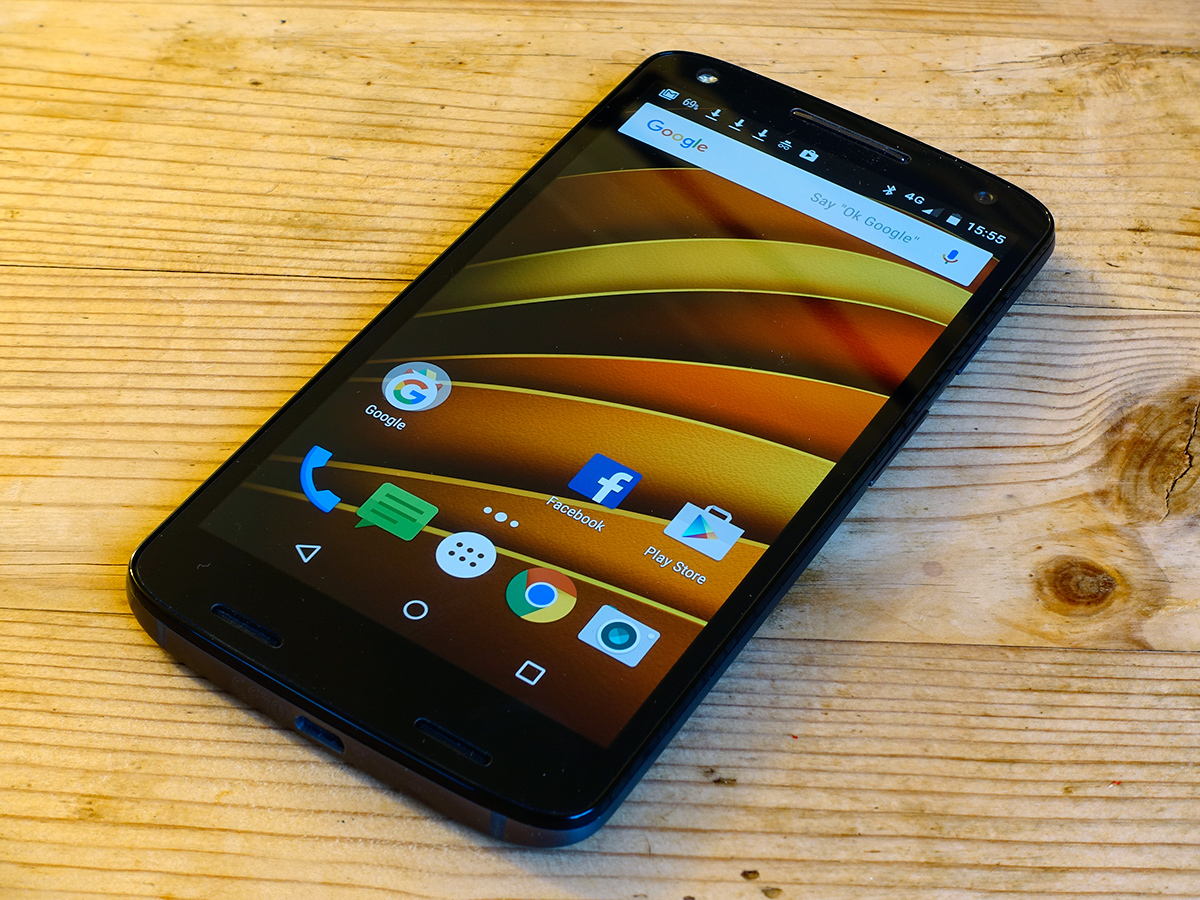 Ultimately, the Moto X Force's USP is that its screen won't shatter. You can ding the metal surround, you can probably make the rear nylon fray, you can kill it with water if you try. But you can't shatter the screen because it's largely plastic.
That's a pretty neat feature for people who seem to smash every phone they own. Battery life is good too. Other phones at the same price get you better ergonomics, better cameras and better screens, though, so the Force isn't irresistably strong with this one.
Tech specs
| | |
| --- | --- |
| Screen | 5.4in 2560 x 1440 pixel P-OLED |
| Software | Android 5.1 Lollipop |
| CPU | Snapdragon 810 Octa-core CPU |
| RAM | 3GB |
| Storage | 32GB with microSD |
| Camera | 21MP front with dual-LED flash, 5MP front with LED |
Stuff Says…
A workhorse bruiser of a phone for those who think the S6 is a bit namby pamby
Good Stuff
Non-shattering screen
High-quality, unusual design
Great battery, stamina
Very fast battery charging
Bad Stuff
Display quality doesn't match Samsung, Nexus
Quite pricey
Low-light camera quality better elsewhere