Navdy hands-on review
Update 4/4/17: Navdy's just had a sizeable price cut (well, for the next two weeks)...
Update 4/4/17: Tempted by Navdy but been put off by its Transit-sized £599 price tag? It's going to be available for a more palatable £499 for the next two weeks from Amazon, in case you like buying your car Easter gifts. Read on to find out whether you should give your car a brain transplant…
While we patiently wait for driverless cars and AI autopilots to ferry us around the country, there is one car upgrade that feels a bit more futuristic than a Yeti paw ice scraper – the Head-up display (HUD).
Sure, this jet fighter tech is now a common sight on new car upgrade lists, but what about your old, early 2000s hatchback? Luckily, aftermarket add-ons like the Navdy are here to bring maps, notifications and voice control to your (comparatively) dumb dashboard.
First announced back in August 2014, Navdy has seemingly been stuck on tech's equivalent of the M25, but you can now buy one a not inconsiderable £599. So is it time to give your old wheels a new, internet-connected brain? I had a brief play with a demo Navdy to get some first impressions.
Navdy design: a big dashboard upgrade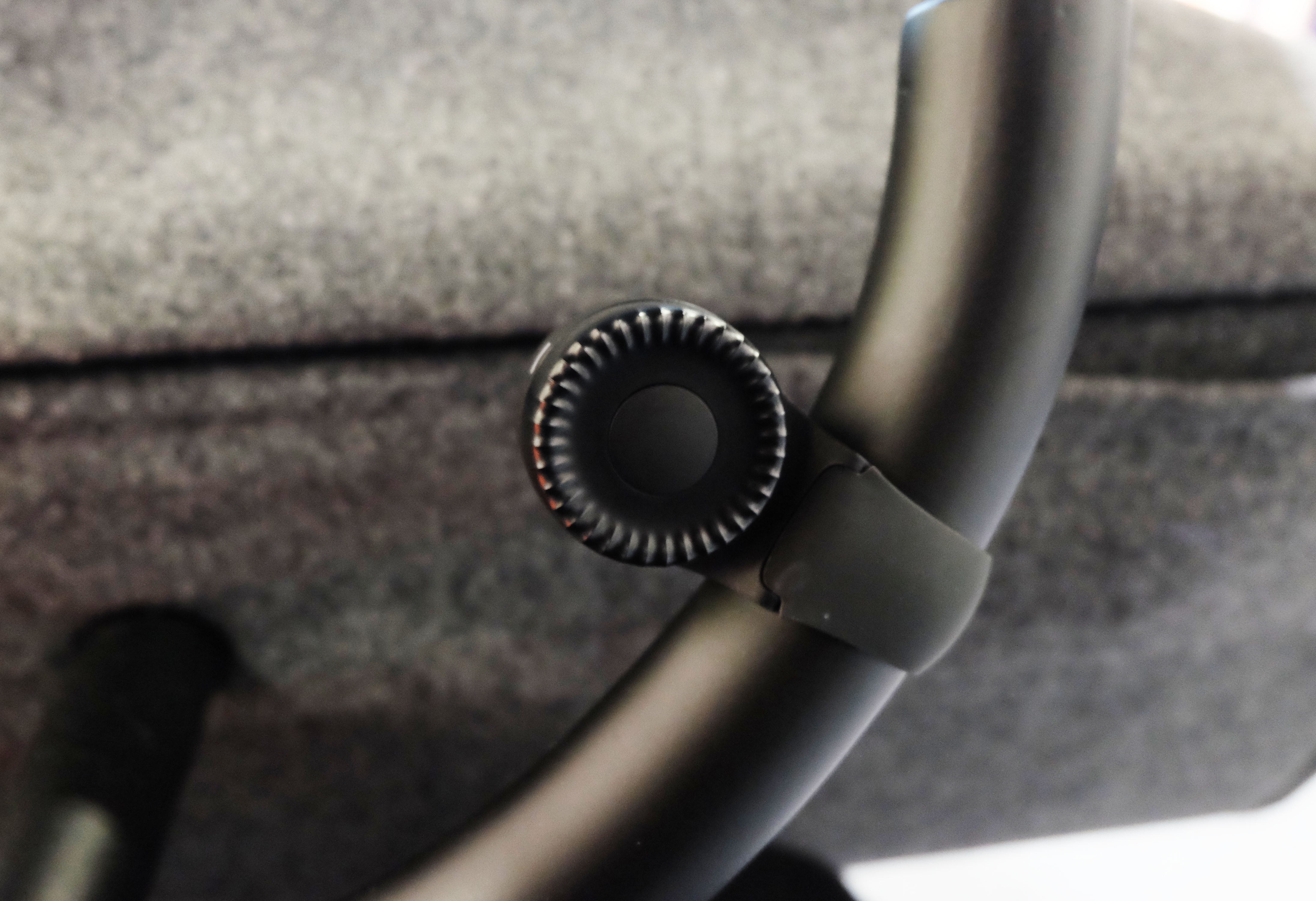 I was only able to play with Navdy at a demo booth, so you'll have to wait for our full review for our thoughts on the installation process. But, in theory, it's relatively straightforward – the main Navdy unit plugs into your car's OBD-II port, which is a diagnostics connector found in most cars made after 1996. Once you've found that, it's then just a case of mounting the unit on your dashboard, and attaching the Navdy thumb-wheel to your steering wheel.
The main Navdy unit isn't exactly inconspicuous and it did feel like it'd take some getting used to having it just below my line of sight. But its screen does fold down when you don't need it, and it didn't take long for the flashes of information to feel like they'd be a natural part of the driving experience.
Perhaps the best part of the whole setup was the thumb wheel, which felt very tactile and intuitive. Each movement of the wheel creates a small click, which helps you feel connected to the menus, and it's an improvement on prodding touchscreens.
I'll have to see how it translates to the open road, but the wheel moved very swiftly through the menus and gave the interface an Apple-like slickness. Of course, having a Navdy built into your dashboard or connected to the likes of Android Auto or CarPlay would be an even better setup. But for a first-gen device, Navdy felt polished and intuitive.
Navdy features: a smartphone for your windscreen
So what info does the Navdy project onto your little dashboard screen? In 'Dash mode', you get basic stuff like speed, engine RPM and fuel range. But the main thing you'll use are the maps and turn-by-turn directions found in Map mode.
As of last week's Navdy 1.1 update, you can now search destinations via voice, which is a pretty big bonus. This update came after my demo though, so my only options were choosing a destination in the main menu or the Navdy smartphone app.
Once you've done that, Navdy's Map Mode (which is powered by Google Maps) will show you road names, colour-coded live traffic info and info like your ETA. You can also zoom in or out the map using the steering wheel dial. For those who haven't used a HUD before (including me), it's a pretty cool way to navigate.
Handily, Navdy has its own GPS chip and offline HERE maps, so you also won't be stranded even if you're in a network dead spot.
That Bluetooth connection to your smartphone also means the option of having lots of other info beamed in front of you. You can get phone calls, messages and app notifications like calendar entries all shown thanks what Navdy calls 'glances'. Of course, this could quickly get distracting, so you can turn these off or wave them away thanks to Navdy's gesture controls.
For example, swiping your hand above the steering left accepts a call, while swiping right dismisses it. While the gadget fan in me was impressed with this during the demo, I suspect in the real world it'll be easier (and less confusing for other drivers) to just use the dial wheel instead.
Navdy early verdict
It's difficult to make any big conclusions about Navdy without taking it out on the open road, but overall I liked the concept and it seems polished and well-executed.
Of course, that's the minimum you'd expect from a gadget that costs £599 and has been in the pipeline for almost three years, and it does seem a little overpriced when you consider that there are rivals like Hudly around for less than half the cost. I'd also love to see it integrate with the likes of Android Auto or CarPlay head unit.
Still, for those of us who aren't looking to splash out five figures on a new car and fancy bringing maps, music controls and smartphone notifications, plus a dash of jet fighter chic, to an older car, Navdy looks like a fine automotive upgrade. We'll bring you a full review soon, but if you can't wait it's available to buy now from Amazon.