Nikon D780 review
The DSLR ain't dead (yet)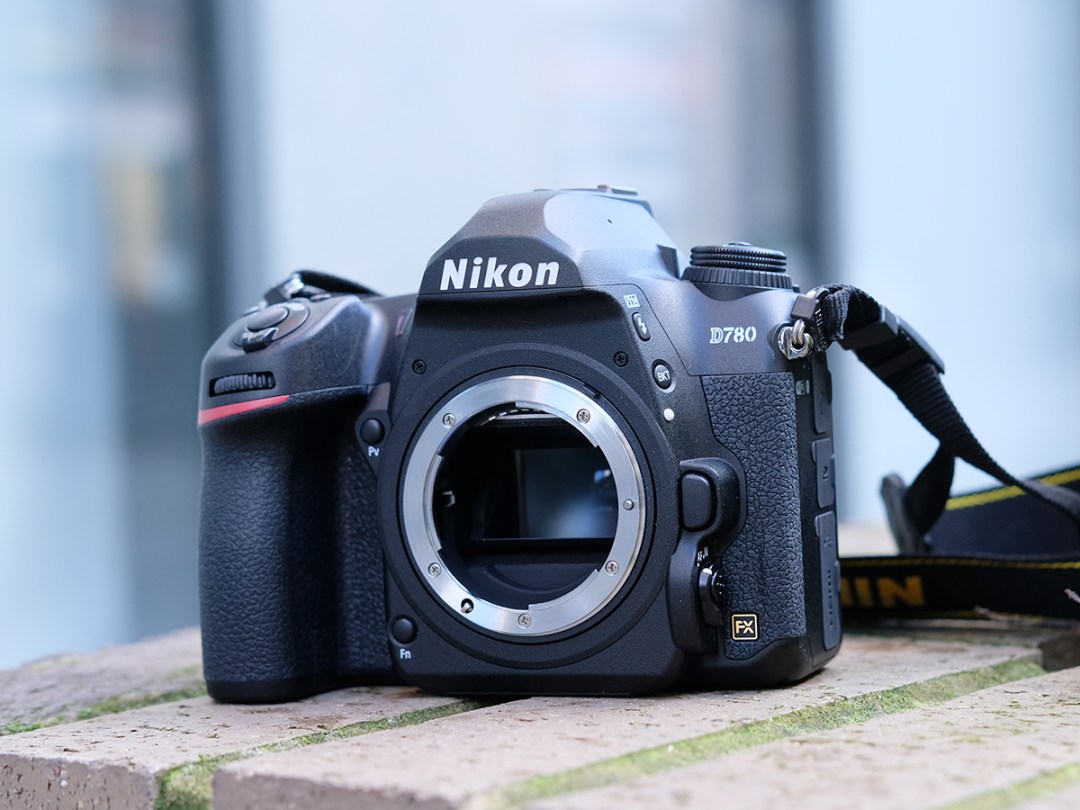 Dragging a DSLR into the new decade is a bit like trying to convince everyone to start buying CDs again instead of streaming music. There are some advantages sure, but when convenience is king, you may as well be extolling the virtues of music quality to a flock of seagulls.
However, there remains a place in our hearts for the still extremely capable camera format, and there are some areas in which even a full-frame mirrorless camera might not fit the bill. For those times when you need serious grunt in the battery department, weather-beating ruggedness, dual card slots, and for some an all-important optical viewfinder, a DSLR will always do its duty.
Nikon's D780 DSLR mixes a contemporary imaging approach with traditional form and function. Armed with trusty Nikon ergonomics and a vast selection of Nikkor F lenses, the D780 borrows a few tricks from Nikon's mirrorless Z series, offering high-performance live view AF and 4K video credentials. It's the marriage of mirrorless technology and DSLR substance, that for some means a camera with zero compromises.
It has a big battery, two UHS-II card slots, and is fully guarded against extreme weather – which is why we're testing it in Iceland. The country. Not the purveyor of king prawn rings.
Design and Build: Chunk Rock 101
Coming from a mirrorless camera, it feels enormous, but nothing you won't get used to after a while of using it. Weighing 840g, it isn't light either, but it's not so dissimilar to many DSLRs in this category.
When tested the D780 with the Nikkor AF-S 24-70 f/2.8 and it felt like a fine pairing without feeling super front-loaded and unbalanced, as would be the case with smaller camera bodies. Being big has its perks.
There's no fear of it slipping out your mitts with that rubberised protruding grip as we've seen on all previous Nikon stalwarts.
And finally, this size means you've got a bit more room to twiddle dials and buttons without making clumsy errors. Most of the shooting controls are positioned on the right, as well as the 'i' button for accessing the quick menu.
There's even room for a top-plate so you can see things like ISO, shutter speed and remaining shots on your card, we used this a lot and found it a huge aid when you're short on time and want to reduce faffing time.
The rear screen doesn't fully articlate, which could've been handy for video and self-shooting, especially given its video credentials, however, the tilting mechanism feels sturdy and it works well for getting close to action downlow or shooting from the hip.
It has an excellent 3.2in screen with a 2359k-dot resolution and Touch AF and Touch Shutter modes. This works great in Live View, but when you're using the OVF, you'll find your nose doing all sorts of unwanted activity on the screen, so we found it necessary to disable the touchscreen, because there's no negotiating with a nose.
There's no built-in flash, and the duo card slot was particularly handy during our testing period in Iceland, where if you would've needed to replace an SD card, you might risk freezing off one of your fingers. At the side of the body, you'll find a 3.5mm microphone and headphone port, an HDMI Type C connector and a USB Type C port which supports in-camera charging with compatible batteries.
Features: Looking into a mirrorless
One of the most notable features here is that the D780 is capable of switching between two autofocus systems.
It has the on-sensor AF system of a mirrorless camera and near similar live view performance of the Z6, however it's not as seamless to transition between the two shooting options as it is on mirrorless cameras, simply raise the camera to your eye, it'll switch to EVF and vice versa. But with the D780, you have to manually select the live view button. When you're used to mirrorless technology it can take some time to adjust.
It also incorporates Eye-Detection AF where you can select which eye to focus on. When using this we found it a little hit and miss, with it sometimes focussing on lashes instead.
At the centre of the D780 is a back-illuminated 24.5MP paired with the latest EXPEED 6 image processor.
While it houses the same sensor as the Z6, or some version of it – it still use Nikon F mount, offering an array of brilliant lenses.
In continuous shooting it's able to hit 12fps in live view with silent mode on, and 7fps in viewfinder shooting. In true Nikon form, there's a DX crop mode and as soon as a DX lens is attached it'll automatically reset.
Although we love the satisfying 'kerrrrrr-chonk' of the mechanical shutter. The D780, just like the D850 offers Q and Qc modes as quieter alterative release shooting. There's even a zero-vibration electronic shutter which allows users to capture photos in total silence in Live View.
But what makes the D780 such an all-rounder and a step up from the D750, is that it's just as appropriate for video as it is for stills. Shoot 4K UHD at 30/25/24fps and up to 120fps in 1080p HD. One thing we did find a bit disappointing is that there's no Eye AF in video mode.
Videographers will rejoice at the option of recording 10-but footage in N-log to retain a rich dynamic range. There's also the option to shoot in-camera time-lapse 4K movies.
Performance and image quality: All the range
Using the camera initially takes some getting used to, but we were able to test it to the limits – a week in Iceland with temperatures of –6 to contend with, and the frequent unrelenting spray from gushing waterfalls.
The first niggle was remembering to switch to Live View manually as we're hardwired to think it'll just do it automatically.
The ISO range is 100-51,200 and the D780 has an extended shutter speed range from 1/8000 to an amazing 900sec, so if you're a fan of long exposures, you're going to have an absolute ball.
We were told it'd have an impressive 2,260 shot batter life, but we were often switching to Live View mode, plus with the incredible cold weather, this dropped to just under 2000. But that's with some intense use, taking numerous long exposures and bits of video.
We were shooting with an ND grad filter, and would always recommend one for shooting landscapes, but when we left it in the car and were too lazy to walk back, yet were impressed with how the camera handled bright skies and actually managed to capture a lot of detail in the clouds. Plus shooting in RAW allows you to fix the over exposed areas later.
Face detection works exactly as it does on the Nikon Z6 and 7 and the D780 was just as responsive when we had the opportunity to shoot some portraits. Plus, at the end of every day we were keen to transfer the photos to our phone to take a closer look and to share them. Nikon's dedicated SnapBridge app, once a bit rubbish, has come on leaps and bounds, and once you successfully connect it to the camera, it'll throw up your whole gallery and then you can select which images to save.
Having that second card slot proved useful when we out shooting for a long period of time, and a clear advantage over the Z6. As it's very similar to the Z6 inside, expect similar image quality and that's only a good thing. The wide dynamic range means loads of detail, even at a high ISO.
Colours were true to life and when our battery was on its last legs, we switched to shooting jpegs towards the end of the day and these were really impressive, well balanced and with no aggressive sharpening or colour saturation. White balance was well managed using Nikon's natural mode too.
Nikon D780 verdict
There's nothing particularly headline grabbing about the D780, but we found the D780 to be a grower with some very desirable qualities.
The video specs are excellent, there's an updated and advanced autofocus system, serious battery performance, and a body built like a tank that will serve you well on any adventure.
Asking £2,199 (body-only) seems a little steep and a considerable hike from the Nikon Z6, but this is combining a lot of goodies form the Z6, plus all the qualities many love from a DSLR.
Only time will tell is this is the last dying breath of the DSLR, or a sign of more to come.
Tech specs
| | |
| --- | --- |
| Weight | 840g (including battery and memory card) |
| Size | 143.5 x 115.5 x 76mm |
| Sensor | 24.4MP back-illuminated full-frame CMOS |
| Image processor | Expeed 6 |
| Autofocus | 51-point phase detect (OVF), 273-point hybrid phase detect (live view) |
| ISO range | 100-51,200 (exp. 50-204,800) |
| Video | 4K UHD, 30/25/24p |
| Viewfinder | Optical pentaprism, 0.7x magnification, 100% coverage |
| Screen | 3.2in, 2359k-dot tilting touchscreen |
| Memory card | 2 (UHS II) SD/SDHC/SDXC |
| Connectivity | Wi-Fi, Bluetooth |
Stuff Says…
An all-rounder DSLR built like a tank, borrowing some tricks from its mirrorless siblings
Good Stuff
Two cards slots
Great for video
Sturdy