Nissan Ariya review: a new era EV
The new all-electric Nissan Ariya premium SUV brings the Japanese brand bang up to date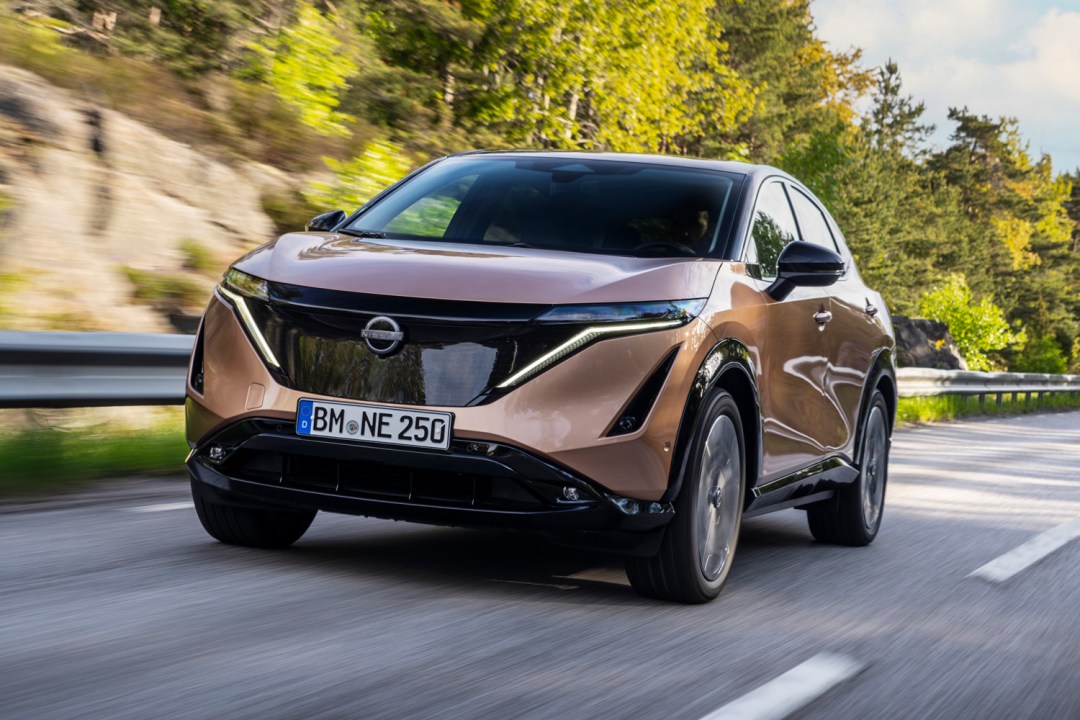 Meet Nissan's brand new, all-electric crossover, the Ariya. Built on a bespoke CMF-EV platform, it's been designed with comfort in mind and features an interior most people should find very agreeable. Even more so if you've always seen Nissan models as value orientated, rather than having a luxury bent. The look and feel is way more premium than anything else we've experienced in the firm's line-up to date.
One of the Ariya's most appealing aspects is how the Japanese carmaker has kept the line-up refreshingly simple. There are just two grades, Advance and Evolve, along with three different battery and powertrain options. We've driven the 63kWh Evolve model, which comes dripping with lots of goodies, including a head-up display, 10 speaker Bose audio system, synthetic leather seats complimented by Ultrasuede inserts, and driving aids such as Pro-Pilot Park.
The two-wheel drive Nissan Ariya has a motor good for 215bhp, and that 63kWh battery is good for up to 250 miles of range. Opt for the larger 87kW edition and you get a more substantial 240bhp, while range is upped to 329 miles. The 0-62mph sprint improves slightly too, from 7.6 to 7.5 seconds. Top speed for both is 100mph.
Nissan also offers the Ariya in all-wheel-drive e-4ORCE guise. Go for this if you're looking for more in the performance department: it's got 300bhp and 443lb ft of torque, which translates to 62mph in just 5.5 seconds. Top speed jumps to 124mph, and Nissan hopes it can eke 310 miles out of the battery (though that's still TBC). It also boasts a 1500kg towing capacity – double that of the other models.
The styling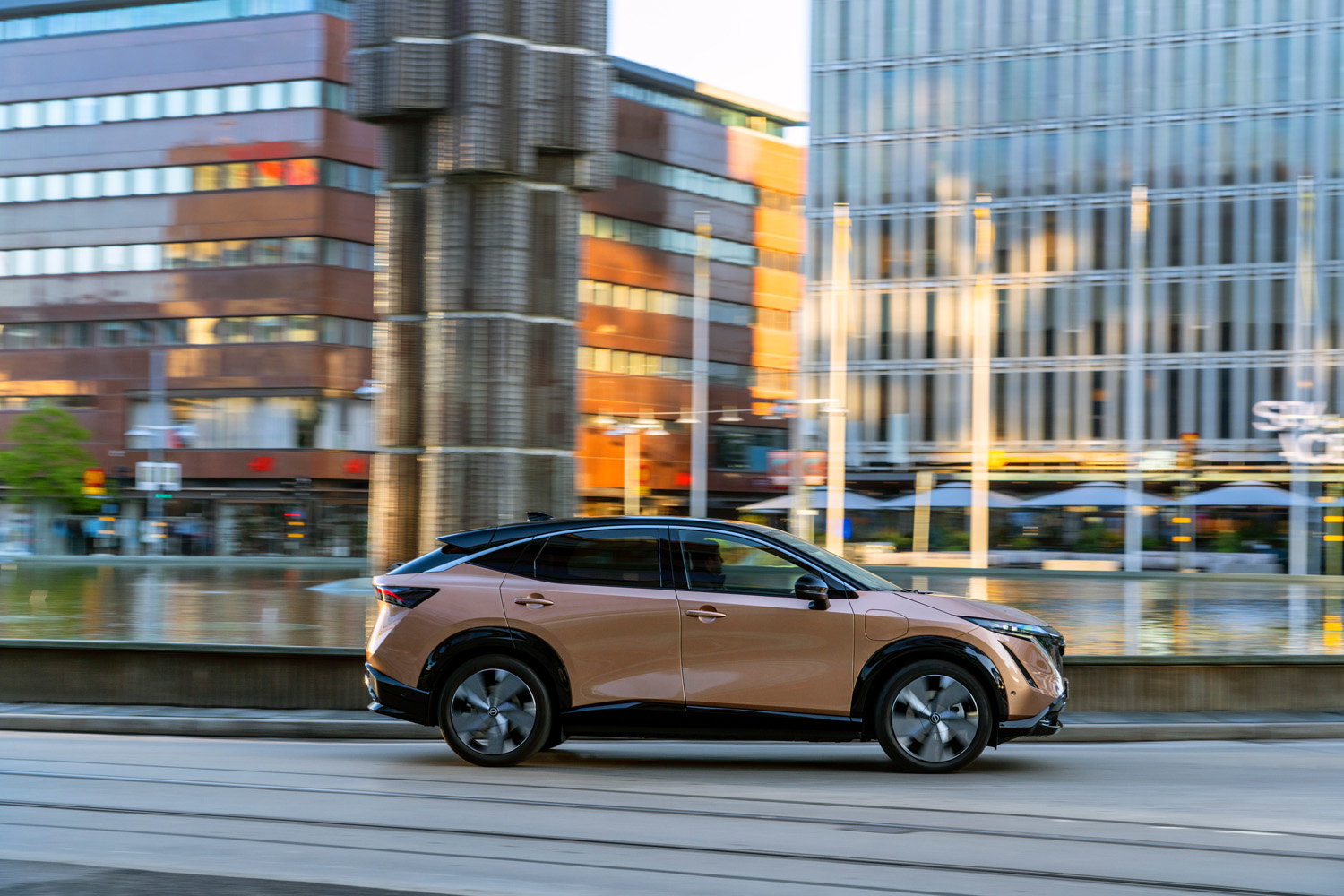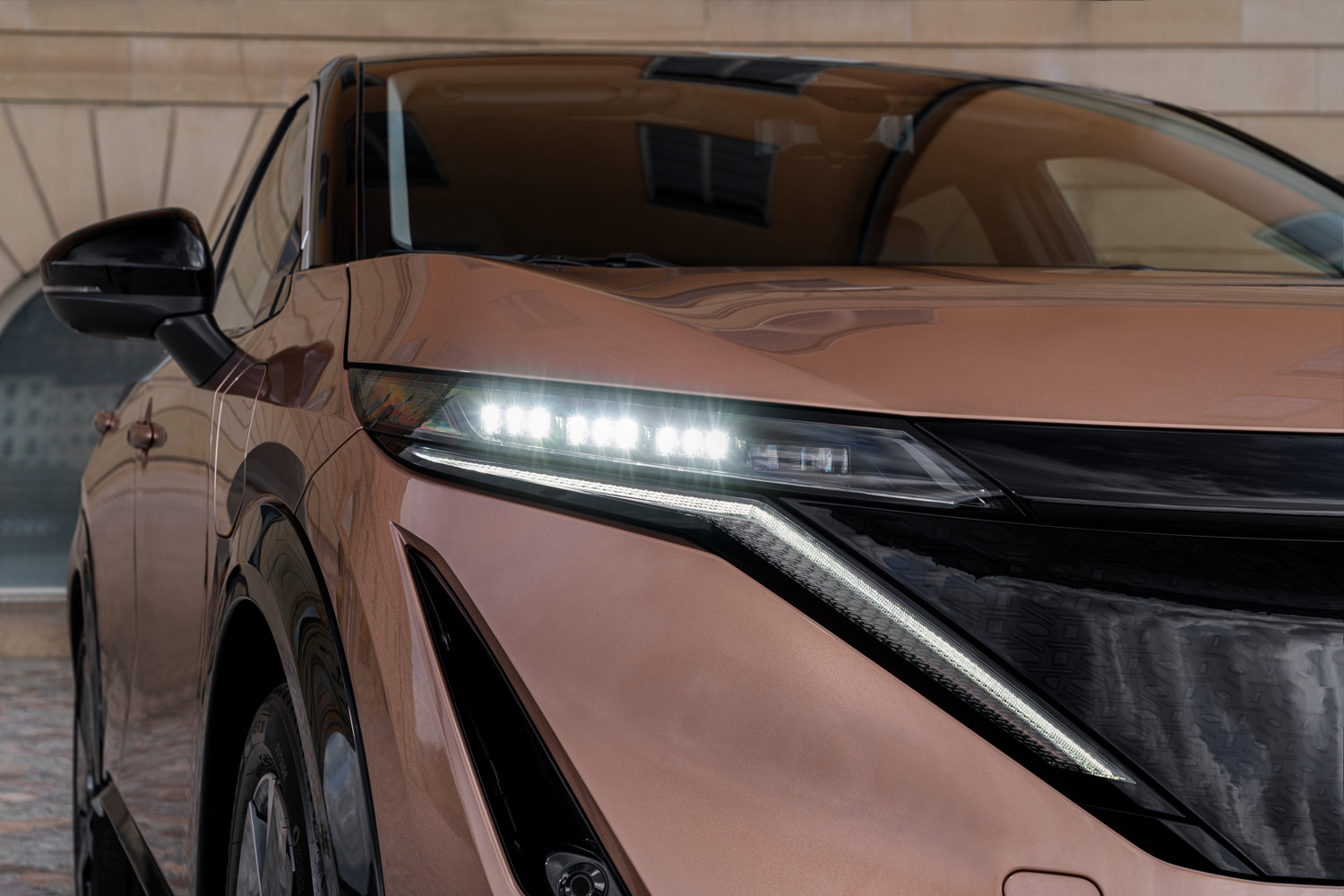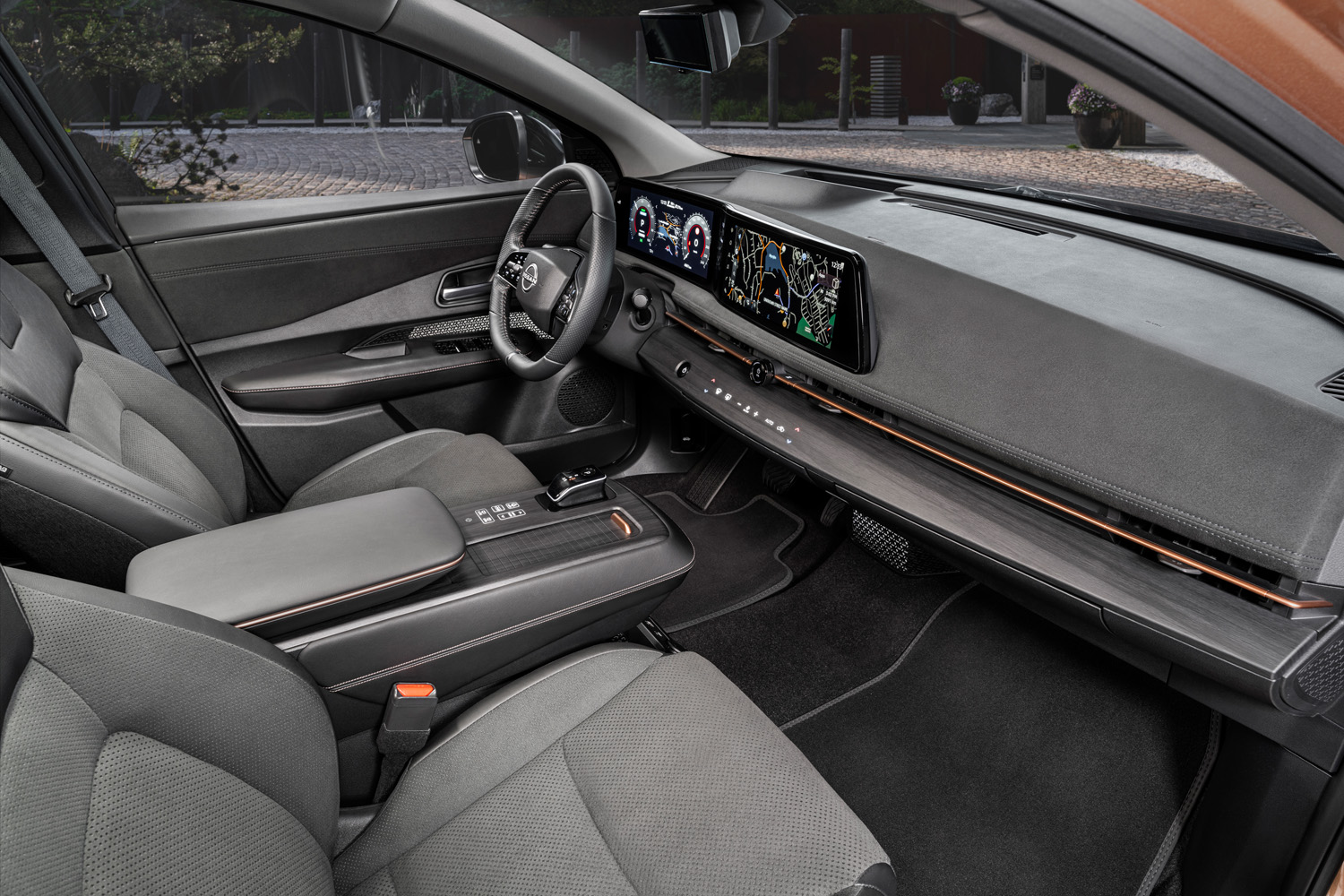 There's nothing too wild about Ariya's exterior, but it does look good from all angles. Our bronze coloured test car was easy on the eye, with satin chrome trim highlights and black window mouldings augmented by rear privacy glass. LED headlights feature up front, as do front and rear fogs, rounded out with an LED tail lamp at the back.
Nissan has resisted the urge for flush door handles though, which is perhaps a nod towards keeping prices competitive. The same goes for the door mirrors, which might be automatic folders (and heated ones to boot), but use conventional glass instead of digital cameras. There's a hands-free powered tailgate, always handy for anyone laden with shopping bags. A heated front windscreen adds to the practicality toolbox, and the panoramic sunroof really helps open up the cavernous insides that much more.
Our test car rode on 19in alloy wheels, which were perhaps the least pleasing aspect of the whole design in terms of looks. Alloys are subjective though, so what didn't appeal to us seemed to go down well with the other hacks attending Nissan's launch event. You can opt for 20-inchers if you prefer too.
It's the interior that carries some of the biggest surprises. This being an EV, the obvious bonus is the lack of transmission tunnel, which immediately frees up more space in the middle of the car. You've got more than enough room to move around, store all your gear and still have areas available for drinks, snacks and, natch, phones. The charging points are down low, though, so have longer cables at the ready.
Climbing aboard, you instantly notice how comfortable the seats are. Having driven a Qashqai the day before, the step up in plushness was substantial. They're quite chunky, so there's plenty to sink in to, and the synthetic suede seat coverings work really well. Folks in the front get heated and cooled seats, complete with 8-way power adjustment. Nissan has also heated the rear seats, which will doubtless please family members during the winter months.
Nissan has adopted 'lounge-on-wheels' thinking in much the same way BMW has for the iX. There's faux wood trim along the length of the dash, synthetic soft touch material which extends to the door panels and some neat Japanese-flavoured pattern effects run as a theme throughout. We like it.
It's all topped off, quite literally, with an electric sliding centre console. How useful being able to shift it back and forth remains to be seen, just as it was on the rival Hyundai Ionic 5.
The drive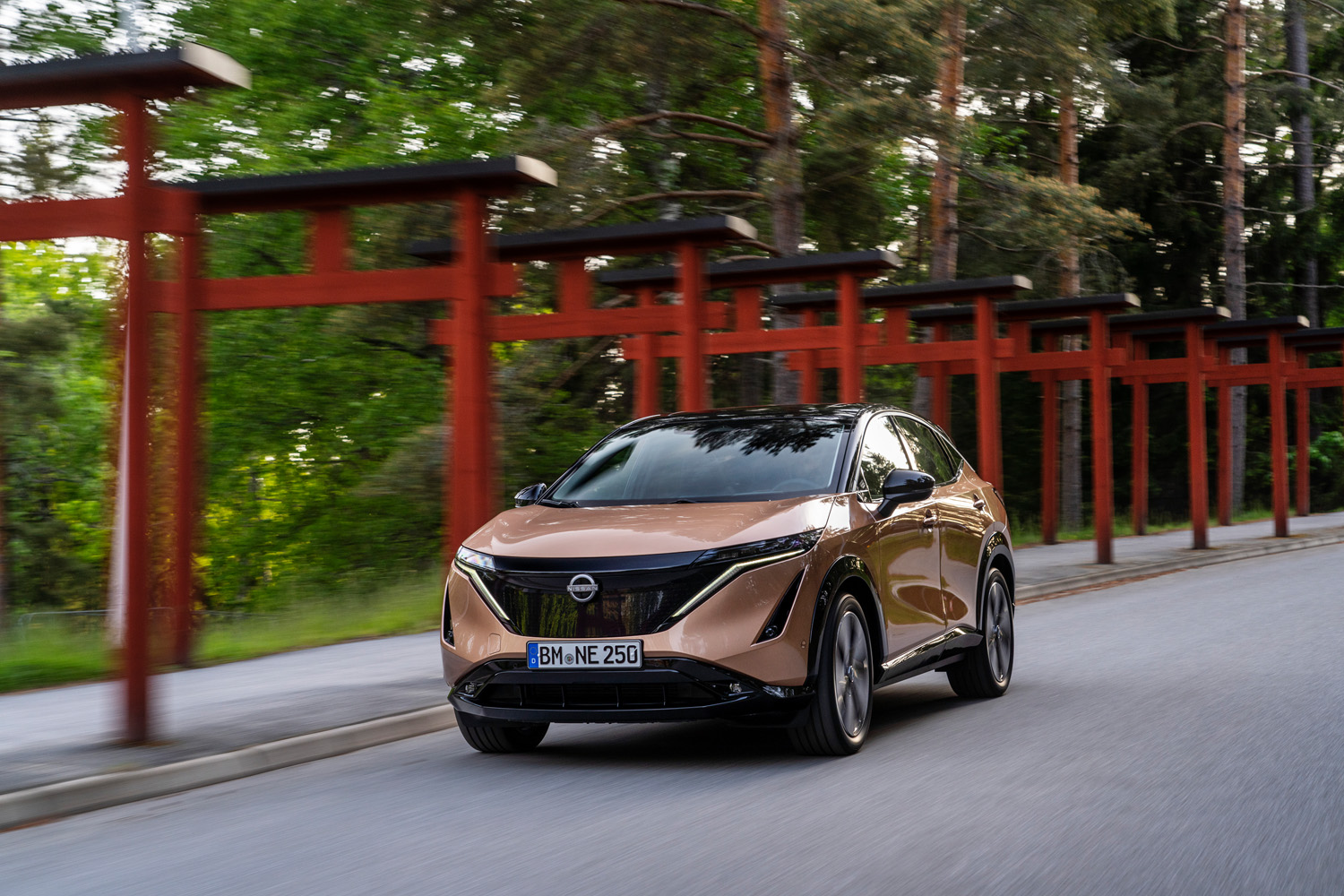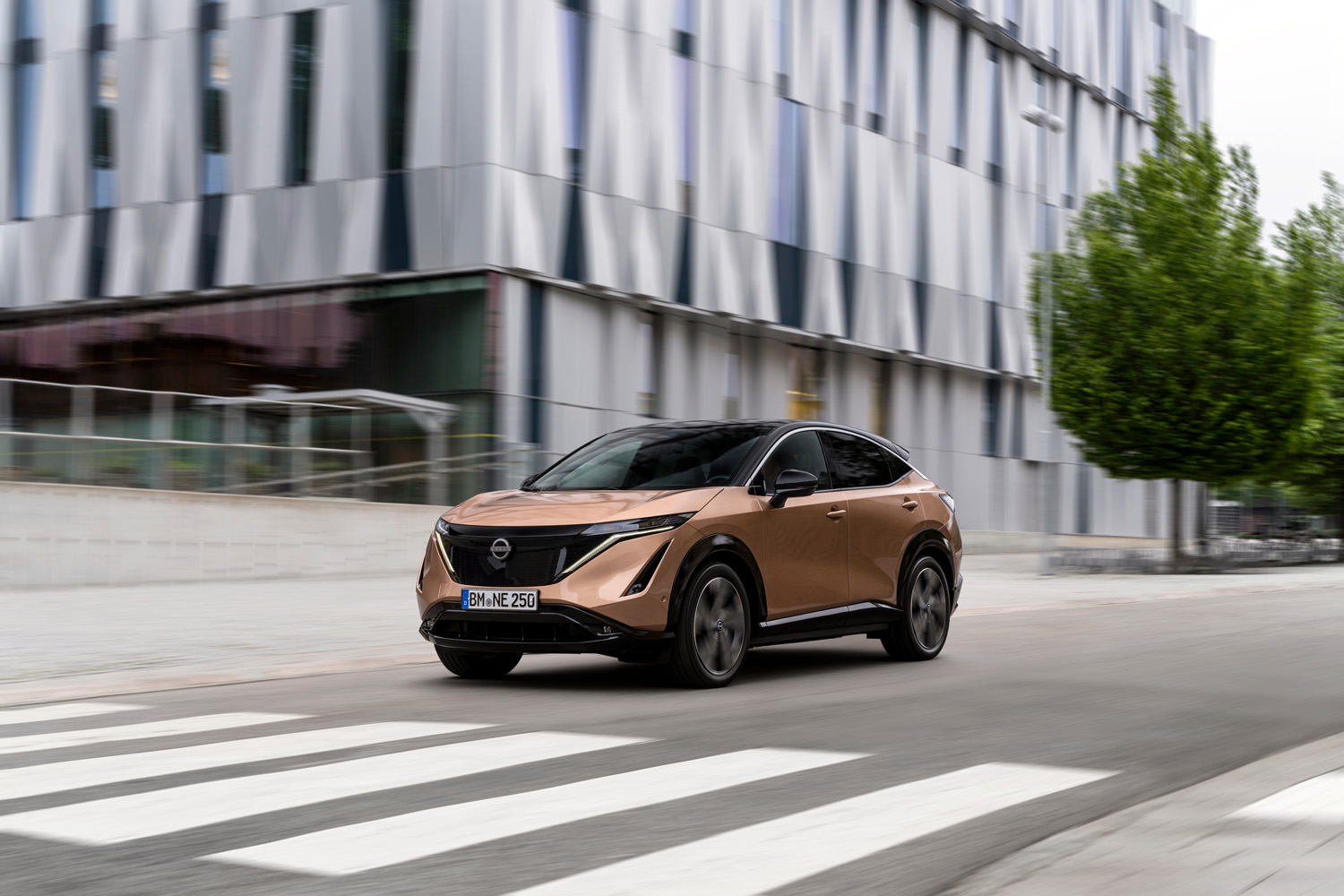 Considering its size, the 4595mm long Ariya feels remarkably agile in single-motor, 63kWh battery form. It sits quite high off the ground, so anyone trading up from their similarly 'up there' Nissan Qashqai will feel suitably at home.
A chunky plastic shifter engages drive, with low-key buttons behind it for Sport, Standard and Eco modes. The setup gets tweaked accordingly as you toggle each one, with adjustment of the e-Pedal regenerative braking too. Each one may not change things dramatically when driving along a generally straight highway, but makes a difference once you get to twistier roads or head for the hills.
Here, it was surprising how heavy the steering felt in Sport mode when turning into sharper corners. Engineers who worked on the Ariya explained this was intentional, to help highlight more of the dynamic twist between the drive modes. We'd like to spend more time with the Ariya before calling that line of thinking a success.
You'll get along just fine with the other two modes. Eco is naturally designed to conserve energy, but still allowed our car to get down the road at a respectable pace. Standard keeps things steady and predictable, as you'd expect.
The car's size does tend to affect it a little if you start to push through corners with a little too much enthusiasm, but we were generally pleasantly surprised with how well-behaved the Ariya was, considering it weighs as much as 2.3 tonnes depending on equipment.
The technology
Nissan laboured long and hard over the Ariya's interior tech, but also kept things quite low-key. The emphasis is on things just working, not having lots of gadgetry on show purely for the sake of it. Central to the action is a brace of 12.3-inch screens, which are co-joined by the flow of the dash in a visually pleasing way. The head-up display was impressive and worked so well that much of the other screen info was often sidelined.
The navigation system is also much better than versions seen in other current Nissan models. It's still not perfect compared to some rival systems, but is getting there. Wireless Apple CarPlay, wired Android Auto and Amazon's Alexa voice assistant all feature, as does wireless phone charging. There's an intelligent rear view monitor for good measure.
Nissan has plenty of driver assistance tech on offer too. Intelligent Route Planner is handy for knowing where your next charging point is going to be, rather than leaving things to chance. Pro-Pilot is a firm favourite with many Nissan owners already and it features in the Ariya too, as does Nissan Safety Shield 360. The latter offers help if you need it in the shape of Intelligent Forward Collision Warning or Intelligent Emergency Braking.
Nissan Ariya verdict
Placed alongside Nissan's other cars, the Ariya looks and feels like a breath of fresh air. Even though the firm has had the popular all-electric Leaf for two generations now, it starts to look rather tired in comparison. The Ariya has stylish looks, plenty of surprises not to mention comfort on the inside and it's got lots of space; in the front, the back and the boot too. As a family SUV it's undeniably practical.
The 130kW charging capacity can get it from 20% to 80% in around 30 minutes if you get lucky with your choice of charger, but that's a long way off the class best. It's also up against plenty of competition.
Still, there's more than enough here to pique people's interest – especially dedicated Nissan customers, who might be itching to move up from a Juke or Qashqai.
Stuff Says…
The Nissan Ariya is a success on the outside and a real treat on the inside, making it a an EV that's premium in feel but one that delivers great value too.
Nissan Aryia technical specifications
| | |
| --- | --- |
| Motor | 1x electric |
| Battery | 63kWh |
| Power | 215bhp |
| Torque | 221lb ft |
| 0-62mph | 7.5sec |
| Top speed | 99mph |
| Range | 250 miles |
| Charge rate | 130kW |
| Cargo volume | 468 litres |