Nissan Juke Hybrid review: enter electrification
Tweaked externals and a hybrid powertrain give Nissan's Juke a new lease of life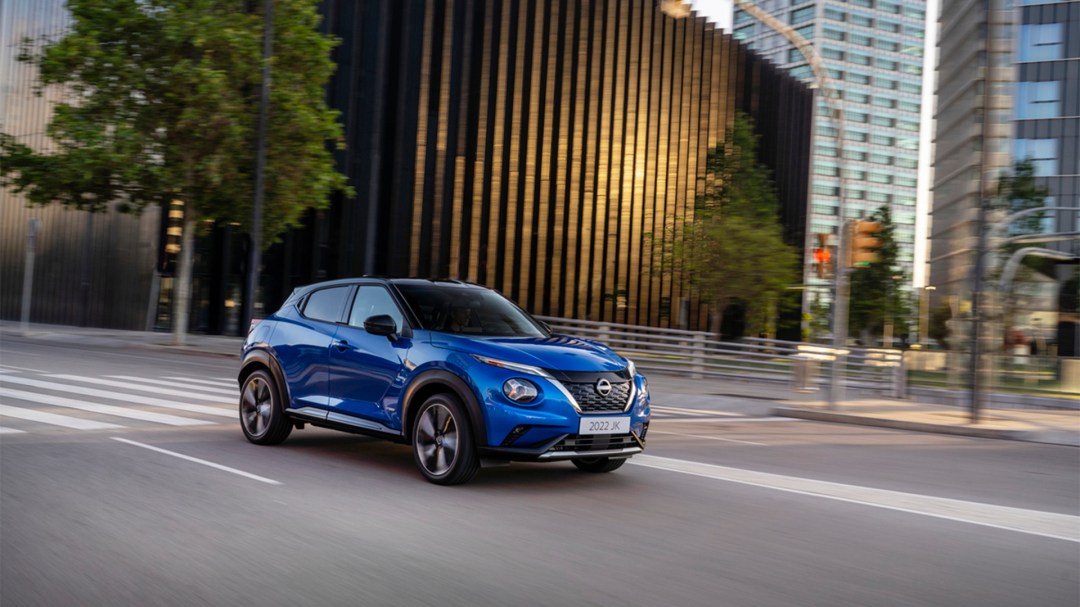 The Nissan Juke is something of a British success story, having been developed and built here in the UK for the last 12 years and counting. It's hard to believe the oddball little SUV was met with bemusement when it first arrived, given it's been a roaring success since – even if the styling has always been a bit on the divisive side.
Nissan tweaked the original format in 2019, taking on a slightly more sensible stance for the second generation. Improvements in the way it behaved on the road were noticeable too. Now though, Nissan is adding hybrid power to the line-up – a move almost guaranteed to appeal, given the current state of fuel prices. The firm reckons it'll sip 20% less petrol than the regular car.
The Nissan Juke Hybrid comes keenly priced, starting from £27,250. To get all the add-ons and extras you're heading up to more than £30k, but fans of PCP deals and families keen to trade up are sure to be first in line at the dealership.
The styling
The Hybrid Juke retains plenty of the regular car's slightly quirky charm. Nevertheless, it's a much better looking car these days, especially since the headlights were reworked, and the fabulous Magnetic Blue one we drove looked a real treat.
There have been some subtle tweaks to the body, so the shape appears sleeker even if it hasn't actually slimmed down. 'Hybrid' badges remind both you and onlookers that this isn't a standard fare Juke. There are striking new two-tone alloys, which will also feature on the upcoming electric Nissan Ariya – you can choose either 17in or 19ins depending on how firm you like to ride and what money you've got to spend.
Nissan has upped its game on the inside too, albeit with the premium trim options we saw looking practical rather than posh. The overall feel is more utilitarian, with the use of plastic making total sense. Sticky fingers, random spilt foodstuffs and splashed drinks will disappear without trace on most of the interior surfaces. Hurrah!
We also found the seating to be really comfy, with plenty of adjustability to suit different drivers. Handy if you share a family car with your other half and have to switch over regularly. There are also plenty of places for cups and all the randomly accumulated gear that comes with having children on board.
The view out from the rear seats is less impressive than you'd hope for a family-flavoured crossover, but it looks relatively easy to get a car seat or two into the back. Front seat occupants get the lion's share of the good views over that unique front end.
Meanwhile, some boot space has been usurped by the battery pack, dropping down to 354 litres. Leave the kids at home though, drop the seats and a resulting 1237 litre capacity makes it perfect for those occasional recycling centre trips.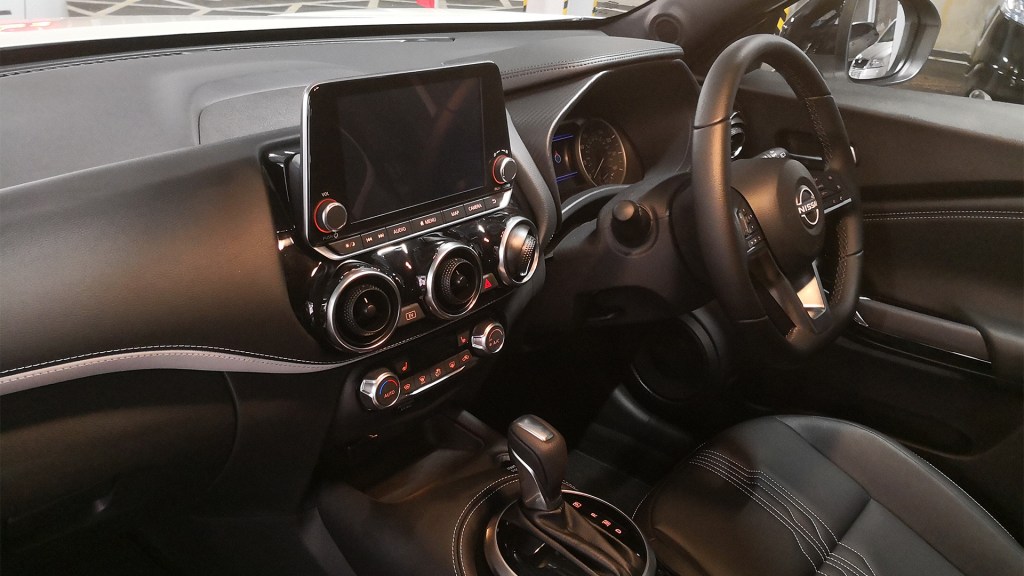 The drive
With no plugging-in needed, a self-charging hybrid can make a lot of sense if you're using your wheels for regular short hops to places like the shops or for school runs. The Juke Hybrid brings a 93bhp, 1.6-litre petrol engine that works in tandem with a 48bhp electric motor, which should deliver economy figures around 56.5mpg. On the emissions front, it outputs 114g per km.
The hybrid arrangement should mean it'll use battery power for around 80% of your time pootling around supermarket car parks and the like. There's a dedicated EV button, although it's only good for a handful of miles, so is unlikely to get too much use.
The three drive modes (Eco, Normal and Sport) will address most of your daily driving requirements, and you always start off in full EV mode. An e-Pedal button allows for similar one foot braking and acceleration to the system that works so well in the Nissan Leaf. It's not as responsive here, which takes some getting used to.
An automatic gearbox makes it an ideal proposition for anyone with kids in the back and a shopping agenda to fret about. In Milton Keynes where we tested it, the drive was easy and fuss free. We found it great at picking its way through villages, and the reversing camera makes placing the closed-in rear end a little easier when parking.
Leave the town behind for the dual-carriageway though, and the Juke has to earn its keep a little more. It isn't especially fast, with 0-62mph arriving in 10.1 seconds. Give it the beans and that auto box has to play catchup as the engine revs. For everyday cruising, it's fine.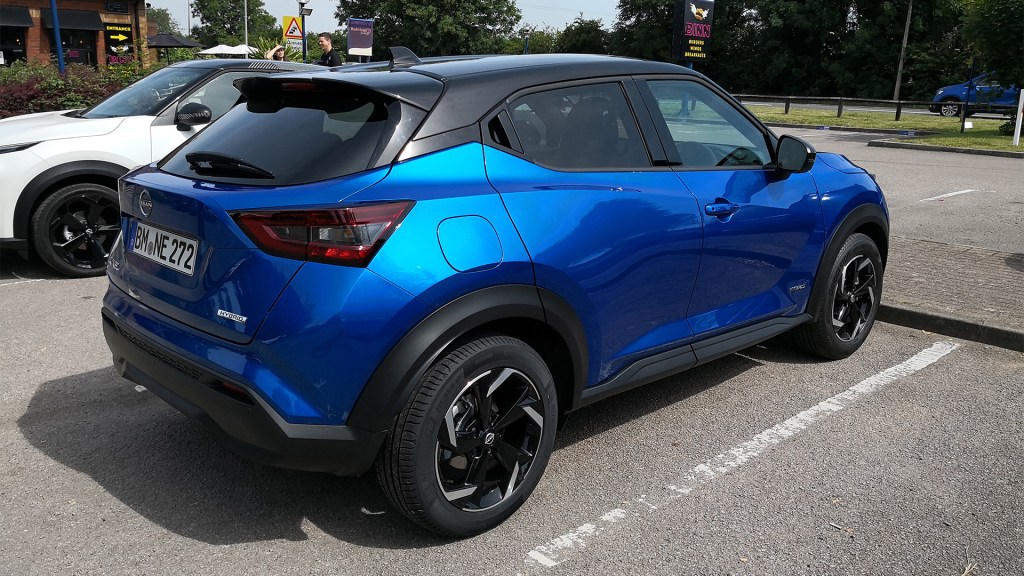 The technology
Everyone wants their cars to come loaded with tech these days, and having a crisp, clear display is a must. The Juke's works well enough, but it's one area that lags behind similarly-priced rivals. The graphics and resolution are a little tired. At least Android Auto and Apple CarPlay offer some cheer if you're disappointed by Nissan's default setup.
Otherwise the Juke Hybrid features all of the usual suspects, including keyless entry on our test car. Nissan's ProPilot is always a boon if you're in need of assistance when parking, which might be the case given the fairly dinky dimensions of glass found at the rear. The Bose audio system was pretty on the money too.
Autonomous Early Braking and Lane Departure Warning work to good effect for monitoring your driving, which is handy given the amount of distractions that emanate from tiny rear seat passengers in a family-focused car.
The all-new instrument cluster can also be toggled to show the amount of regeneration going on, and your remaining battery charge, so you can adjust your driving style for the best fuel economy.
Nissan Juke Hybrid verdict
The Nissan Juke Hybrid Premiere Edition we drove costs £28,250, which isn't pocket change, but you get quite a lot for your money.
If you live in the land of finance and PCP deals, though, you can add on the extras outlined here without noticing much of an increase to your monthly payment plan.
We'd like to see better infotainment, but as a car with a proven track record the Juke Hybrid is a cool variation on a tried and tested theme.
Stuff Says…
The Nissan Juke Hybrid retains its appeal for families and it'll go further for less now too
Good Stuff
Good level of tech
Decent MPG and emissions
Bad Stuff
Slow to 60mph
Lacklustre screen
Tech specs
| | |
| --- | --- |
| Engine/motor | 1.6 litre petrol, plus 48bhp E-motor |
| Battery | 1.2kWh |
| Power | 141bhp |
| Torque | 148 lb ft |
| 0-62mph | 10.1 seconds |
| Top speed | 103 mph |
| Efficiency | 56.5 mpg |
| Charge rate | self-charging |
| Cargo volume | 354 litres |