Nubia Watch review
Piccadilly Circus on yer wrist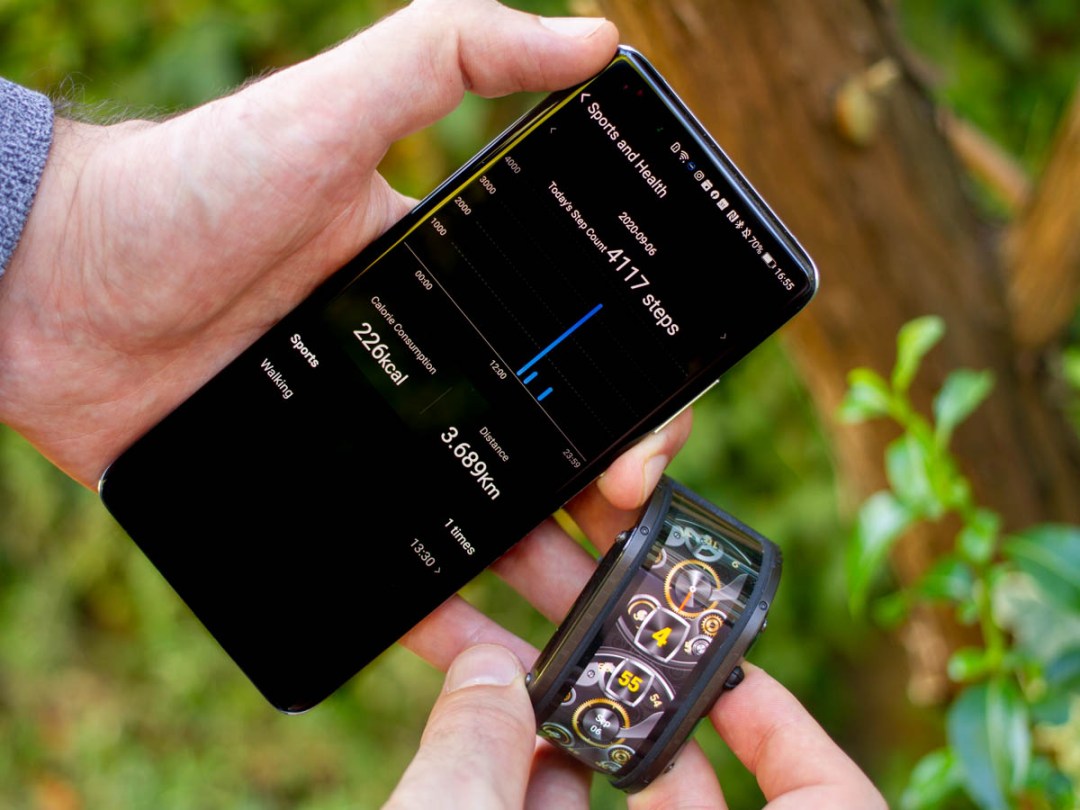 Remember those high viz snap bands? Slap them on your wrist – flat to flexible in half a second?
It almost feels like they were the precursor to Nubia's latest smartwatch – the aptly named Nubia Watch. The Nubia Watch is the world's first smartwatch with a truly flexible display (not curved), we've seen that before from Oppo, Samsung and Nubia, no less.
This watch, however, literally bends and flexes around your wrist as you move, with a huge 4in screen that's the tallest we've seen on a wearable. If you're picking one up from China, you'll benefit from eSIM tech and in turn, phone calling smarts.
In the rest of the world, however, it's functionality doesn't extend much beyond the significantly cheaper Mi Band 5. In turn, it's pretty much a fitness tracker and timepiece to all intents and purposes in terms of what it can do – at least on the version we had.
Additional features that cater to international users habits, for example, Whatsapp, Instagram, Facebook, Line, and email notifications" are expected to make their way to the international version – though we can't speak to them.
Limitations aside, there's no getting around the fact this curvy smartwatch is unique and makes a bold statement, but is that for better or worse?
Design: Electronic tag meets Robocop realness
The Nubia Watch looks futuristic. Whether that's post-apocalyptic or utopian will be down to your individual taste, but we're definitely getting Robocop meets Demolition man with a Judge Dredd twist from it.
To say it's well built is an understatement – and that's both in terms of how solid it feels and how much heft it packs. That wraparound screen looks totally unique, and at 4-inches and with a 20:4 aspect ratio, it's tall.
The Nubia Watch is also sharp for a wearable, with its 244 pixel-per-inch pixel density, helped along by punchy AMOLED tech. A few taps and swipes in, and the touch display is as responsive as it needs to be, which is an improvement over last year's Nubia Alpha.
The Nubia Watch screen is plastic and there's no getting around that. The thought terrified us before we started using it. Having said that, thanks to a very raised lip on all four sides, over a week into use and it's fared better than expected. No scratches, just smudges.
What really lets the Nubia Watch down, however, is the fact it isn't water-resistant, with its IP53 rating. In other words, splashes should be okay, but anything more and you'll have a beefy brick on your wrist.
On the subject of its size, brace yourself for a unit if you're planning on picking up a Nubia Watch. The Stainless Steel 316L aluminium alloy frame feels indestructible, and at 98g, it's only 15g lighter than a 2016 iPhone SE, and a bit less than double the weight of an Apple Watch.
Look at your wrist right now; the daintier it is, the less we can recommend this watch for you – it's that simple. A series of metal links join the rubberised clasp and punch hole straps to the watch face, and they also limit the screen's flex, so you won't be over-bending and creasing the Nubia Watch accidentally.
Industrial looking screws appear to hold the polished, bevelled sides of the watch in place, and the prominent protruding nubbin on the right may look like a Digital Crown, but it isn't, it's just a big ol' button.
Usability: Smart in China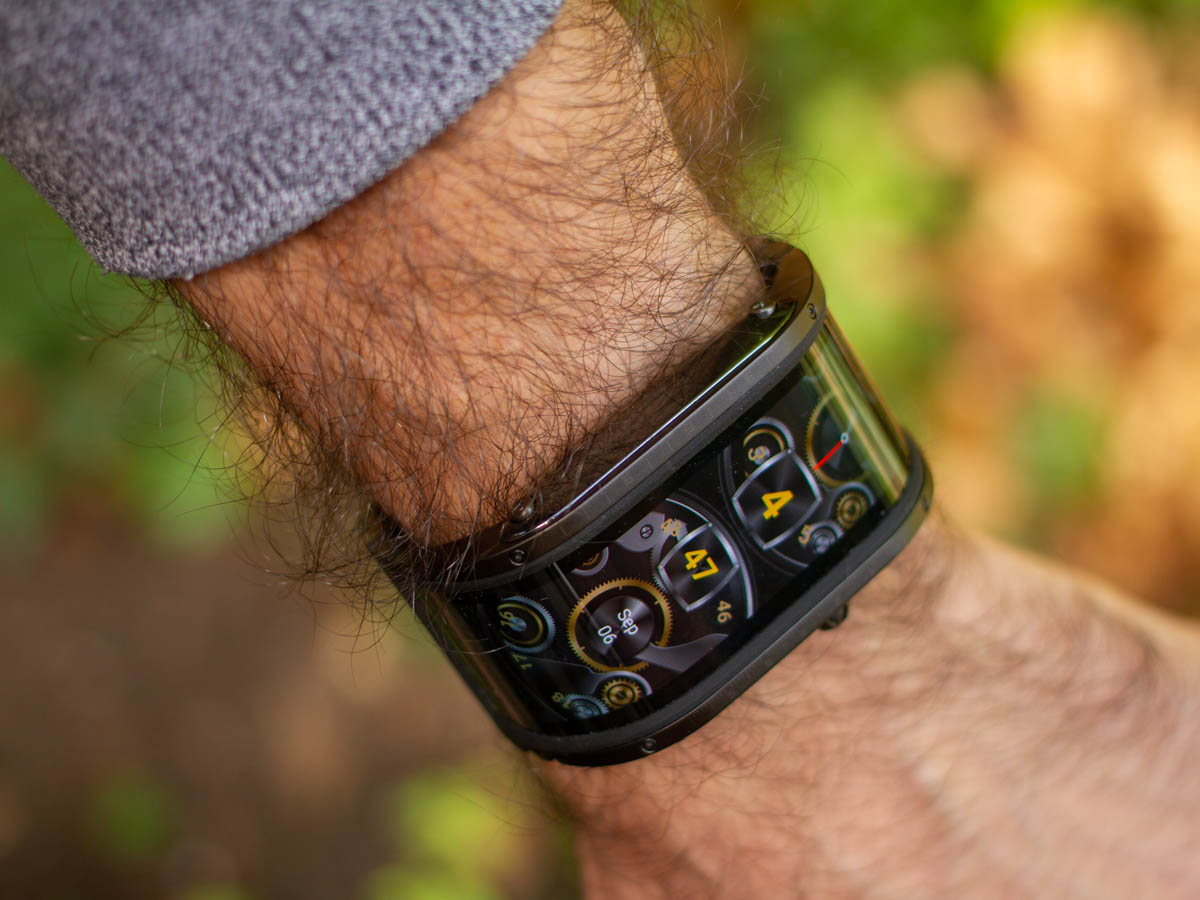 The Nubia Watch runs a custom user interface. That means no third-party app support, which is a pretty big deal if you're into apps like Strava to track your workouts. You will still get notifications that come in on your accompanying Android smartphone, however, iOS notifications supported are limited to WeChat, phone, message and QQ – not good.
It's a shame that you can't reply to messages through the watch, whether they're emails or WhatsApps, or even see all formats fully on-screen. At least that would take advantage of the giant display – something very few features actually do.
This lack of smarts puts the Nubia Watch in the same kind of smart category as the Huawei Watch GT 2 – it's a closed ecosystem product, not one that feeds into other services. That being said, it doesn't have the polish of Huawei's watch when it comes to exercise tracking or the smartphone app experience.
Despite the eSIM inside, the Nubia Watch won't make or receive phone calls outside China. What it will do, is act as a Bluetooth receiver for your phone. The speaker quality is nothing short of atrocious though and is exceptionally quiet, so the watch needs to be pressed to an ear for a call to be heard.
There are fun looking features touted in the app – Marquee, which can be used to customise a pattern that tickers along the Nubia Watch display; a photo management tool and music management, so you can upload tracks to the watch's 4.1GB of available storage. Only the music management feature works, however, we couldn't work out how to upload photos and the Marquee tool kept crashing when paired with an Android and iOS phone.
Uploaded music tracks playback only when the watch is paired with Bluetooth headphones, so make for a handy option when you want to go for a phone-free run or walk and still have tunes. With no third-party app support though, naturally, services like Spotify won't be available.
While there are 13 watch faces, eight of which take advantage of the striking display, the Nubia Watch really misses a trick given its inability to display photos as a watch face. It doesn't even support complications – elements within the watch face that can be customised – something the £39 Xiaomi Mi Band 5 does. So while it packs a smoother UI, courtesy of that long in the tooth Snapdragon 2100 processor, much of its functionality falls behind even modern-day fitness trackers.
Tracking and battery: Inflexible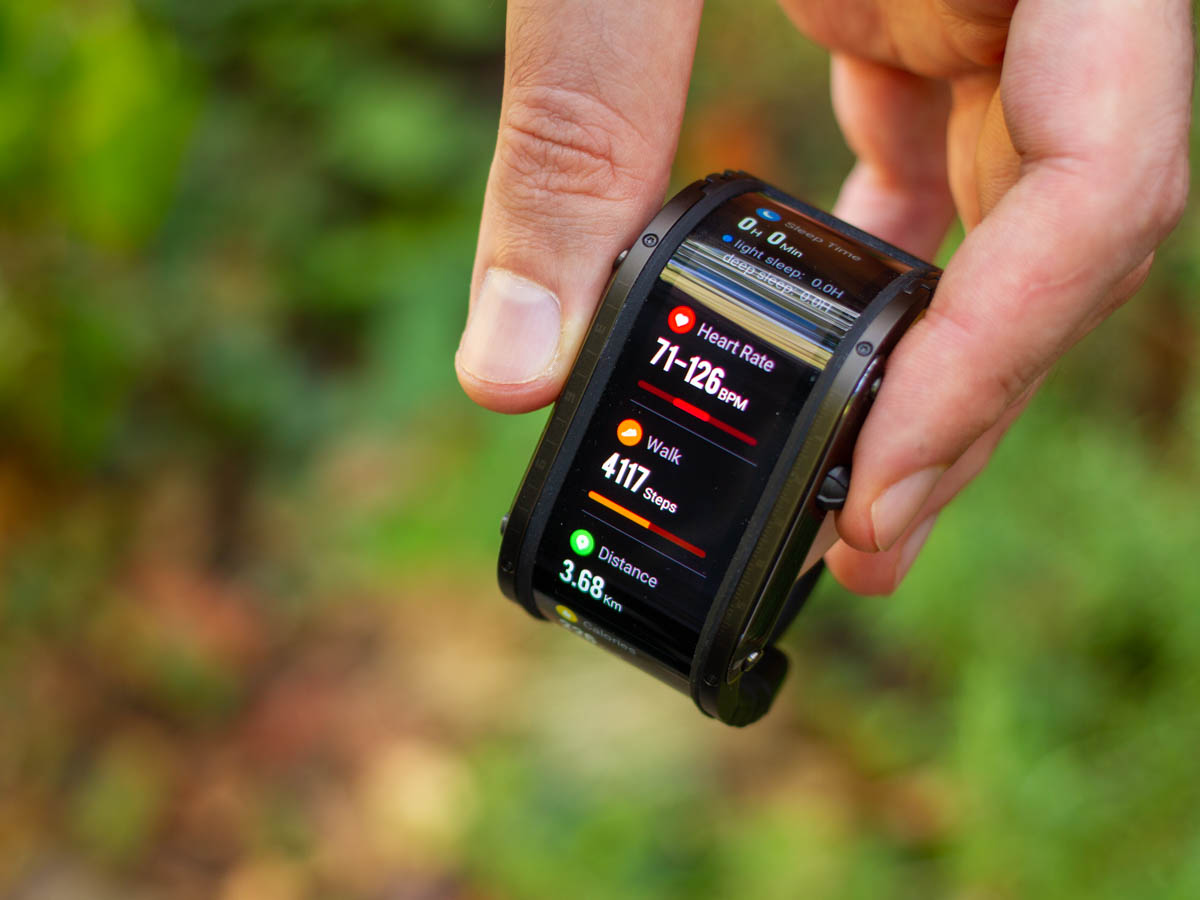 One thing the elongated watch face does a great job of is displaying a long list of information – heart rate, steps, sleep, distance. If you're not fussed about getting the fitness data captured on your Apple Health or Google Fit profile, don't want to hook up Strava or another exercise app and just want an on-wrist visual of your exercise, the Nubia Watch delivers.
It doesn't track many workouts though. With Free Workout, Outdoor Walking, Indoor Running and Outdoor Running modes, anyone looking to get cycling, rowing, swimming or anything else with their wearable should look elsewhere.
The fact there's a GPS inside does mean at the very least, distance tracked sports should be measurable without any issues. The watch features an alarm, a stopwatch and a timer set of functions which are handy when training.
You can run a timer and get on with a workout simultaneously – perfect for supersets and circuit training. That said, the Nubia Watch timer frustratingly lacks a 'seconds' option, so if you want to time a 45-second plank, you'll have to go for the full minute and hang tight until the first 15 seconds are done before getting on your elbows and tippy toes.
As for the actual tracking chops, the Nubia Watch was actually pretty accurate. It packs a generous pedometer, adding a few hundred extra during a 30-minute walk, and its heart rate reading was also a touch high in training sessions. Yet it was spot-on when stationary.
When trying to review our tracked walk on a map, all we got was a non-descript route on the watch face itself with no indication as to where in the world that workout took place – and that's more than the app gave us.
On the plus, the Nubia Watch's battery isn't bad, lasting about two days on a single charge, pretty good for a smartwatch, and more than we were expecting given the screen size. It charges up with a POGO pin laden magnetic charging base, which hooks up to power by way of a microUSB port.
Nubia Watch Verdict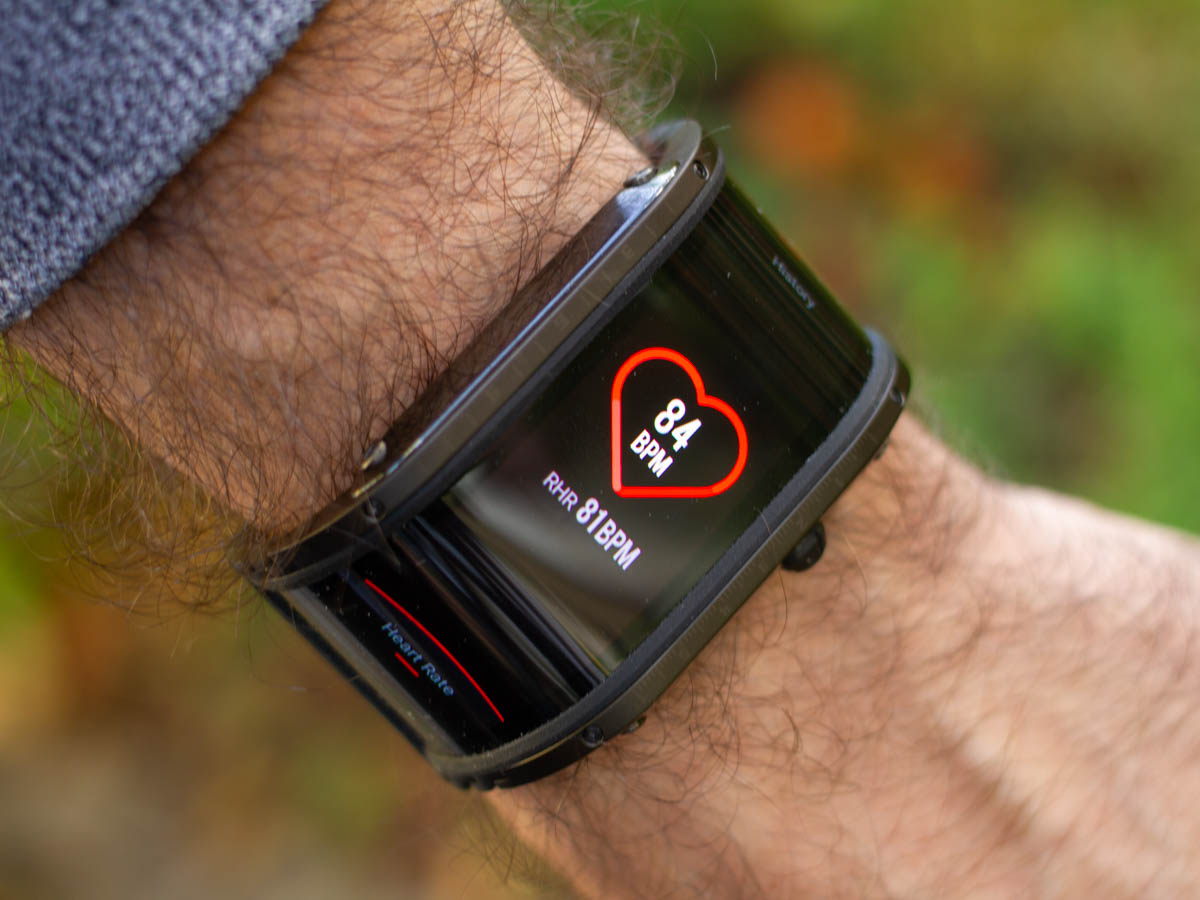 If you want a smartwatch that's part of the greater connected universe such as talking to your phone, your exercise apps and music streaming services, this isn't it.
In fact, if you want a smartwatch period, look to the Apple Watch, OPPO Watch or Samsung Galaxy Watch 3. The Nubia Watch is for a small, exclusive club of tech-heads who really love the idea of a novelty wearable and don't mind underbaked software.
Many tricks were missed – custom wallpapers and watch faces, a remotely decent app experience, iOS notifications. That said, if nothing else, the Nubia Watch is a well-constructed unit that does something unique. You can pick one up for under £200 on Kickstarter right now, or hang tight until it until it goes on sale for $399 in October 2020.
Stuff Says…
An ornamental, niche gadget for a very specific user – premium construction meets limited functionality and a bad app experience.
Good Stuff
Solid build
Unique concept
Responsive screen
Bad Stuff
Not waterproof
Very limited features
No third-party app support