OnePlus 7T review
Take a slurp because this is one tasty T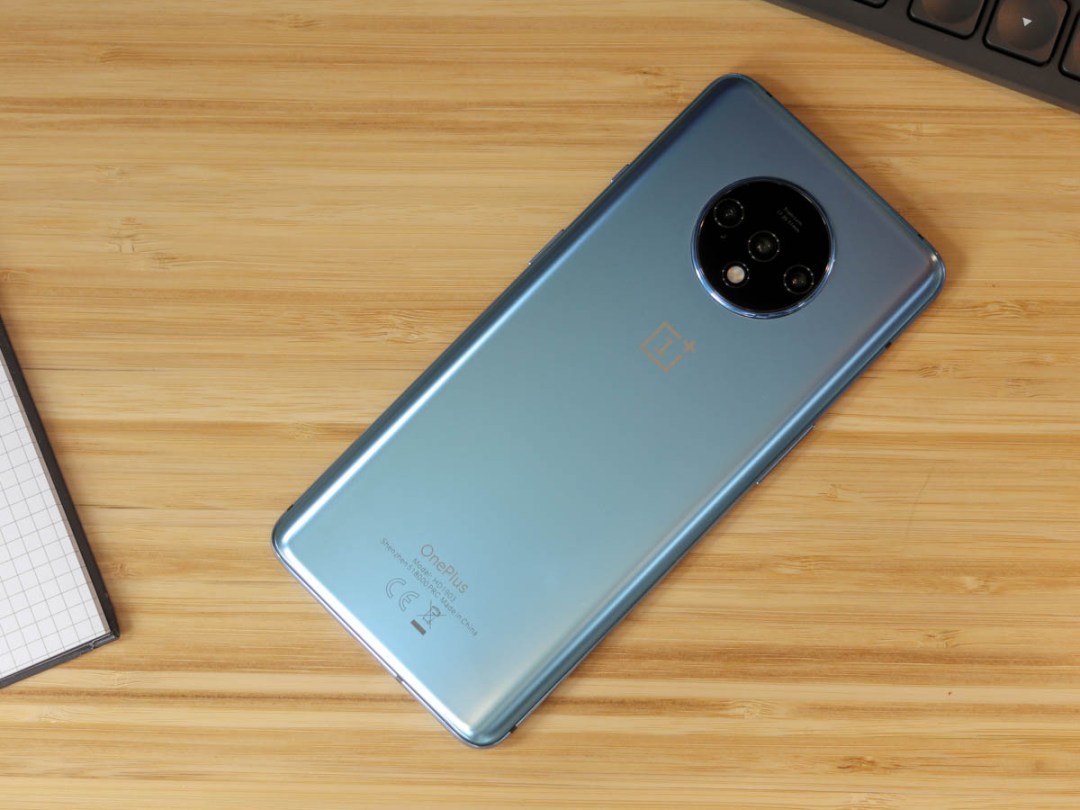 It's no secret: the OnePlus 7 was a bit, well, meh.
Sure, in a bubble, it was lovely – powerful and good looking, but it was very similar to the 6T before it. Both Honor and Xiaomi were also launching low-cost flagship-specced phones like the Mi 9 and Honor 20 Pro when the 7 dropped, all with more cameras, lower prices and similar innards.
But with its silky smooth 90Hz screen, three cameras and dreamy new frosted glass finish, can the OnePlus 7T pull back the love for the standard OnePlus line, or is greatness still reserved for the Pros?
Design: Glacier Blue da ba dee
We bashed OnePlus when we reviewed the 7 for making it too similar to the 6T, but there won't be any bashing going on today. The OnePlus 7T is a bit longer, a bit thinner and much better-looking than its predecessor was, without sacrificing on the va-va-voom of stereo speakers and a fancy in-hand feel.
The front has more screen and less bezel than the OnePlus 7 did, though you still get that dinky water droplet notch. Its aspect ratio is 20:9, longer than most of the competition, which adds a special quality to it but makes it feel a bit tall, although not Sony Xperia 1 tall.
The magic starts when you flip it around though. OnePlus has frosted the back and combined it with a Glacier Blue colour that's legitimately dreamy, thanks to its Fortress of Solitude-esque ethereal frostiness.
It does grubby up, so greasy fingers, take note and whack it in a case. Luckily though, there's one in the box, so you're covered on that front. There's also a pre-fitted screen protector for an added scuff barrier.
The big circular camera surround looks bold, an excellent statement piece, and the OnePlus 7T's buttons and ports are also your usual fare: volume, power and the trademark OnePlus silencing slider.
Before we even unlocked the phone, we knew OnePlus nailed its design, but when we did – oh boy, were we happy with that screen.
Screen: It doesn't scroll, it glides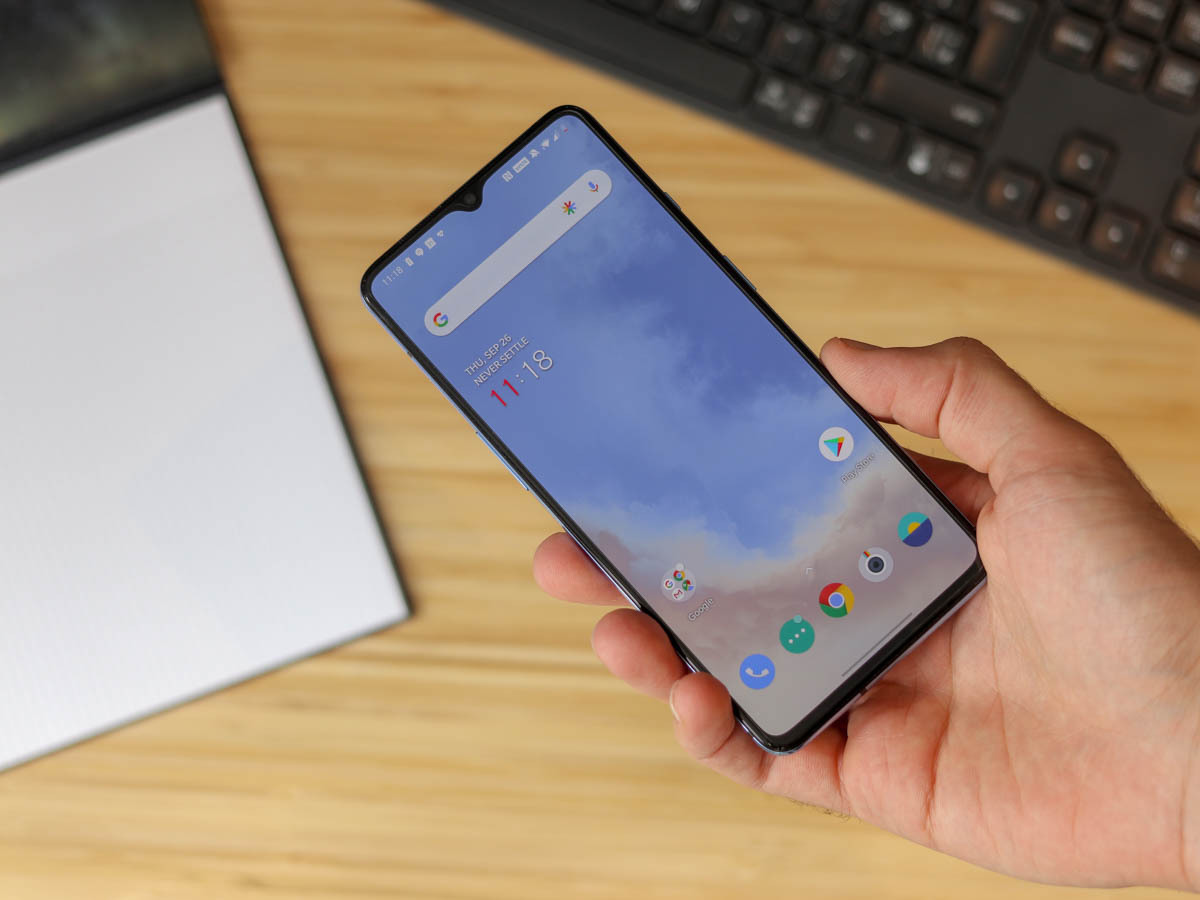 The OnePlus 7T's screen is a beauty, lifting the Fluid AMOLED credential from the 7 Pro and trickling it down. It has a 90Hz refresh rate, and trust us, you'll notice the difference. It glides through menus, sites and news feeds with as much punch and pizzazz as it needs to, but with added luxury, and when you switch back to 60Hz phones, which include knockouts like the Samsung Galaxy Note 10 Plus, they feel a bit slower, even if they aren't.
With its ample 6.55in size, the OnePlus 7T doesn't pack a dainty display by any means, and its extra height might require a bit more of a stretch than you're used to. That said, it's sharp enough at over 400 pixels-per-inch, is protected by Gorilla Glass and gets incredibly bright.
Interface: Put it down and get some zen back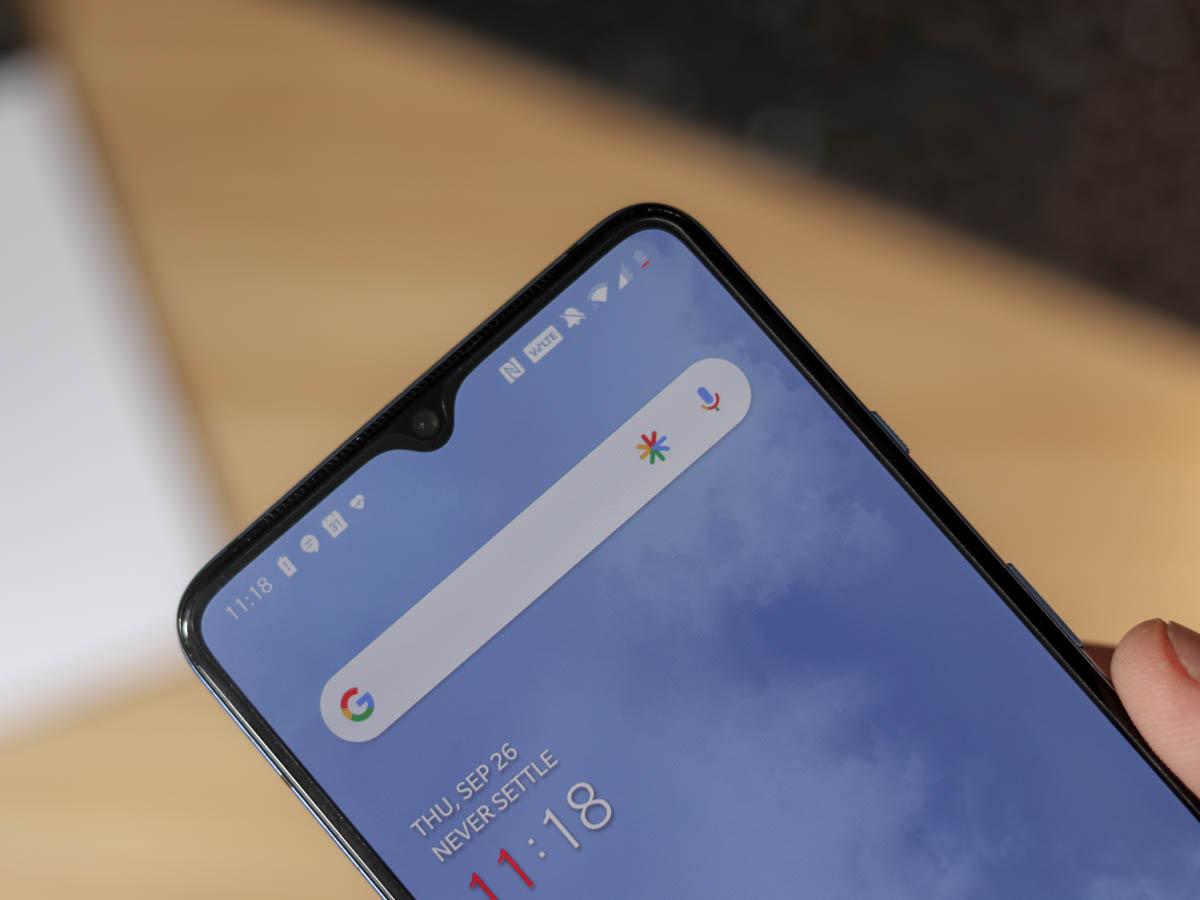 Luckily, thanks to Oxygen OS's improved Zen mode, putting the OnePlus 7T down won't be too hard. You can shut it up, disconnect it and effectively turn it into a brick that's only good for taking pictures with the press of a button. This blocks your phone for between 20 and 60 minutes, meaning you can claw your real life back a bit until Zen Mode ends and the 7T wakes up – we love this feature, even if firing it up did give us palpitations.
This new version of OnePlus' Oxygen OS is also running on the latest version of Android, so it's nicely future-proofed and includes a bunch of improvements when compared to the OnePlus 7 and 7 Pro. Our favourite? OnePlus has ditched proprietary gestures, so now, swipe in from the right of the screen to go back a step, swipe up from the bottom to go home, and swipe up with a linger to see your recent apps – not too dissimilar to an iPhone 11.
Everything else interface-related is ace – it's smooth, reliable and has incredible app support too. OnePlus' customisations are thoughtful, with a handy setup menu when you get the phone, so you can make the phone your own even before you really start using it.
Camera: Almost 100 cumulative megapixels
It's high time OnePlus gave its non-Pro flagship three cameras, and on the 7T, they're all corkers.
There's a primary 48MP sensor with an f/1.6 lens – this is your day to day point-and-shoot choice. It'll grab the best pictures and has image stabilisation too, so holds things steady when engaging the phone's night mode, Nightscape.
The other two cameras get you closer to or further from the action, with a 2x zoom 12MP camera with an f/2.2 lens, and a 117-degree field-of-view 16MP camera, for an almost GoPro-esque wide angle.
The 7T also offers up an impressive super-macro feature, able to get you as near as 2.5cm to a subject. Give it some good lighting, and whether it's a cat's paw, stationary bug or morsel of food, this phone can snap it with pin-sharp precision when compared to the competition. It's also a lot handier than the Honor 20's dedicated low-res macro camera.
Performance from the rest of the cameras is solid too, and while it definitely isn't the best smartphone around for photos or videos, it does the job across lighting conditions very well. Detail is strong and with three focal-lengths as opposed to one, it's miles ahead of the OnePlus 7.
Another point to note, the 7T also captures great-looking video across its focal lengths, stabilised at up to 4K 60fps. Its footage is loaded with punchy colours, so doesn't need any editing to give it pop. If, however, you like editing your footage and prefer flatter finishes, then check out the Xperia 5.
Performance: Imagine Snapdragons
Surprise surprise – with its new, cutting-edge Snapdragon 855+ processor, the OnePlus 7T flies. Menu swiping looks fast thanks to that Fluid AMOLED's 90Hz screen, and this phone has the horsepower to back it up, nailing everything from benchmarks to gameplay to day-to-day use.
There's also 128GB storage inside as well as 8GB RAM: plenty of both to keep all but the most demanding power user happy. If 128GB doesn't sound like enough space, then don't buy the OnePlus 7T, because it doesn't feature a microSD card slot. Pick up a Galaxy S9 or Mate 20 Pro, which take micro SD cards and Nano Memory cards respectively.
Under the screen is a speedy fingerprint scanner and face unlock is onboard too, so you can get into the 7T nice and quickly. Within the apps tray, there's also a hidden section so you can hide apps you don't want others to know you use – there's no shame in Tinder or Grindr, people.
With Dolby Atmos support, the 7T's stereo speakers also do a very good job given how thin it is. There are plenty of customisation options in the menu, giving you control over everything from colour calibration to sound EQ presets. If you want a phone you can make your own, this is it.
Battery: Warp Charge 30T ahead!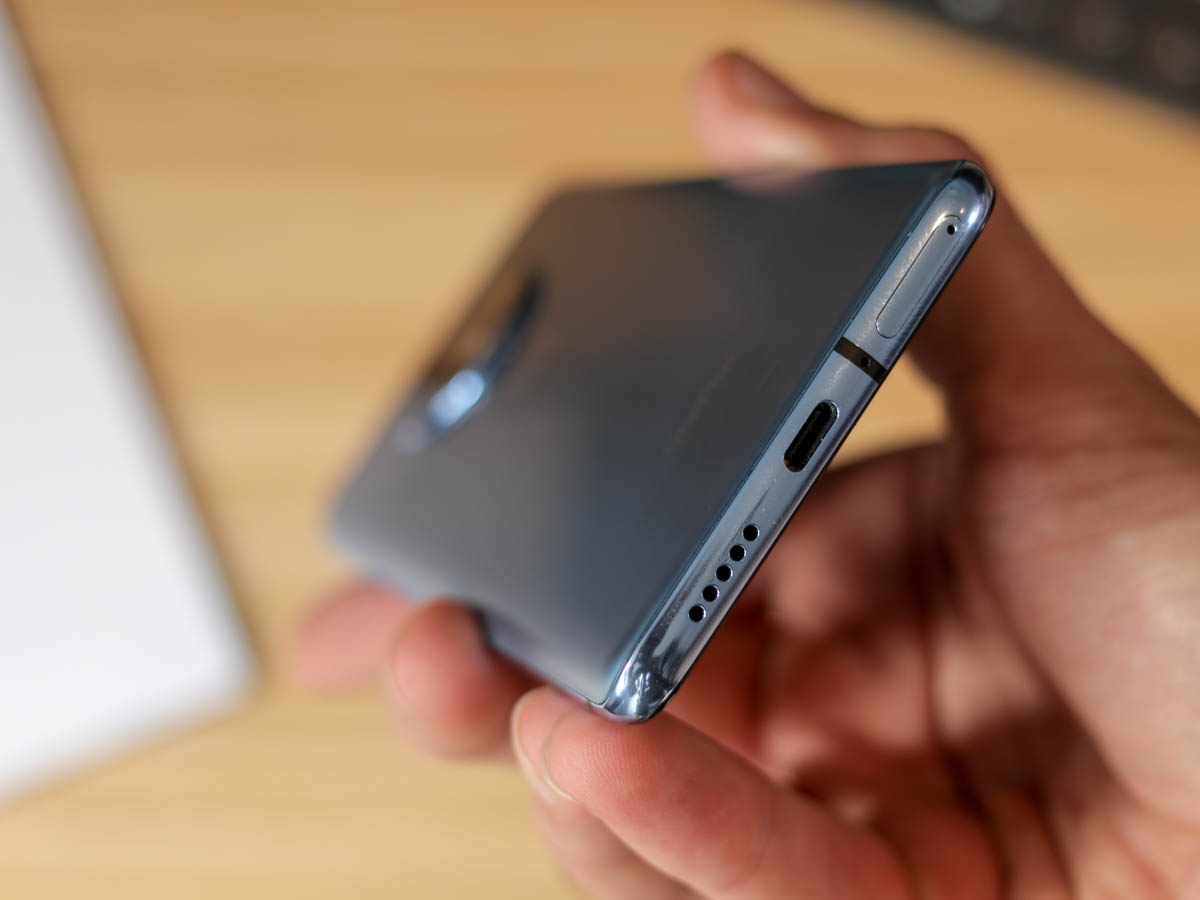 Bigger screen, bigger battery – it's amazing how many phone makers don't ramp up one with the other, resulting in phones with huge displays but dinky little batteries that die too soon. You can imagine our delight when we found out OnePlus was loading up the 7T with a bit more juice than on the 7; with 3800mAh inside it's easily a morning-to-night phone, leaving us with about 15% left at the end of a busy day.
The Oneplus 7T also charges quickly, with Warp Charge 30T filling it to around 70% in the first 30 minutes when starting from empty. There's no wireless charging but we're not too fussed about that given everything else this phone can do.
OnePlus 7T verdict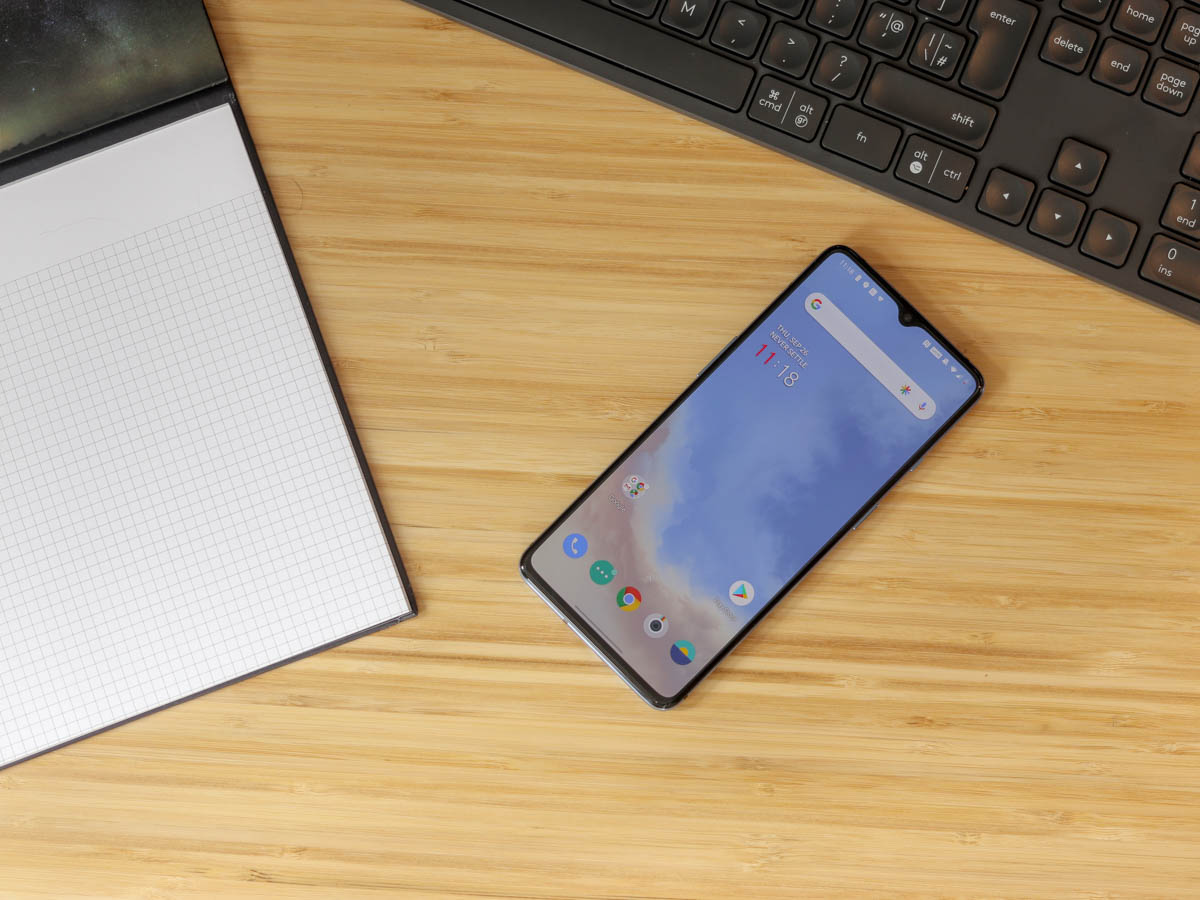 The OnePlus 7T is a beautiful-looking phone with some better-than-flagship features for a lower-than-flagship price. Its camera isn't the best around, but it's competitive and outguns its predecessor in every way.
The phone also has stacks of power, great battery life and a dreamy new design. While the Mi 9T Pro will likely still offer better value for money, thanks to that 90Hz screen and Oxygen OS being so darn gorgeous, if you can stump up the extra, the 7T won't disappoint.
Stuff Says…
Pretty and powerful, the 7T might not be the best at anything, but it's very, very good at everything
Good Stuff
Dreamy new design
Stunning display
Class-leading power
Bad Stuff
No wireless charging
No headphone port
No expandable storage