Oppo A5 (2020) review
This ultra-long-lasting smartphone is a new budget favourite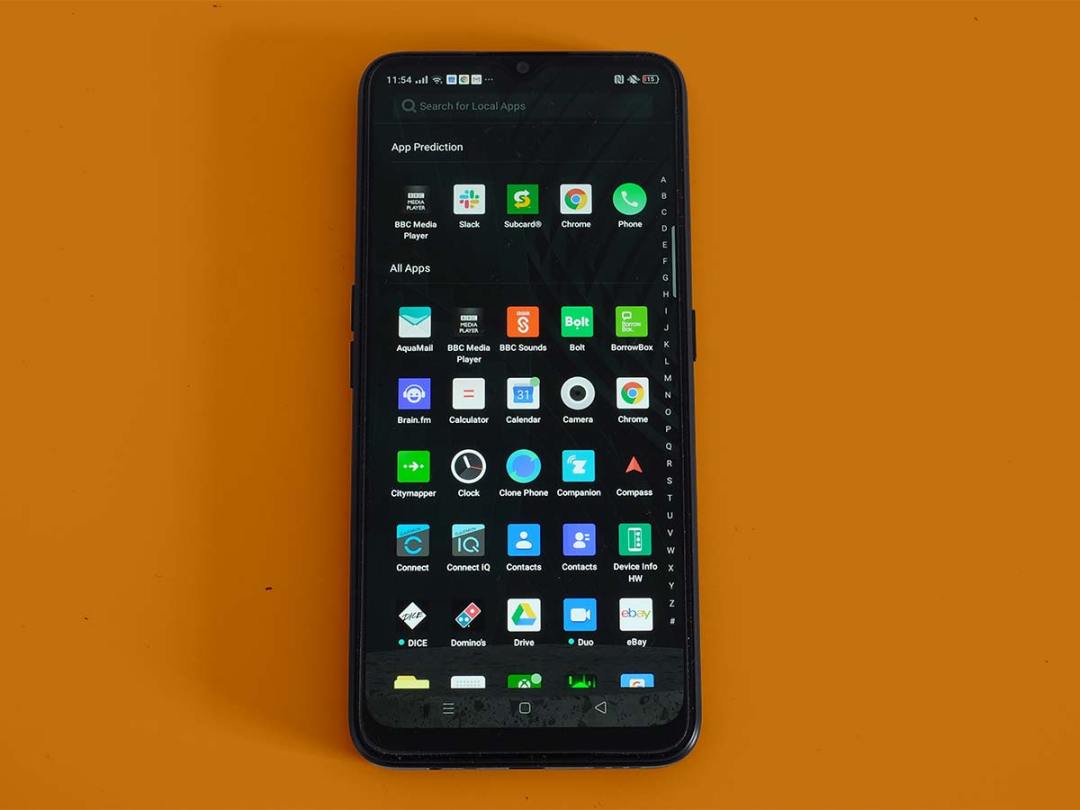 Employ a bit of savvy shopping and you can dress like a celeb for just a few quid. Forget the high-end fashion and swap it for a rummage in the odd charity shop and the discount aisle at TK Maxx.
But does faking it 'til you make it work when buying tech?
The Oppo A5 2020 is a cheap phone that passes pretty successfully for a far more expensive one at a distance. It costs just £180 but has five cameras, a giant screen and an even bigger battery that breezes through the day like an air hockey puck.
Don't look too close as some of the stitching on this garment isn't quite A-grade. But this is still one of the best sub-£200 phones around.
Design
I think this is a classy-looking phone. The back looks just like the curved glass of a flagship, while the visual impact of the quad camera array on the back is great. Even the positioning and the quality of the finish on the lens surround don't seem "budget".
However, and you may have guessed this, the Oppo A5 2020 is mostly plastic. The front is Gorilla Glass, but the back is an imposter. It's plastic, and feels like it. The sides are plastic too. So the illusion you get a flagship-a-like phone for £180 fades when you actually use the A5.
There's plenty to like about the hardware elsewhere, though. The buttons are metal and feel good, you get a protective case in the box. There's a headphone jack and the speakers are excellent for a cheaper phone. There's a driver above the screen and one on the bottom edge, for stereo sound, and these are punchy little units.
They are loud and, unlike a lot of phone stereo pairs, the front speaker is just as full-sounding as the bottom one. Front drivers can often only there to add a bit of extra treble, and to stop the audio seeming lop-sided. These are real friends to a podcast.
Screen
The screen is further evidence of the Oppo A5 2020's mixed success. This is a big, current-looking 6.5-inch screen with an attractive notch and an ultra-tall 20:9 aspect ratio. Large displays like this are perfect for Netflix and gaming, and the sheer size per pound outweighs the technical limitations when you just want to sit back and watch an episode of something on the train.
Those limitations? This is only a 720p screen, with 1600 x 720 pixels. Netflix still looks fantastic on the Oppo A5 2020, but there is a slight softness to the look of Android and its small icon fonts.
This is one part that may fully put some of you off, particularly when the Motorola Moto G8 Plus is not a wheelbarrow full of cash more expensive. We found the drop down from the 1080p Samsung Galaxy A90 5G surprisingly easy to take, though. 720p Android phones simply don't look as straggly as they once did.
The Oppo A5 2020 screen can also go plenty bright, which comes in handy when you shoot photos outdoors. A dim display means you can't really see what your photos look like in the image preview a lot of the time, but we didn't have that issue here.
Camera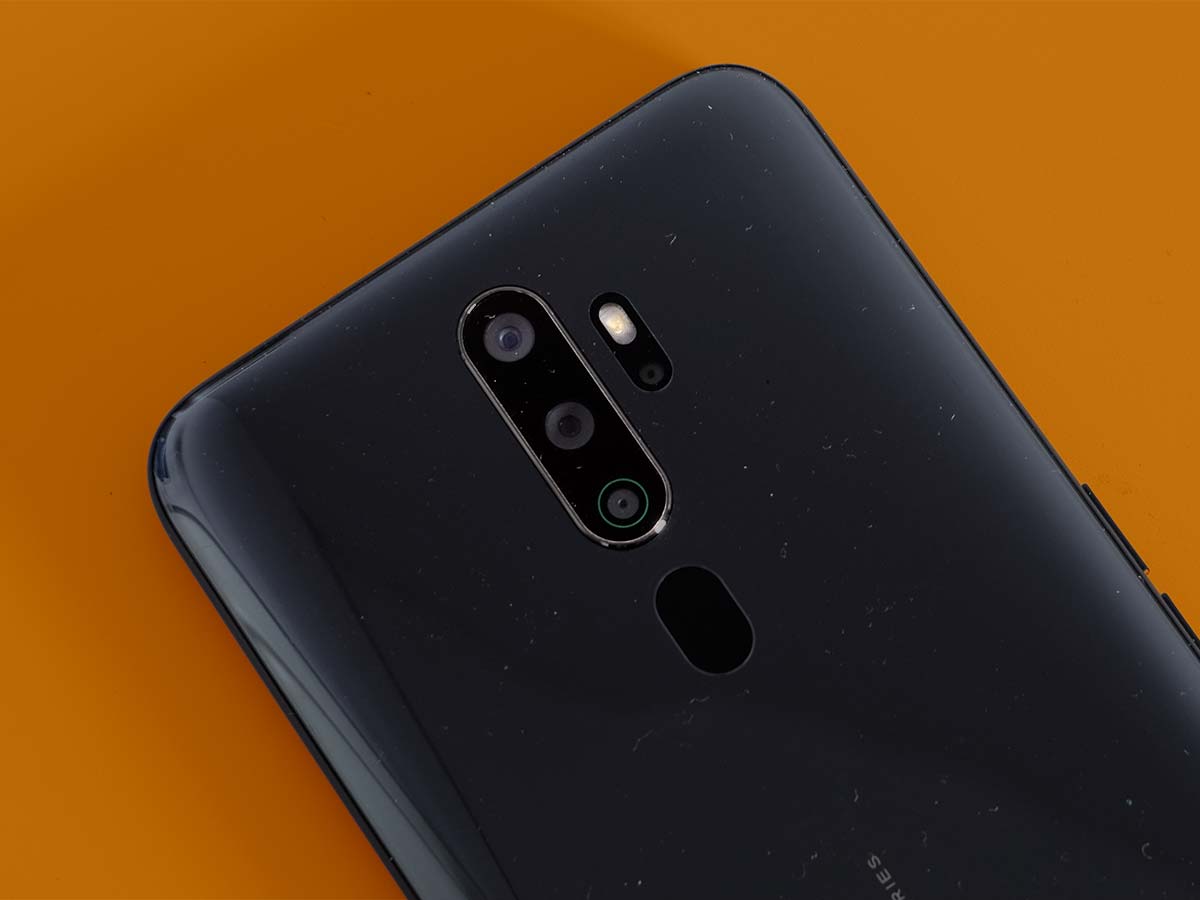 The camera is the primary part that some of you may end up disappointed by. It's not because the Oppo A5 2020 doesn't perform well enough for its price. It absolutely does. But it can look better on paper than it is in reality.
You get four cameras on the back, but only two meaningfully different lenses. There are wide and standard cameras, but no zoom. The Oppo A5 2020's camera app does let you zoom in to x5, using just the sort of zoom button you might see in a phone with a real zoom. But it's all-digital here.
The two bonus cameras have weak 2MP sensors, and you have to dig pretty deep online just to find out what the second even does. One is for depth info, the other a monochrome camera for a B&W filter mode you have to dig pretty deep to even find. And the A5 2020 can actually take background blur and monochrome photos when the bonus sensors are blocked anyway.
The only conclusion that makes much sense is these cameras are mostly there to look the part. They are the fake pockets on your jeans, the sawdust in your fast food burger.
There's nothing cynical or deceptive about the two main cameras, though. The Oppo A5 2020 has a 12-megapixel standard camera and an 8-megapixel ultra-wide.
Like most good budget phones, the A5 can take good shots in the day. But at night your shots will look much softer. Oppo says the phone has a dedicated night mode and, sure enough, it auto-switches to a "night" scene setting in low light. However, it can't brighten up shots like the "AI" night modes used in more expensive phones.
Day-lit photos aren't at the same level as those of the standard-setting Google Pixel 3A either, lacking the same texture and detail fidelity in the shadows when you get up close. But you can take some pretty pictures, and the Auto HDR processing means you don't have to worry too much about where the sun is. We shot plenty with the run glaring right into the lens, and there was still plenty of detail in the foreground. That's the sign of A-grade HDR power.
Also, let's not forget the Pixel 3A is almost twice the price, and this phone is actually an alternative to the even more expensive Pixel 3A XL.
There's a bit of a drop in image quality when you switch to the ultra-wide lens, but again this is no great surprise at £180. We're talking about lesser sharpness and texture detail, not an image quality horror show, and the ability to take dramatic—looking wide angle shots is a big benefit.
Oppo takes the opposite approach to Motorola with the wide camera. You can shoot stills, not video. A Moto G8 Plus lets you capture action camera-like video, but not photos. We think most will find the photo side more useful.
The Oppo A5 2020 lets you shoot video at up to 4K resolution, at the usual budget phone standard of 30 frames per second. We recommend sticking to 1080p most of the time as there's no electronic stabilisation at 4K. It's not mind-blowing at 1080p either, but it does get rid of the basic judder than can make handheld footage look amateurish.
Battery life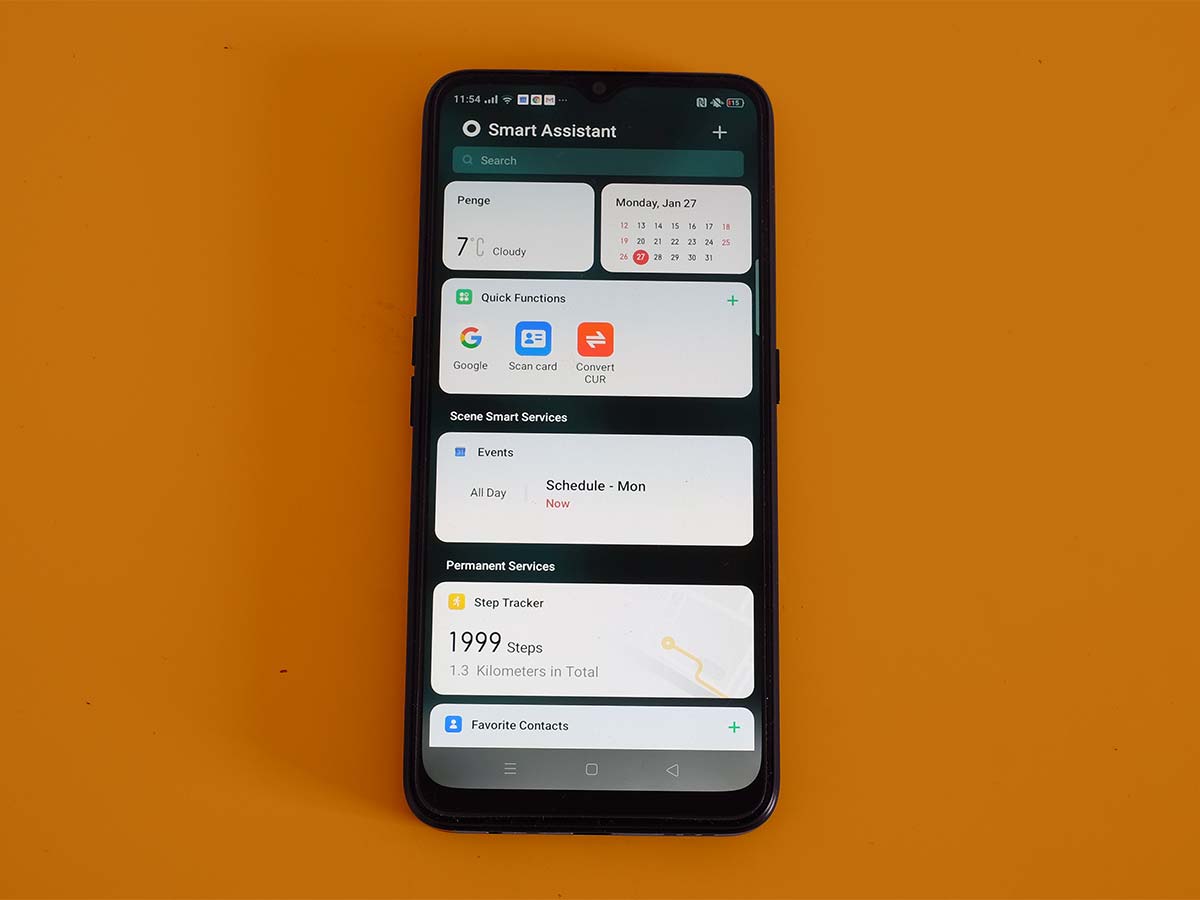 For every great part of the Oppo A5 2020, there's a caveat, a little reminder the phone costs £179 rather than £450. But our job here is to tell you why those issues don't ruin the phone.
And perhaps the Oppo A5 2020's biggest strength is its battery. The 5000mAh cell is a whopper.
It lasts so long some of you may find it hangs on for two full days before needing a recharge. Even if you play games or watch streamed video on the way to work, it shouldn't need a top-up before bed time. All the usual phone battery anxiety simply isn't an issue with the Oppo A5 2020, even with an Instagram addiction in tow.
The bad bit here is charging speed. You get a bog-standard 10W charger, not a turbo one. Plug it in and the battery level doesn't rise at anything like the speed of the Moto G8 Plus's. This isn't a phone you'll need to top up too often if you plug it in every night. But a quick 15 minute insurance charge just doesn't get you too far here. The level rises as if topped up by teat pipette.
Features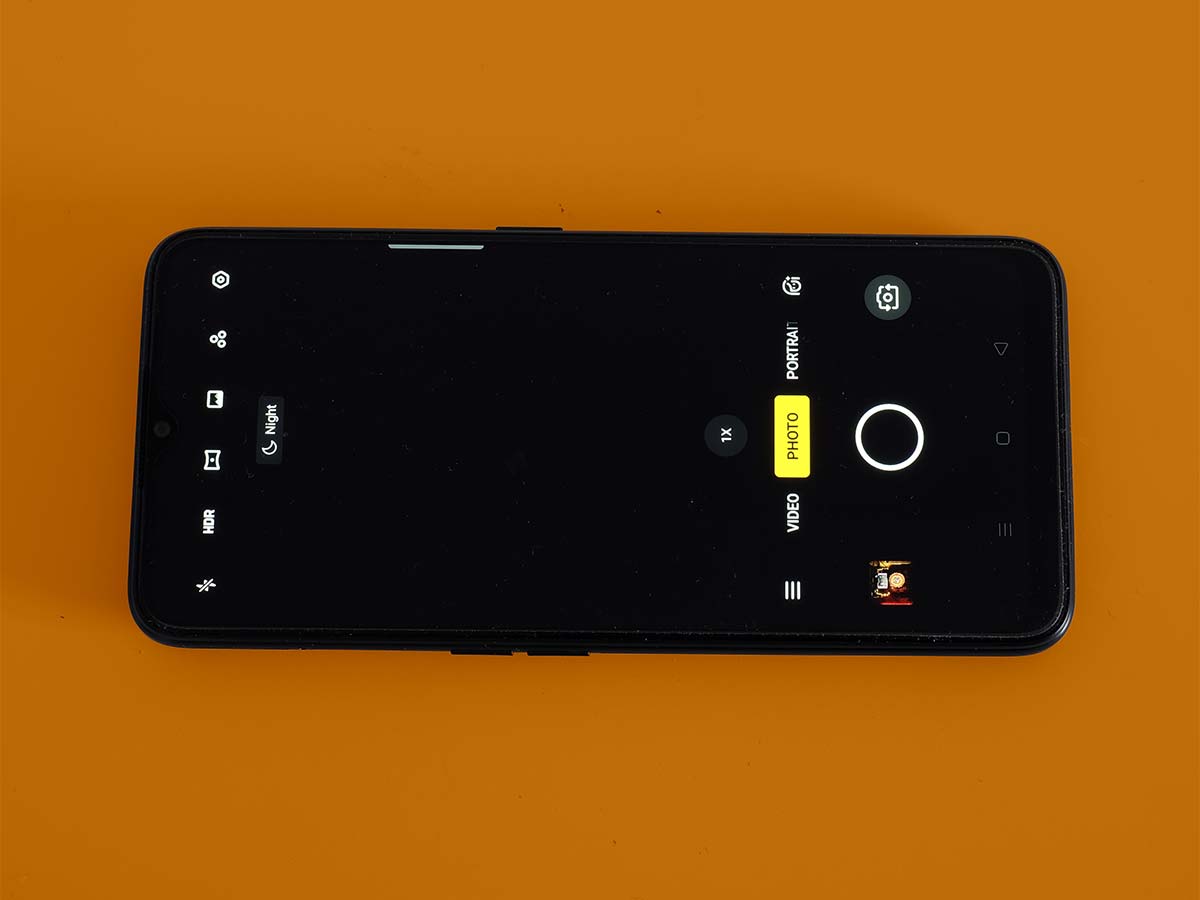 And the rest of the phone? It's rock-solid. The Oppo A5 2020 has the Snapdragon 665 processor, the same seen in the more expensive Motorola Moto G8 Plus.
This keeps Android 9 running perfectly well when paired with the 3GB RAM. A few games don't run as well as they would on a more powerful phone, but everything is playable. For example, Asphalt 9 chugs when you fling your car off a ramp into the air and the phone suddenly has to render half a city's worth of buildings.
The fingerprint scanner also has a surprisingly important part to play in making the Oppo A5 2020 feel nippy. It's very quick, far better than a lot of the in-screen kind used in much more expensive phones.
And the software? The A5 2020 runs Android 9 with a ColorOS 6 skin on top.
This is not the latest version of Android and you may initially find the square icon look of ColorOS a bit jarring. But now we've reviewed a bunch of Oppo phones over the last few months, we find little to seriously dislike here.
There's a Smart Assistant widget homepage you probably won't use and a "one handed" assistant shortcut bar most people may not even realise exists, but the key tweaks we like to see are here. You can have an app drawn in the A5 2020, or not, and you can choose how many columns to pack into each homescreen.
64GB storage gives you plenty of room for games and games, and there's room for a microSD. What more could you ask for
Oppo A5 2020 verdict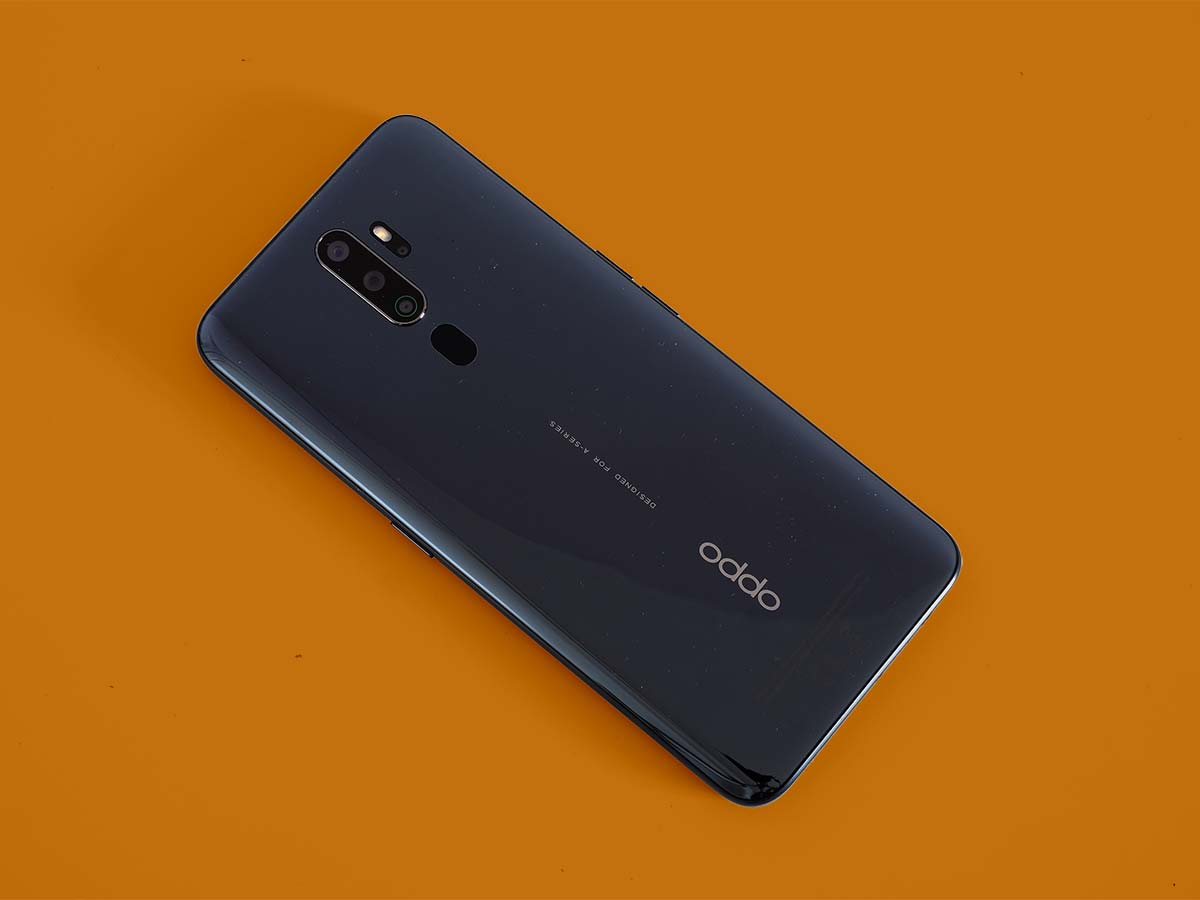 The Oppo A5 2020 is great for the hardcore phone user who isn't a hardcore tech snob. A big screen and battery let you stream a lot of music and video, and play games without having to worry about running out of charge.
It can't play every single game with maxed-out graphics. And even if it could, the 720p screen is not necessarily the best way to experience them. The quad camera isn't as advanced as it sounds either.
However, we've found living with the Oppo A5 2020 to be blissed-out. It has a good-enough screen, strong speakers, feels fast and can even take good photos while the sun is up.
Tech specs
| | |
| --- | --- |
| Screen | 6.5-inch 1600 x 720 pixel LCD |
| Chip | Snapdragon 665 CP |
| Memory | 3GB RAM |
| Storage | 64GB |
| OS | Android 9 / ColorOS 6 |
| Battery | 5000mA |
| Cameras | 12/8/2/2MP rear / 8-megapixel selfie |
Stuff Says…
A few tech shortcomings don't stop this ultra-long-lasting phone becoming a budget favourite
Good Stuff
Excellent battery life
Big screen
Good stereo speakers
Bad Stuff
Slow charging
Quad camera array is only 50% useful
Bog-standard low light images