Oppo Reno 10x Zoom review
Watch out Huawei, Oppo's landed.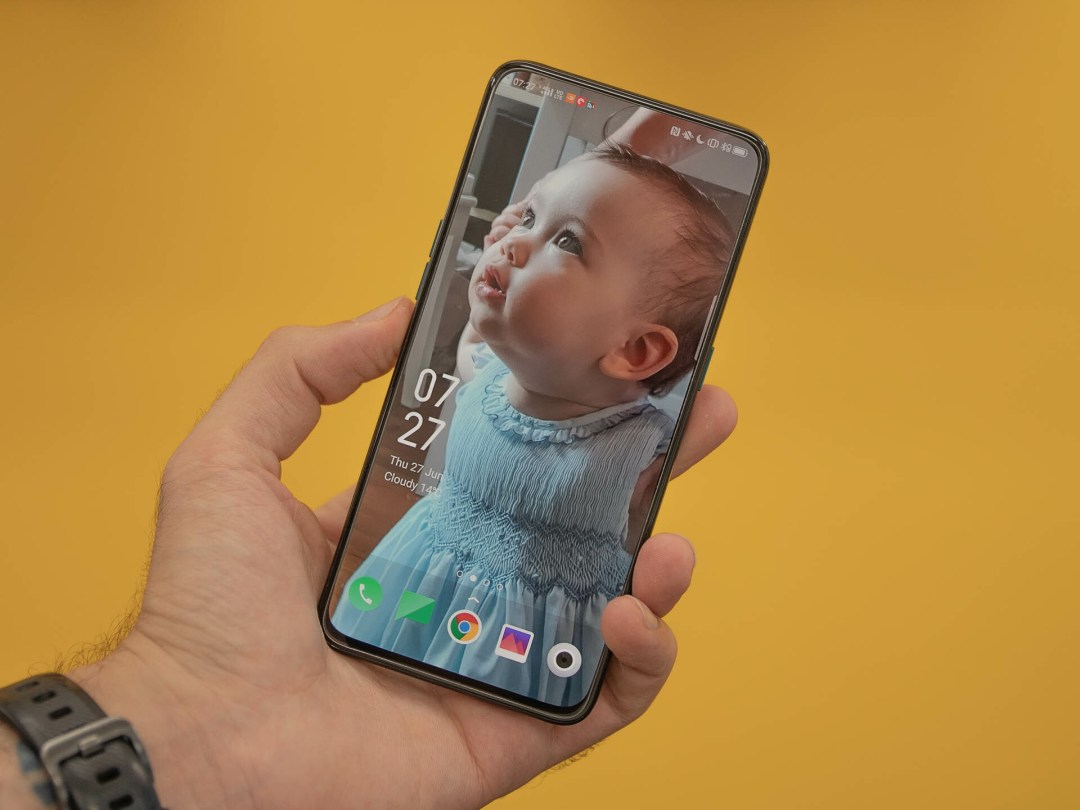 The Oppo Reno 10x Zoom isn't Oppo's first phone to hit the UK; we reviewed the all-screen Find X last year, and the recent OnePlus 7-alike, the RX17 too. Neither got a huge amount of mainstream attention – but the Reno 10x Zoom has.
It's one of the most camera-tastic phones around, thanks to its periscope telephoto camera, delivering optical zoom in spades, it also sports a fancy all-screen front and a pop-up selfie camera.
The rest of the Reno 10x Zoom is flagship too. It's powered along by a Snapdragon 855 processor, comes with 256GB storage as standard if you're picking it up in the UK, and it packs a 4065mAh battery with VOOC fast charging – £699, it even manages to undercut much of the competition too.
Design: Maybe there's a shark in my Oppo?
No shark – but there is a nifty 'sharkfin' pop-up selfie camera, which enables the Reno 10x Zoom to have a gloriously immersive all-screen, notch-free front, giving it a 93% screen-to-bezel ratio. The phone is made of a combination of glass and metal, has a fancy-feeling frosted Gorilla Glass back that does an excellent job of keeping fingerprints at bay and is available in two colours: Ocean Green and Jet Black.
The Reno 10x Zoom is thick, at 9.3mm, and heavy at 210g, but on the plus, there's no camera bump in sight. It packs volume buttons on one side, power buttons on the other and at the base is a USB-C port. There are also stereo speakers, and around the back is a tiny little raised nubbin – a genius addition included to slightly raise the Reno when on a surface and keep its back scratch free. In over a week with the phone, ours looks as good as new.
In the box, the Oppo Reno 10x Zoom comes with a case and there's also a pre-fitted screen protector, safeguarding it from all sides.
The phone's curved back is elegant, delivering an enjoyable in hand feel, though as mentioned, it's big, so definitely check it out in person before you pick one up if you're concerned for your pocket and palm.
Screen: Flat, Full HD and bezel-free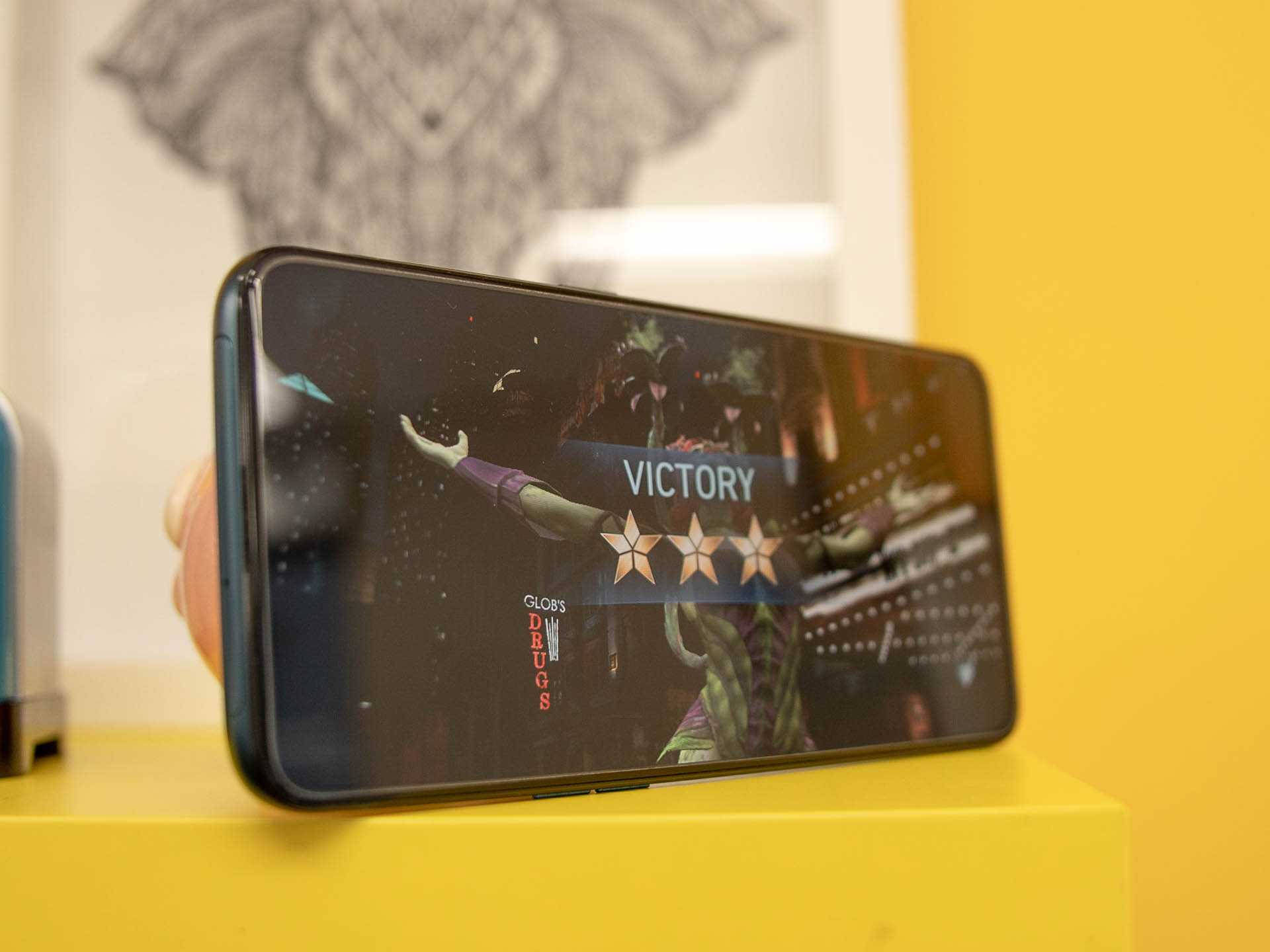 While the Reno 10x Zoom and OnePlus 7 Pro share similar sizes, specs and both have pop-up cameras, their screens are markedly different, with the OnePlus 7 Pro's being superior on paper.
The Reno 10x features an AMOLED FullHD resolution screen that clocks in at 6.6in. With its 19.5:9 aspect ratio, that leaves you with a pixel density of 387 pixels-per-inch (PPI), which is significantly lower than that of the OnePlus 7 Pro (516PPI) and the iPhone Xs Max (458PPI). This means that while it might be huge, and immersive, it's probably the least sharp flagship you can pick up. Should you care? Maybe – but our 34-year old eyesight still found the image the Reno 10X produced to be glorious.
It's deep, punchy and blacks are inky thanks to the excellent quality AMOLED tech under the hood, and viewing angles are also great. Brightness is strong, but not class-leading; in direct sunlight, it can be a touch difficult to see exactly what's going on.
While the Reno 10x Zoom's flat screen doesn't look as futuristic as those of the curved OnePlus 7 Pro, Samsung Galaxy S10+ or Huawei P30 Pro, it's a touch easier to work with – we found ourselves accidentally pressing the sides of the screen far less often (never) in our week with the phone.
Software: Gender normative bloatware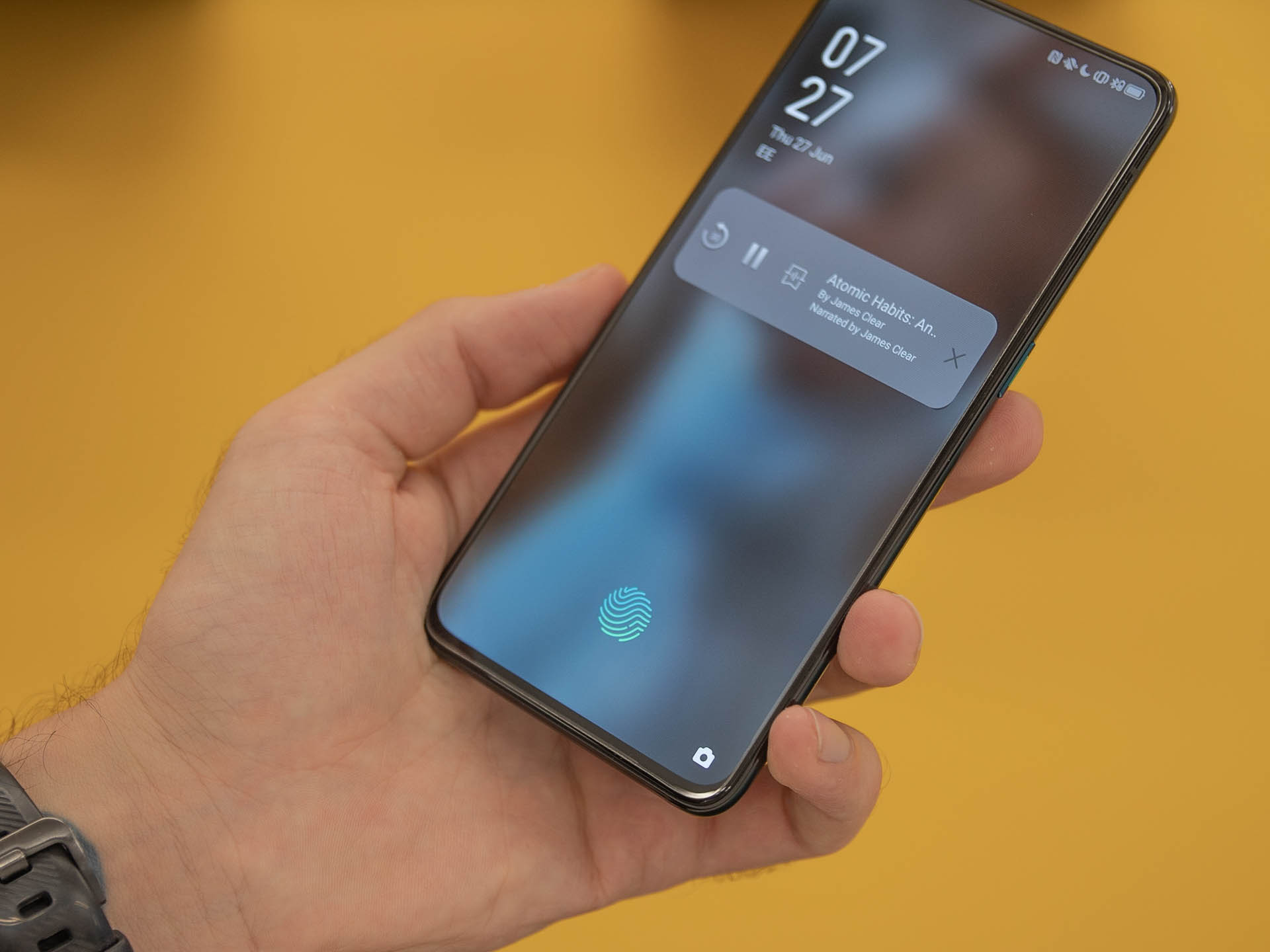 On one level, the Reno 10x Zoom is nailing it from a software point of view – Android 9 with the latest version of Oppo's interface, Color OS over the top – winning. We really liked Color OS on the Realme 3 Pro, given its midrange positioning and the lack of the Oppo Store; but at a flagship level, we'd expect a bit more – or, less in this case.
Bloatware on the Reno 10x Zoom is obnoxious, invading your notifications bar, and even serving up screens that are culturally out of touch. The Webnovel app, for example, gets you to make a binary choice when you fire it up: 'male leading books' which are more action led, and 'female leading books' which are more romance led. We understand it's a popular service in China, but this just doesn't translate well.
The Oppo Store also goes beyond pushing just app update notifications your way, it also pushes promoted game notifications through too, and there are 'Hot Games' and 'Hot Apps' shortcuts that all lead to the Oppo Store – you can't uninstall either of these. Oppo – we get it, you want us to visit your store, but out of principle, now, we really don't want to.
The Google Play store is present though and is as wonderful as ever by comparison. Plus, the core UI has some really great elements. We like the sidebar for example, which gives you quick access to your favourite apps. The Smart Assistant, which replaces the Google Assistant screen is also handy, serving up calendar info, weather, a step counter and more. Ultimately, take a bit of time to disable notifications from the Oppo Store, uninstall the few bits of bloatware you can, and customise the UI to suit your needs and the Reno 10x Zoom can deliver a great experience; it's just a shame that out of the box, it's all so overbearing.
Camera: There's a lot going on here
The triple camera set-up around the back of the Reno 10x Zoom is a high-point. The primary camera (48MP, f/1.7) and the telephoto, 5x optical zoom camera (13MP, f/3.0) both feature optical image stabilisation (OIS). There's also a wide-angle camera (8MP, f/2.2) which has a 16mm equivalent focal range so you can get whole landscapes in frame.
If the lighting is on-point, choose any camera you want – they all do a decent job, and the detail from the telephoto camera is seriously impressive at up to 6x zoom. There are also plenty of shooting modes too, so Portrait, Pro and Panorama modes are all present and accounted for, amongst others.
The primary camera is the one you'll want to be shooting with in low light – it's significantly better at capturing in tough conditions than the other two, with great noise handling and a dedicated night mode taking even further advantage of its capabilities. What's especially nice is that it captures pictures that look a bit more natural and less heavily processed than its main competition, the Huawei P30 Pro.
As for selfies, the pop-up mechanism is probably our favourite when compared to the Asus Zenfone 6 and OnePlus 7 Pro, as it fees the most sturdy. The pictures it takes are also good, with 16MP of detail, a scalable beauty mode and a front firing flash. There's no autofocus on it or wide-angle lens, putting it behind some other phones like the Pixel 3 though. But if the question on your lips is – is the Reno 10x Zoom's camera better than that of the P30 Pro – we'd say no.
There isn't a huge amount in it when it comes to photos, but for video, it's a different story.
The Reno records up to 4K 60fps footage, which looks great in isolation, with great stabilisation. When you zoom though, it doesn't engage the telephoto camera, instead, cropping into the main sensor. Naturally, this looks pretty crumby. Despite this, costing £200 less than the P30 Pro, we'd still call the Reno 10x Zoom the best camera phone money can buy at under £700.
Performance: No complaints
Unsurprisingly, with its Snapdragon 855 processor, 8GB RAM, 256GB storage and microSD card expansion options, the Reno 10x Zoom nails performance. It's also got an under-display fingerprint scanner that's fast and reliable, as well as a large 4065mAh battery that easily makes it through a day, with about 20% left in the tank. Couple that with VOOC 3.0 fast charging and you can go from 0-100% battery in less than 90 mins.
There's no wireless charging or IP rating, so it doesn't have all the bells and whistles some other, pricier flagships do. The pop-up camera also has a knack for collecting a fair bit of pocket dust, so needs a good wipe every now and then, but this is superficial, so doesn't give us cause for concern.
Oppo Reno 10x Zoom verdict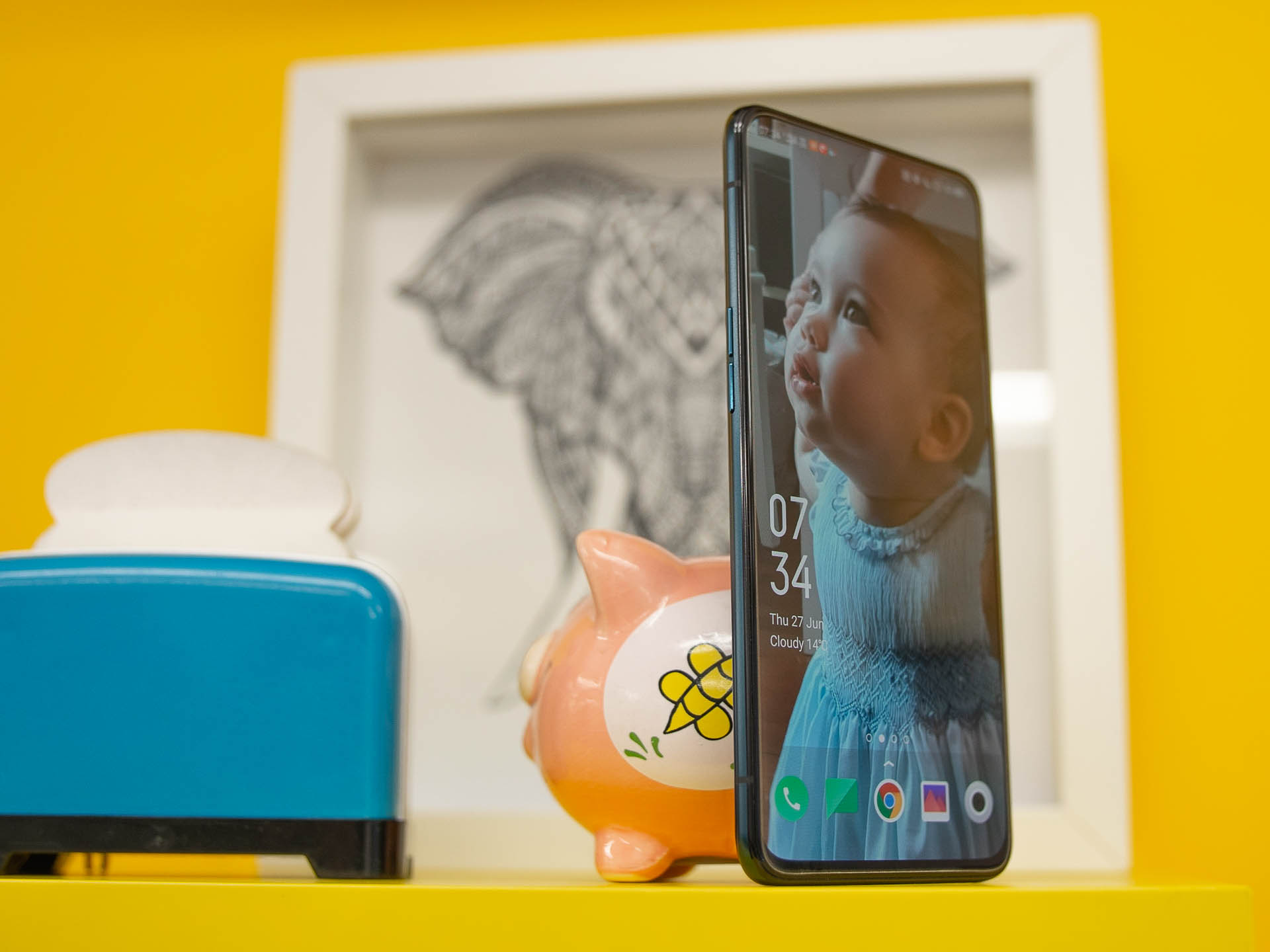 If you can get past the fact the Reno 10X Zoom is a big phone that packs overbearing bloatware, you may well fall in love with it.
The screen is gorgeous, the camera is best-in-class at under £700, it's powerful and lasts for ages.
Luckily, much of what we didn't like about the UI can be dialled back, making it an ideal choice for anyone who wants a great camera zoom, without Huawei P30 Pro prices.
Stuff Says…
Oppo has arrived and it's hot on Huawei's heels with the Reno 10x zoom, a sensational camera phone that ticks a lot of boxes, despite overbearing software.
Good Stuff
Premium design, immersive screen
A fantastic, versatile camera
Great battery life
Bad Stuff
Gender normative bloatware
It's a big phone
Pop up camera collects dust