Oppo Reno 5G review
An excellent phone and one of the more affordable first-wave 5G models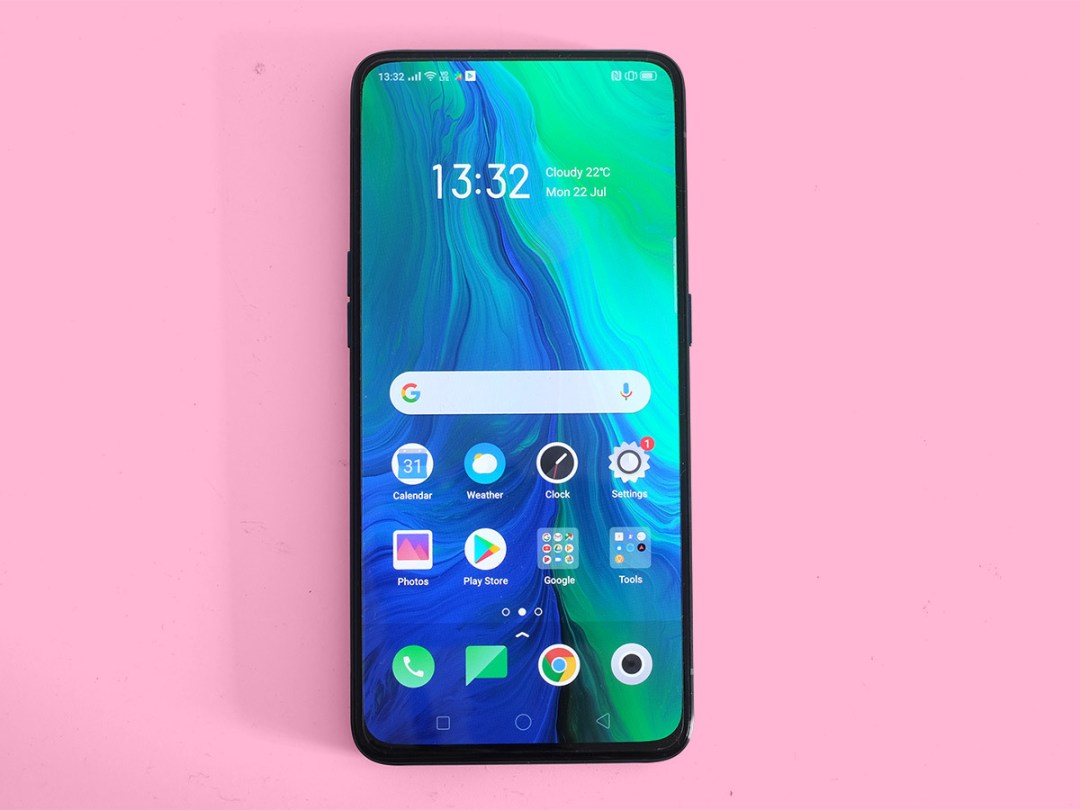 The Oppo Reno 5G is designed to get more people to recognise the Oppo name here in the UK. Take a not-so-quick flight to Delhi and you'll find it plastered everywhere. Everyone knows Oppo. But here in the west? Not so much.
Oppo's Reno 5G has 5G mobile internet and some of the most advanced cameras you'll find in a phone, including a cheese wedge selfie camera that is anything but cheesy. This is a bold phone. If you have big money to spend and want cutting-edge tech, the Oppo Reno 5G deserves your attention.
And the bad bits? Oppo's software is not the best and you need to have a long, hard think before investing in a 5G phone and contract right now. It may not be worth the extra cash just yet, and the Oppo Reno 10X Zoom otherwise gets you everything here, minus the 5G.
Design: Dot on
Today's top-end phones are like old churches in the UK, or temples in India. The first one you experience blows you away, but then you realise they're all a bit similar, and get a bit obsessed with turrets and minarets to stop them blurring into one.
The Oppo Reno 5G has some pretty tasty minarets, mind. Sure, it has the same glass and metal framework you see everywhere, but the rear glass is matt rather than glossy. You see the same effect in some versions of the OnePlus 7.
Its cameras are also completely flush with the back. This is a slick look, but does, rationally or otherwise, make the lenses seem about 10x more vulnerable.
Oppo has an answer to this too. See that little bright dot on the Reno 5G's rear? This is a raised dot that makes sure the phone doesn't lie flat on its back. The super-picky might get annoyed at the very slight wobble it introduces. But we'd much rather put up with it than pick it up the Reno from an unexpectedly rough surface and see a great streaky pattern of scratches down the glass.
The pop-up selfie camera is the bit you'll have noticed first if you've visited the Oppo website. Meet the cheese wedge: a motorised triangle of metal and glass that holds the selfie camera on the front, and a camera flash on the back. It's the most unusual part of the Oppo Reno 5G, but unless you're obsessed with selfies or use face unlock, you'll barely see it.
We'd suggest using the in-screen fingerprint scanner anyway, as it's just about the quickest we've ever used. It trashes the Samsung Galaxy S10's, and may even outpace the already-quick OnePlus 7 Pro's. A little circle glows green when you pick the Oppo Reno 5G up, and more-or-less the very instant thumb meets display glass, you're on the homescreen.
Screen: Flying colours
Still, the Oppo Reno 5G doesn't look quite as flash as some £900-plus phones like the Huawei P30 Pro or Samsung Galaxy S10. It doesn't have truly curvy front glass, one of the most expensive design features around.
Some of you may be relieved at this. Such curves tend to pool reflections, and the Reno 5G's front is all about letting the screen image fill out as much of the area as possible. This is a 6.65in 19.5:9 AMOLED display with no notches or punch holes. The Reno 5G doesn't need them thanks to the motorised pop-out camera. It's just what you'd expect from a great big OLED screen: bold, colourful and incredibly contrasty.
It does not go quite as bright as a Galaxy S10+ in very bright conditions and isn't as sharp either, but you won't notice that as often as you will a double punch hole eating into your Netflix picture. You also get a choice of vivid or relaxed colour, and there's a colour temperature slider. This is a great screen, if not the most aggressively bright or customisable around.
Features: Cover some bases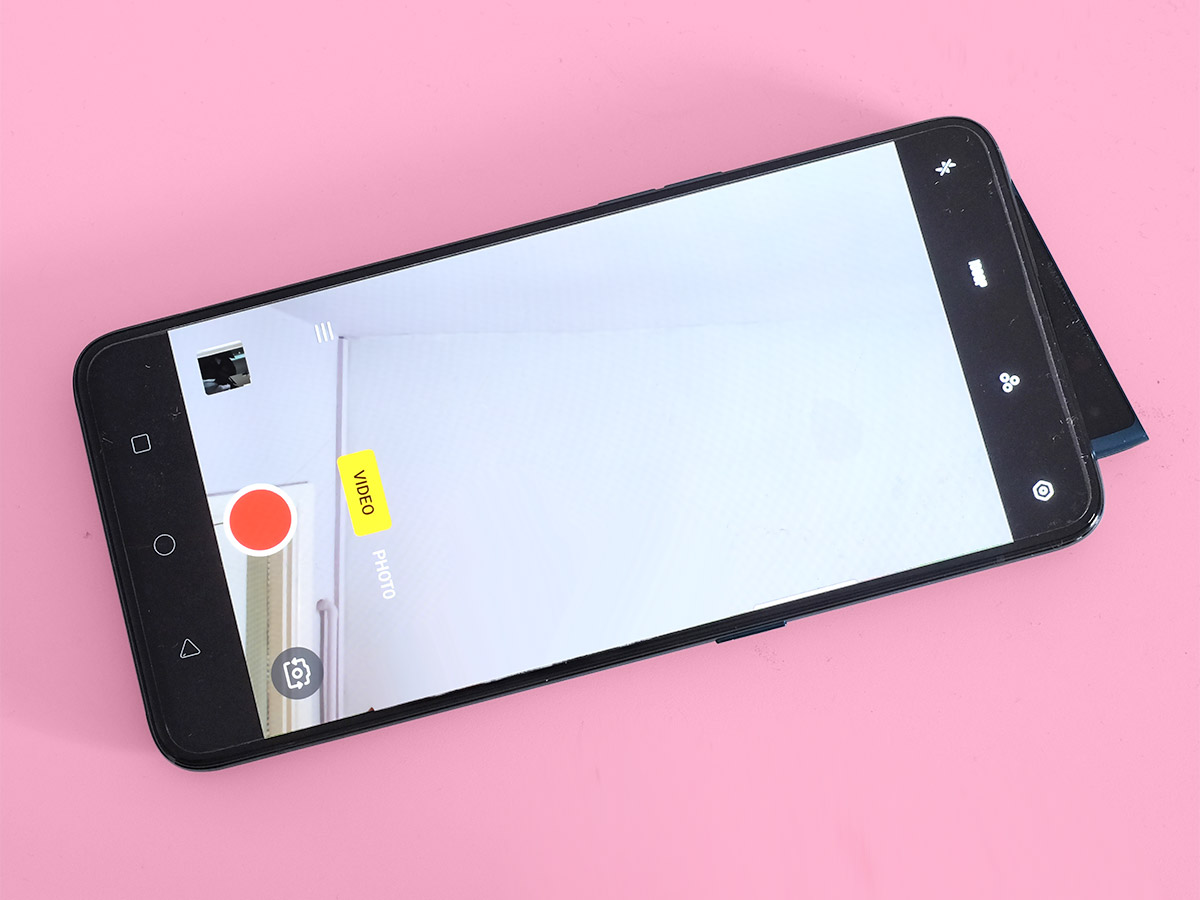 The most important feature of the Oppo Reno 5G is something you can't really see or feel, which is strange to say about a phone with a pop-up camera. We're talking about 5G.
It's why you can only currently buy the phone from EE in the UK, as part of the 5G contract. We got to try out EE's 5G service at its launch a few weeks before this review. And, unsurprisingly, it hasn't changed that much since.
If you're dead lucky and live in one of the "fast streets" in London or the other handful of cities that have received 5G so far, it's great. We saw speeds of up to 360Mbps while testing the Oppo Reno 5G (New Cross, if you're wondering), but coverage is patchy. And sometimes you'll see distinctly 4G speeds even if the phone reports a 5G connection.
5G hardware is worth getting. Coverage will only improve over the months. The problem is you'll also be paying for a 5G service every months while you wait for it to mature. That will take a while.
Oppo seems to have positioned the Reno 5G as one of the more affordable 5G phones. That still means it's not really affordable at all, but a world of £1200 phones, everything's relative.
What do you miss out on besides a curvy glass front? There's no wireless charging and no official water resistance. It is also quite heavy at 215g, but not significantly more than the OnePlus 7 Pro.
All the other fancy extras are here. You get 256GB storage, pretty loud and beefy stereo speakers, and an absence of headphone jack. Apparently that's a feature these days.
Software: Speed demon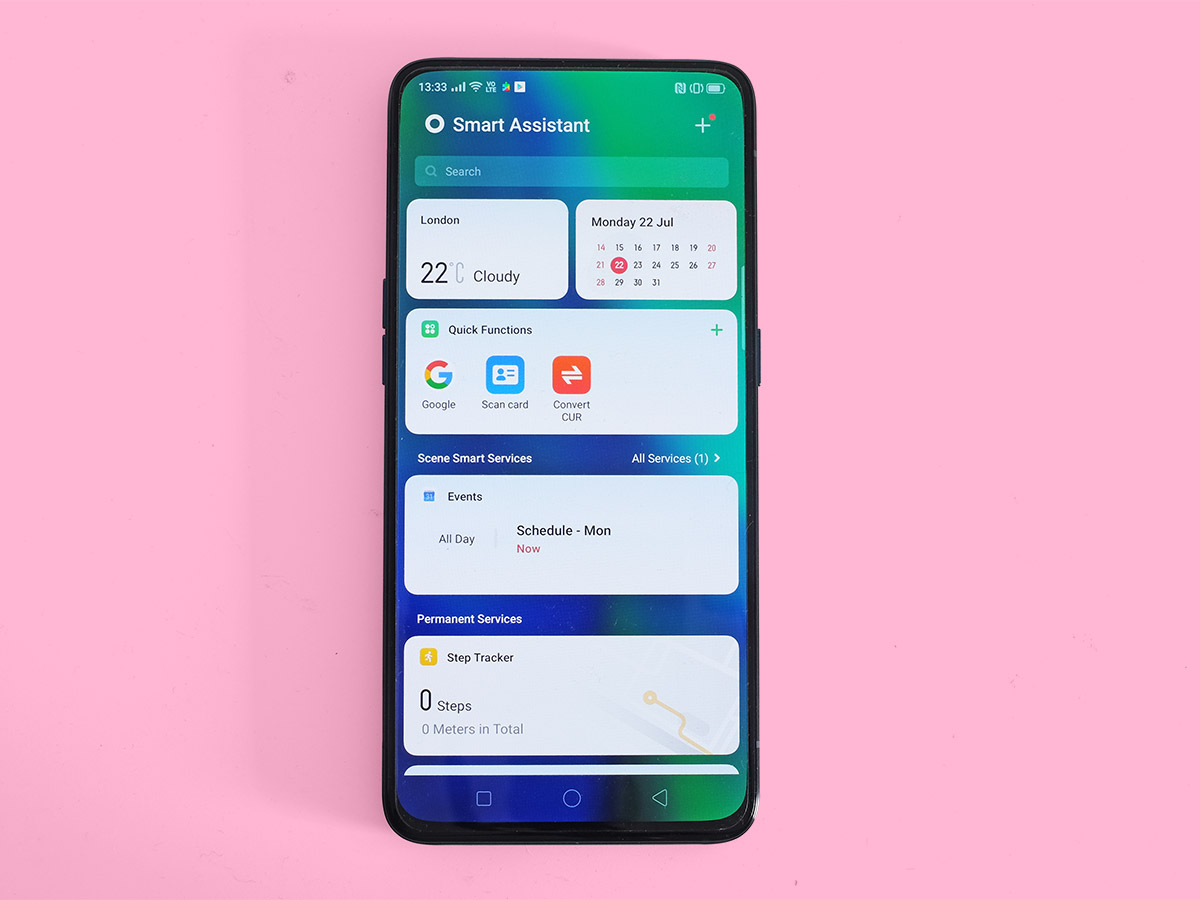 Our Oppo Reno 5G is also much less bogged-down with awkward software than the Oppo Reno 10X we reviewed at the beginning of July. But there is still some.
Who interested in a phone this high-end is really going to use Aqua Mail or the Opera browser? We can't imagine many takers for them. Still, the other extra apps are inoffensive tools like a file manager, and a game mode that lets you fiddle how the phone reacts to notifications and so on as you play.
Even with most of the bloat sucked out, liposuction-style, the Reno 5G's software still isn't the best. It runs Android 9 with the Color OS interface on top.
There are a few sensible choices, like using five columns of apps in the drawer so the Reno 5G doesn't look like a giant kids' toy. But it's just not as slick or pretty as some other third-party interfaces, or as clean as Google's own.
The Oppo Reno 5G does run well, though. It has a Snapdragon 855 processor, which would have been the fastest around had the Asus RoG Phone II not just popped up with the slightly faster "Plus" version.
It scores a mega 10191 points in Geekbench 4, and runs any Android game like a dream. If it didn't, that'd be a sign of a badly programmed game, or one made for phones that don't exist yet.
Camera: Stable genius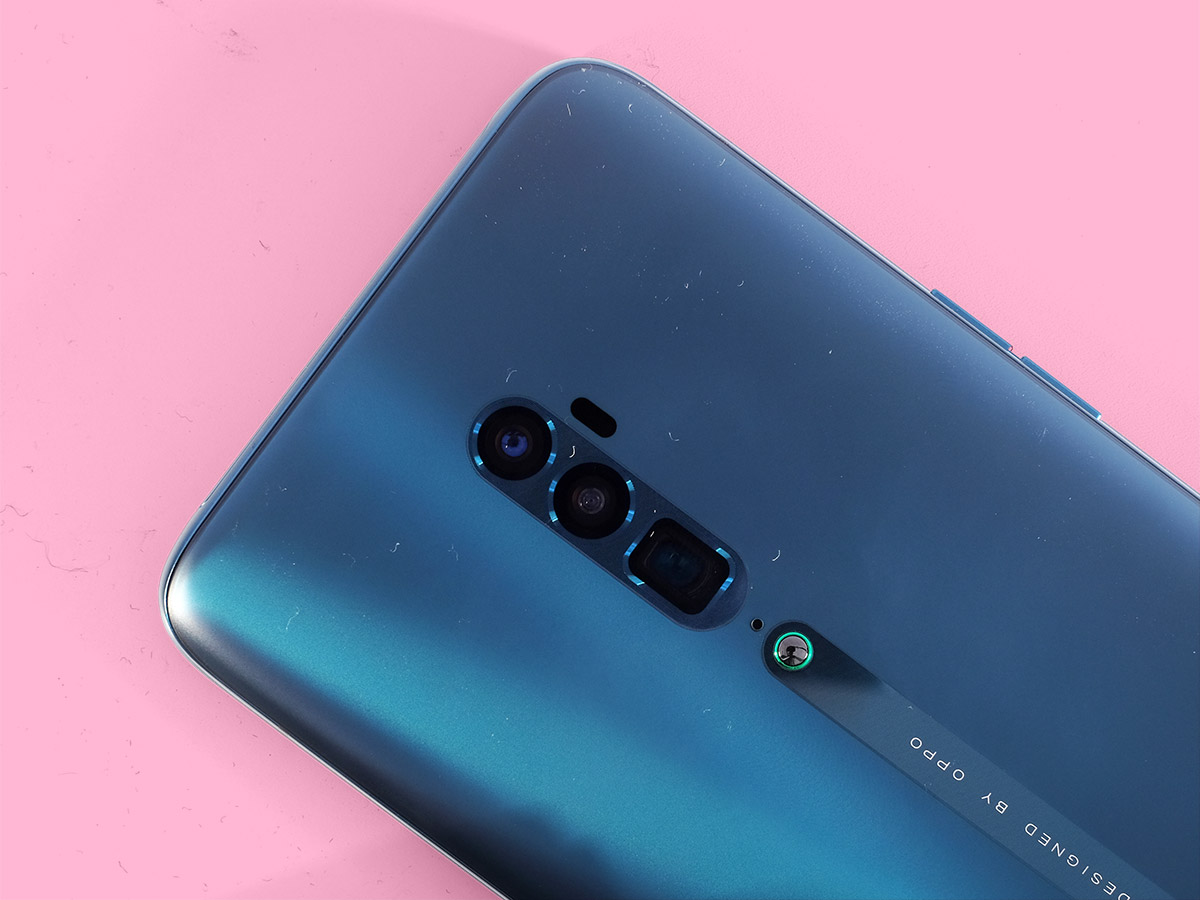 At a certain point talking about a phone's power gets boring. Everything above a certain price feels fast and responsive, unless something has gone seriously wrong. Cameras are always of interest, though, and the Oppo Reno 5G has some of the most interesting yet.
It has the same setup as the Oppo Reno 10X Zoom. This may make you think it has a 10x optical zoom, but it actually has a "normal" 48MP camera, a 5x optical zoom like the Huawei P30 Pro and an 8MP ultra-wide.
Oppo fiddles with this hardware in the software to let you shoot 6x and 10x zoomed images using a button right next to the shutter.
Why 6x? It suggests the zoom lens's extreme edges may not be as sharp as the rest of the frame. Or perhaps Oppo wants the zoomed view to look even more stabilised than it is through OIS, using the buffer to smooth out the preview image and make it easier to hold your subject in position.
We'd bet on the latter. Techy navel gazing aside, the Oppo Reno 5G offers an ultra-fun shooting experience similar to the Huawei P30 Pro. Some photography bores like to harp on about how you shouldn't need to use a zoom, you can just use your feet. Try that at a packed gig, or when shooting the London skyline on a bridge over the river Thames. No photo of the Shard is worth a dip in that water.
The 6x lets you capture scenes other phone simply won't. Not without a load of vague digital zoom blur. Don't overestimate the power of the 10x mode, though. This does use digital zoom, and its images are not incredibly sharp or detailed. There are other limitations too. The zoom lens can't focus on anything closer than about 1.2m. And you can't use the zoom for video either.
The Oppo Reno 5G lets you shoot 2x video, but that's a crop of the standard camera, so detail takes a hit. Still, there's a lot to like. You can shoot stabilised video at 4K resolution, normal shots look pretty great and shooting sharp 6x photos is quite easy. Low-light handling is reasonable too.
The Oppo Reno 5G is up there with the best, if not quite a match for the Huawei P30 Pro. Image quality doesn't reach quite the same heights at its best, and there are a few more technical roadblocks. Still, once you've experienced a super zoom like this, you won't want to go back. 16MP selfies are solid too, although again not quite a match for the best from the Google Pixel 3 XL. And slightly blurred shots are more common than the high-end average.
Battery life: Long life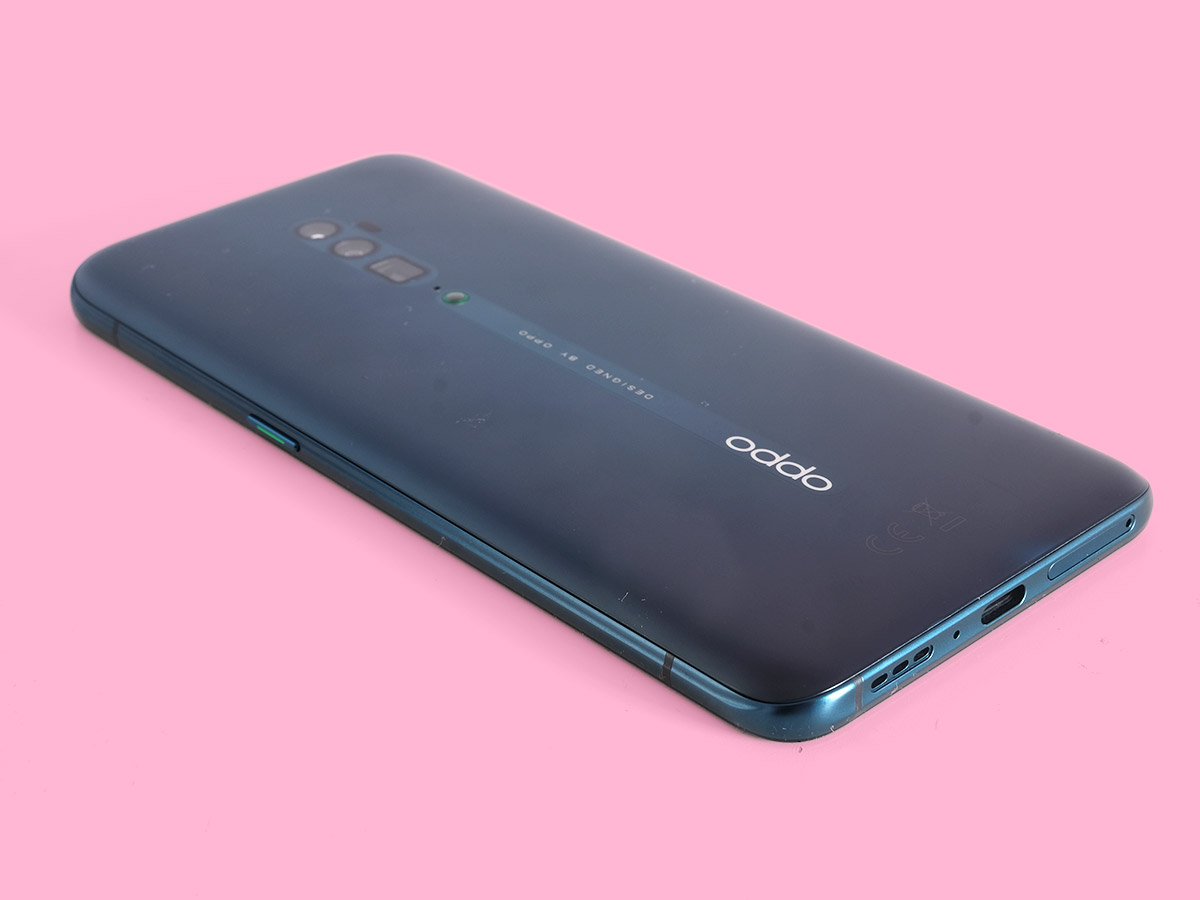 You get great battery life as well as unusual cameras.
The Oppo Reno 5G has a 4065mAh battery with fast charging, and its real-world stamina is excellent. The day before writing this, for example, it had 48% charge left by 11:30pm. It lasted until 4pm the next day before needing a recharge, having hit the 3% charge danger zone. And that was following a good amount of audio streaming.
Wireless charging is the one missing battery element, just like the OnePlus 7 Pro. A fairly large frame and high weight may make the Reno 5G seem a techy burden, but after a few days you realise this is actually quite a low maintenance phone.
Oppo Reno 5G verdict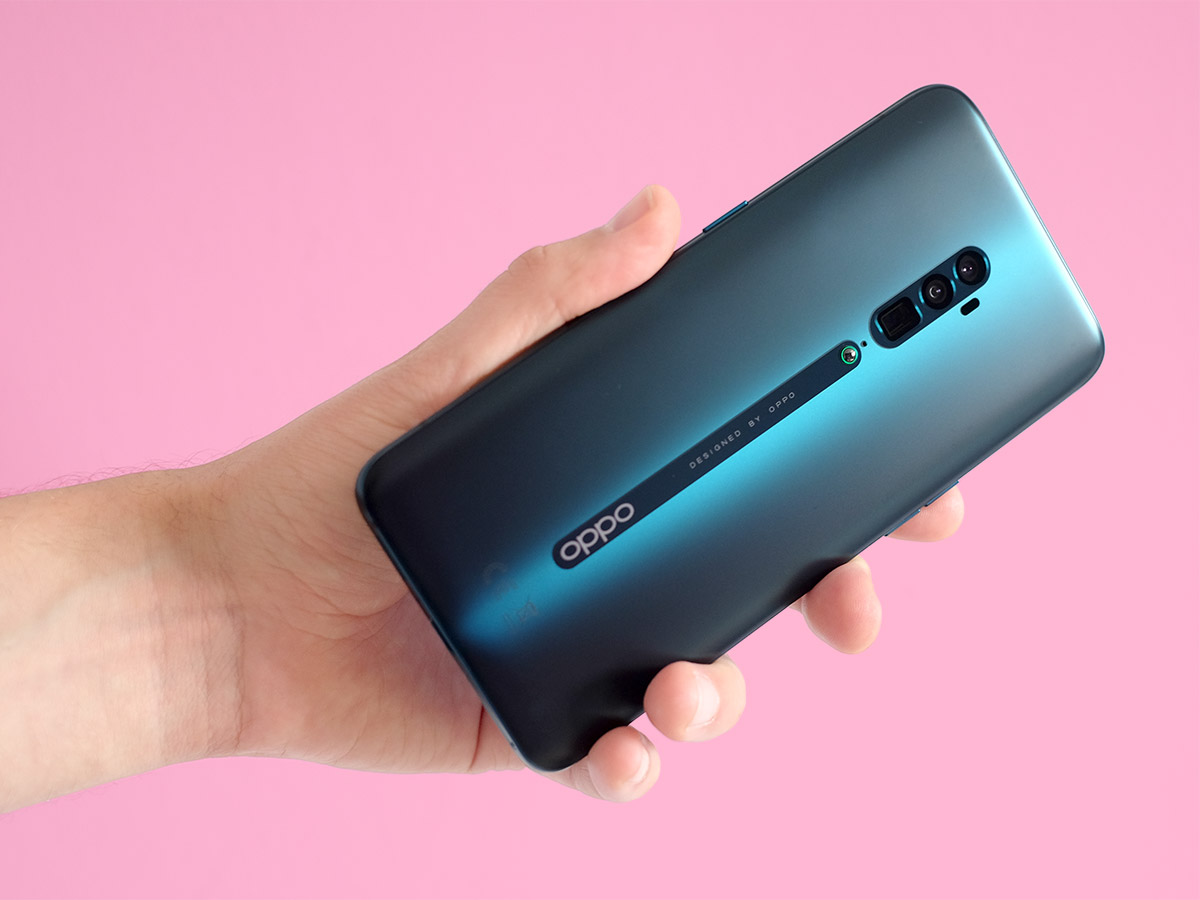 The Oppo Reno 5G is a great phone, and one of the more affordable first-wave 5G models.
We're just not sure you should buy this instead of the Oppo Reno 10X Zoom, which is largely the same but without 5G. If it was £50 extra SIM-free and you were planning on keeping it for several years before upgrading, it'd be no contest. 5G is the way forwards.
But in the UK at least you have to buy the Oppo Reno 5G as part of a 5G contract. They're expensive for now and, if you have not hit the geographical jackpot, not necessarily all that useful just yet.
Tech specs
| | |
| --- | --- |
| Size | 162 x 77.2 x 9.3 mm |
| Weight | 215g |
| Display | 6.6-inch 2340 x 1080 pixel AMOLED |
| Processor | Snapdragon 855 CPU |
| Memory | 8GB RAM (internal) 256GB |
| Camera | 48 MP wide camera 13MP 5x zoom camera 8 MP ultrawide 16MP selfie camera |
| Battery | 4065mAh |
Stuff Says…
A great choice if you're gagging for a 5G phone
Good Stuff
Fun, versatile camera
Very good battery life
Plenty of power and storage
Bad Stuff
5G isn't worth the price of admission for everyone yet
Software is not the prettiest