Panasonic Lumix GH6 review: size isn't everything
Video tasty: Panasonic's new Micro Four Thirds camera bristles with possibilities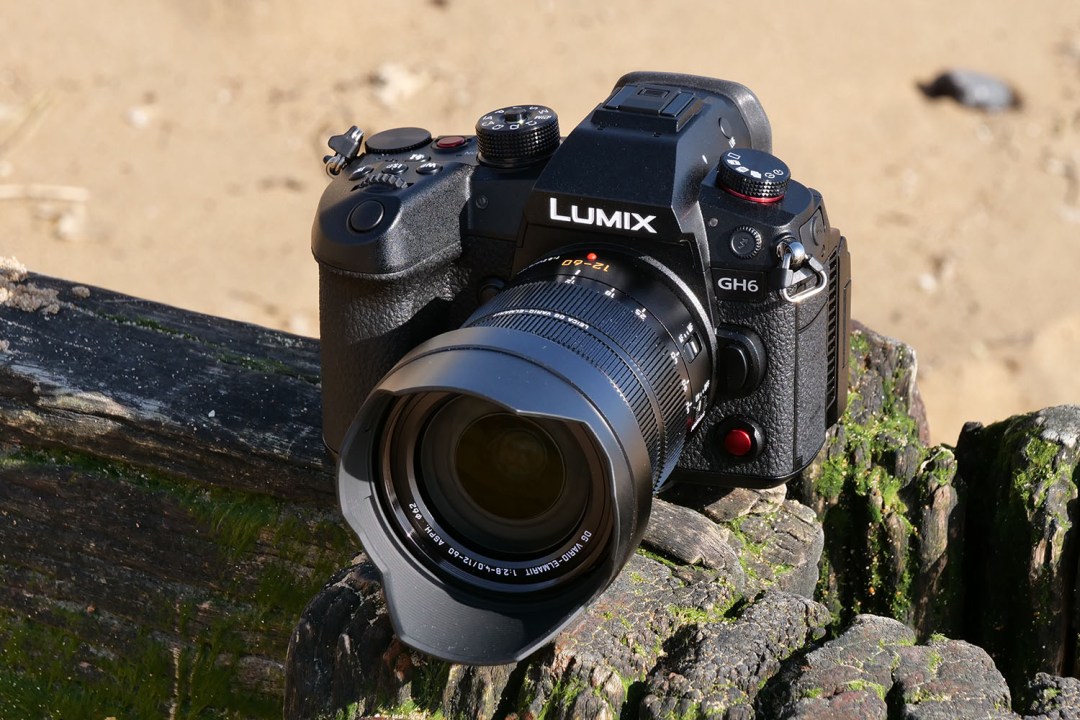 So here it is: the long-awaited Panasonic Lumix GH6, the company's new flagship Micro Four Thirds camera; a compact mirrorless model verily bristling with movie-making possibilities like 5.7K recording, Apple ProRes support and onboard four-channel audio recording.
Thanks to the likes of the GH4, GH5 and GH5S, Panasonic's Lumix GH series is near-legendary among amateur filmmakers, being among the first mirrorless cameras that really nailed 4K high-end video. But in a world that has seemingly moved en masse to full-frame filmmaking with models from Sony, Canon and Panasonic's own Lumix S series, does the GH6's tiny Micro Four Thirds sensor still make sense?
Short answer: yes. The Panasonic GH6 is a wonderful camera for the amateur enthusiast and even professional filmmakers, packed to the brim with creative potential – and that MFT sensor is key to its appeal and affordability. Read on to find out why we think this is Panasonic's most appealing video camera to date (and yes, that includes all their fancy S series full-frame models).
Design and handling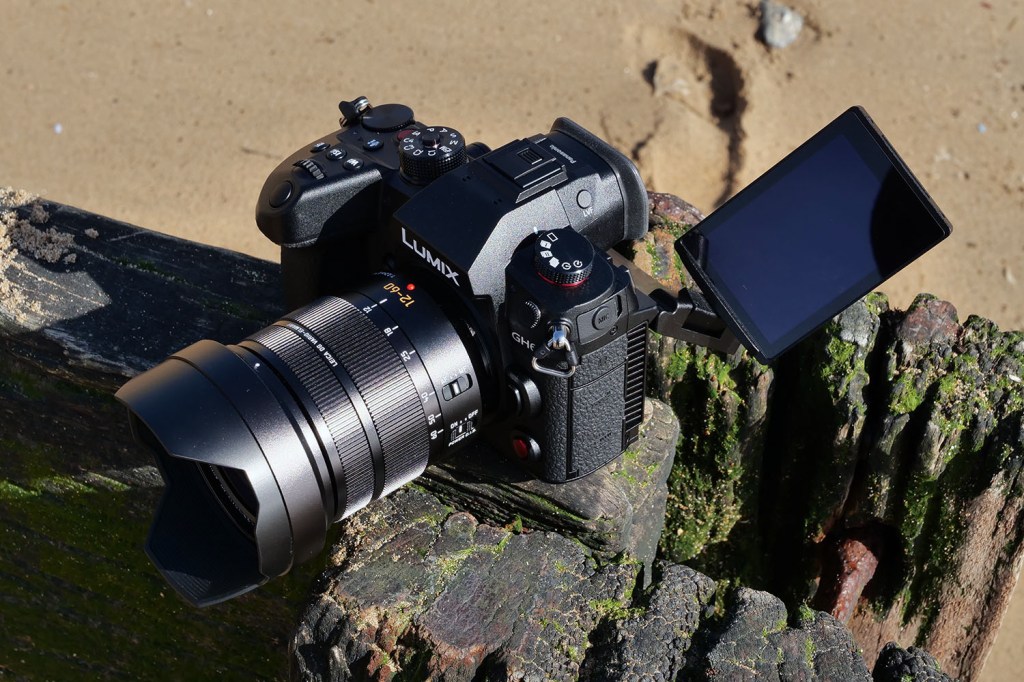 You've seen this design countless times before. The GH6 has a classic DSLR-style camera body shape, but it's none the worse for that: the big grip on the right fits the hand well, and the OLED viewfinder and dials and buttons all feel like they're where they should be.
The handling on this camera is excellent, in fact, particularly if you're already familiar with Panasonic's Lumix G cameras. We were able to quickly change settings, dip into the menu, find what we were looking for, turn autofocus on or off and stop/start recording without any protracted fumbling or seeking out a particular control. There are enough buttons and dials so that you can get what you want done swiftly, but not too many that things become overwhelming.
What's new here, at least for a Lumix G camera, are the front recording buttons (so welcome when you're operating the camera from in front of the lens rather than behind it), red tally lights on the front and back to let you know when video is being recorded and a 3in triaxial tilt screen that can be made to face almost any direction (something previously seen on the Panasonic S1H, and excellent when you're shooting at unusual angles).
The body is built on a rugged magnesium alloy frame and is splash- and dust-proof (without being given a specific IP rating in the specs), but like most Lumix G models it's relatively small and lightweight: just 823g without a lens, which makes it just a little bigger than the GH5. The reason for the extra bulk is the new forced-fan cooling system (more on this later), which requires two vents and results in a noticeable bump at the back. Even so, the GH6 is smaller and lighter than almost all full-frame mirrorless cameras, which is one of the advantages of it using that tiny Micro Four Thirds sensor.
Features
That aforementioned fan is a new addition to the Lumix G range, and it's there to make sure the GH6 can record demanding video clips without quickly overheating. Cooling has been a frequent issue on mirrorless cameras, resulting in 4K clips being curtailed to a few minutes in some cases (often followed by an annoying cooling-off period before you can begin recording again) but Panasonic promises none of that here: you can record at any resolution and frame rate for as long as you have storage space. 
Connectivity is a strong point too. There's a full-size HDMI Type A output (which can carry video up to 10-bit C4K 4:2:2 at 60fps to an external recorder), headphone and mic sockets and XLR microphone support (although this requires Panasonic's DMW-XLR1 add-on), plus a USB-C socket that supports 10Gbps transfer speed. In the future, a promised firmware update will allow the USB to record directly to an external SSD, but it'll work for battery charging or as a constant power supply right now.
For internal storage the GH6 are two card slots: one for SD and the other for CFexpress Type B cards. The latter are expensive (think £200ish for 128GB) but their ultra-fast transfer speeds make them a necessity for many of the GH6's higher bitrate recording modes.
Performance
As with all Panasonic mirrorless cameras, autofocus is handled by a contrast-based "Depth From Defocus" system, and once again it isn't quite as fast or accurate as the hybrid systems used by Sony, Canon et al, particularly when tracking a face or other moving object. That being said, it does seem better at these things than the GH5 II, which came out just a few months ago – suggesting something has been tweaked to improve AF performance. It's not bad at all, but if you're shooting fast-moving or elusive subjects like wildlife you might want to go with a camera from another manufacturer.
Another improvement comes in the form of a tweaked in-body image stabilisation system, which Panasonic says now offers a staggering 7.5 stops of compensation. In our tests the GH6 performed excellently at smoothing out motion, stabilising handheld footage and keeping the background of on-the-move vlogging shots steady – it's almost gimbal-like in its ability to counteract motion, and for stills it even allows you to shoot a stacked 100MP High Resolution shot handheld, where on previous Panasonic cameras you'd need to use a tripod. This is another of the advantages of the camera's small sensor: stabilising a lightweight MFT sensor is a lot easier than it is with a full-frame sensor.
The GH6 is also extremely fast when it comes to still photo burst shooting – a side-effect of having all the processing power needed for those bitrate-heavy movie files, perhaps? When using the electronic shutter, it can rattle off stills at up to 75fps, and at up to 14fps with mechanical shutter on. That's an impressive showing for a camera that's much more concerned with video than photos.
Image quality
Speaking of still photos, we shouldn't forget that the Panasonic GH6 does take them, and takes them quite well. We don't think people who shoot mostly stills and don't really care too much about video should buy this camera, but as a football pundit might say of a defender playing slightly out of his favoured position, "it can do a job" as a taker of photographs. Much, as always, will depend on the lens you use.
But let's move on to the main attraction: video. The GH6 is by far Panasonic's best camera yet for movies, and a lot of that is simply down to the sheer choice it offers users. Format, resolution, frame rate, bitrate, picture profile – the wealth of options is overwhelming at first, but there really is something here for everyone, whether you want to shoot 1080p at 240fps for buttery-smooth slow-motion playback or ultra-clean 5.7K anamorphic movies with the sort of lens flare that'd have J.J. Abrams rubbing his chin in appreciation.
We suppose the star of the show is the 5.7K Apple ProRes 422 HQ, which is extremely clean while being relatively easy to colour grade – but as we use a Windows PC to edit our videos and ProRes is officially restricted to Mac users, we couldn't really try that out. What we did try out was a variety of 10-bit 4K modes with different bitrates and frame rates, and found that they all looked absolutely fantastic straight out of the camera: clean, dynamic and natural. With judicious colour correction and grading in the hands of an expert, they could certainly be used for professional filmmaking, and there are a host of specialist profiles (V-Log, HLG, Like709 etc.) designed specifically for this purpose.
Verdict
While a Micro Four Thirds sensor might seem tiny and underpowered compared to a mighty full-frame sensor, the GH6 proves that size isn't everything. In fact, the small size of its sensor helps it have some of the best image stabilisation around, not to mention keeping the body compact and lightweight and ensuring that any lenses you use don't have to be huge.
For £2,000 there's a heck of a lot of potential here, particularly in the hands of a skilled video enthusiast able to make the most of the GH6's incredible range of movie modes. We think this is the pound-for-pound the best video camera Panasonic makes right now, and proof positive that Micro Four Thirds still has a place at the video table.
Stuff Says…
Verdict…
Good Stuff
Huge range of video options
Superb image stabilisation
Relatively affordable
Small and lightweight
Bad Stuff
Autofocus isn't the fastest or most accurate
Some features coming with later firmware update
Tech specs
| | |
| --- | --- |
| Sensor | 25.2MP Live MOS |
| Lens mount | Micro Four Thirds |
| ISO range | 50-25600 (extended) |
| Continuous shooting speed | 14fps w/mechanical shutter, 75fps with electronic shutter |
| Video recording | Up to 5.7K/60fps Apple ProRes |
| Screen | 3in 1.84m dot free-angle TFT LCD |
| Viewfinder | 3.68m dot OLED |
| Connectivity | HDMI Type A, USB Type-C, remote control, mic, headphone |
| Dimensions | 138.4 x 100.3 x 99.6mm |
| Weight | 823g (with battery and SD card) |