Panasonic Lumix DMC-G7 review
A 4K camera for less than you'd expect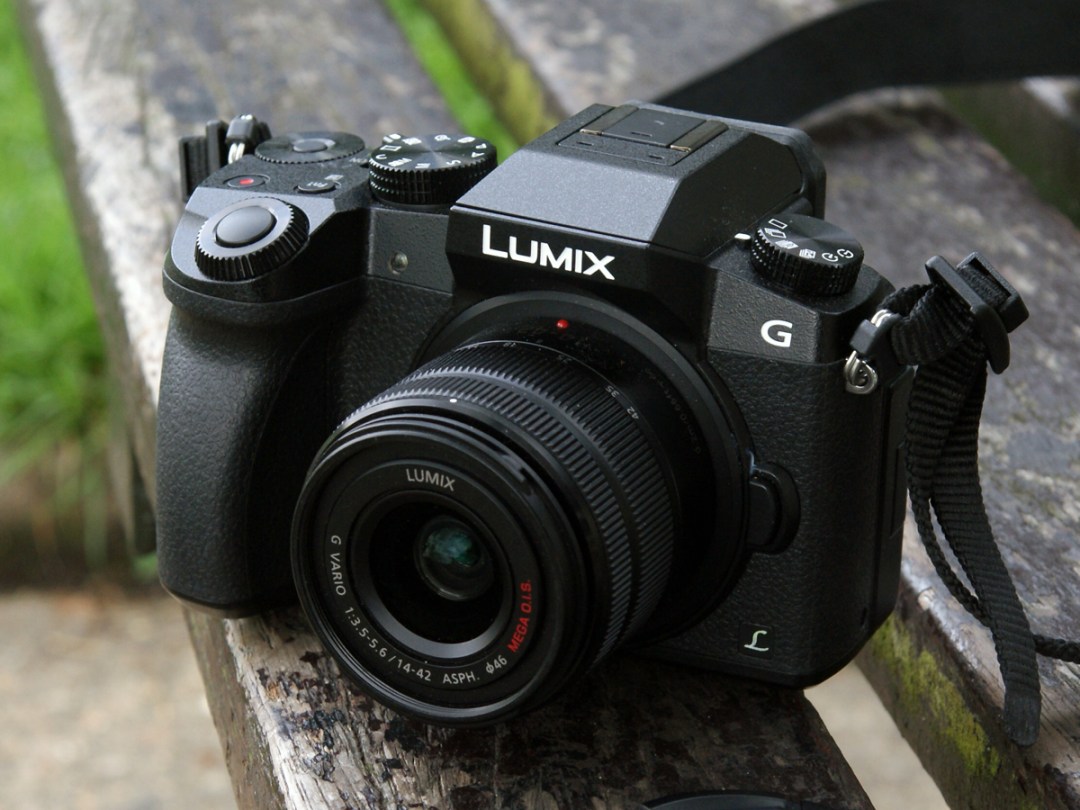 4K still has a long way to go before your gran is watching Emmerdale in ultra high definition. Thanks to tech like the Panasonic's new Lumix G7 camera, it's no longer purely fodder for the earliest of adopters.
The G7 costs a lump sum of £630, making it one of the most affordable interchangeable lens cameras around capable of recording video at 3840 x 2160 resolution. Although it'll still hit your savings for six, this snapper seems like a pretty cheap way of getting into 4K filmmaking – particularly when other 4K capable lens-swappers are so expensive.
Panasonic's own Lumix GX8 and GH4 start at £1,000, the Samsung NX1 is £1,250, while Sony's A7S costs £1,700 lens-free and won't even record 4K on its own, merely output it to an external device. And none of those prices include a lens.
The G7 comes bundled with a 14-42mm kit zoom and features a lofty maximum ISO of 25,600, promising strong low light performance, and a hybrid auto-focus system that apparently locks on subjects in as little as 0.07 seconds. There's a lot to look at here, so let's delve in.
Impressively lightweight build
On initial unboxing, the G7 doesn't come across as particularly impressive. Its body and bundled 14-42mm zoom lens are mostly plastic, which gives everything a lightweight, almost flimsy feel.
That's deceptive, though – after a couple of minutes holding the camera, twisting its dials and pushing its buttons, I realised that everything is solidly put together. While the camera isn't built to withstand the rigours of a rainstorm or being dropped repeatedly onto paving slabs, it's not going to be crushed inside your rucksack.
The low-profile lens keeps things compact and that, coupled with the aforementioned light weight, makes the G7 a fine camera for long walks. Even after a few solid hours of carrying it, your neck won't protest.
Superfast autofocus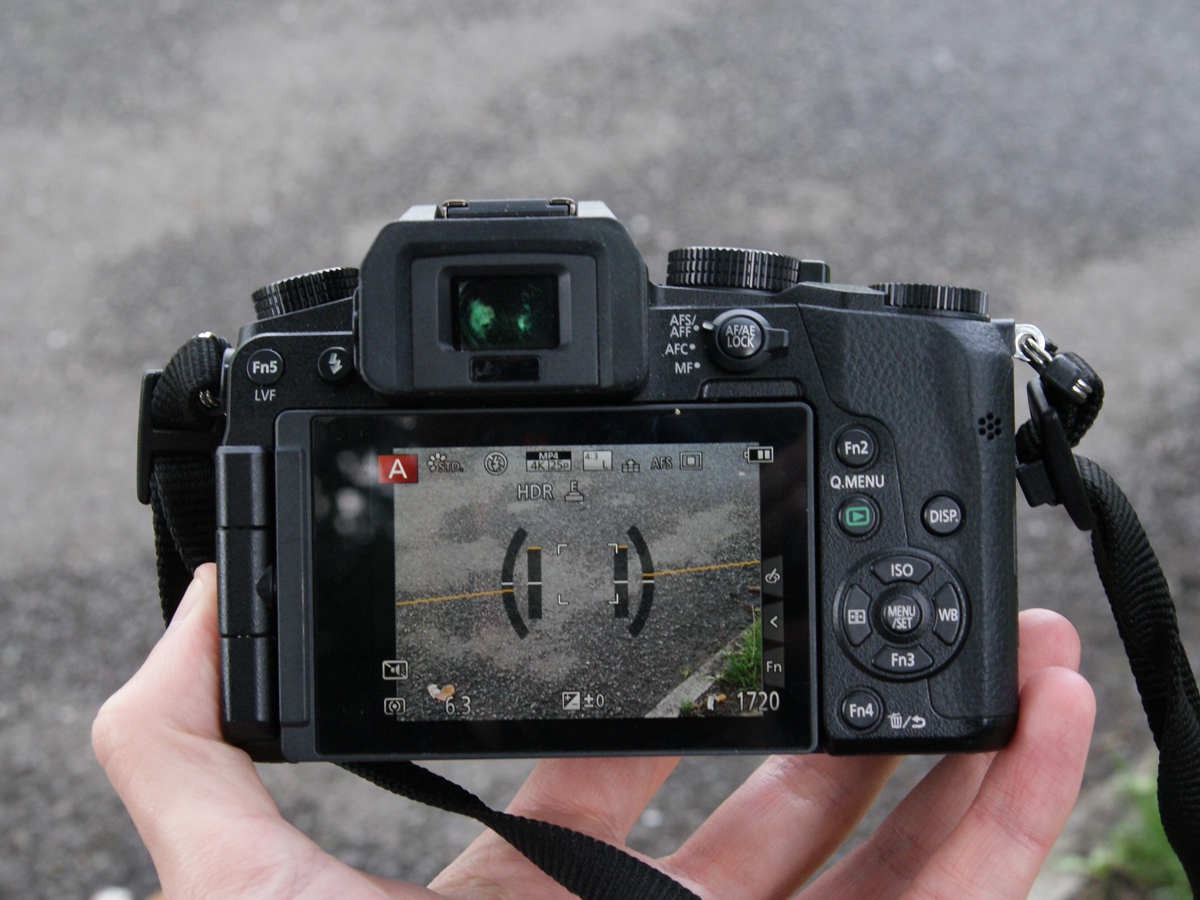 There's a bright, clear OLED electronic viewfinder on the back which, while not among the largest or sharpest around is a very welcome feature. Personally, I prefer using a viewfinder to the screen when it comes to photo and video composition – holding the camera up to one's face keeps it steadier, and unlike a screen a viewfinder isn't going to annoy people nearby when you're shooting at concerts and the like.
The screen, for its part, works just fine. It flips around the side to face forwards (hello, easier selfies), and can be tilted up or down to aid composition when holding the G7 above or below your head. It's also touch sensitive, which means you can adjust certain controls by tapping – or, more importantly in my opinion, swiftly set the autofocus point by touching the on-screen object or area you want the camera to lock onto. If you wish, you can have the camera automatically take a shot after it does so.
While I'm on the subject of autofocus, it's brilliantly fast and accurate here, even in less than ideal conditions. When taking the below nighttime test shot of the street, for instance, there was none of the slow, frustrating focus hunting you get with a lot of interchangeable lens cameras – the G7 locked onto the desired spot almost instantly. And it's even speedier in good lighting.
Sharp snaps, straight out of the box
And what of performance? Well, I'm happy to report that, in terms of its stills quality, the G7 is no slouch. Staying on the low light theme, its maximum ISO of 25,600 makes it surprisingly adept at capturing usable pictures in anything but the most dismal conditions. Not that you'll want to push it to its very ISO limits, where noise makes things grainier than a bumper jar of Dijon mustard – even at ISO 3200 or 6400, results are fairly clean and the shutter speed remains quick enough to stop everything from becoming a blurry mess.
Out on a sunny (or even overcast) day, the G7's 16MP images are sharp, clean and arresting, albeit with colours that are fairly understated straight out of the camera. Aside from the 14-42mm kit zoom, I didn't use any other Micro Four Thirds lenses with the G7, but I'd expect sharpness to be better with many of them – and it isn't half bad in its straight-out-of-the-box guise here.
Be sure to hit the 4K sweet spot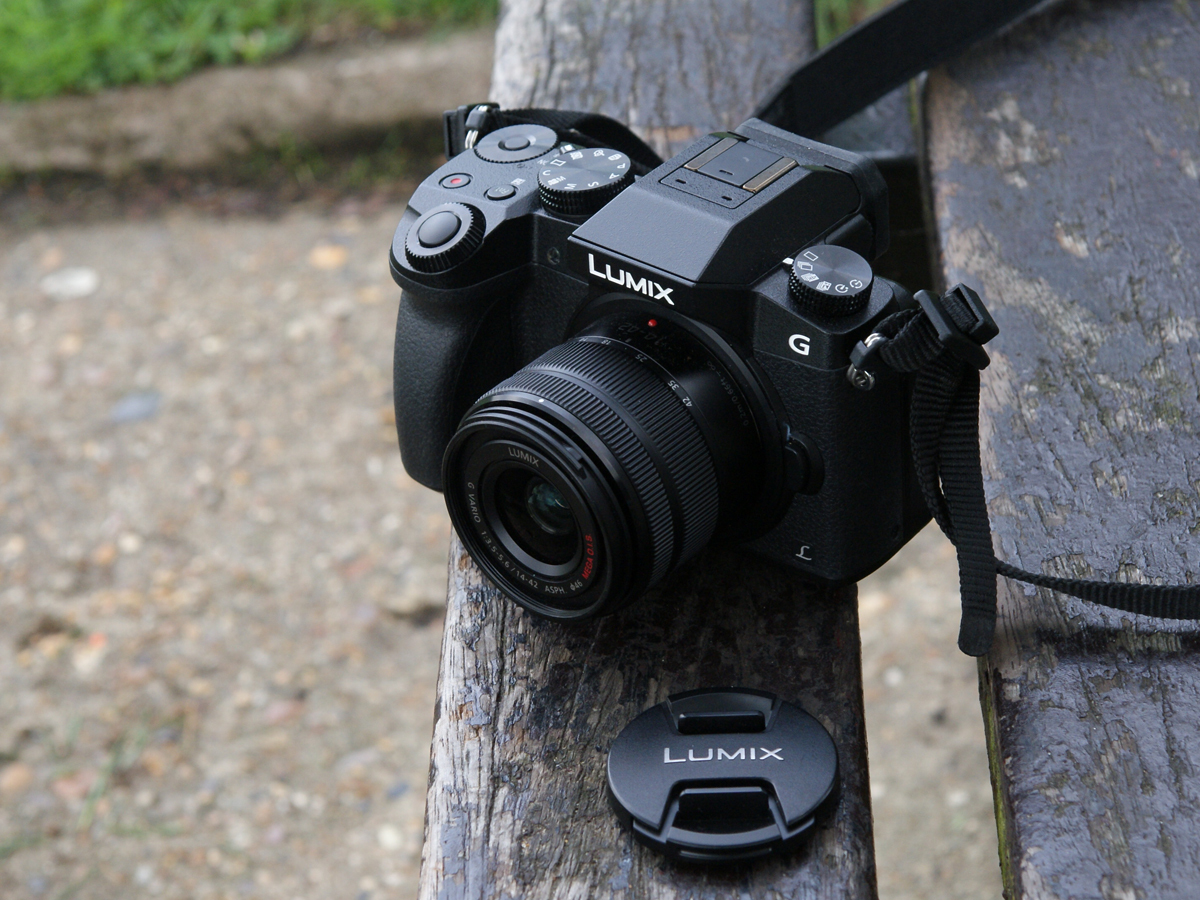 As for 4K video, I found it quite impressive given the camera's modest price tag. Not all the clips I recorded looked particularly stunning, and some of that wasn't even down to my own ineptness as an Ultra HD cinematographer – there's a little bit of pulsing evident at times, as well as some choppiness. But when you manage to get it in its sweet spot, the detail and richness on show is very easy on the eyes indeed.
I also liked the fact that the kit lens' autofocus motor is silent (or very close to it), so can do its thing without the camera's microphone picking up its whirring gears.
One of the G7's touted features is "4K photo", which basically means you can extract any single frame out of 4K videos as an 8MP still. As 4K videos run at up to 30fps here, that essentially means you get a constant 30fps continuous shooting mode, albeit at lower quality than the full 16MP stills you'd get if you, y'know, actually take photos. And that's pretty great.
Panasonic Lumix DMC-G7 verdict
While I certainly wouldn't call £630 dirt cheap, it's not at all bad for what you get with the Panasonic Lumix G7. It's a lightweight interchangeable lens camera with above average low light performance, lightning-fast autofocus, strong user friendliness (I'm looking at you, electronic viewfinder!), the ability to shoot decent-looking 4K video and a good all-rounder of a starter lens.
If you're a newcomer to lens-swapping cameras, I think the G7 represents a very tempting jumping-off point. It's a solid performer in the aspects that will matter most to most people, and because it's part of the Micro Four Thirds lens system, it'll be easy to improve your shooting scope and quality by adding extra lenses later on.
Tech specs
| | |
| --- | --- |
| Sensor | 16MP Micro Four-Thirds Live MOS |
| ISO range: | 100 to 25600 |
| Video formats: | 2160p (4K) at 30/25/24fps; 1080p at 60/50/30/25/24fps; 720p at 30/25fps |
| Lens: | Micro Four-Thirds system |
| Viewfinder: | 2,360,000-dot OLED |
| Screen: | 3in 1,040,000-dot LCD |
| Connectivity: | External mic; remote control; USB 2.0; micro HDMI |
| Wi-Fi/NFC: | Yes/No |
| Dimensions: | 124.9 x 86.2 x 77.4mm |
| Weight: | 410g |
Stuff Says…
A versatile, user-friendly little lens-swapper that'd make the ideal first system camera
Good Stuff
An affordable way to record 4K
Fast autofocus
Strong low light performance
Bad Stuff
Plasticky body
4K doesn't always look wonderful