Panasonic Lumix G100 review
Panasonic's entry-level vlogger-cam leaves room for improvement
The once-niche vlogger market has become increasingly important to camera makers. Recent launches like the Sony ZV-1 and Fujifilm X-T200 show a concerted effort to cram in lots of features that take the effort out of creating great-looking videos, and now we have the Panasonic Lumix G100, also designed with wannabe YouTubers very much in mind – it's even available with a nifty tripod-slash-handle to keep things steady, no matter where your travelling production house sets up shop.
Let's find out if this is the camera that'll take you from zero to Zoella.
Design: Can you handle this?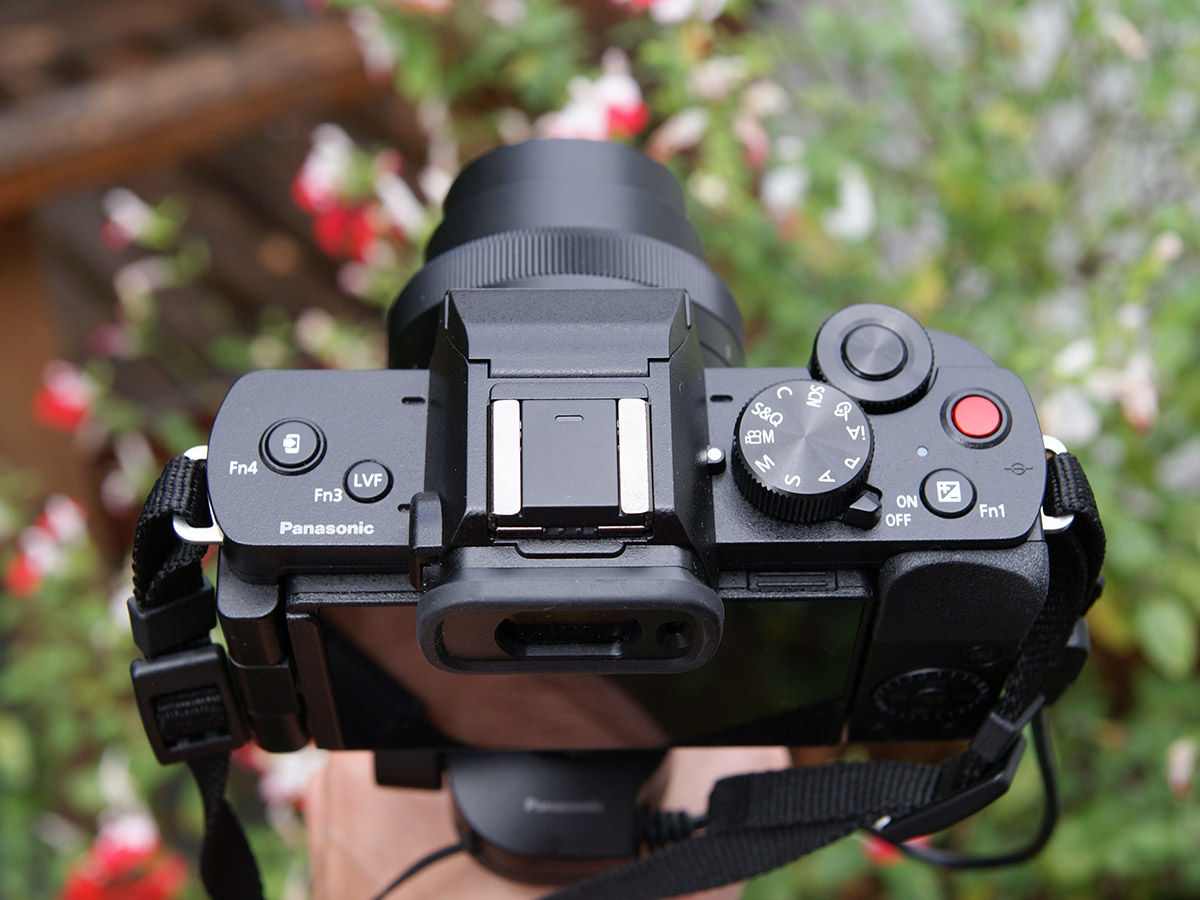 Panasonic claims the G100 is the world's smallest mirrorless camera (yay!) with a free-angle LCD (slightly quieter yay!). Caveats aside, it's definitely compact and lightweight enough to fit easily into any aspiring vlogger's 'daily carry', and still manages to find room for not just that front-flipping screen but a 3.7-million dot LCD viewfinder.
The screen is a 3in LCD with touch controls. It's not especially bright or sharp but more than up to the job, even on sunnier days, and its ability to swivel round to face frontwards (or upwards and downwards if required) is a godsend for vloggers. It does lead to the question: why did Panasonic bother with a viewfinder at all? It increases the size and the weight of the body and vloggers will barely, if at all, use it.
Being an entry-level model, the G100 is a little on the plasticky side compared to pricier Panasonics; it isn't weatherproofed or ruggedized in any way. That's to be expected when you get to the more affordable end of the market though, and in any case the thing feels more than sturdy enough to stand up to everyday use.
Our review sample came with Panasonic's DMW-SHGR1 tripod grip, which works brilliantly as a handle for on-the-move filming one moment and a tabletop tripod the next. It comes with shutter release, video start/stop and sleep buttons and a cable to allow remote control of the camera, plus a handy wrist strap to prevent accidental droppage. It's a genuinely useful accessory for vloggers in particular, and can be bought bundled with the camera to save money on its £90ish asking price.
The control setup in general feels familiar and intuitive, and we especially liked the inclusion of a large video record button, which are infuriatingly tiny on most mirrorless cameras. There's also now a shooting mode dedicated to slow and fast video shooting, so you can access these by simply twisting the mode dial rather than by having to dive deep into the settings menus.
Features: Mic check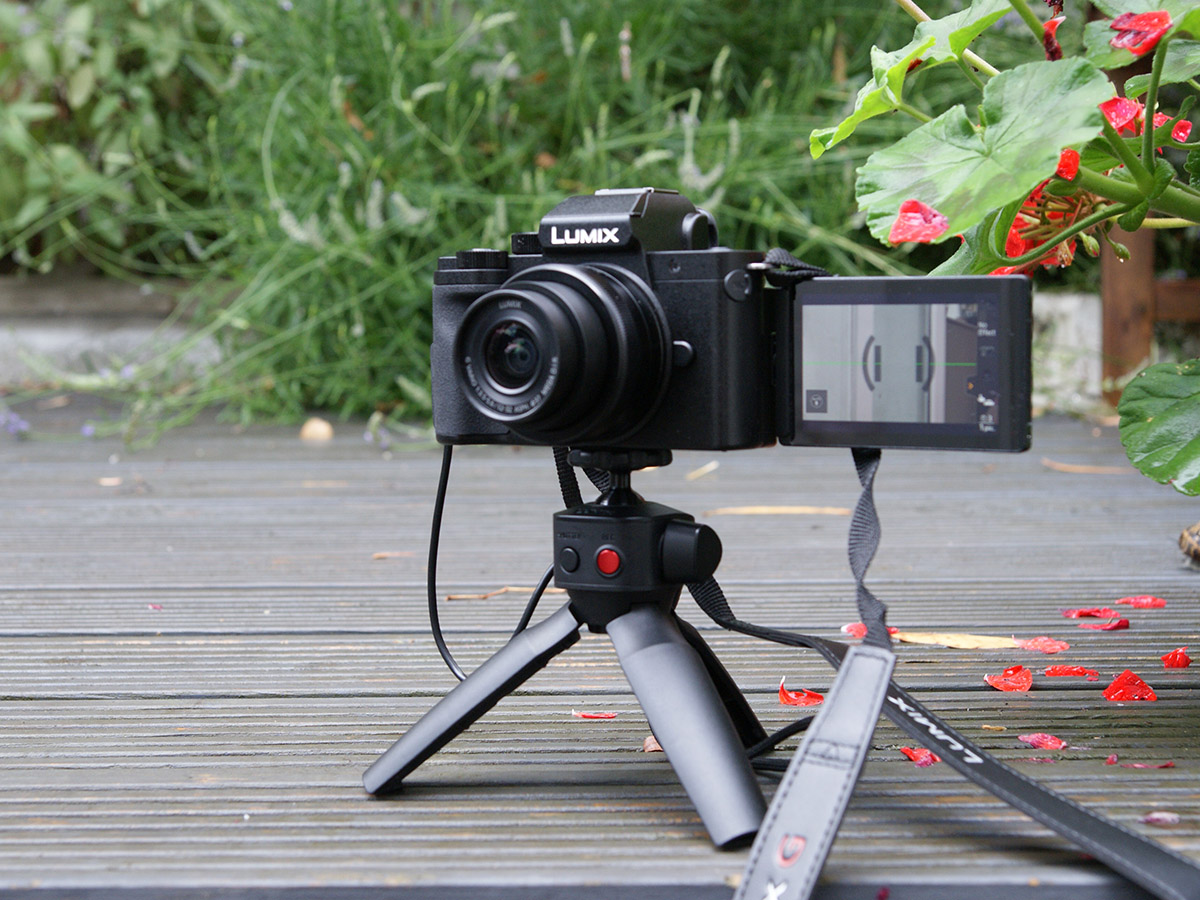 So much here has been designed around vlogging. While vloggers will likely invest in an external microphone if they're serious about their craft (and the G100 has a 3.5mm mic input for that, naturally), the camera's internal mics are smarter than most: you can set them to pick up noise from behind the camera, in front of the camera, all around the camera or to switch between the modes automatically (including using the face detection autofocus to 'follow' the subject around the frame); it's a really useful feature when filming around a lot of ambient noise, and the mics do seem to avoid a lot of the distracting background babble that other cameras might pick up.
Flip the screen to the front meanwhile and the camera enters Video Selfie mode, prioritising autofocus face tracking (which works very well) and displaying a clear countdown indicator after you hit the record button. Recording also results in a bright red border appearing around the screen, so you'll always know if you're rolling or not.
Performance: Face facts
The battery charges via micro USB – a handy setup, even if we'd prefer USB-C – and offers a reasonable amount of use per charge.
Panasonic claims you can record around 40 minutes of 4K footage before the battery croaks, which feels about right from our experience, so anyone planning on a long day of shooting should probably invest in one or two extras.
It's worth pointing out that the camera limits video clip times too: 4K recordings are capped at 10 minutes and 1080p/60 clips at 20 minutes. Autofocus here feels a little old-fashioned, using contrast detection and depth-from-defocus rather than the more advanced phase detection or hybrid setups seen on many rivals. That said, we found the face tracking system worked well to keep us in focus as we moved around the frame and that the camera generally focussed quickly on subjects for stills. It's fine for an entry-level model, in our opinion.
Image quality: Coming a cropper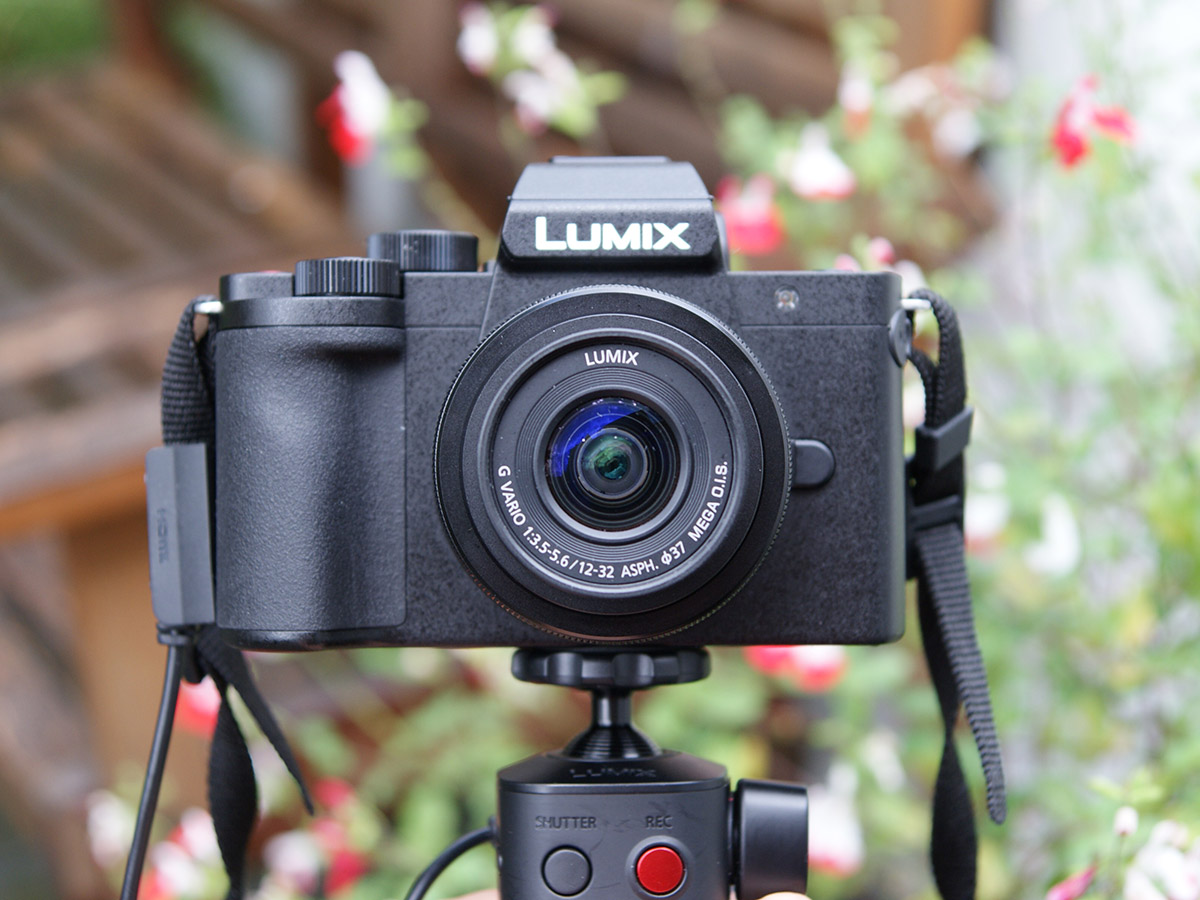 The G100 can record video at a 4K resolution and 24/25/30fps, which sounds quite impressive on paper. And while Ultra HD footage itself is sharp, detailed and clean-looking, the camera applies a crop to it that makes it less than suitable for vlogging. At the widest 12mm setting of the kit lens, you'll need to hold the camera at arm's length to prevent your giant, looming face from almost totally filling the frame. It isn't ideal.
You could buy a wider lens (7mm and 8mm zooms are available) but that'll likely mean forking out more money than you've just paid for the G100, so on balance it feels like Panasonic made a bad call with its decision to crop the 4K frame.
At 1080p, the drastic crop isn't applied and the framing is much more comfortable to watch. 1080p footage looks good too, and has a smooth 60fps as a frame rate option (or up to 120fps in slow motion mode).
The 5-axis image stabilisation does a decent job of keeping things steady when you're on the hoof. While the camera doesn't have in-body optical stabilisation, it combines electronic and in-lens stabilisation to produce a fairly smooth effect. It's worth noting that using non-OIS lenses should make things noticeably shakier.
The directional mic system works well too. You'll still get better results with an external shotgun mic or similar, and on a windy day you'll get a lot of unwanted noise, but for an internal mic setup it's better than most. The G100 might put video foremost, but it's also a reasonable stills camera and plenty of the features that aid with video capture also benefit photos: the low light performance and lack of a low-pass filter mean you can expect strong results from mere point-and-shoot snapping. As always, the lens you're using makes a difference, and replacing the lightweight 12-32mm kit zoom with something a bit better (and doubtless much pricier) can do wonders for your image quality.
You can also use the 4K Photo mode to isolate individual frames from your 4K videos to use as 8MP stills; these can look pretty decent and it's a good way to capture mid-action shots.
Panasonic Lumix G100 verdict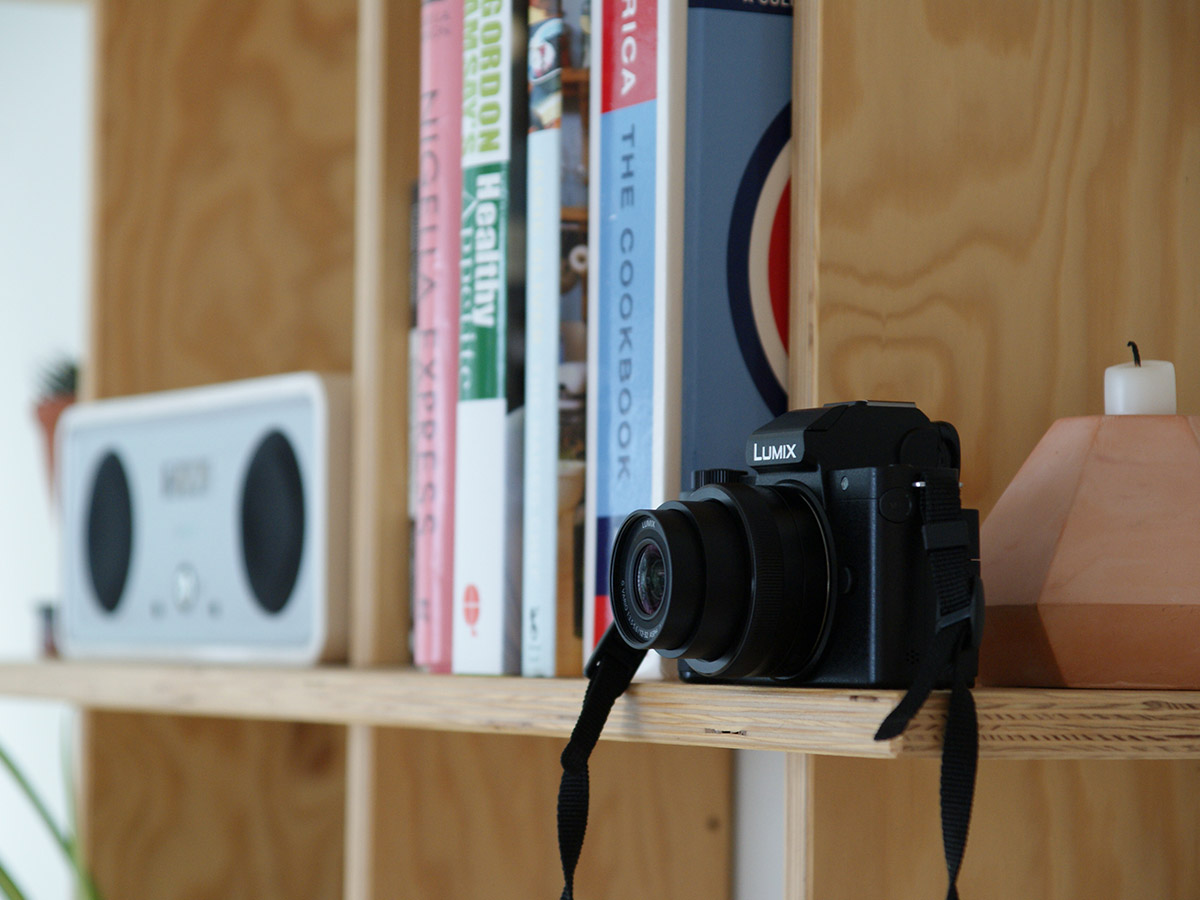 Panasonic has brought in some very vlogger-friendly features here, like the directional microphone system, auto-detect Video Selfie mode and the handle/tripod accessory, but with a bit more thought could have made the G100 even more appealing. Removing the viewfinder would have made the camera even smaller and lighter, for instance, but the real sticking point for us is the heavily cropped 4K mode, which makes 12mm scarcely wide enough to fit the user's face comfortably in frame when self-shooting.
As it stands, there are superior alternatives out there: the Sony ZX-1 compact springs to mind, but any mirrorless camera with uncropped 4K video, in-body stabilisation and a front-facing screen is likely to work better for on-the-move self-shooting.
Stuff Says…
With some tweaks this could have been the perfect vlogging partner, but as it is it's a flawed but decent effort
Good Stuff
Lots of great video features
Decent built-in microphones
Small and lightweight
Bad Stuff
4K crop too tight for vlogging
Micro USB rather than USB-C
Viewfinder seems unnecessary