Panasonic TX-58DX802 review
A TV that makes a statement - and sounds seriously powerful while it's at it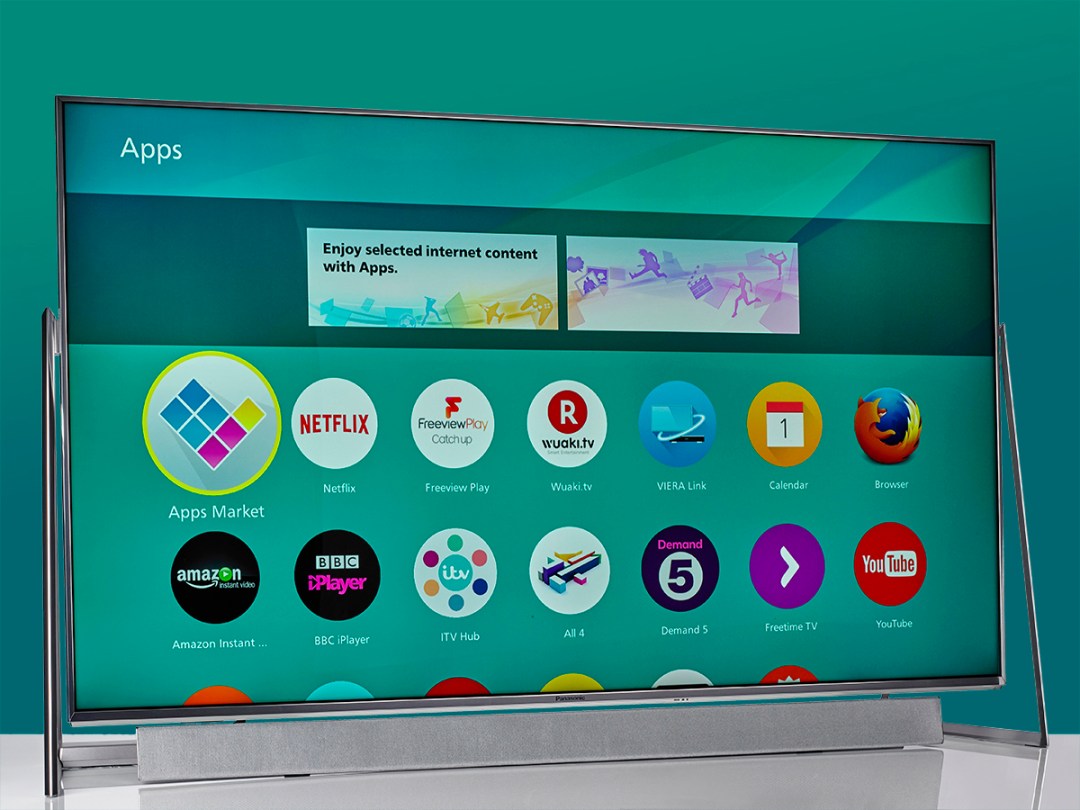 You know how it is: a 55in TV just won't quite cut it – but a 65in set is a touch too big for your room.
Enter Panasonic's new and imaginatively-sized 58in work of art.
With the panel providing a spectacular picture, the built-in soundbar below it pumps out audio to do your viewing sessions proud.
That's not the only reason it'll stand out in your living room, though.
Easel good?
That's because this is one TV that looks a little different.
It sits proudly on a stand resembling either an artist's easel or the frame from a child's swing – probably the latter if you've got the kind of cash to splash on a TV like this.
In the metal, it looks spectacular, even if it's not particularly practical. It might look like there's some flexibility in there, but the angled frame holds the panel tightly in place. Give it a prod and you'll merely end up with a slightly bent digit.
The frame's colossal size means you'll probably be putting this TV on the floor. It won't fit on many TV cabinets. You can wall-mount, of course, but that would take away all the impact of that statement-stand.
An appropriately thin brushed metal bezel frames the impressively large expanse of LED-backlit LCD screen. That finish extends to the two remotes as well; one conventional, one smart 'wand', which covers the basics.
Sounds unfamiliar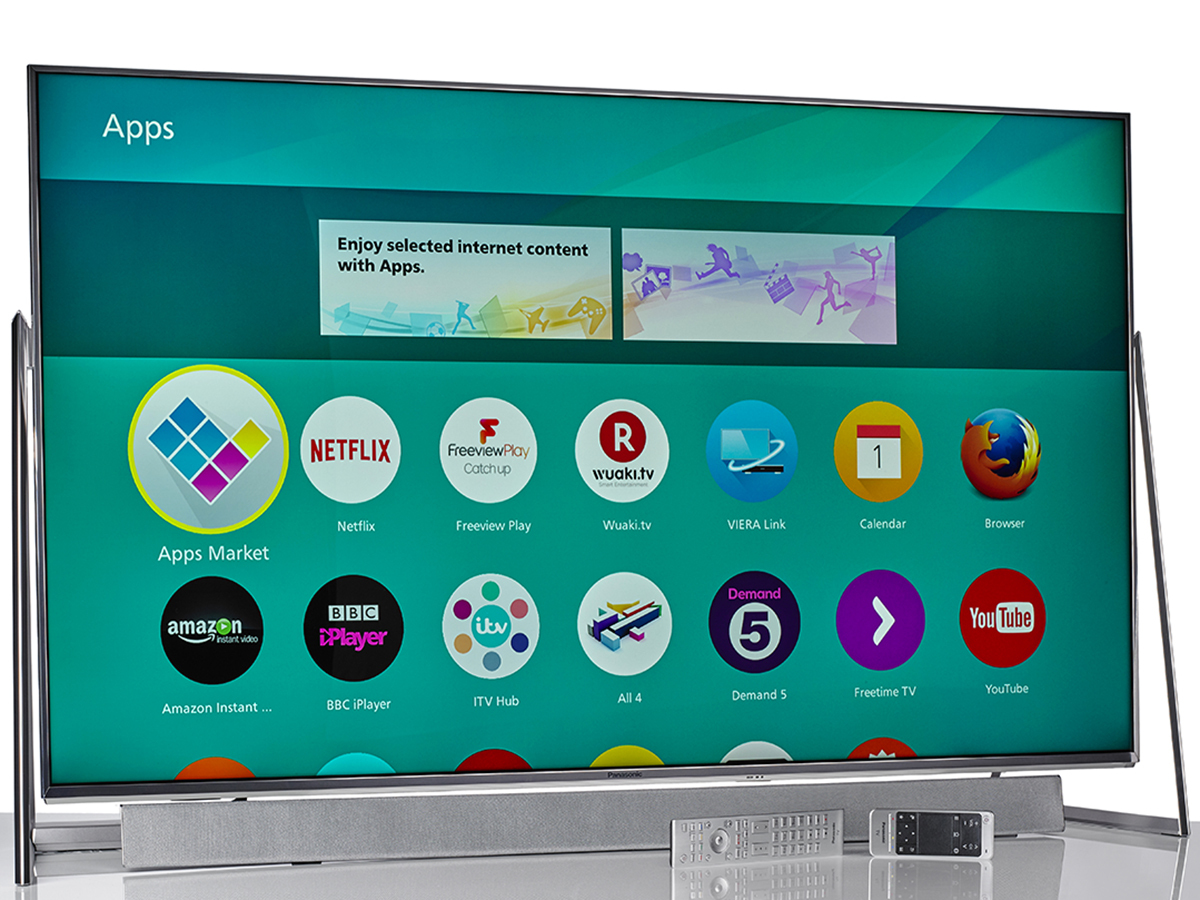 Sure, it helps this TV look refreshingly distinctive, but that stand serves another purpose: surrounding and protecting the set's very own soundbar.
We bang on about most flatscreen TVs having suspect sound for a reason: they might look like heavyweights, but then they throw out the disconcertingly inappropriate sound of a squawking bantamweight.
Not this Panasonic. The 40W soundbar provides loud, solid and clear audio that knocks most rivals' efforts into the proverbial cocked-hat. Rarely has Homes Under The Hammer sounded more intimidating.
The soundbar is called, rather grandly, the '12 Train Prismatic Speaker'. It's packing two tweeters, four mid-range drivers and a healthy six woofers – 12 speakers in total, you see…
It plugs into a dedicated socket in the TV and, as you would hope, looks thoroughly designed into the piece as a whole.
Picture framed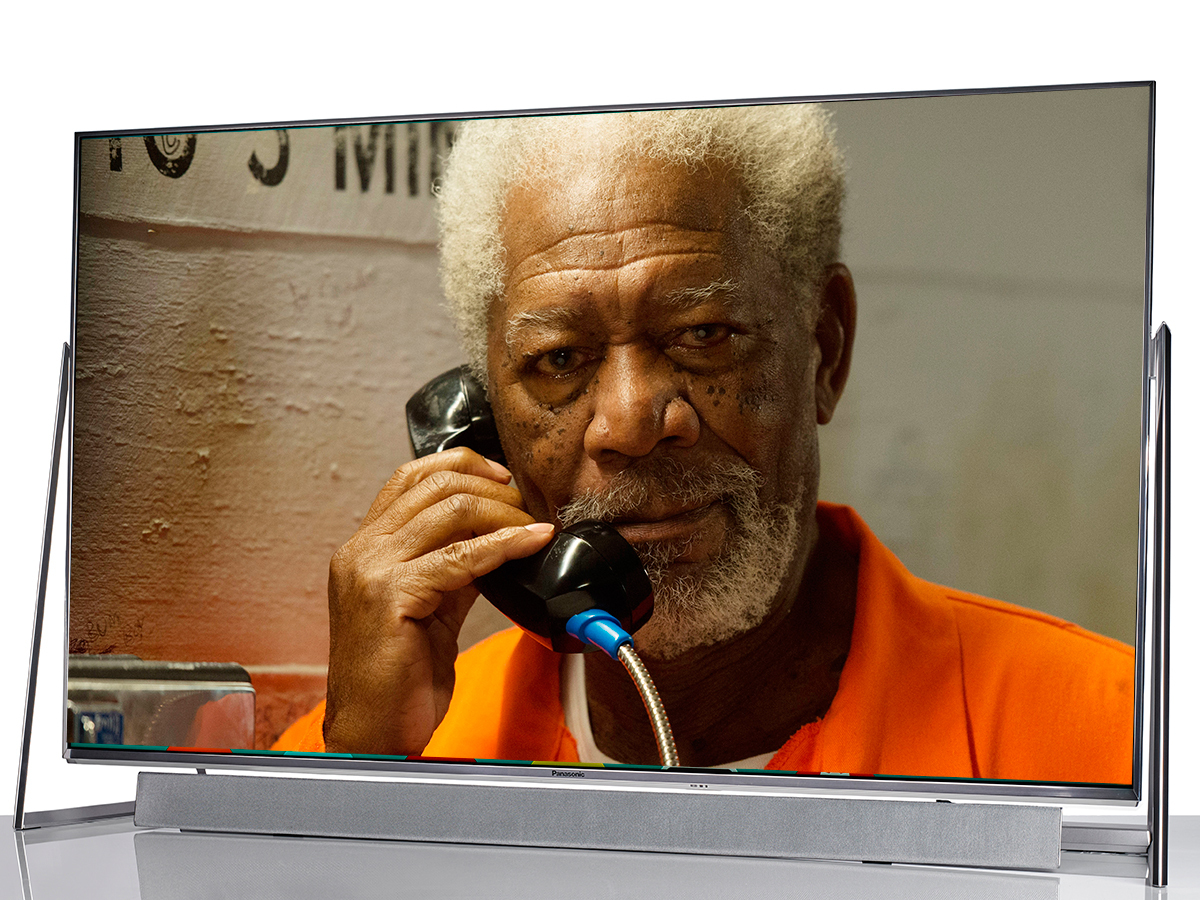 The 802 sits one level down from Panasonic's 902 flagship, so doesn't have the UHD Premium certification all the AV addicts are clamouring for. That means it can't hit blinding 1000nits peak brightness, or produce 90 per cent of the DCI P3 colour standard. Or both.
Whatever.
We really like what we see when you sit down to watch the 802. When a picture is this effective, we're really not bothered about ticking every box on the spec sheet.
It can still pump up the brightness, even if it doesn't hit that magical 1000nit figure. You'll be able to watch at midday, at the height of summer. With the curtains open.
Motion is handled very nicely, and colours are punchy too. A little too punchy, really – make sure you spend a bit of time tweaking. Out of the box it's a little too 'show-room fresh' for our liking. A notch or three lower on some of the levels should see things a little more realistic.
4K images from Amazon Video and Netflix look reassuringly stunning, with potent blacks to go with those stunning bright whites. You won't get OLED levels of differentiation between shadows in the very darkest scenes, but this is still an impressive watch.
Drop down to 'mere' HD with a Blu-ray or Full HD broadcast, and the Panasonic still puts in a good shift, with its upscaler doing sterling work. Standard definition broadcasts take a bit of a hit from the fuzzy stick – no surprises there. But then there's little excuse nowadays to be watching SD. So don't.
Smarties
As you would expect, and indeed require from a 4K HDR TV, the 802 comes fully kitted out with apps for Netflix and Amazon Video. That means you'll be testing out the best picture your new toy can provide within minutes of setting things up.
There's a full suite of other catch-up TV apps backing up those heavy hitters, too.
The operating system is powered by Firefox, and we rather like it. It's easy to find your way around, the colours and icons are easy on the eye, and you can customise it all with just a few prods on the remote.
Panasonic is promising software updates later in the year to add even more content, as well as easy sharing between the TV and whatever portable is currently sat in your pocket.
Panasonic TX-58DX802 verdict
Let's be honest – this TV isn't for everyone.
It'll dominate almost any room you put it in, and will dominate dinner party conversations for months. Looking for a signature piece for your living room, though? This is one you should consider.
It's not the last word in 4K HDR picture quality – but it's not far off it. The sound it chucks out is a revelation for a flat-panel TV too.
If you can accommodate it, and the looks grab you, it thoroughly deserves a place in your life.
Tech specs
| | |
| --- | --- |
| PANEL TECH: | 4K, HDR-ready LCD |
| SCREEN SIZE: | 58in |
| CONNECTIVITY | 4x HDMI 2.0, Component, Composite, 3x USB, Wi-Fi, Ethernet |
Stuff Says…
A great TV for the right person, which does a fine job with pictures and sound. Got space for the stand and like its looks? Then that person is you.
Good Stuff
4K and HDR with all the smarts
Superb sound for a flatscreen TV
That stand is a real talking point
Bad Stuff
Black definition isn't quite top-class
Not quite up there with the very best