Pentax K-1 review
Full-frame doesn't have to mean an empty wallet. Pentax packs in more for less with the K-1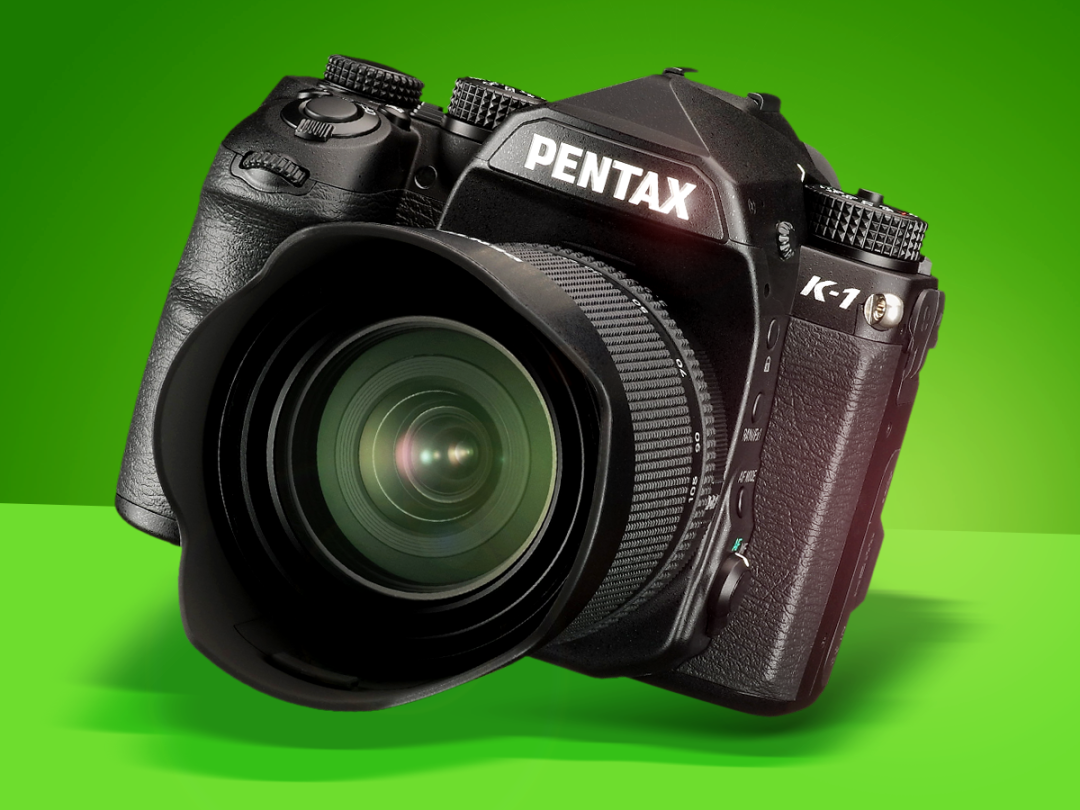 If you want full-frame, you buy Canon or Nikon, right?
That used to be the common consensus, but now there's a third way – and it comes from one of the oldest camera brands in the world.
Pentax users might be massively outnumbered by their Canon and Nikon cohorts, but they make up for it with sheer die-hard loyalty. Loyalty that has finally been rewarded with a full-frame SLR that can compete with the big boys.
It ticks a lot of boxes for pro photographers, but arrives at a price the rest of us mere mortals can actually afford too. No mean feat, seeing how Pentax hasn't skimped on the headline specs.
A 36.4MP full-frame sensor, 33-point autofocus, tilting LCD screen, built-in Wi-Fi and a weather-sealed body certainly sounds good in our book.
IN THE FRAME
Hope you like your cameras black and boxy – the K-1 is the definition of utilitarian. It's got a hefty front grip and a deep rest for your thumb on the back, enough to make it feel like a serious beast in the hand. Even if it's still smaller than a typical full-frame SLR.
It's got dials aplenty, but none of the superfluous scene modes you'll find hogging the mode dials of cameras aimed at mere amateurs. Instead, you get five custom presets on the mode dial, and unusual modes you won't find anywhere else.
Shutter and Aperture Priority picks ISO based on your manual shutter speed and aperture settings,while Sensitivity Priority sets the best aperture and shutter speed based on what ISO you've picked.
There's an uber-handy Smart Function dial, too. It's got settings you'll use a lot, like Wi-Fi, exposure compensation, ISO and HDR. It's a whole lot easier than digging down into the menus.
You'll have to head there to turn on the K-1's most interesting bit of tech, though. Pixel Shift Resolution snaps three pictures, offset by a pixel each, and combines them to get what should be some super detailed pictures. It used to just work for still subjects, but now it'll play nicely with moving objects too.
Honestly though, you'll be hard pushed to spot the difference if your photos are destined for Facebook instead of a poster printer. Forget to switch it off and you'll fill your SD cards in no time – each RAW file tops 150MB.
PUSH THE BUTTON
You'd expect a top-notch DSLR to have its fair share of buttons, but the K-1 seems to have stolen a load from another camera – it's overflowing with 'em.
There's a four way D-pad for direct access to drive mode, white balance, and even AF points if you remember to press the little button just above it. We forgot, a lot, changing modes or shooting settings by mistake. You'll get used to it with enough practice though.
All the AF points are grouped together in the centre of the frame, which isn't great when your subject won't play ball (literally, in the case of our test photos). You can focus and recompose, but a greater spread across the frame would be better.
The button fiesta doesn't stop there, either. There are shortcuts for switching RAW shooting on and off, AF/MF toggles, an AF button, and a customisable shortcut that can do different things based on what button you pressed before it. Take the time to learn what everything does and you'll be able to change almost every setting without actually pulling your eye away from the viewfinder.
With so many to memorise, it's a good job you won't have to scrabble for a certain button in the dark. Operation Assist Lights light up the LCD top plate and flick on LEDs under the screen and card slot door, so you can actually see what you're doing at night.
There are slots for two SD cards, but not the faster CFast or XCD cards. This ain't a camera for speed demons.
SCREEN TEST
Top-end DSLRs don't usually have flip-out or tilting screens, so to get one at all is a big bonus here, but Pentax has gone above and beyond for the K-1.
The 3.2in screen is bolted onto the camera with four metal rods, which lift from the back and let you bend and shape it into any number of different positions – including directly upwards to help with hip-level shots.
It looks flimsier than it is, like you shouldn't really be lifting it from the back at all, but once you realise it isn't going to, it's genuinely useful. The screen isn't touch-sensitive, though, so you've got to fiddle with buttons to change your focus point rather than tapping on the live view.
It's great for shooting macro and still life subjects, as you can get an extreme close-up zoom on whatever you're pointed at, but focusing speeds slow to a crawl with live view switched on. It's pretty much useless for anything that moves.
Good job the viewfinder covers 100% of the frame, then. It's bright and clear to look through, with a transparent display showing a grid, digital level, and selected AF point, along with your key settings like ISO, shutter speed and aperture. The focusing screen is great for manually focusing, too.
Straight out of the camera, JPEGs have a satisfying punch – even going a little too far with Custom Image styles switched on. RAW files are softer, which makes them perfect for editing later.
You might need to dial up the EV compensation on overcast days, but generally images are well exposed. There's decent amounts of shadow and highlight detail, even in high contrast scenes, and the automatic white balance wasn't foxed by a mix of natural and artificial lights either.
High ISO results in low light are good, but not earth-shatteringly brilliant – especially at the high end, although ISO 204,800 isn't exactly something you'll be breaking out every day. They're good enough for those desperate times when getting the shot is more important than having the best possible quality.
At a more usable ISO 12800, there's a good level of detail and not too much noise. Wide aperture lenses won't need to venture into super high ISO territory very often.
DIAL IT IN
That's all fine for still life and studio work, but the K-1 isn't really built for sports and wildlife snaps. It shoots at a pretty slow 4.4fps, and continuous autofocus struggles to keep up with swift moving subjects. The results tend to be a little hit and miss.
Focusing in general is fine in bright light, locking on quickly and accurately. A focus assist lamp helps with close-up shots once the sun goes down, but takes a little longer to lock in under darker conditions.
It's generally quick to shoot, but preview images take a little while to show up after you've pressed the shutter button. When you're desperate to know if you've nailed that last shot, having to wait 2-3 seconds can feel like, well, a bit longer than that.
Otherwise, you can keep shooting up to 70 JPEGs or 17 raw files before the camera's buffer fills completely.
Pentax K-1 verdict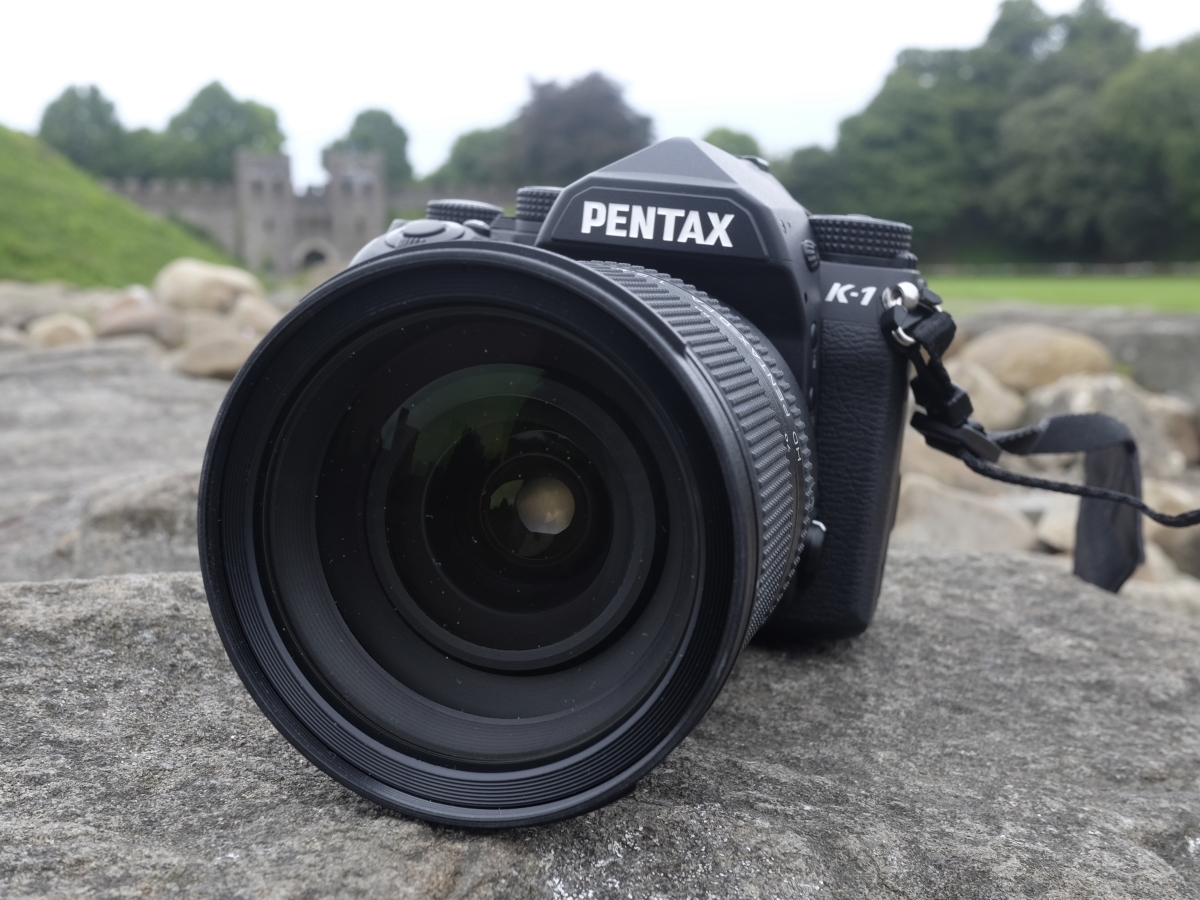 The K-1 packs a full-frame sensor at a pretty bargain price, so there's no major surprise that it's not the perfect all-rounder.
Sure, it does a great job with portraits, macro and landscape shots, but it'll leave sports and wildlife photographers a little frustrated. It's not the best at street shooting, either.
If you aren't all about one type of photography, it makes sense to spend the extra cash on an enthusiast or semi-pro SLR from Nikon or Canon. The D810 and EOS 5D Mark III both take all kinds of subjects in their stride.
You've got to think beyond the camera body, too. The K-1 might be great value, but if you've already spent a good portion of your kids' inheritance on lenses for a different system, this isn't going to tempt you to switch.
For anyone that's not got a bag full of Canon or Nikon kit already, though, this still looks like a great buy. Just keep in mind what it's best at before you reach for the shutter button.
Tech specs
| | |
| --- | --- |
| SENSOR | 36.4MP full-frame CMOS |
| AUTOFOCUS | 33-point SAFOX 12 AF |
| LCD SCREEN | 3.2in cross-tilt |
| CONNECTVITY | Wi-Fi, GPS |
| STORAGE | dual SD card slots |
| DIMENSIONS | 110x137x86mm, 1010g |
Stuff Says…
Full-frame on a budget, but with plenty of caveats stopping it being a full-framer for the masses.
Good Stuff
Full frame fanciness
Superb stills in the studio
Small and tough – won't give up in wet weather
Bad Stuff
Not fast enough for action snaps
Needs light to look its best