Philips 55OLED754 review
"Maximum minimalism"
Want a super-sleek, super-slim OLED TV without the super-spend? It's not impossible – but generally it means making one or two super-sacrifices. You'll be buying into a brand with limited credibility, and buying a TV with fairly limited performance.
Or, at least, that's how it used to be. But now you can buy a big (55in), sleek, slim OLED TV from a brand (Philips) that's undergoing something of a renaissance, a TV with very few performance limitations.
It's called 55OLED754, and it's yours for a quid less than a grand. No, it's not perfect – and in some ways, it almost seems like Philips has gone out of its way to make sure it's not perfect. But is it a great TV for the money? Oh yes indeed.
Design and build: Maxing out the minimal
The 55OLED754 does what every new TV is supposed to do. It has plenty of screen, next-to no bezel and, because it's an OLED design, it's supernaturally slim (except where it isn't). If the notion of 'minimalism' appeals, the Philips has a lot of it. If you see what we mean.
That minimalism even extends to the 754's feet. It sits on two tiny shiny chrome sticks, one of which carries the only 'Philips' branding on the entire TV – so the bottom of the screen is about as close to the surface it's standing on as any TV you've ever seen. Which helps the 'minimal' vibe no end, but means there's simply no space to put a soundbar close by. (That's not as big a problem as it might at first sound, though. Philips has paid close attention to the audio issue, as will be discussed a little later.)
The clean simplicity of the Philips' design is in evidence everywhere. Even the rear of the chassis (where it doesn't swell to accommodate the inputs and accompanying electronic hardware) is of mildly brushed metal. Nothing in the Philips' design or execution suggests it's among the most affordable OLED TVs on the market.
And that's equally true of the build quality. Everything is smoothly fitted, nothing creaks or groans, there's not a sharp edge in evidence.
Features: Ambilight up your life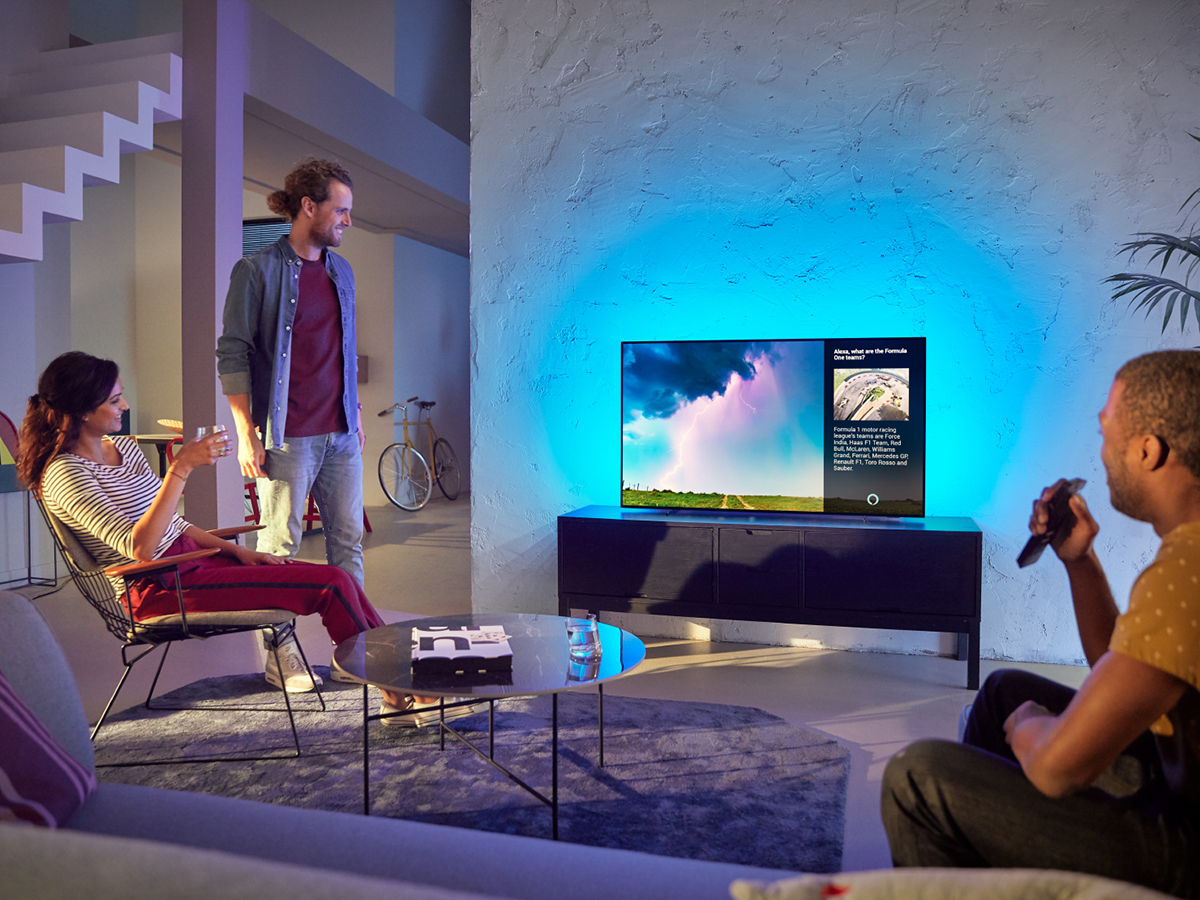 The headlines of the OLED754's specification certainly don't suggest a product that's been built down to a price. This is a 4K OLED TV, and it has each and every usable HDR standard on board – that's broadcaster-tastic HLG, HDR10, and HDR10+ and Dolby Vision dynamic metadata. This makes the fact that the likes of LG, Samsung and Sony don't have a full suite of HDR algorithms on their TVs look quite backward, and gives the Philips the biggest chance of delivering the best-quality images from any source.
On its way to the screen, all the incoming picture information is handled by the second generation of Philips' P5 processing engine. Philips has always been a big believer in giving the end user a whole stack of options when it comes to adjusting picture performance (which, as the 'interface' section below makes clear, is just as much of a double-edged sword as it ever was), and the 754 is no different. It's possible to while away many an hour making infinitesimal adjustments to the way the Philips delivers images.
As far as sound goes, the Philips is packing Dolby Atmos compatibility. That doesn't mean the OLED754 gives even the slightest impression of surround-sound, let alone project sound above you in the approved Atmos manner – but it means that Atmos soundtracks can be handled without alarms. And thanks to the serious-looking midrange and bass-driver array on the back of the screen, the Philips would seem to have more chance of delivering worthwhile audio than any number of rivals.
Those three drivers are positioned roughly in the centre of the 'lumpy box of electronic hardware' section of the rear of the TV, and around three sides of the edge of this lump is where Philips has positioned its Ambilight LEDs. For the uninitiated, Ambilight beams coloured light onto the wall behind the TV – it can mimic the on-screen colours or be set to complement your decor. Either way, it manages to help the Philips' picture look even larger and more immersive than it actually is. No other brand has a feature anything like as novel, and it's effective enough to make an already interesting TV seem pretty compelling.
There's no scrimping on inputs, either. The OLED754 has four 4K HDR-ready HDMI sockets, an Ethernet input, a couple of USB sockets, component video inputs and aerial posts for satellite and 75ohm TV tuners. There's also a digital optical output.
Interface: Remote working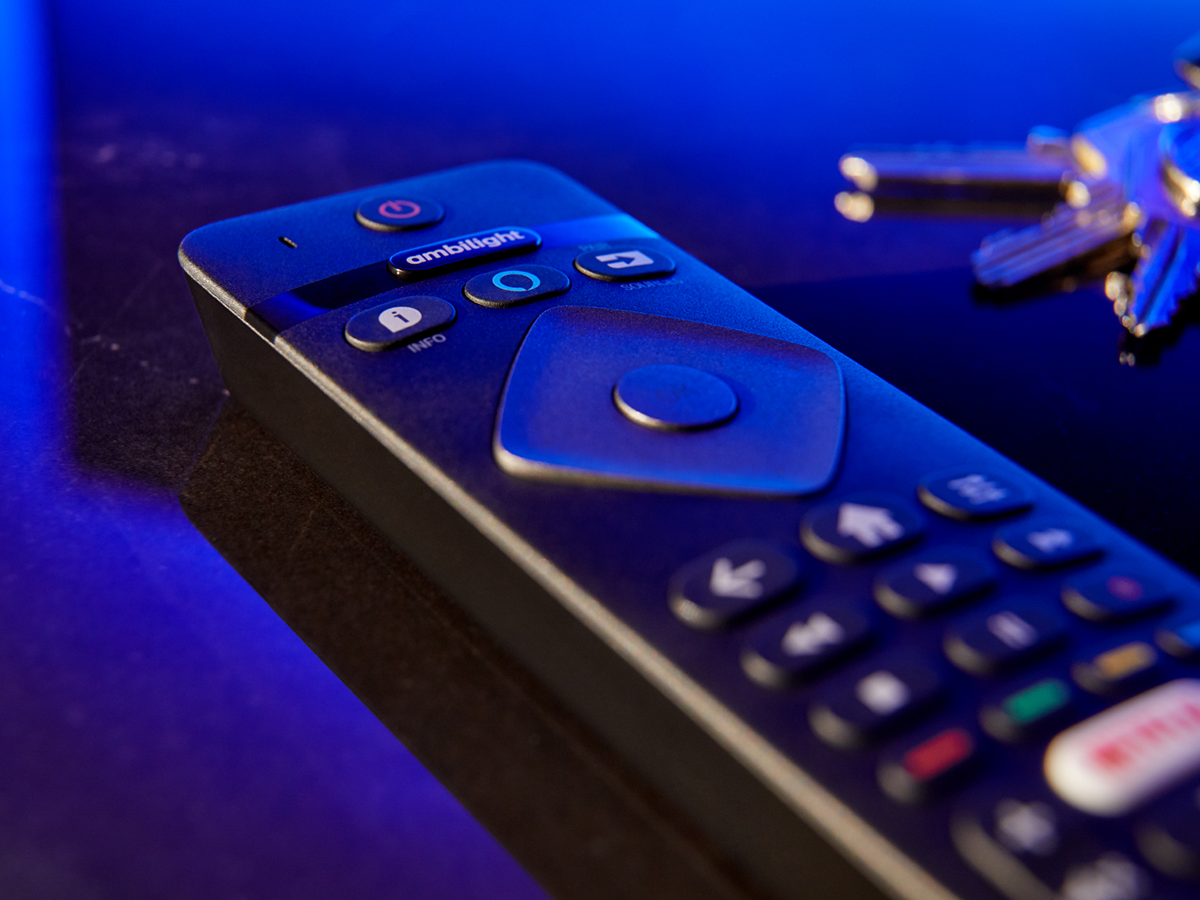 It was bound to happen at some point – and it's here the Philips gives its first hint that cost is a factor in the OLED754's specification. It's not the end of the world, of course, but the remote handset supplied to control this TV is not all that pleasant. If its plastics were any thinner it would become bendy, it feels cheap in the hand, and the volume up/down/mute rocker control has seemingly been designed to be as hit-and-miss as possible.
At least it features an integrated mic for voice-control, though. And at least it controls Philips' proprietary Saphi user interface, which is one of the more straightforward, less intrusive and reasonably logical systems currently fitted to any brand's TVs. It includes all the major catch-up and streaming service apps, as well as Freeview Play – and both the Amazon Video and Netflix apps come complete with HDR10+ and Dolby Vision compatibility.
As mentioned, Philips is no stranger to handing over a huge amount of picture settings control to the end user – and the OLED754 is no different in this respect. It may seem like there's an intimidating amount of adjustability options in the set-up menus – which is true, there is. But starting in 'Vivid' mode and making adjustments from there should see you arriving at an agreeable picture sooner rather than later.
Performance: Covering all the angles
So the screen is set up to deliver pictures just the way you like them. The volume level is as you want it, so you can put that remote control to one side. And any source that's not in use but physically connected to the TV should be turned off, because otherwise the Philips hunts through its HDMI inputs restlessly. Then you're good to go.
What's initially most impressive about the 754 is how typically OLED-like it is where depth and purity of black levels, and potency of contrasts, are concerned. No matter how pitch-deep the black tones, they carry explicit levels of detail; no matter how glaring the on-screen contrasts between dark black and bright white, the Philips resists crushing the blacks or allowing whites to bloom.
It's got those winning viewing angles that are a part of the OLED appeal, too. You can sit quite radically off-axis without losing much brightness or detail from the images you're seeing, and contrasts and colour balance stay faithful too. A 4K Dolby Vision stream of the great-looking-yet-utterly-incoherent 6 Underground makes the point in some style. Colours are as loud as the soundtrack, detail levels are sky-high, and the OLED754 does a great job of describing skin-tones and -textures in convincing style.
Getting stable motion-tracking out of the Philips isn't a process that can be rushed, but it is possible to eliminate the worst of the doubling and shadowing the TV indulges in when fresh from the box. Picture noise is oppressed well – only the most open, uniform swathes of colour can provoke any grain or blocking. And even then, these can be minimised by delving deep in the set-up menus – although the trade-off is a gentle increase in motion smearing. And as an upscaler of sub-4K content, the Philips is very nearly as adept.
Watch a standard 1080p Blu-ray of Midsommar and there's no denying picture stability drops off a little – it's noiser, grainier and more restless around edges than native 4K stuff. But none of these traits even threaten to turn into drawbacks, and the 754 does good work keeping motion blur minimised and contrasts high. It even retains a little of that HDR dynamism around brightness and colour fidelity that's so watchable in higher-resolution content.
As far as TV reception goes, the Philips is naturally at the mercy of the standard of broadcast it's receiving. Consequently it looks pretty stable and convincing with the glaring whites and popping colours of BBC One's MasterChef and is a nightmare of softness, blurring and noisiness of a rerun of The Sweeney on ITV4.
There's a Game mode in the 754's endless set-up menus, and once it's engaged the picture retains a good deal of the contrast and colour fidelity of the movie and TV-based modes. It's not the most responsive, though – certainly its response time is nowhere near the gnat's-blink of (admittedly more expensive) LG OLED alternatives.
In terms of sound, the OLED754 does well to fight against the prevalent flatscreen characteristics of hardness and flatness. The rear-firing drivers do a decent job of spreading sound around the screen (unless you've somehow managed to site your TV out in free space, that is). There's passable weight and attack to the sound, although it's no substitute for a half-decent soundbar. As observed, though, the screen sits so low on its little feet that a soundbar is going to be tricky to position.
Philips 55OLED754 verdict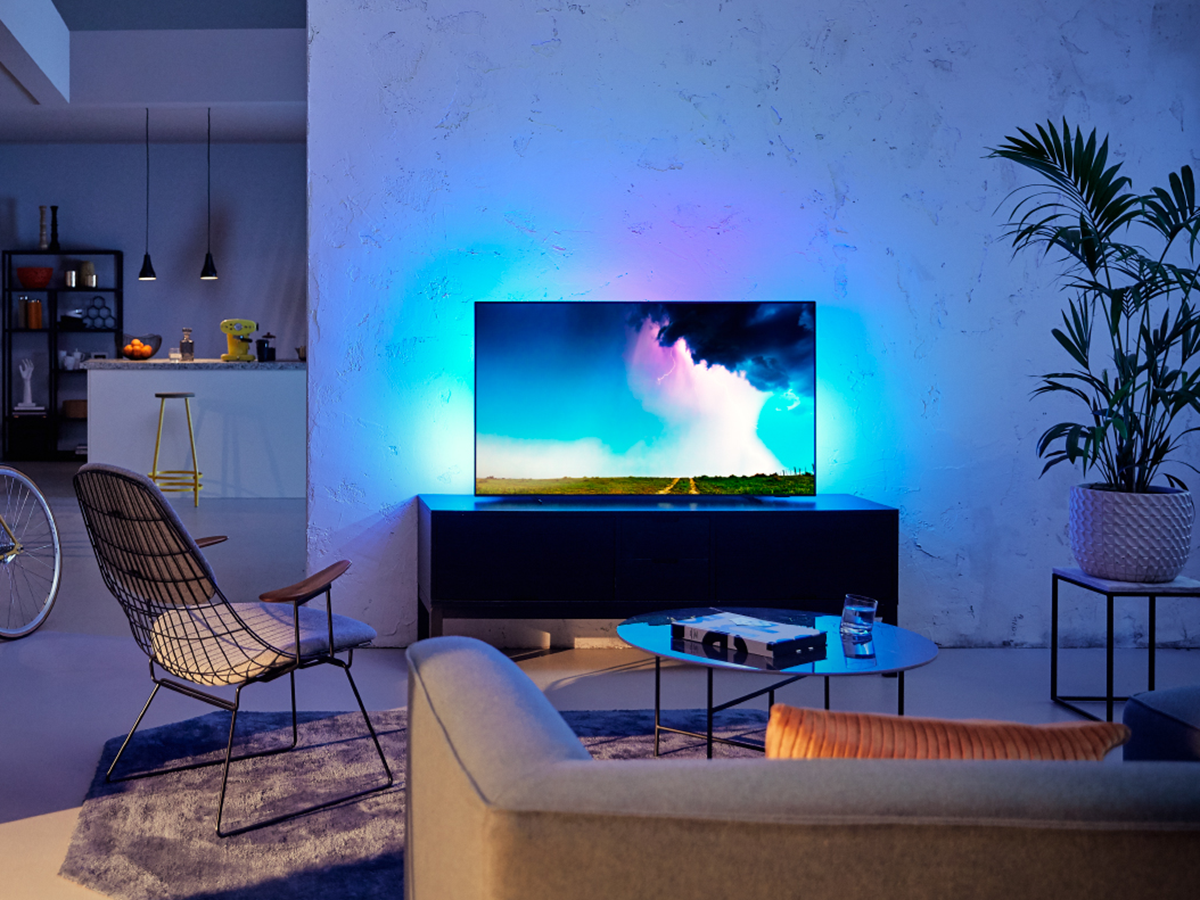 Yes, you have to put up with an iffy remote control and some perplexing set-ups menus. But this is a small price to pay when you consider the small price of the OLED754 and, of course, its overall performance.
Fingers crossed this Philips provokes other brands into bringing their OLED TV prices down to real-world levels.
Stuff Says…
Almost all the flash, only a portion of the cash
Good Stuff
HDR10+ and Dolby Vision
Clean, high-contrast and vibrant pictures
Well-stocked and usable OS
Three-sided Ambilight
Bad Stuff
Time-consuming picture set-up
Not the gamer's first choice