Philips 55POS9002 review
Ambilight meets OLED, but this Philips is so much more than a one-trick pony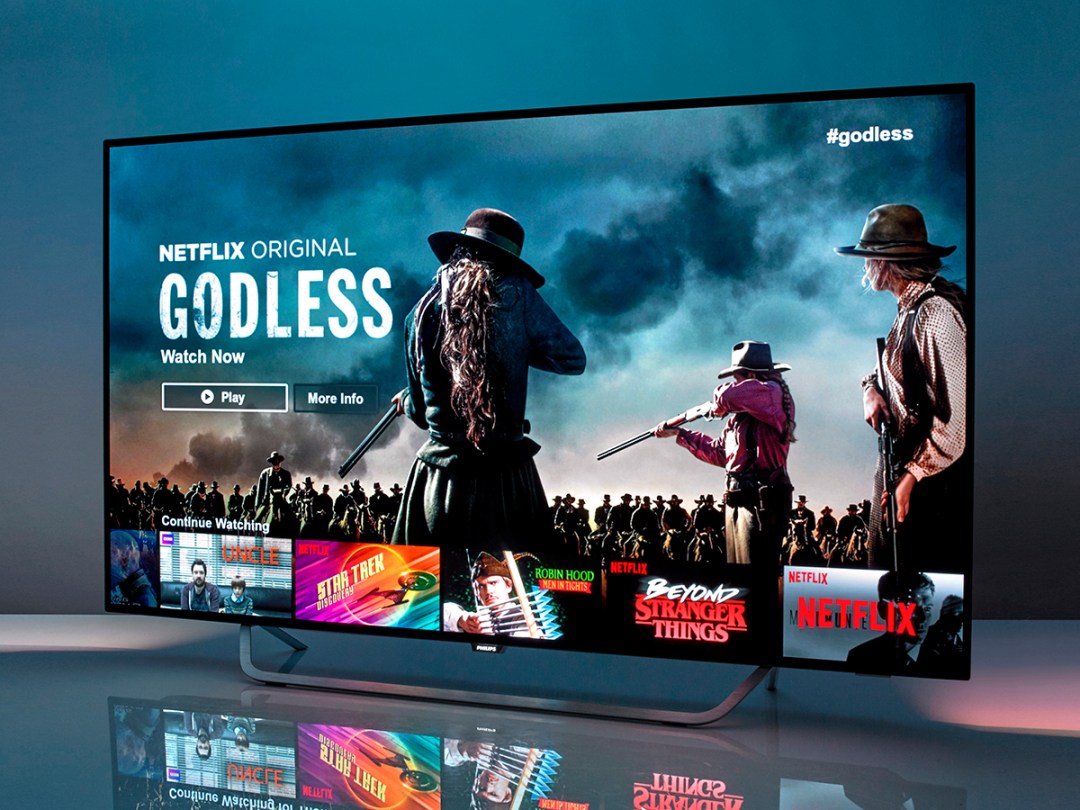 With LG now selling its OLED panels to any TV manufacturer wanting to buy them (so, practically everyone that isn't Samsung), each company needs to do something a little different to stand out from the crowd.
It turns out differentiation doesn't come much more striking than Ambilight.
The Philips-exclusive tech uses strips of LEDs around the TV edge, enhancing the onscreen action with a colourful light show on the wall around the telly. It's awesome, and combining it with OLED picture quality is predictably magnificent.
What's really remarkable, though, is that if you took Ambilight away, the Philips 55POS9002 would still be one of the very best TVs around right now.
Design: unspectacular (until you turn it on)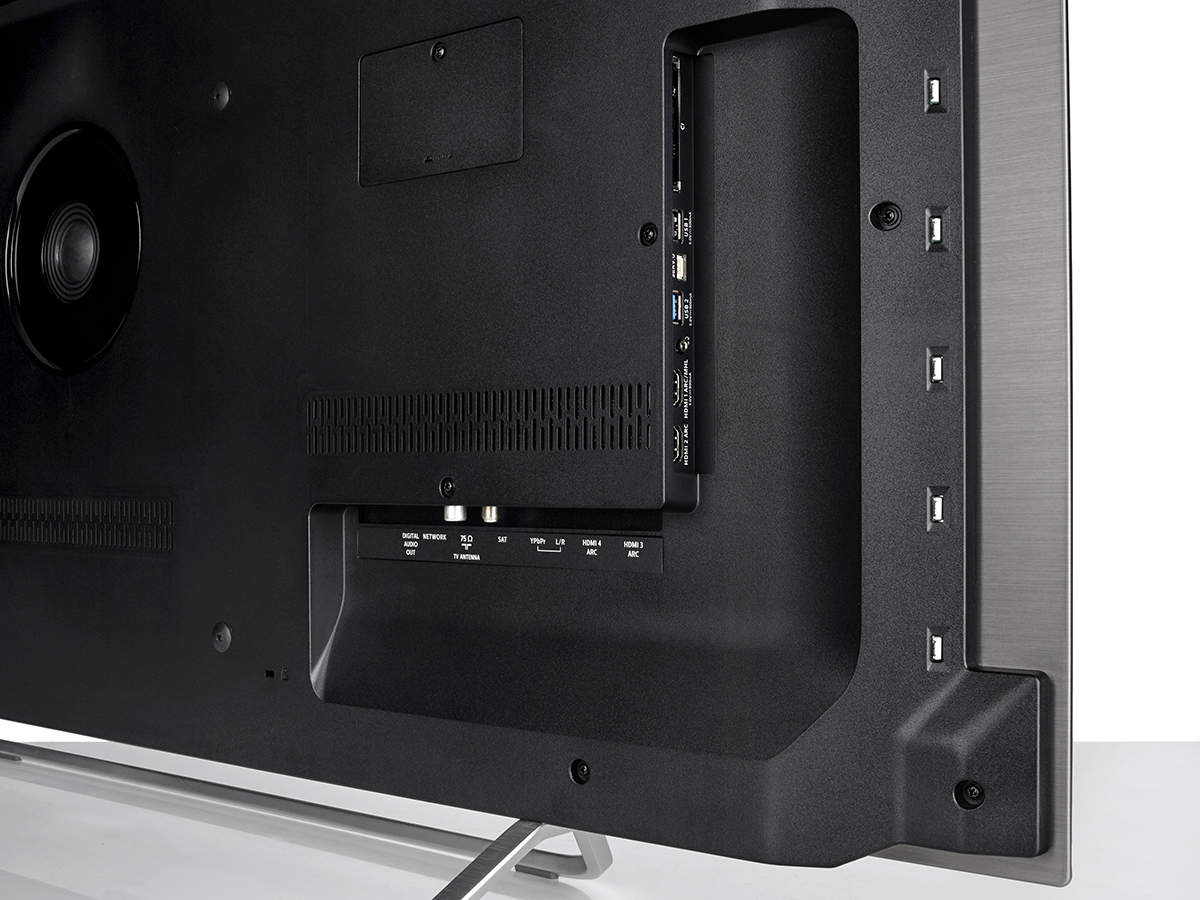 Are we allowed to be a little disappointing that the 55POS9002 doesn't look more special?
Sure, the panel itself is super-slim, just like it is with every other OLED we've seen, but, as is the case with every rival, there's a protrusion around the back that houses the connection and processing bits and pieces. The bulge here is bigger than that of most other OLEDs, and the result is a design that's a little less striking.
At least, that is, until you turn the TV on, at which point the Ambilight kicks into action and bathes the area around the screen in bright, vibrant colour. No rival can match that, and we'll take a TV that looks better when switched on than off any day of the week.
Performance: next-level HDR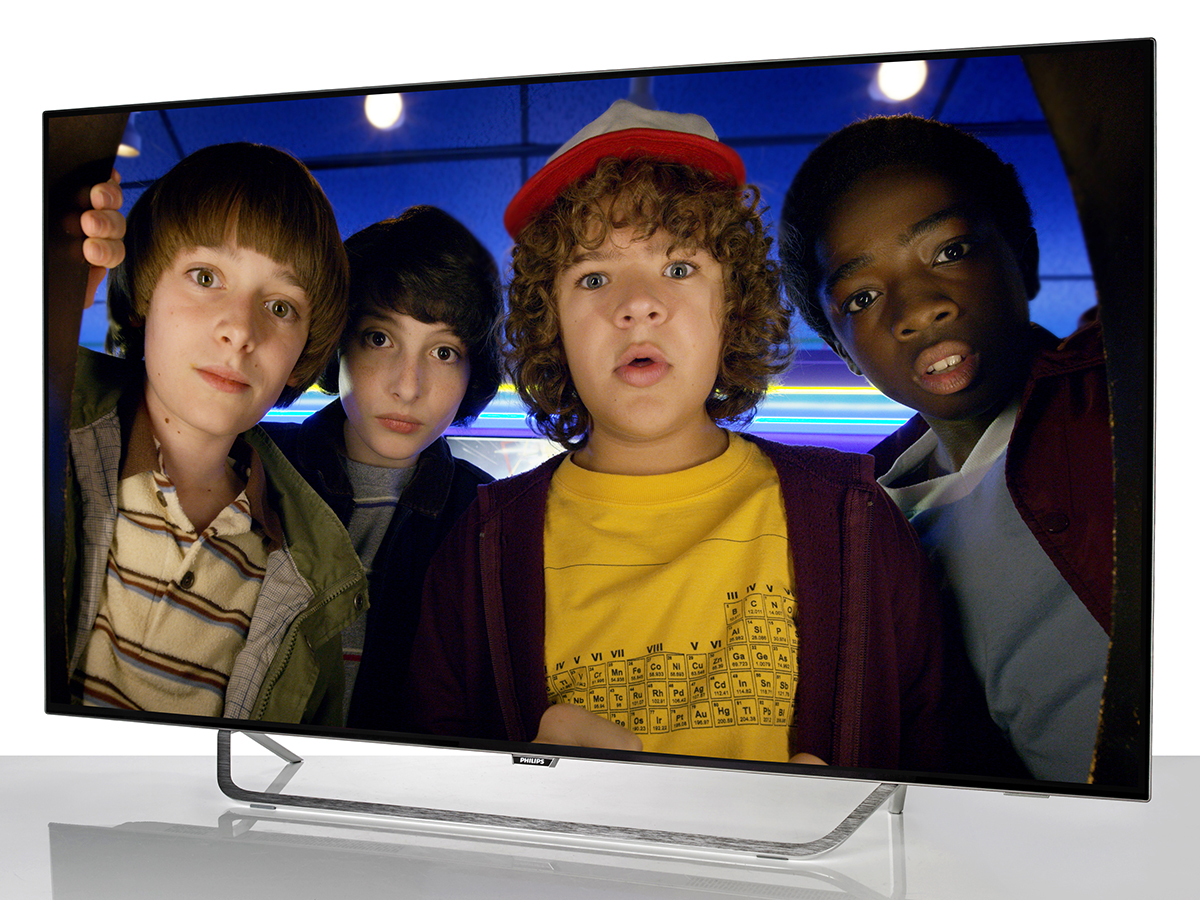 HDR (high dynamic range) is the TV tech du jour, and the Philips 55POS9002 is as fine a purveyor of HDR as you're ever likely to see. It does an even more spectacular job of it than the Sony KD-55A1, which is very high praise indeed.
The opening scene of Guardians of the Galaxy Vol. 2 one of the most stunning examples of HDR out there, and it looks utterly amazing here.
Before we get to the colours and brightness (but we will get there, and OMG), the first thing you actually notice is how incredibly solid and three-dimensional everything looks. Characters and objects pop from the screen so effectively that it makes you wonder if the whole 3D debacle was even worth it. (it wasn't.)
So, those OMG colours: honestly, the vibrancy and lusciousness on offer here is incredible. This scene has it all – a tentacle monster that spews rainbows, a dramatic electrical storm and a ring of generators that appear to contain balls of fiery, chaotic energy – and every one of these elements is vivid, bright and enticing. Those generators in particular are rendered all the more exciting by the Philips' vibrantly vicious reds and oranges.
The 55POS9002 does a superb job with materials, too – metallic panels sparkle with reflected light, while worn, craggy surfaces (Groot's skin, for example) are rendered with texture you can almost feel. Detail levels are astonishingly high throughout, too.
It's fair to say that the 55POS9002 isn't the most subtle performer out there, and if true neutrality is what you crave, the Sony KD-55A1 might suit you better, but this Philips gives you thrilling vibrancy and punch without veering into obvious over-saturation or unrealism. Ultimately, with HDR content it's a brilliant approach, even it's not strictly the most authentic.
It's not quite the smoothest handler of motion, either, with the default mode proving a little bit unnatural and the built-in motion processing occasionally introducing artefacts to very fast motion. Best to turn the motion processing off entirely, even though it adds a little bit of judder to action.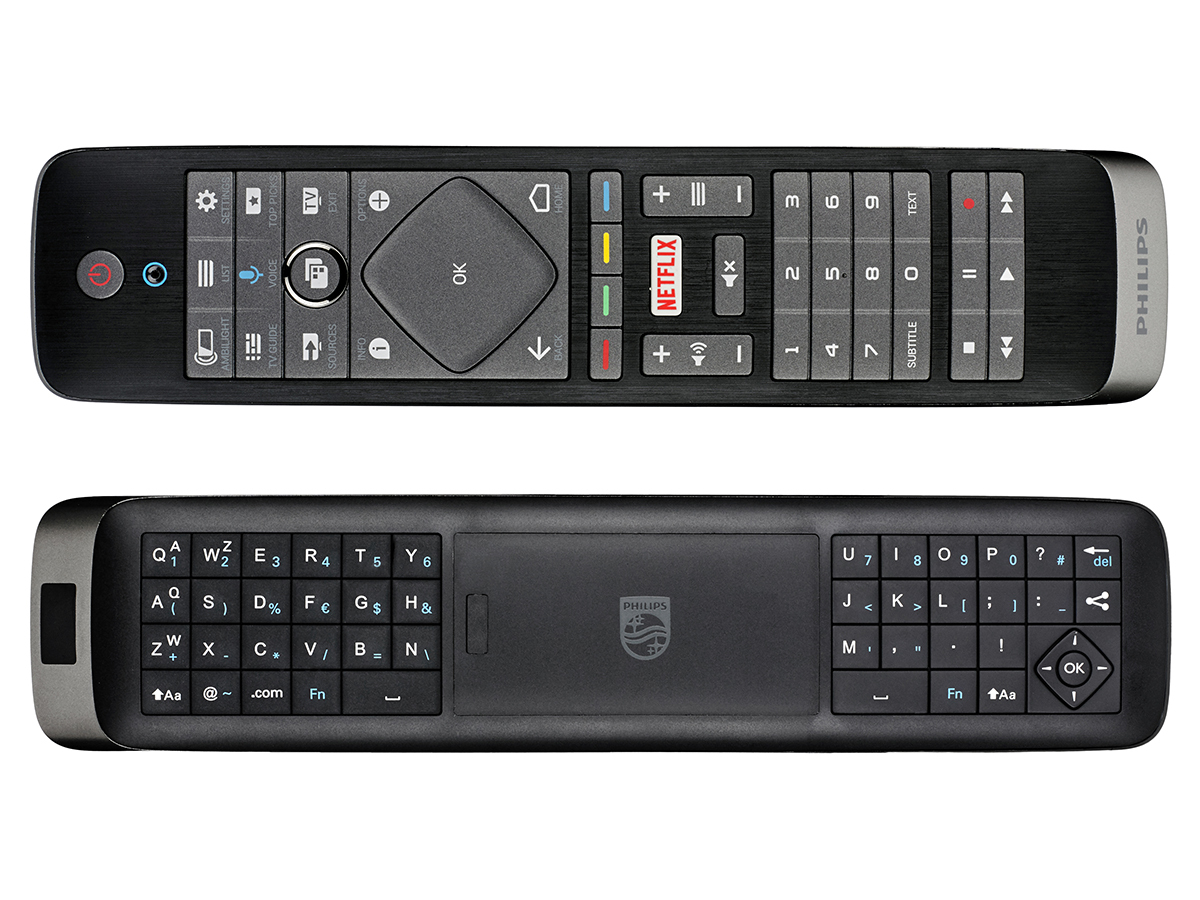 But those caveats aren't enough to put us off the Philips. Far from it: that punch and dynamism makes this TV perhaps the most impressive HDR performer currently available.
With 1080p, the TV switches its approach, dialing down that vibrancy and going much more neutral, which is to its credit. The balance is really nicely judged and here you really do feel you're getting a very authentic reproduction of the film or TV show you're watching.
Having said that, the 1080p image is a touch softer than that of some rivals, and motion handling continues to be a minor niggle. Still, this is a mighty fine picture overall.
If you find yourself slumming it with a standard-def TV show or an old DVD, you'll find the picture to be predictably soft but perfectly passable. Colours are kept under control and the small amount of fuzz around edges doesn't overly detract from what it a pretty clean picture. If standard-def is a serious concern for you, one of LGs 2017 OLEDs will suit you better, but at this point most people hopefully watch SD only occasionally.
The Philips may not have the very lowest input lag out there, but its 38ms score does dip below the magic 40ms that's broadly regarded as the point at which it becomes genuinely noticeable. In other words, the TV is plenty fast enough for gaming. Games also look superb on the TV, particularly in HDR. Play Horizon Zero Dawn from a PS4 Pro and those 4K graphics and punchy colours combine with Ambilight to stunning effect.
OUR SETTINGS
While the Philips has loads of picture presets, none of them is quite perfect. That means you're going to need to get your hands dirty in the settings to get the TV looking its very best, a task made extra fiddly thanks to the sheer abundance of options.
We'd recommend using the Movie preset for all standard dynamic range (SDR) content, and HDR Movie for, you guessed it, high dynamic range content.
As mentioned, neither of these is perfect as standard: we'd recommend that you add a few points to Sharpness, switch the Colour Temperature to Normal and turn the motion processing off entirely. You'll want to make sure the Light Sensor is switched off, too.
Beyond that, the standard Movie mode also benefits from the Contrast Mode being switched to Normal, MPEG Artefact Reduction to Minimum and the HDR Upscaling feature switched off.
Of course, these are just our preferred settings and you might find like the picture setup slightly differently. This should give you a good starting point from which you can go tweaking, though.
Features: the mystery of the missing apps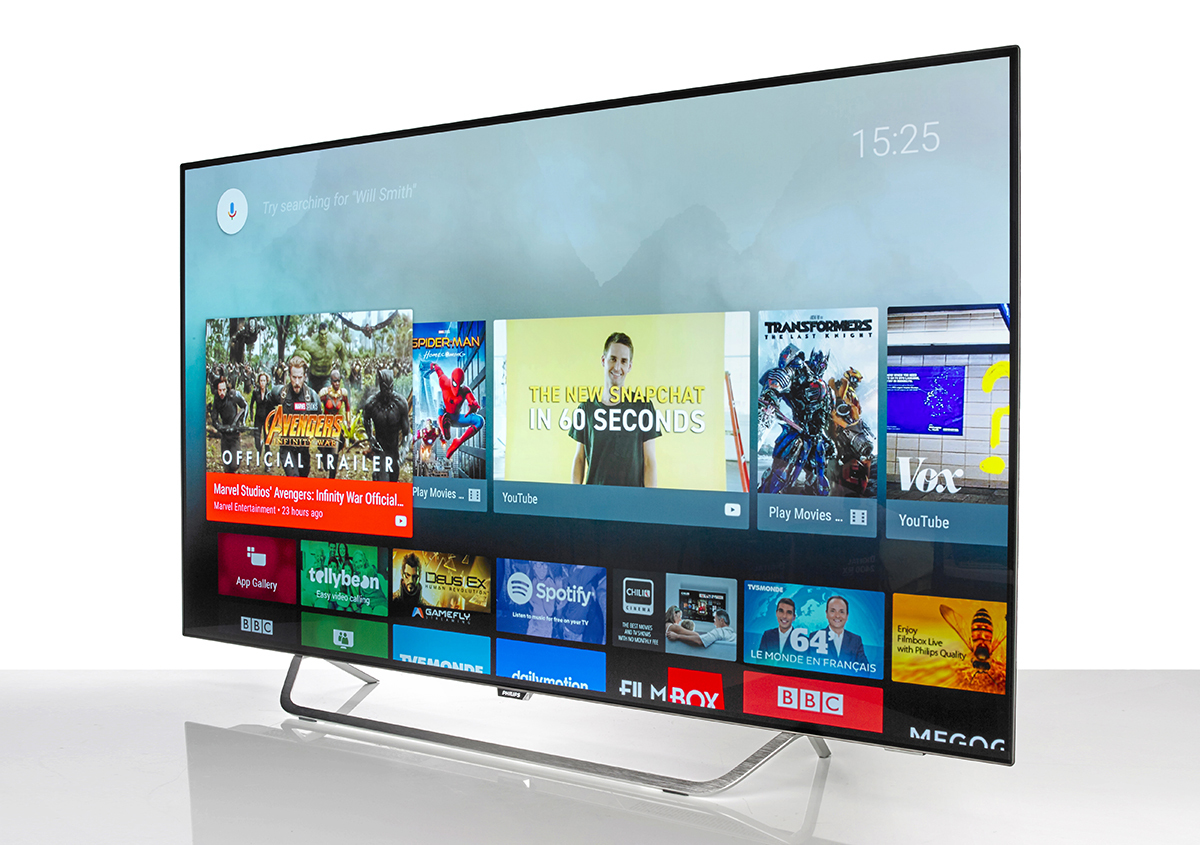 We're used to TVs coming with practically every streaming app imaginable on board, but the 55POS9002 bucks the trend in a bad way – by lacking some of the most popular apps around.
There's no Freeview Play, or dedicated apps for ITV Hub, All 4 or My5, so catch-up content from anywhere but the BBC is out. Amazon Prime Video is entirely missing, too, which is a very poor state of affairs indeed.
That a 2017 TV, particularly a premium model such as this, can arrive so poorly appointed with apps is as disappointing as it is surprising, but put the principle of it aside and it's actually a very simple issue to rectify: add a Roku Streaming Stick+ to your basket at the same time. No, you shouldn't need to spend extra money to add apps but, let's be honest, £70 isn't much to add when you're buying a premium TV.
Should you not go down the external streamer route, the Philips' Android OS does bring with it Netflix in glorious 4K HDR form, and it's one of the TVs that supports the BBC's beautiful 4K HDR streams of Blue Planet II.
Speaking of the Android OS, it performs much better on this Philips than it does on the Sonys that also feature it. This is a snappier user experience than we're used to from Android TV. The interface is becoming a bit cleaner and clearer with each update, too, but as a TV operating system it's still a long way behind the colourful bespoke offerings of the likes of Samsung and LG.
Sound: decent by TV standards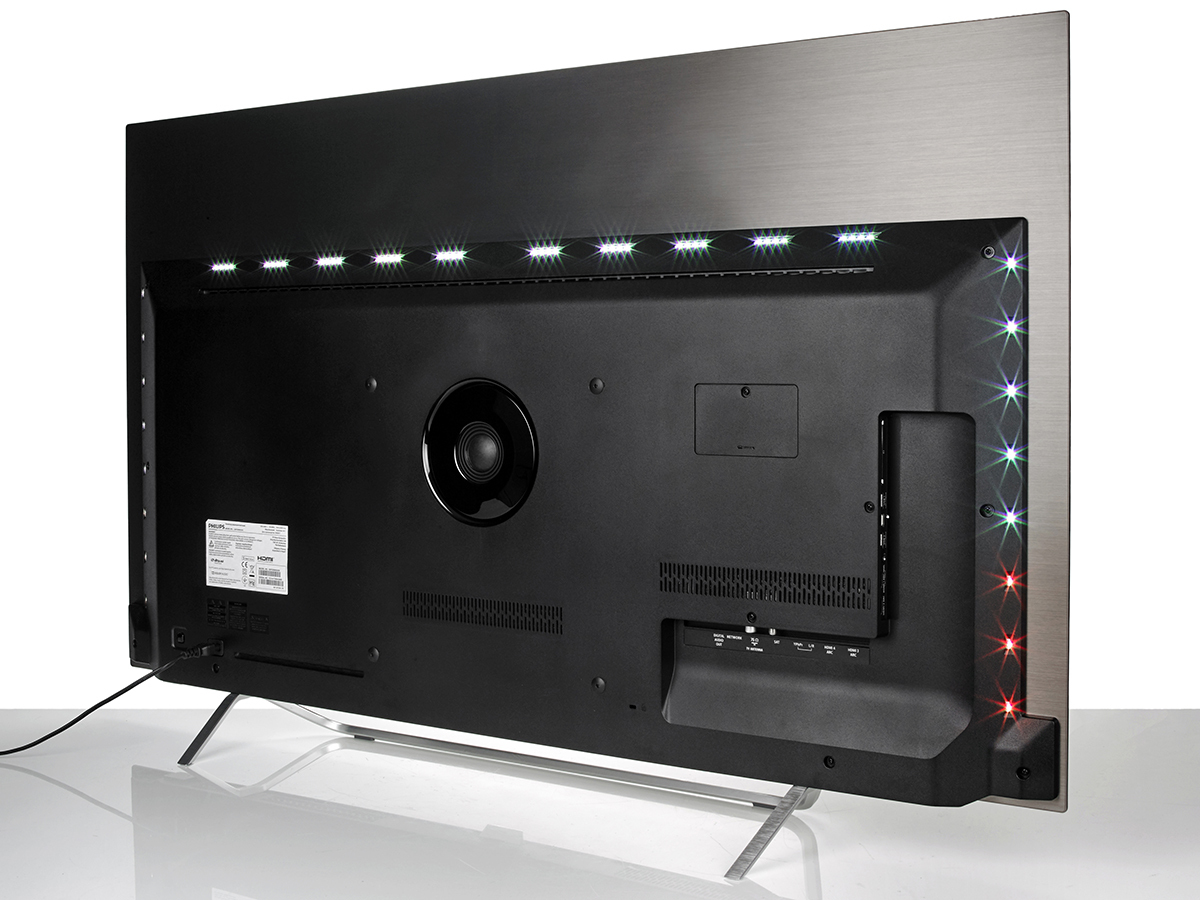 There's not a TV out there that we wouldn't recommend adding a separate sound system to, and this Philips doesn't buck the trend, but it is pretty good by TV standards.
It produces sound with a very decent weight and overall balance, with clean treble and clear voices. The surround sound mode, while obviously not real surround sound, does add a good amount of width and spaciousness to the soundstage, and works well with action movies and the like.
The crazy, unique sound solution of the Sony A1 predictably sounds better, but both TVs would benefit from the addition of a soundbar, so that's not a serious black mark for the Philips.
Philips 55POS9002 verdict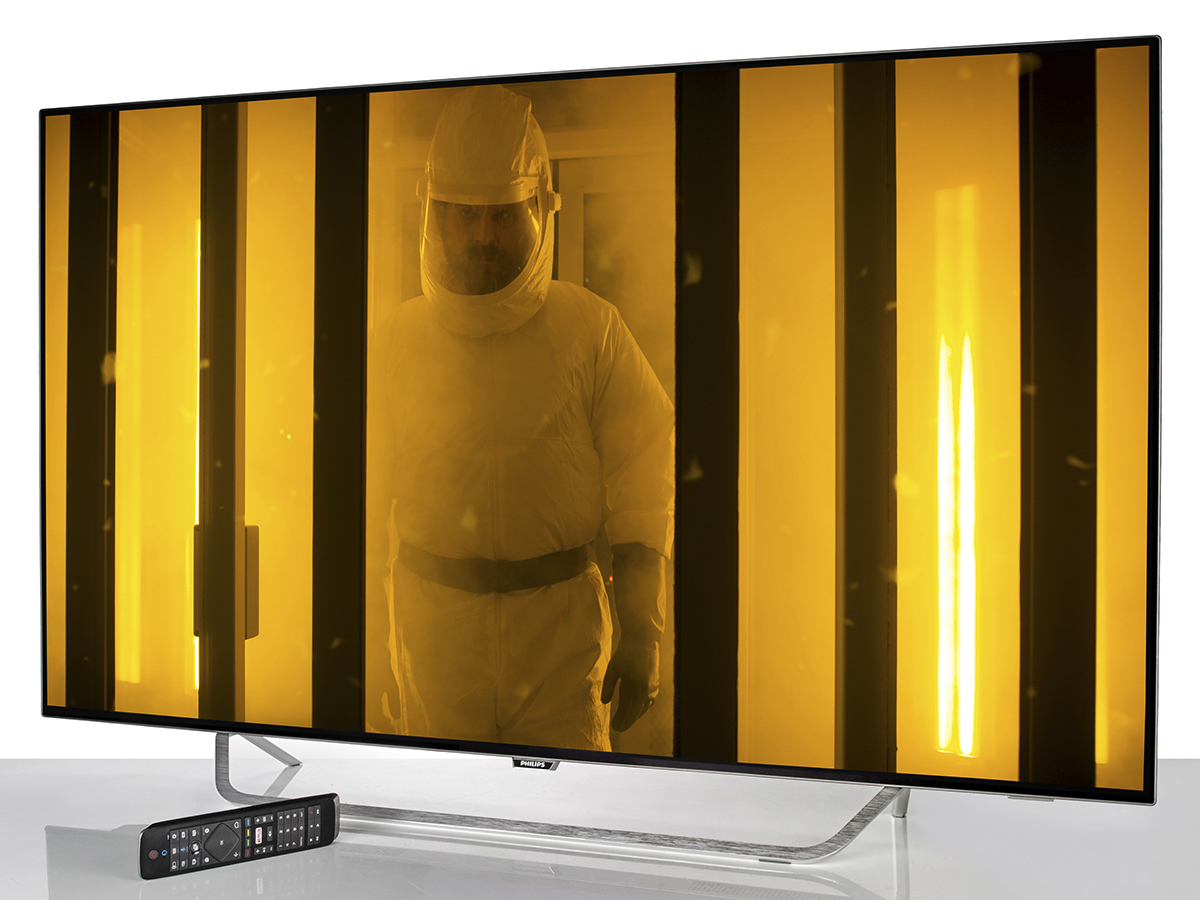 We expected the Philips to be a good TV. After all, we're yet to see a bad TV that uses the LG OLED panel, and we're big fans of Ambilight.
We weren't honestly expecting it to be a truly great TV, but that's exactly what it is.
Yes, Ambilight is awesome, but the real surprise here is that Philips has taken that OLED panel and produced a picture that's punchier and more exciting than LG itself can manage. In fact, we even prefer the 55POS9002 to the superb Sony A1 when it comes to HDR content.
If HDR is your priority (and it really should be at this point), this fabulous Philips demands your attention.
Stuff Says…
The Ambilight is awesome, but even if you took it away this would be one of the finest tellies that money can buy
Good Stuff
Truly glorious HDR
Ambilight is as awesome as ever
Sounds pretty good
Standard dynamic range (SDR) content is nicely balanced
Bad Stuff
A poor selection of apps
Can be beaten for subtlety and motion processing