Philips 8804 LCD TV hands-on review
Google assistant voice-control + Bowers & Wilkins treatment + Dolby Vision = LCD nirvana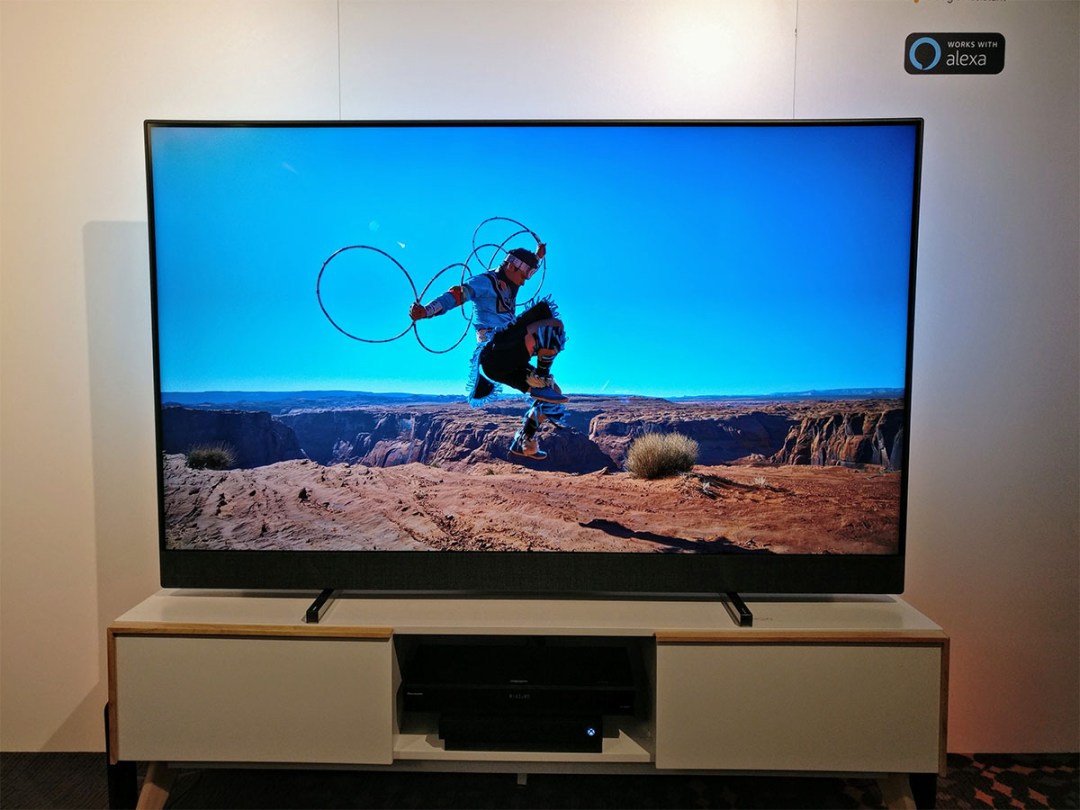 Philips' big reveal of its TV line-up for the first half of 2019 featured some very intriguing screens, some mightily impressive numbers, some very extensive spec-lists, and any amount of bullish assertions regarding performance and value for money.
Perhaps the most intriguing model of the lot is the 8804 LCD TV. Available in 50, 55 and 65in screen sizes, it's the first Philips LCD to feature sound provided by loudspeaker legend Bowers & Wilkins.
When Philips turned its already impressive 803 OLED TV into the thoroughly compelling 903+ by putting a B&W-specified rocket up its audio performance, I guess we should all have seen the 8804 coming.
Well, now it's here. And long before it arrives in your local retailer's shelves, we've had our hands, eyes and ears all over it. Here's what we found out.
Design: Sleek and small bezelled
It's not easy to have a design philosophy when it comes to TVs.
Ask most consumers what they want from their brand-new telly and the answers will most concern the size of the screen (as large as possible, please), the bezel surrounding the screen (as little as possible, please) and manufacturer's logo (no thank you). Which doesn't leave a lot of room for manouevre.
Philips has managed to cover most of these concerns with the 8804, while offering what it considers a 'European' take on design. As a result the 8804 has a vanishingly small bezel, finished in black at the front of the screen and in brushed metal at the sides.
Beneath the screen, the B&W speaker array is covered in subtle, elegant and acoustically efficient Kvadrat cloth. And branding is restricted to the 8804's sturdy little feet – they're clear acrylic, except on the top where they're metal-plated. One foot reads 'Philips' and the other 'Bowers & Wilkins'.
Features: Jam packed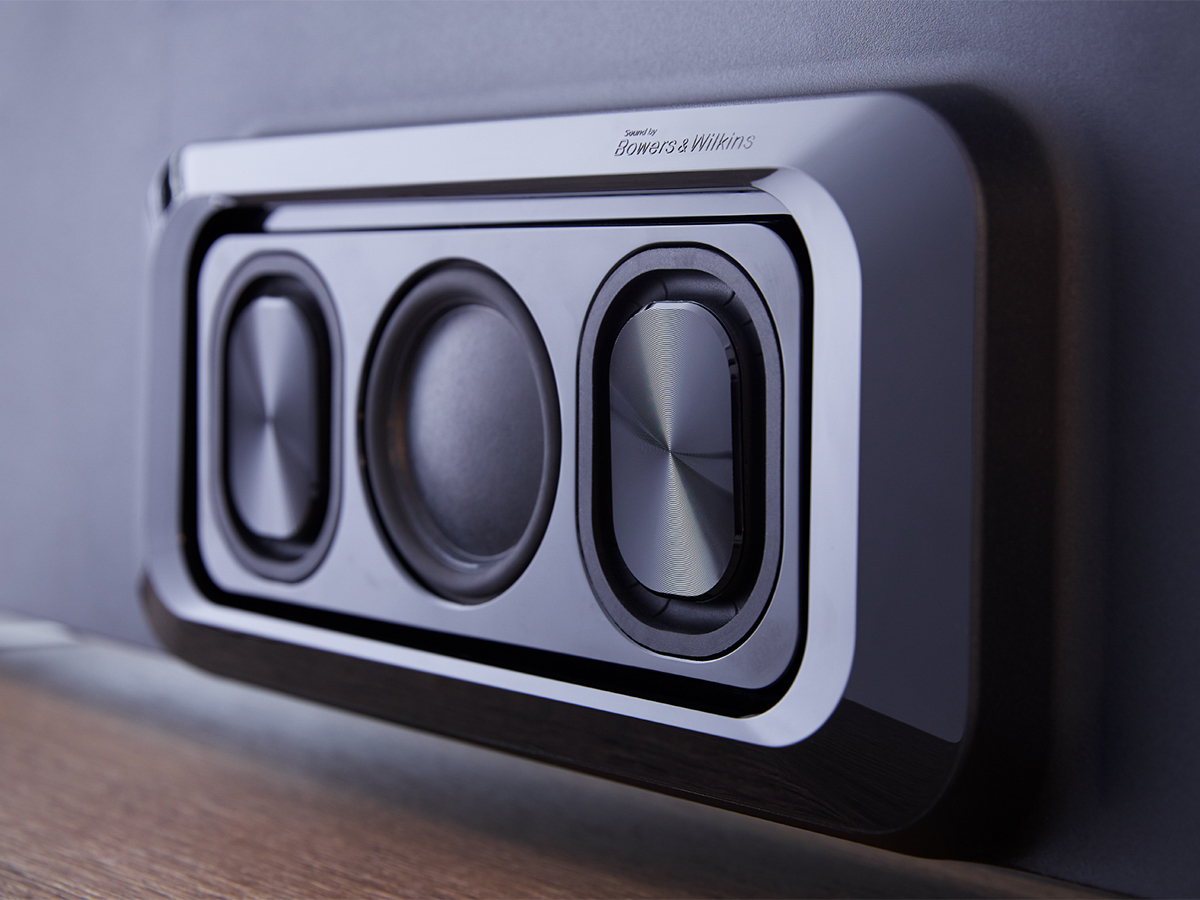 It may well be that 'less is more' where the design of a TV is concerned, but when the talk turns to features, 'more is more' is definitely the way to go.
The 8804's specification is exhaustive.
This is a 4K Ultra HD screen, of course, and it features both Dolby Vision and HDR10+ dynamic metadata – so there isn't a source you can feed it the Philips can't make best use of.
On top of that, it incorporates the latest (3rd generation) version of Philips' P5 'perfect picture engine' processing – until now, Dolby had refused to let Philips work its own magic on top of Dolby's own algorithms.
Control is via the slim, elegant remote control first seen with the OLED 903+, which can be used to navigate the Android TV user interface. Or if that's a little low-tech, the 8804 can also be operated via Google Assistant – and it's also 'Works with Alexa' certified too.
Where audio is concerned, well, the Dolby association continues with the inclusion of Dolby Atmos processing. And neither Philips nor Bowers & Wilkins is seeking to downplay the potency of the 8804's sound – as well as the forward-firing midrange/treble drivers, the back of the 8804 features the woofer-plus-passive-radiators array of the 903+, decoupled from the screen to prevent transmission of vibrations.
Also at the back of the screen there's a three-sided Ambilight LED array. No other manufacturer's TVs have anything approaching Ambilight in their arsenal, and consequently no other manufacturer's TVs can create the impression of an image bigger than the screen it emanates from. It's hard to give a television a unique selling point, but Ambilight is a strong one.
Performance: colourful detail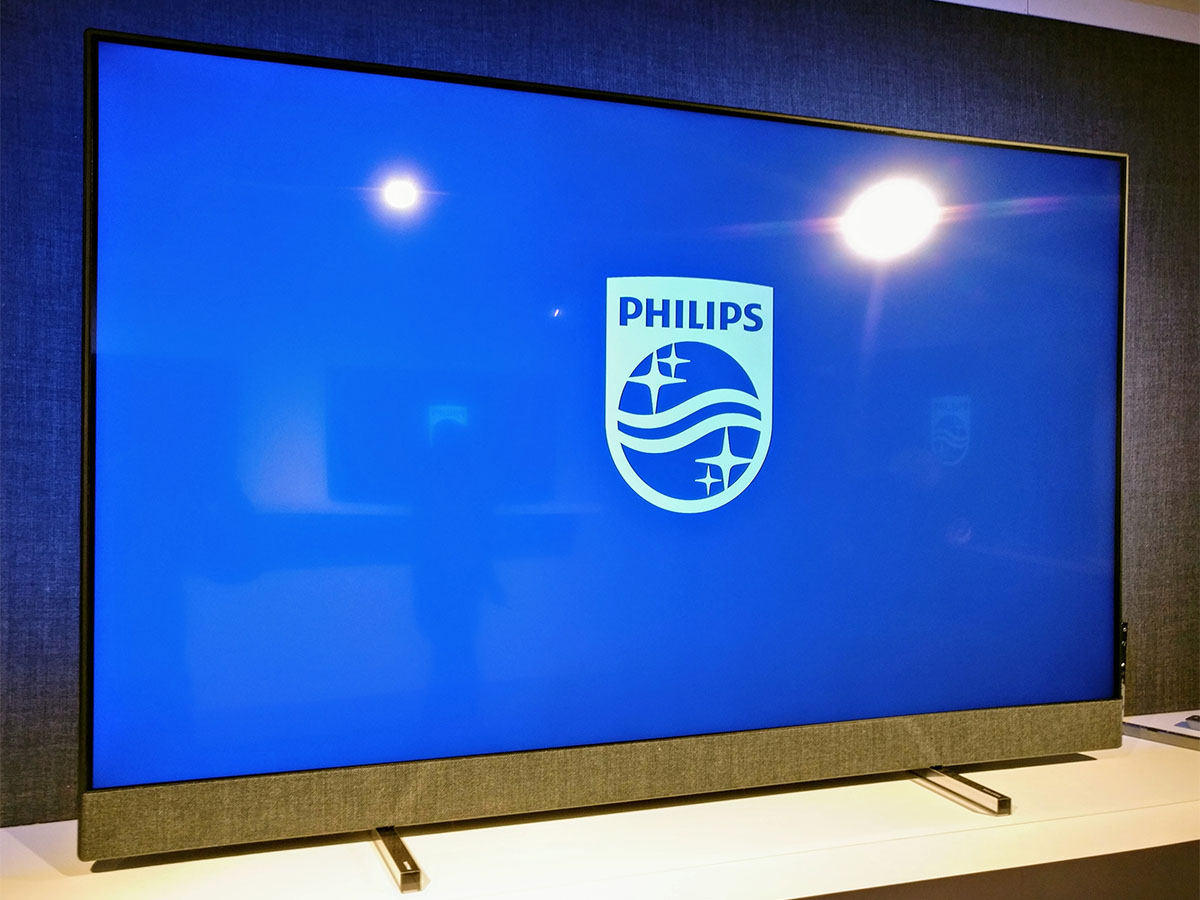 We got our hands on a 55in 8804 at Philips' European Launch Event in Amsterdam. It's never easy to judge audio or video performance in a situation such as this – the screen has been set up by a Philips engineer (with no opportunity for us to tweak, or even investigate, the settings), and it's demonstrated using extremely flattering and unrepresentative footage (with no opportunity to watch anything more real-world).
It's hard to imagine a TV looking anything other than half-decent in circumstances like this.
Having said that, though, it's obvious the 8804 has every chance of being a truly impressive television. Its colour palette is extremely wide-ranging, and it serves up colours with strength and vividity without becoming overblown. Its full suite of High Dynamic Range options is quite obviously effective.
Contrasts are convincing, too, and the 8804 shows smooth, fuss-free motion-handling too (although it should be noted that none of the content Philips used for its demonstrations was ever likely to cause any alarms in this regard).
Images are detailed, remarkably free of noise even with the most complex, highly patterned images, and even in the darkest moments. At the opposite end of the scale, white tones are clean and bright.
Sound-wise it's even more difficult to confidently draw conclusions than it is with picture quality.
What is certain is that the 8804 follows the 903+'s lead in being far punchier, far more expansive and altogether more engrossing a listen than any screen with a more usual speaker array. Like the 903+, it seems the 8804 can satisfy without the provision of a soundbar.
Philips 8804 early verdict
The £1199 quoted at the top of this page is an estimate. If the 55in 8804 goes on sale at that sort of money, though, it seems safe to say it'll go very close to the top of the class.
Perhaps it's even more telling to say we're very, very keen to test an 8804 just as soon as one becomes available.