Polaroid Snap Touch review
Digital meets analogue; retro meets modern - camera fans will find this mash-up camera a lot of fun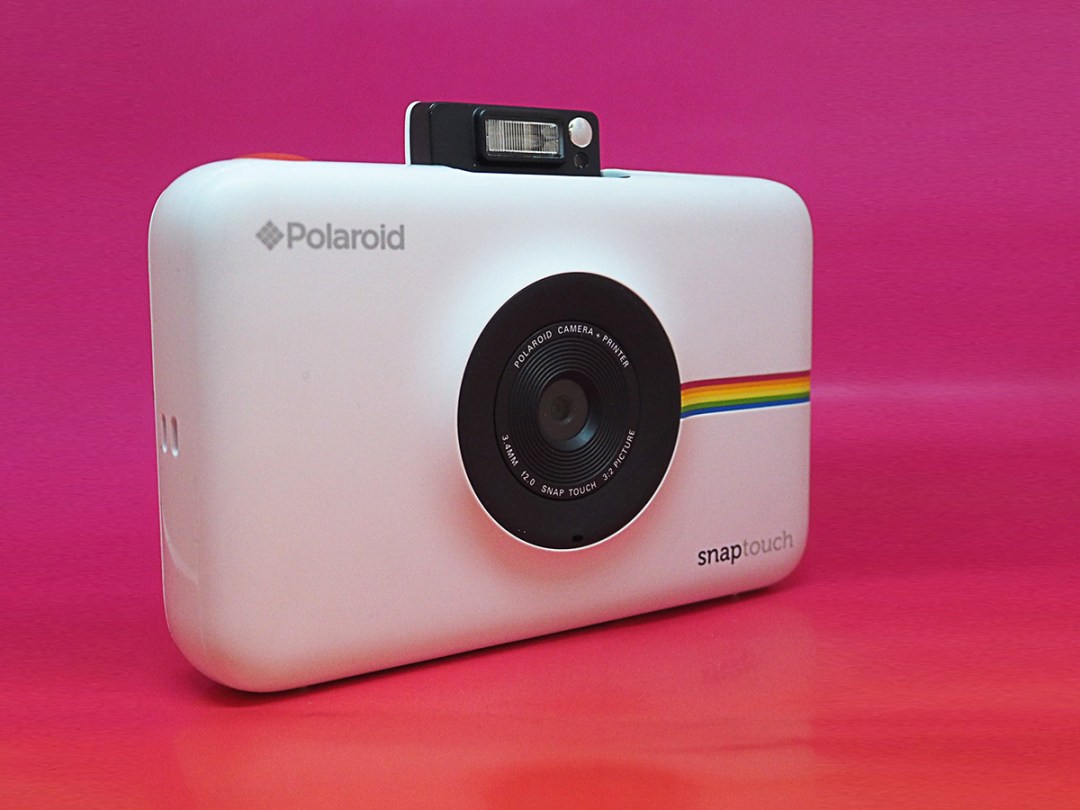 Photos weren't meant to be stuck on a screen like General Zod, trapped into the Phantom Zone. Where's the fun in that?
Instant cameras set your snaps free the minute you pressed the shutter button, but if you weren't careful, you could end up with a lot of duff exposures, off-centre angles and blurry rejects.
That can get expensive. Fast.
Polaroid's Snap Touch is a middle ground between old and new. It's a digital camera, but one that can print your pics straight away – or save them for editing if you're not happy with your first attempt. It'll play nicely with your smartphone, and it's oozing retro charm, too.
Just don't go dumping your DSLR just yet – there's a reason it only costs £160.
TOUCH OF CLASS
The Snap Touch is an updated, evolved version of the original Snap – an £80 instant camera that didn't have much in the way of modes or features, but one that could still save your snaps to an SD card as well as print them off.
They look almost identical from the front, with smooth curves and that iconic Polaroid colour strip running out of the lens. It's not as classic as the Polaroid cameras of yesteryear, but I'm a big fan of the minimal look – it just screams "fun".
On paper, it has a pretty decent spec for your cash, too: a 13MP, 1:2/3″ CMOS sensor, paired with a 3.4mm, f/2.8 lens (25.8mm in 35mm equivalent).
The magnetic lens cap, which pops into place and sits securely when you're not snapping photos, is a nice touch, but sticking the microUSB charging port on the bottom of the camera seems like a backwards move. It was on the side on the original Snap, so you could leave the camera standing while you charged it, instead of risk scratching the front or back.
Up top, Polaroid has ditched the physical viewfinder. In it's place, there's a pop-up flash (and sneaky selfie mirror) that doubles as a power button. Pop it up and the camera switches on; push it shut and the whole thing switches off again. Simple.
There's a physical shutter button, but otherwise just about everything else is controlled through the 3.5in touchscreen that takes up the entire rear of the camera. It swings out to reveal the ZeroInk paper tray, which can hold ten sheets of Polaroid's own ZInk paper.
The screen should be your first warning sign that the Snap Touch is a cheap camera. It's a basic TFT with a really grainy texture – you won't want to look too closely at your photos on it.
The menus are hideously basic, too. They genuinely look like something from the early 00s rather than something on sale in 2017. Sure, everything's in colour and it responds well to prods and presses, but that doesn't stop it from feeling painfully outdated.
The onscreen icons are low-res, and the effects and filters are comically simple. In a world filled with hundreds of high-quality camera apps for your phone, this feels almost laughable.
PAPER JAM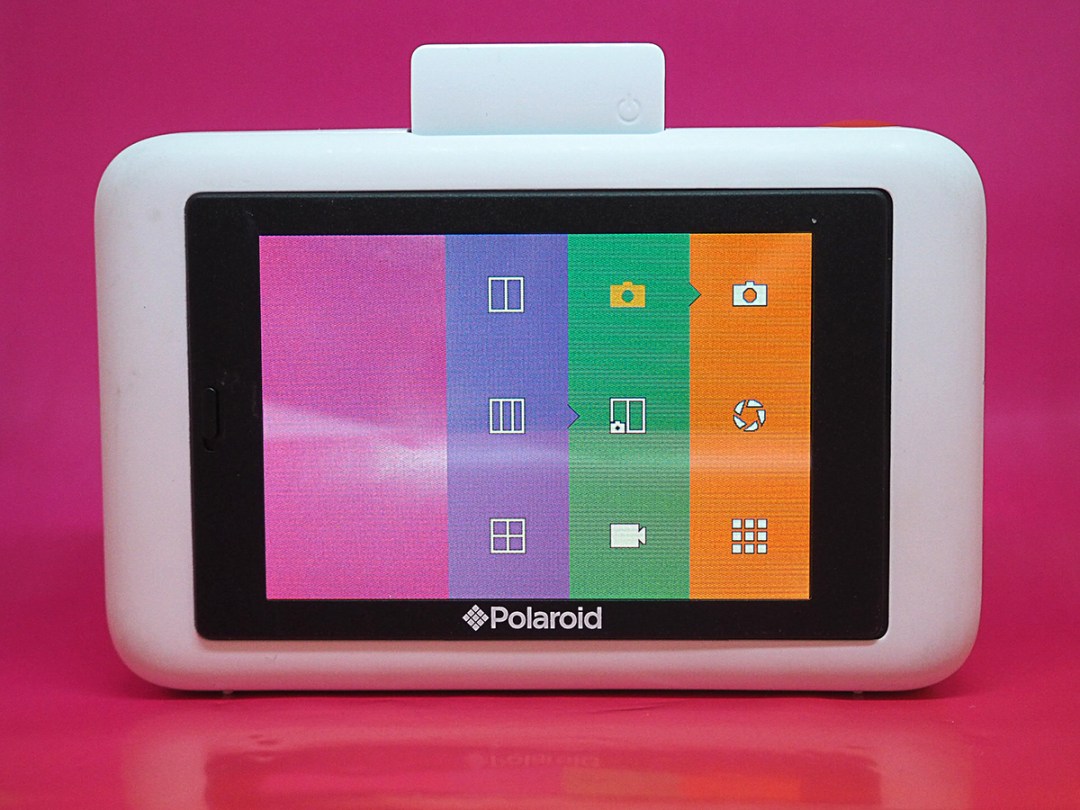 Let's move swiftly onto some positives, like the built-in photo printer.
Polaroid's ZeroInk prints use thermal paper, which reacts to heat to develop before the paper has even left the printer. It's like being back in secondary school science class.
They don't have the same retro charm as Fuji's Instax paper, which actually takes time to develop, but I'd argue the results are clearer and more defined here. Each print takes a good 10-15 seconds to leave the camera, though, whereas Instax cameras are literally instant.
You can set the camera to print every time you press the shutter button, or to save everything digitally and only print when you've taken a shot you really like. This could save you a small fortune on paper packs, which set you back around £15-20 for three packs of ten prints.
The results are fairly colourful, as long as you feed the camera a well-lit subject. It doesn't handle darker scenes very well, losing detail and impact, but well-balanced daylight pics have plenty of pop.
You can tweak things like colour balance and contrast through the camera's menus, but I only noticed a mild difference versus the out-of-the-box defaults.
APP IT UP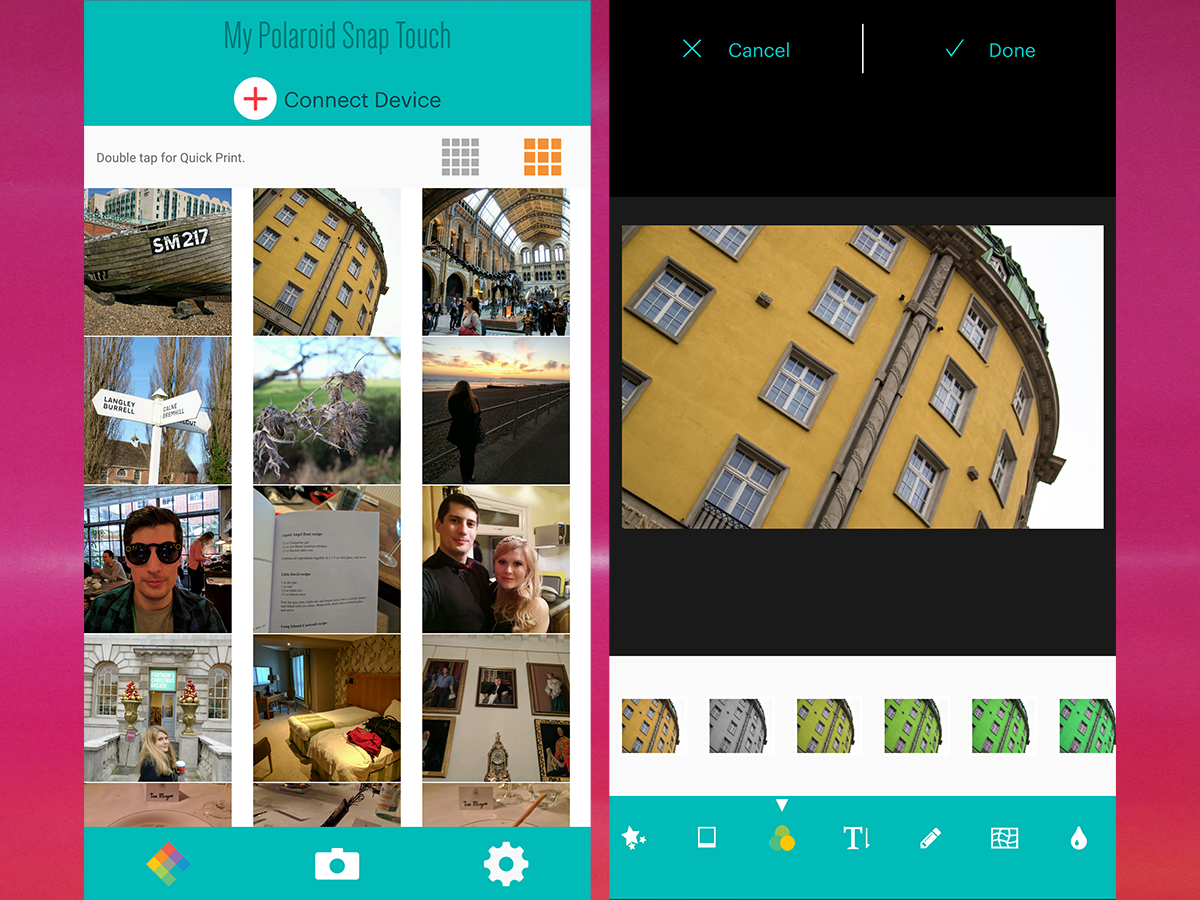 The Snap Touch has an app-enabled party trick, too. Download Polaroid's companion app and you can print anything from your phone, straight out of the camera.
The built-in Bluetooth connection takes a little while to transfer large photo files, but the results are just as good (if not better) as the snaps you can take with the camera itself.
Happily the app isn't quite as basic as the camera's own menus, with more modern graphics and a better selection of effects and edits, but it's still a little on the slow side, and doesn't work properly with any other camera app you might be using.
All my photos are uploaded to the cloud with Google Photo, but you've got to re-download them manually before the Polaroid app will pick them up.
There are plenty of fun frames and stickers to drop onto your snaps, but if you just want quick physical photos, it only takes a few taps to get the Snap Touch churning out pocket-sized prints.
PIXEL POVERTY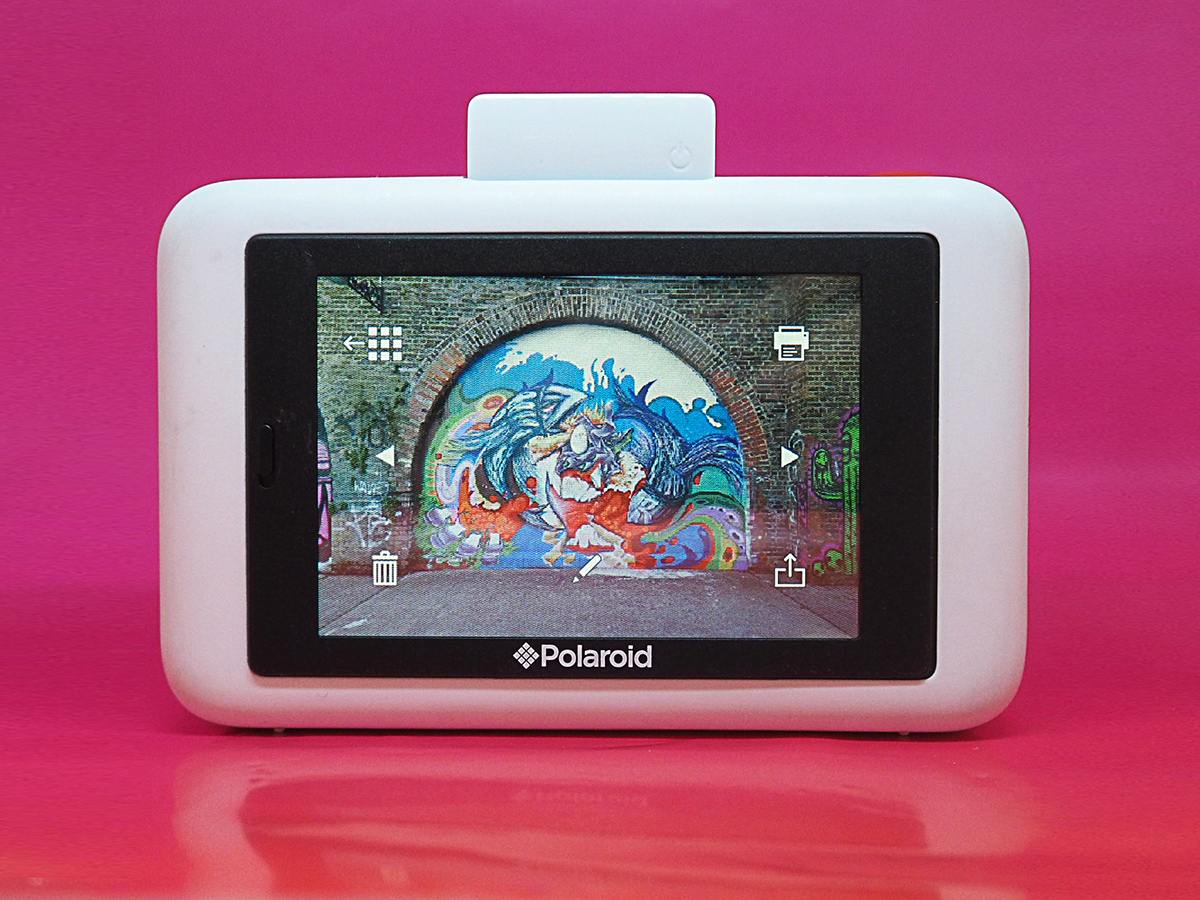 A 13MP sensor is overkill for the tiny 3×2 prints the Snap Touch spits out, but it comes in handy when you transfer your shots onto a computer. It means you'll actually want to put your pics on FaceBook, rather than bury them at the back of your hard drive.
Just make sure to keep your expectations in check – your digital photos are probably going to be on par with anything you could have shot with your smartphone. Especially when it genuinely struggles to focus, even in bright light, and there's no on-screen prompt to let you know when it's locked in.
In daylight, the Snap Touch captures a decent amount of detail, but colours vary. I ended up with quite a few over-saturated snaps, even if they didn't look so vibrant once I'd printed them out.
Again, you can tweak colour balance settings from the camera's menus, but that won't help reduce the amount of noise that creeps into every shot once the lights get low. The flash is strong enough for portraits, but try to shoot anything further afield and it simply isn't strong enough.
I can't say I was surprised with my shots, so if you accept its limitations (and don't expect miaracles) the Snap Touch shouldn't disappoint.
A sturdier, more responsive shutter button would have made all the difference, too – it's too spongey, and half the time I wasn't sure if I'd taken a photo or not.
POLAROID SNAP TOUCH VERDICT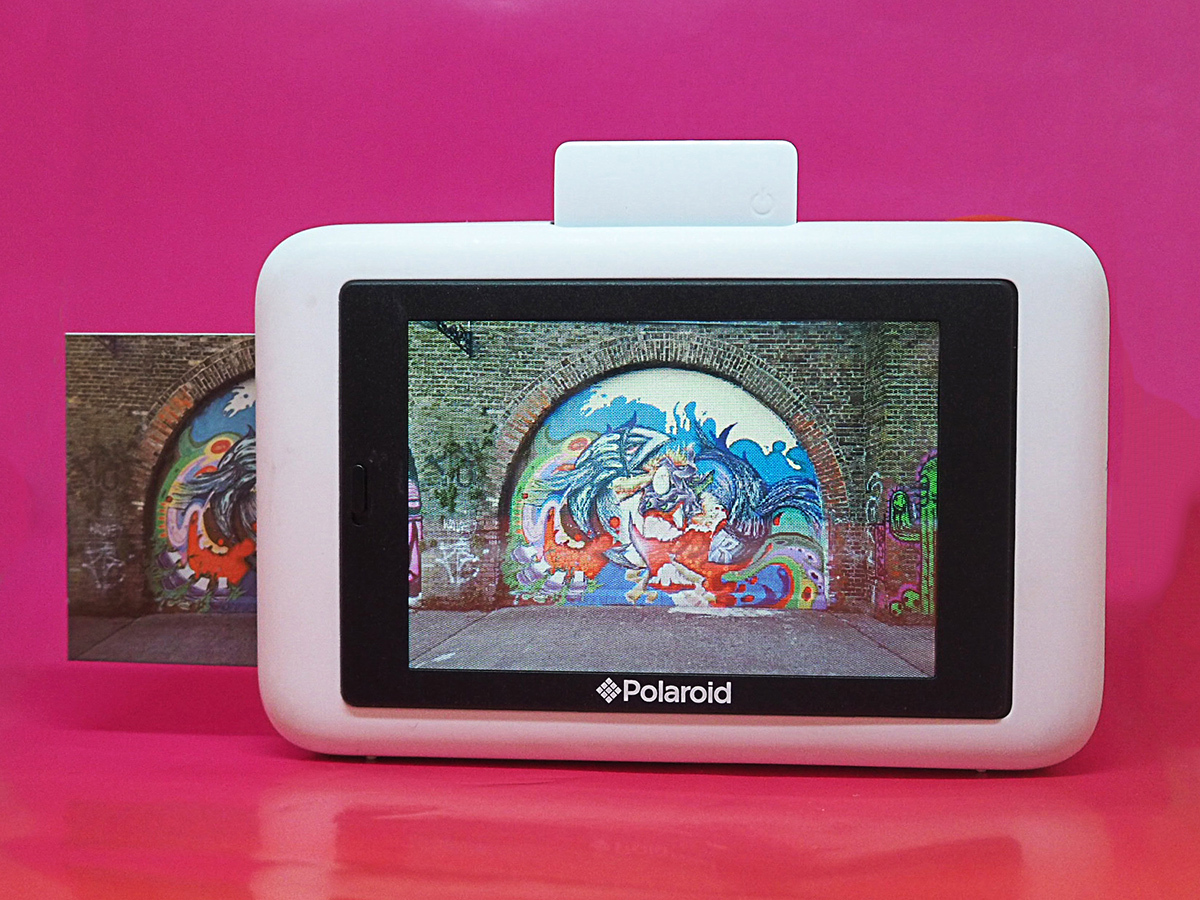 The Snap Touch was never going to replace your proper compact camera. And let's be honest, your phone will do a better job when it comes to photos – as long as you've got a relatively recent flagship squeezed into your pocket, anyway.
Instead, it's better to think of it as a fun little extra to bring alongside your phone, or regular camera, for those spur-of-the-moment snaps you'd like a physical copy of right away. Forget your CSC or proper compact camera? No problem: the Snap Touch will do in a pinch.
If Polaroid had put a bit more care into designing the atrociously basic menus, and had managed to add some polish to the smartphone companion app, this could have earned a spot in your camera bag.
As it stands, it's just a neat toy that camera fans will appreciate – but not something to trade in your existing equipment for.
Tech specs
| | |
| --- | --- |
| SENSOR | 13MP CMOS |
| SHOOTING MODES | Still photo, 720p/1080p video |
| SCREEN | 3.5in LCD |
| CONNECTIVITY | Bluetooth |
| STORAGE | microSD (up to 128GB) |
| DIMENSIONS | 51x102x91mm, 358g |
Stuff Says…
Basic, yes, but still a neat hybrid of analogue snaps and digital photos that does double duty as a smartphone printer. Just don't expect miracles when it comes to photo or print quality
Good Stuff
Prints and digital versions give best of both worlds
Bluetooth printing from your phone is very handy
Photo and print quality both decent enough for the price
Bad Stuff
Menus are super basic
Prints are tiny and paper is expensive
Your smartphone probably takes better quality snaps already