Razer Blade Pro (2016) hands-on review
Time to ditch the desktop for good? This is one blade that looks seriously sharp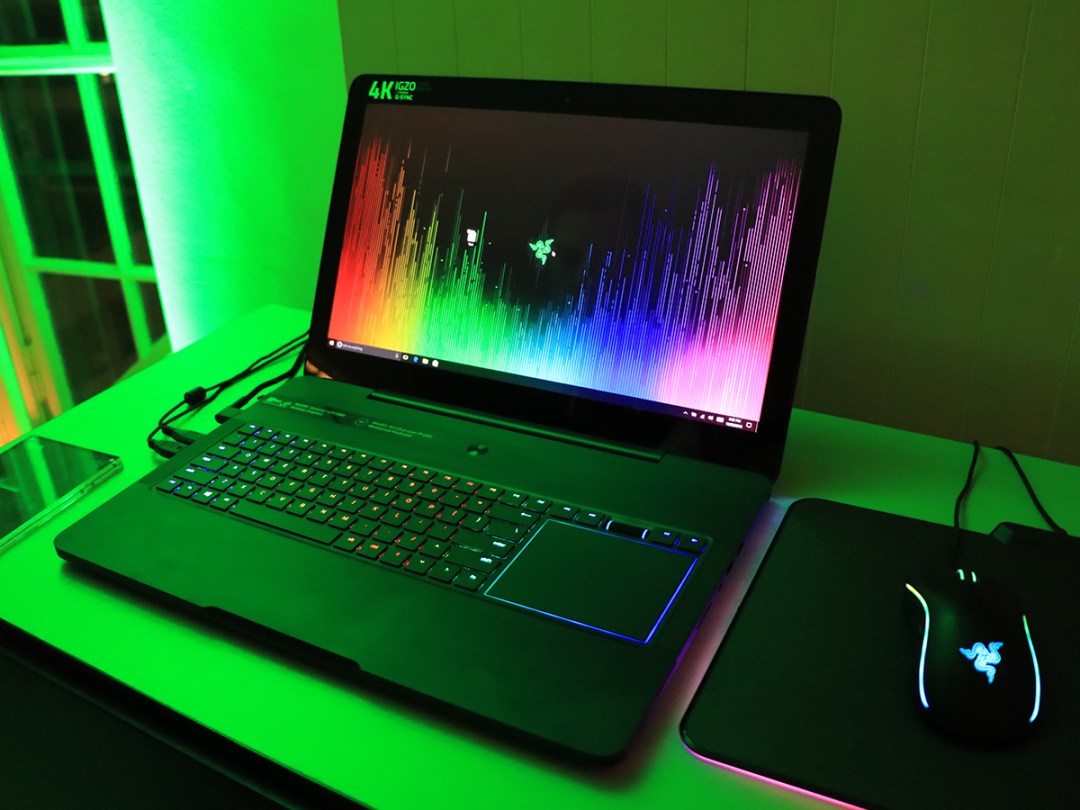 So you want to play the latest games in glorious 4K resolution – better break out the toolkit and build a crazy PC, right?
Slow down there, hardware honcho. Razer just revealed a laptop it says can totally wipe the floor with the traditional tower computer, and we've already put one through its paces.
The Blade Pro is a seriously clever bit of kit, squeezing desktop-grade parts and power inside a super-thin laptop you'll actually be able to carry around without also needing a small forklift truck.
You name it, this thing'll play it, and at 4K resolution or in VR to boot. It's also seriously expensive – so is it worth maxing out your credit card for? We got an early look to find out.
GET YOUR GAME ON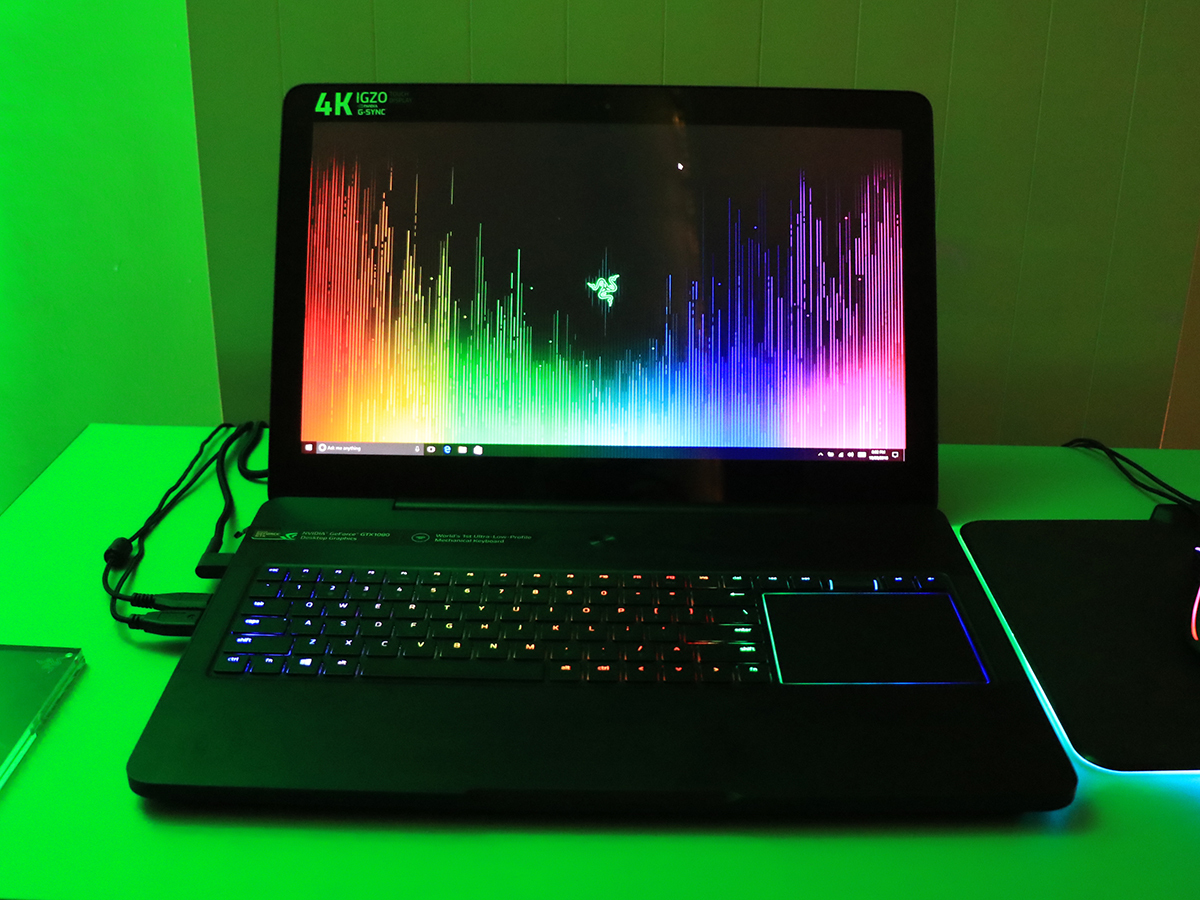 You're gonna need some pretty powerful hardware for a laptop to outmuscle a desktop PC, and Razer has certainly delivered on that front.
The Blade Pro is jam-packed with performance parts, including a quad-core Intel Core i7 CPU, a whopping 32GB of memory, and two (yes, TWO) PCIe SSDs. So basically the fastest CPU, most memory, and fastest storage you're going to find in any off-the-shelf system.
It's fast – monumentally fast. Throw any 2D task at the Pro and it'll blitz through it in no time at all. No amount of open Chrome tabs will bring this thing to it's knees.
The Blade Pro has got GPU grunt, too. A desktop version of Nvidia's GeForce GTX 1080 provides the heavy lifting for games, managing playable frame rates at 4K resolution. Gears of War 4? No problem – it plays perfectly.
It all stays amazingly cool and quiet, though. Gaming laptops usually get toasty within minutes of booting up a game, but after an hour of intense Rocket League action, it didn't chargrill my fingers. That's thanks to a custom cooling system and two ultra-thin fans that don't spin up as soon as you hit that Start button.
THE KEY DIFFERENCE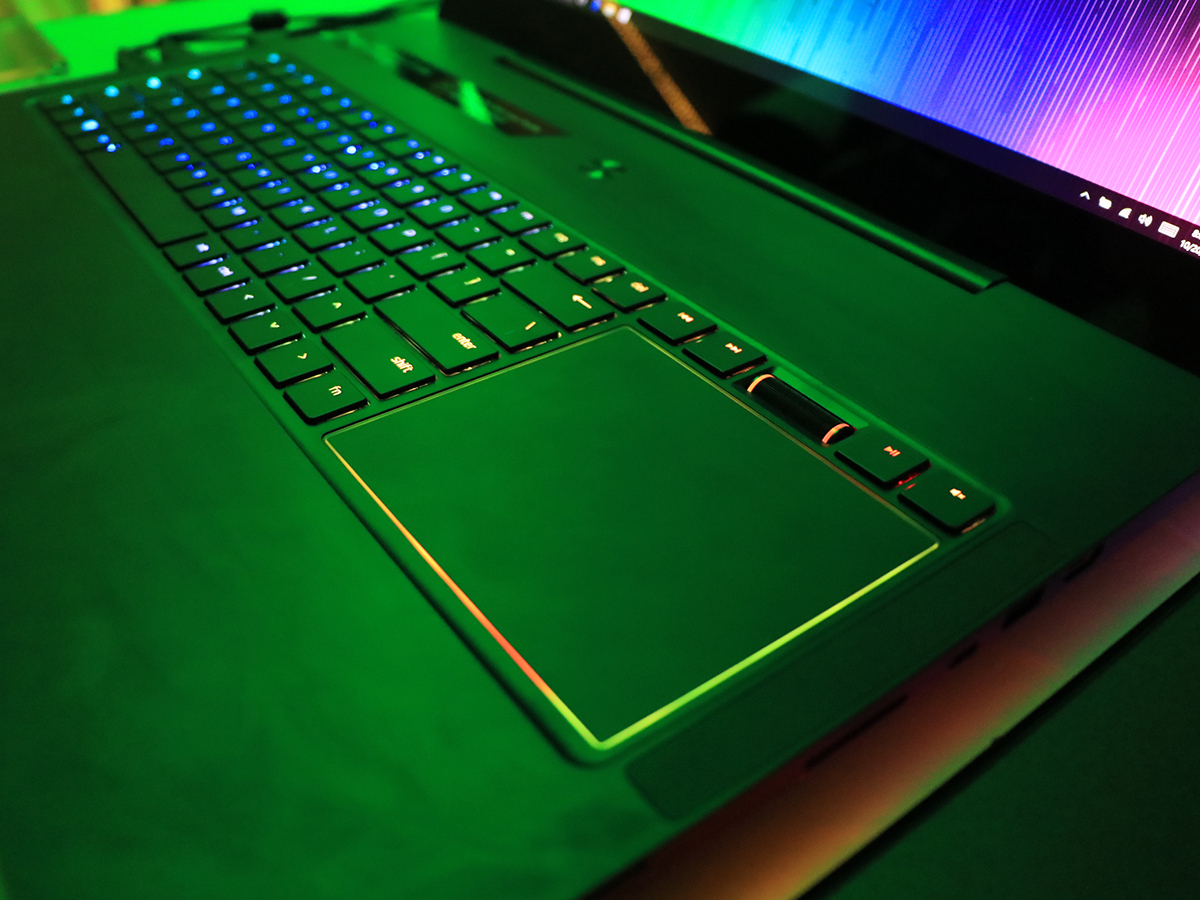 It's not just inside where the Blade Pro stands out. It's also rocking a world's first outside, too: an ultra-low profile mechanical keyboard.
Yep, those clicky, tactile keys gamers insist on for their desktop builds have finally made their way into a laptop, without adding a whole load of bulk too. Razer tested the switch design on its iPad Pro keyboard case earlier this year, which has definitely paid off.
Each key is comfy, springy and responsive to type on, with proper feedback and a signature click every time you press one down. It's nowhere near as loud as a desktop keyboard – just enough to be sure you've pressed each key. I was up to full typing speed in just a few seconds.
The whole thing is backlit with Razer's per-key Chroma LEDs, too. They are completely customisable, and flash to match onscreen action in supported games like Blizzard's Overwatch. Neat.
EASY ON THE EYE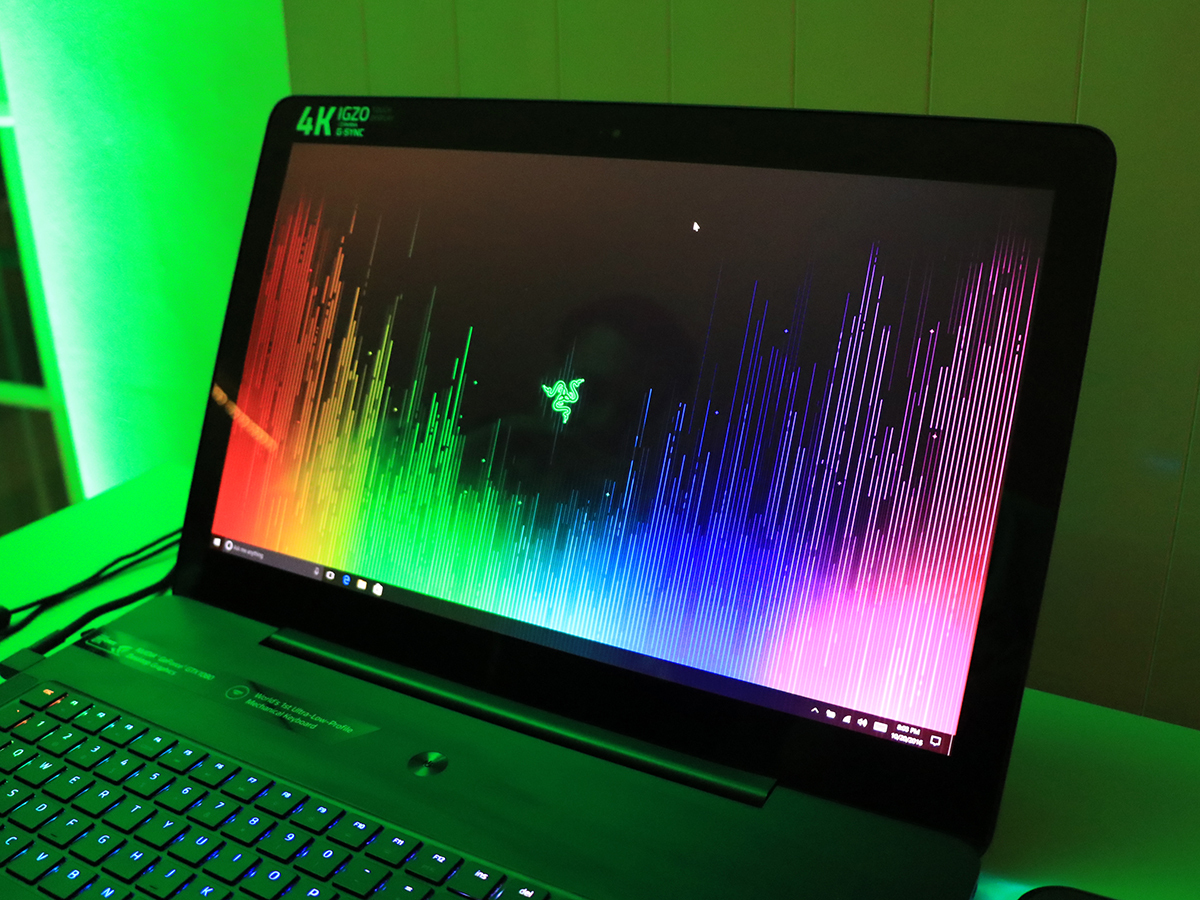 The Blade Pro can put its desktop-class graphics chip to good use without hooking up to an external monitor – it's got a 4K panel. That means a crazy 3840×2160 pixels of desktop goodness bathing your eyeballs every time you switch it on.
Nvidia's G-Sync is on board to keep everything looking smooth while you're gaming, even if the frame rates take a tumble. It tweaks the refresh rate on the fly, so you're always getting tear-free frames. It looked stunning in action playing Gears of War 4, looking silky smooth even when the frame rate dropped below that magic 60fps mark.
You're getting a 17.3in behemoth of a screen, too. It's absolutely perfect for gaming, watching movies, or getting work done without plugging in a second screen.
It's ultra-bright, with punchy but accurate colours. With 100% Adobe RGB colour coverage, it'll be fine for photo and video editing – when you aren't pwning noobs, anyway.
Oh, and it's a touchscreen, too. Just in case you thought it wasn't OTT enough already.
PLUG IN BABY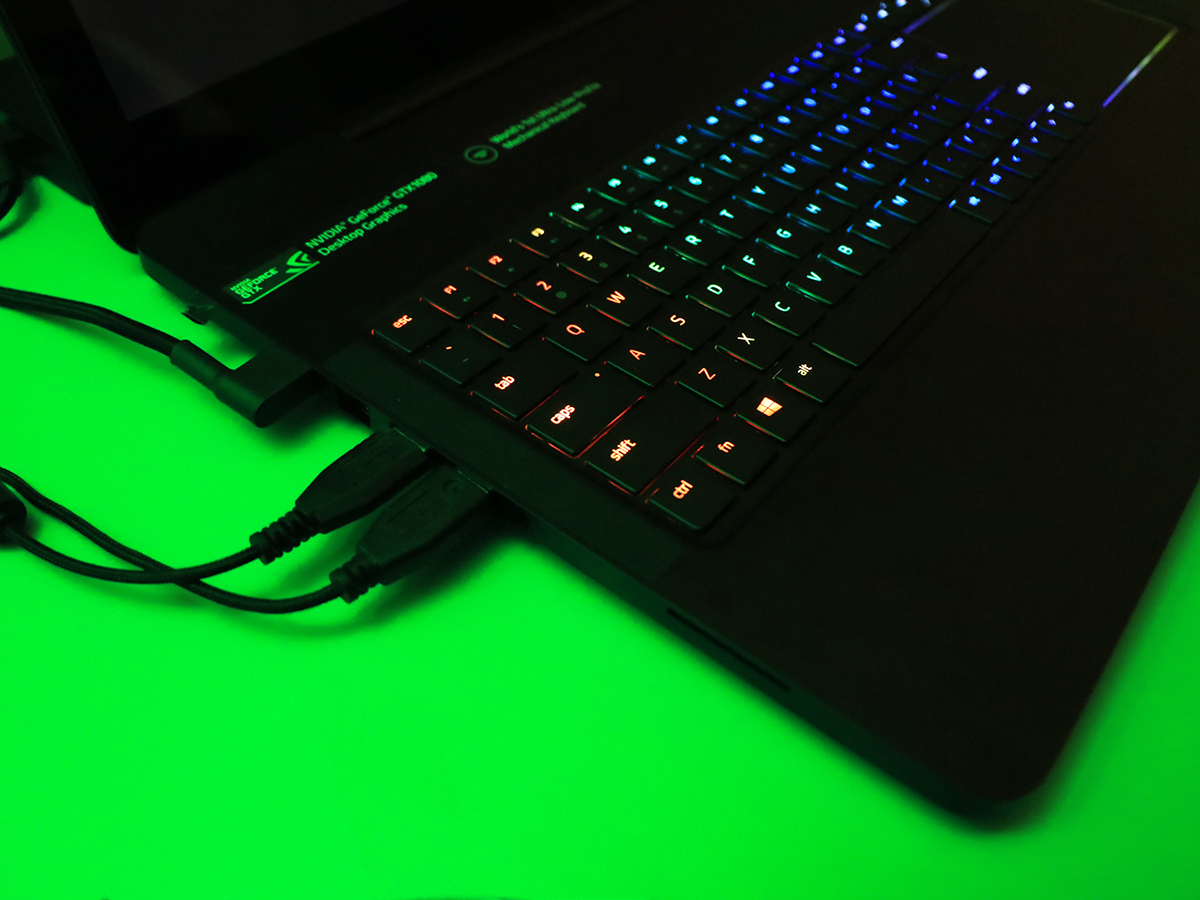 OK sure, a 3.5kg, 17.3in laptop isn't something you're going to want to carry around with you everywhere, but the Blade Pro is a whole lot more portable than other gaming laptops. It doesn't sacrifice usability or connectivity to keep things thin, either.
You still get a scattering of USB3 ports around the sides, along with Thunberbolt/USB-C for ultra-fast file transfers and charging, an SDXC card slot, and that most endangered of species in 2016 – a headphone jack. There's even room at the sides of that mechanical keyboard for a set of stereo speakers.
A crowded press event wasn't the best place to give them a proper test, and while I could still hear them over the din of the room, I'm going to wait for a full review before I deliver a verdict on how they sound. There's Bluetooth on board for wireless audio, and it'll even manage 7.1 virtual surround if you plug in a pair of headphones. No-one's getting the drop on you in a multiplayer deathmatch when you're wired in to one of these.
Razer Blade Pro (2016) initial verdict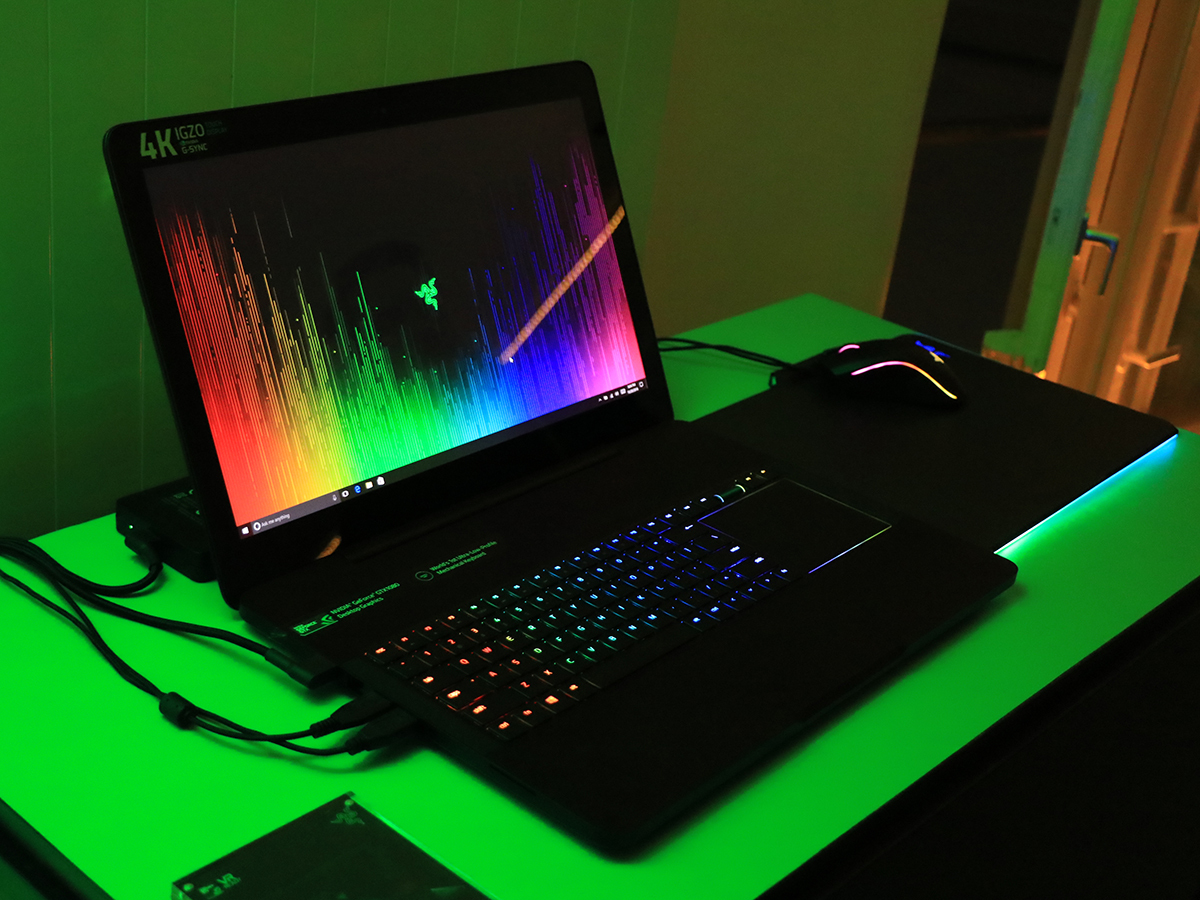 Razer wanted to make a laptop that was better than a desktop PC, and I think the Blade Pro is a fantastic effort. It's mentally powerful, has a spec to make even the most die-hard desktop user drool, and it looks damn good too.
There's some really clever tech under the hood, like that mechanical keyboard and the effective cooling system – which will hopefully make their way into other Razer laptops soon.
The one stumbling block I can see right now? That colossal price. It's an eye-watering amount of cash, especially when you could build a traditional PC for a lot less. Not one you can take on the move, admittedly, but unless you're flush with cash, most people are going to pick the PC.
That would be a real shame, though. From what I've seen, this might be the best gaming laptop ever. I can't wait to get one in and give it a full review.